Committing to eating fresh and plant-based meals regularly can be made easier with customizable buddha bowls! Learn how to build your own Mediterranean buddha bowl that is overflowing with delicious flavor and packed with nutrients to satisfy your body and mind.
---
Please note this post contains affiliate links, which means I receive a small commission, at no extra cost to you, if you make a purchase using the links. Please see my disclosure for more details.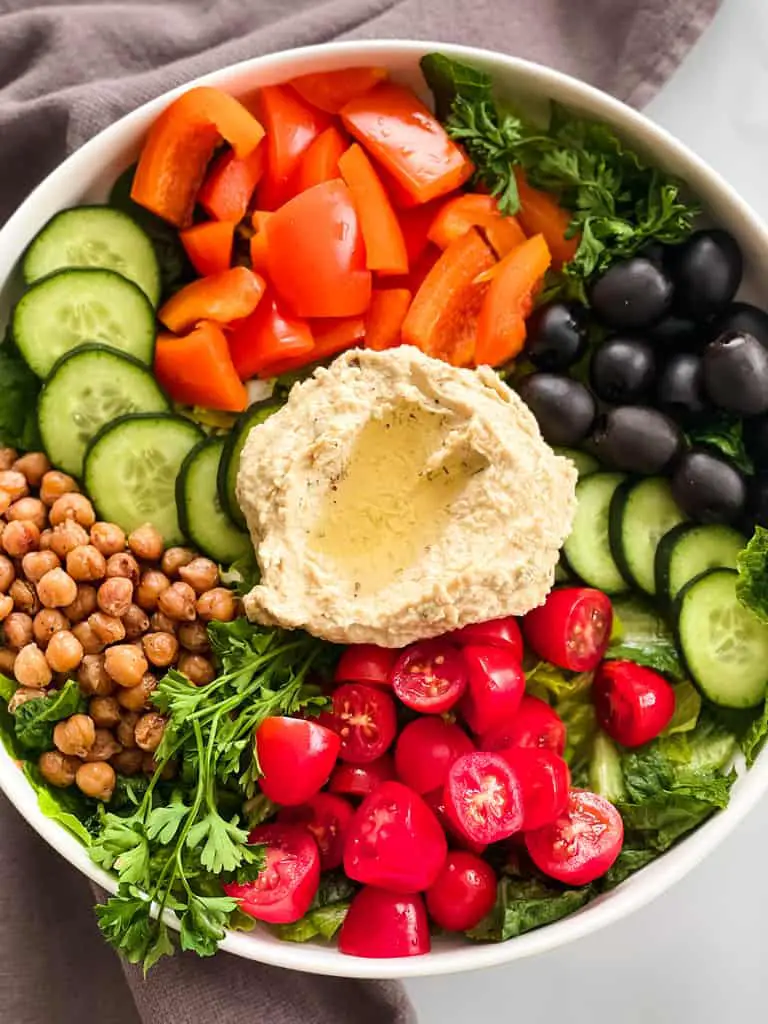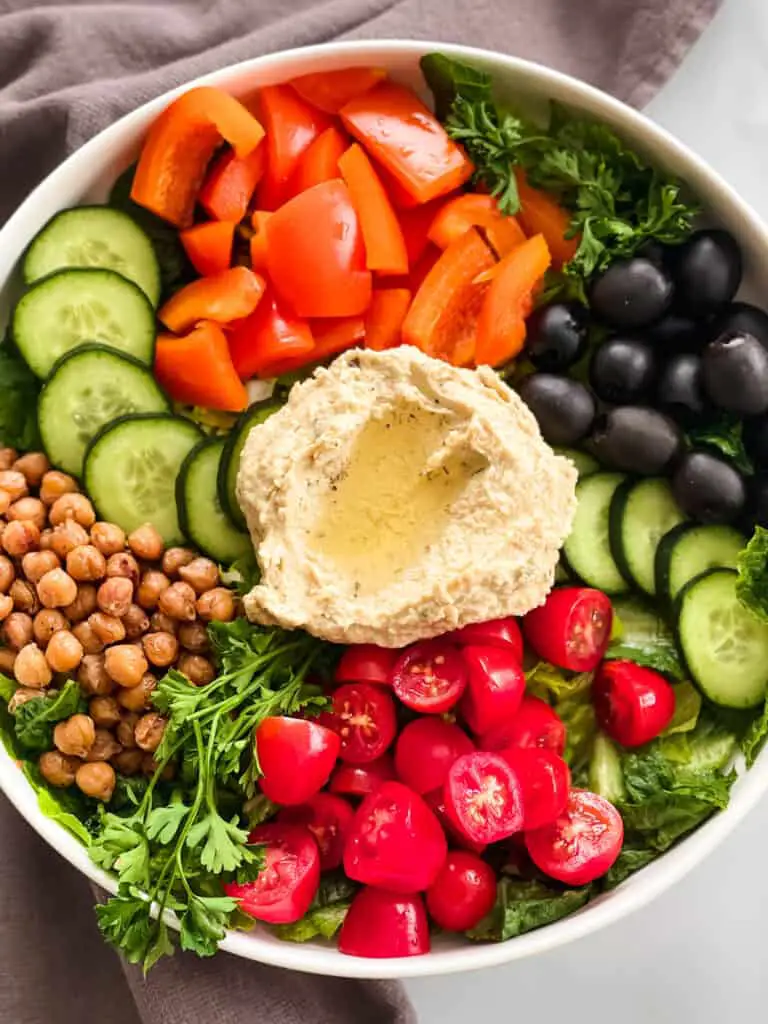 Eat sustainably
This Earth Day, I challenge you to make one more plant-based meal a week. Whether this is entirely new to you or a vegetarian or vegan pro, we can all push ourselves to do more.
According to the United Nations' Food and Agriculture Organization, meat consumption has a larger ecological footprint than the entire transportation industry! That is mind-blowing to me, yet encouraging to know that small actions when selecting our food can have a tremendous impact.
I personally could do more, but have recently made an effort to eat meat-free or minimal-meat lunches. It can be a challenge, but branch out in your local grocery stores and try something new or uncomfortable until you find something that works! Start with vegetables you know you like, such as sauteed with flavorful spices or in savory or sweet salsas!
(PS: if you have a Wegman's available near you, their store brand meatless chicken nuggets taste like the nuggets from my school lunch days and I am in love)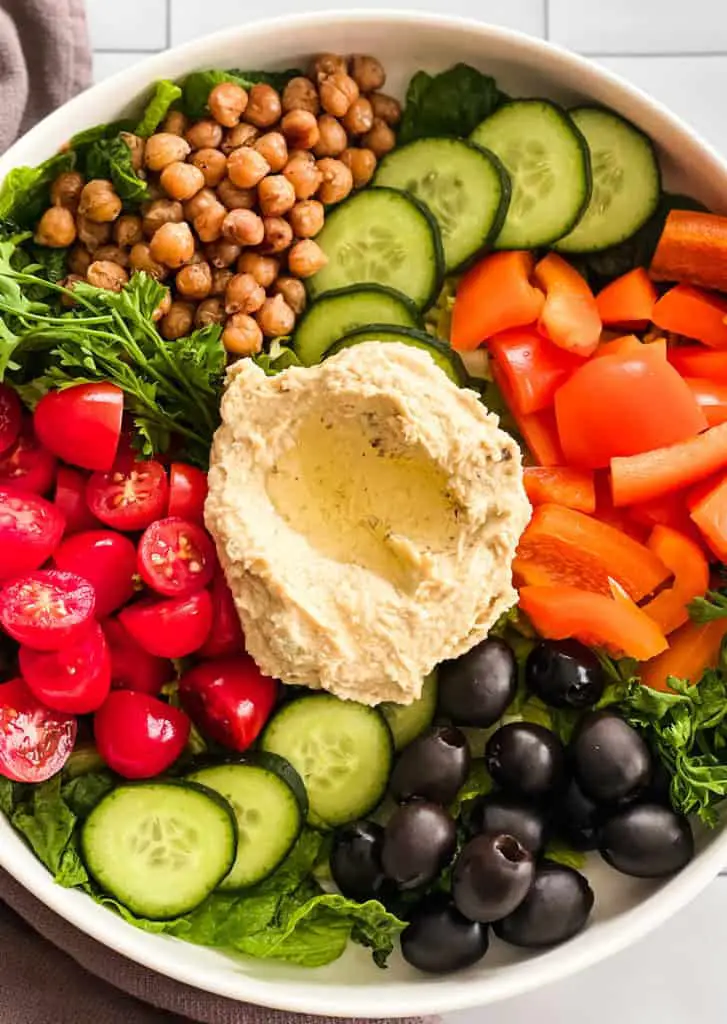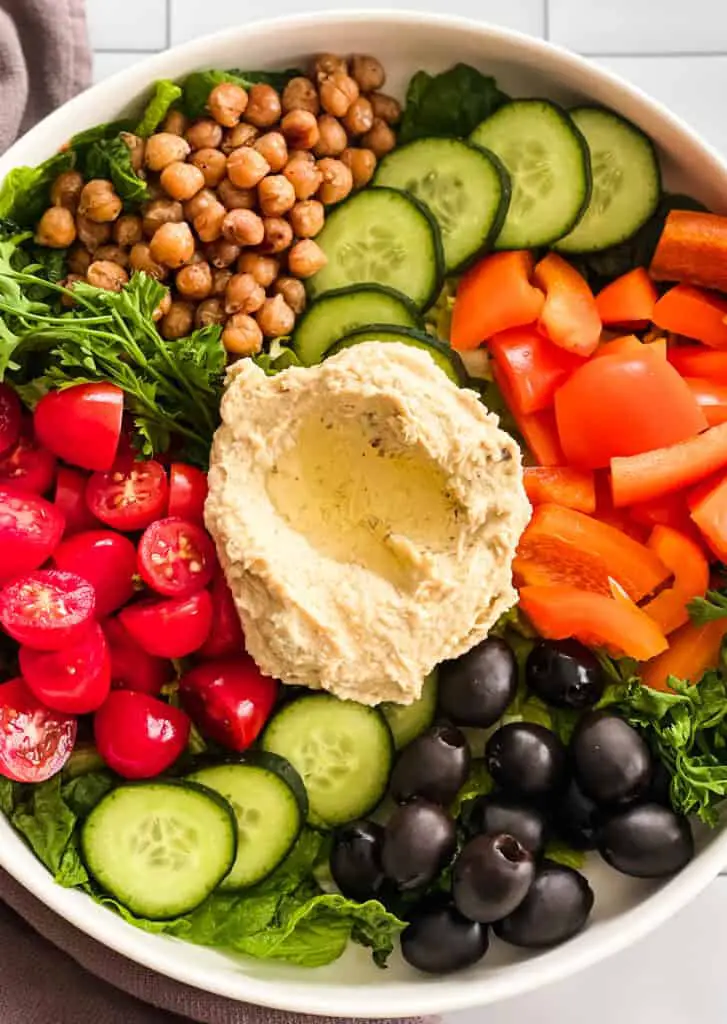 What is a Buddha bowl?
A buddha bowl is what you make it; typically, a bowl filled with fresh vegetables, plant-based proteins, and whole grains.
They are 100% customizable and ingredients can easily be swapped out to fit your preferences or what you have available. Most importantly, buddha bowls are vegan and meant to help you find balance in what you eat.
I know I could always use more veggies in my diet, and buddha bowls allow me to easily get a few servings in.
To me, it's an opportunity to indulge in a "clean" meal that tastes incredible and doesn't make me feel like I'm missing out by not eating meat.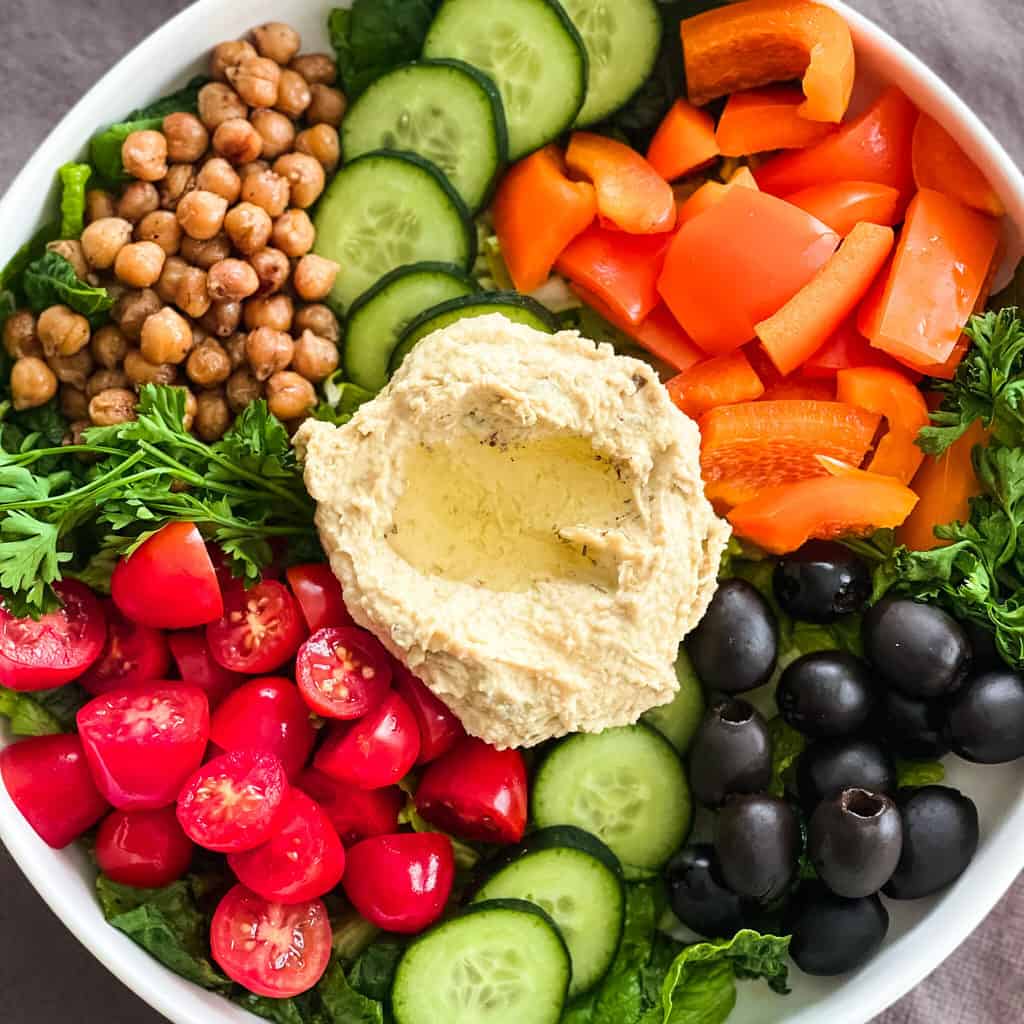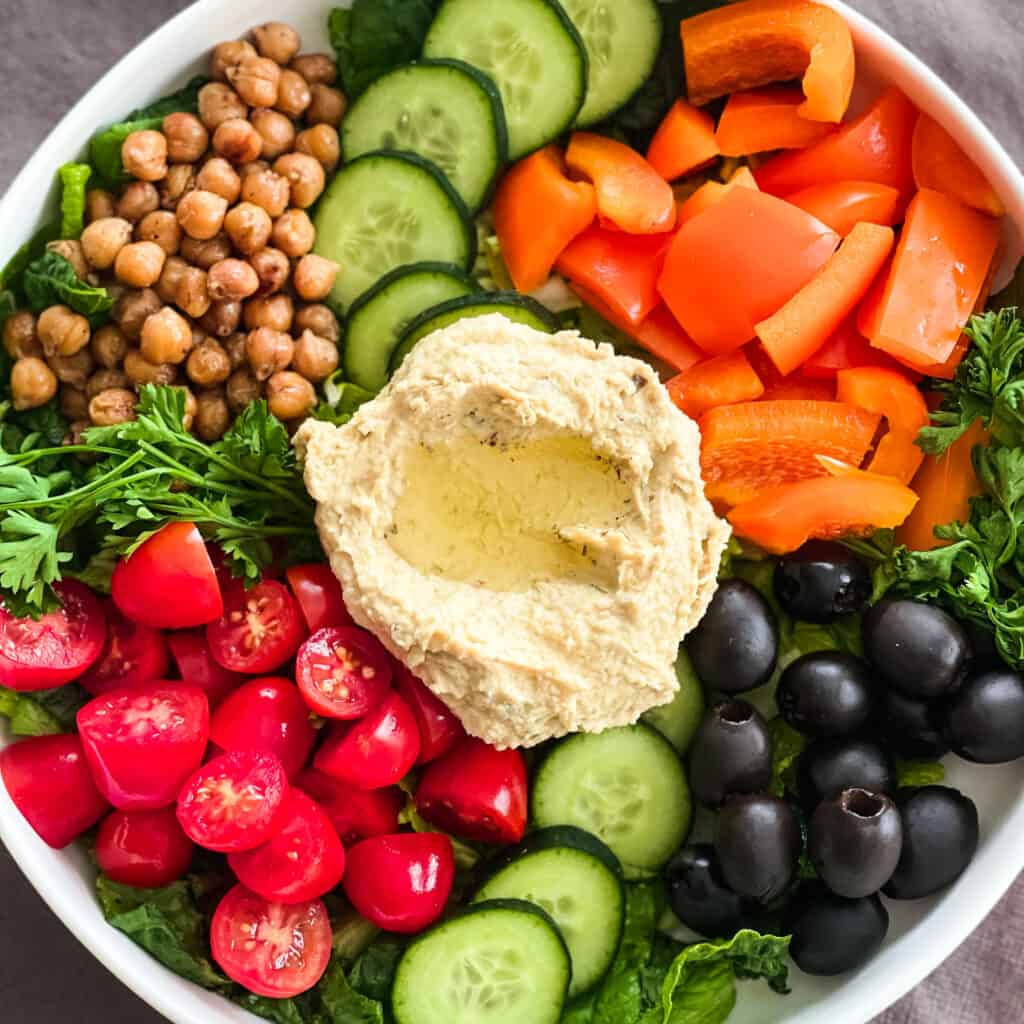 How to: Build Your Own Buddha Bowl
The basic composition of a buddha bowl is: 
grains + veggies + protein + dressing (optional)
I like to start with a bed of lettuce or greens of your choosing.
Next, layer on grains such as quinoa or lentils.
Here comes the fun part! Pile on bright and beautiful pieces of vegetables and fruits that you love. For a Mediterranean buddha bowl I use cucumber slices, grape tomatoes, chunks of orange bell pepper, large olives, and parsley.
Arrange the vegetables on your lettuce and grains and move onto the protein.
You cannot go wrong with chickpeas! Roast some chickpeas in the oven or on the stop stovetop and pile them on. Finish with a big scoop of hummus to help keep you full.
For a basic tahini sauce, mix tahini with olive oil and lemon juice, and drizzle over the entire bowl. Enjoy with pita chips or bread of your choosing!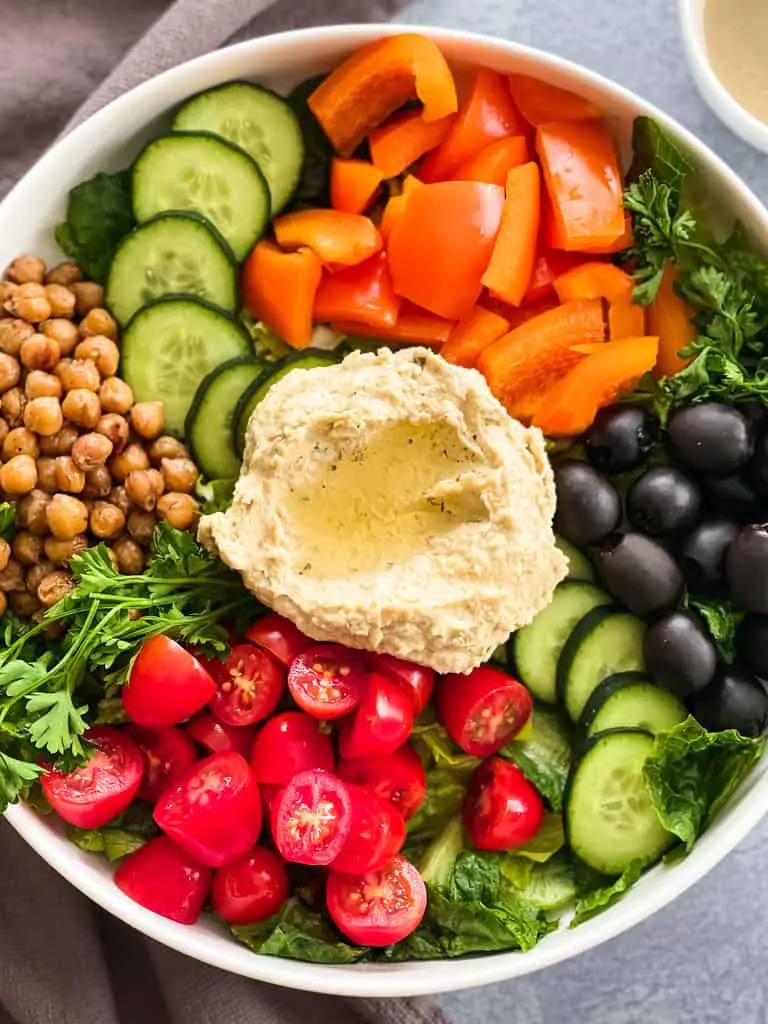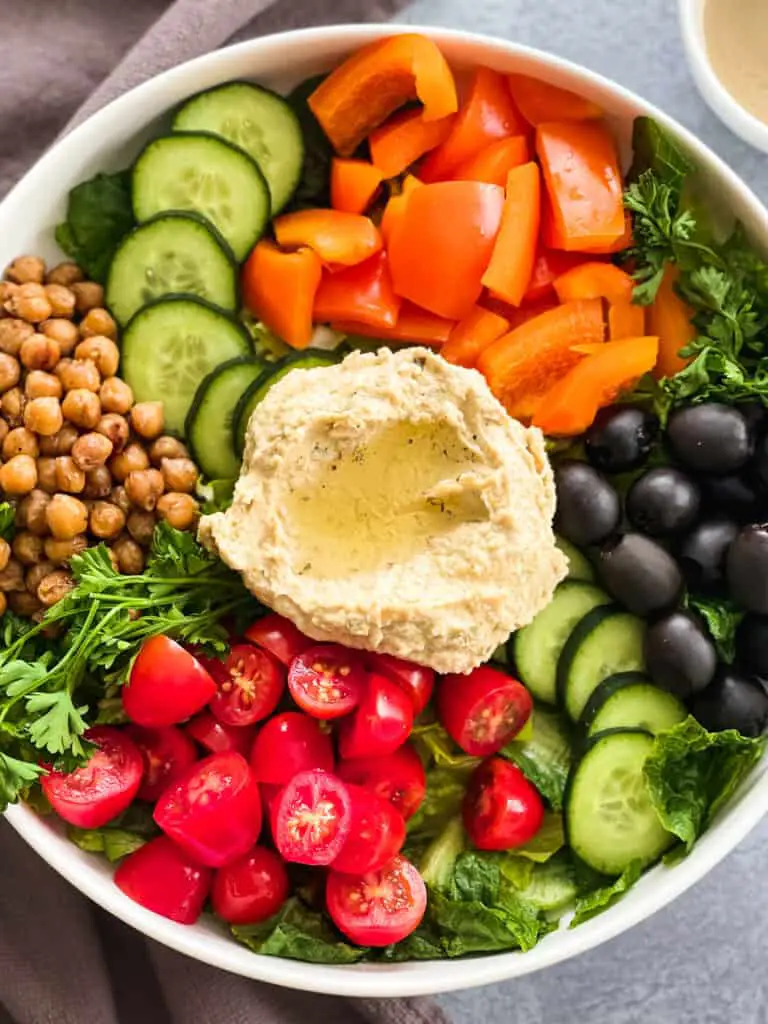 Ingredients Needed
Materials Needed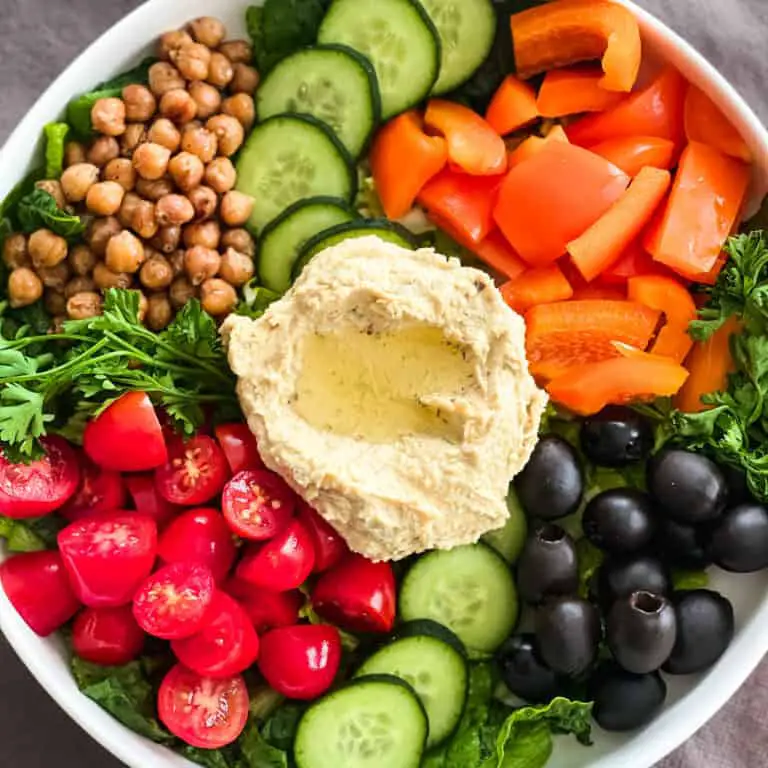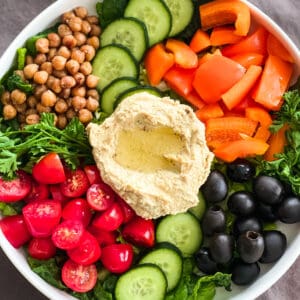 Mediterranean Buddha Bowl
Learn how to build your own Mediterranean buddha bowl that's overflowing with flavor and packed with nutrients to satisfy your body and mind.
Print
Pin
Rate
Ingredients
1-2

cups

leafy greens of spinach

1/2

cup

quinoa

1/2

cucumber

sliced thin

8

oz

grape tomatoes

halved

8

oz (1/2 can)

large olives

1

orange pepper

roughly chopped

15

oz (1 can)

chickpeas

roasted

1/3

cup

hummus

parsley

to garnish
Tahini Dressing
1/4

cup

tahini

1/2

lemon

juiced

2

tbsp

olive oil
Instructions
Place the lettuce in a large bowl. Top evenly with quinoa. Arrange cucumber, tomatoes, olives, orange pepper, and chickpeas around the bowl, and finish with the hummus in the middle. Garnish with parsley.

Whisk tahini, lemon juice, and olive oil until combined. Pour over the bowl and enjoy!
Pin me!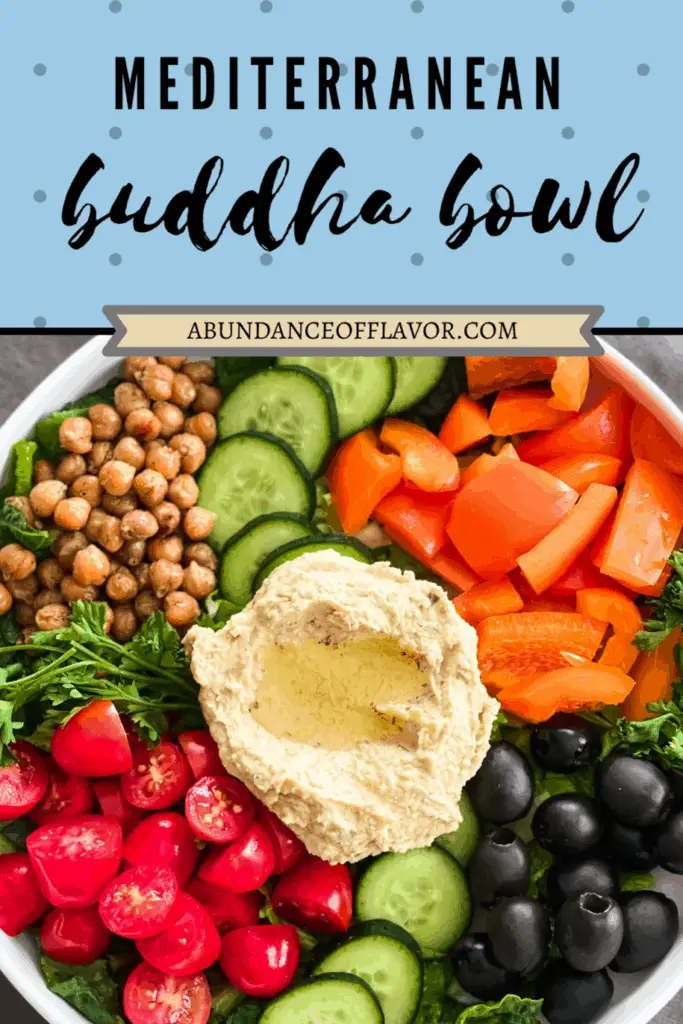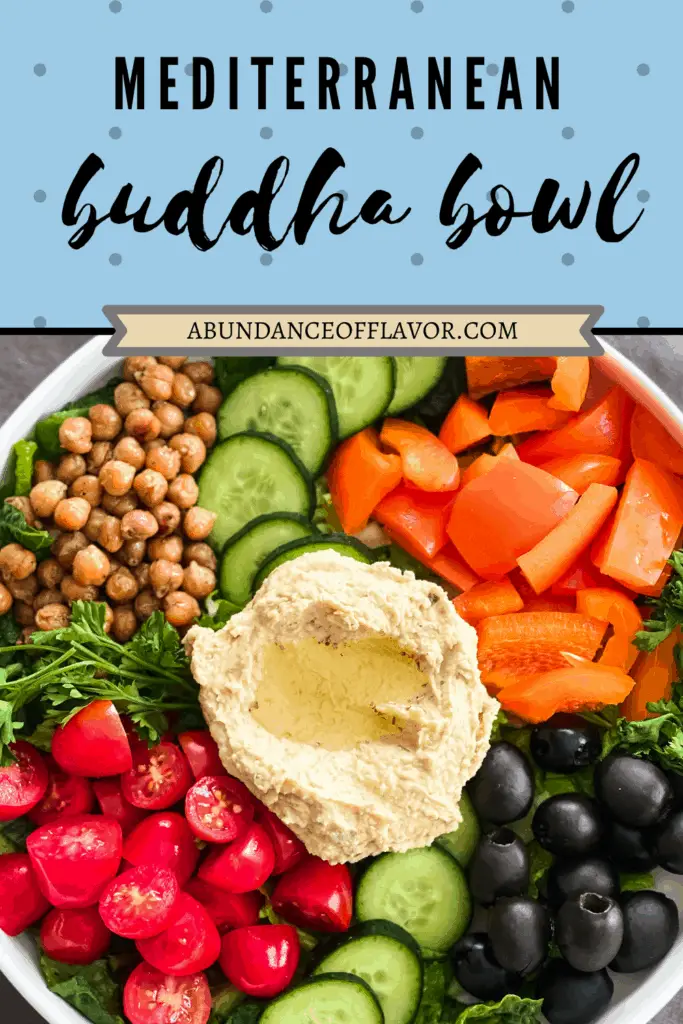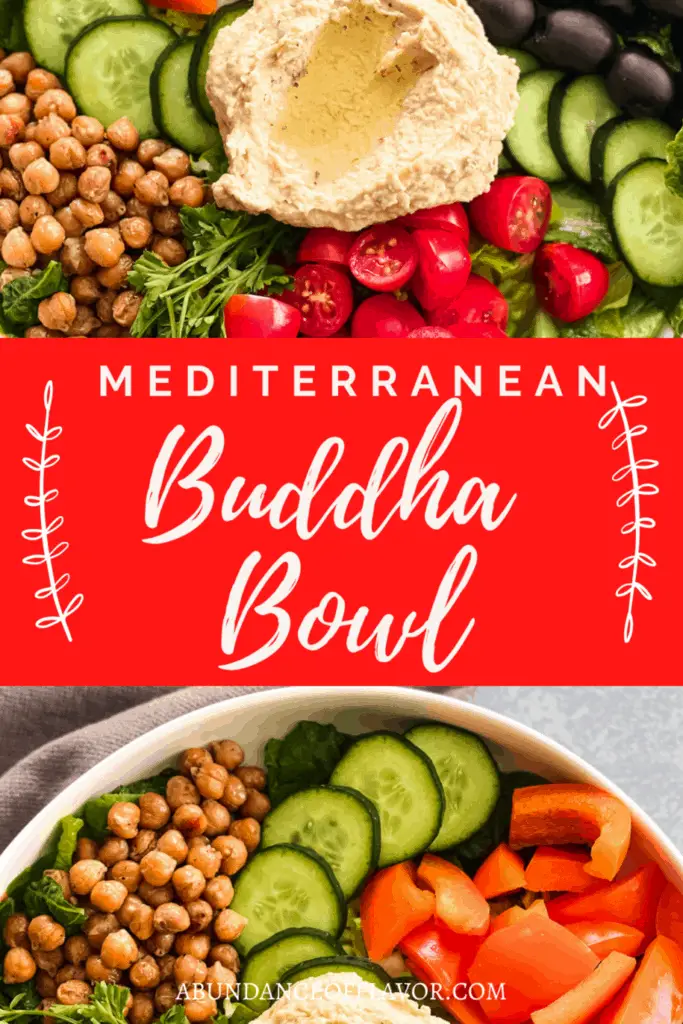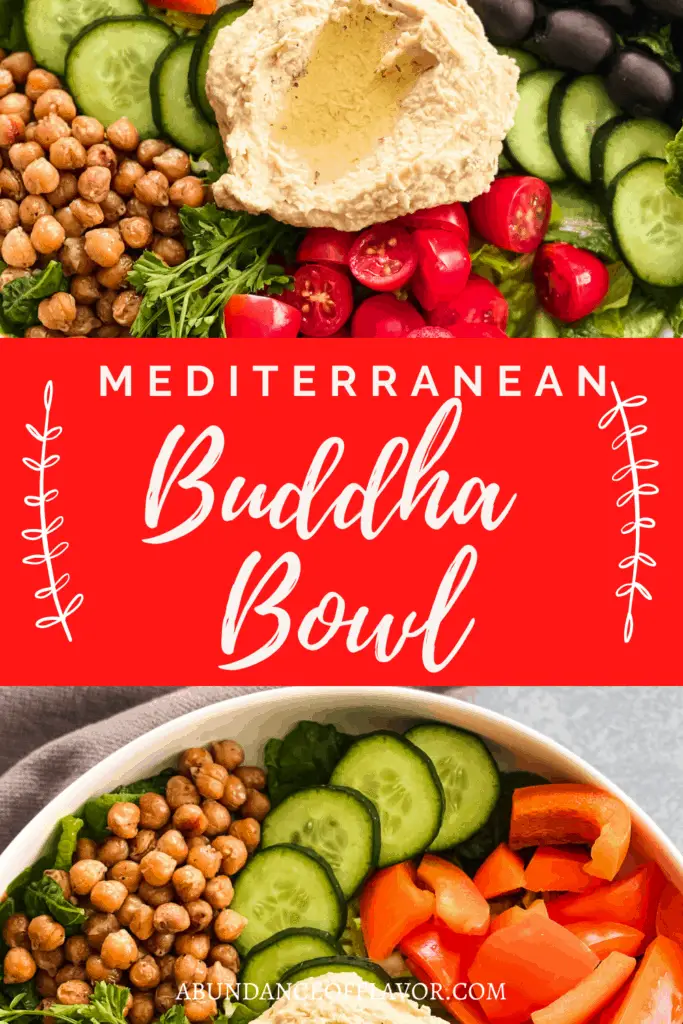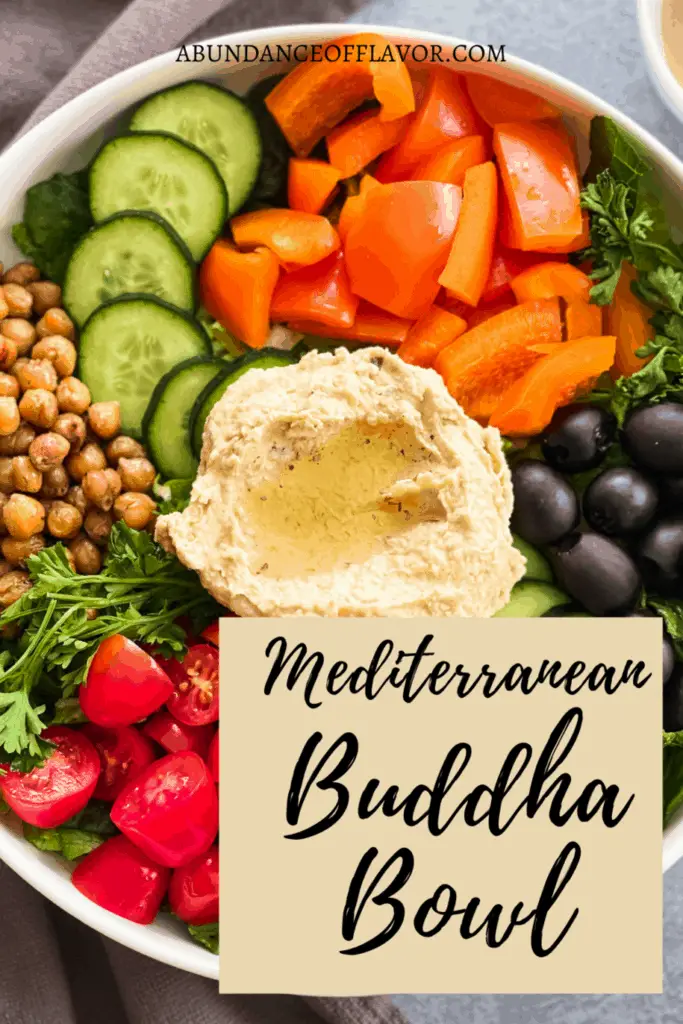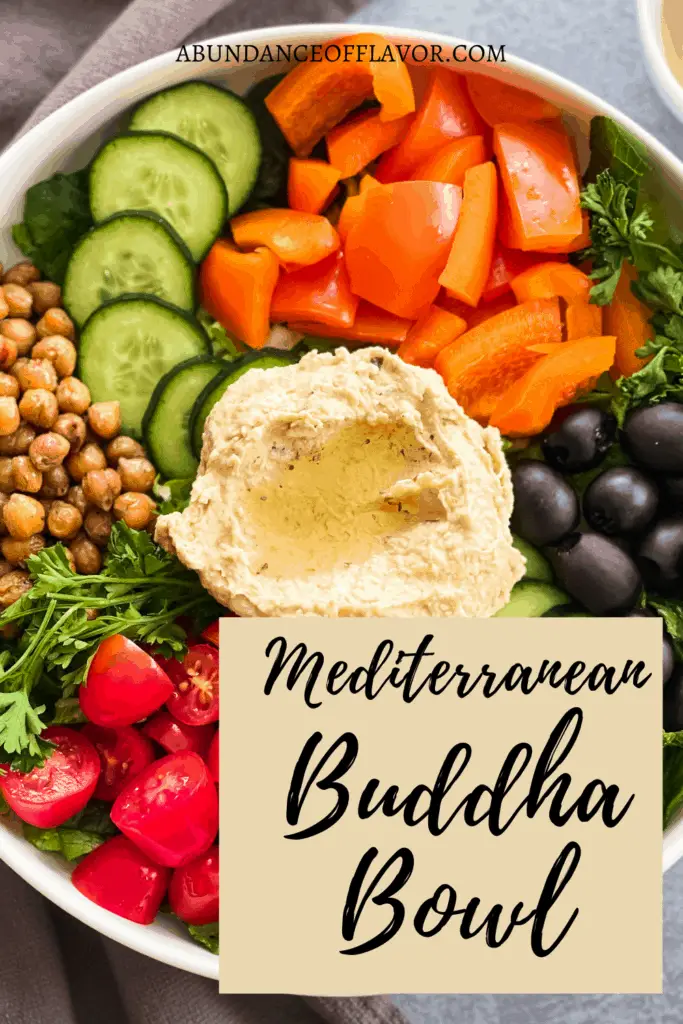 Have you ever built your own buddha bowl before? I'm so excited to try out new combinations and flavors and incorporate this feel-good meal into my routine.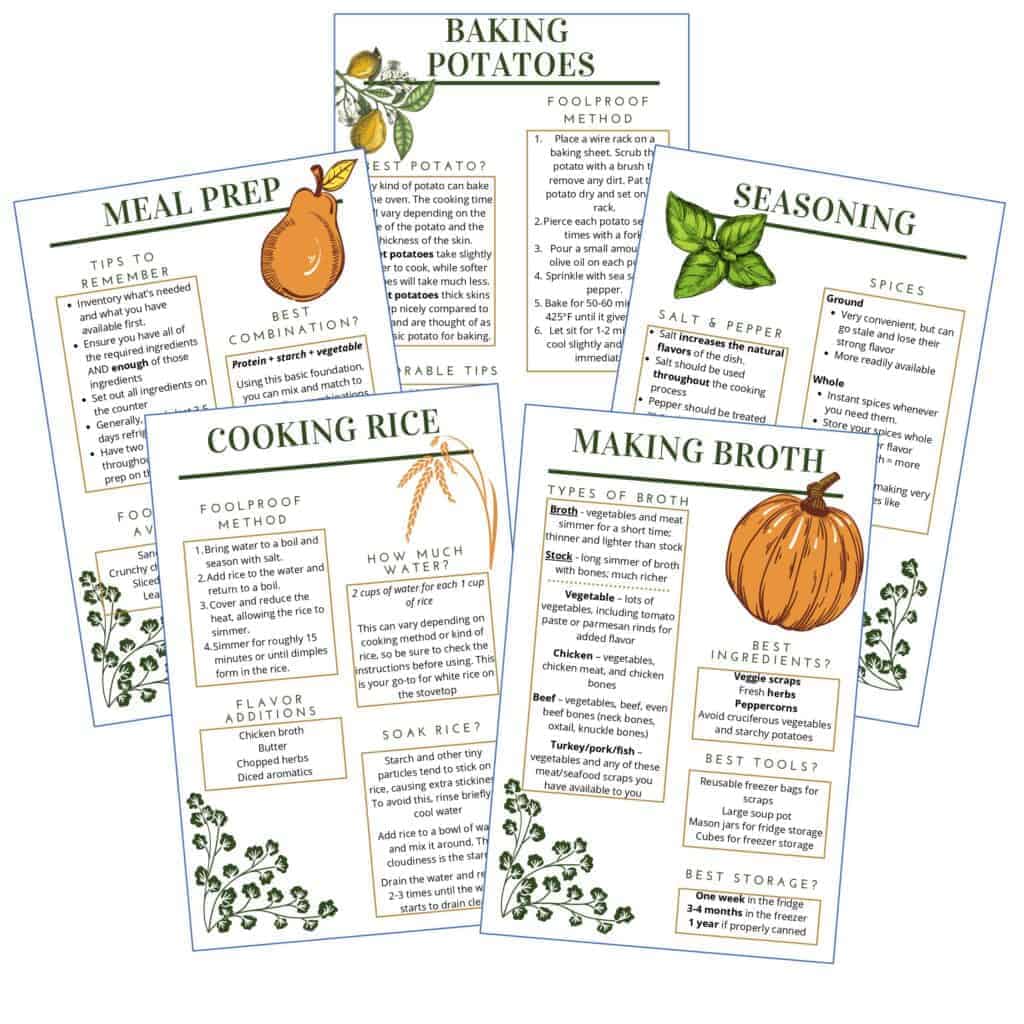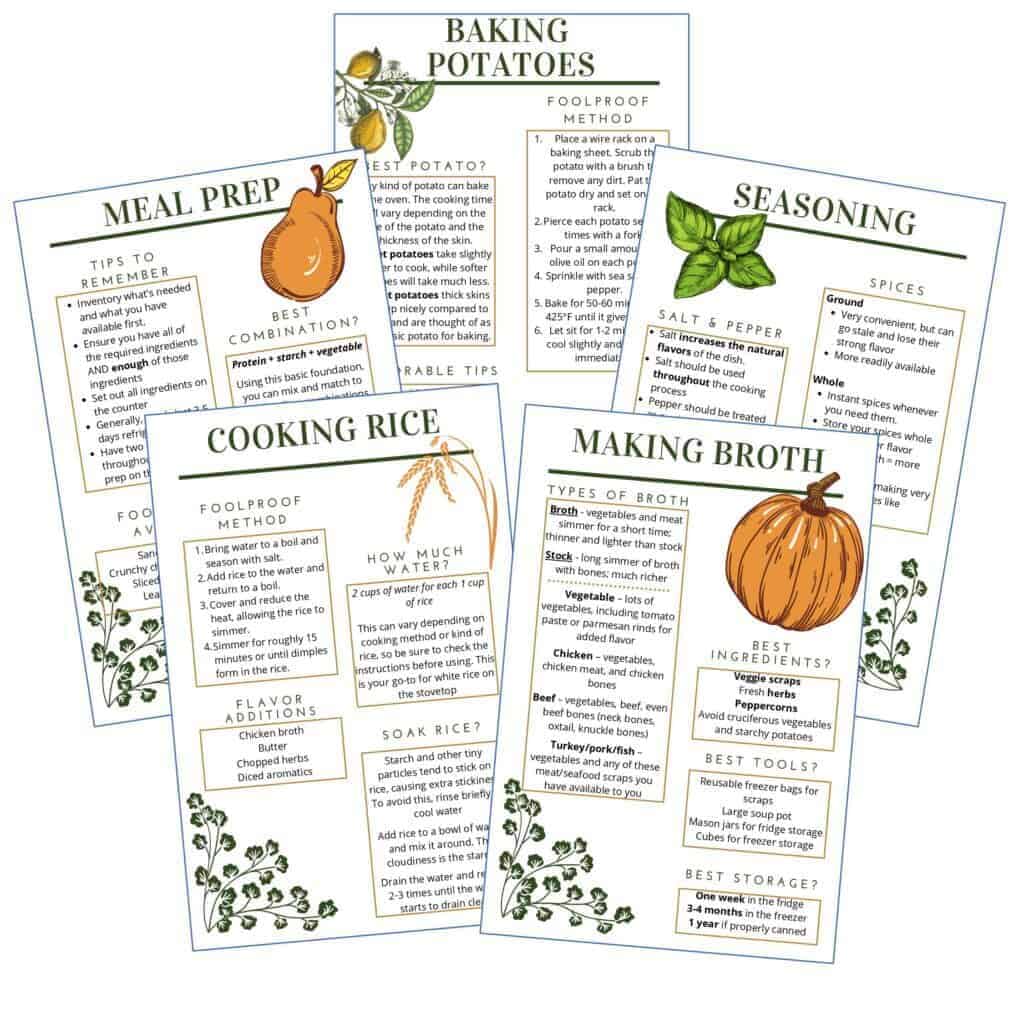 Get your $1 worksheets today!
Related Posts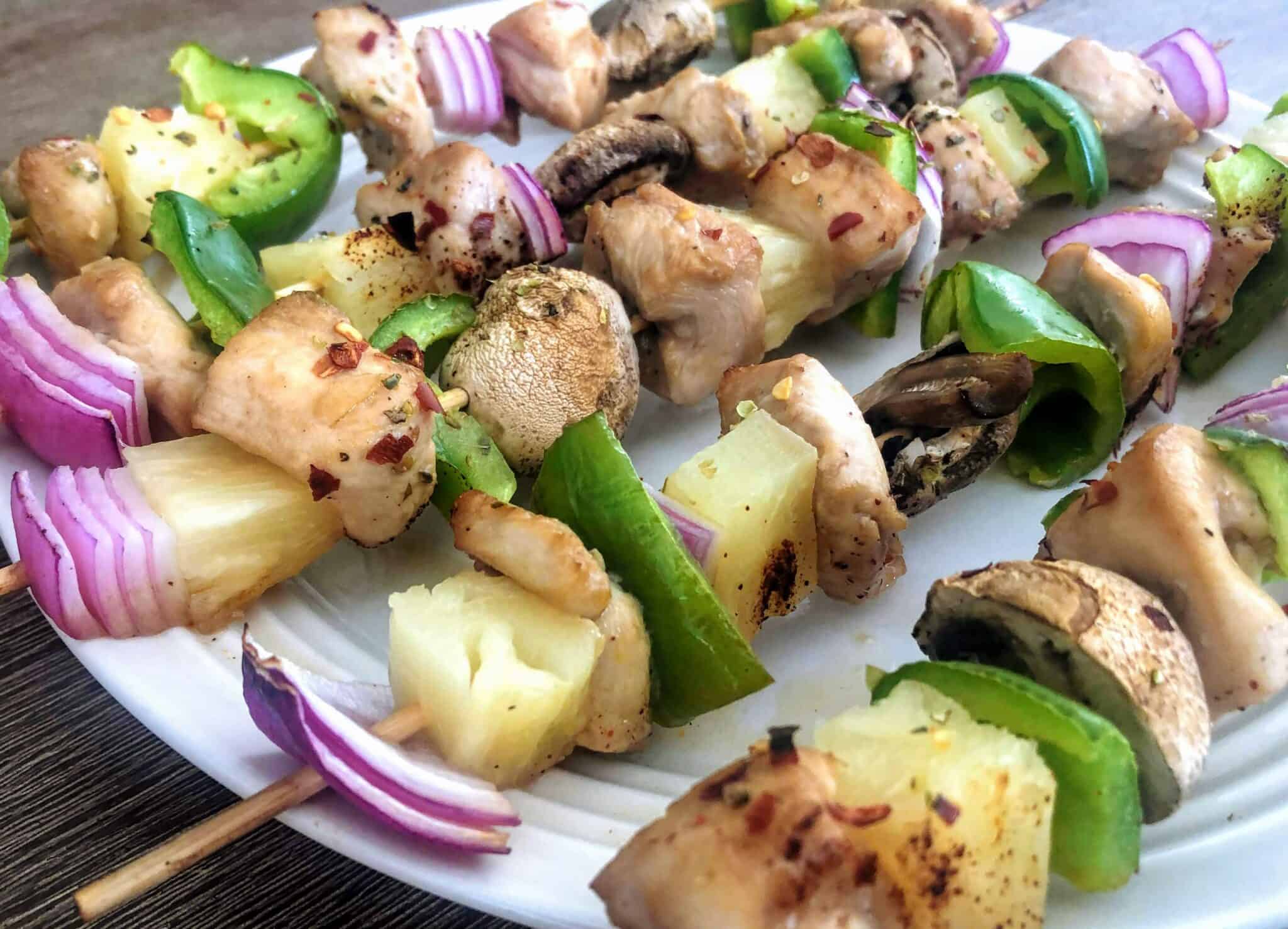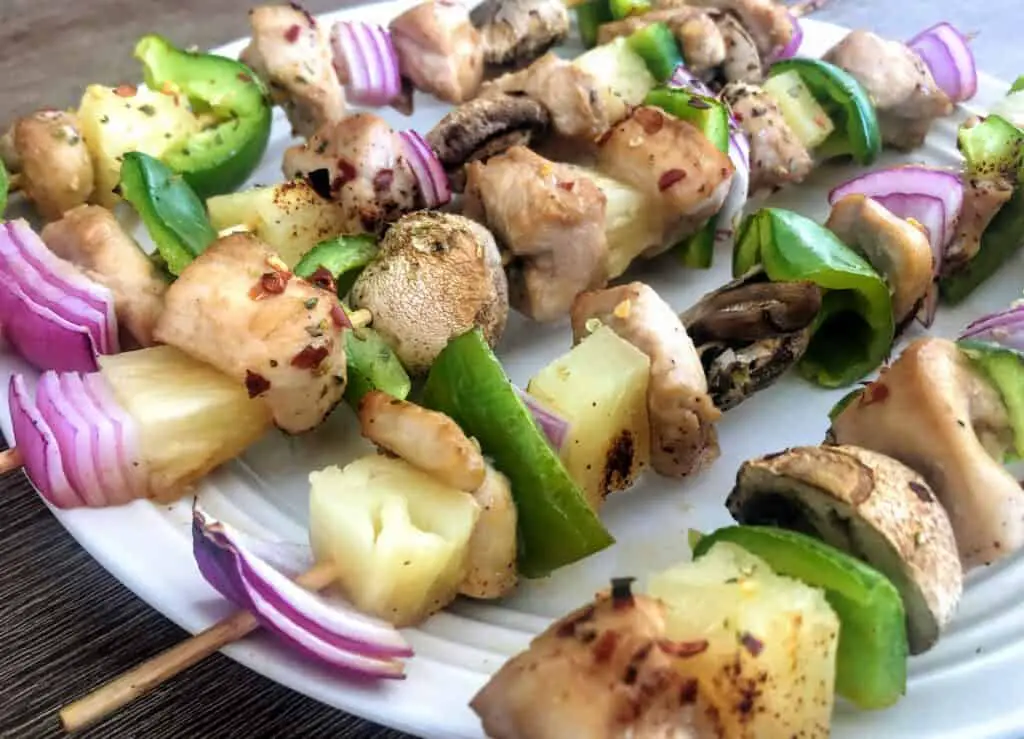 Roasted kebabs stacked high with chicken, sweet pineapple, and savory vegetables, drizzled with a Hawaiian inspired soy-sauce marinade.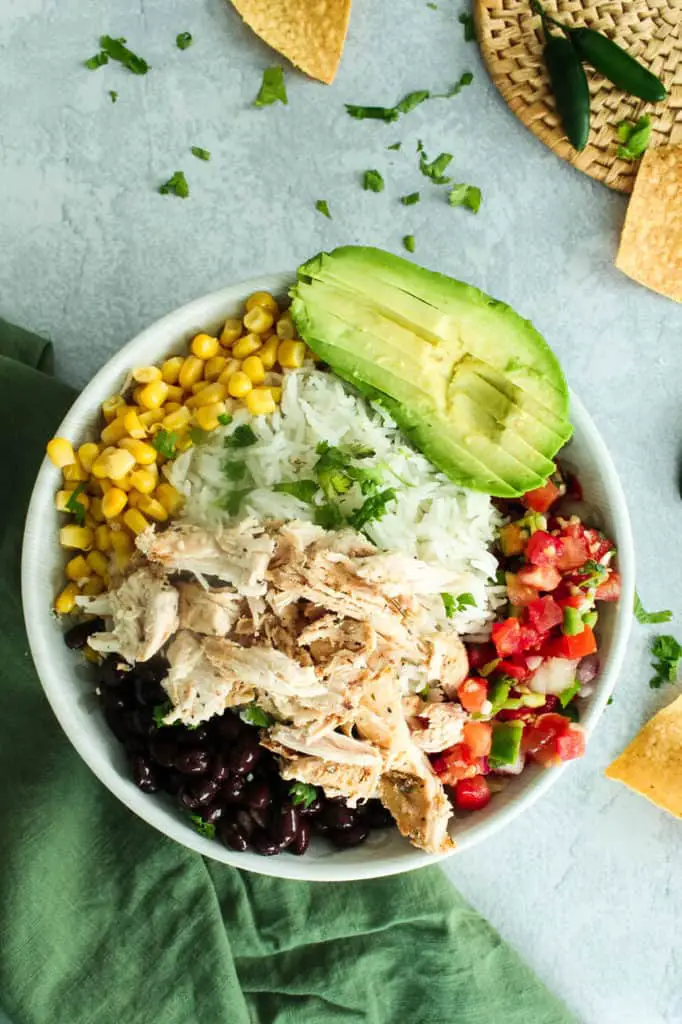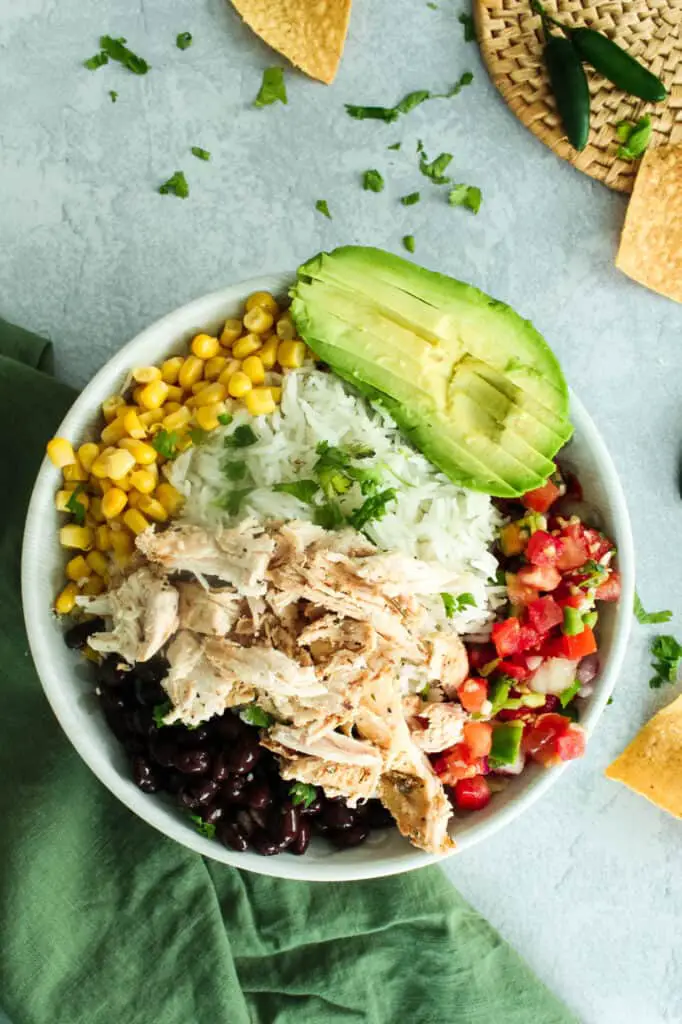 Shredded Chicken Burrito Bowls are filled with southwestern flavors, rich vegetables, and a juicy rotisserie chicken to round out your meal.