Hot, crispy fries are one of my guilty pleasures that I could enjoy daily. Baked sweet potato fries are a simple way to make fresh fries at home that are so much healthier than fast food!
This post is part of our Basic Cooking Skills series. Each week we will be doing a deep-dive into one basic cooking skill and a brand new recipe to accompany it to practice that newfound skill. Check back throughout the series for updates and new posts.
---
Why sweet potato Fries?
Sweet potatoes are filled with nutrients that help you maintain a healthy lifestyle.
Packed with lots of fiber and vitamins, sweet potatoes offer a variety of health benefits and are widely considered to be worth working into your diet.
Compared to white potatoes, sweet potatoes are packed with more fiber and vitamins and generally considered as healthier alternative. At least in a typical American diet, white potatoes tend to be prepared more often in unhealthier ways, but both potatoes can be worked into a healthy die in moderation.
This awesome infographic from the Cleveland Clinic goes into great detail about the differences between the two spuds.
how to: cut sweet potatoes
Sweet potato skin should be peeled first if you want to remove the skin. I personally love the skin on sweet potatoes and it gets really crispy baked in the oven (the skin is stuffed with nutrients too).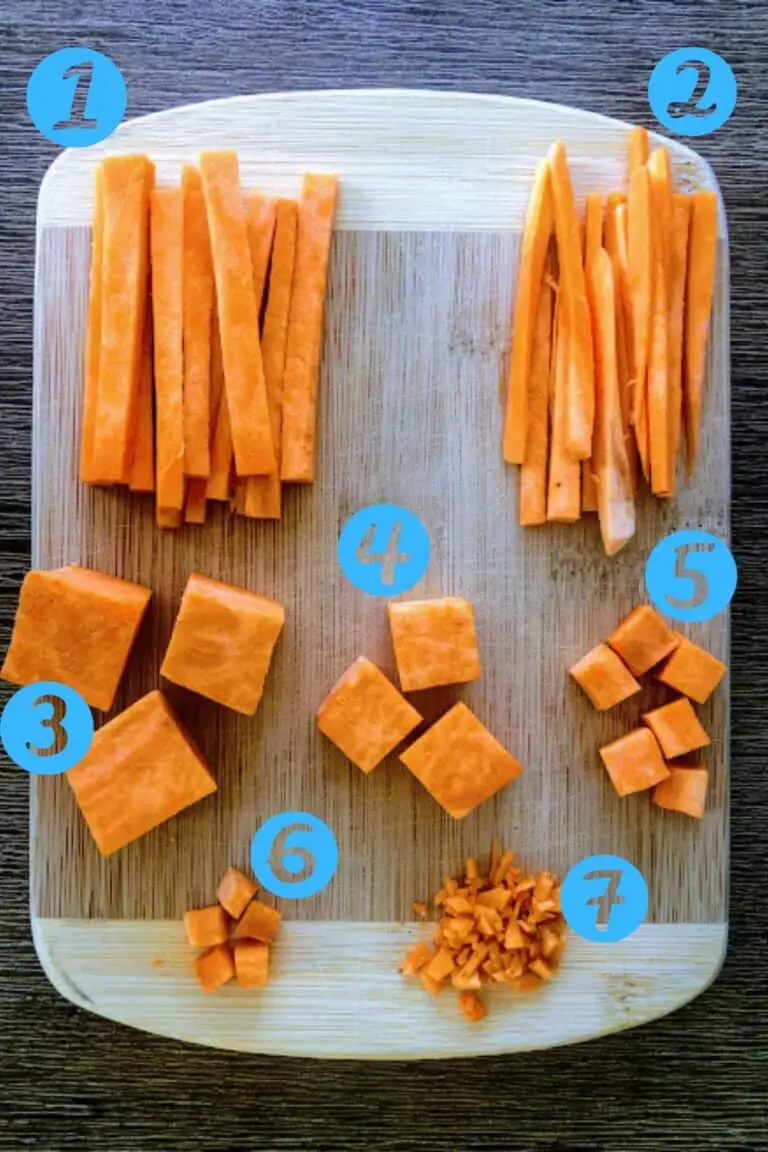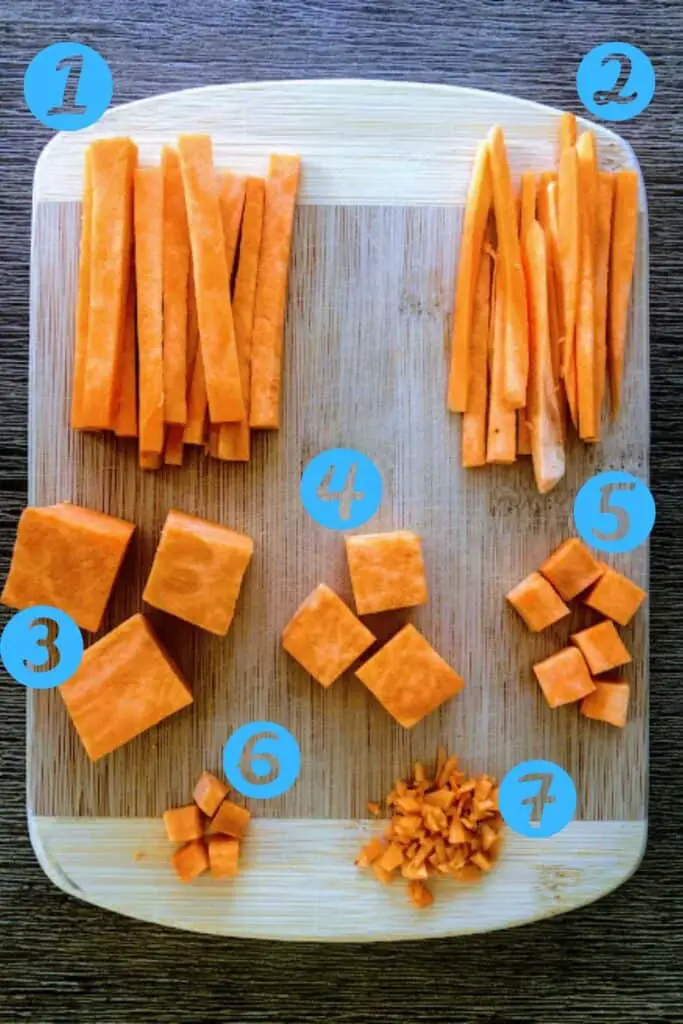 Check out the different kinds of knife cuts and read more in this Knife Skills resource. For fries, I would recommend aiming for (1) Batonnet cuts.
Using about 2 medium sized sweet potatoes, cut each potato in half length-wise and lay flat. Continue cutting each piece until you have smaller, even sized pieces.
I aim for pieces about half an inch wide, 2 inches long, and a quarter inch thick. Thinner fries cook quicker and crisp up better.
Add to a gallon-sized plastic storage bag and set aside.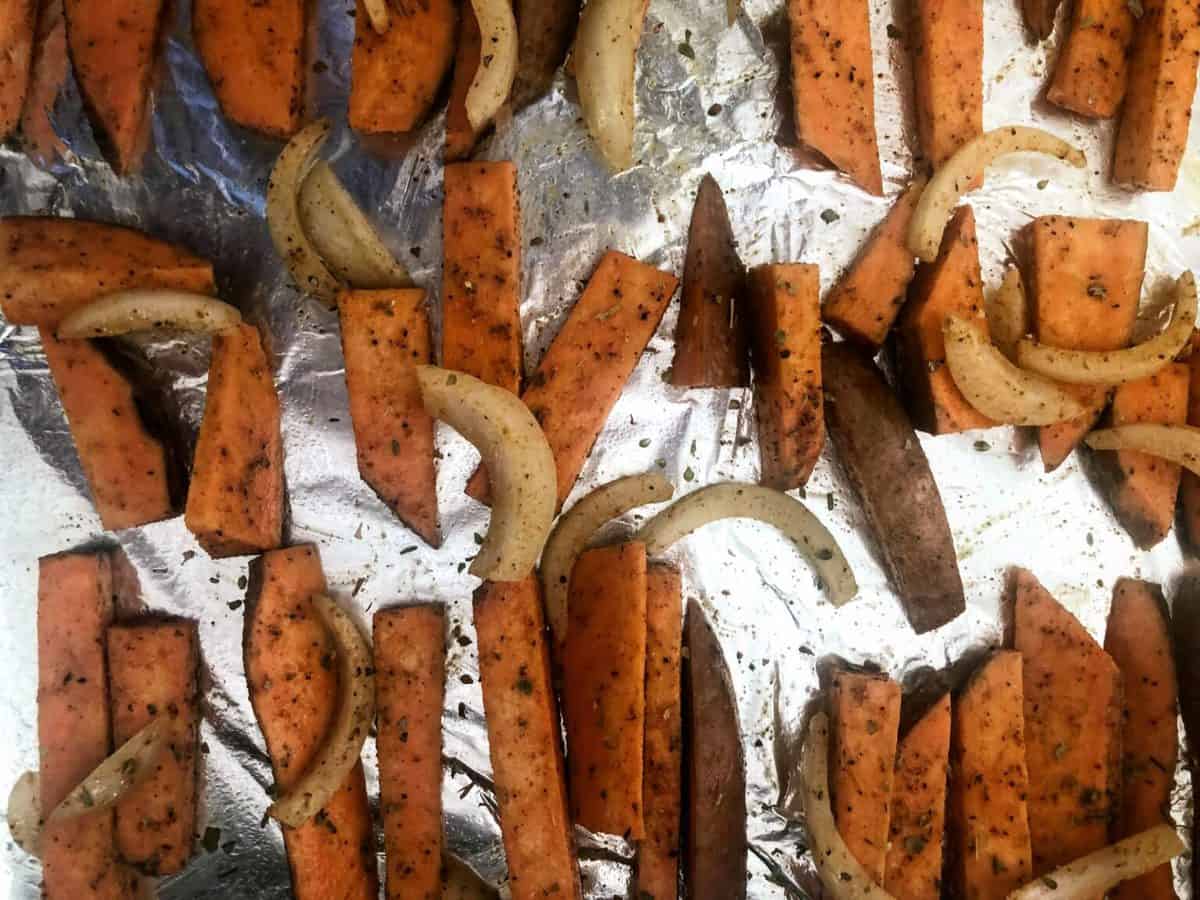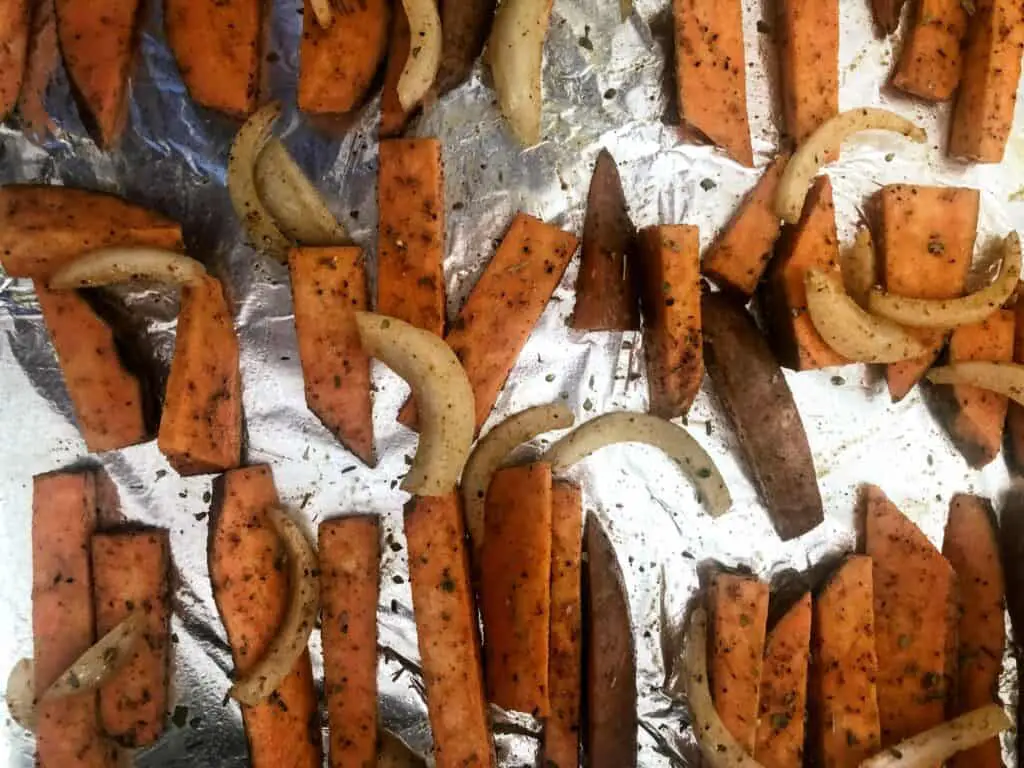 how to: cut onions and garlic
Garlic and onion really enhance the flavor of the baked sweet potato fries. Cutting them into small pieces allows for even more flavor across the entire sheet pan.
Julienne up to ½ of an onion into long, thin pieces. Mince a few cloves of garlic. (for info on the different cuts of vegetables check out this knife skills resource post)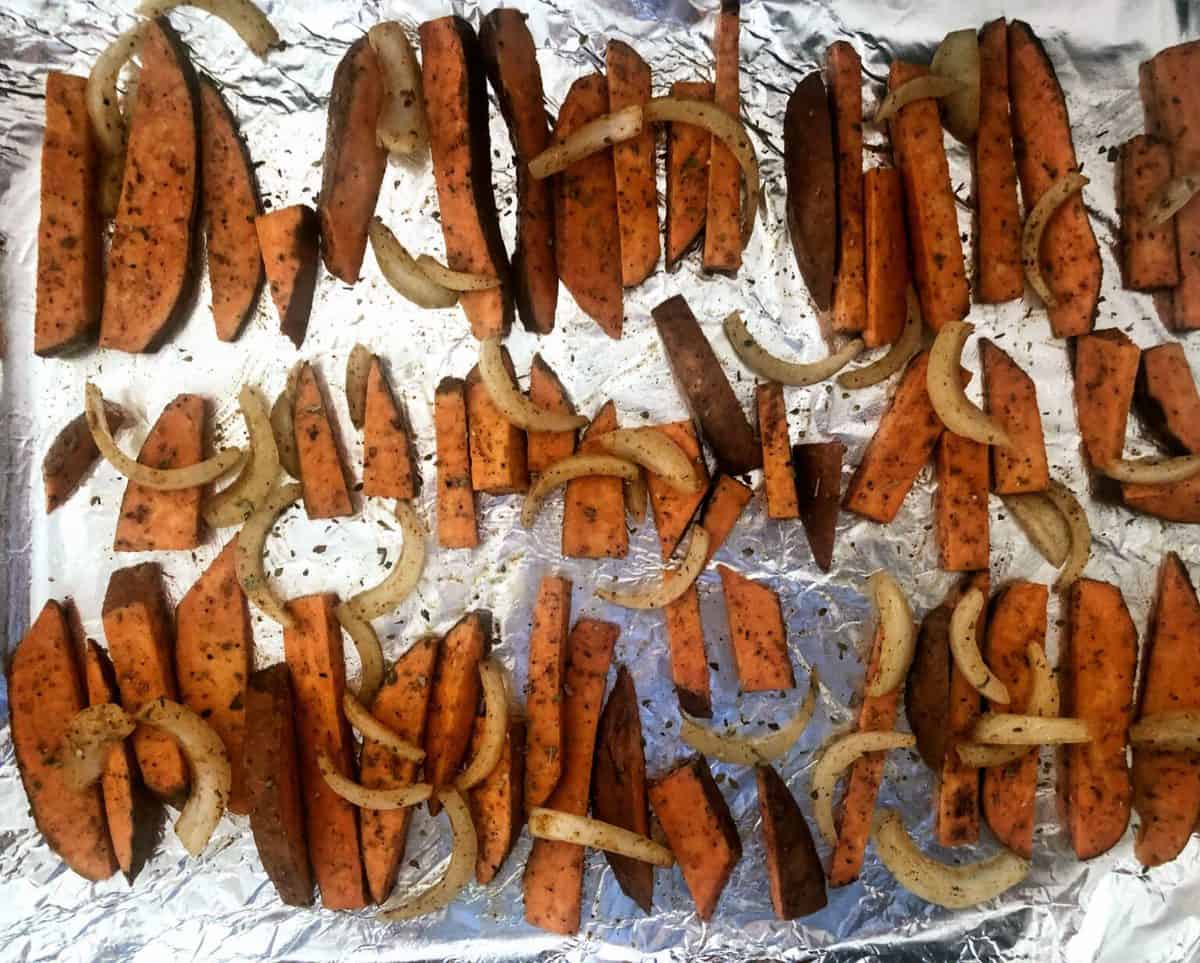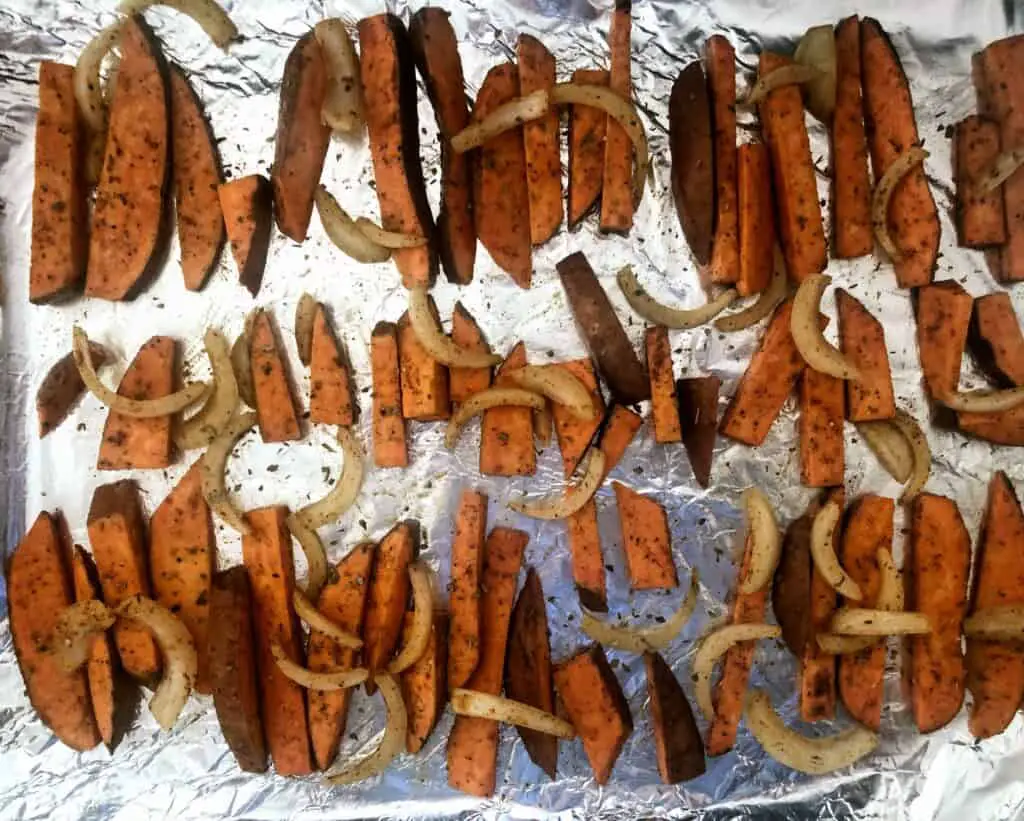 How to: make baked sweet potato fries
Shake the potatoes in the storage bag with cornstarch until coated thoroughly. The cornstarch helps develop a crispy texture on the fries, so it's important to get the potatoes covered!
Toss in the onion and garlic to the bag and shake to combine.
Add chili powder, oregano, cumin, cinnamon, and a dash of salt and pepper. Shake until tossed thoroughly.
Drizzle with olive oil and continue shaking!
Transfer to a lined baking sheet and roast for 30 minutes or until the edges are starting to brown, flipping halfway through.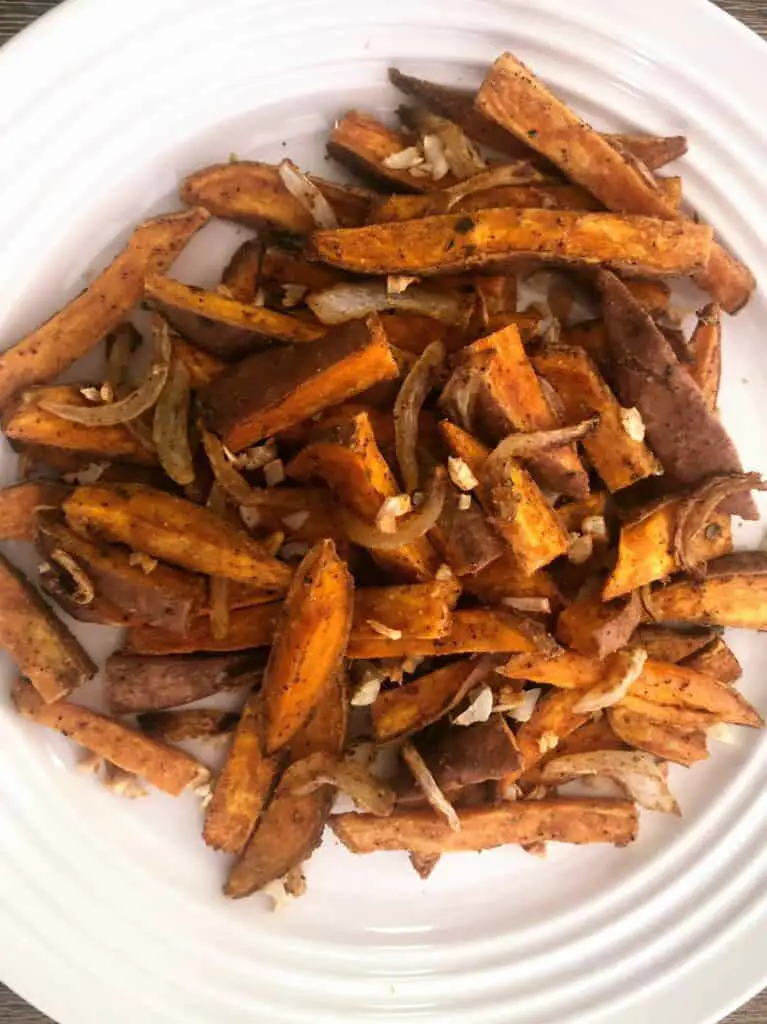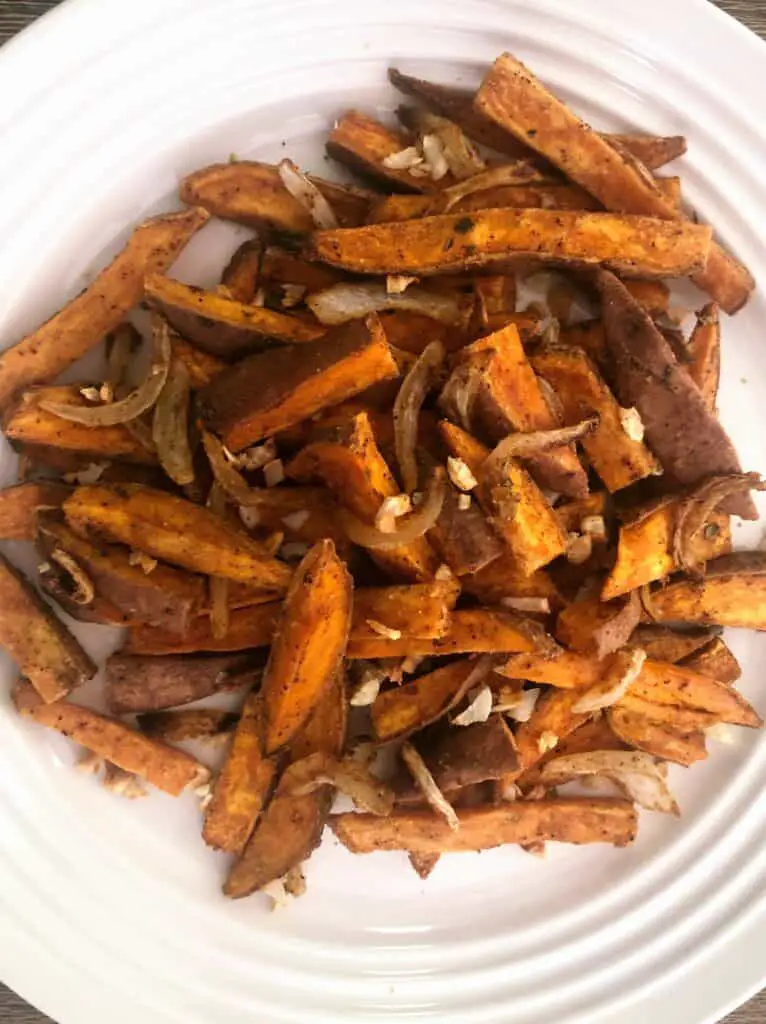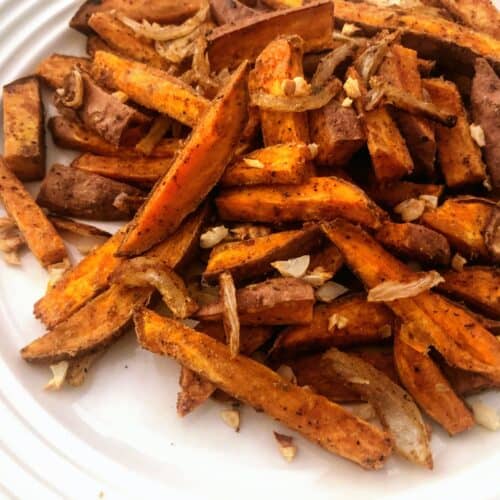 Ingredients
2

medium-sized

sweet potatoes

chopped into long, thin pieces

2

tbsp

cornstarch

1/2

onion

sliced thin

2-3

cloves

minced finely

1

tbsp

chili powder

1

tbsp

oregano

1/2

tbsp

cumin

1/2

tbsp

cinnamon

dash of

salt and pepper

2

tbsp

olive oil
Instructions
Preheat the oven to 400 degrees. Line a sheet pan with foil.

In a plastic storage bag, toss the sweet potatoes in cornstarch until coated thoroughly.

Add onion, garlic, and all spices to the bag and shake until tossed thoroughly. Drizzle with olive oil and continue shaking.

Transfer to the sheet pan with space between each fry. Roast for 15 minutes, flip, and continue roasting for 15 minutes or until the edges are starting to brown.
Pin me!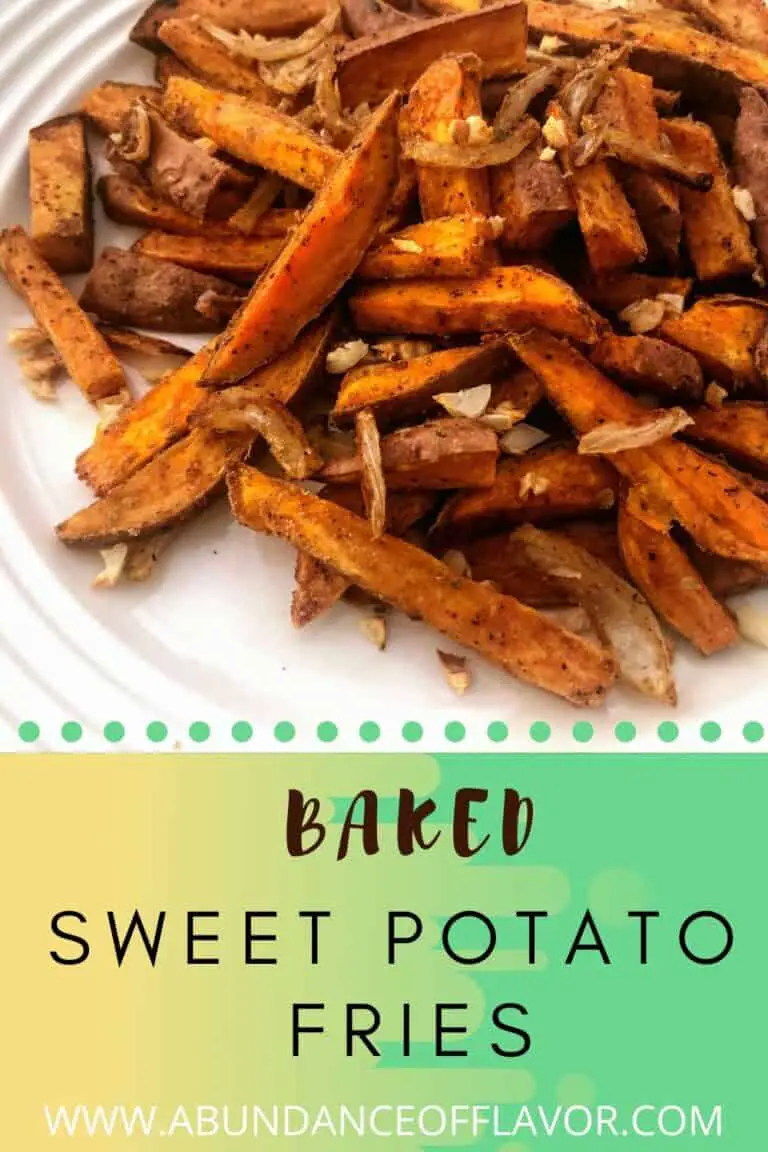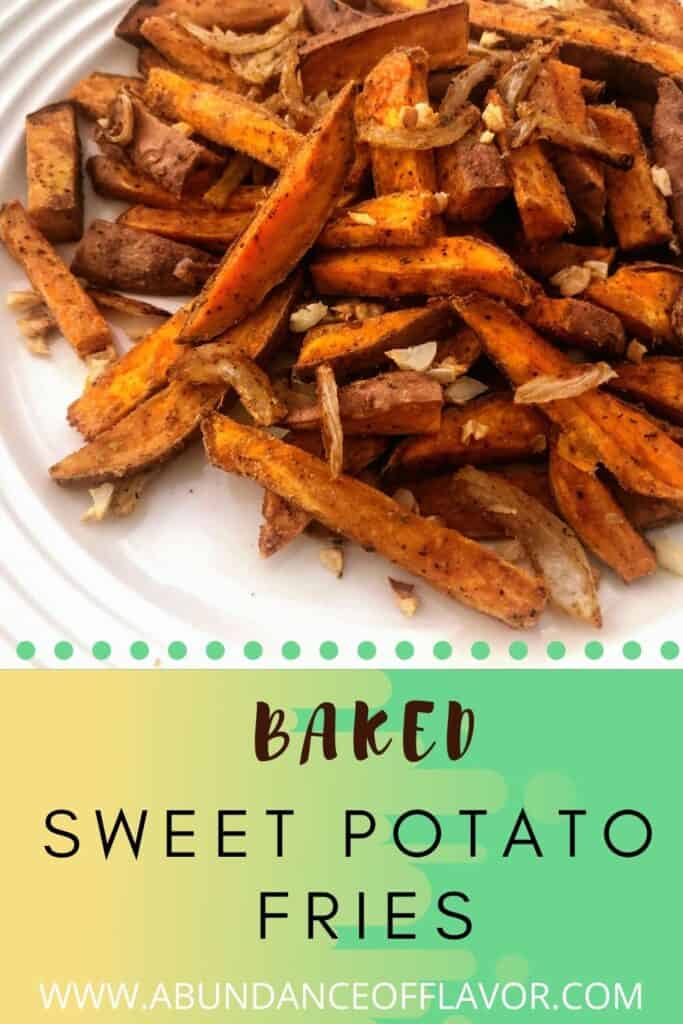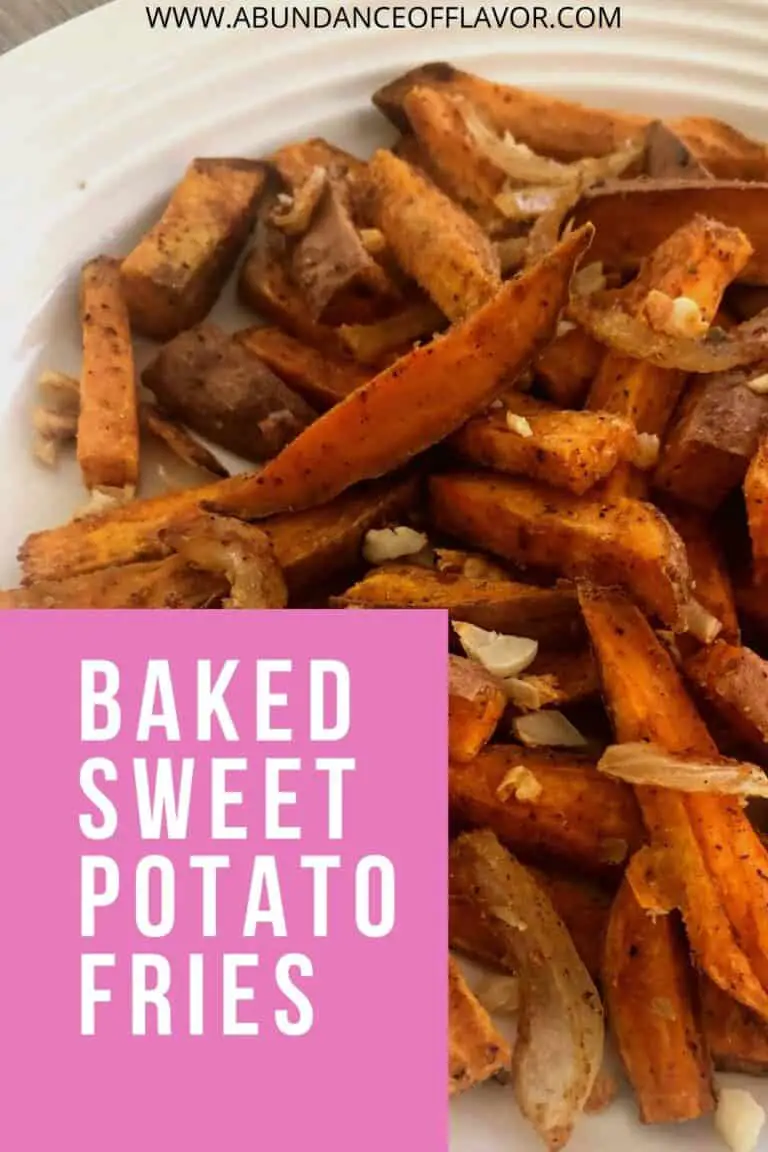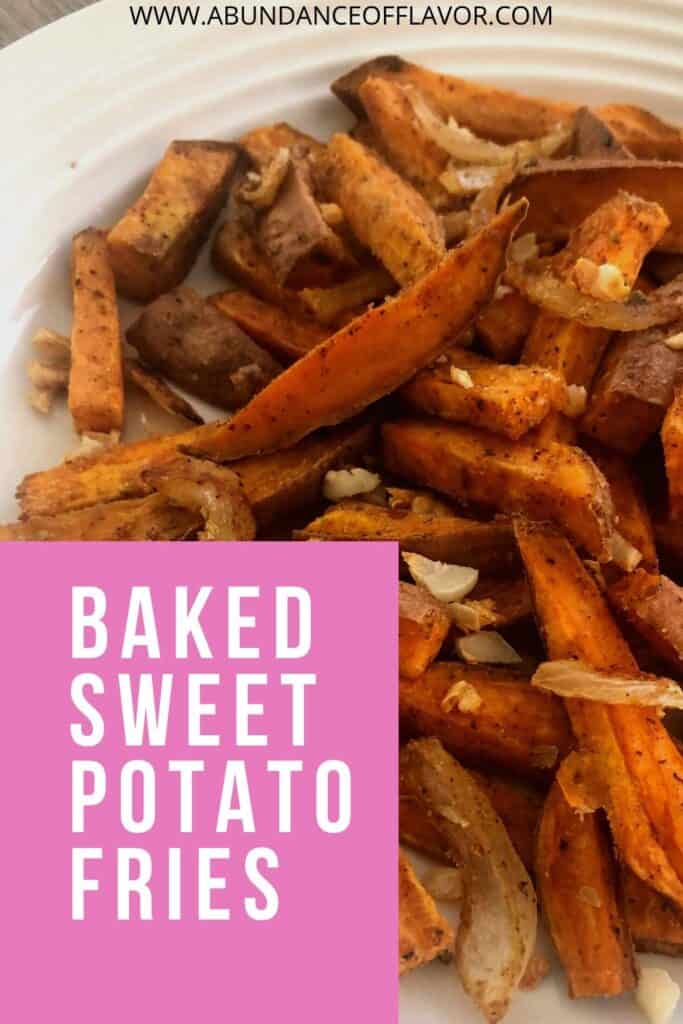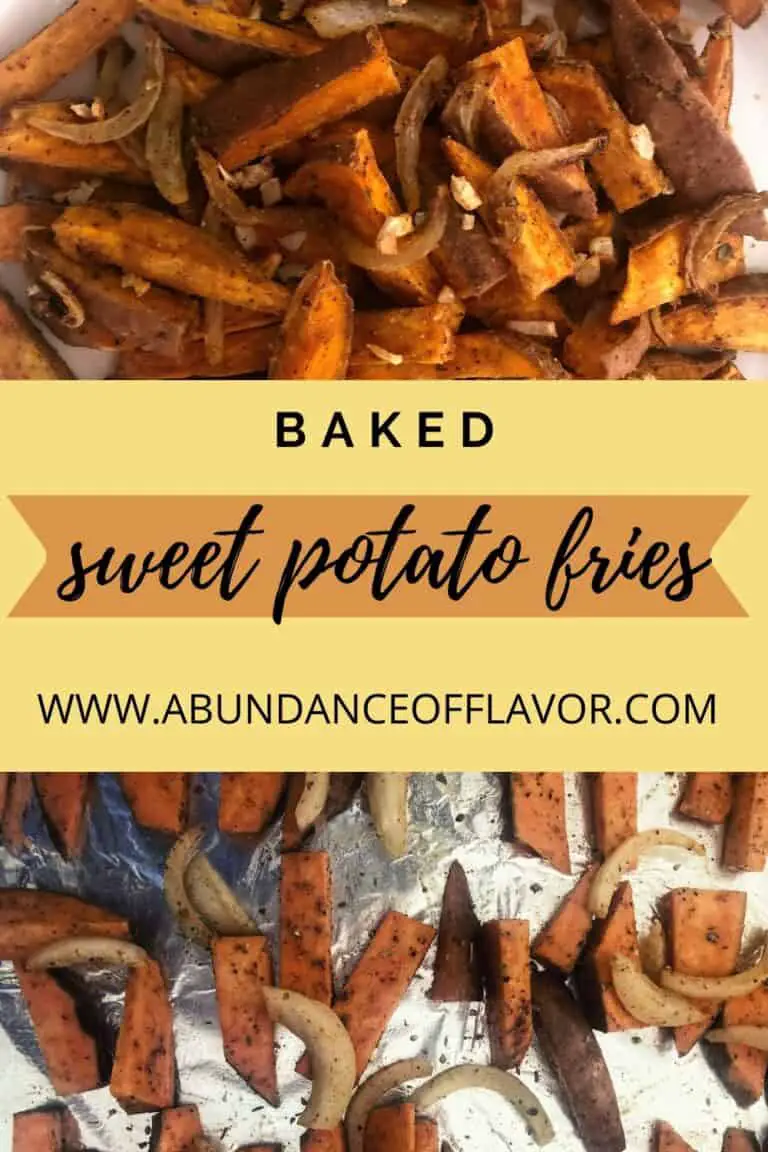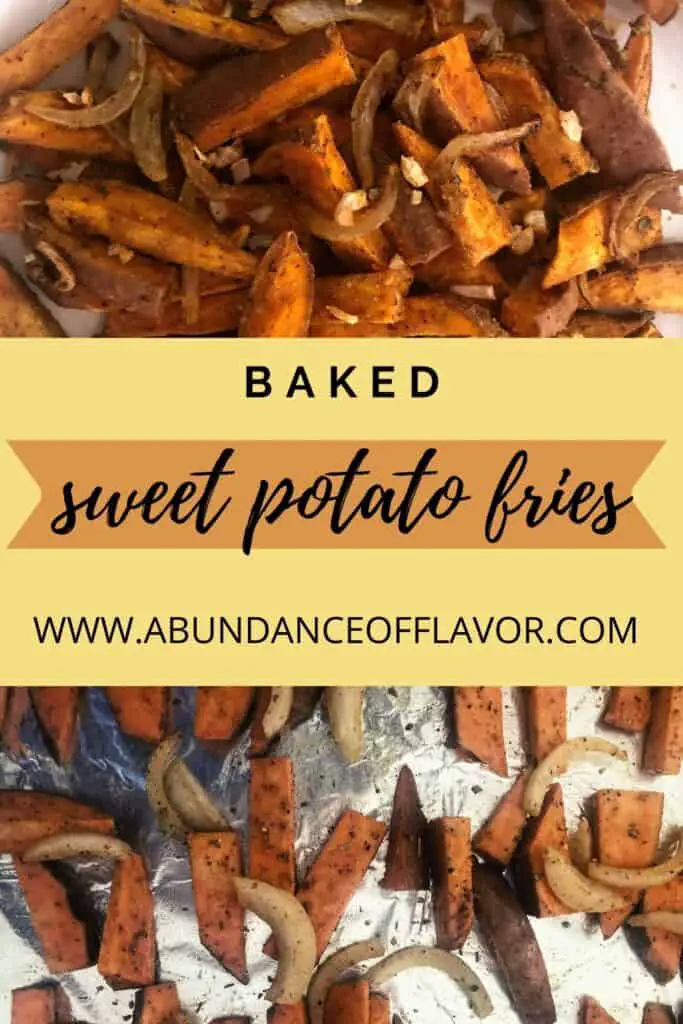 customize: sweet or savory?
For more savory fries, omit the cinnamon and add more seasoning like cumin or chili powder.
If sweet cravings hit, sprinkle with even more cinnamon and brown sugar to find a perfect sweet and savory balance.
What is your go-to dipping sauce for fries? Share your favorites below!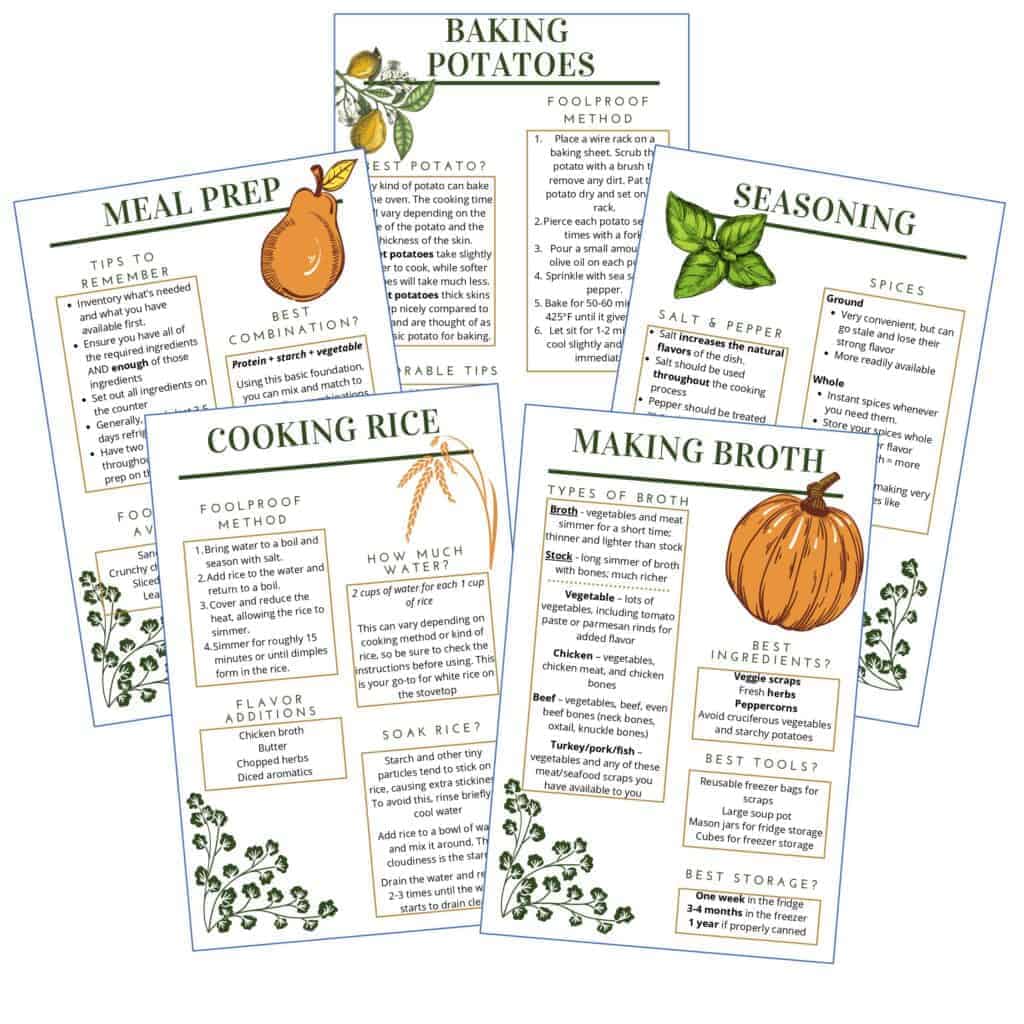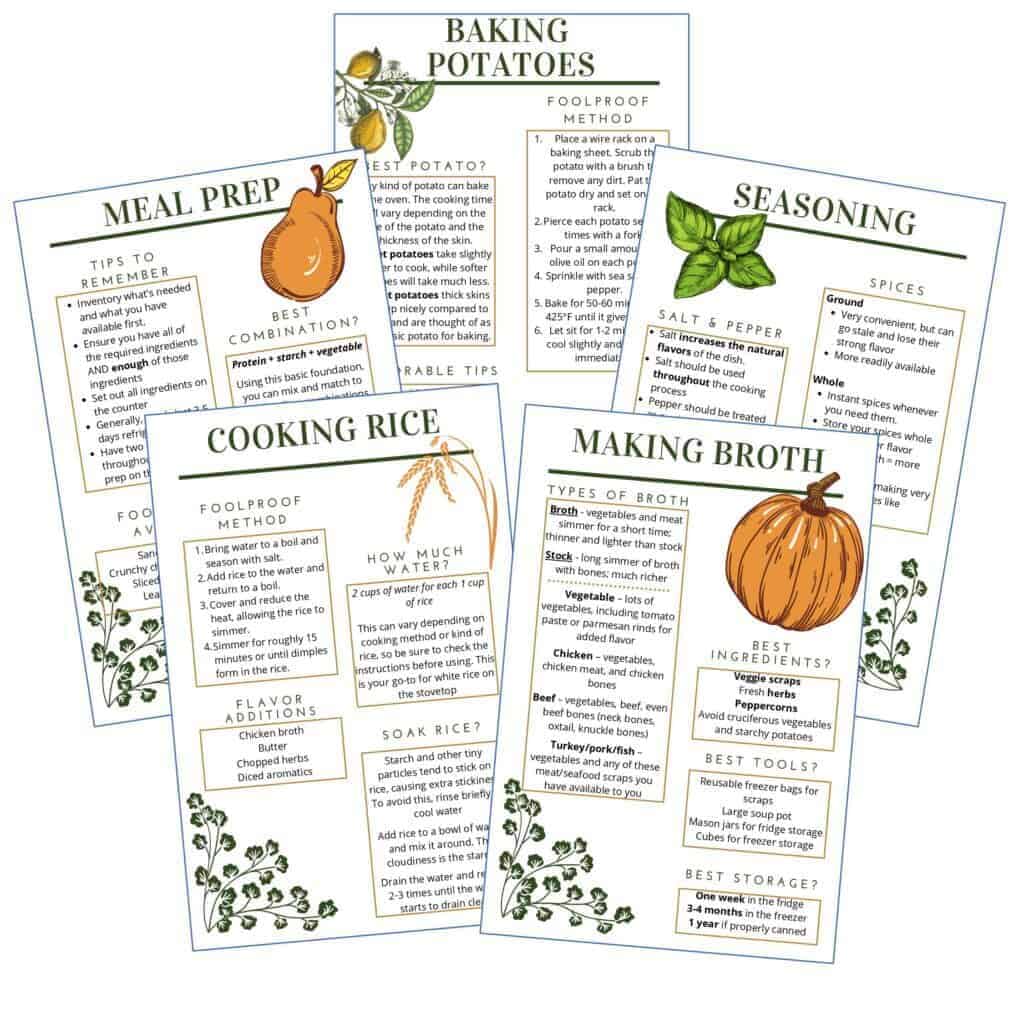 Get your $1 worksheets today!
Related Posts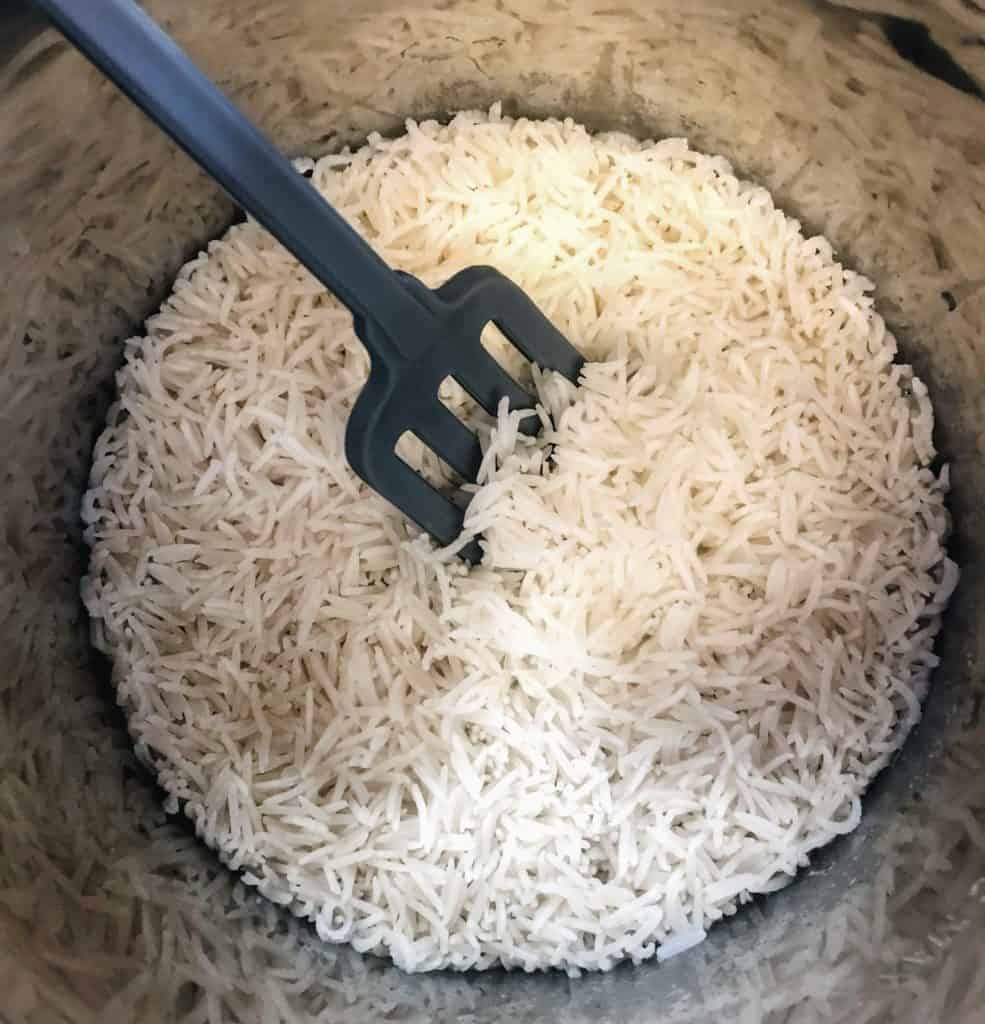 Create perfectly cooked rice every time using the Instant Pot! With almost no prep and 4 minutes of cook time, this recipe could not be …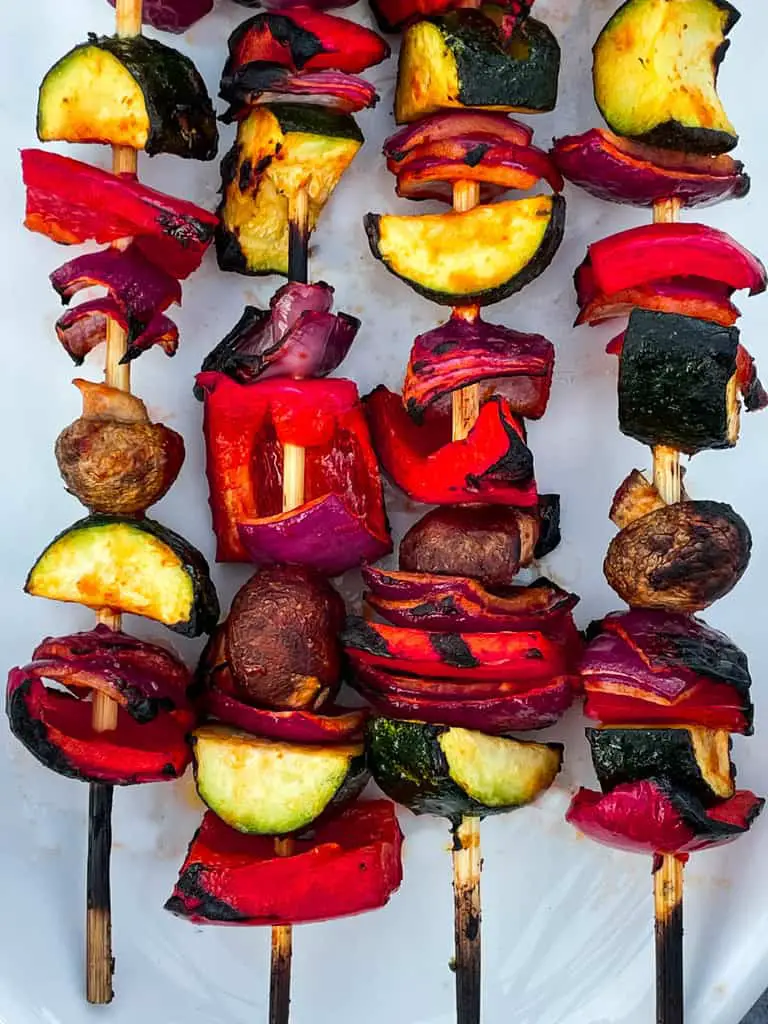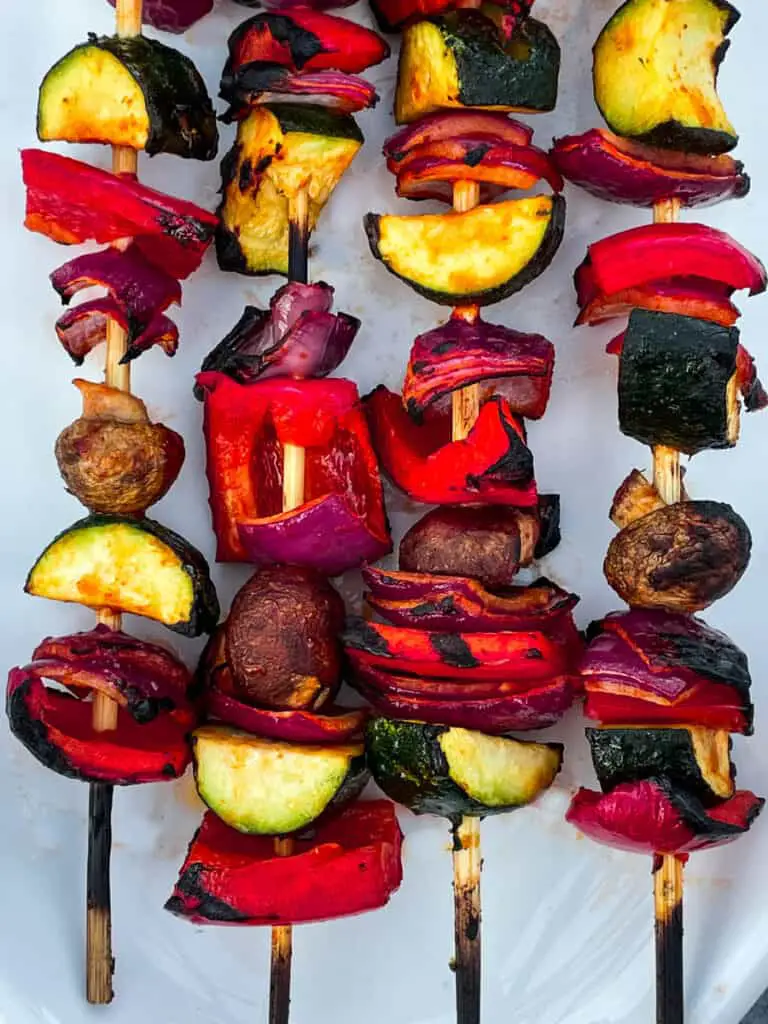 Fire up the grill for Sriracha Grilled Veggie Kabobs! Crisp veggies coated in a sriracha marinade that packs lots of heat and great flavor.