There is rarely a recipe I make in which I don't use onions. In the past, I didn't like onions at all and would scrunch up my nose if I experienced a crunch of an onion in a bite of my food. Fast forward a few years and a few thousand meals later, caramelized onions are a sweet delicacy I love to add as a topping on my food. I caramelized 2 pans of onions, one cast iron and one carbon steel, to see what insight could be gained on what's the best pan for caramelized onions.
All you need to create this sweet and savory treat are some onions, one reliable pan, a little bit of a butter, and a whole lot of time.
Please note this post contains affiliate links, which means I receive a small commission, at no extra cost to you, if you make a purchase using the links. Please see my disclosure for more details.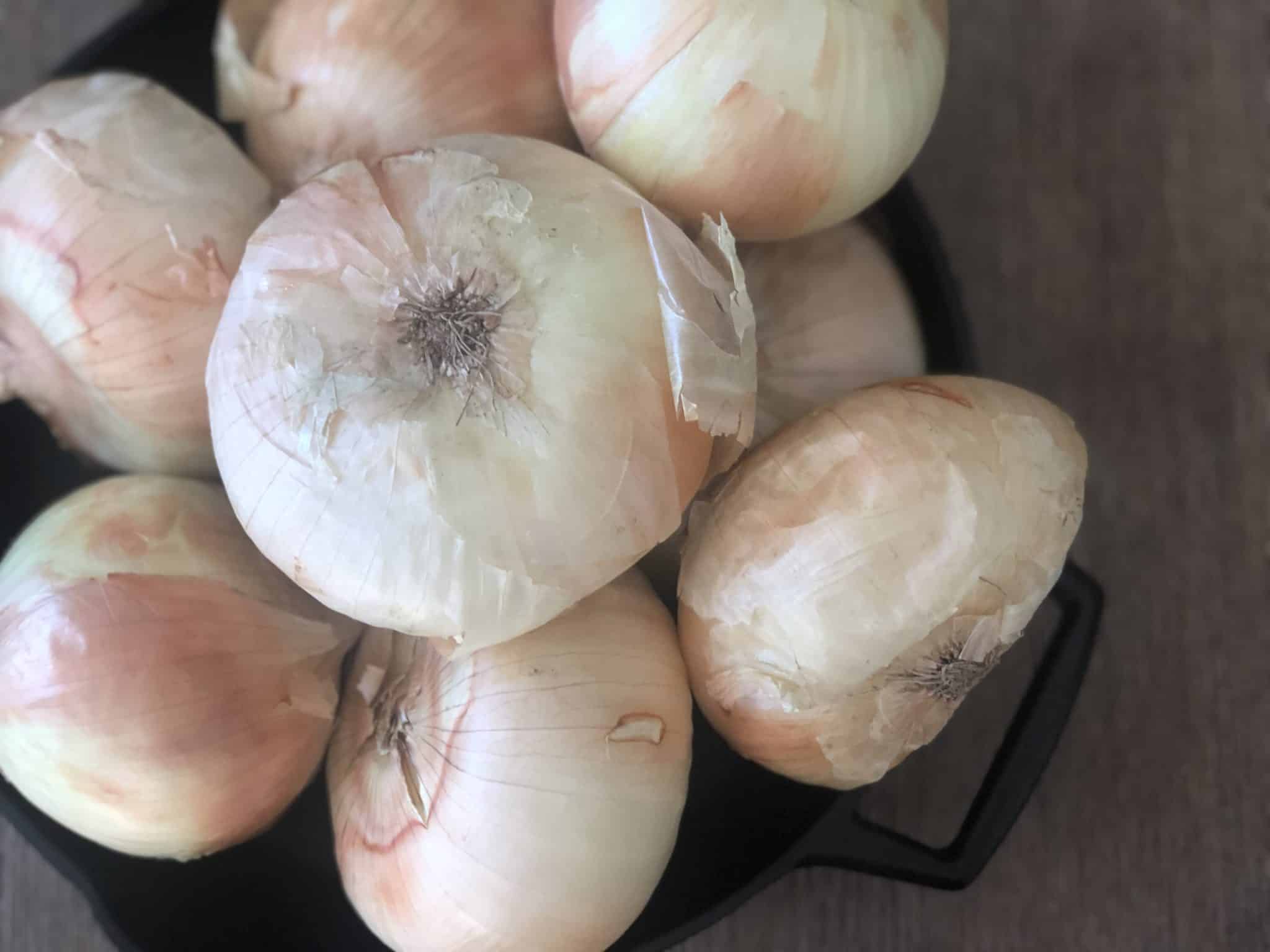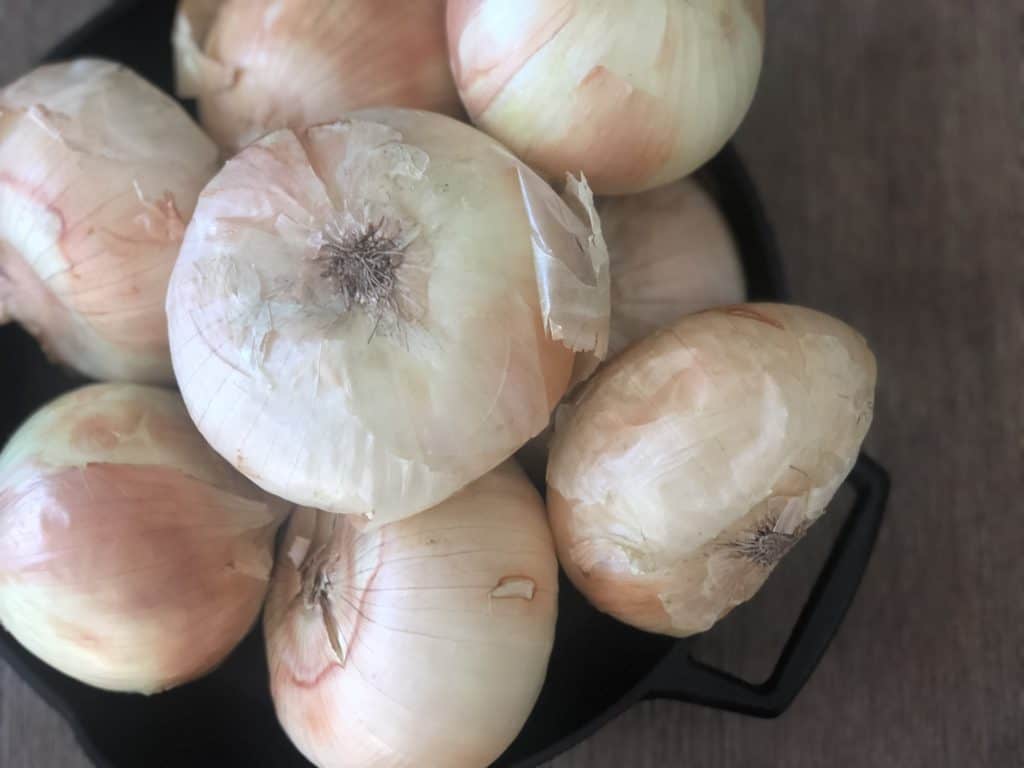 Onion Surplus
The past few months Luke and I have been working on perfecting our caramelized onions. We've scoured the internet for tips and tricks to learn how make them justtt right.
Thanks to stay-at-home orders and bulk buying, our house was filled with 2 industrial sized bags of onions, equating to about 15 very large, very fragrant, yellow and sweet onions. What better time to chop up half of them for caramelized onions experiments??
I would encourage you to give this recipe a shot if you have a lot of leftover onions lying around. Utilizing lots of onions, this recipe is a great way to reduce food waste and produces amazing results.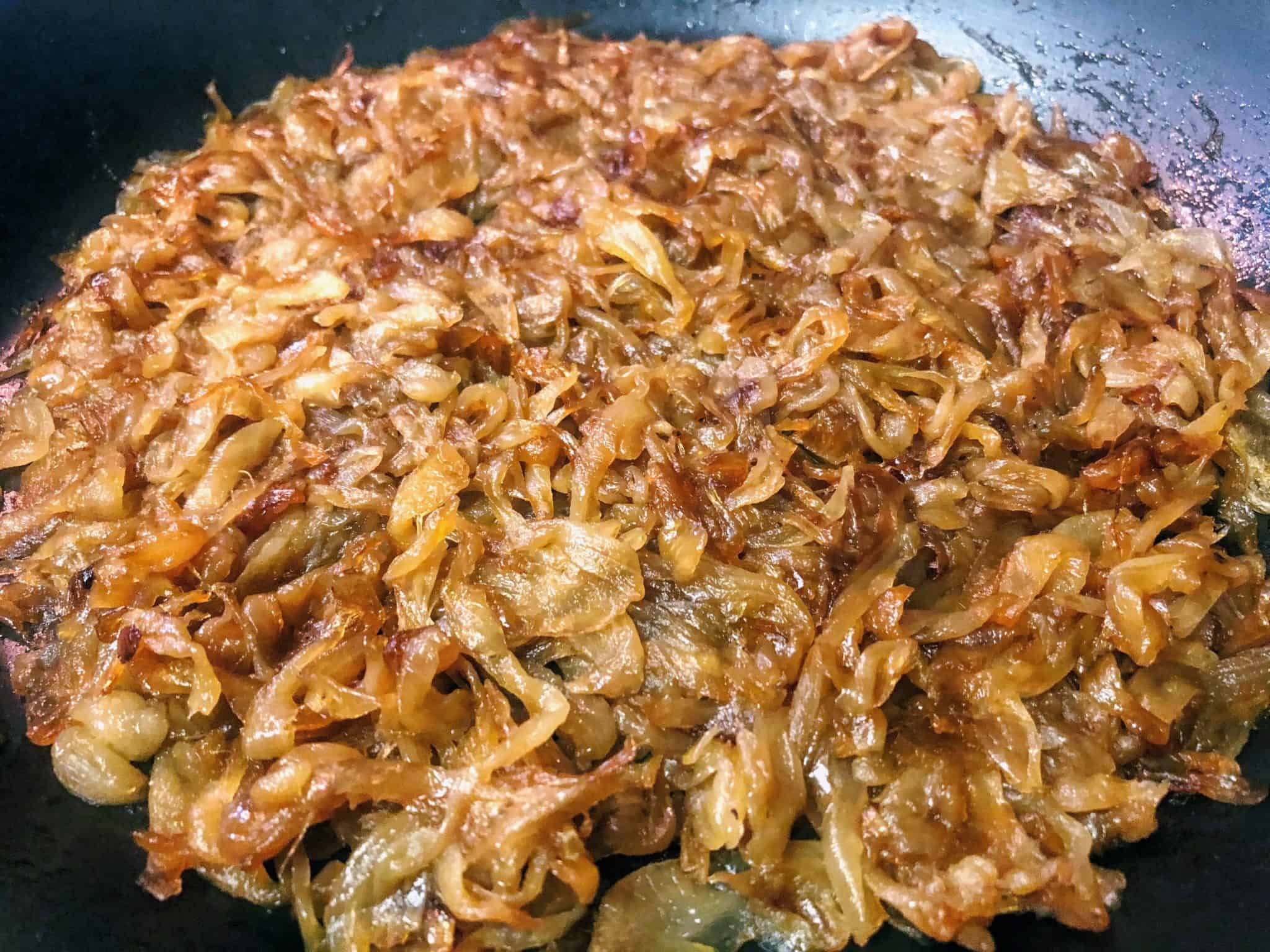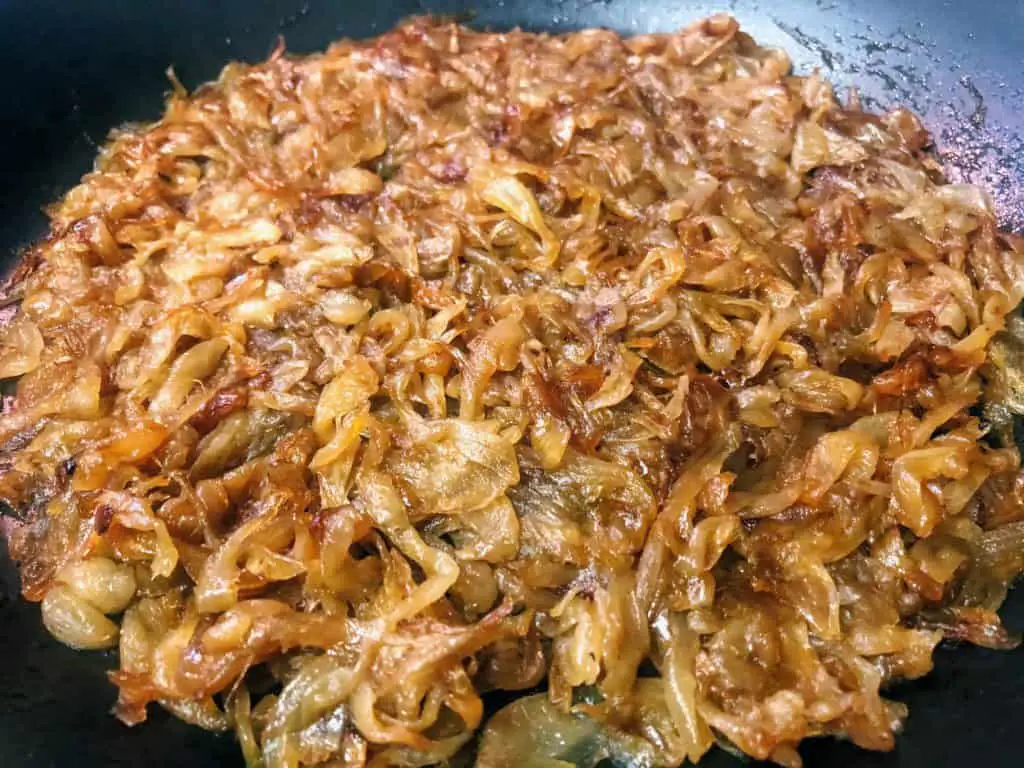 What are caramelized onions?
Caramelized onions are onions that have turned deep brown colors after being cooked for a long time on low heat. This low-and-slow cooking process is caramelization, or the cooking of sugar. The results are intense, delectable flavors
Onions contain natural sugars, but I wouldn't really classify an onion as sweet. It is not until the sugars are cooked thoroughly that we begin to taste that sweeter flavor.
Which brings me to my next point: be patient! I'm going to be honest, we tried caramelizing onions after work for a meal that evening and I couldn't wait to start eating my meal until they were finished.
Take an afternoon on the weekend to enjoy the process.
Low-and-Slow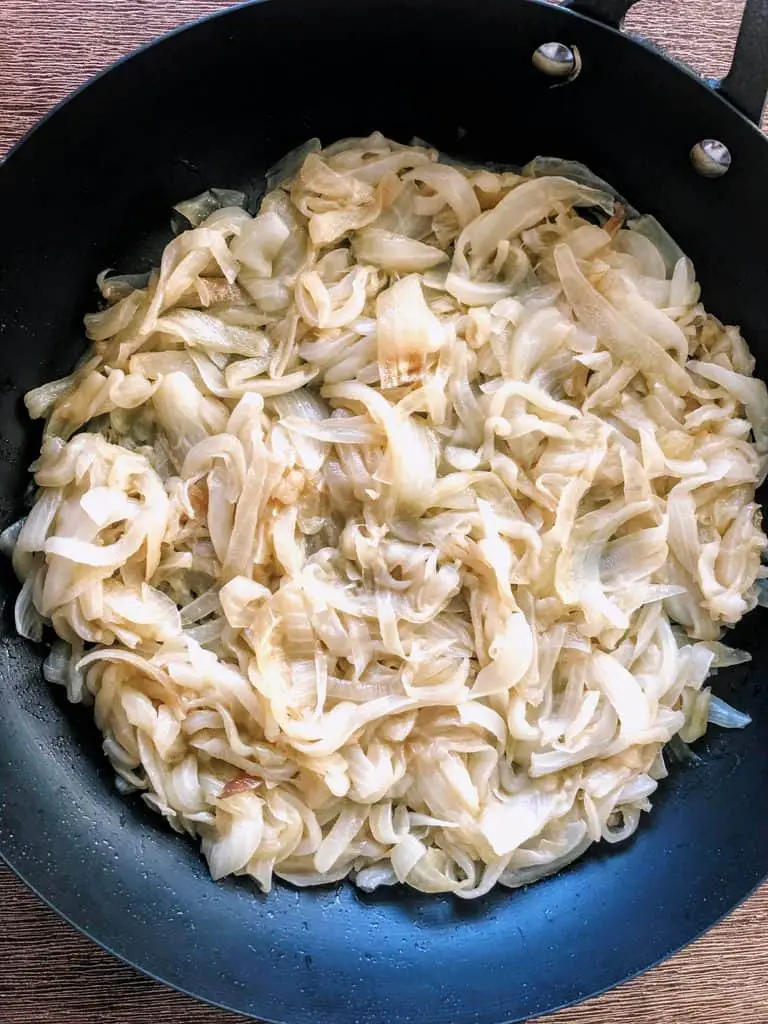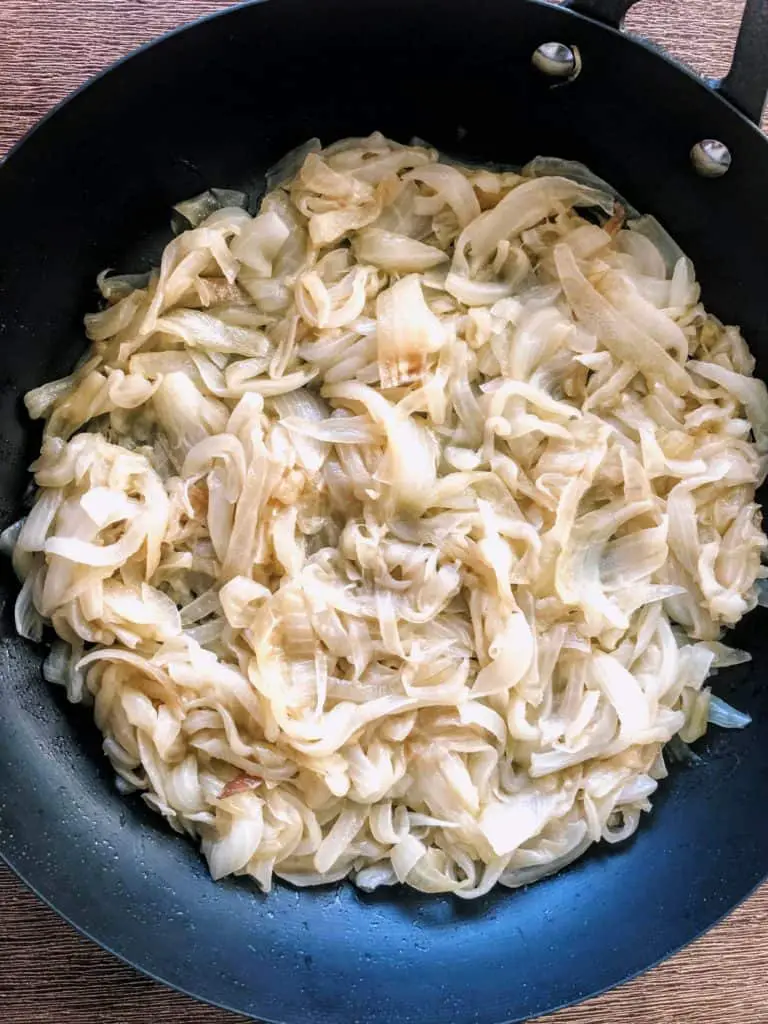 The key to perfect caramelizing onions is to keep the heat on medium low and to allow the onions plenty of time to cook. The internet is filled with recipes insisting this can be done in 30 minutes or less but I have never been able to caramelize onions in under an hour.
A high heat may look like it's expediting the process, when really the outsides of the onions are caramelizing but the interior is not.
Cooking the onions for a long period of time on a low heat requires patience, but in my opinion, produces the greatest caramelized onions with the best flavors.
Why Cast Iron vs. Carbon Steel Pans?
A large cast iron or steel pan is essential for creating the best caramelized onions. A heavy pan is ideal because it evenly distributes heat and will cook the onions evenly. Even cooking = the best caramelized onions.
Nonstick pans don't work quite as well and prolong the process. One of the great things about a cast iron or carbon steel pan is the crispy brown build-ups that stick to the bottom of the pan. Scraping this up and mixing it with the onions develops an even deeper flavor.
Cast iron skillets have an extensive record of being just a great, overall pan that cooks evenly and adds immense flavor. Cast iron pans retain a lot of heat and distribute that heat across the entire pan (so make sure to use an oven mitt or pot-holder before you grab the handle). All of these factors make cast iron the immediate go-to pan for caramelization. My favorite cast iron pan is relatively young, just 4-5 years old, and increases with flavor with more use.
Luke was recently gifted this carbon steel pan that claimed to be a lighter, better cast iron. Carbon steel browns exceptionally well, heats evenly, and seasons with use like a cast iron. Better yet, it's a fraction of the weight of heavy cast iron and is very ease to use in the kitchen.
Historically, we have used cast iron to caramelize onions but wanted to put this carbon steel pan to test and see how it stands up to the ultimate test.
How to: Prep the Onions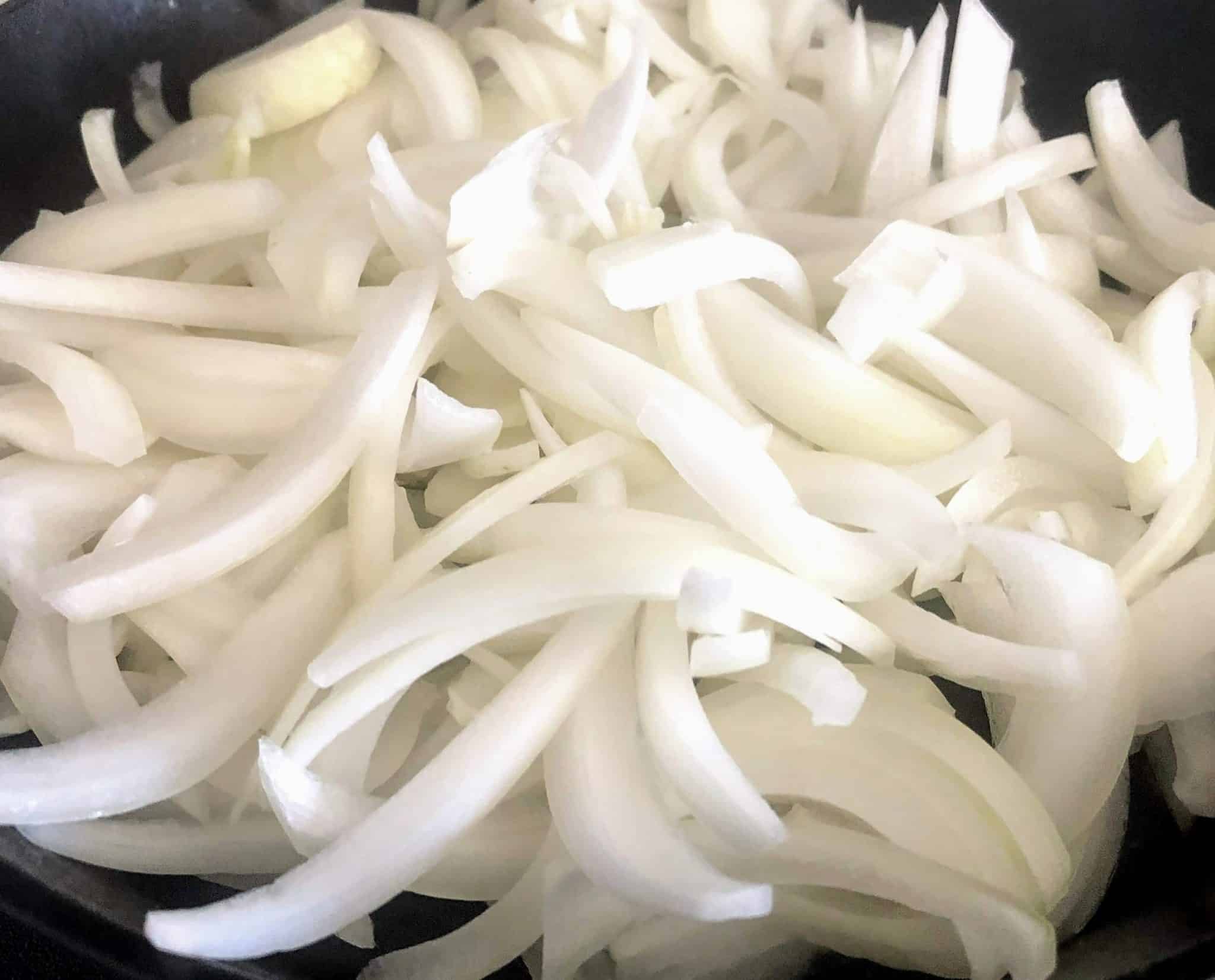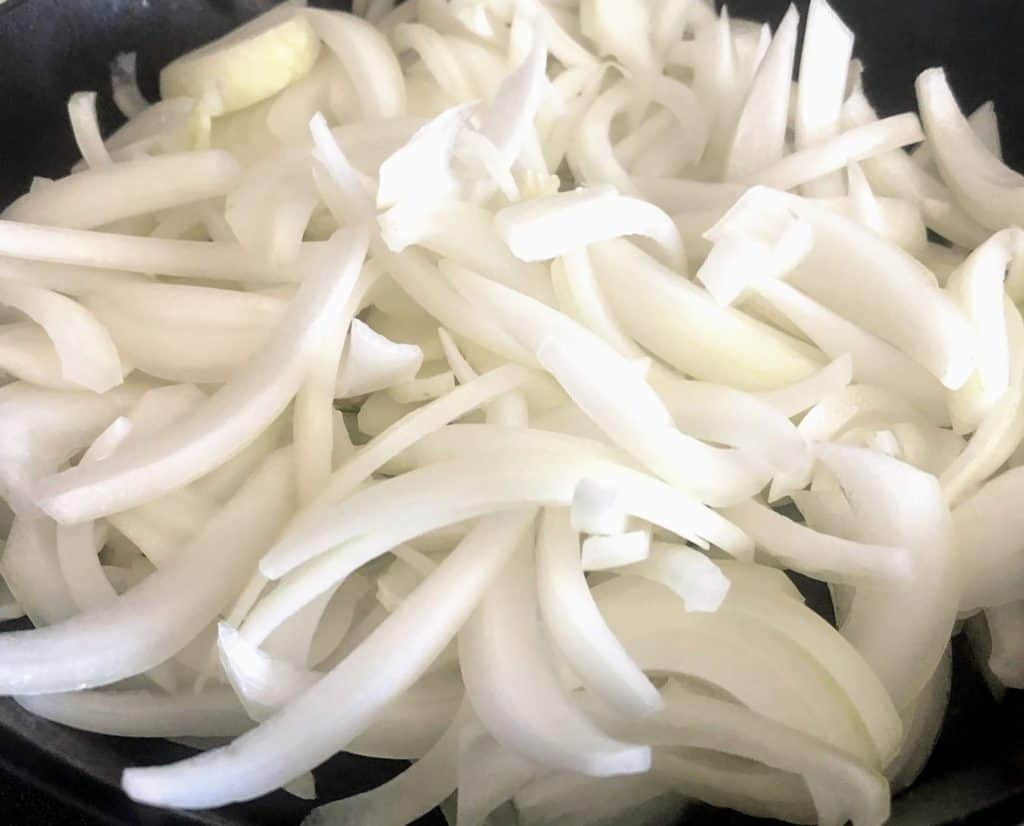 Begin by slicing the onions thinly and as uniformly as possible. Similarly sized onions will cook more evenly and be less of a hassle for you to deal with later one.
3-4 onions are generally needed to create about 1 cup of caramelized onions.
How to: Prepare the Pan
Heat the pan to a medium low heat and melt 1 tbsp of butter.
A large pan should hold about 3-4 onions. The onions may need to be piled a little high but that's okay. It will require just a little bit more cooking time to caramelizing all of the onions, but they will shrink down immensely.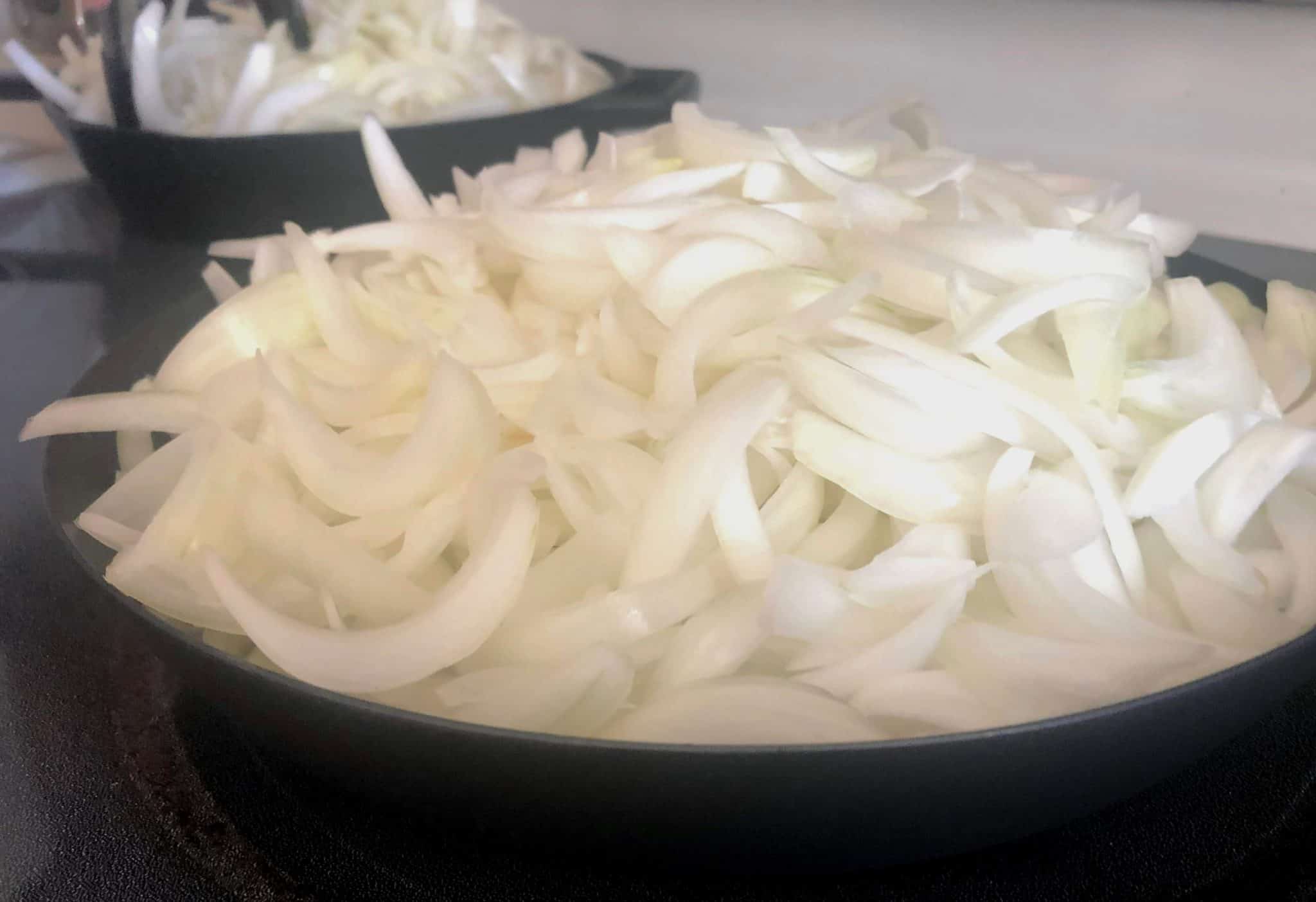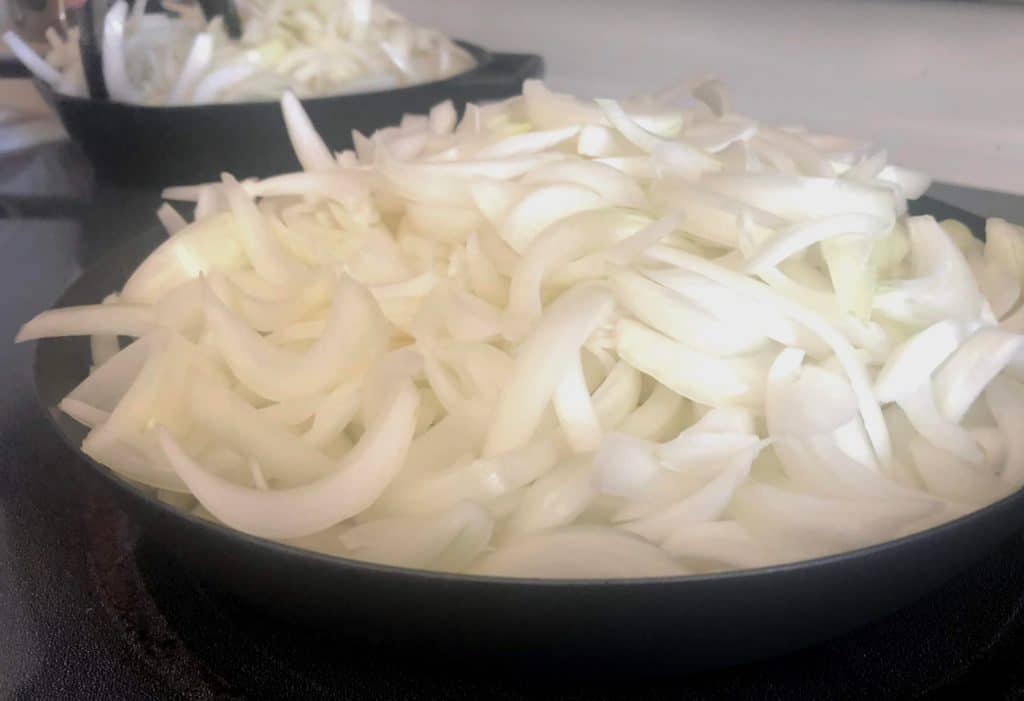 We managed to fit 3.5 very large onions into each pan.
How to: Caramelize Onions
Maintain the medium-low heat and occasionally stir the onions. If your pan is very full like ours, do your best to stir thoroughly.
Stir every 20-30 minutes and keep an eye on the coloring of the onions.












Check out the progress our onions made in both pans and use the size and colors as a reference!
The first noticeable change is the onions turning a slight golden color and begin sweating. Onions are filled with water and release that as part of the cooking process. If the water starts to pool and does not steam out, feel free to drain some of it out.
The onions continue to shrink as time progresses and deepen in color. Near the end of the process, if the onions begin to stick to the pan, deglaze with a splash of water or beef broth.
Once the onions are mostly brown, taste one and see what you think! You can stop cooking once they reach a taste you like or continue cooking for deeper caramelized flavor.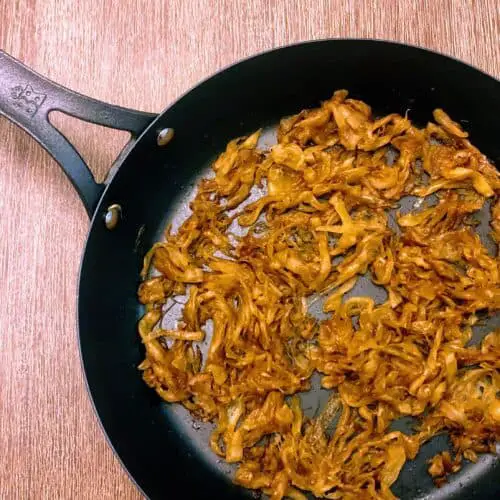 Caramelized Onions
Sweet and savory caramelized onions to eat as a topping on endless meals.
Print
Pin
Rate
Ingredients
1

tbsp

butter

3-4

onions

sliced thinly
Instructions
Melt butter over medium-low heat in a heavy bottomed pan.

Add onions and cook until sweet and deep brown, approximately 1 hr per onion. Stir occasionally to prevent burning.
Customizations Are Minimal
There isn't much customization that can be done with this recipe. Different recipes online note that you can add sugar or baking soda to the caramelization process to speed things along, but I've never really been able to tell a difference,
A variety of onions could be used and introduce their own unique flavors, such as red onions or shallots. I personally have never tried caramelizing red onions or shallots but am curious!
Cast Iron or Carbon Steel for Caramelizing Onions?
Overall, the cast iron pan and the carbon steel pan caramelized the onions very similarly. They cooked evenly, didn't burn, and, as evident in the picture progression, cooked at identical speeds and finished at the same time.
To be really, really, nit-picky, the cast iron pan produced more authentic texture of the onions. Some of the edges were a little more crispy and there was more fond in the pan, whereas the carbon steel would be more forgiving if you left the onions unattended longer and did not stir as frequently.
They both produced great results. It's hard to beat the tried and true cast iron pan, but if looking for ease the carbon steel performs just as beautifully.
Pin me!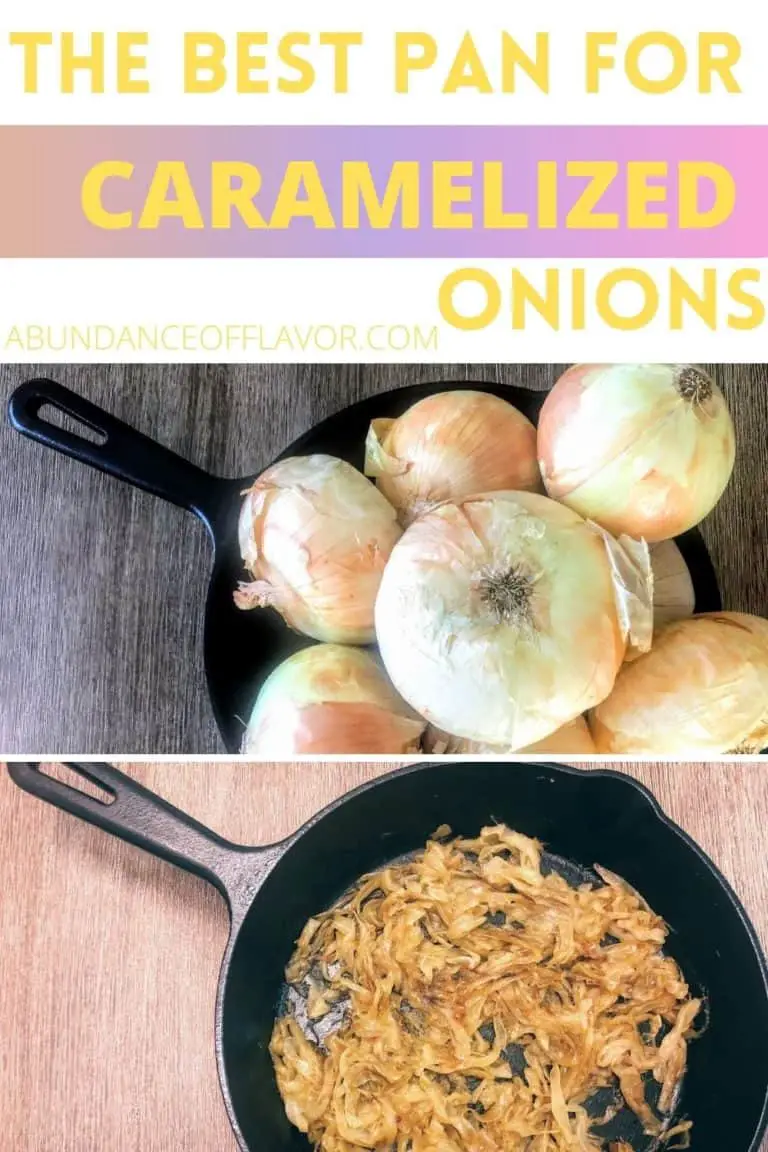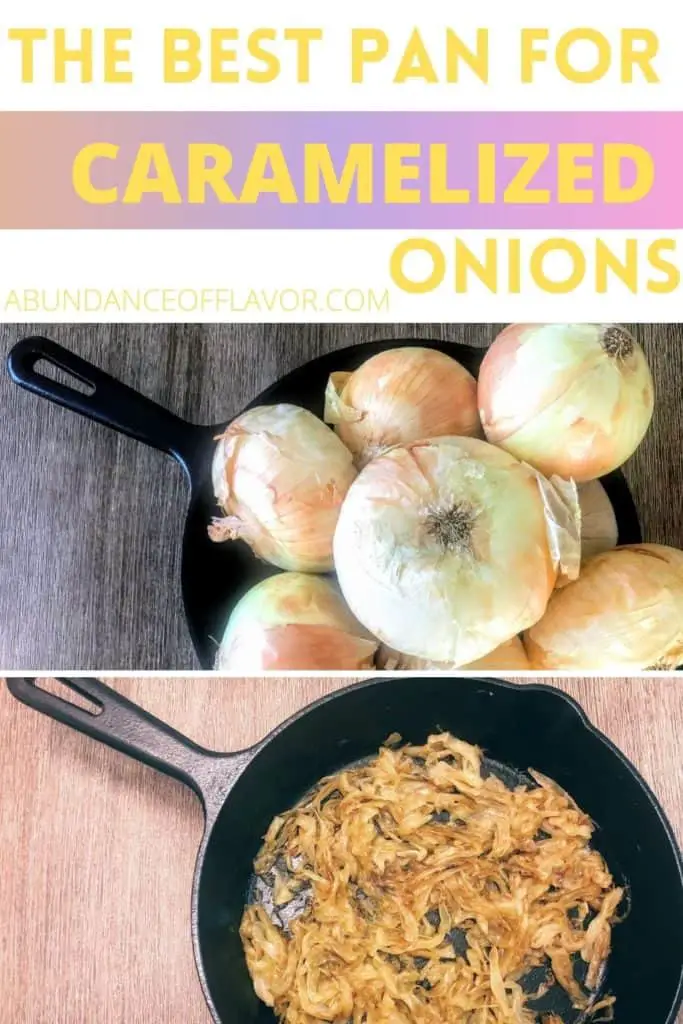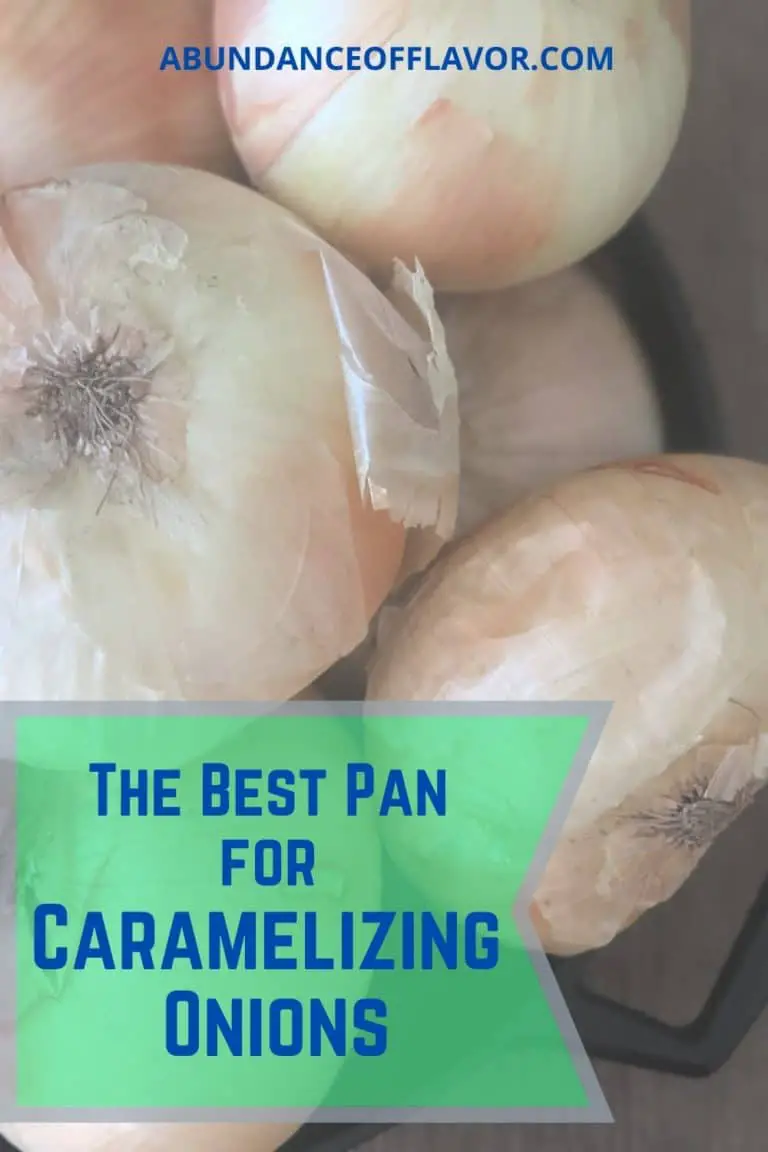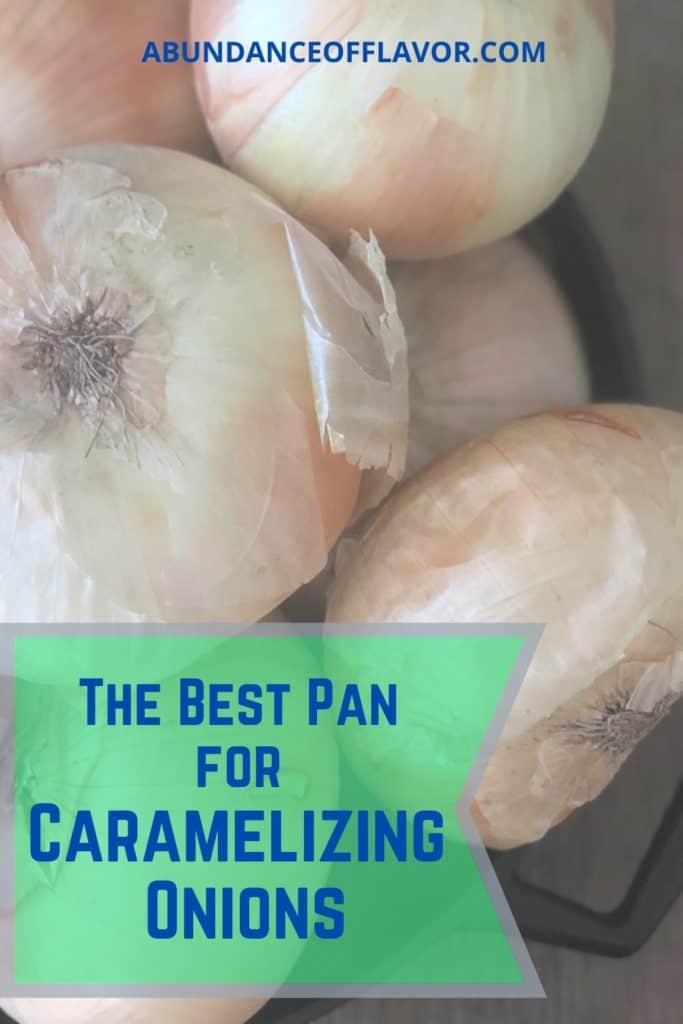 What are you favorite ways to use caramelized onions in meals? I love caramelized onions on a juicy burger or steak. Share your ideas in the comments!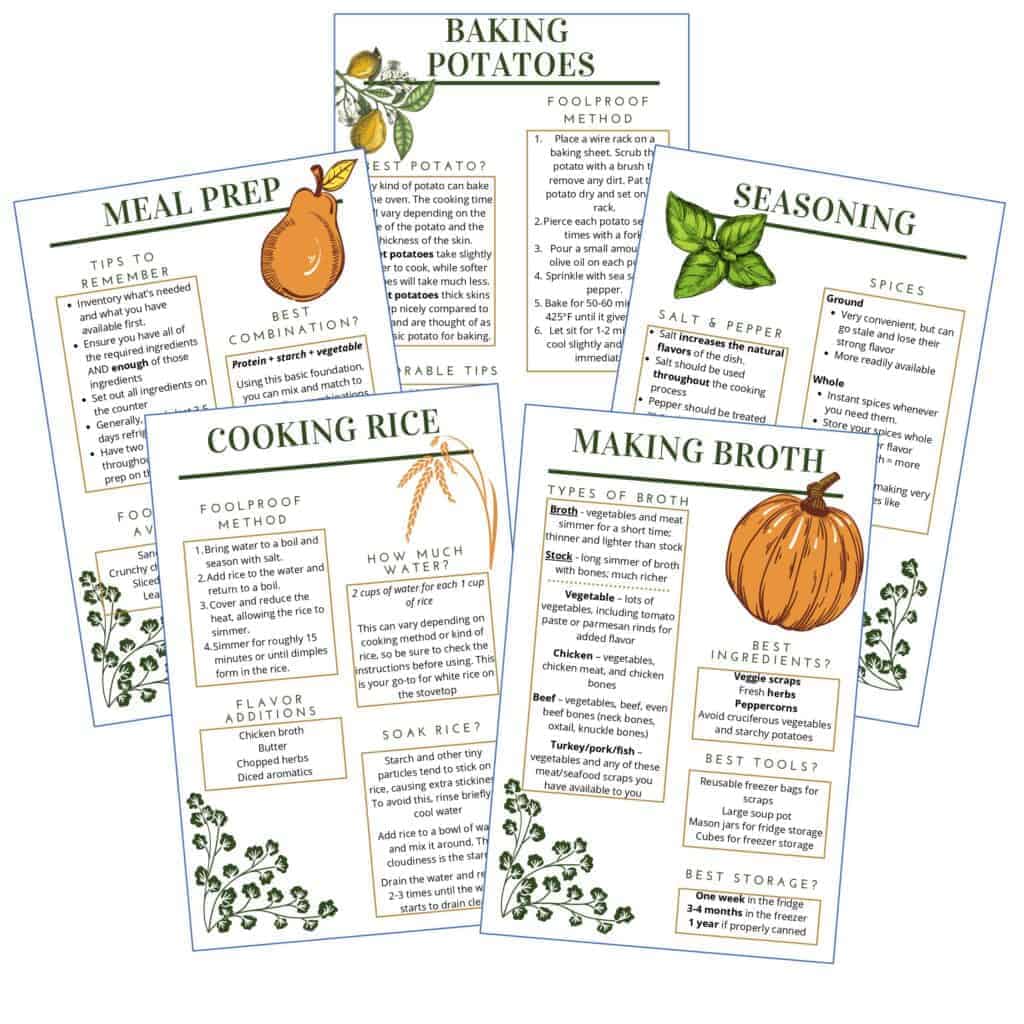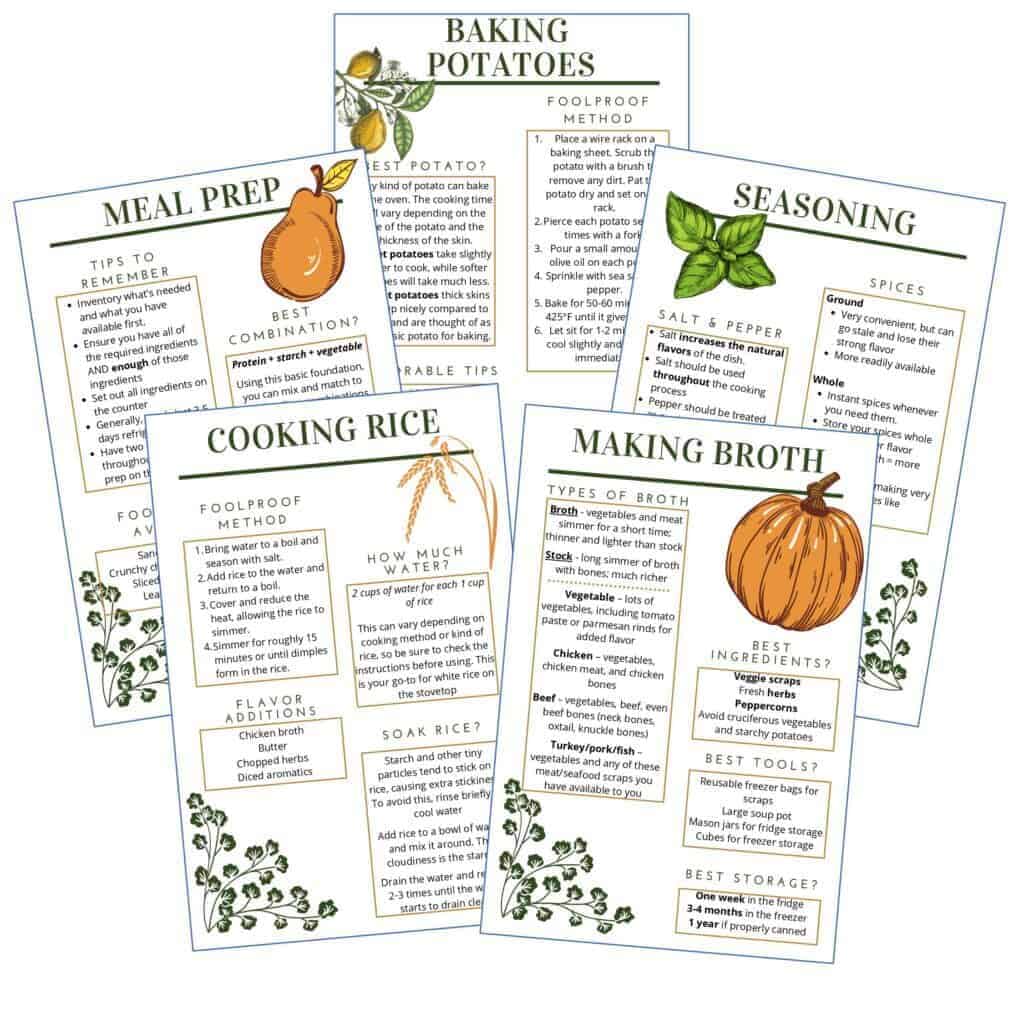 Get your $1 worksheets today!
Related Posts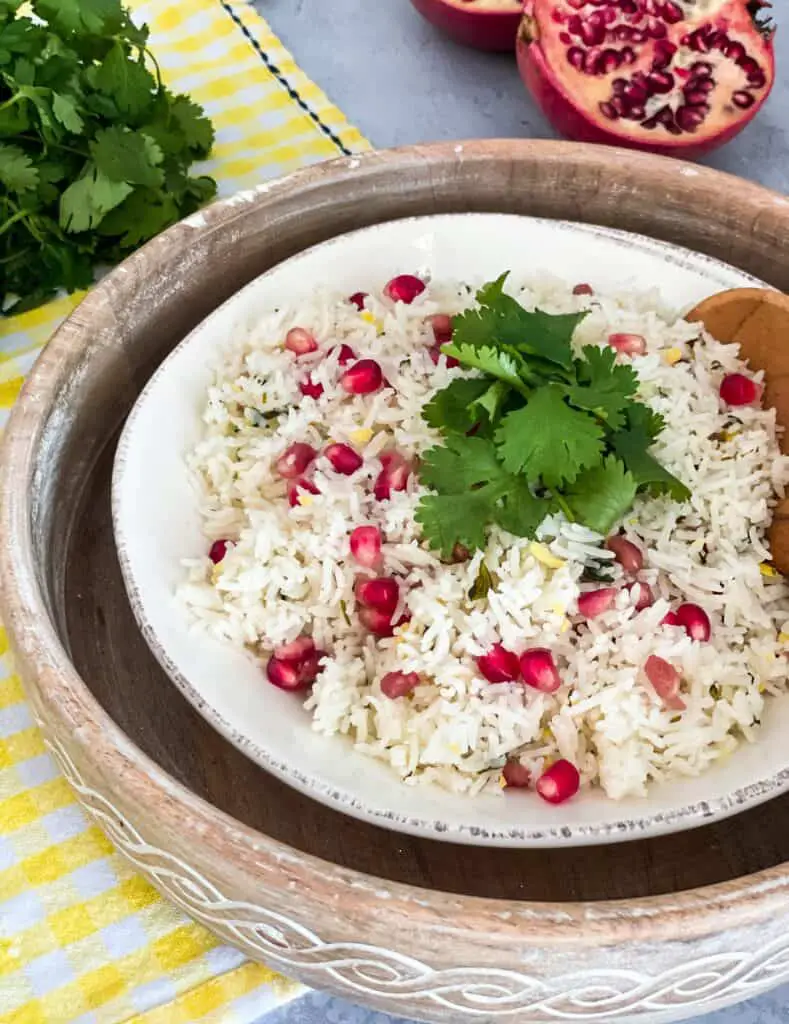 A side dish that will surely satisfy, Pomegranate Basmati Rice is bursting with sweet pomegranates arils and savory, flavorful accents.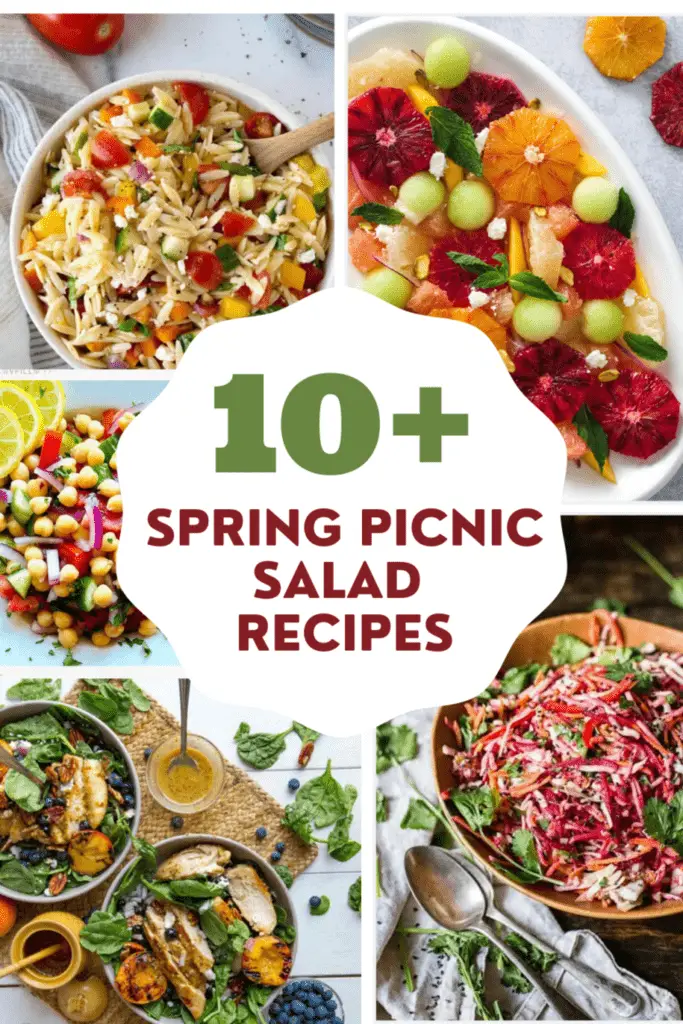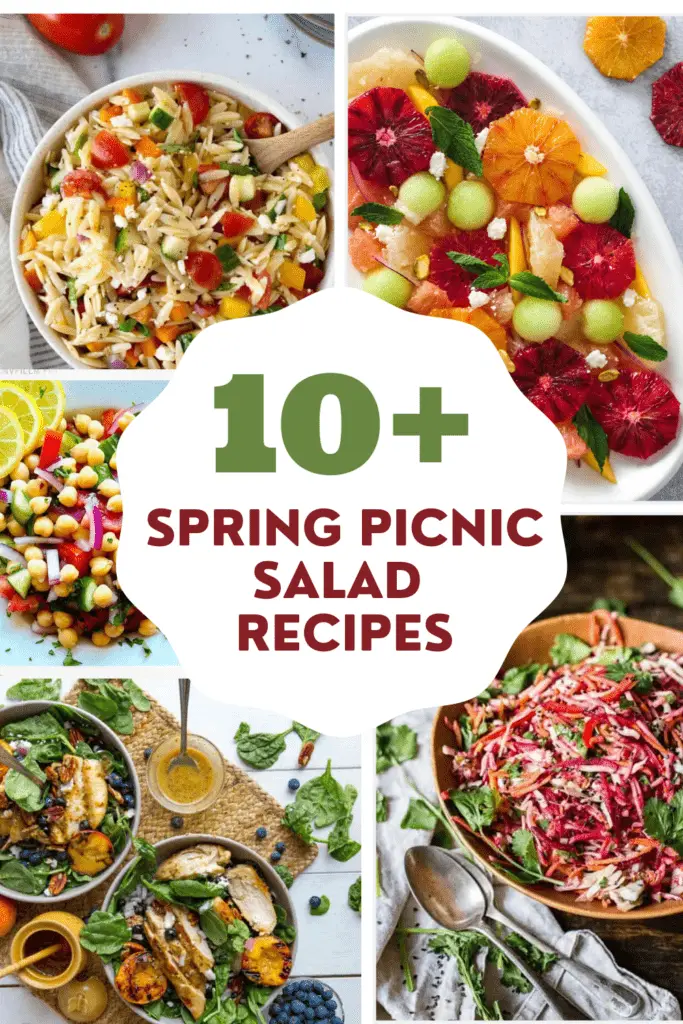 Fall in love with a few of these Spring Picnic Salad Recipes! From sweet to savory, and hot to cold, there's a dish here for …