Who doesn't love a comforting, savory Italian dish?? This Italian sausage gnocchi is so soothing after a long day at work and very quick to throw together. You'll be really impressed with yourself after creating this easy meal that looks like you spent hours perfecting it.
Please note this post contains affiliate links, which means I receive a small commission, at no extra cost to you, if you make a purchase using the links. Please see my disclosure for more details.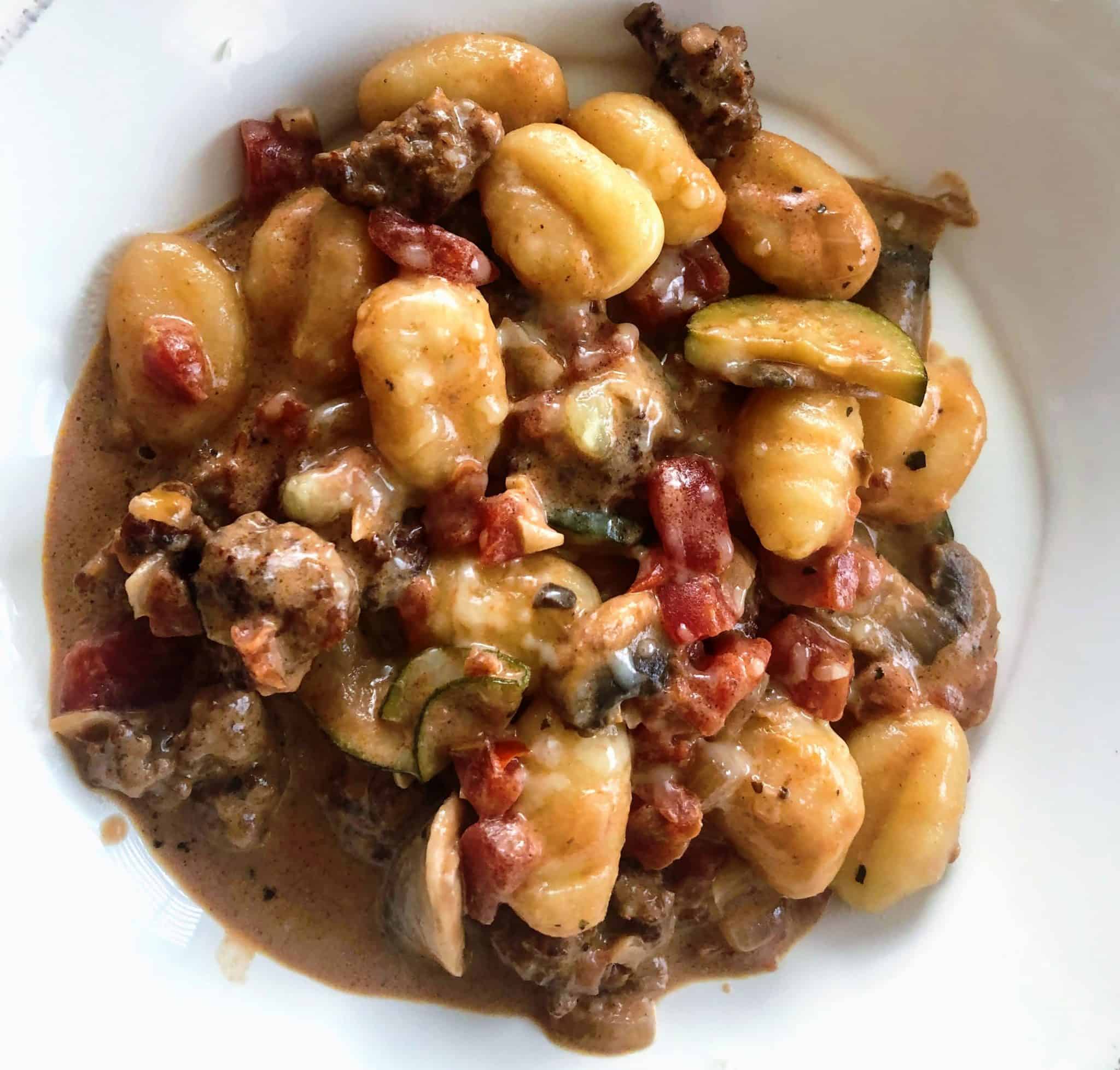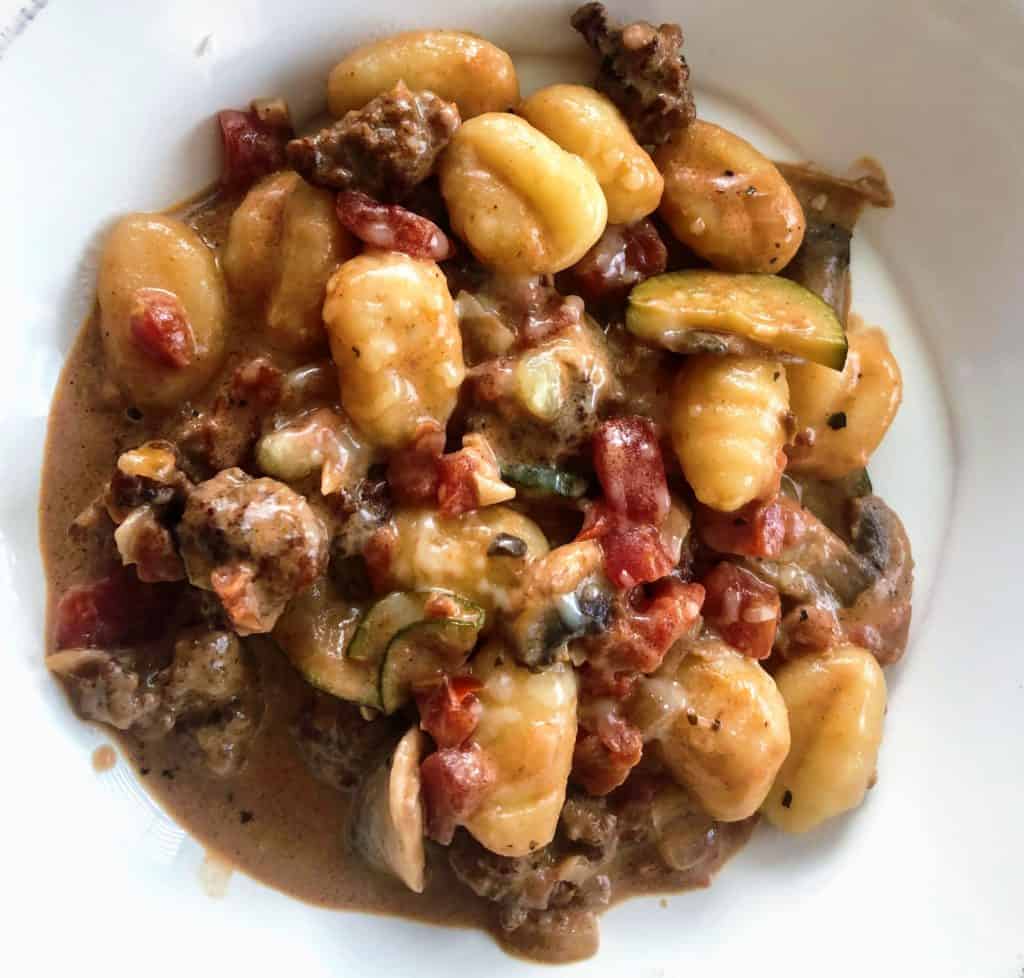 Best Recipe Feature = Customization
Gnocchi is one of my favorite foods to experiment with in the kitchen because it is so versatile. I've made it with various sauces and paired with several kinds of meat, but this combination is my favorite.
The great thing about this recipe is that it so customizable! Each part of the meal is cooked individually so it is very easy to swap out any ingredients for ones that you prefer or are more comfortable with. I used to not like a lot of tomatoes and would opt for creamy sauces but have come to enjoy this sauce because of all the flavor that's added from herbs like basil and oregano.
How do you even say "Gnocchi"?
Let's start with how to say the word "gnocchi". I took Italian throughout college and retained very little of it unfortunately. I do however feel pretty confident in being able to read and pronounce Italian words. Don't let the "gn" throw you off even though it is rarely used in the beginning of any English word. The "gno" makes a "nyoh" sound with a long "o" and "cchi" sounds like "key". Together: "nyoh-key." Practice a few times and don't be embarrassed if it looks like you're talking to yourself now.
What is gnocchi?
Now that we've mastered how to say it, let's move on to what gnocchi actually is. It's easy to be intimidated by this at first since it's not as common of a pantry item as pasta, but I like to think of gnocchi as small, round pasta nuggets.
Gnocchi is a type of pasta that is typically made from potatoes, flour, and eggs, and rolled into small balls. Think of gnocchi like you would fettucine or rotini noodles, it can be swapped in and out of most Italian dishes that call for a type of pasta without much change to the recipe. Gnocchi is a little more dense than other noodles that you may think of, but are packed with flavor.
Where do I purchase gnocchi?
The best part about cooking with gnocchi is how easy it is to make and how prevalent it is in grocery stores. I typically purchase this brand of gnocchi from Amazon, but you should be able to find a similar brand at your local grocery store. What I like about De Cecco is that there are no GMOs, no trans fat, no saturated fat, and no sugar added.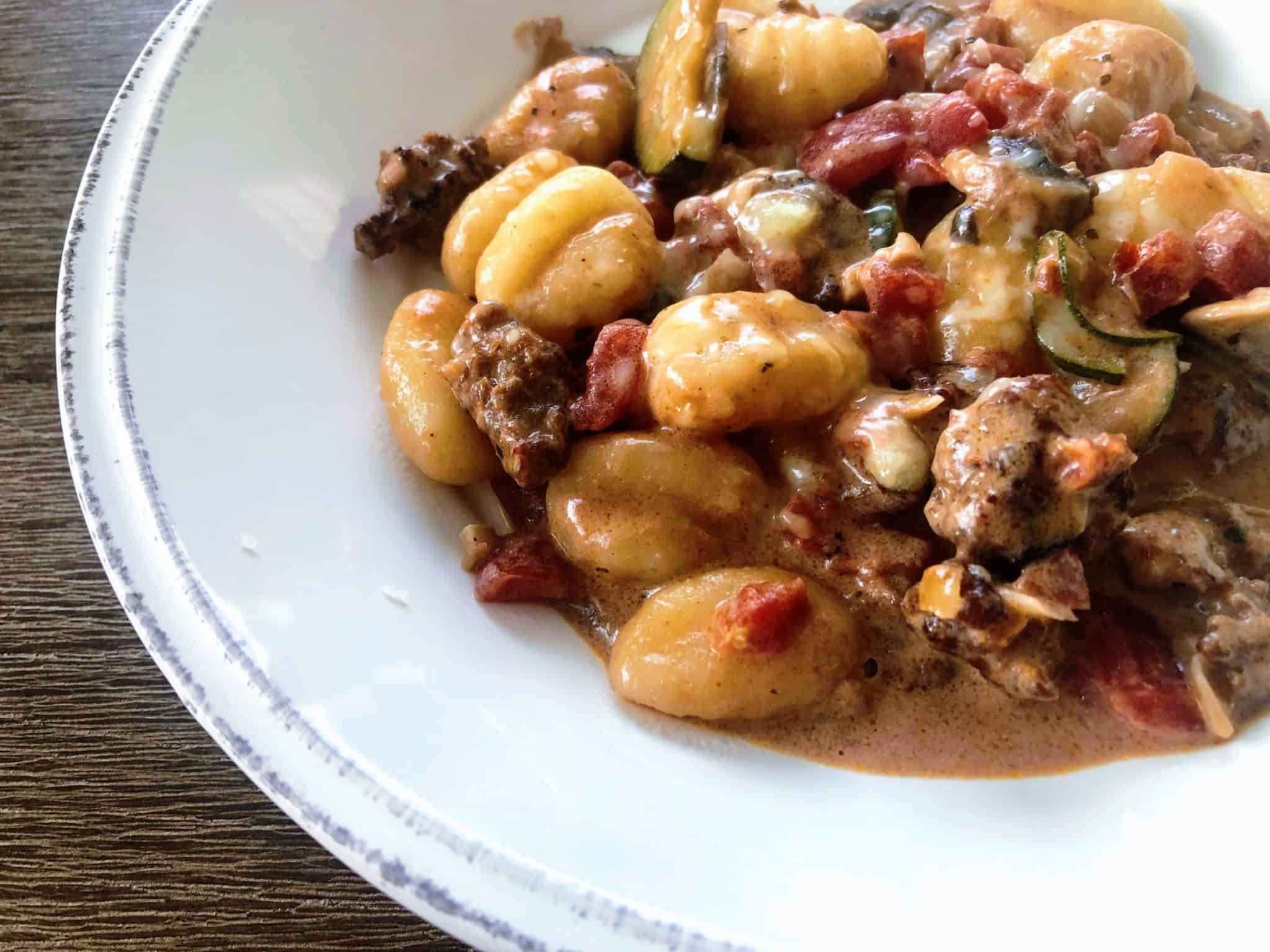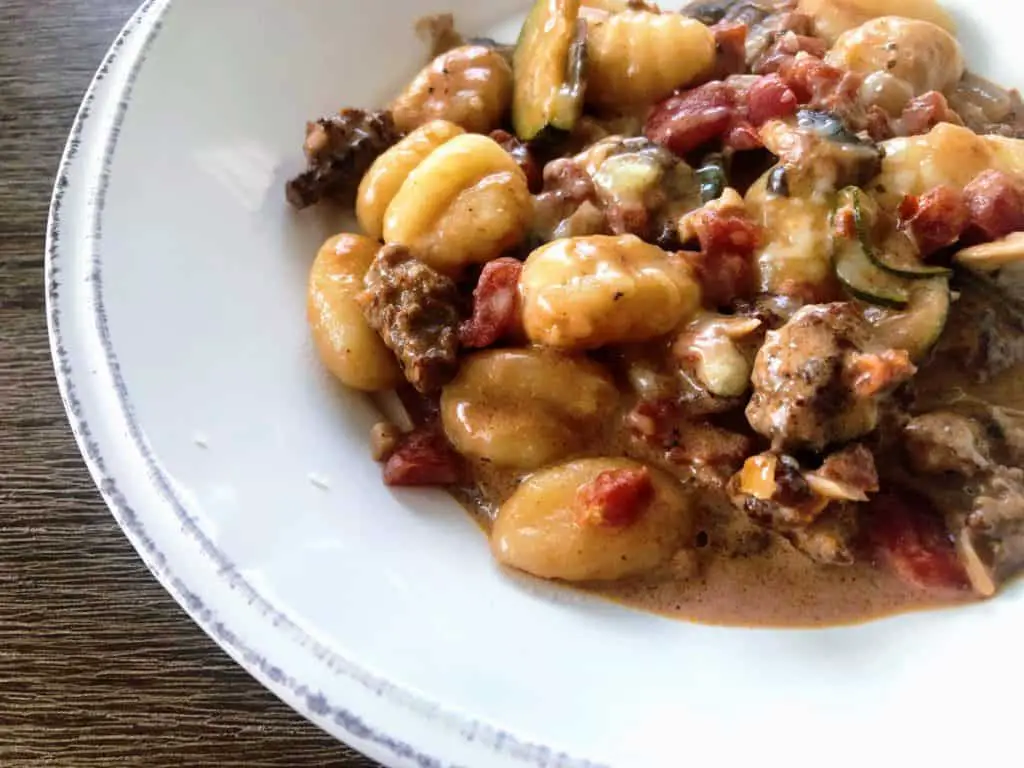 How to: Prepare Gnocchi
Grab a medium sized pot and fill it about halfway with water. Bring the water to a boil before adding in the packaged gnocchi. The gnocchi should cook for only about 3-5 minutes before removing from the water. A great tip you should remember is when gnocchi is finished cooking they float to the top of the water! How cool is that?? It takes the guesswork out of figuring out when and if they're done cooking.
The gnocchi can be cooked at any time and set to the side. Your main focus will be cooking the sausage, vegetables, and the sauce.
How to: Prep the Ingredients
I prefer to get all my prep done first and have everything chopped and ready to go. Start by either crumbling the Italian sausage or slicing it into medallions. For sauce-heavy recipes I like to crumble the Italian sausage because it increases the surface area of the sausage and allows it to really cook into the sauce. If you've never had Italian sausage before, I would recommend removing the casing and crumbling the sausage. It will appear a lot like ground beef or turkey and the texture should be more familiar to you too. I'm also not a huge fan of the casing but Luke feels that it helps preserve the structural integrity of the sausage, so we switch off between keeping the casing on or not depending on the recipe. It's totally up to you!
On another cutting board, dice your onions and garlic and whatever other vegetables you would like to throw in. For this recipe, I also sliced zucchini into medallions and sliced mushrooms thin. Mushrooms always go great in Italian dishes and I always have some on hand. Feel free to experiment with vegetables that you have on hand. This was my first time using zucchini in this recipe and it turned out excellent!
How to: Brown Italian Sausage
Begin to cook the sausage over medium-high heat until the sausage is lightly browned. Depending on your stove, the sausage should be ready to flip/stir after about 5 minutes and continue cooking 3-5 minutes until brown on all sides. Remove the sausage from the pan and rest on a plate with a paper towel. The paper towel will absorb some of the excess oil.
How to: sauté Vegetables
Add the onions to the pan and begin sautéing on medium heat. After about 5 minutes the onions should start to look and translucent and you can add the zucchini. After another 3-5 minutes add the garlic until it becomes fragrant. Then toss in the mushrooms for a minute or 2 until they slightly cook down and look a little bit smaller. Add in the basil, oregano, and stir until thoroughly mixed.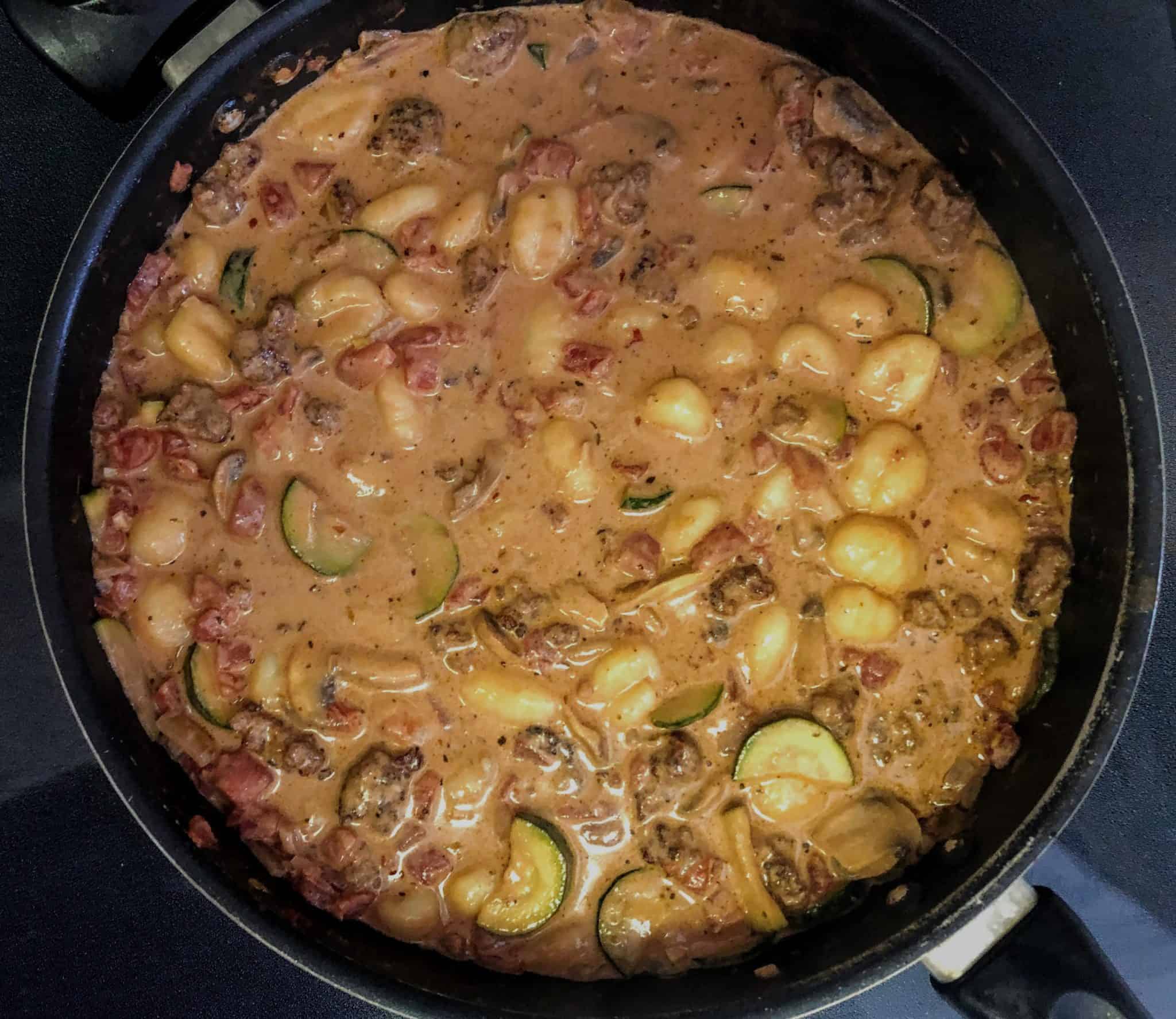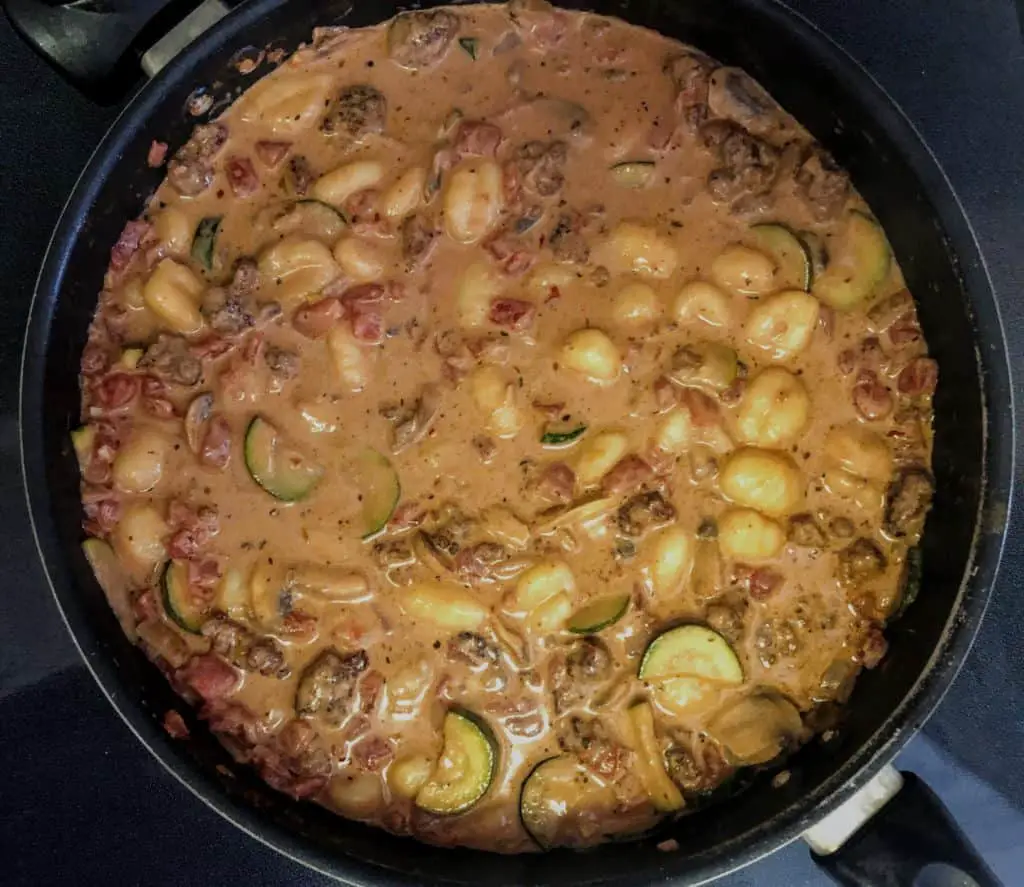 How to: Create the Sauce
Once the veggies are ready to go, add a splash of red wine (this be can be omitted entirely or replaced with chicken broth or another cooking wine) and then stir in diced tomatoes and heavy cream. Continue stirring and bring the sauce up to a boil. Turn the heat down to medium. Add in your cooked gnocchi and sausage, and allow it to simmer for about 5 minutes.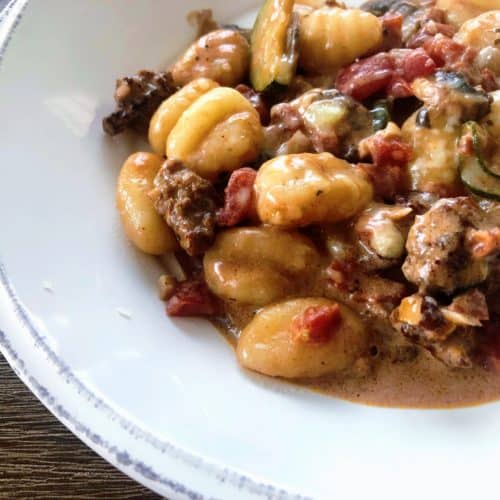 Italian Sausage and Gnocchi
This hearty Italian dish features gnocchi, italian sausage, and a variety of vegetables in a tomato based sauce that is sure to bring you comfort.
Print
Pin
Rate
Ingredients
1

package

gnocchi

3

links

italian sausage

crumbled or sliced

2

tbsp

olive oil

1

onion

diced

1

zucchini

sliced thin

4

cloves

garlic

diced

5-6

mushrooms

sliced thin

4

tbsp

italian seasoning (basil and oregano)

2

tbsp

cooking wine

1

cup

heavy cream

1

14 oz can

diced tomatoes

parmesan cheese for garnish
Instructions
Bring a pot of water to a boil. Add the gnocchi and boil 3-5 minutes until the gnocchi starts floating at the top of the water. Remove from heat.

Heat a pan over medium high heat. Add the italian sausage and cook until lightly browned, about 8-10 minutes. Remove the sausage from the pan and wipe away excess oil from the pan if needed.

Pour olive oil into the pan (if needed) and toss in the diced onions. Cook for 5 minutes, until translucent.

Add zucchini and cook for 3-5 minutes, stirring frequently.

Add the garlic and cook until fragrant.

Add the sliced mushrooms and cook for up to 2 minutes. Toss in the basil and oregano and stir thoroughly.

To deglaze the pan, add the wine and simmer for 2-3 minutes. Then stir in the heavy cream and diced tomatoes. Bring to a boil.

Return the italian sausage to the pan and pour in the gnocchi. Top with parmesan cheese to garnish.
Customize!
I touched briefly on ways you could make this recipe your own but wanted to highlight some options you have when substituting ingredients. This list is by no means exhaustive, but should be a good starting point to mix things up a bit.
Gnocchi: If gnocchi isn't your thing or you would like to start with a more familiar pasta, gnocchi can be switched out with any other kind of noodle. I would recommend fettucine, linguine if you want something more traditional like spaghetti, or rigatoni or even ravioli if you want a bite-size pasta.

Follow the instructions on the box and add in at the very end.
Italian sausage: The sausage can be swapped out with cubed chicken breast, chicken thighs, or any ground meat. If you would like to slowly introduce Italian sausage, try crumbling it and mix it with half ground beef or turkey!

Cook the meat separately just like you would with the Italian sausage, ensuring it is cooked completely through, and add in at the very end.
Tomatoes/tomato sauce: Sub out the diced tomatoes for a pesto sauce or creamy cheese sauce.

If using pesto, I would recommend against using heavy cream.

If wanting a cream sauce, swap out the diced tomatoes for ¼ cup of shredded parmesan or mozzarella and stir frequently for the cheese to melt.
Vegetables: Other vegetables that would probably work well in this include bell peppers, spinach, asparagus, or squash.

Whichever vegetables you use should be cooked around the same time as the recipe lists. Be sure to cook the thicker, more dense vegetables a little longer to make sure they are cooked through completely.
Sprinkle with parmesan cheese and pair it with some garlic bread and red wine. Buon Appetito!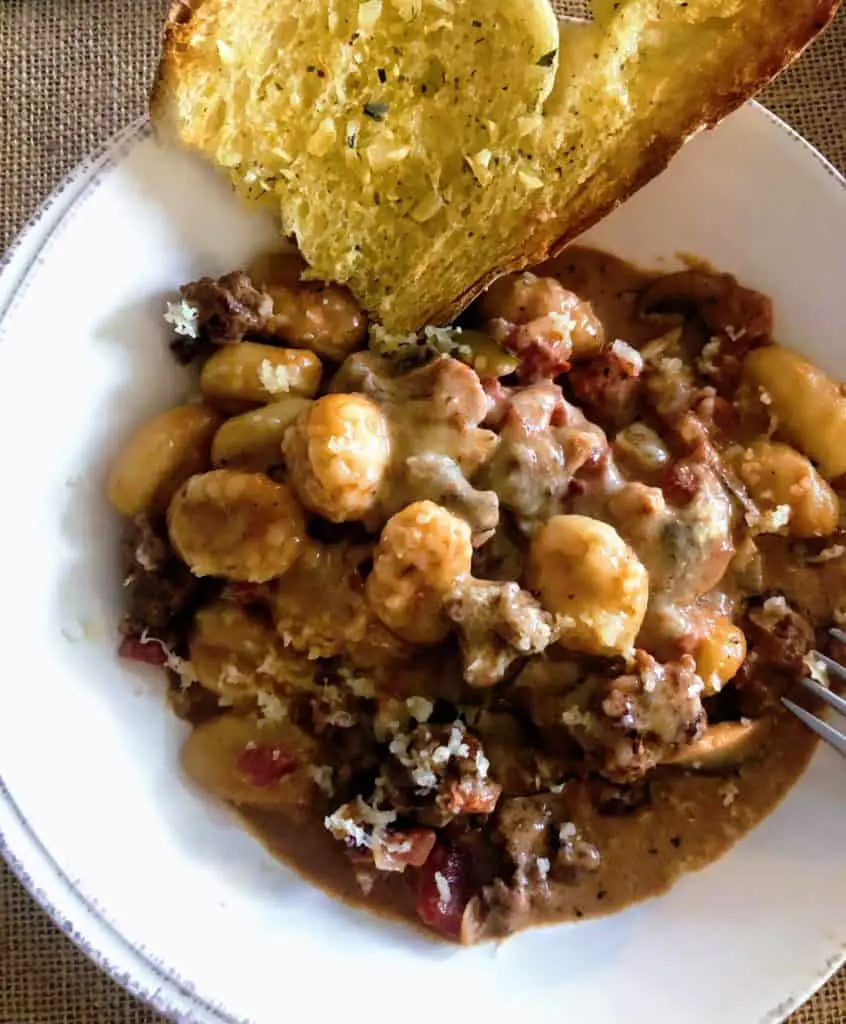 Pin me!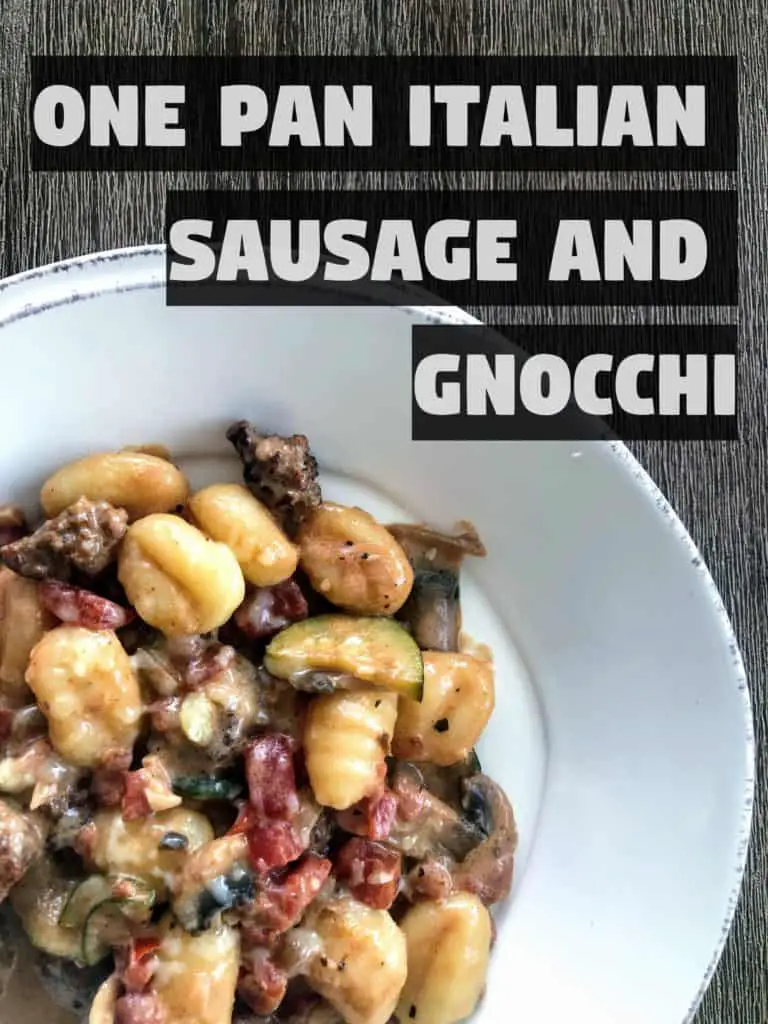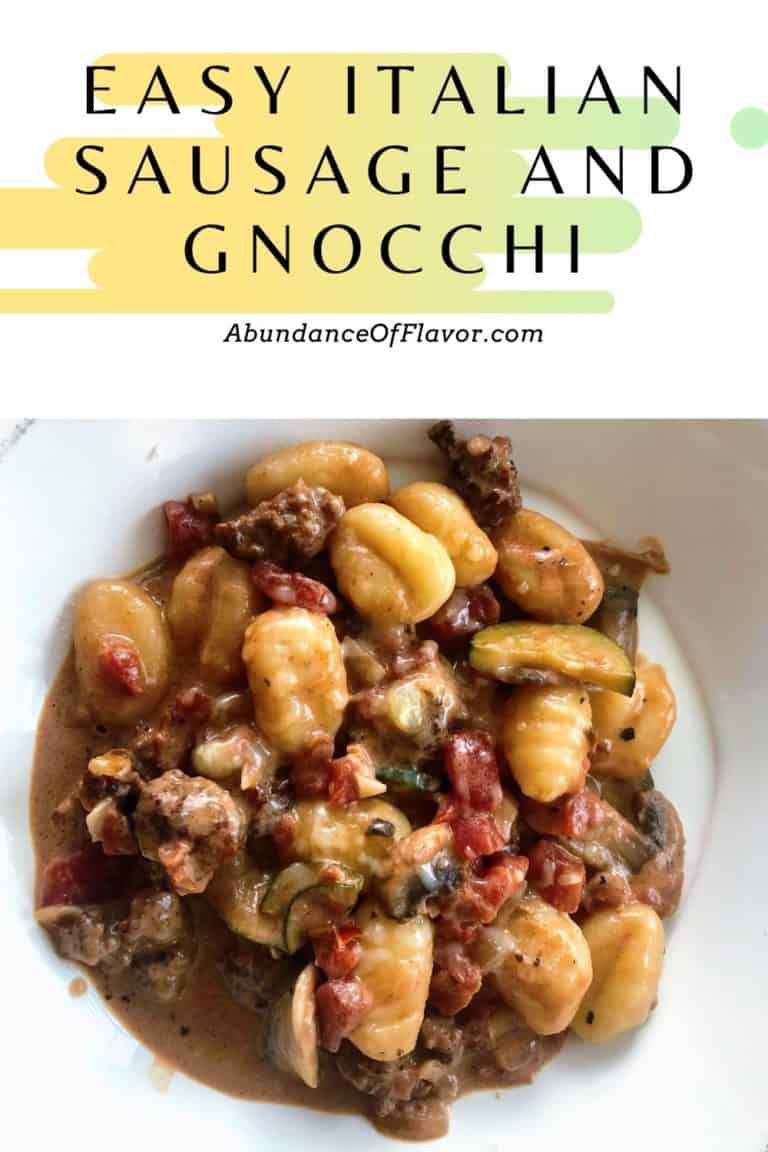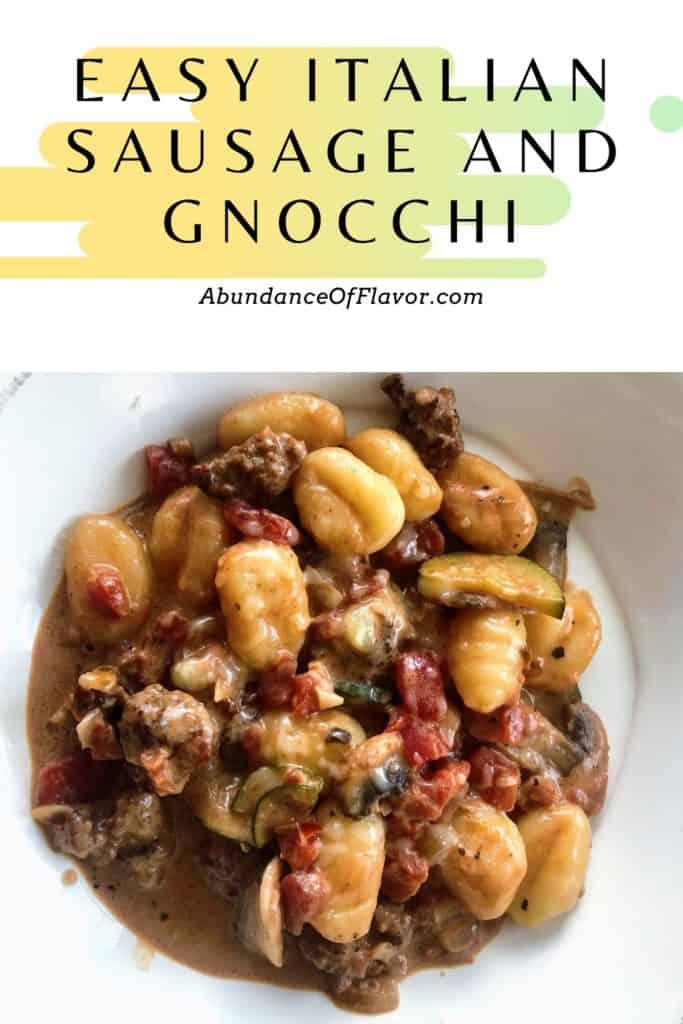 Send me pictures of your finished product and leave a comment below!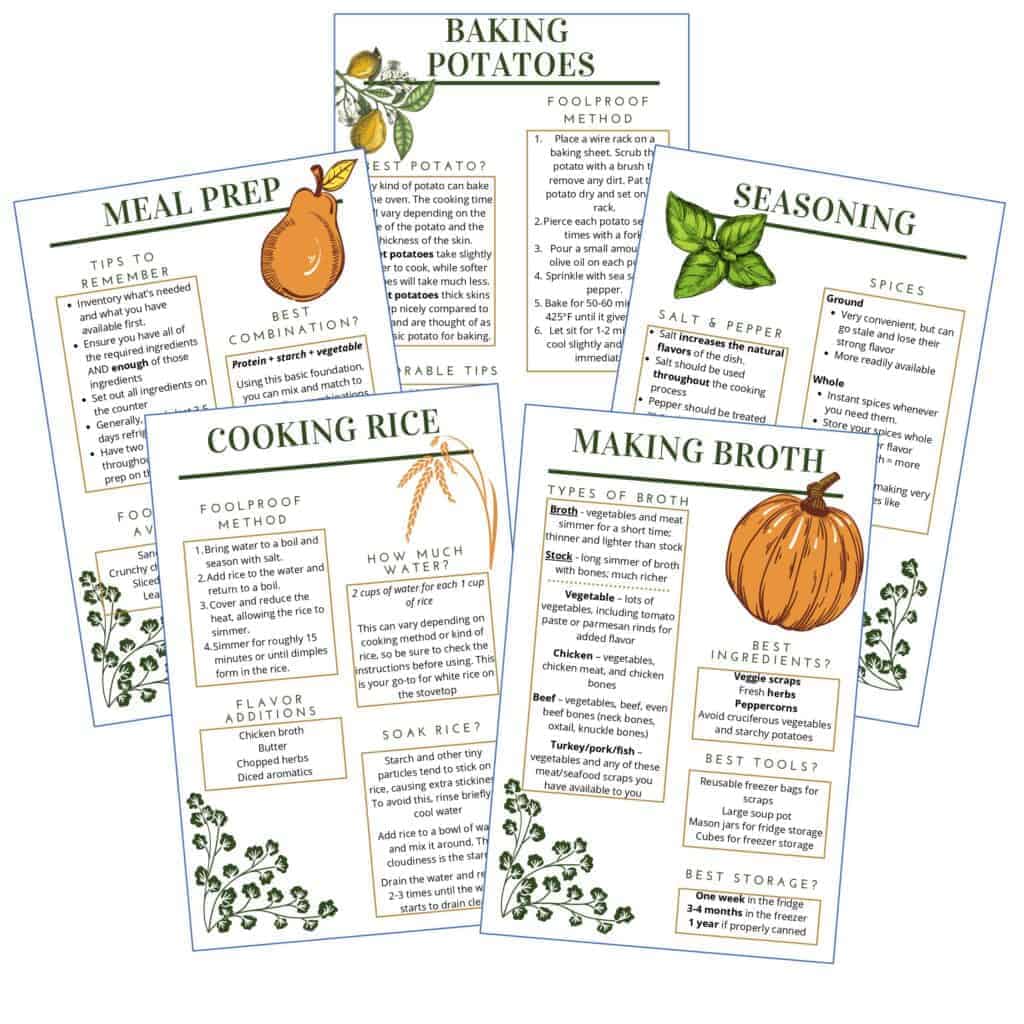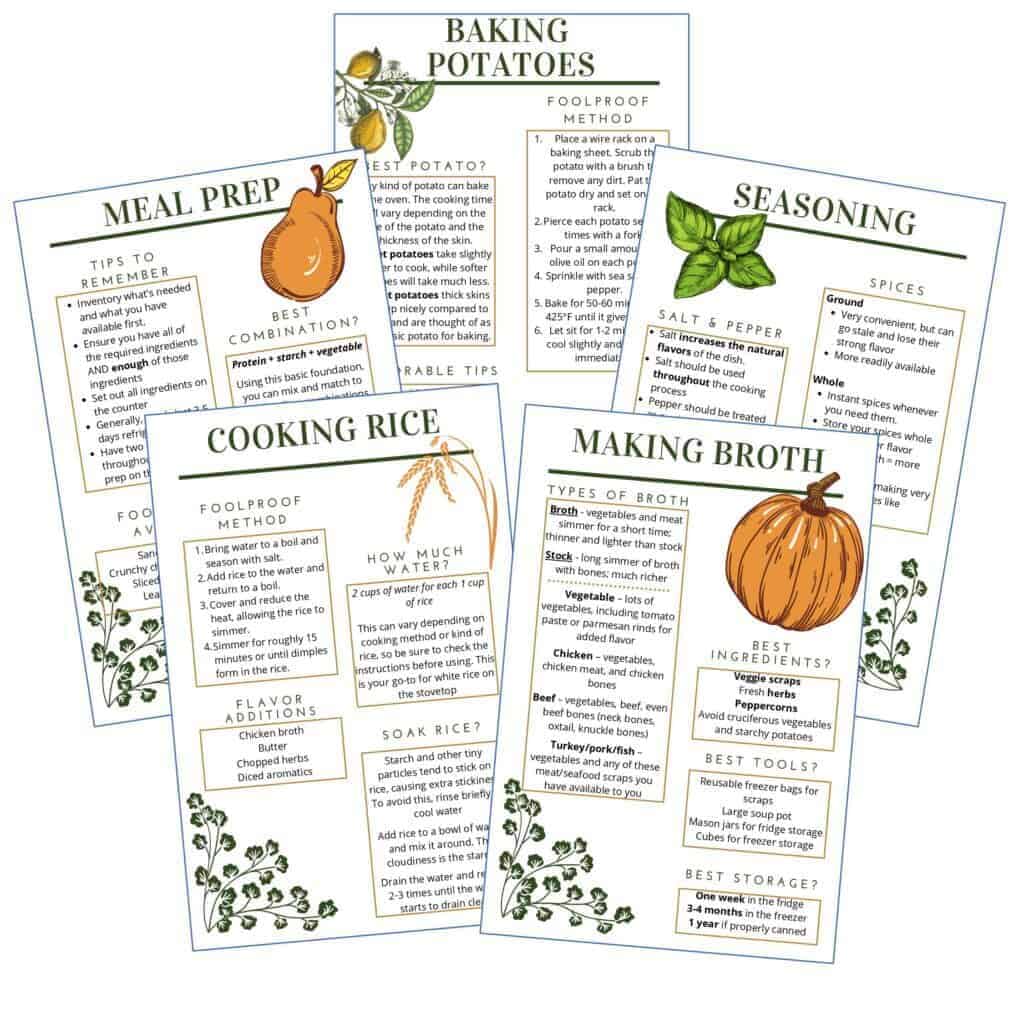 Get your $1 worksheets today!
Related Posts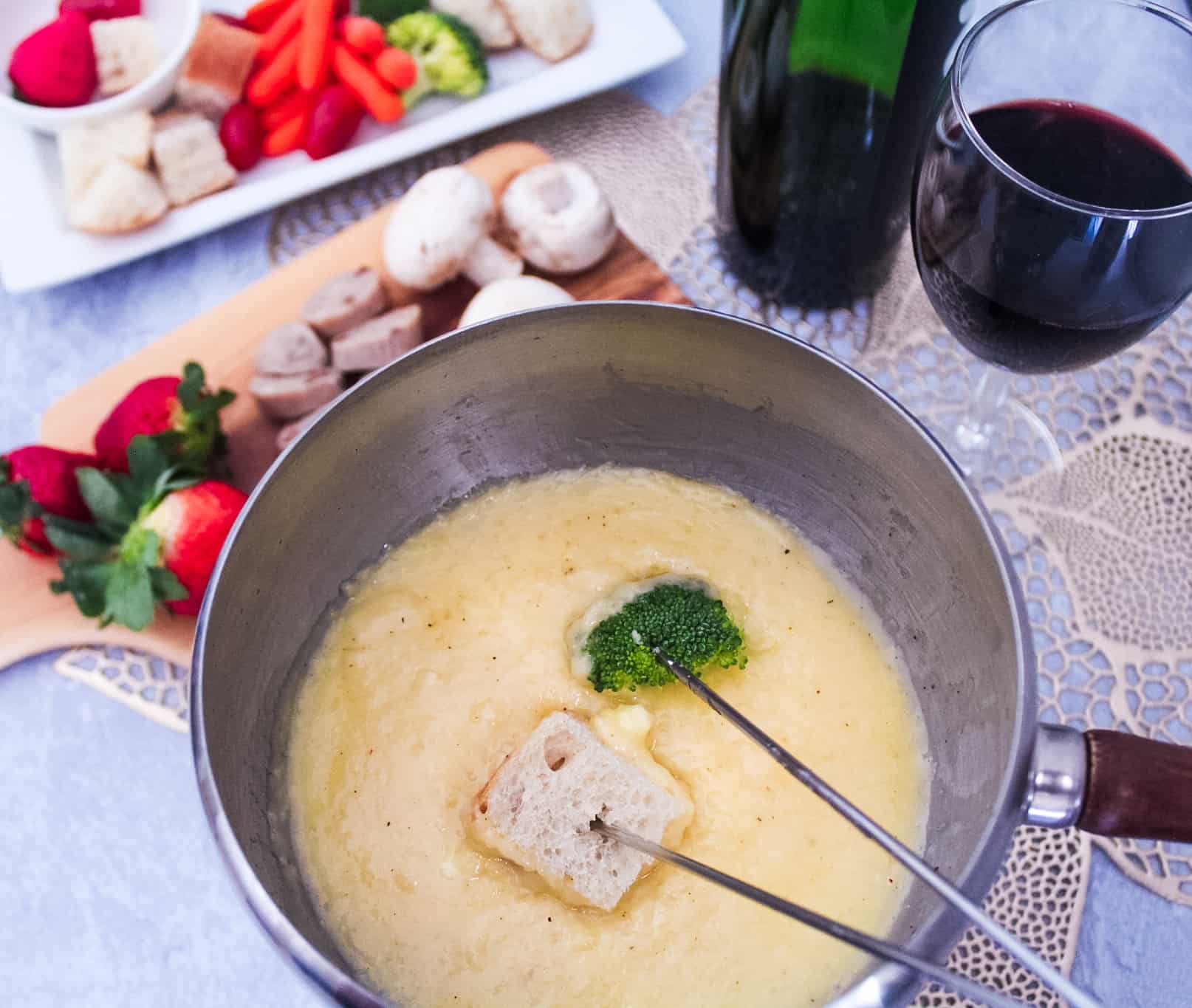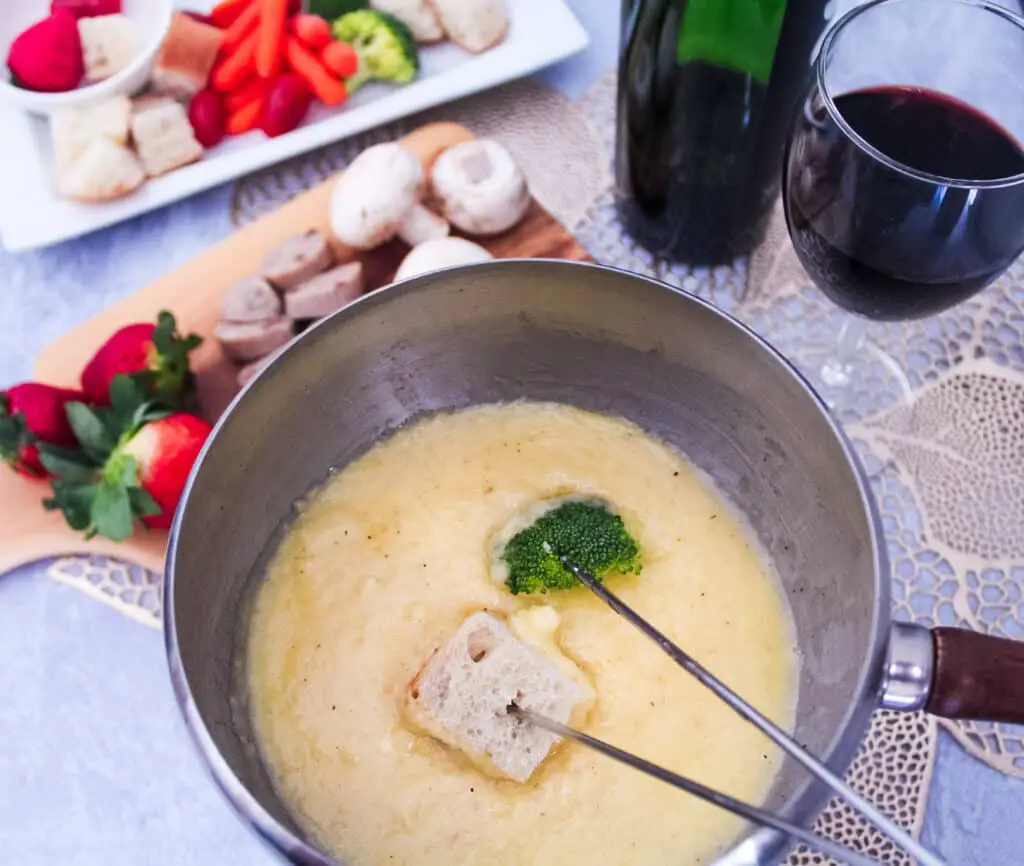 A romantic evening at home calls for Date Night Cheese Fondue. Gourmet cheese and wine come together to create an unforgettable meal.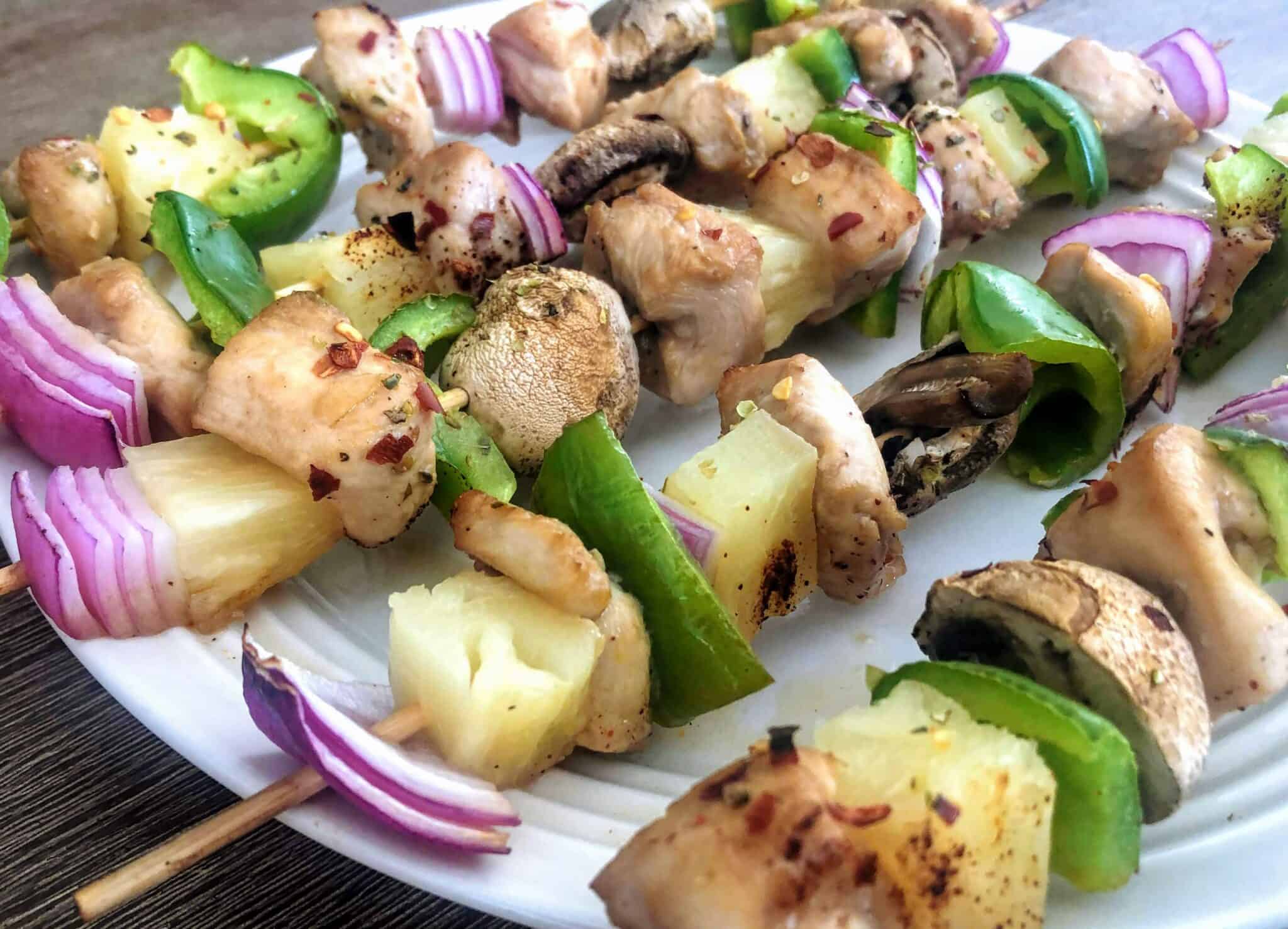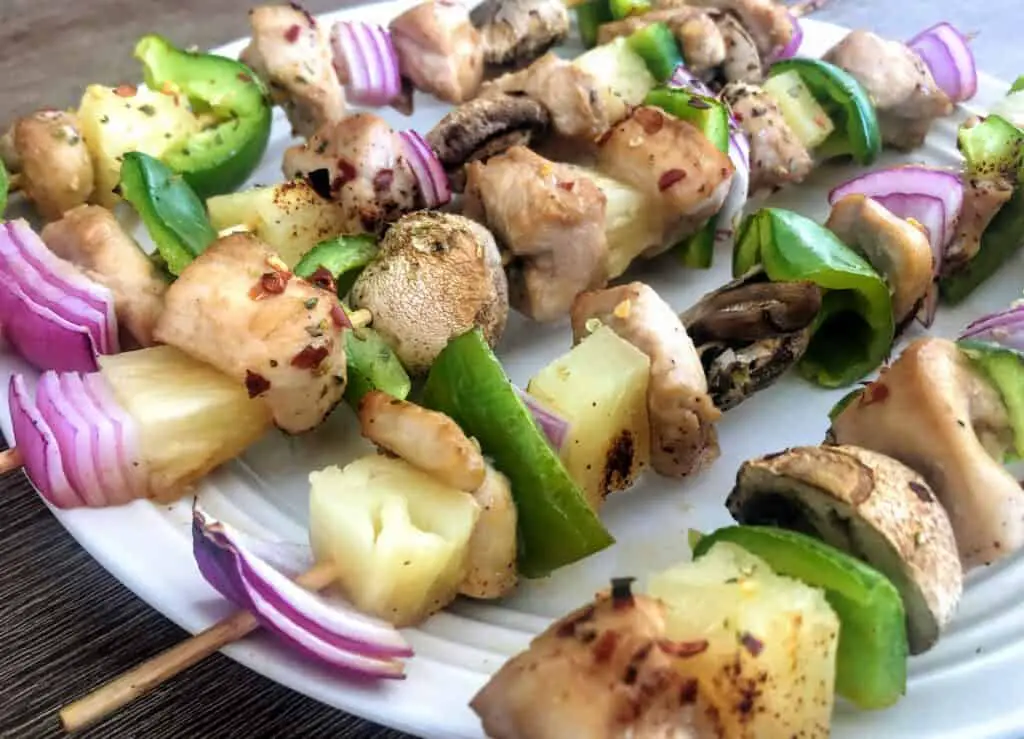 Roasted kebabs stacked high with chicken, sweet pineapple, and savory vegetables, drizzled with a Hawaiian inspired soy-sauce marinade.