Too many Christmas treats?? The limit does not exist! Amidst all the cookies and cakes, there's one sweet that's a must-have for me: White Chocolate Party Chex Mix. We've all heard of puppy chow, so now say hello to it's Christmas-themed cousin that I like to call Reindeer Munch! Reindeer Munch consists of much more than just sugar, filled with pretzel sticks, chex cereal, and Cheerios, which probably explains why I don't feel quite as guilty eating handful after handful.
---
Please note this post contains affiliate links, which means I receive a small commission, at no extra cost to you, if you make a purchase using the links. Please see my disclosure for more details.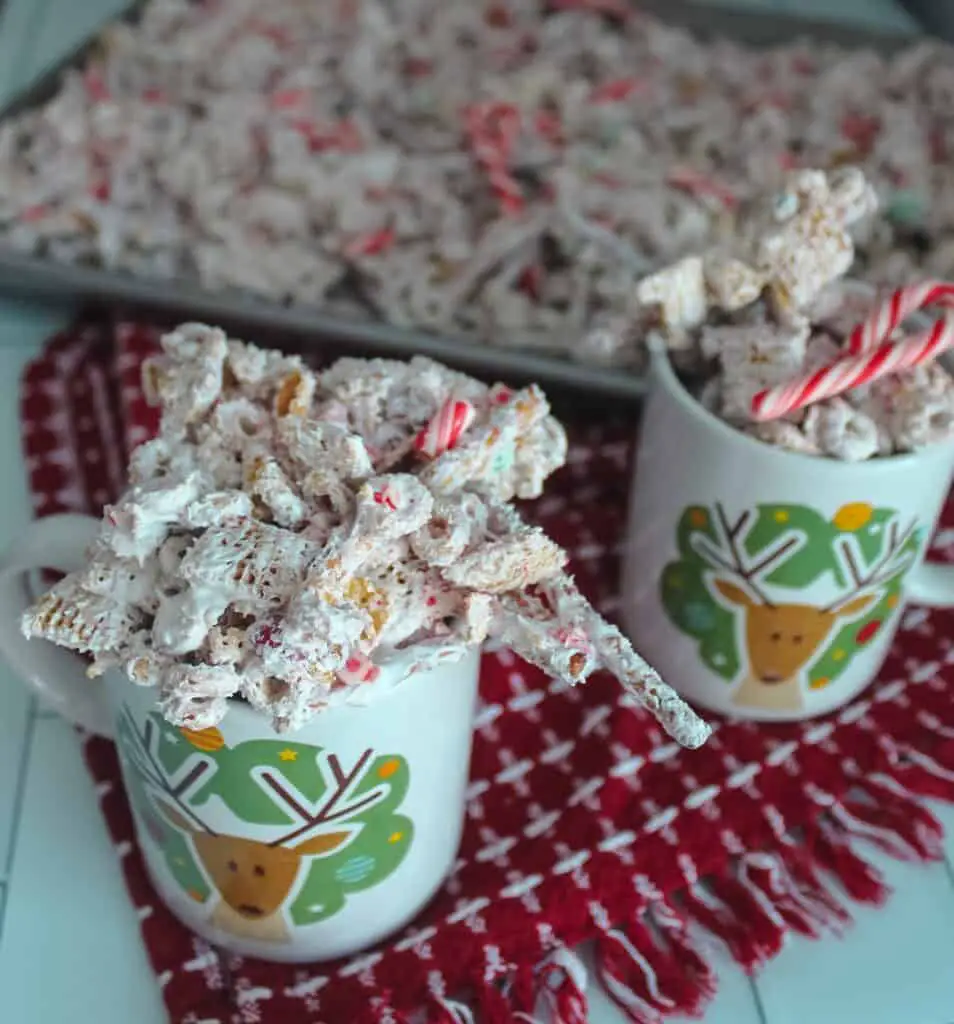 Chex Mix Tricks
You will never have enough of this white chocolate chex mix around. It disappears quicker than it's made, but luckily it's extremely freezer-friendly and can last for months. Feel free to 2x, 3x, or even 4x this recipe. If you're really looking for bulk you can use entire cereal boxes but that may put a cramp on your freezer storage 😂
Red and green M&M's are preferred, but to be honest, those are hard to come by these days and all M&M's are equally delicious. IF you manage to get your hands on the Christmas M&M bags kudos to you! Picking out the red and green chocolate candies will do the trick but you will need a MUCH bigger bag. In one 16oz bag I only managed to get about 20 candies. I love the festive colors but have to sub in all the colors to get my desired amount of chocolatey-ness.
Candy canes are completely optional but take the Christmas spirit of the chex mix up a few notches! They are best when finely crushed so you're not left with big chunks of candy cane that could potentially hurt your teeth if they catch you off guard. However, every year I seem to forget how impossible it is to crush candy canes! I've tried using a rolling pin, a hammer, nothing does the trick quickly and it requires a lot of your time. Luckily, you can find crushed peppermint in the stores and I would recommend this 10/10 times. This crushed peppermint from Brach's is a game changer — trust me!!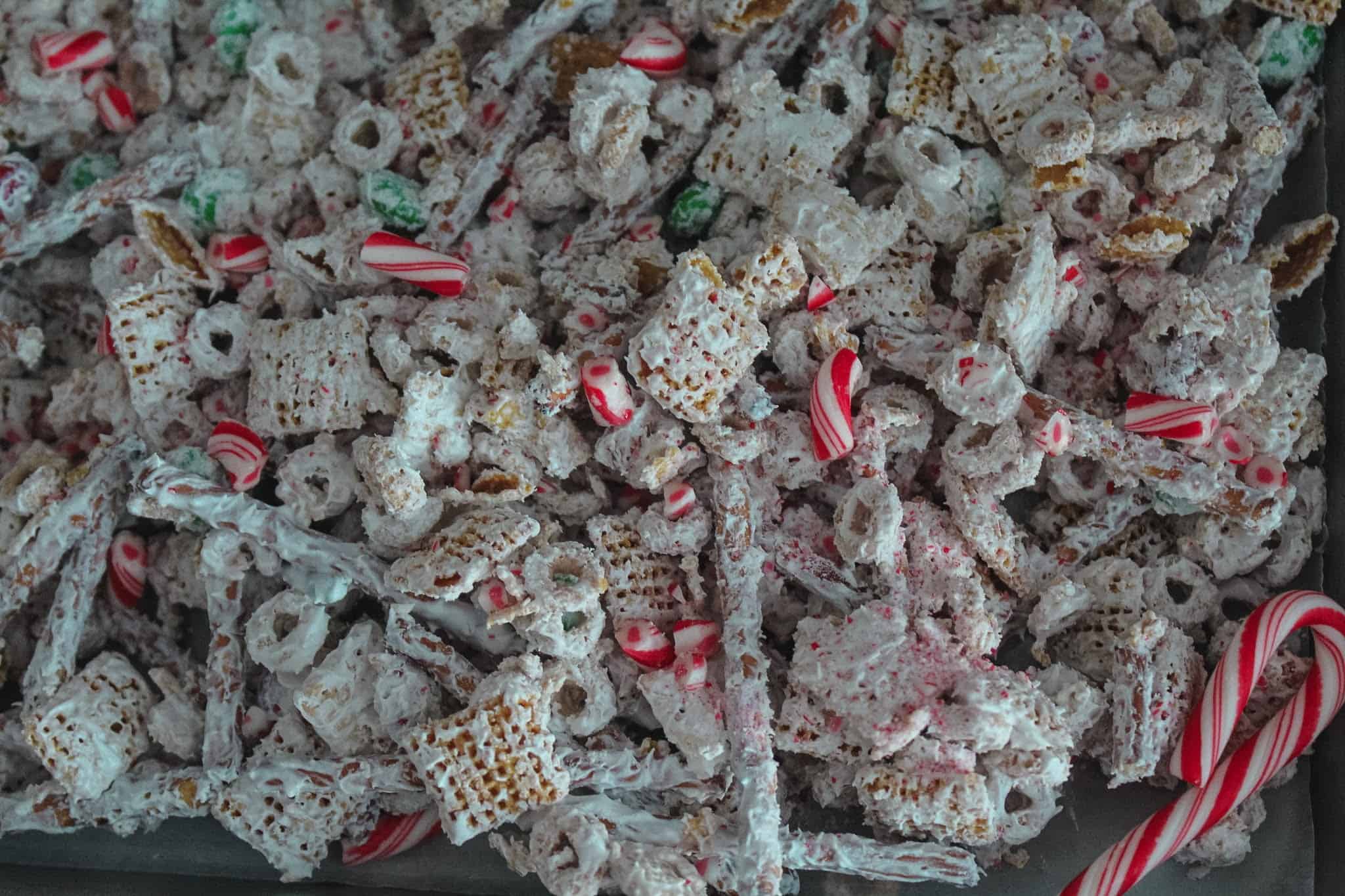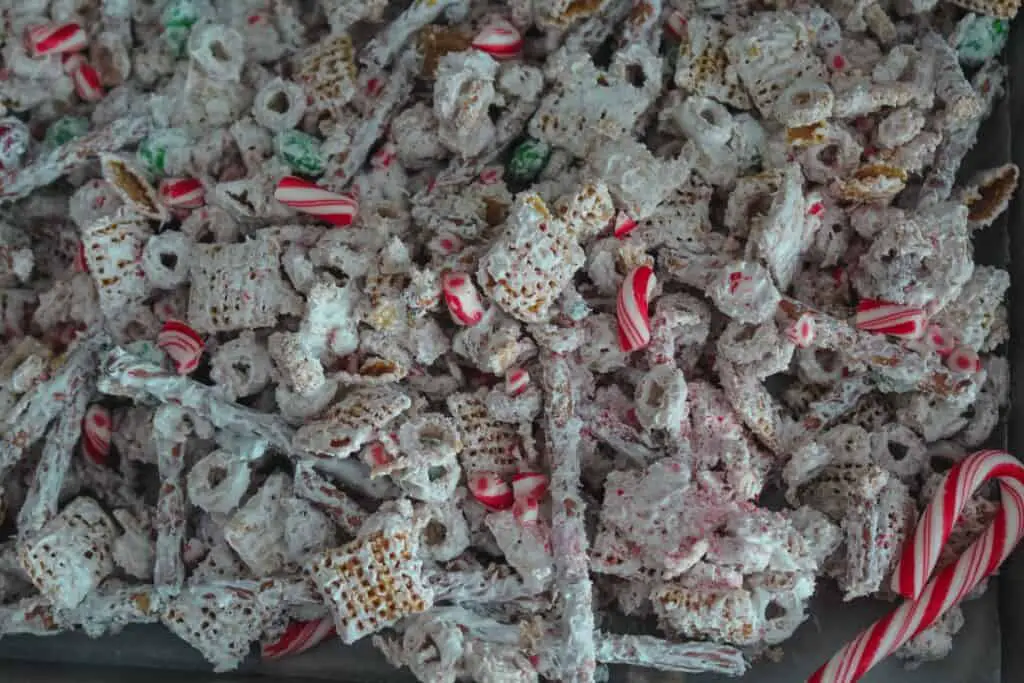 How to: assemble the Party chex mix
My favorite thing about this recipe is how EASY it is and that it doesn't require the use of your oven! I use enough of my oven around this time of year and it's a welcomed relief to have a no-bake option.
Using a large bowl (and I meal LARGE, there's a huge quantity here), combine pretzels, chex cereal, Cheerios, and M&M's.
Toss it as best as you can to distribute the contents equally. Most of the M&M's will fall to the bottom but that's okay – they're just heavier!
Set aside and set out a large baking sheet.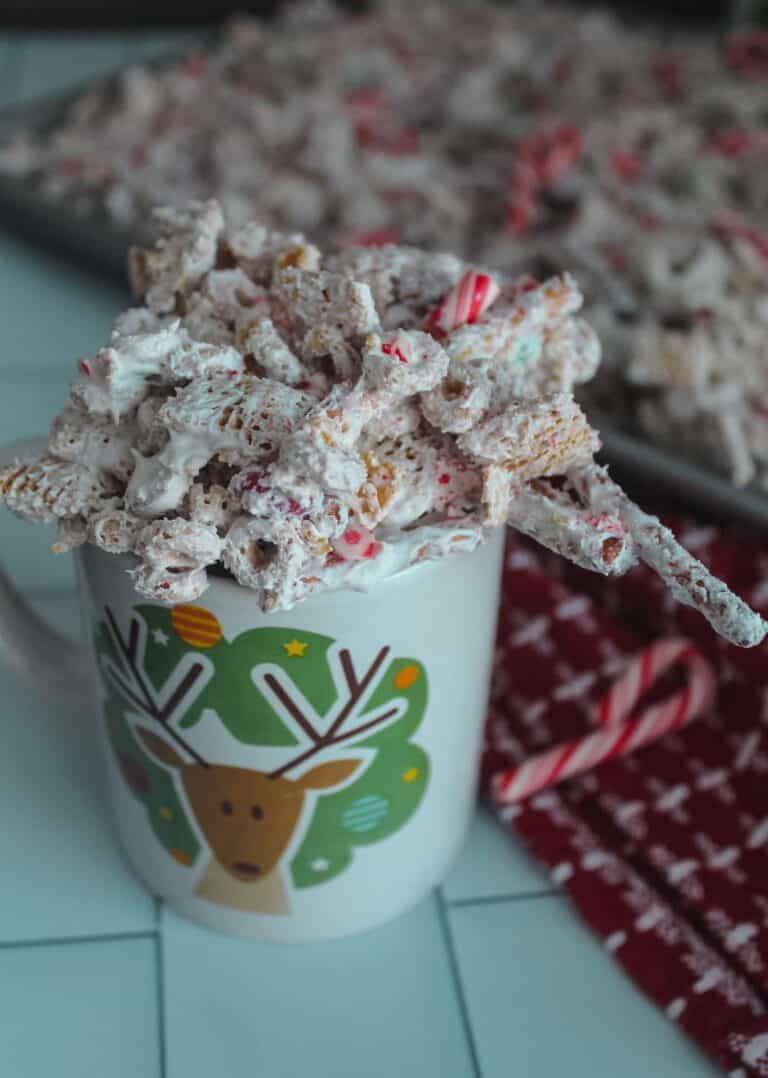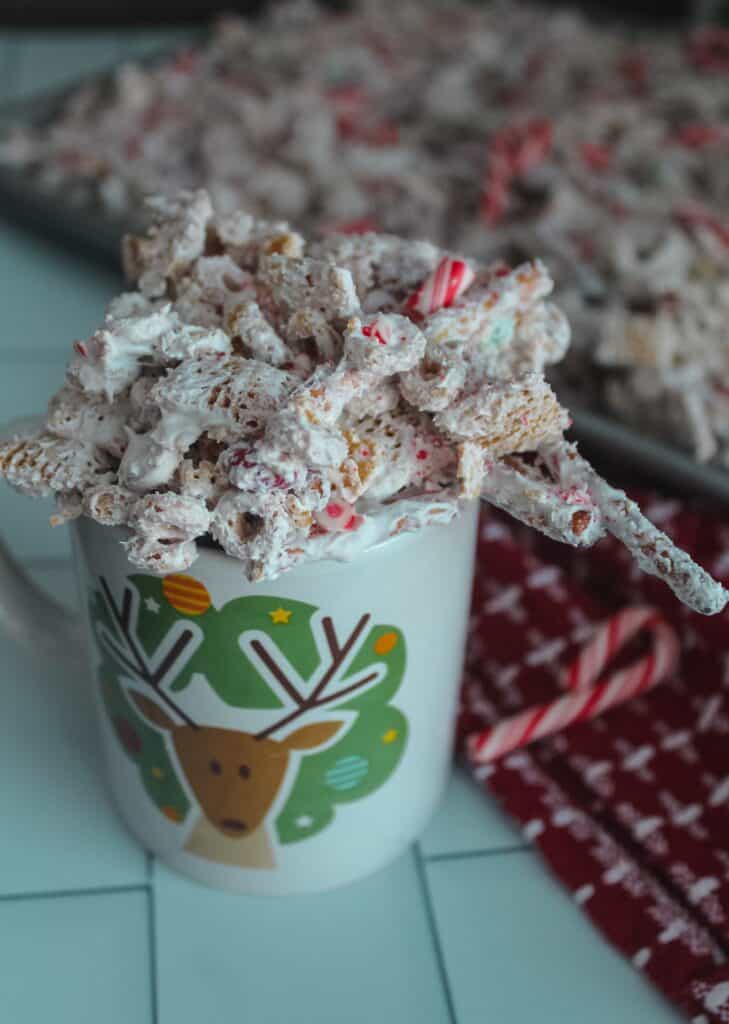 how to: melt the white chocolate
The step that by far takes the most time is melting the white chocolate.
But do not fret, this too is simple!
Most chocolate melts have instructions right on the package to make the process fool proof. You can use the microwave method or a double boiler. I've never used the double boiler method but the microwave works flawlessly every time and I've never had any issues.
By far my favorite melts to use are these chocolates from Ghiradelli. Other melts are flavored with vanilla or aren't very creamy, and Ghiradelli does not skimp on the flavor or creaminess!
Basically, in a microwave safe bowl, you'll heat the chocolate melts for short bursts on low power, stirring constantly between each round. It may not seem like much progress at first, but after a few rounds the chocolate should melt away!
Stir into the dry mixture and continue tossing until everything is coated. It may take awhile, and it may seem like you don't have enough chocolate, but keep stirring. After a few minutes, if you still don't feel like you have enough chocolate coverage, feel free to melt some more and mix in. There's never too much chocolate!
Spread out the mixture onto the baking sheet in an equal layer and sprinkle the crushed candy cane across the top. Let set 30 min to an hour and enjoy!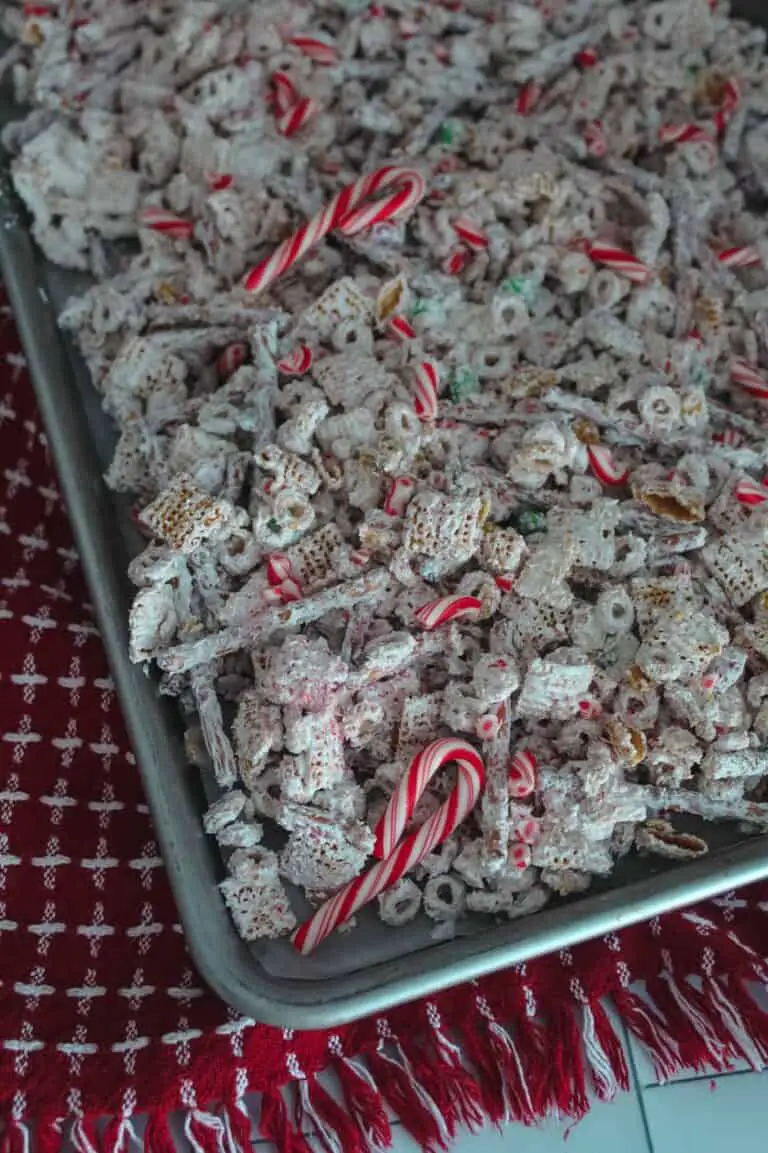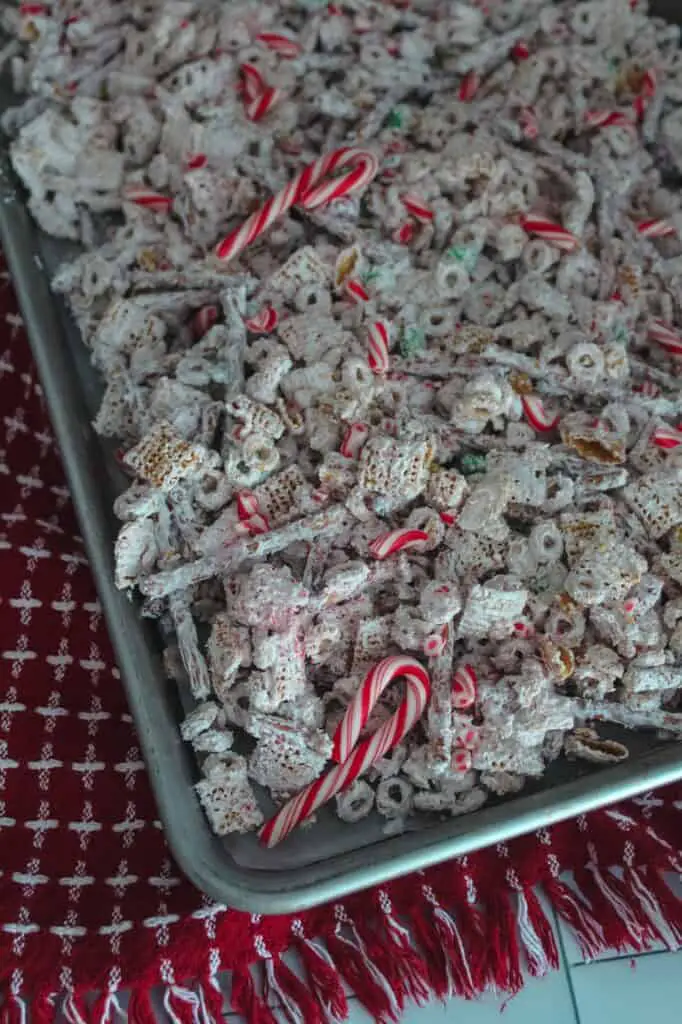 Ingredients Needed
Materials Needed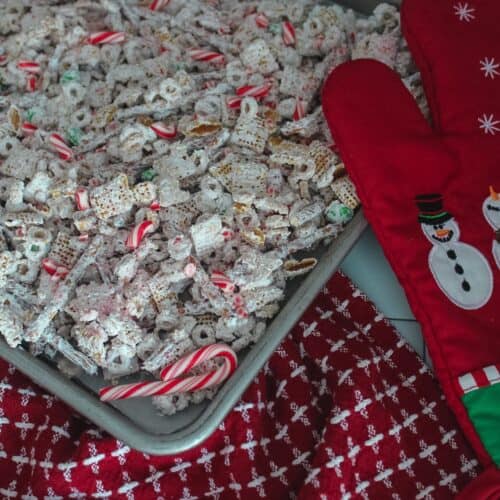 White Chocolate Party Chex Mix
White chocolate party chex mix is a staple Christmas treat that you do not want to miss! This no-bake treat has very little prep and won't last long — so be sure to make extra!
Print
Pin
Rate
Ingredients
4

heaping cups

corn chex

2

heaping cups

cheerios

2

heaping cups

pretzel sticks

1

cup

red and green m&ms

18

oz

white chocolate melts

1/2

Cup

crushed candy canes
Instructions
In a large mixing bowl, combine corn chex, Cheerios, pretzel sticks, and M&M's. Stir until combined.

Following the instructions on the package, melt the white chocolate melts using a microwave or double boiler. Once melted completed, pour over the dry mixture and toss until the entire mixture is coated in chocolate. If needed, melt additional chocolate for full coverage.

Lay out the mixture on a large baking sheet and sprinkle crushed candy cane across the top. Let sit 30 minutes and enjoy!
Notes
White chocolate chex mix is freezer friendly and will last for a few months.
Pin me!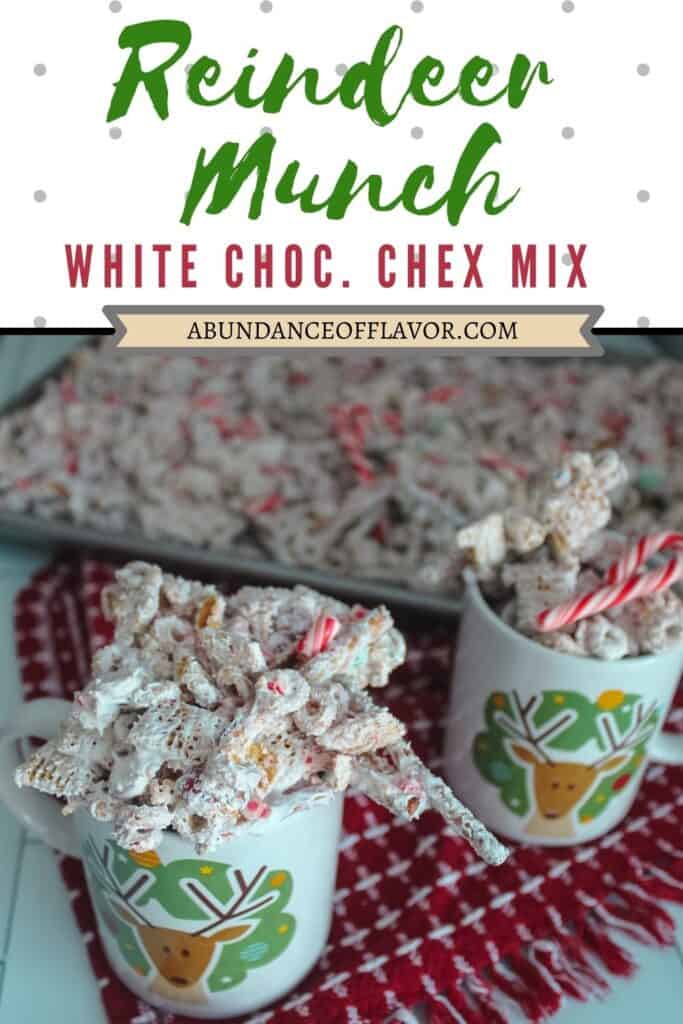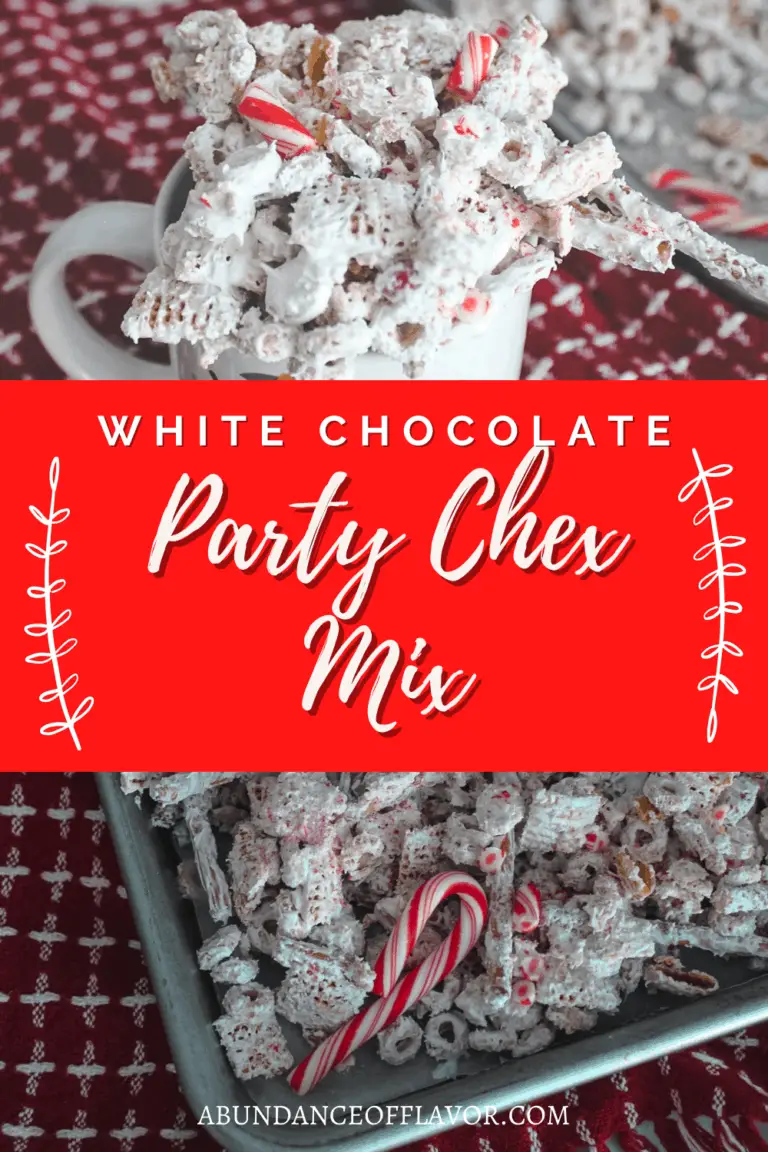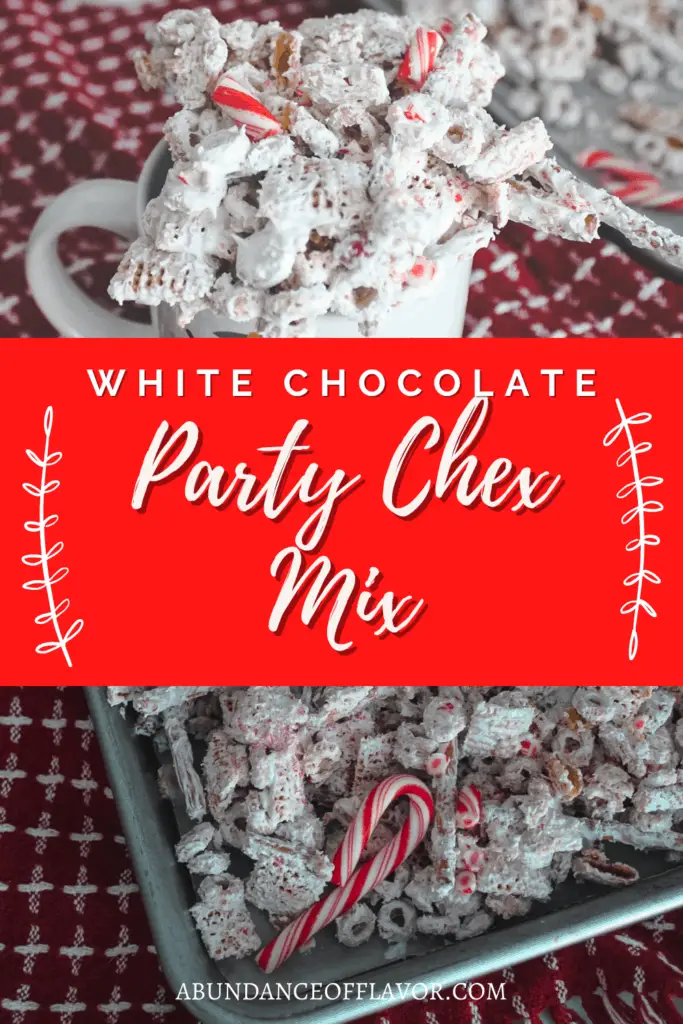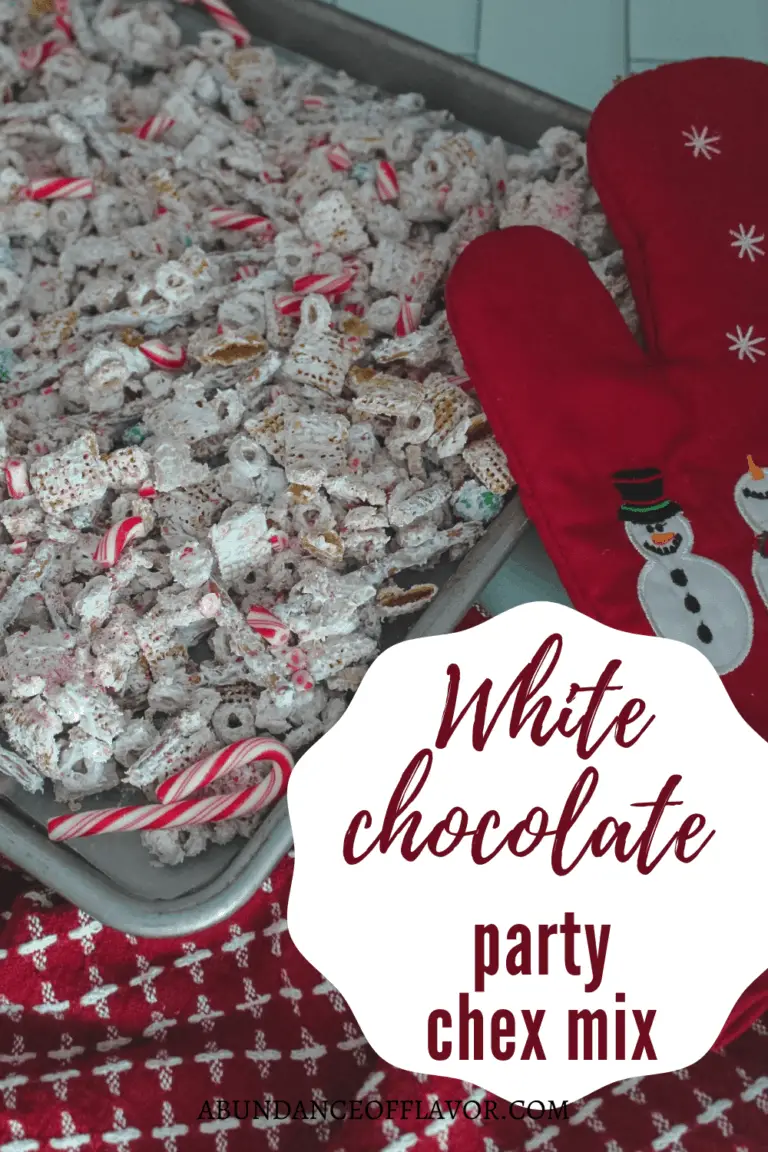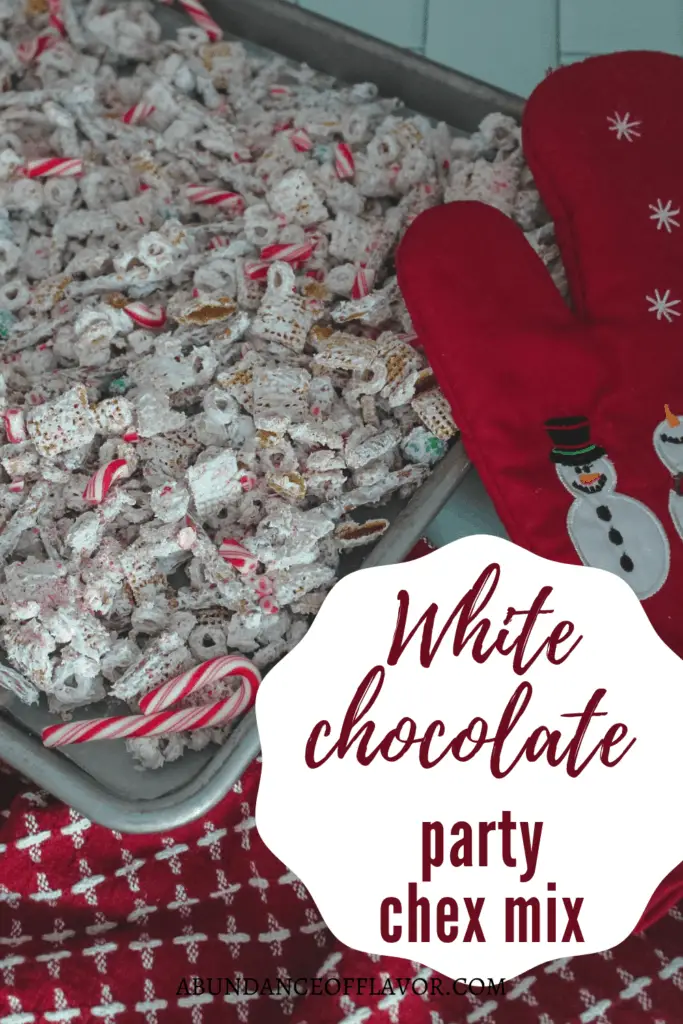 This seems to be a classic Christmas concoction but goes by a hundred different names! f you've made this before, what fun names do you call it in your family?? My favorite might be Christmas Crack 😂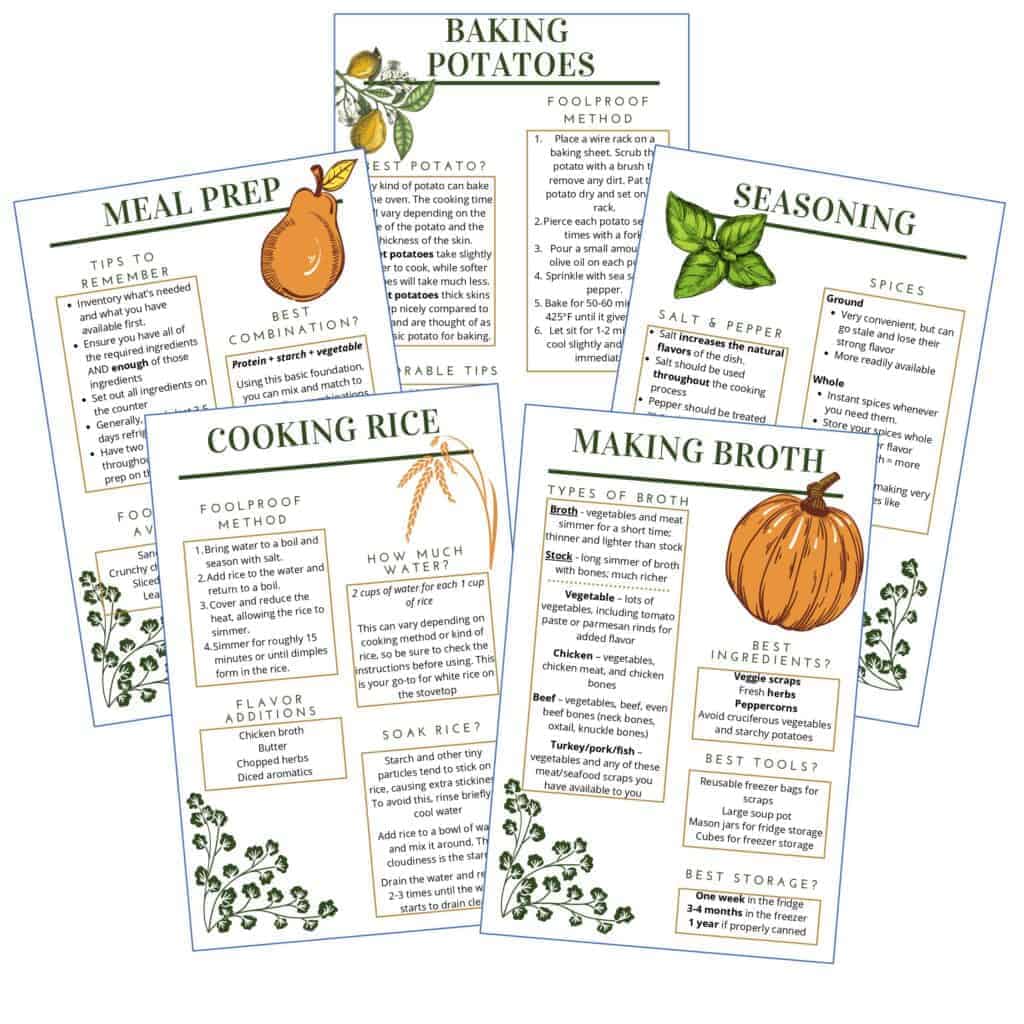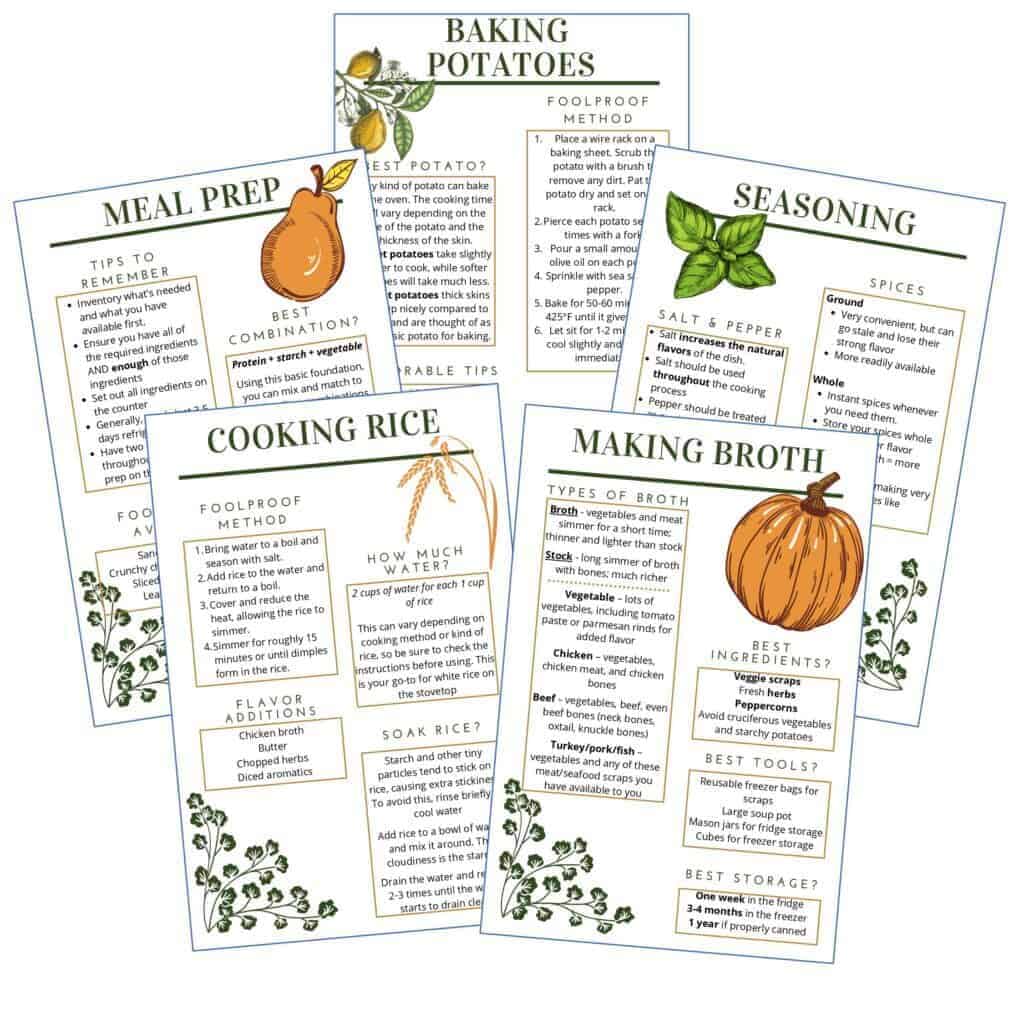 Get your $1 worksheets today!
Related Posts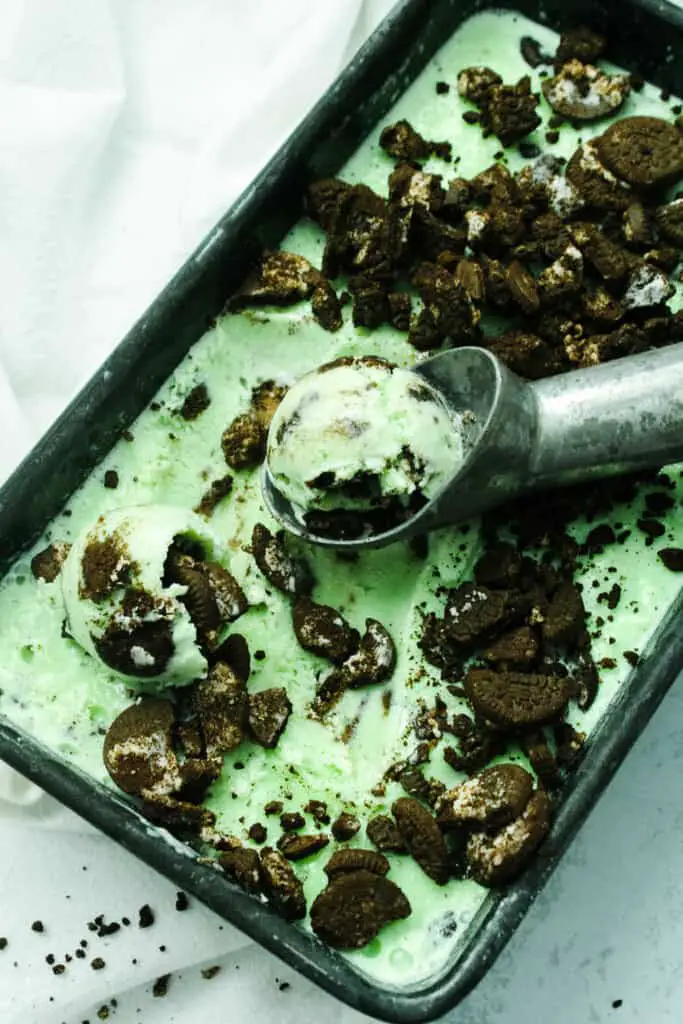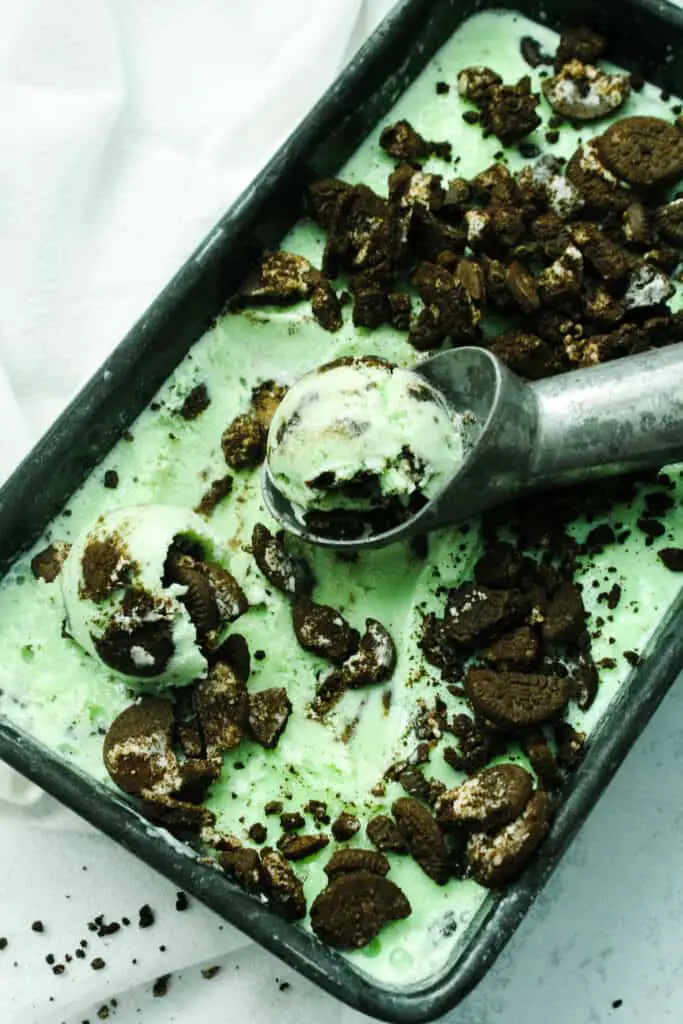 Mint Chocolate Cookie Ice Cream is a simple no-churn, 6-ingredient ice recipe that was made for mint chocolate lovers.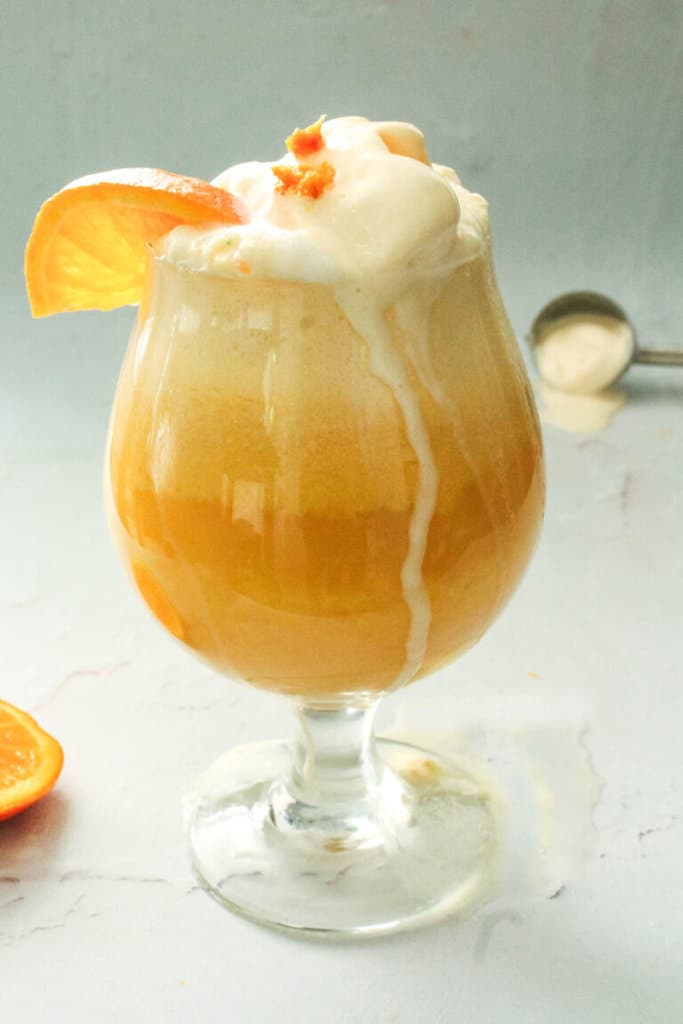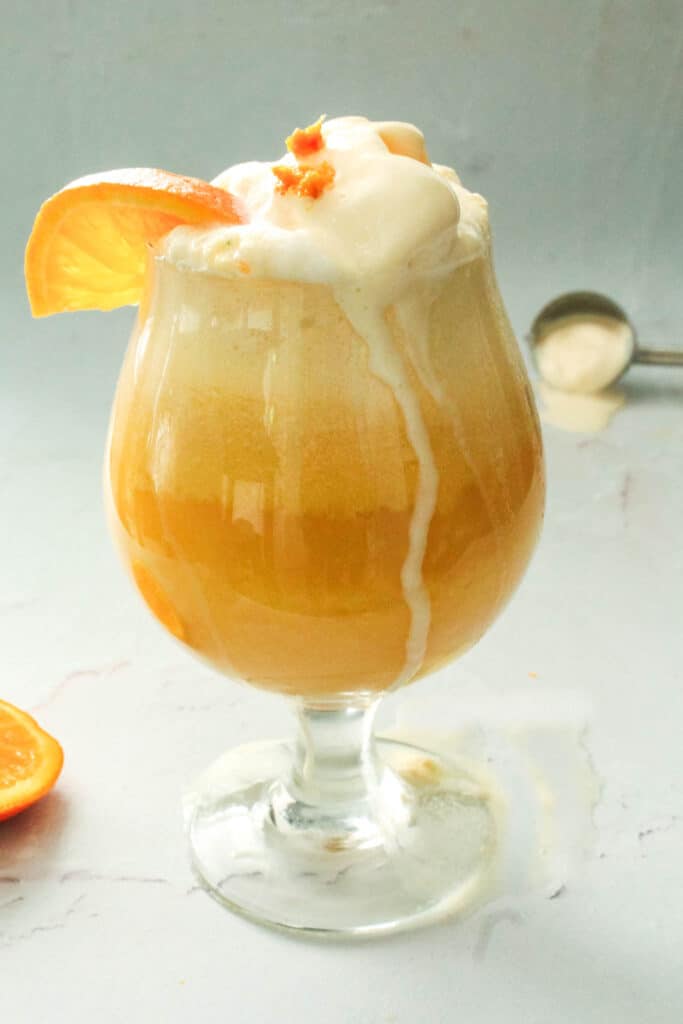 Dreamy Creamsicle Floats are delightful ice cream creations that combine an old-fashioned treat with bright citrus flavor.