Enjoy the delicious taste of grilled food all year, no matter the weather! Grilled burgers and vegetables make up the perfect meal on hot days, and you don't even need a grill. Look no further for tips on using a grill pan on your stovetop.
Please note this post contains affiliate links, which means I receive a small commission, at no extra cost to you, if you make a purchase using the links. Please see my disclosure for more details.
Grill Skills
Growing up, my family grilled out on most nights when the weather was warm and rain-free. Juicy grilled chicken and baked potatoes stick out the in my mind when I think back about what I loved grilled the most.
Flash forward to now, where I live in an apartment complex with a community grill. Lucky for us, it's right outside our building and is actually a really nice setup.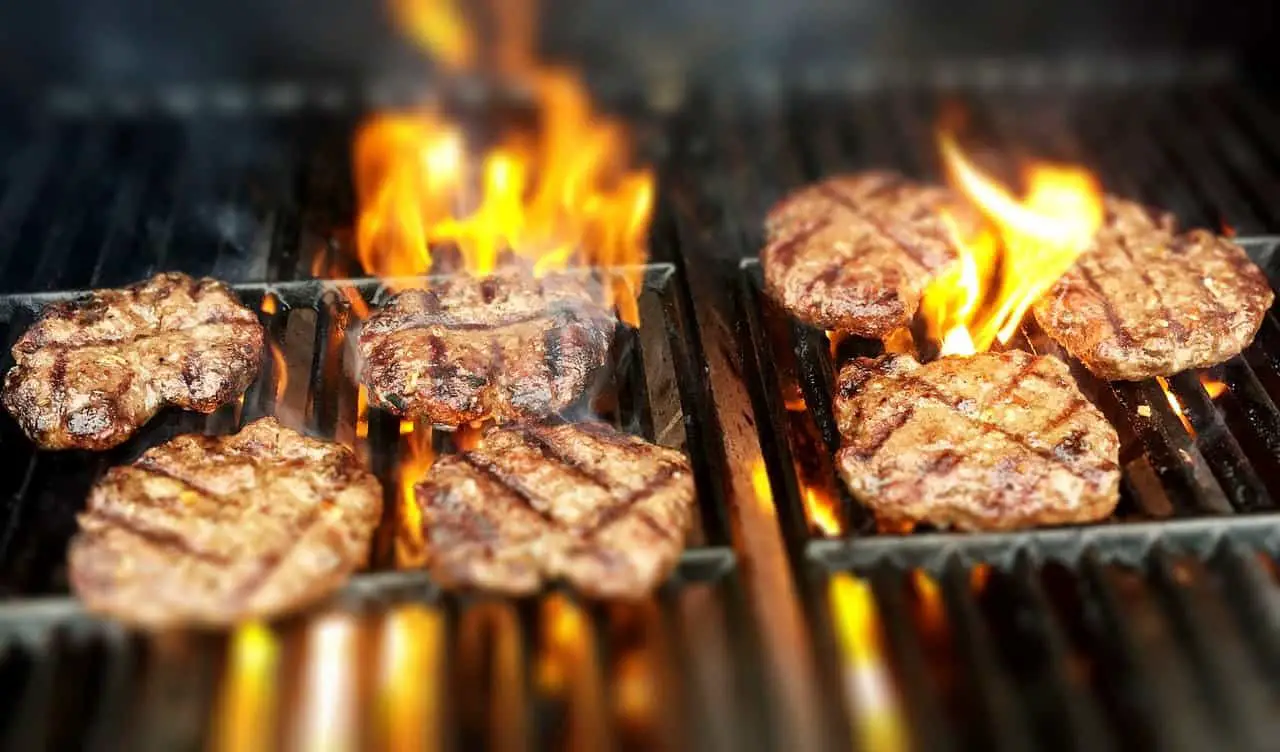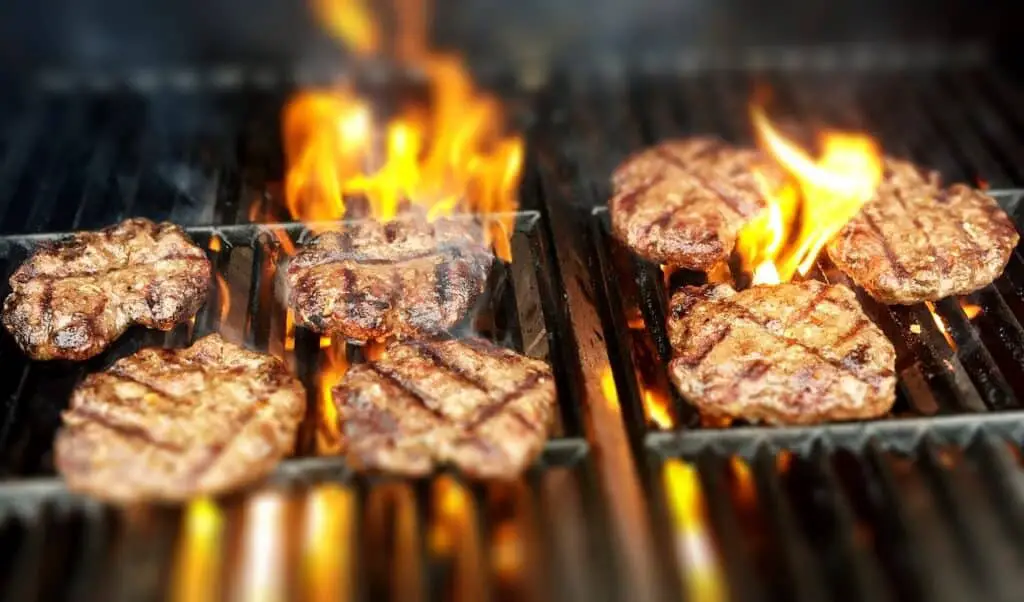 Even the short trek downstairs requires a lot of work, lugging all the ingredients, tools, and anything else we may need to throw together a nice dinner.
Especially with the current state of the COVID-19 pandemic, we really don't want to be using a shared cook space and put in even more work to sanitize the entire area thoroughly.
In comes the handy-dandy grill pan for indoor grilling!
cast iron reversible grill pan and griddle
I purchased this little guy a few years ago for the sole purpose of having a griddle for pancakes. It got used maybe once in the middle of my cooking infancy.
Needless to say, I had no idea what I was doing and grew frustrated that the pancakes weren't turning out like the ones my mom and dad would make when I was little.
I've grown to really appreciate the versatility of the grill pan. It's reversible, and one side is a grill plate and the other is a flat griddle.
This Memorial Day weekend I REALLY wanted a fresh hamburger and wanted to try my hand at grilling. I was blown away at how easy to use it was and kept wanting to try grilling more and more.
What started out as grilled burgers morphed into grilled buns, onions, peppers, and mushrooms. I got carried away but the end product was so worth it!
how to: grill burger buns
Place the grill pan on a burner of medium high heat. Preheat for 10 minutes to heat thoroughly. Then reduce the heat to medium or medium low.
If the grill pan starts smoking, it is too hot and the heat should be reduced.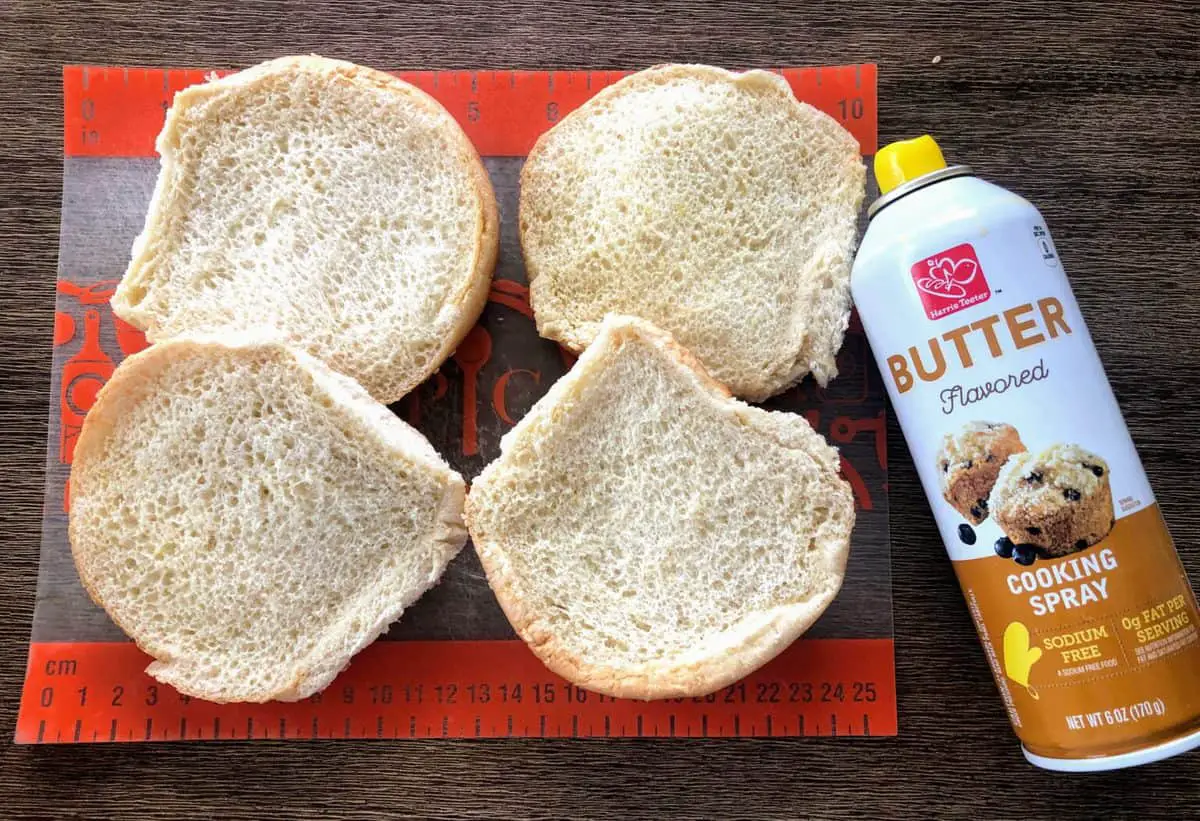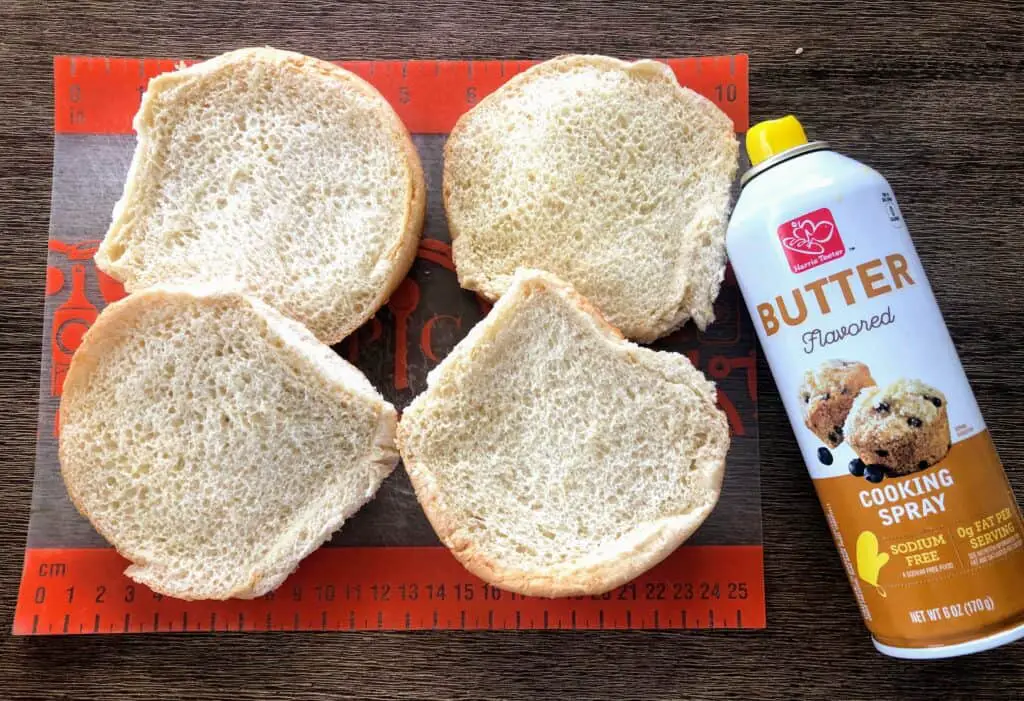 Lay open the buns and lightly spread with butter. I use a butter spray for extra ease.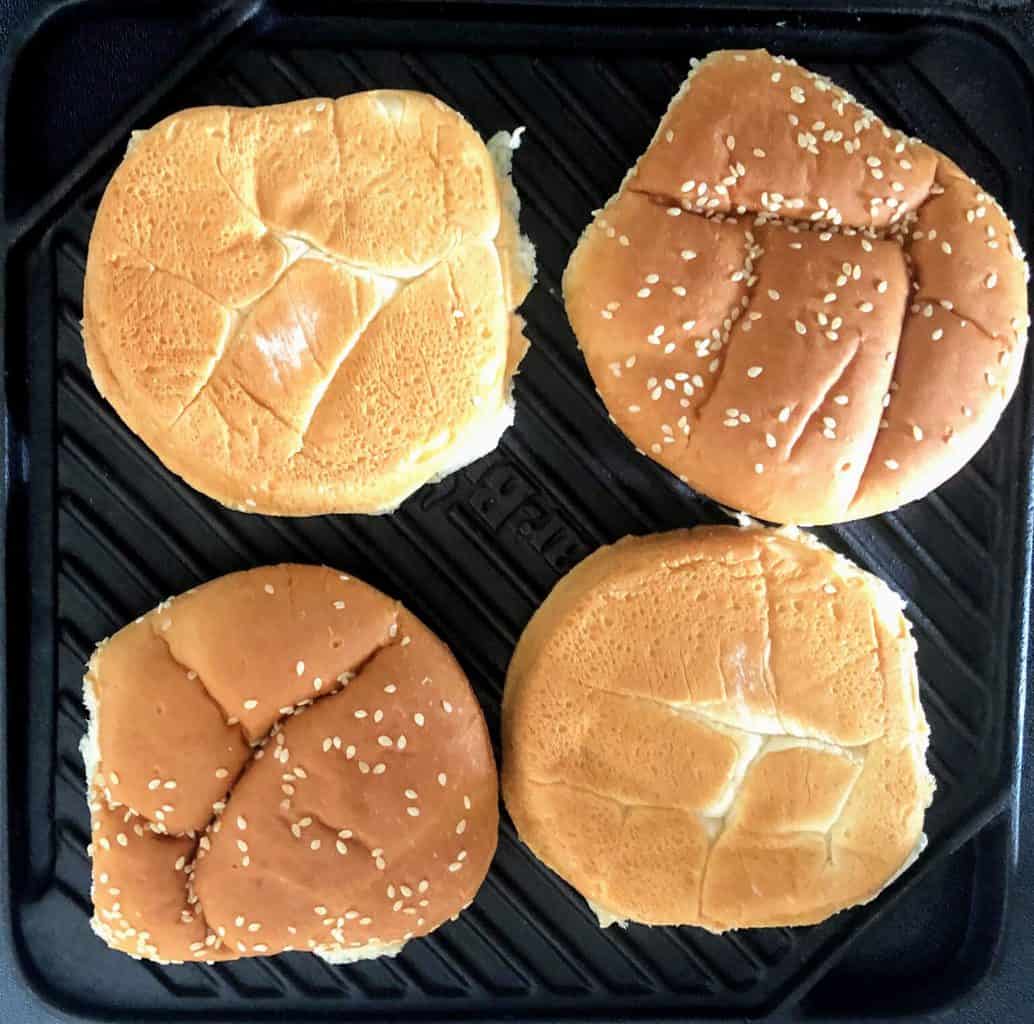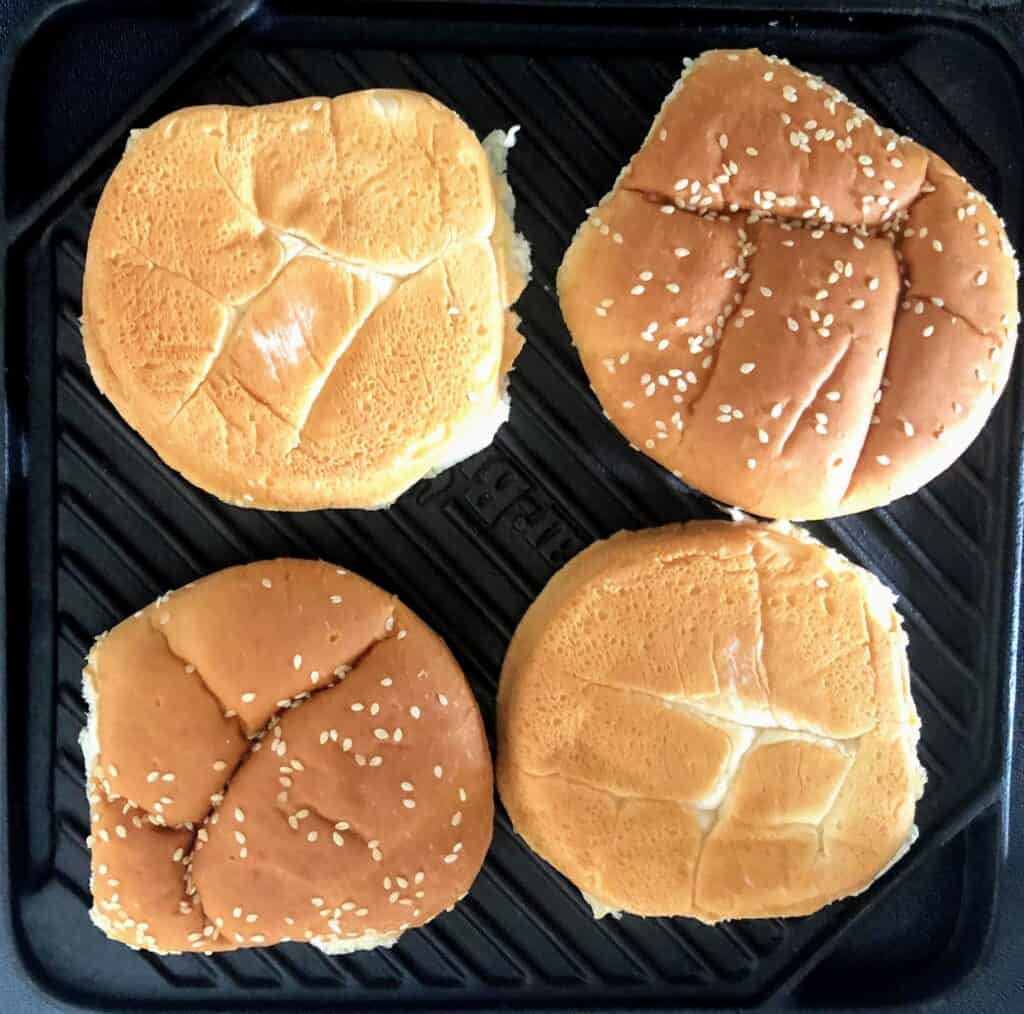 After the grill place has heated, place the buns flat down and try not to touch them yet! Leaving them in their place with help get really nice grill lines.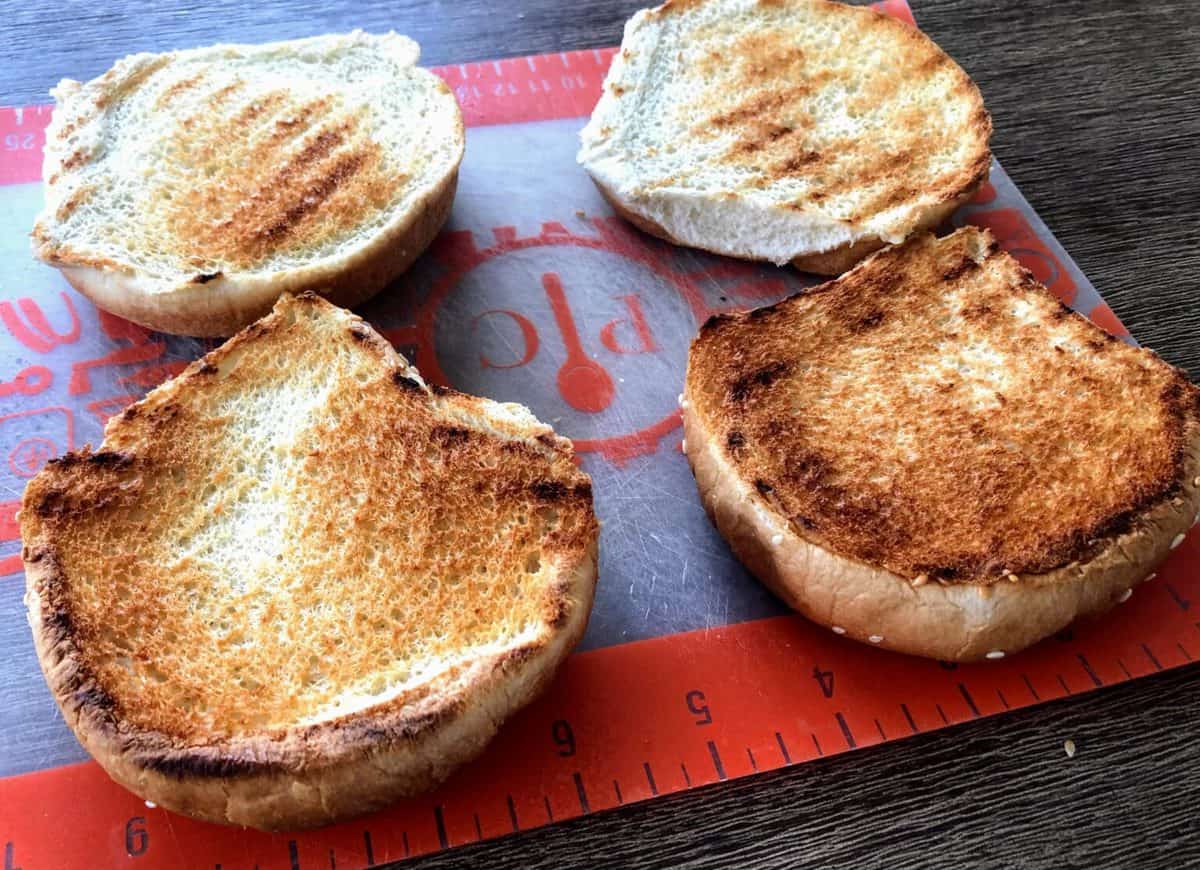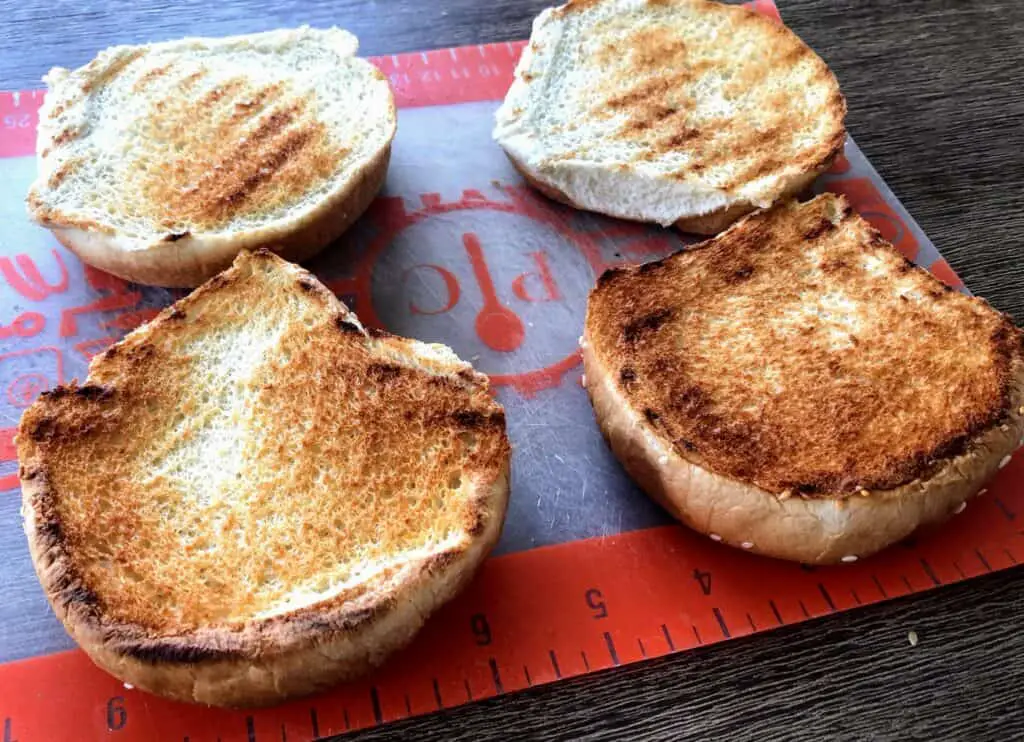 Once you start smelling toasted bread they're probably about done! Check the edges of the buns for brownness and lift slightly to check the color. The bread should be a nice, golden brown color.
how to: grill vegetables
Grab whatever veggies you have lying around and chop into medium-sized pieces (I kept the jalapenos whole to not lose any of the heat from their seeds. I like using red onion, bell pepper, jalapenos, and mushrooms to make little kebabs!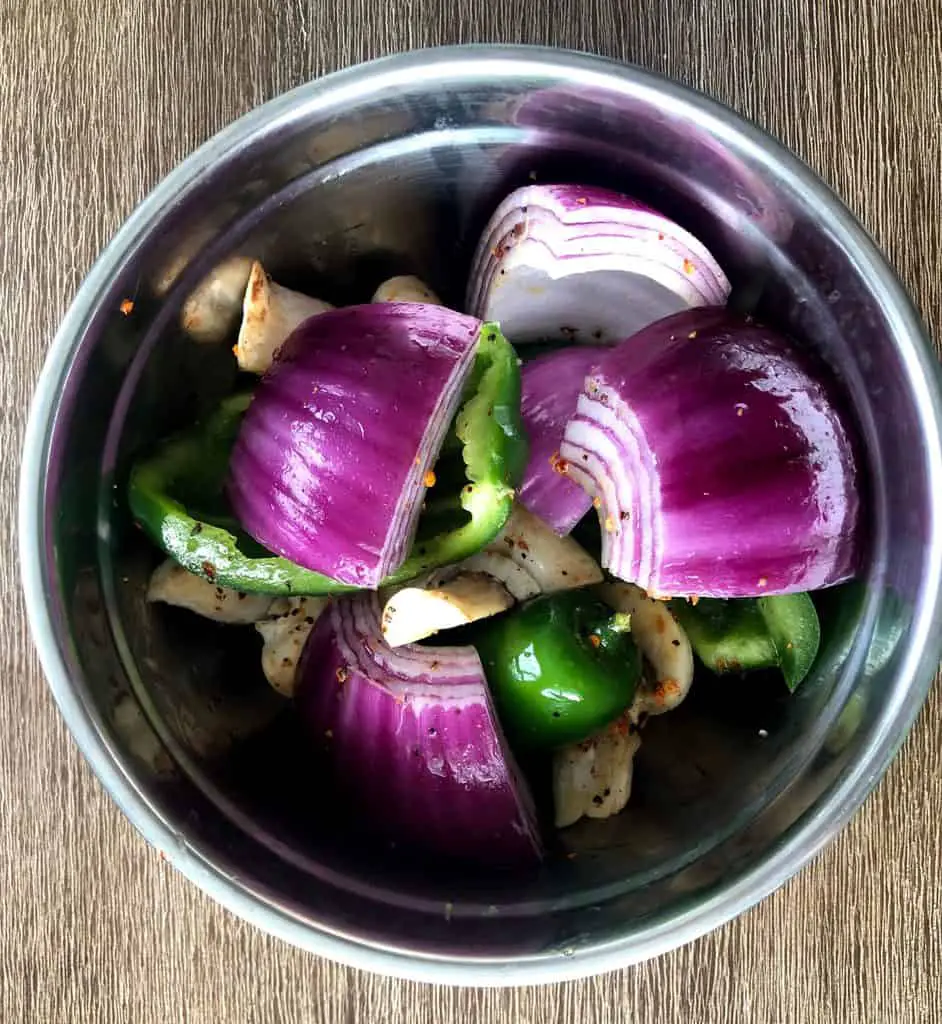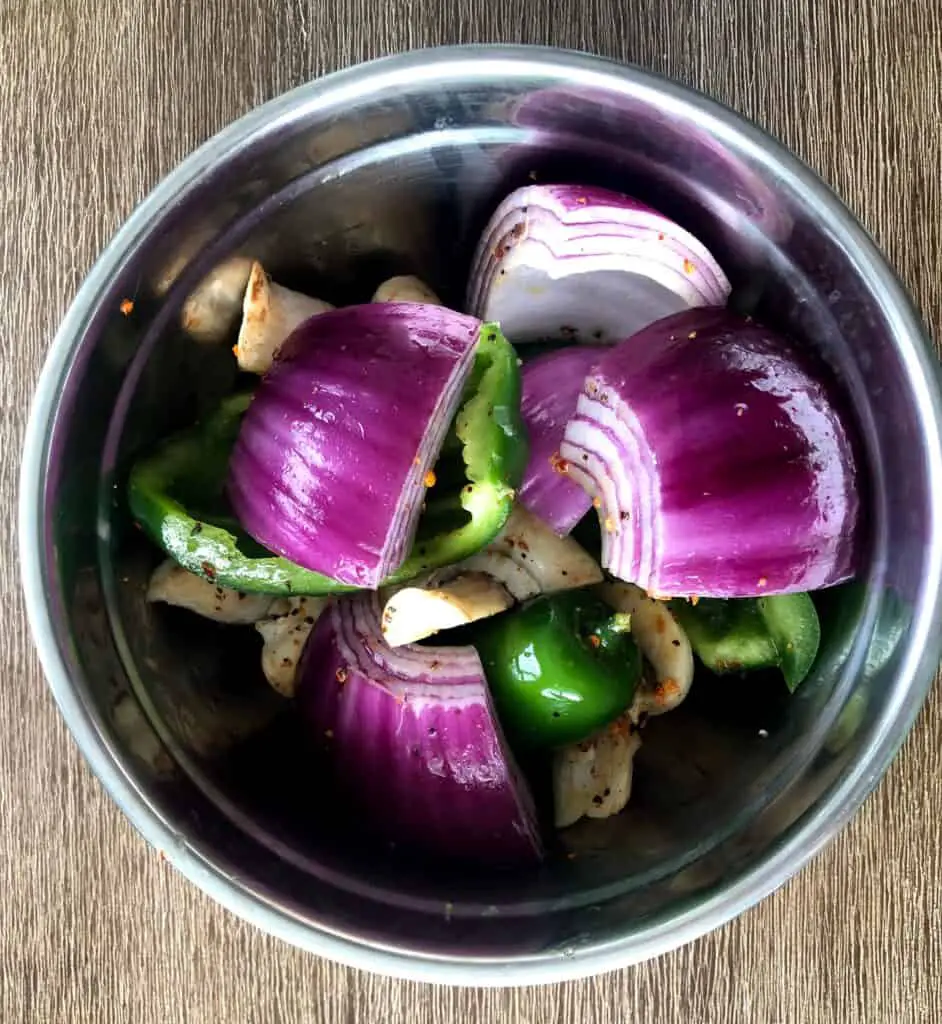 Drizzle with olive oil and seasonings. Salt, pepper, red pepper flakes, and garlic powder is a great combination for grilled meats and vegetables.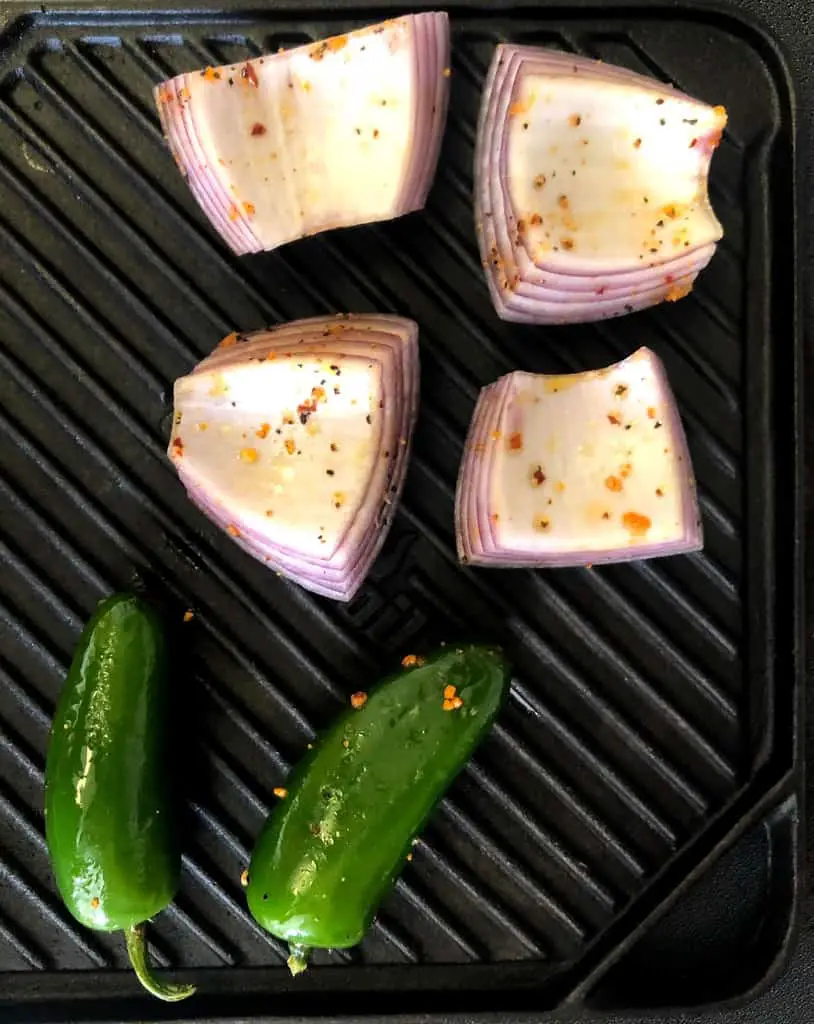 Preheat the grill pan and lay the vegetables out with a little bit of space in between. Start with the heartier vegetables that need longer to cook, such as the red onions and whole jalapenos.
The vegetables should be sizzling! Flip occasionally to ensure all sides are cooked.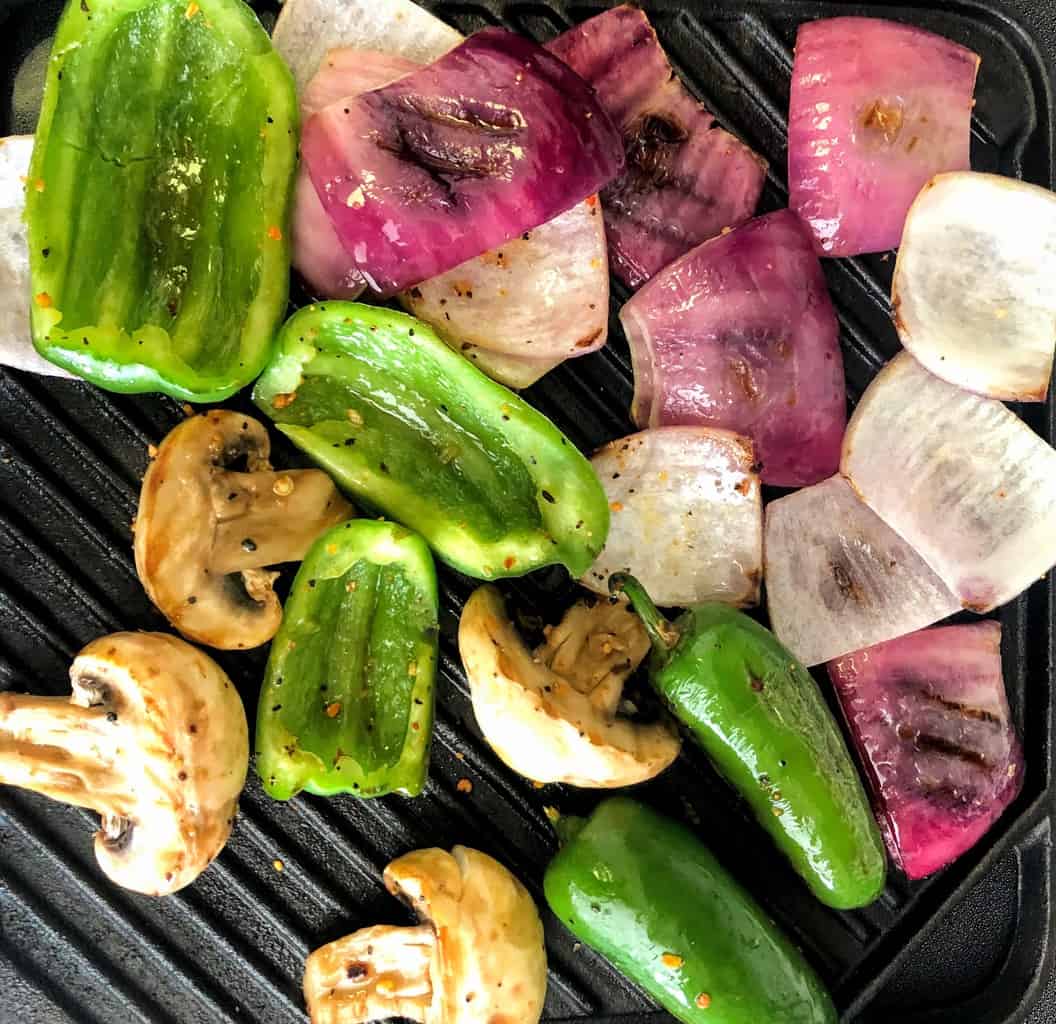 Slowly add the rest of your vegetables and remove any that are finished. Continue cooking until they are seared to your liking. Because I used way too many onions, they took about 15 minutes to grill all of the pieces. The jalapenos and bell peppers took about 10 minutes, and the mushrooms only 2-3 minutes.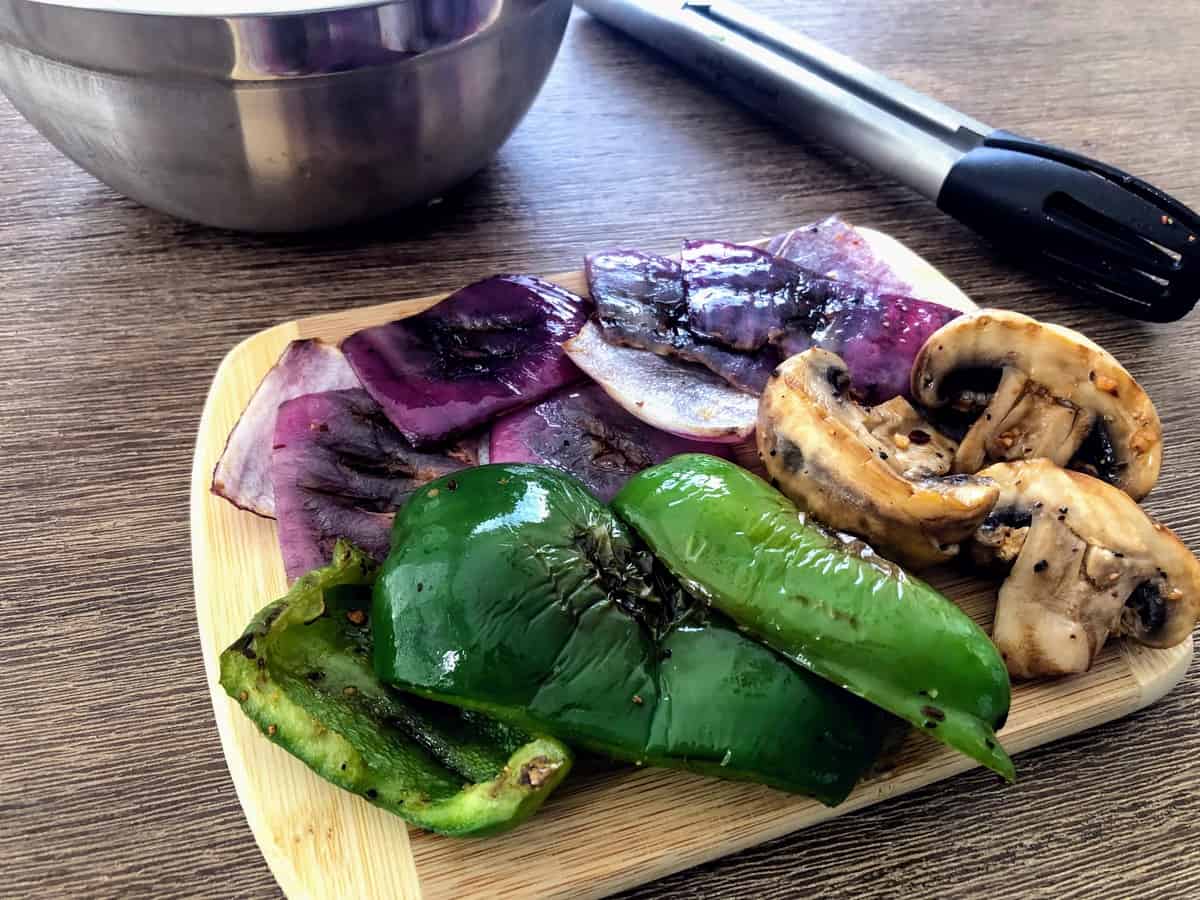 Look at the beautiful searing and grill marks! Yum!
how to: grill burgers
Grilled burgers are cooked in no time so don't blink or you'll miss it! ( I barely got a picture) I was amazed at just how quickly the burgers cooked on the grill pan.
Preheat the grill pan and spray lightly with olive oil. Place the burgers on the pan and they should sizzle immediately.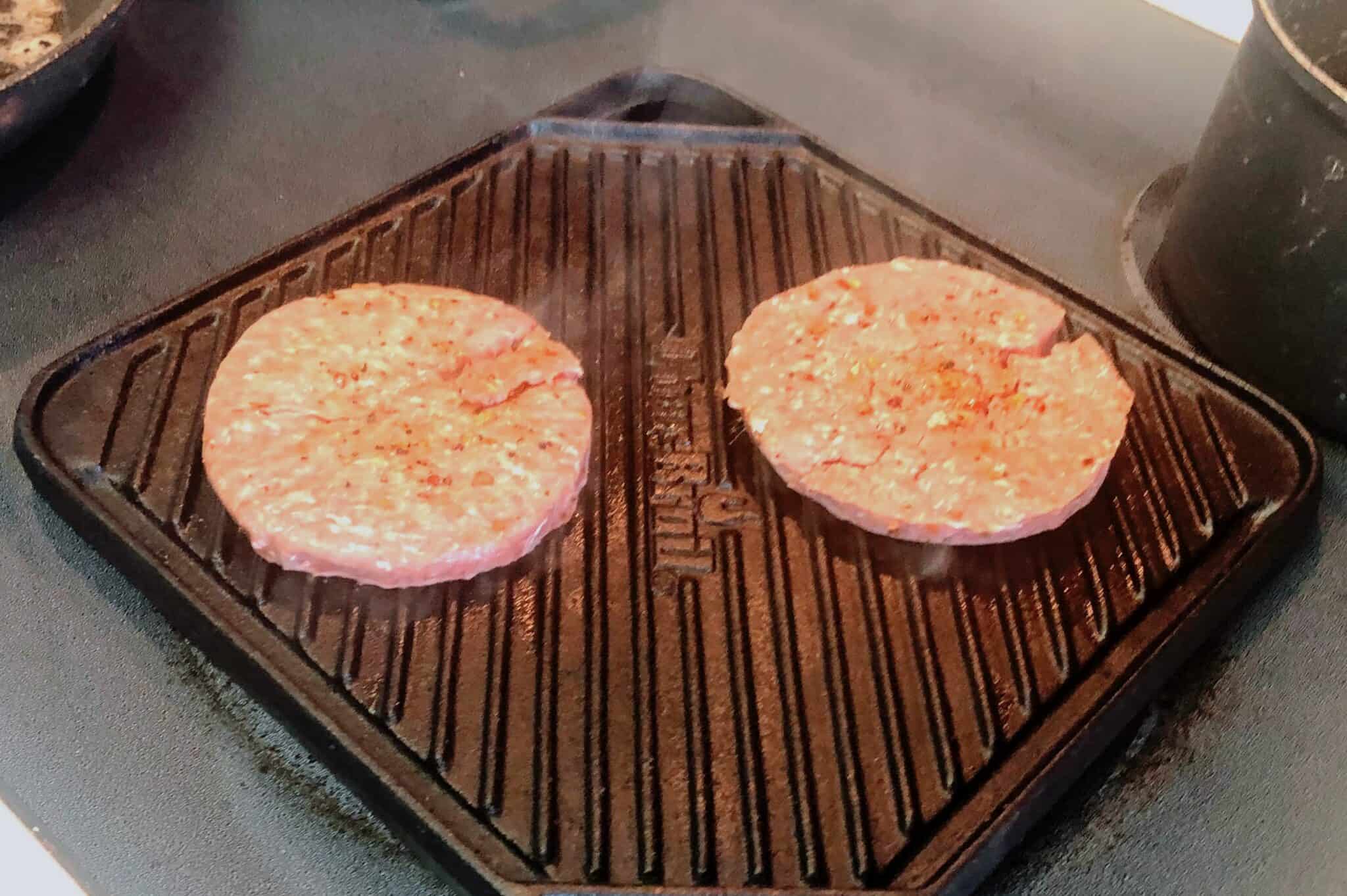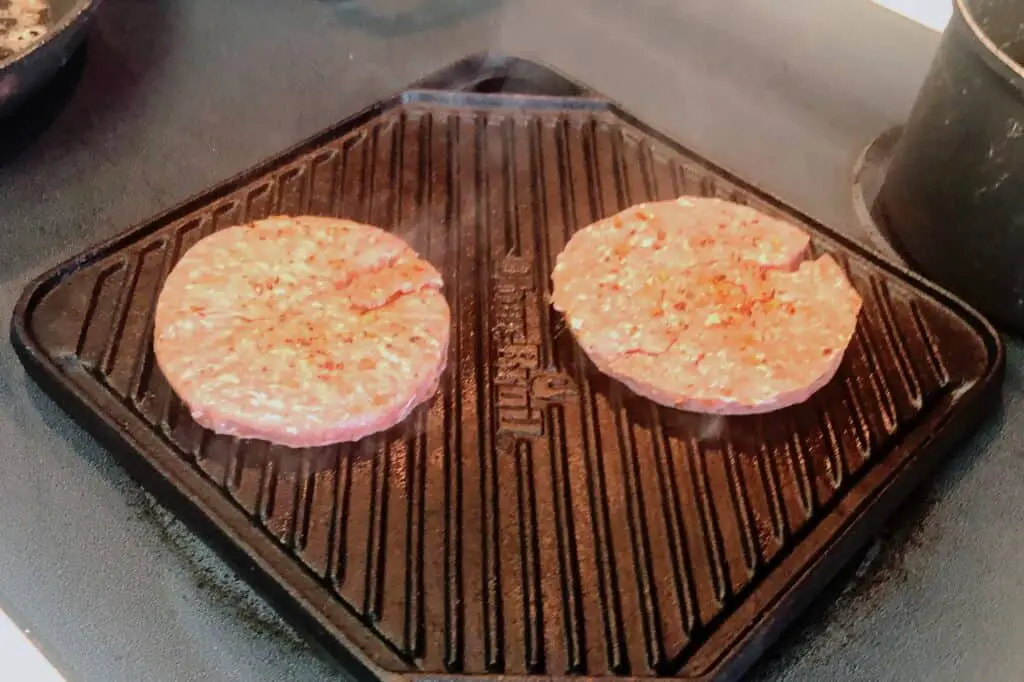 Cook for 1-2 minutes and then flip. Add cheese and continue cooking 1 minute or until brown. For medium-well burgers, the internal temperature should reach 145 degrees.
Remove from the pan and rest before serving.
how to: assemble the perfect bacon cheeseburger
In a separate pan over medium heat, cook bacon until nice and crispy, flipping halfway through. Thick cut bacon strips took about 7-8 minutes on each side. Remove from the pan to a plate draped with a paper towel to soak up excess grease.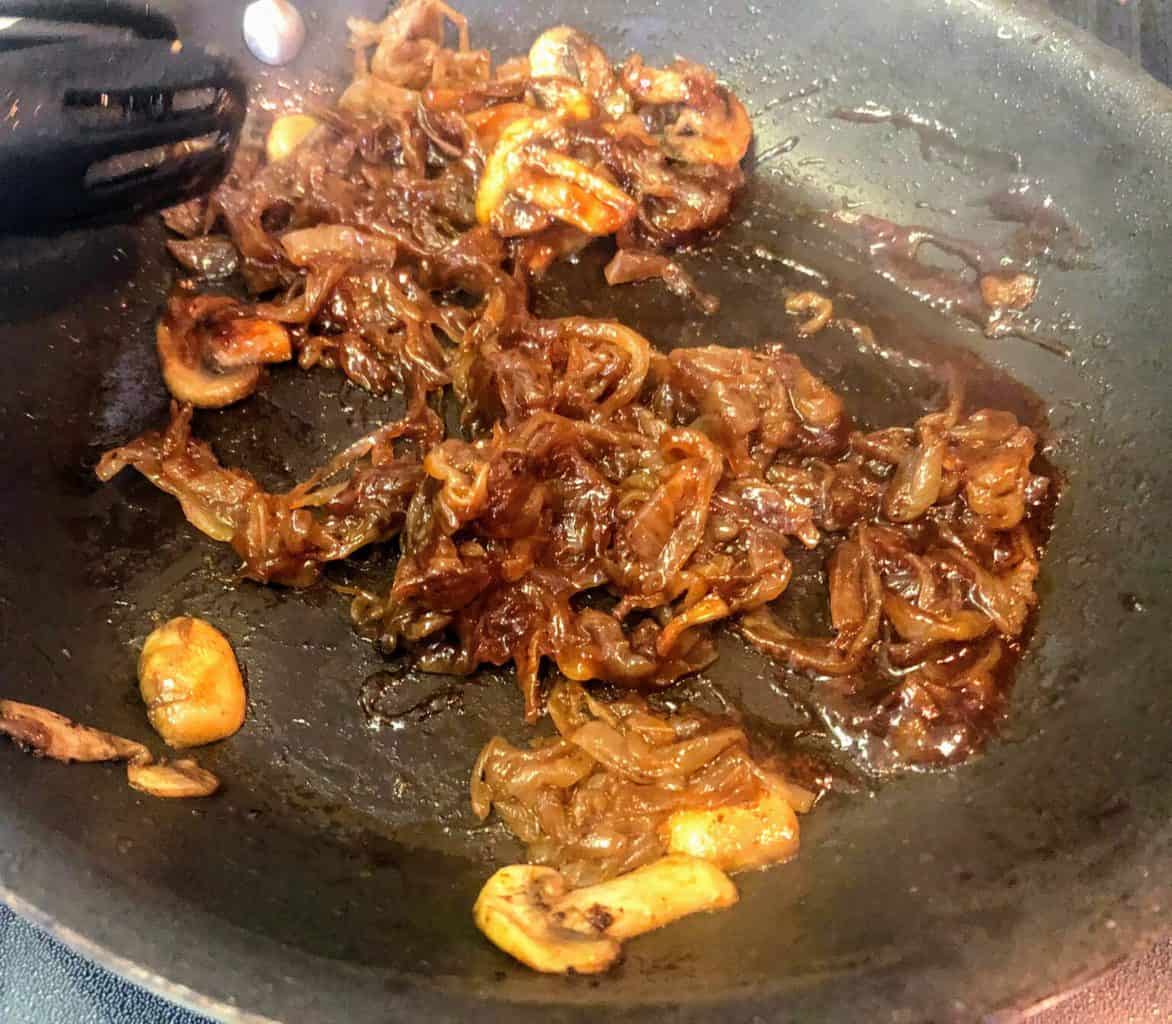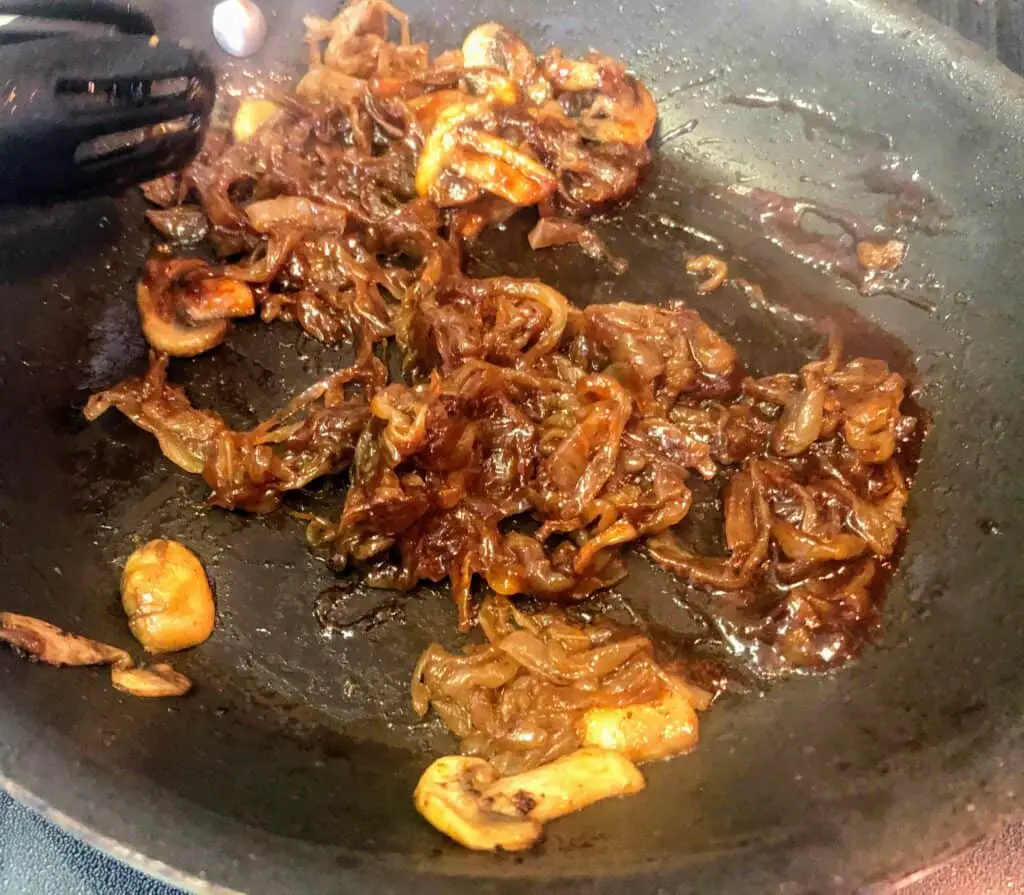 Using the bacon grease, add sliced mushrooms and caramelized onions to the pan with a splash of bbq sauce. Stir and cook until heat through, about 1-2 minutes.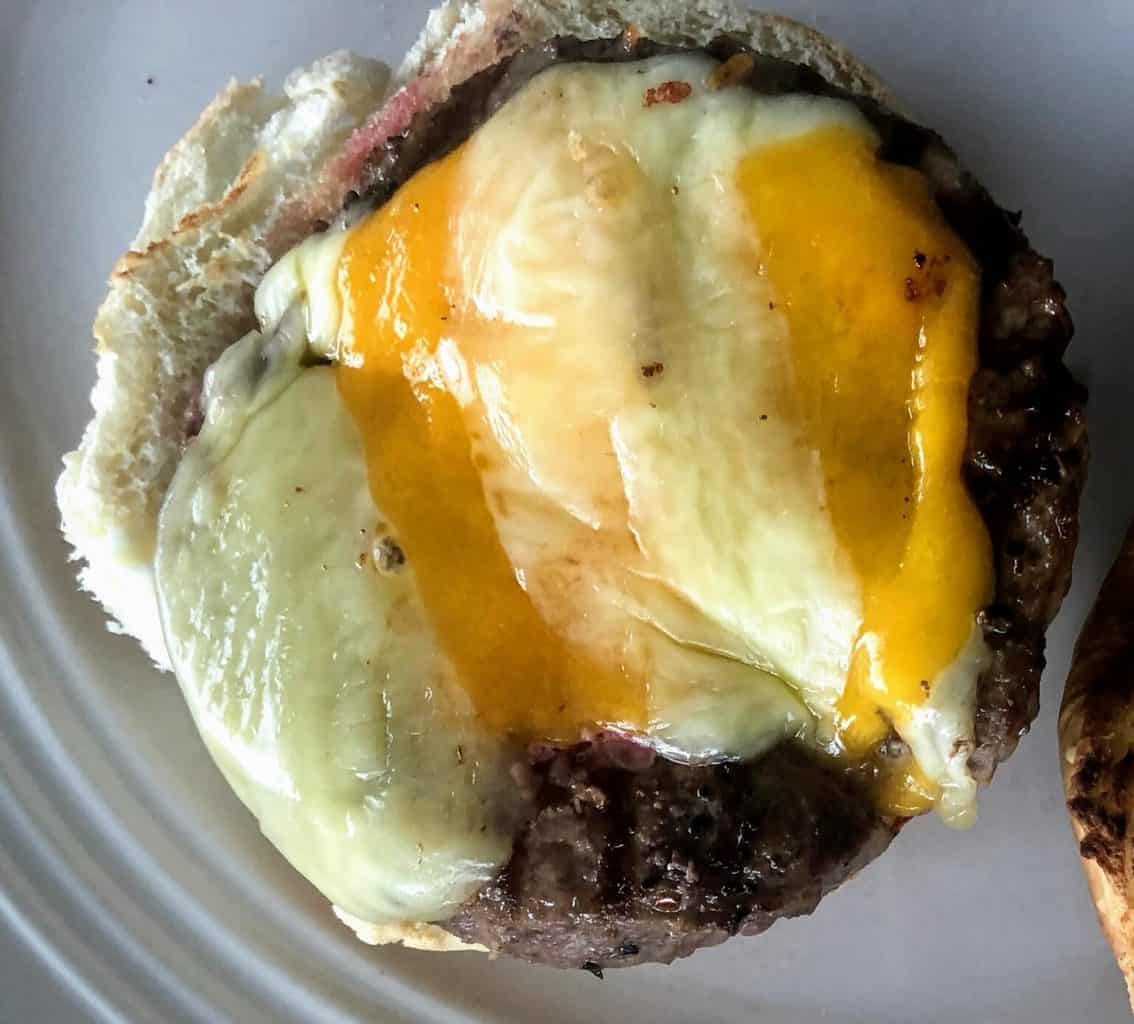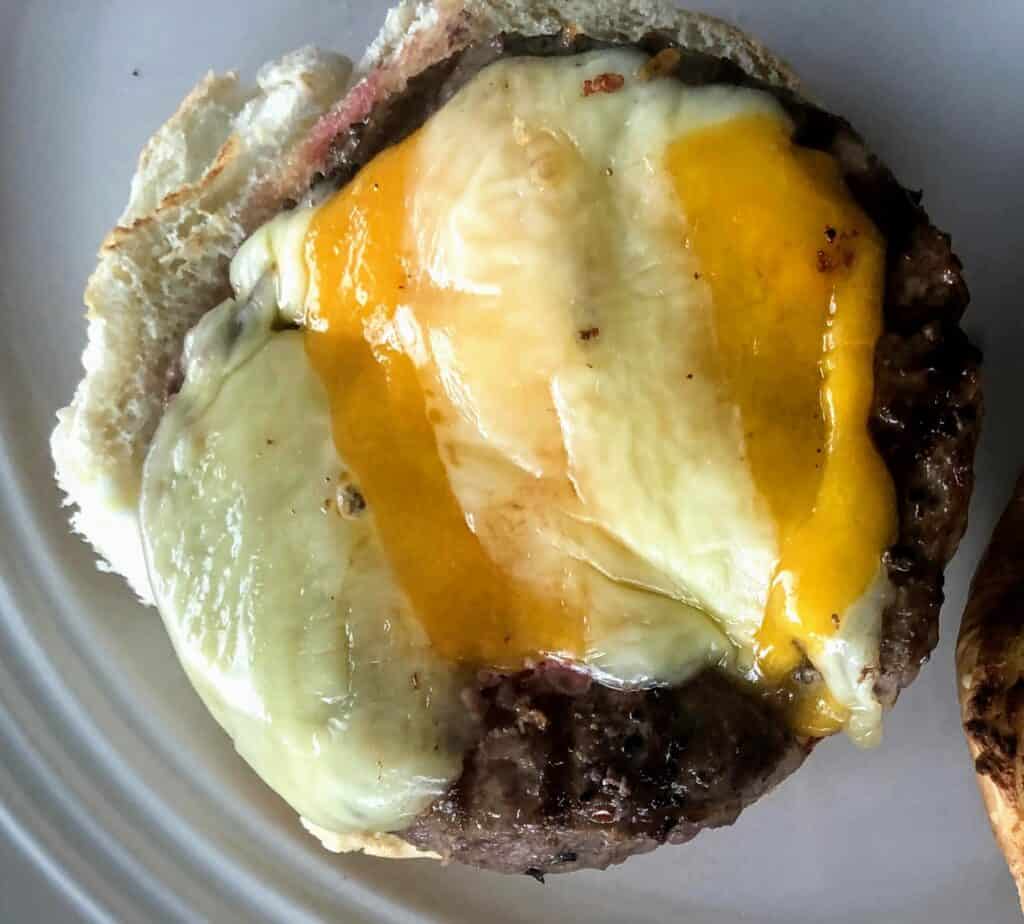 First, we have the burger with melted cheese.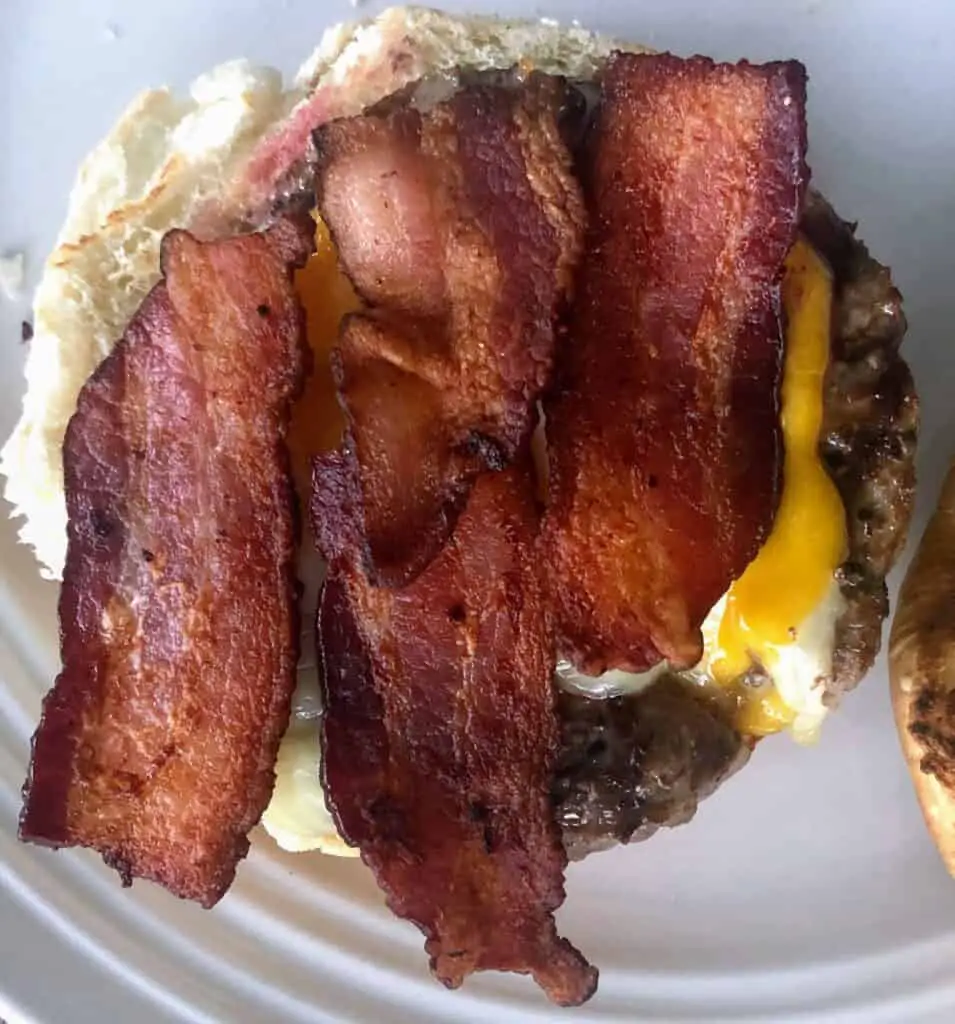 Top the burger with bacon strips,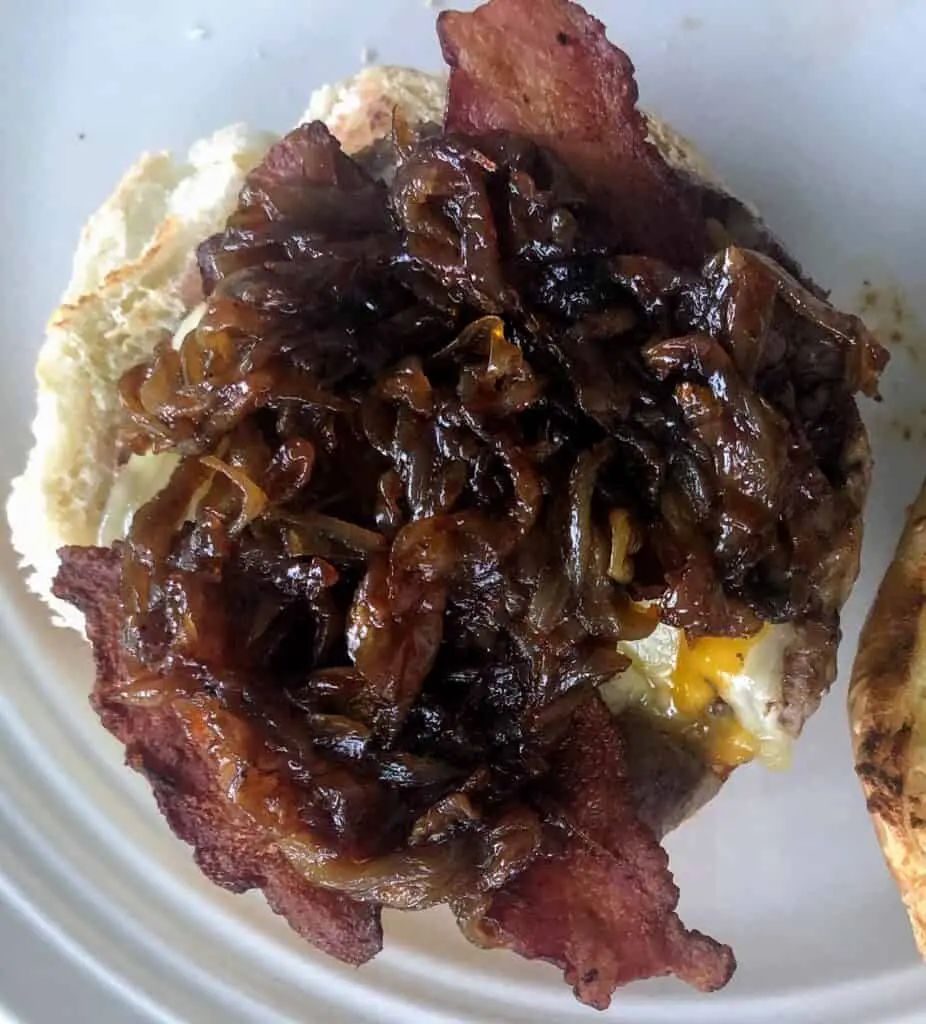 Caramelized onions,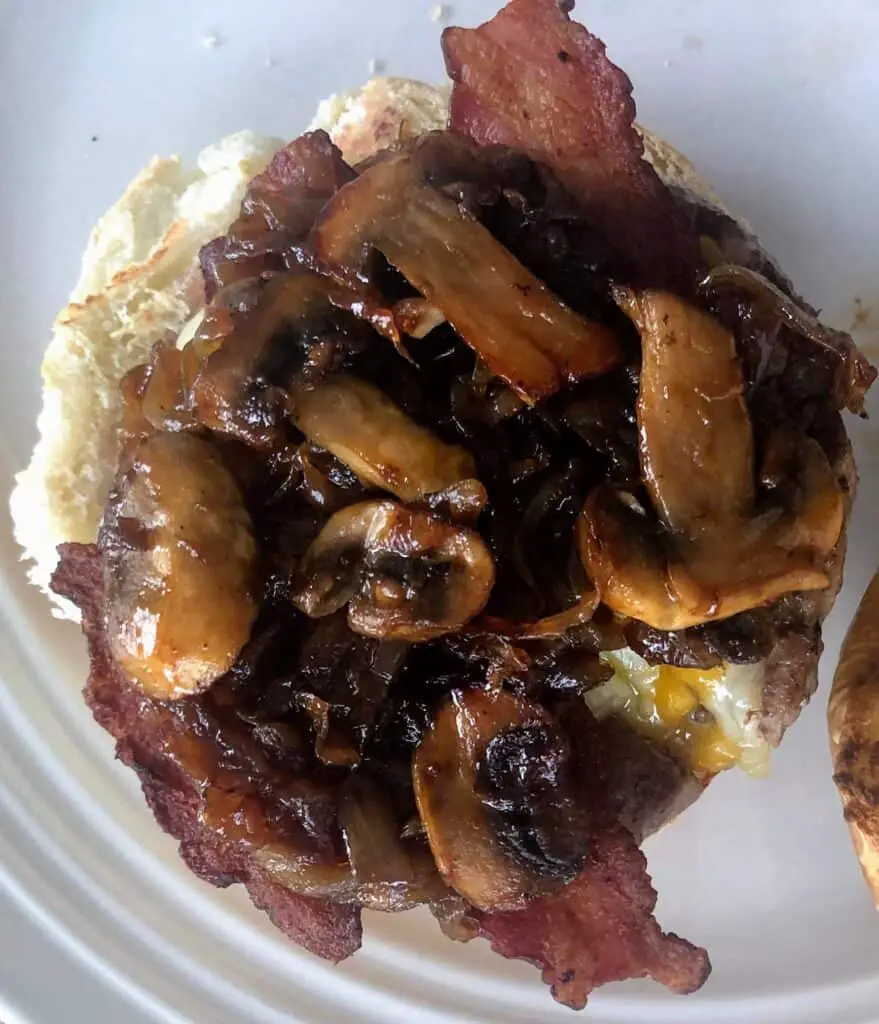 Mushrooms, and an extra dollop of bbq sauce.
Skewer the grilled vegetables and serve with your cheeseburger stacked high with flavorful toppings!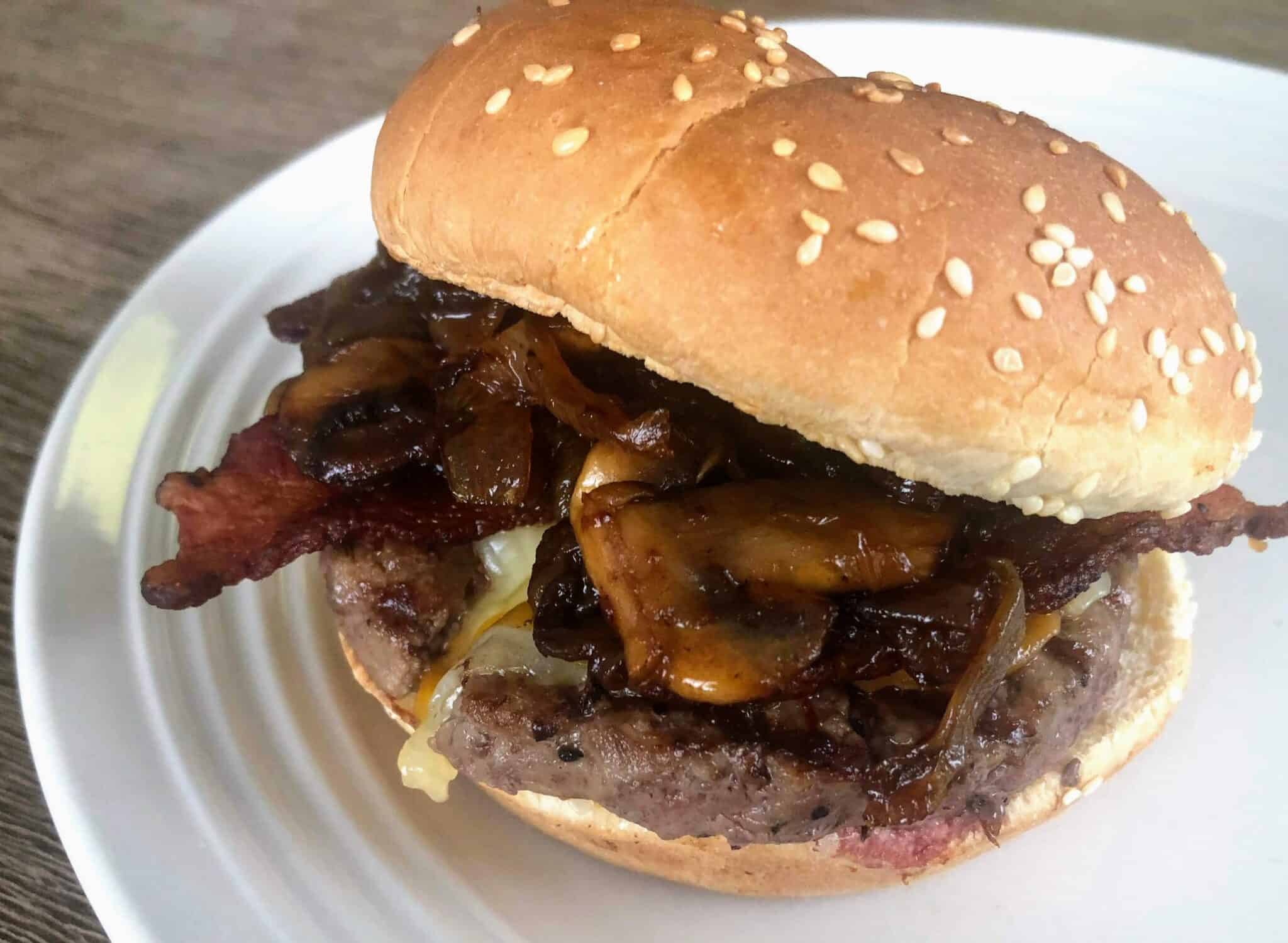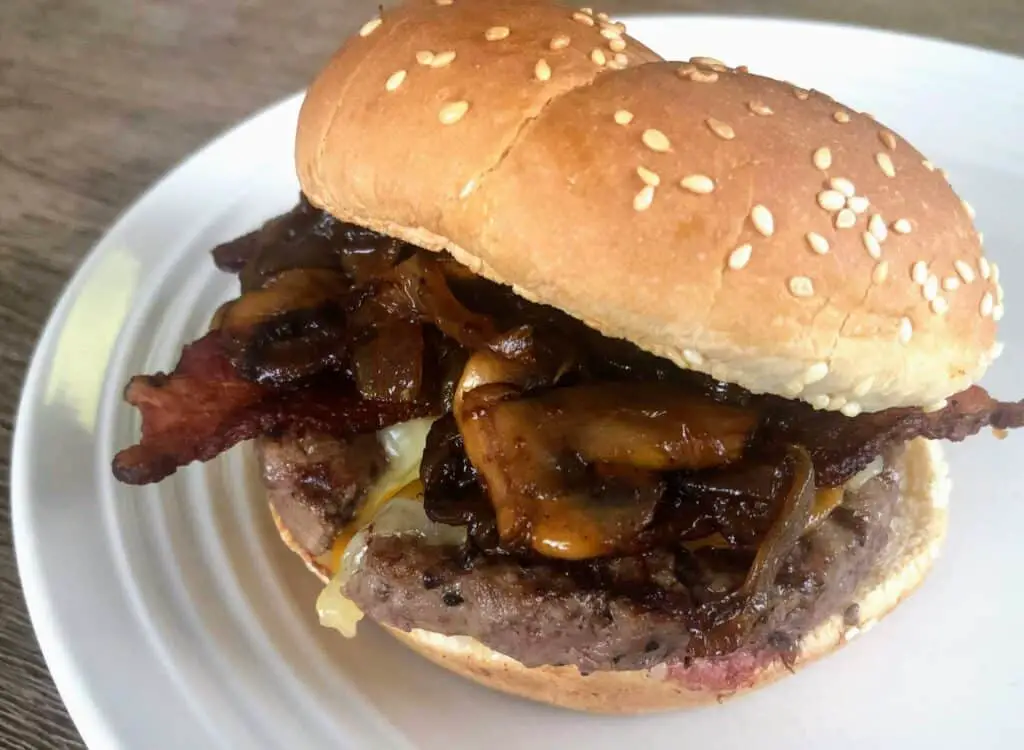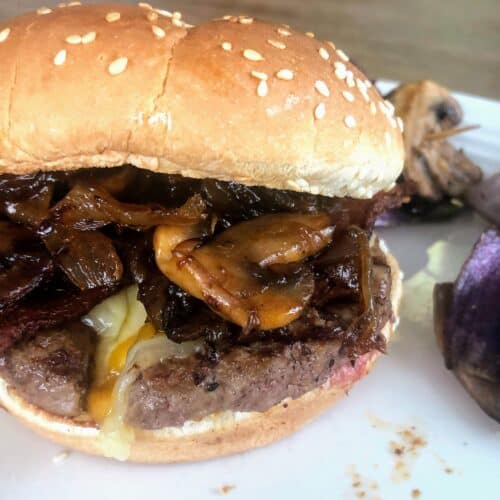 Grilled Burgers and Vegetables
Enjoy burgers and veggies hot off the grill, no matter the time of year! Use an indoor grill pan for juicy burgers and charred vegetables without the hassle of a grill.
Print
Pin
Rate
Ingredients
butter/olive oil spray

used throughout as needed
Grilled Vegetables
1/2

red onion

quartered

2

jalapenos

1

green bell pepper

chopped into large pieces

2

mushrooms

sliced

1

tbsp

steak seasoning

(salt, pepper, red pepper flakes, garlic powder, onion salt)
Grilled Burgers
2

hamburger buns

2

beef hamburger patties
Toppings
2

slices of

cheese

2

pieces

cooked bacon

3-4

mushrooms

sliced thin

1/2

cup

caramelized onions

1/2

cup

BBQ sauce
Instructions
Grilled Burgers
Preheat the grill pan over medium-high for 10 minutes. Lower the heat to medium-low.

Spray a little olive oil or butter on the inner face of the buns. Lay flat on the grill pan for 5-6 minutes, or until golden brown. Remove from pan.

Mist the grill pan with olive oil if needed and place the burger patties. Cook for 1-2 minutes. Flip and add cheese if using, cooking for 1 minute longer for medium (longer for well-done). Remove from pan and rest 10 minutes before eating.

While the burger rests, heat up the mushrooms and caramelized onions in a pan over medium heat for 1-2 minutes. Stir in bbq sauce to cover.

Top burger with bacon, caramelized onions, and mushrooms. Serve with grilled veggies.
Grilled Vegetables
Preheat the pan for 10 minutes over medium-high if needed. Reduce the heat to medium-low.

Spritz vegetables with olive oil and toss with steak seasoning.

Cook red onion and jalapenos approx. 15 minutes, bell pepper 10 minutes, and mushrooms 2-3 minutes, or until seared to your liking. Flip occasionally for even cooking on all sides.
Pin me!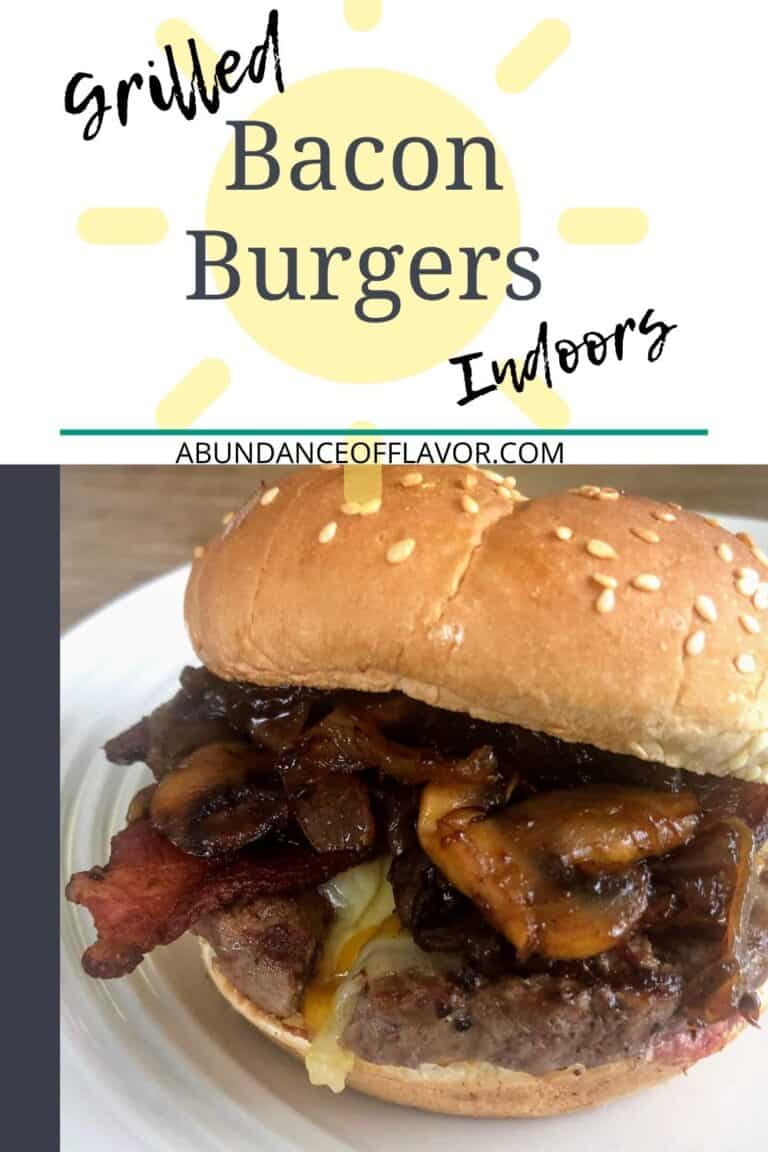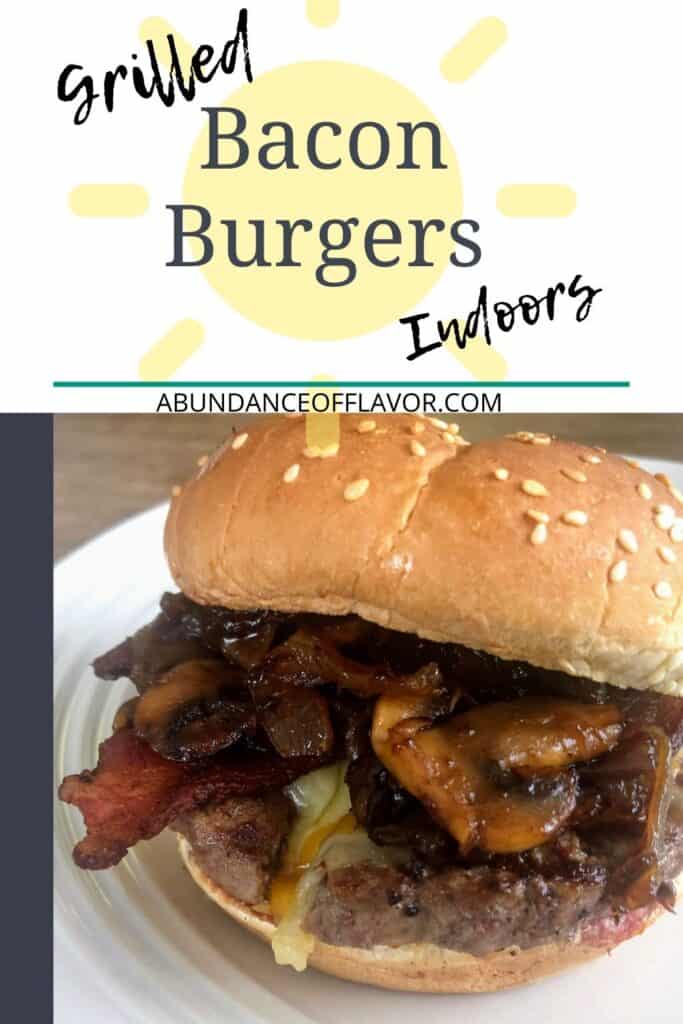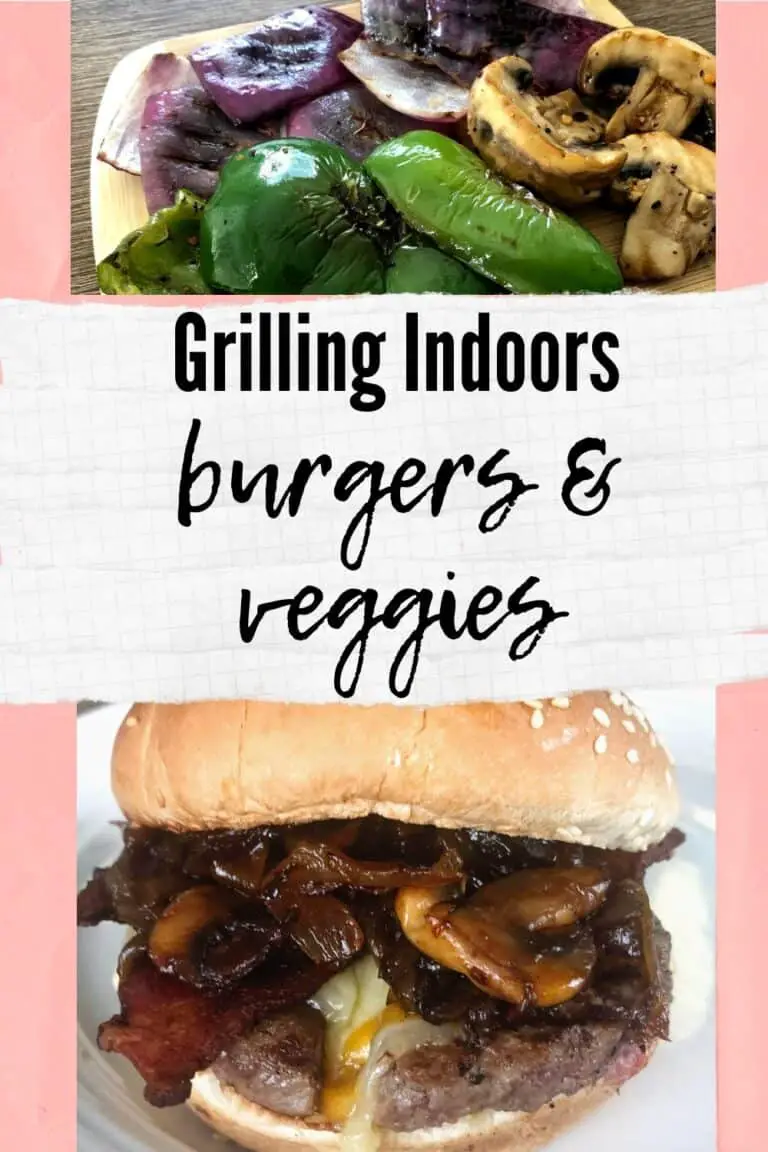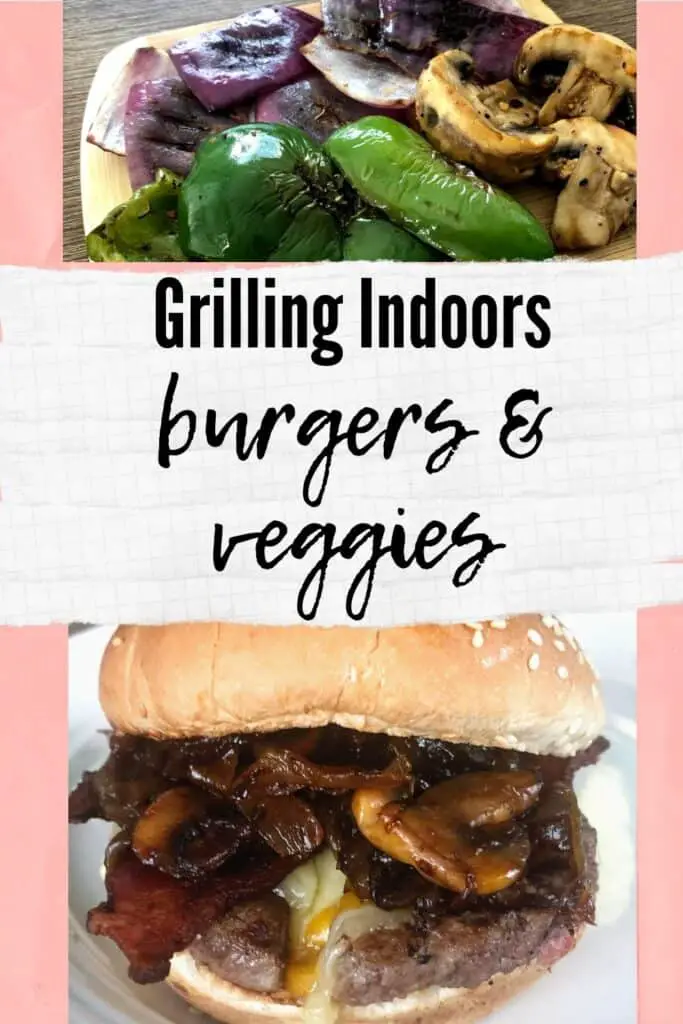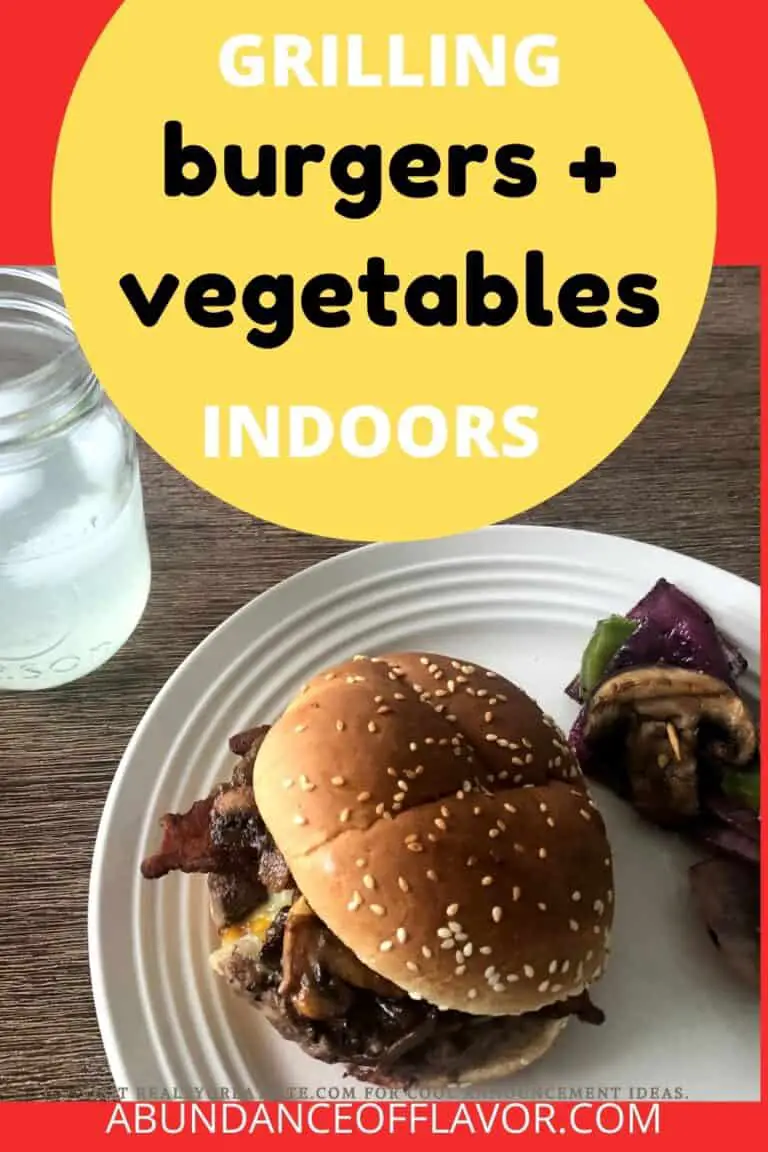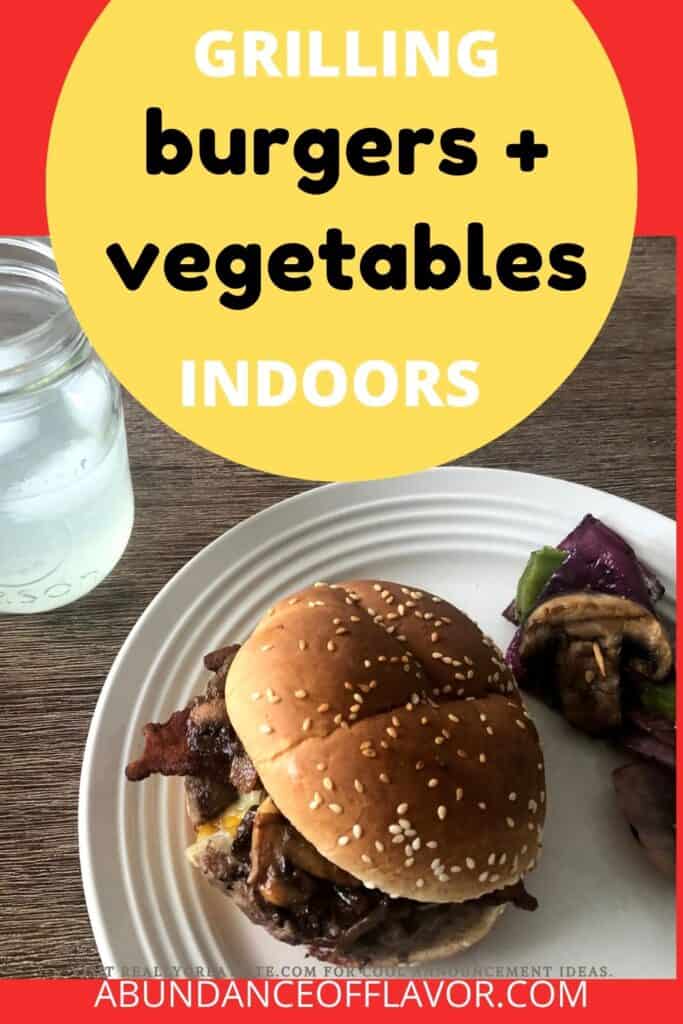 Who knew grilling indoors could be so easy! What are your favorite foods to grill? I think I might try grilled pineapple next!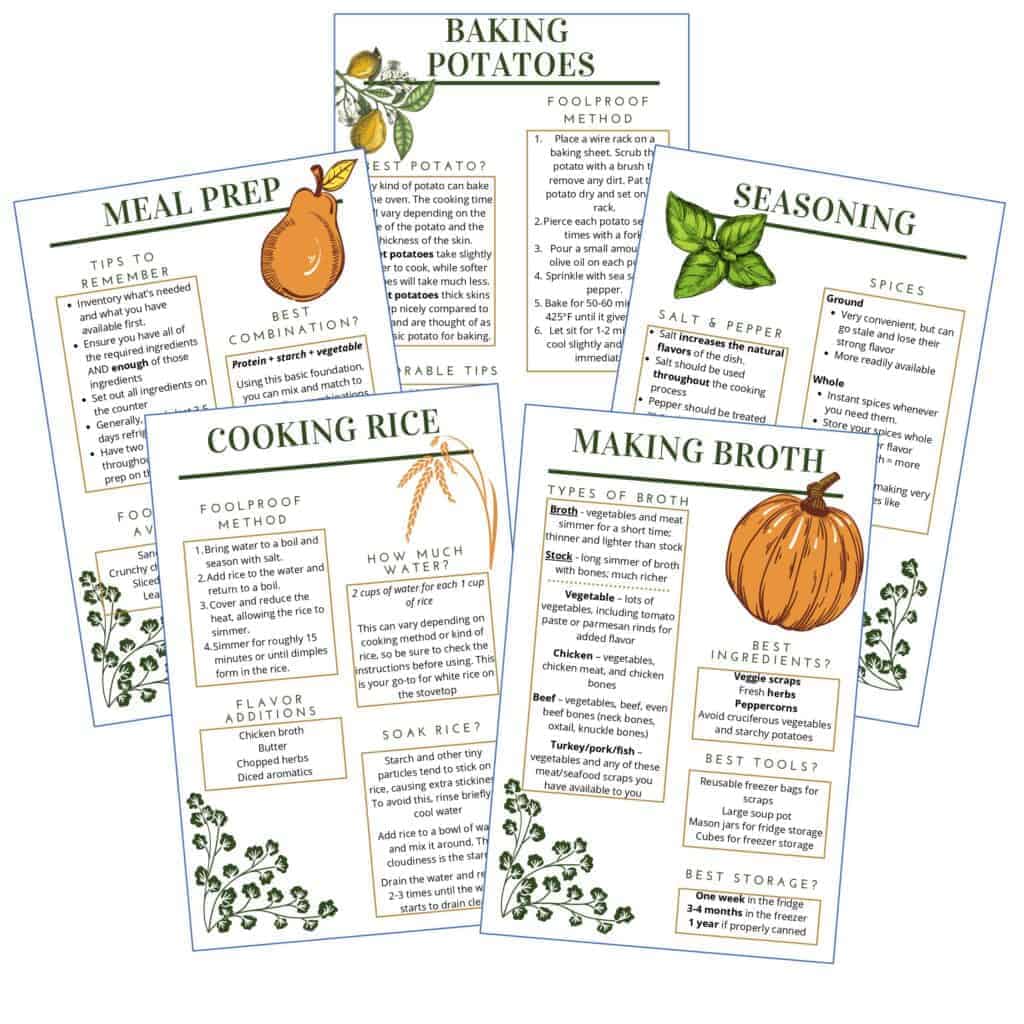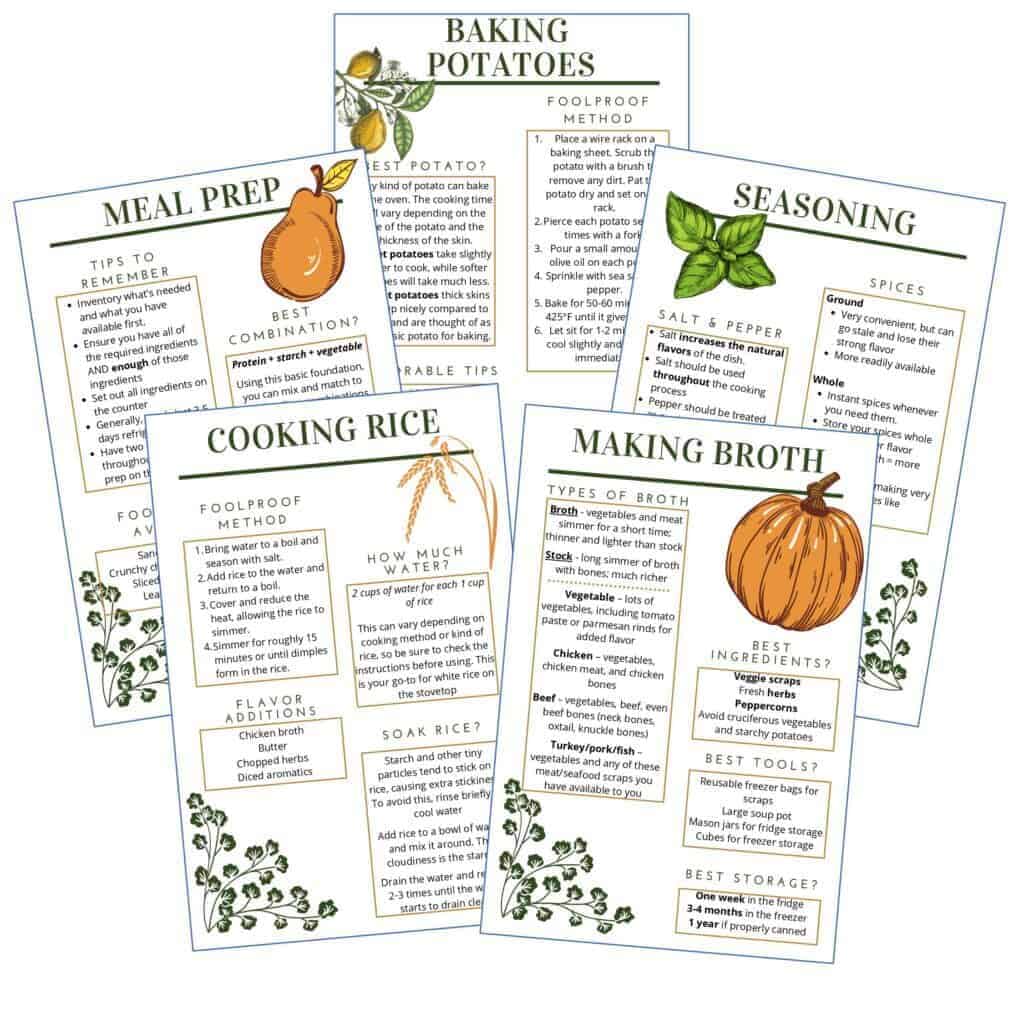 Get your $1 worksheets today!
Related Posts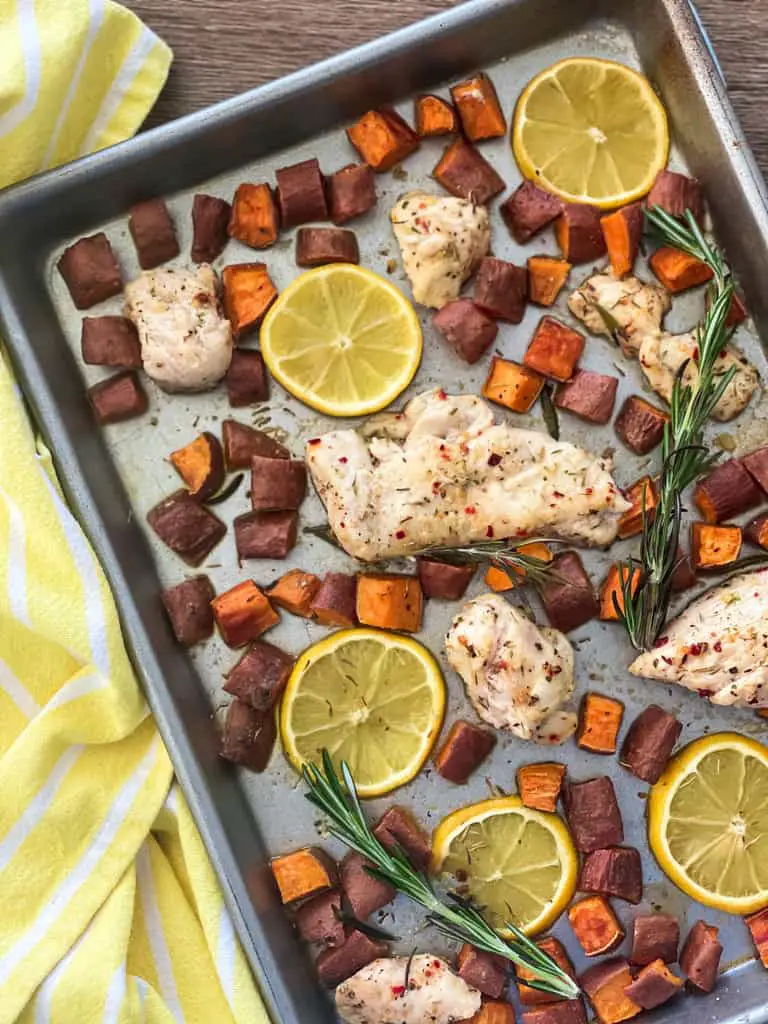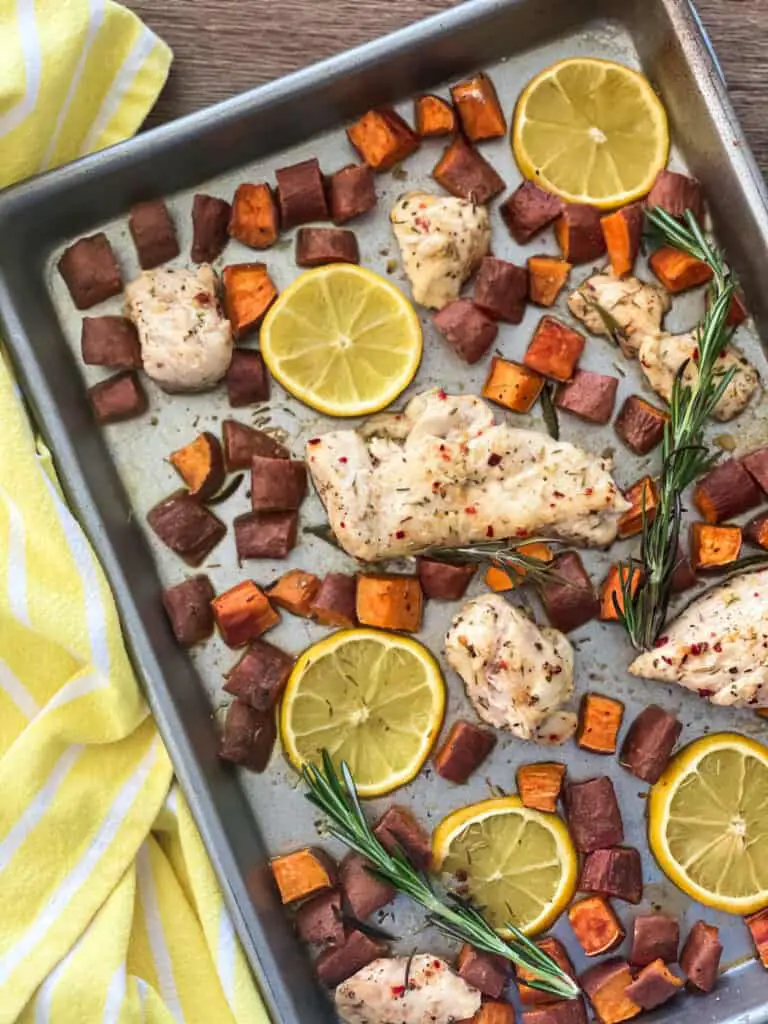 Make dinner stress free with a simple sheet pan meal. This sheet pan lemon chicken with sweet potatoes is the perfect weeknight meal!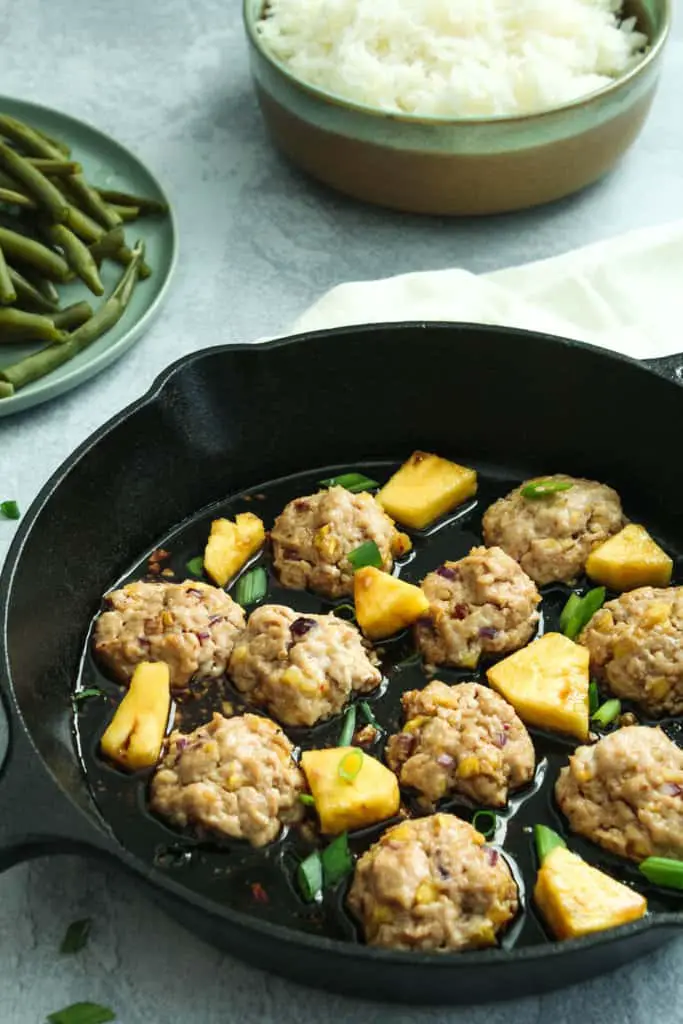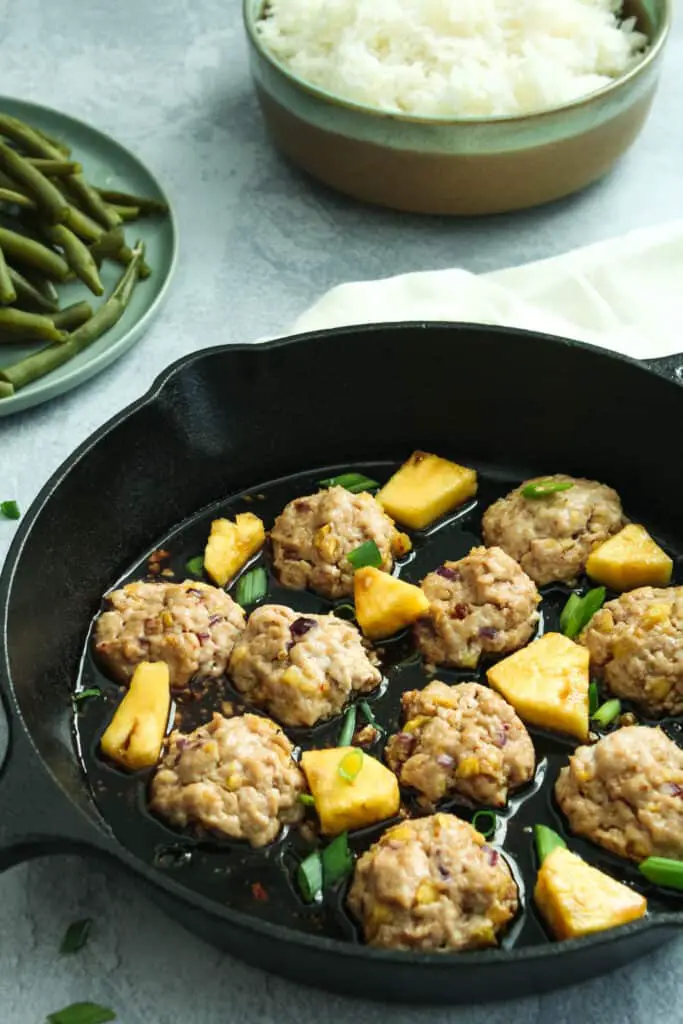 Pineapple Teriyaki Chicken Meatballs are nutritious, full of incredible flavor, and come together in minutes.