Have you watched any cooking shows like Master Chef, Rachael Ray, or Netflix's Salt, Fat, Acid, Heat? If there's one tip I take away from watching these famous chefs do their thing, it's USE. MORE. SALT. I realize there's no way I'm using enough salt in my food and my dishes are falling a little lackluster. Seasoning with herbs and spices helps the dish fulfill its potential and become as satisfying and delicious as possible.
Let's uncover the do's and don'ts of seasoning food.
This post is part of our Basic Cooking Skills series. Each week we will be doing a deep-dive into one basic cooking skill and a brand new recipe to accompany it to practice that newfound skill. Check back throughout the series for updates and new posts.
---
Please note this post contains affiliate links, which means I receive a small commission, at no extra cost to you, if you make a purchase using the links. Please see my disclosure for more details.
importance of seasoning properly
Seasoning your food properly is one the most important techniques to master in the kitchen.
Spices, herbs, salt, and pepper work diligently to create rich, deep flavors in food and marry together all the moving pieces of a dish.
What good does knowing how to cook accurately do if your food doesn't have any pops of flavor??
With the addition of the right amounts of seasoning, a plain chicken can become mouthwatering and juicy. Roasted vegetables can turn from lifeless to aromatic and succulent. Chocolate desserts can be enriched with a zing of saltiness  rather than falling fat.
Coaxing out the flavor of each ingredient of the dish, little by little, can yield a delectable final result that wouldn't have been possible without your spice cabinet. Seasoning with herbs and spices is a necessary part of cooking that will change the way you view your food.
how to: season using salt and pepper
Salt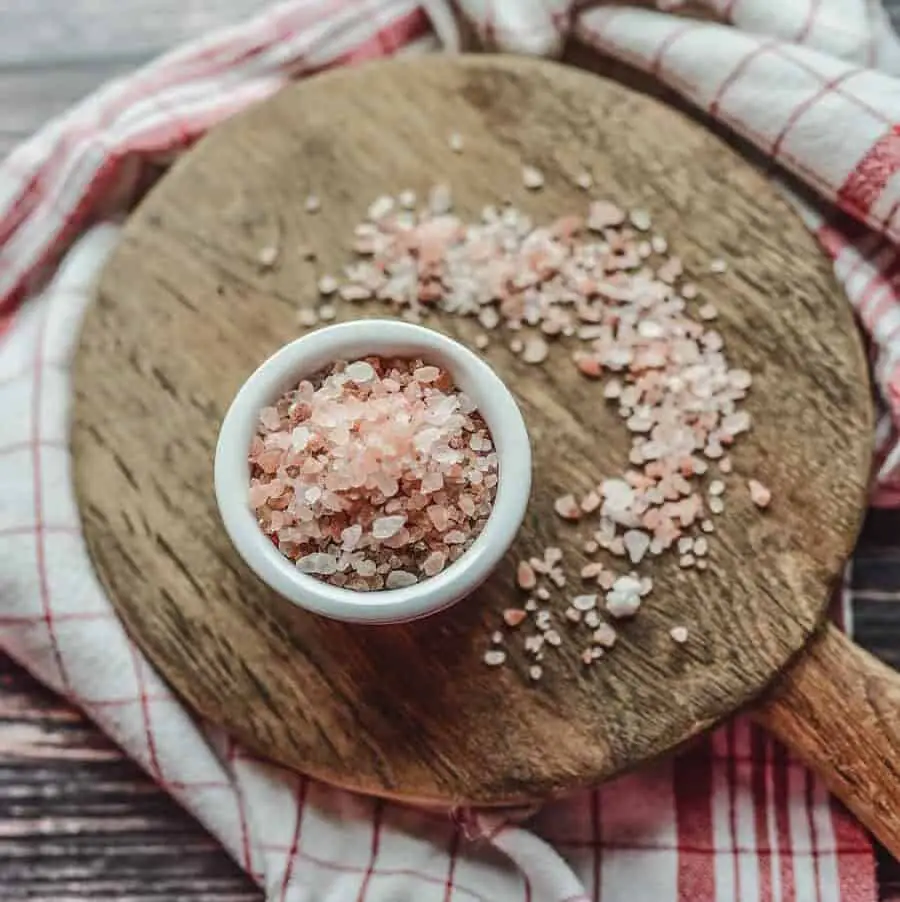 Arguably the most important seasoning ingredient in your pantry, salt is truly the MVP. Most often you don't need many more spices after utilizing salt to its full potential.
In 4 Elements of Cooking we discovered WHY salt is such a game-changer and how it affects food when cooking. Salt preserves meat, retains moisture, and enhances texture, to say the least.
By using more salt, it doesn't just make things salty and unbearable. Salt works to increase the natural flavors of the dish.
Salt should be used regularly throughout the cooking process and is typically added at each step of cooking for the best result. If you're feel like you're using too much, you're probably doing it right!
Pepper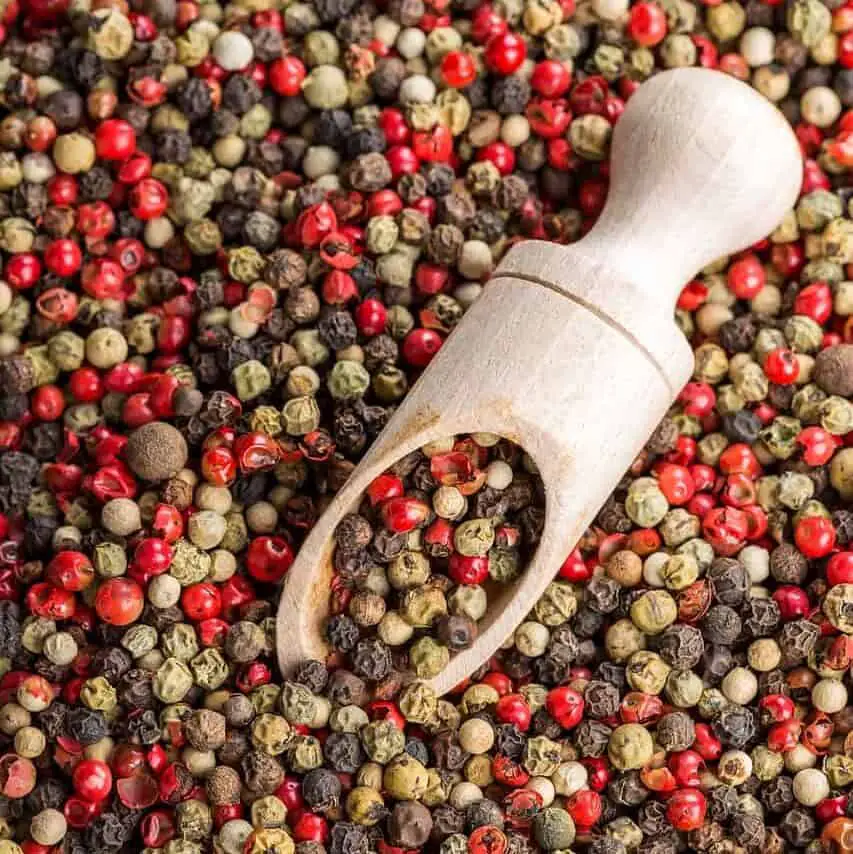 Salt & pepper seem to go together like two peas in a pod. However, they should be treated so differently when cooking!
Pepper should be treated as a spice and only used sparingly, whereas salt should be incorporated at every level of the dish.
Fresh ground black pepper is the way to go, and has a very strong kick. If you don't have a pepper grinder, I would 10/10 recommend you try it! You will never want to go back to ground pepper again, the flavor is incomparable.
In contrast to salt, pepper doesn't draw out the natural flavor of the food — it adds pepper flavor. This can be a little tricky to wrap your mind around since we are so accustomed to using the two together, but they could not be more different.
how to: season with herbs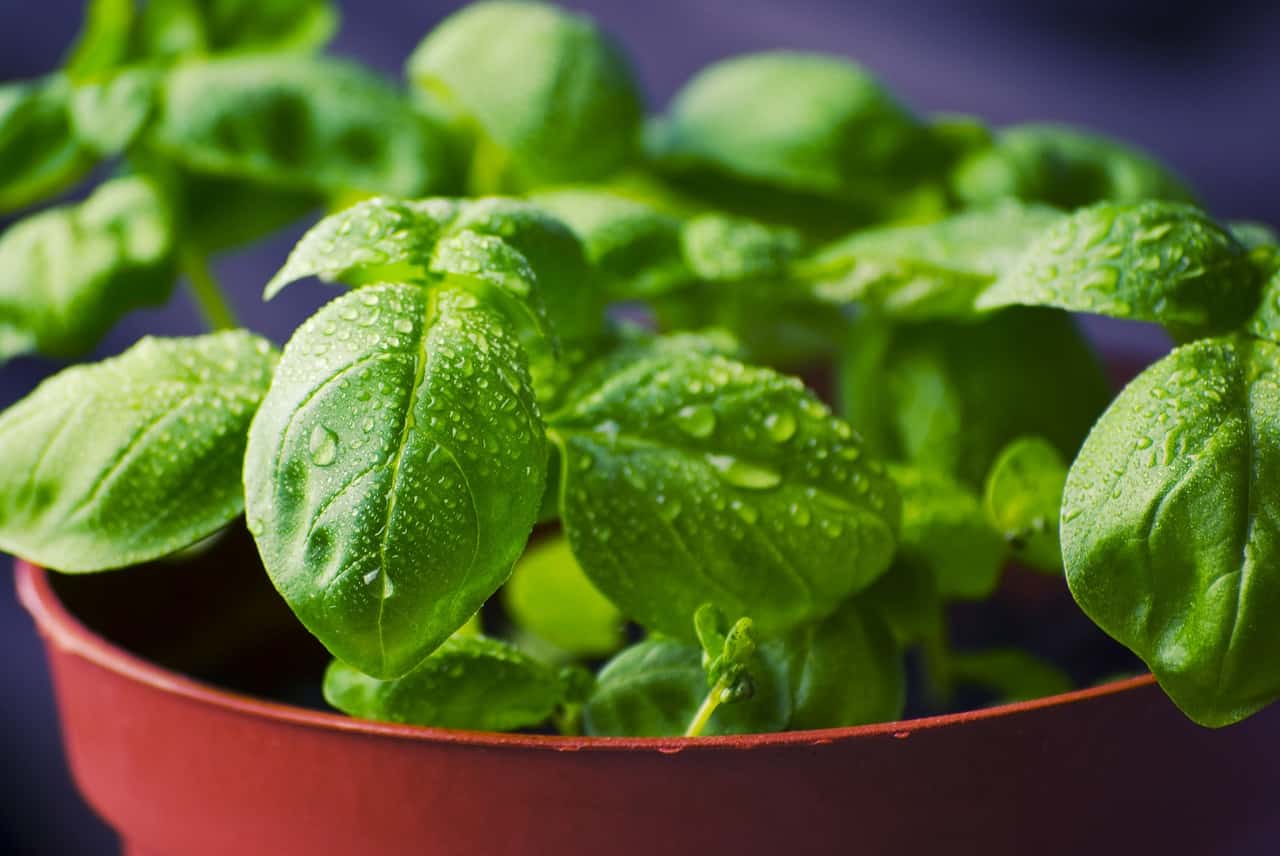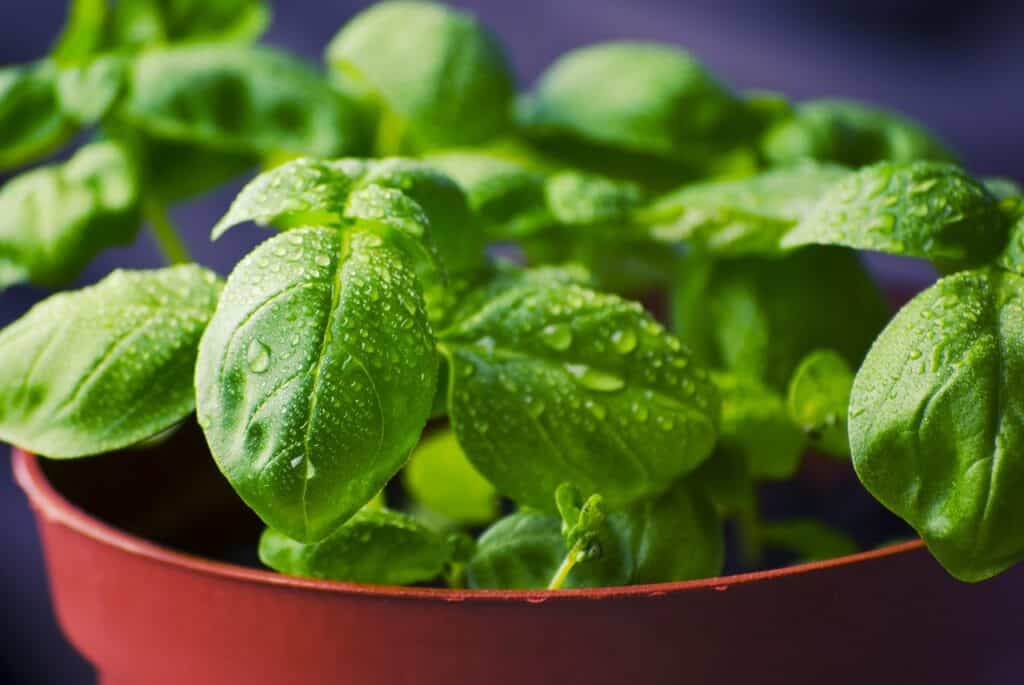 Did you know that you should be using herbs differently depending on if they're fresh or dried? As a newbie in the kitchen I had no clue about this and thought basil was basil, right?? Not quite 🙂
Dried

Dried herbs are probably what you think of when you picture your spice cabinet, with little labeled jars filled with herbs. 
For the utmost flavor, cook in a liquid, whether it be water or fat, in order to infuse their flavors into the liquid. 
Add dried herbs near the beginning of cooking because it takes time for them to really cook down into the food.
Some examples include oregano, rosemary, and thyme.

Fresh

Fresh herbs tend to have a much brighter flavor. Use them near the end of cooking or as a garnish. 
They can be crushed to release oils or are fine without any alteration.
In relation to dried herbs, use more fresh herbs because the dried herbs have a more concentrated flavor.
Some examples include parsley and basil.
how to: season with spices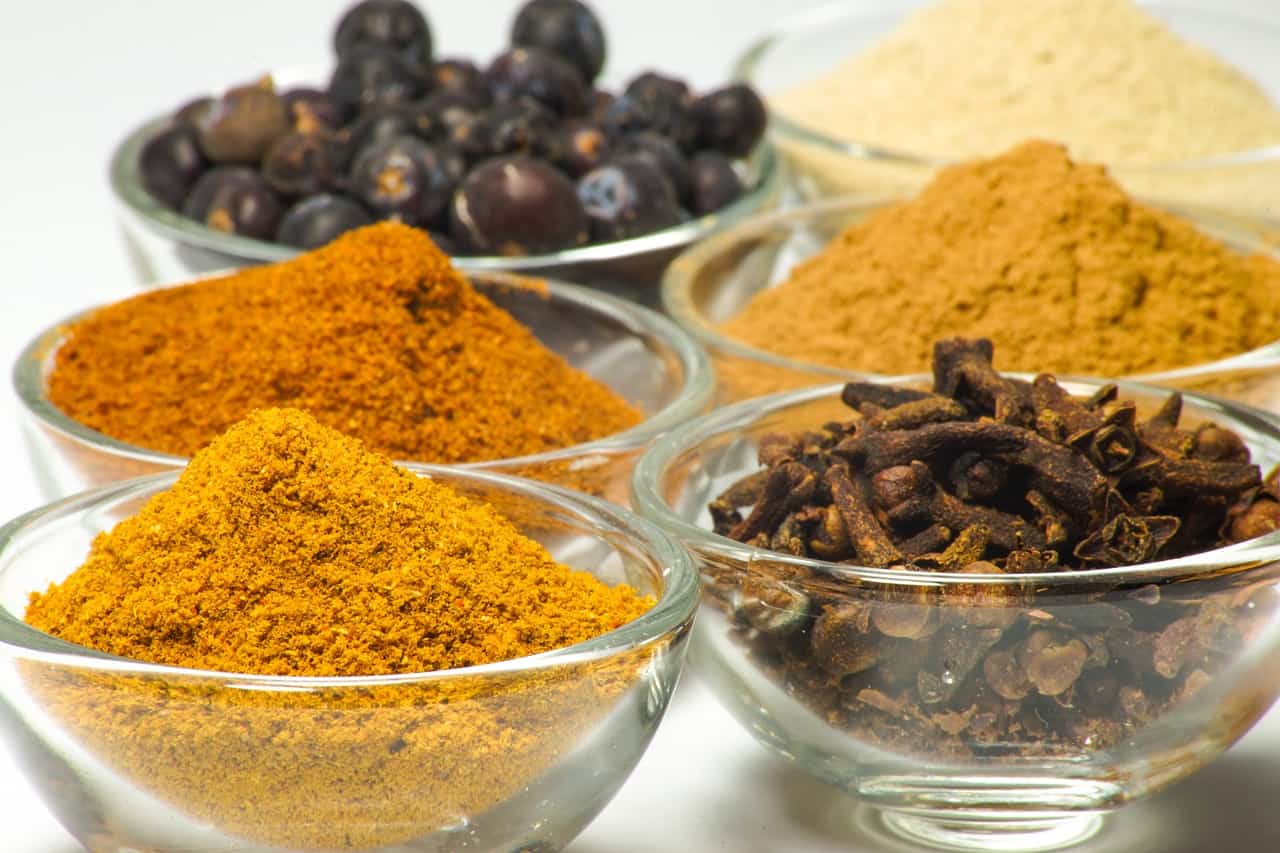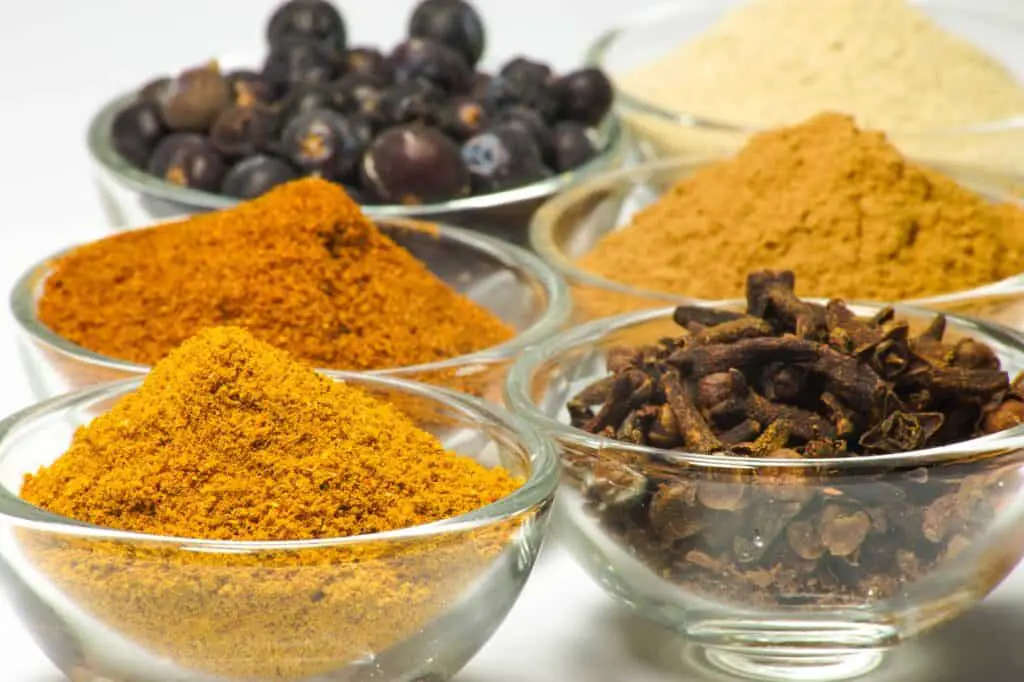 Ground
Ground spices are convenient (ground cinnamon takes up a lot less space in your pantry than cinnamon sticks). However, ground spices can go stale and lose their strong flavor.
This form of spices is more readily available in most grocery stores, and you may just need to be more vigilant about purchasing them regularly to get that strong flavor you wish.
Whole
Whole spices allows you to have instant fresh spices whenever you need them. Store your spices whole and then you'll have strong, fresh ground spices whenever you need them. More strength = more flavor. This can really affect your dish when making very intricate dishes like curries.
The conversion from whole spices to ground spices is not as easy as with herbs. This will vary depending on the spice, and it's worth confirming the exact measurements rather than taking a guess.
create your own spice blend
Developing your own spice blends out of the contents of your pantry is a great way to not only save money, but to understand the different flavor profiles of dishes and cuisines around the world and beginning seasoning with herbs and spices.
Flavor Profiles
Here's a few popular herbs and spices and what they taste best with. These are just a few to start with–I want to encourage you to play around with your entire spice cabinet!
Basil – sweet with a little pepper

tomatoes, olive oil, summer vegetables, dressings, fruit

Cinnamon – sweet, warm and earthy

Fruit, sweet potatoes, carrots, chocolate, desserts

Cumin – nutty and smoky

Root vegetables, corn, dry rubs, sauces, curries

Garlic – savory

Tomatoes, mushrooms, peppers, olive oil, marinades, dry rubs, sauces

Oregano – earthy and a little peppery

Tomatoes, zucchini, mushrooms, chicken, tomato sauces, marinades
what you need to get started seasoning with Herbs and Spices
Pin me!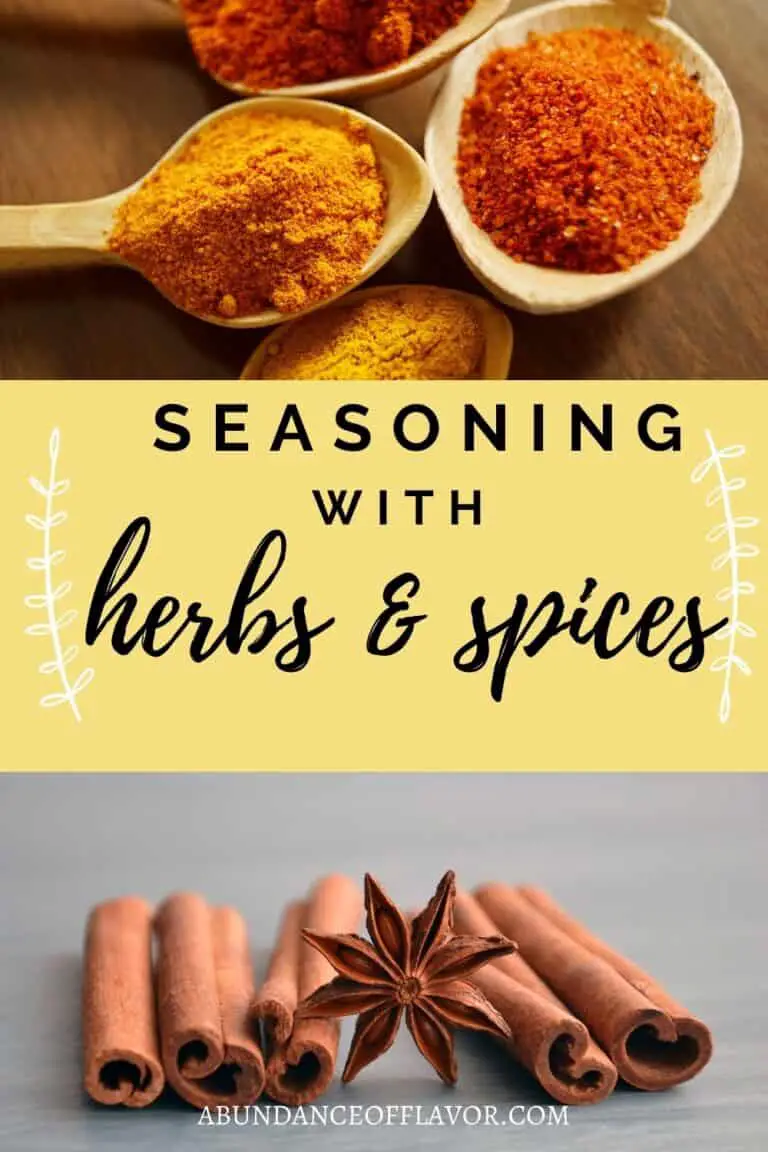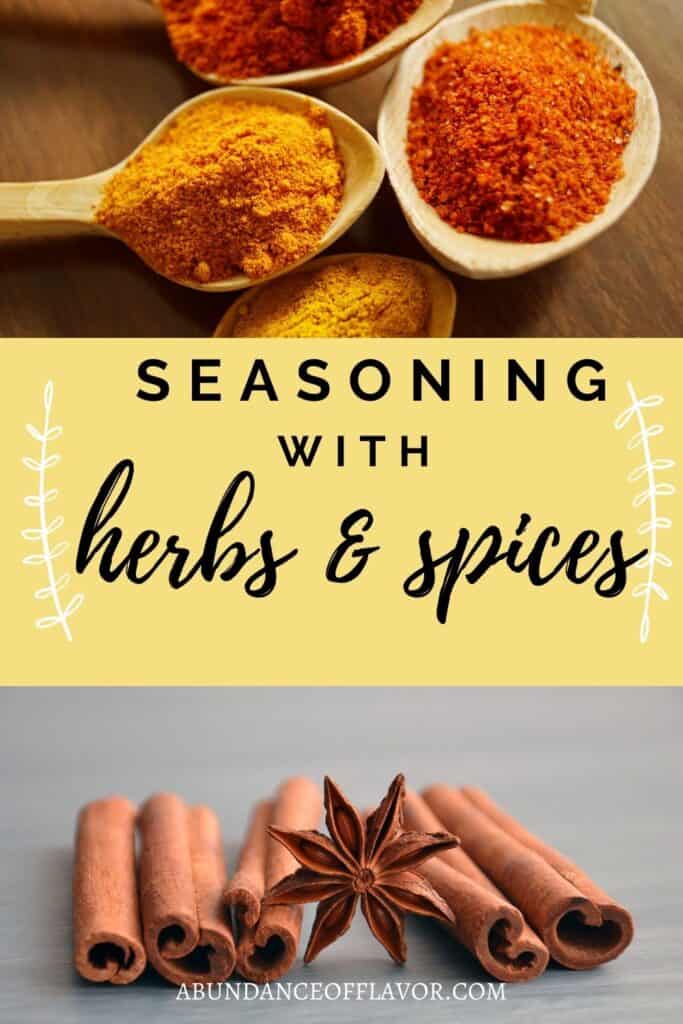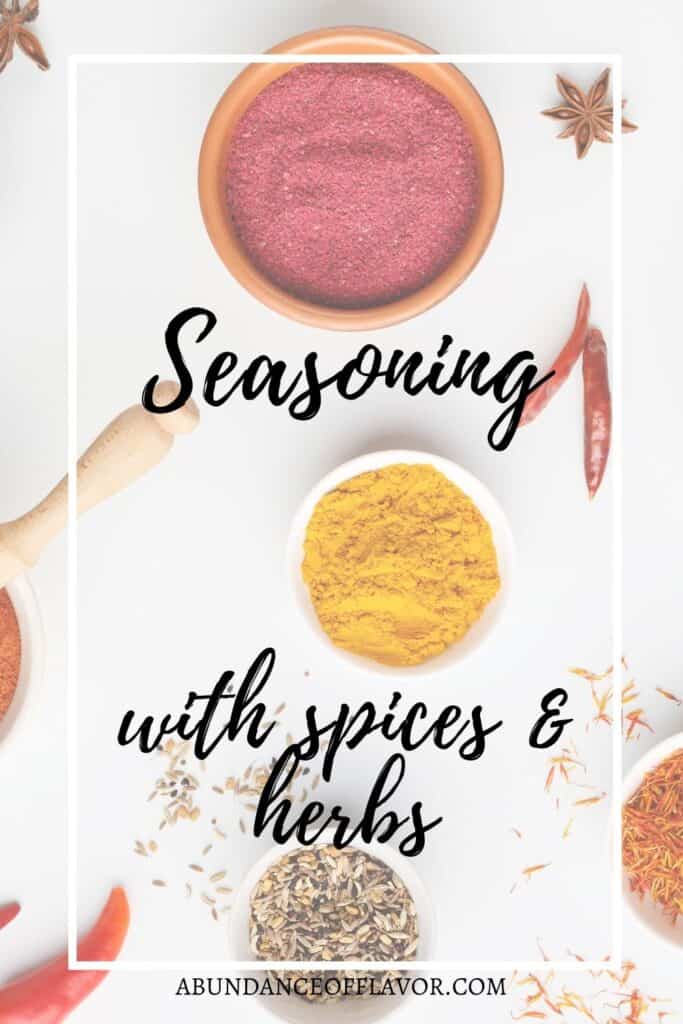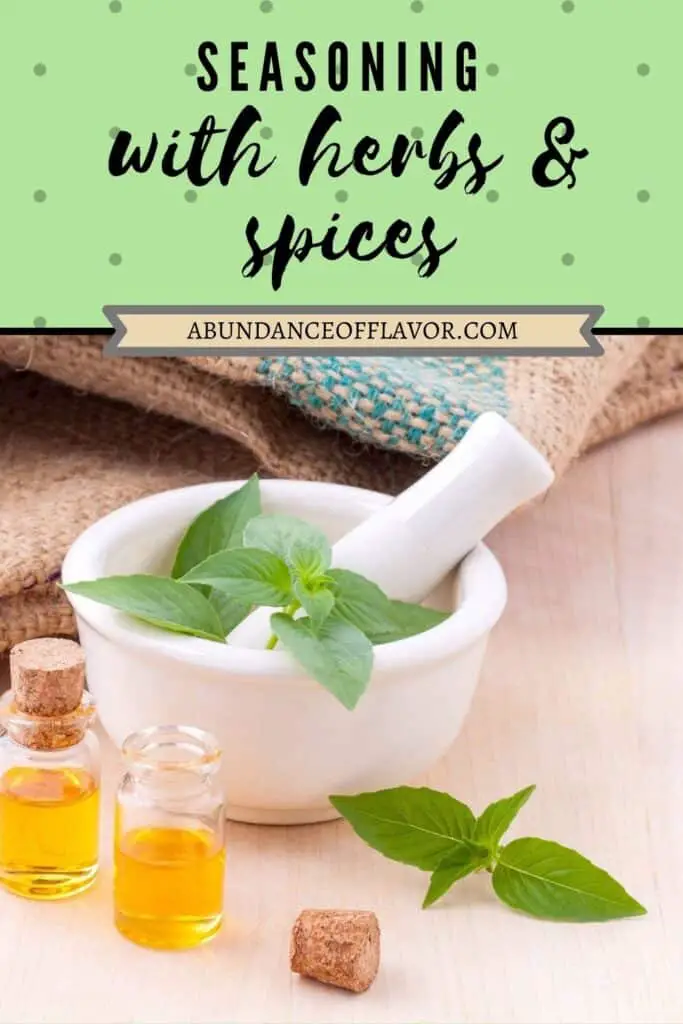 implement your new skill
Check out my new recipe coming this thursday where we create a delectable Thai flavor to use on a quick and easy recipe for lunch or dinner!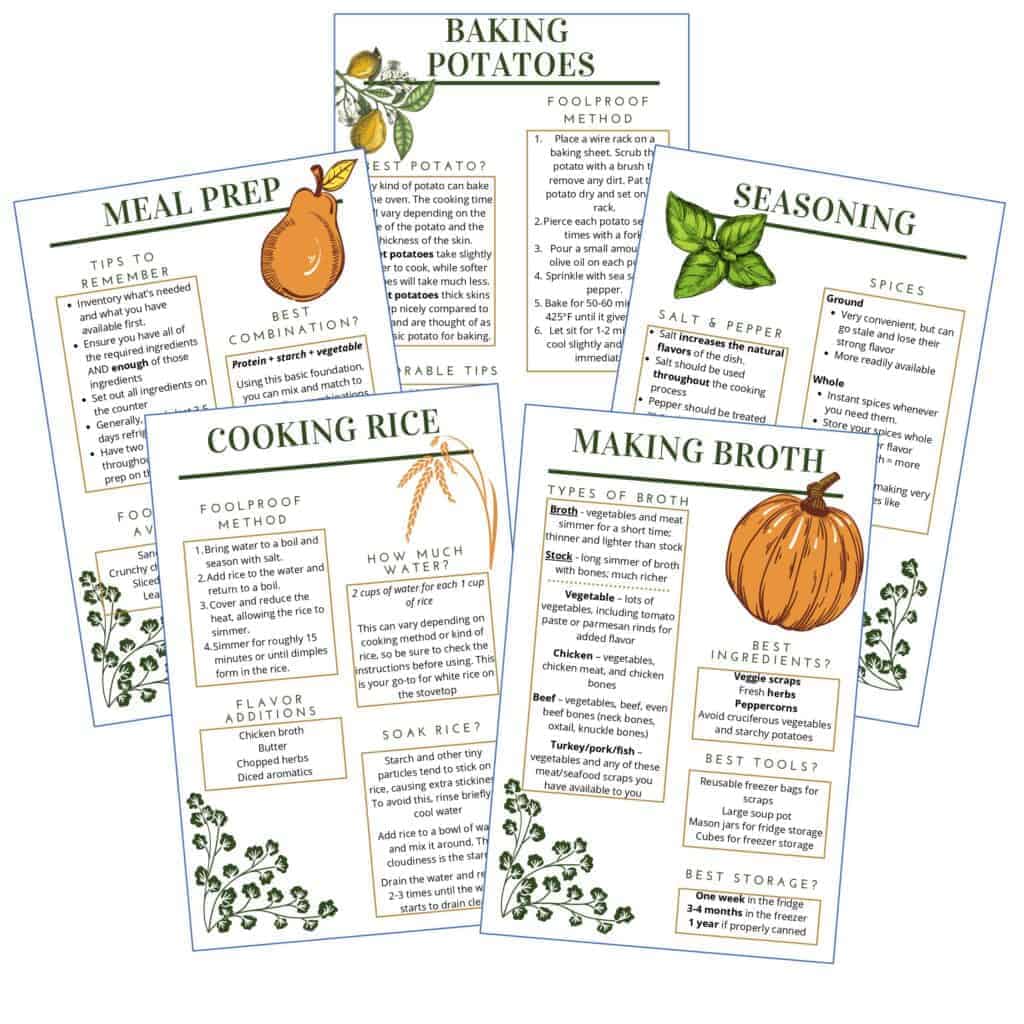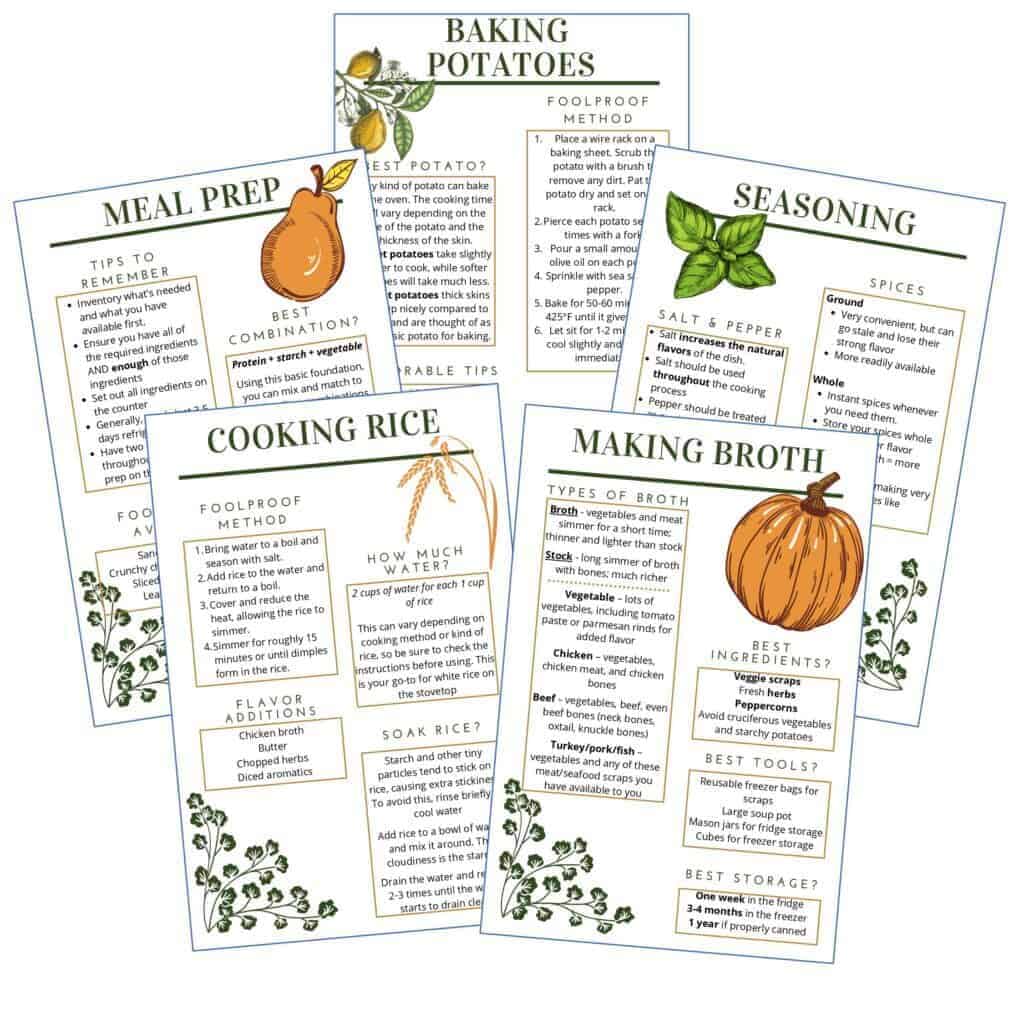 Get your $1 worksheets today!
Related Posts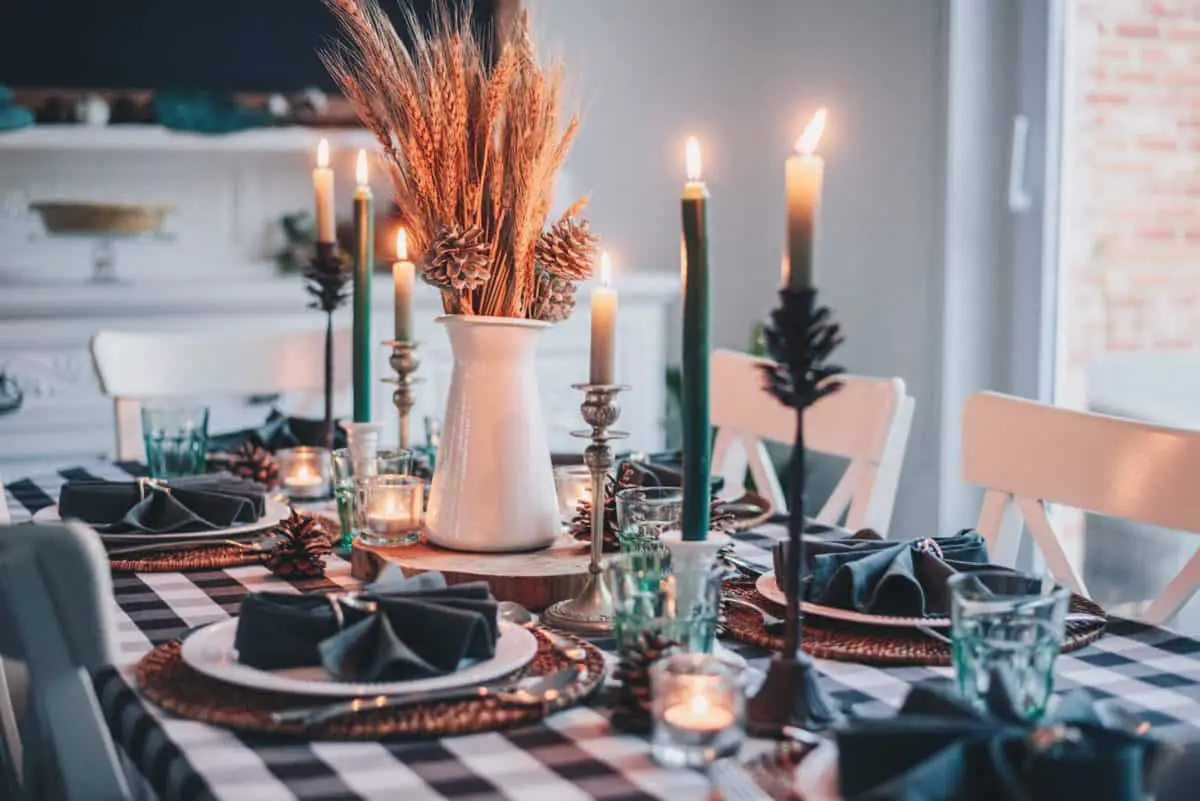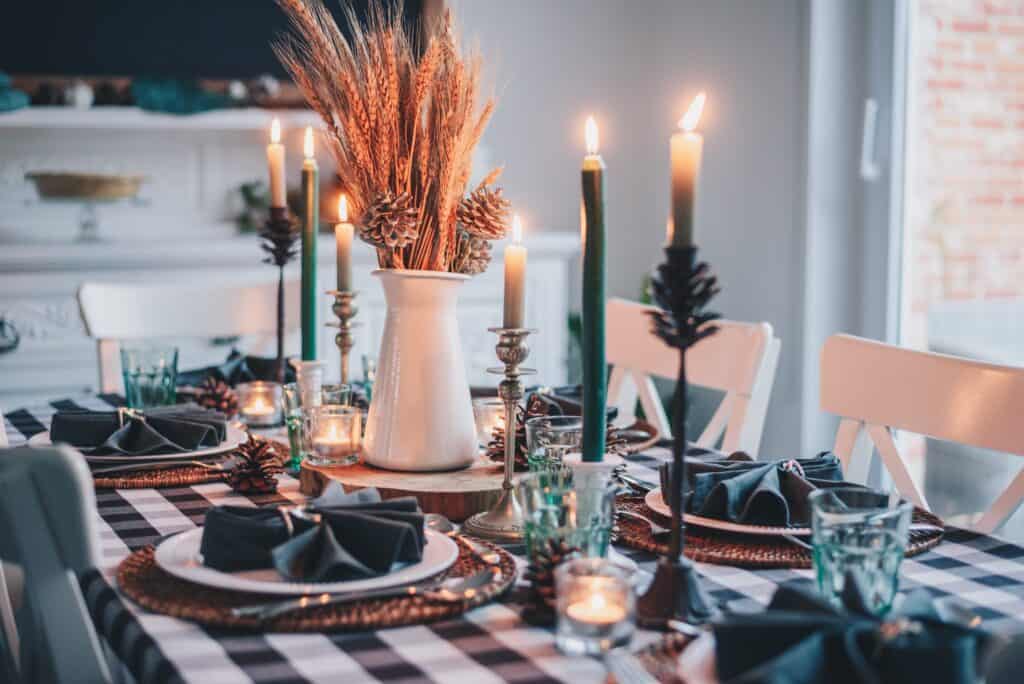 The ultimate kitchen essentials list for fall! Decorate your home this year with some of my affordable fall-favorites on Amazon.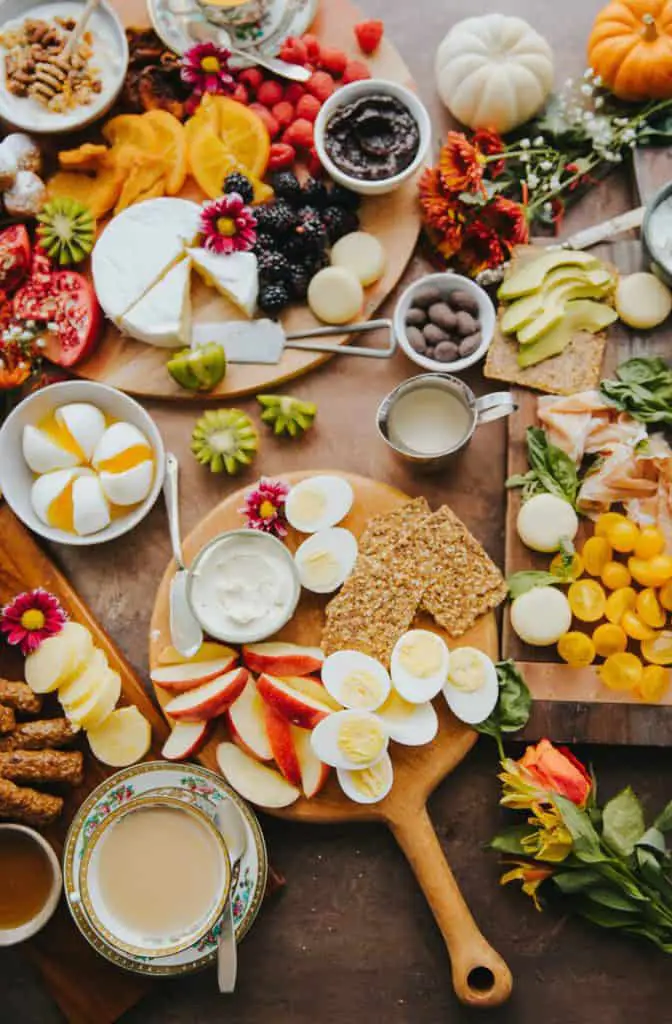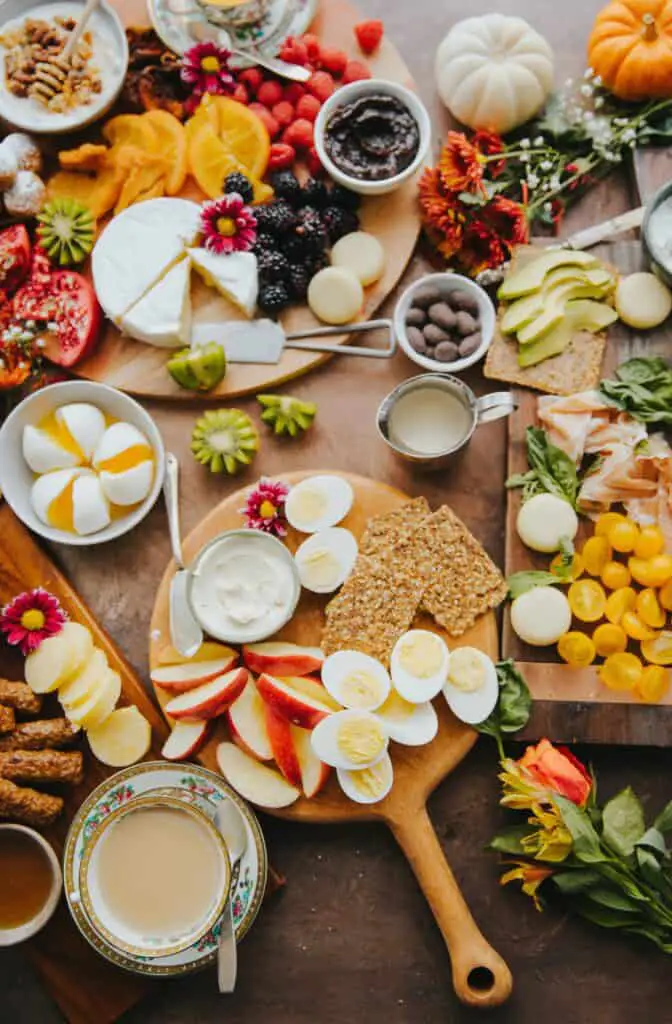 My Fun and Fruity Dinner Party Menu guarantees to impress. Fresh fruit in each dish to adds a lightness that is unparalleled.