Whiskey Sour Apple Halloween Shooters is a must at this year's Halloween gathering! Using sweet apple whiskey and mouth-puckering sour syrup, this festive drink tastes as good as it looks. Don't forget the sour gummy worms and orange & black sprinkles for an extra spooky flare!
---
Please note this post contains affiliate links, which means I receive a small commission, at no extra cost to you, if you make a purchase using the links. Please see my disclosure for more details.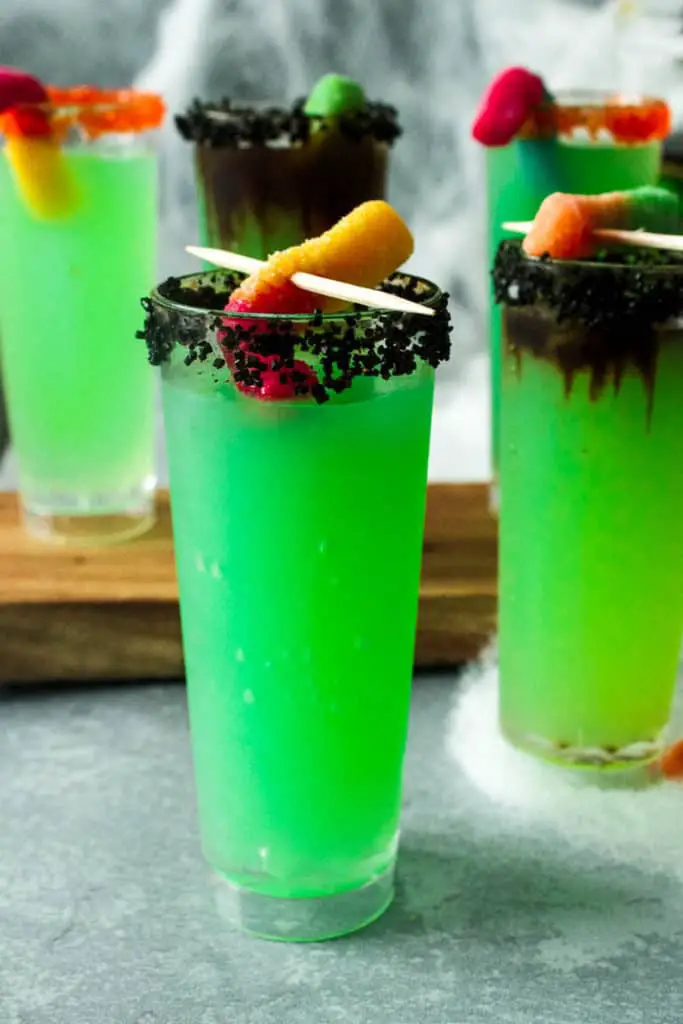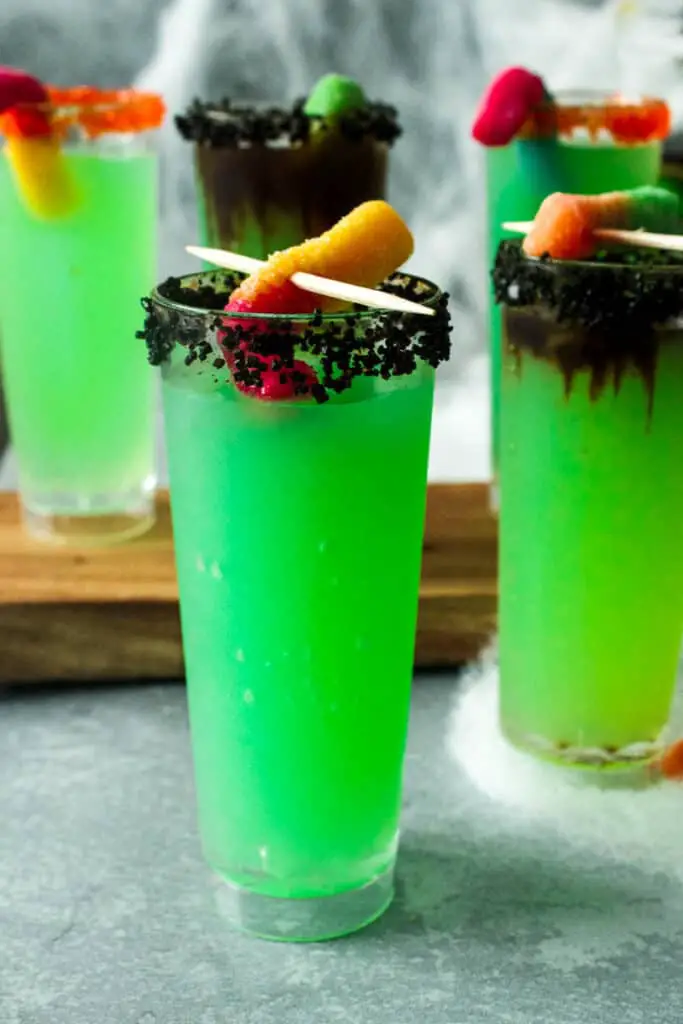 Halloween Shooters and Spirits
It's officially spooky season!
Pumpkin patches, corn mazes, and hay rides are some of the best ways to get in the spirit.
When Halloween hits, it's so fun seeing everyone's creativity come out in their trick-or-treating or at themed parties. The best part about Halloween is that the food is just as fun as the costumes!
Last year I made this spooky bundt cake with orange and black marbling and dotted with googly eyes and it was a huge hit! This Halloween take on a charcuterie board was also so much fun and helped set the tone of the holiday.
These green apple Halloween shooters were so much fun to taste test and create! I love the glowing green juice and they look so appetizing and ominous amongst the spider webs.
But how's a shooter different than a shot?
I learned recently from this informative piece that a shot is typically just one kind of liquor that's consumed in one gulp. A shooter is typically larger and consists of a mix of a few different liquors, sweeteners, mix-ins, etc. 
I wanted my whiskey sour a little more sweet and festive, and the Whiskey Sour Apple shooters were born!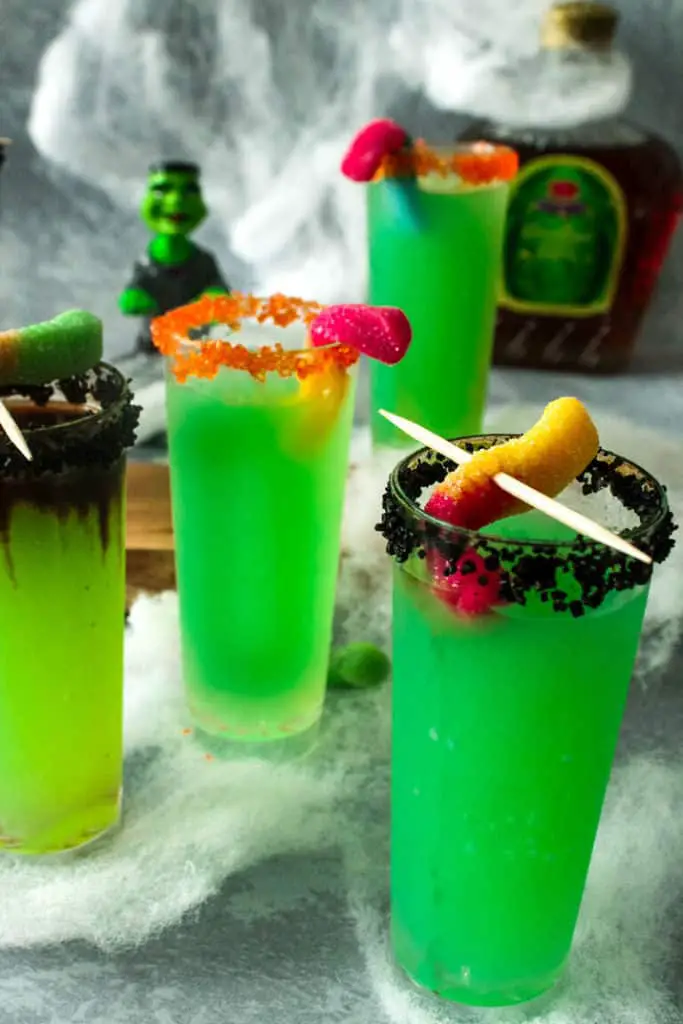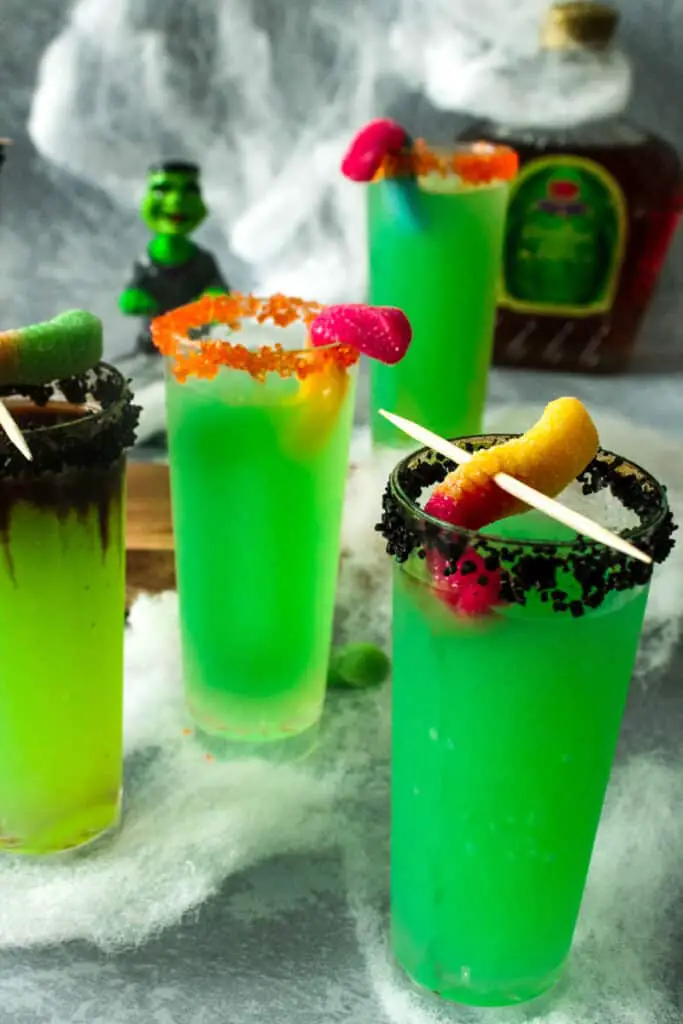 How To: Make Whiskey Sour Apple Halloween Shooters
A simple whiskey sour consists of 3 ingredients: whiskey, lemon juice, and sugar.
To make an apple-infused whiskey sour, you'll want to incorporate an apple liqueur or apple flavoring of some kind. Be mindful, shooters are typically no more than 3 oz so you're not working with a lot of room for extra fluids.
That's where apple whiskey comes in to save the day! Crown Royal's apple whiskey is brilliantly flavored by malty hints and that crisp apple flavor we all know and love.
One ounce of this plus one ounce of sour syrup makes for a perfect foundation for a whiskey sour apple. 
At this point, your shot will be yellow-tinged from the sour mix. The next step: concocting that gorgeous green color!
Using any blue-colored drink, stir in another ounce slowly until you are satisfied by the greenness of your drink. My favorites are blue raspberry kool-aid, blue gatorade, and starburst blue raspberry sugar packets!
Have fun making this festive drink and spruce it up with Halloween-colored sprinkles lining the glasses! 
As always when it comes to eating apples, keep an eye out for worms! Don't forget the sour gummy worms for an extra sour treat.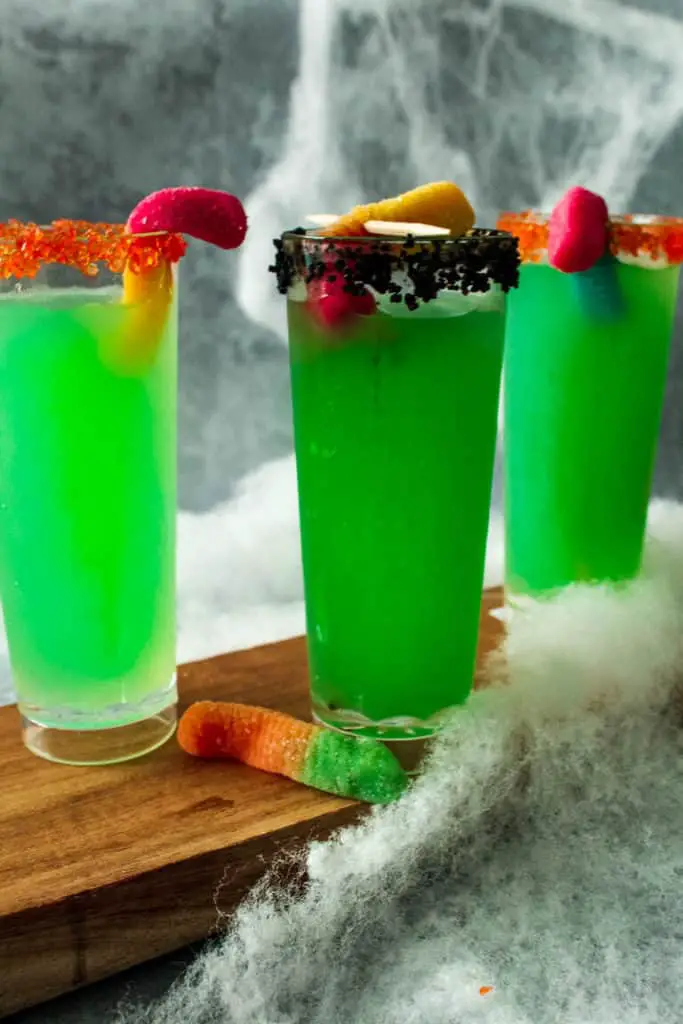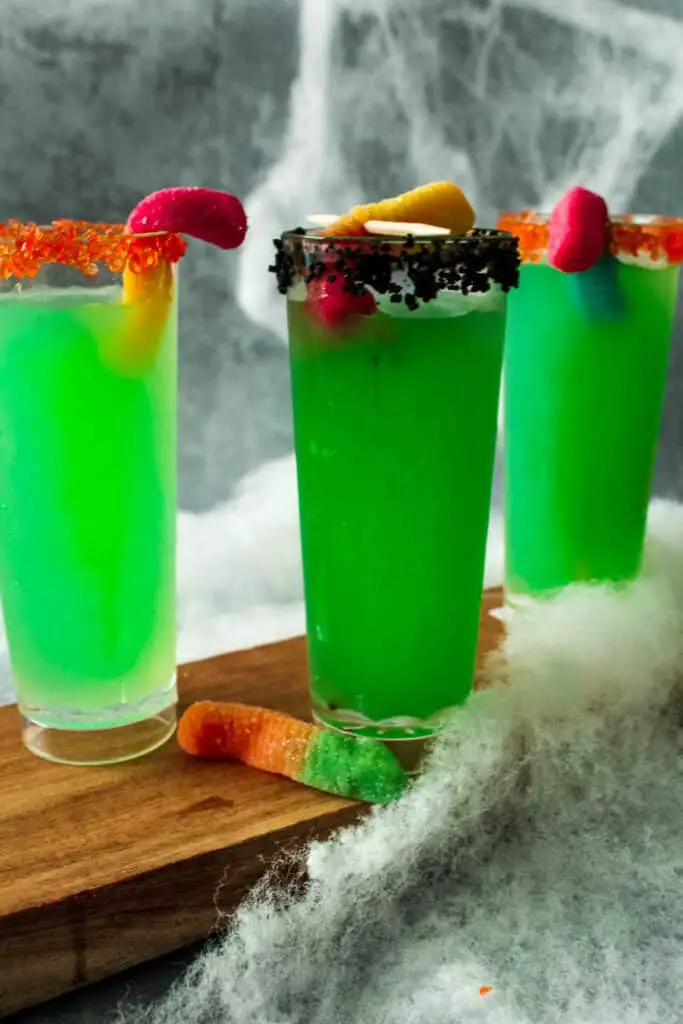 Ingredients Needed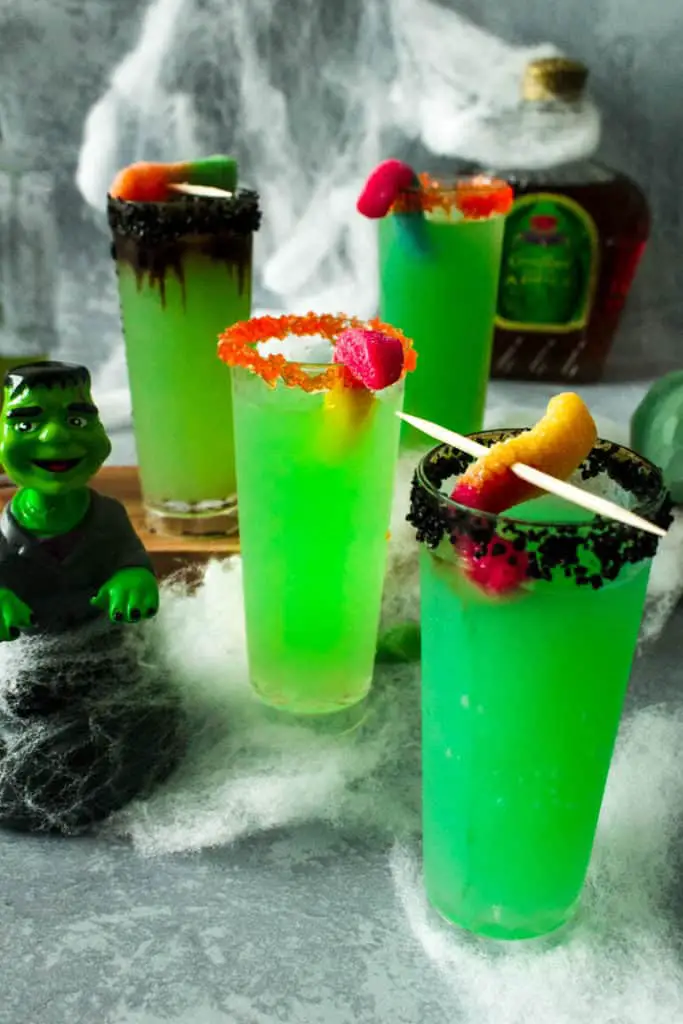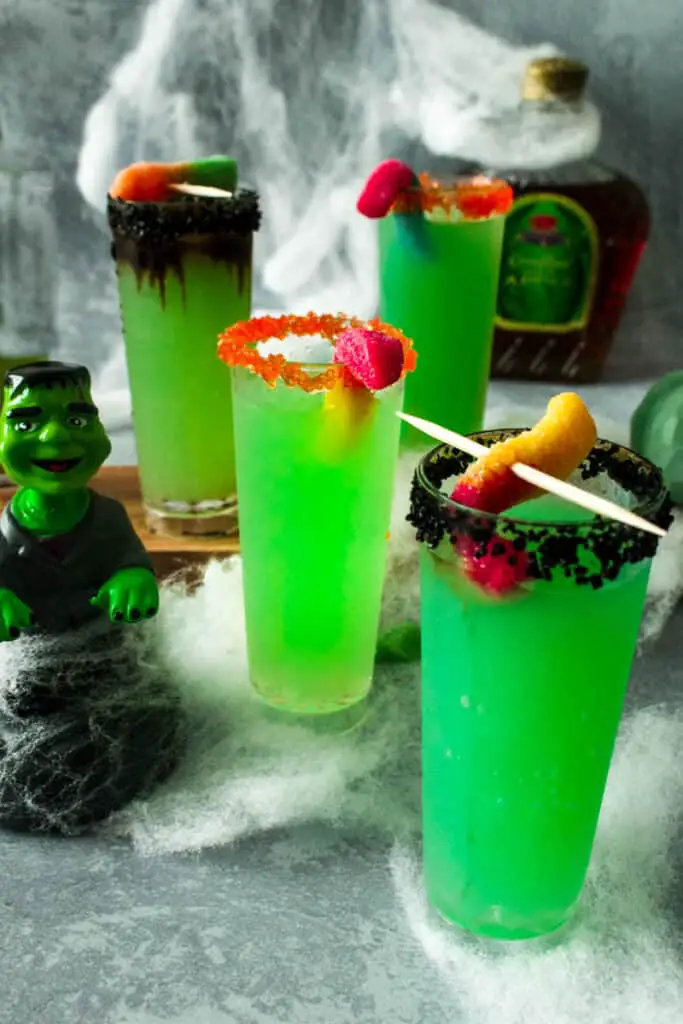 Materials Needed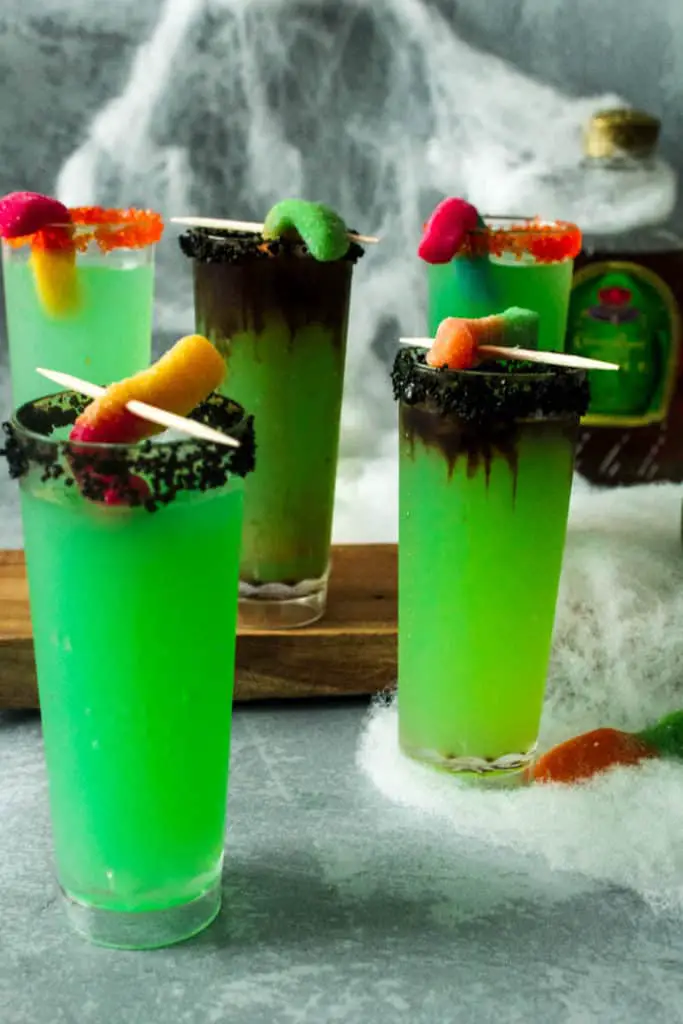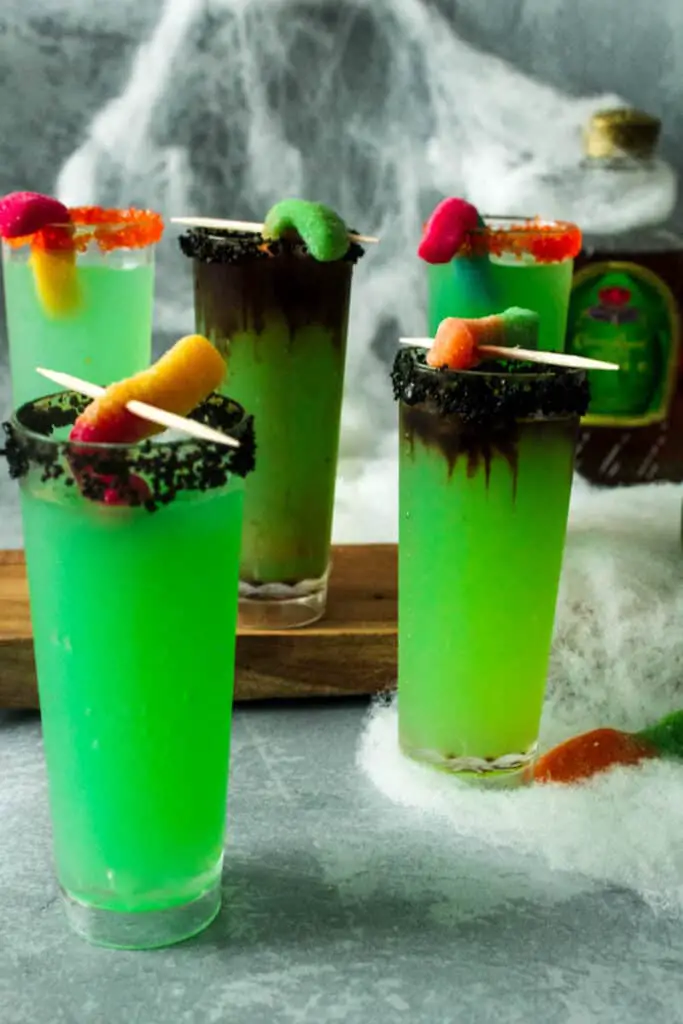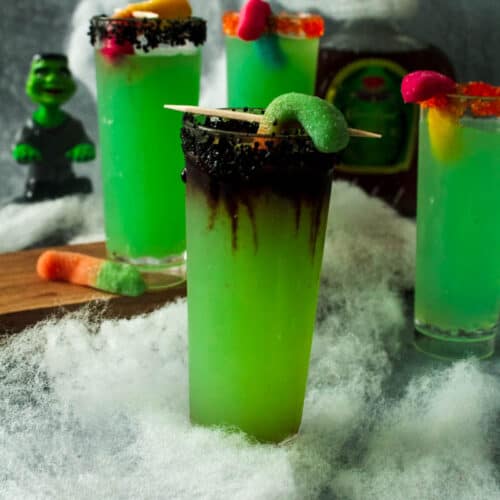 Whiskey Sour Apple Halloween Shooters
Whiskey Sour Apple Halloween Shooters mix apple whiskey and sour syrup for a spooky and festive drink that tastes as good as it looks!
Print
Pin
Rate
Ingredients
1

oz

apple whiskey

1

oz

sweet and sour syrup

1

oz

blue raspberry drink or drink mix

orange and black sprinkles

optional

sour gummy worms

optional
Instructions
For each shooter, combine all ingredients and shake well. Pour into a cordial glass and garnish with orange or black sprinkles and sour gummy worms.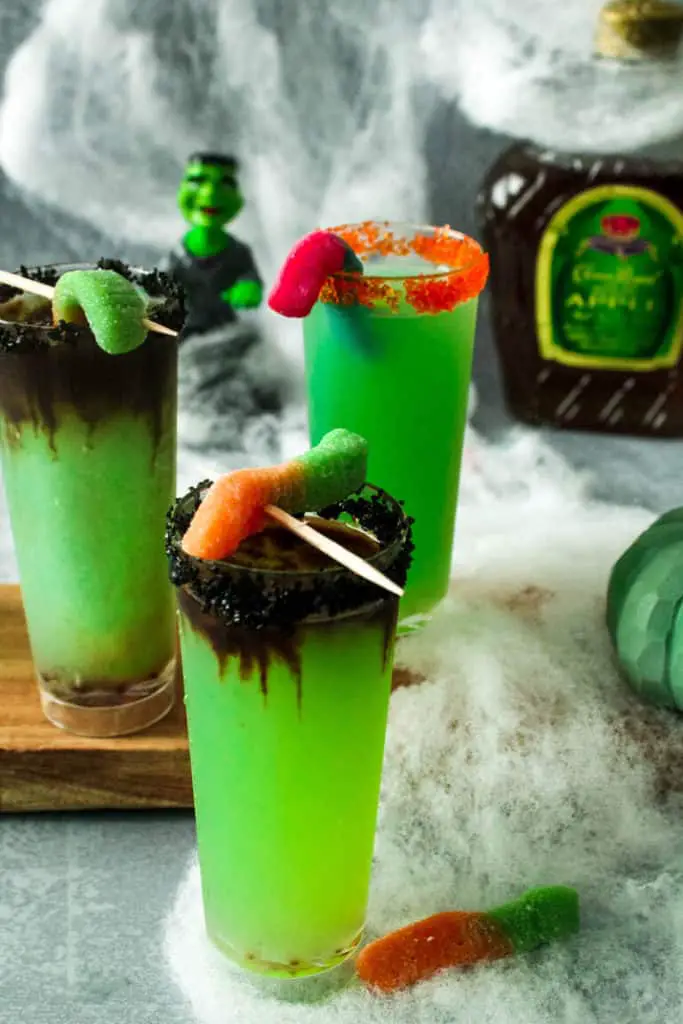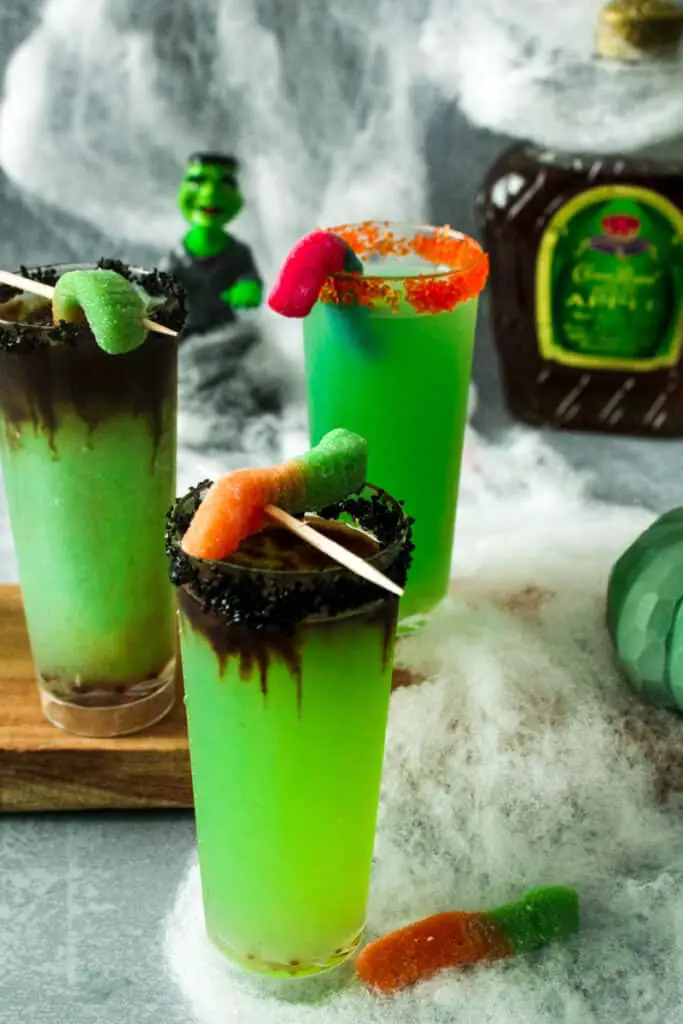 Pin me!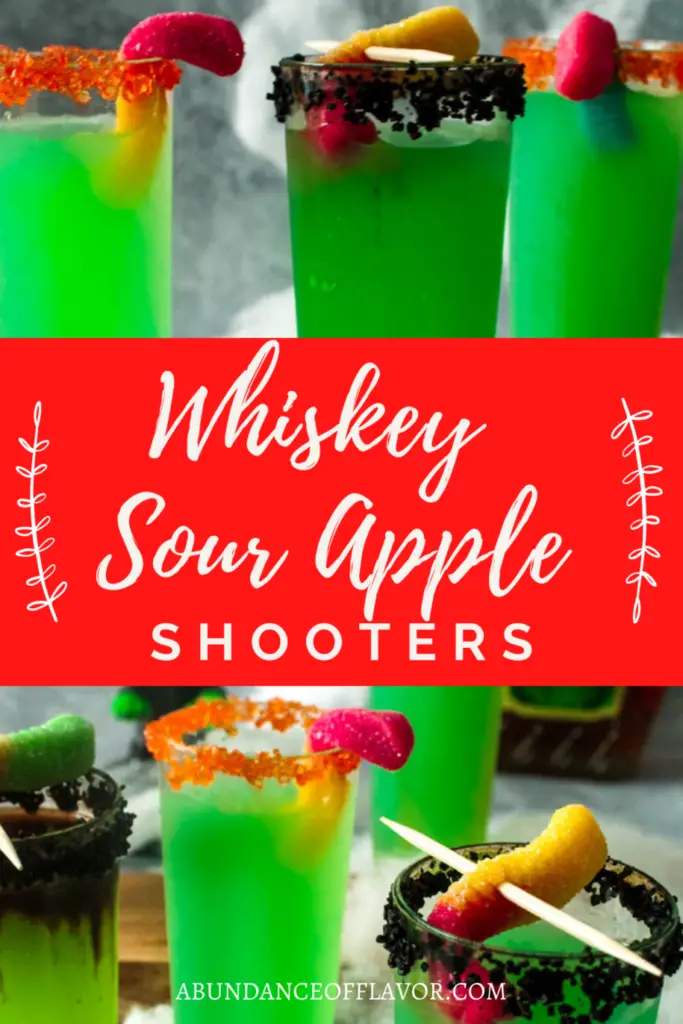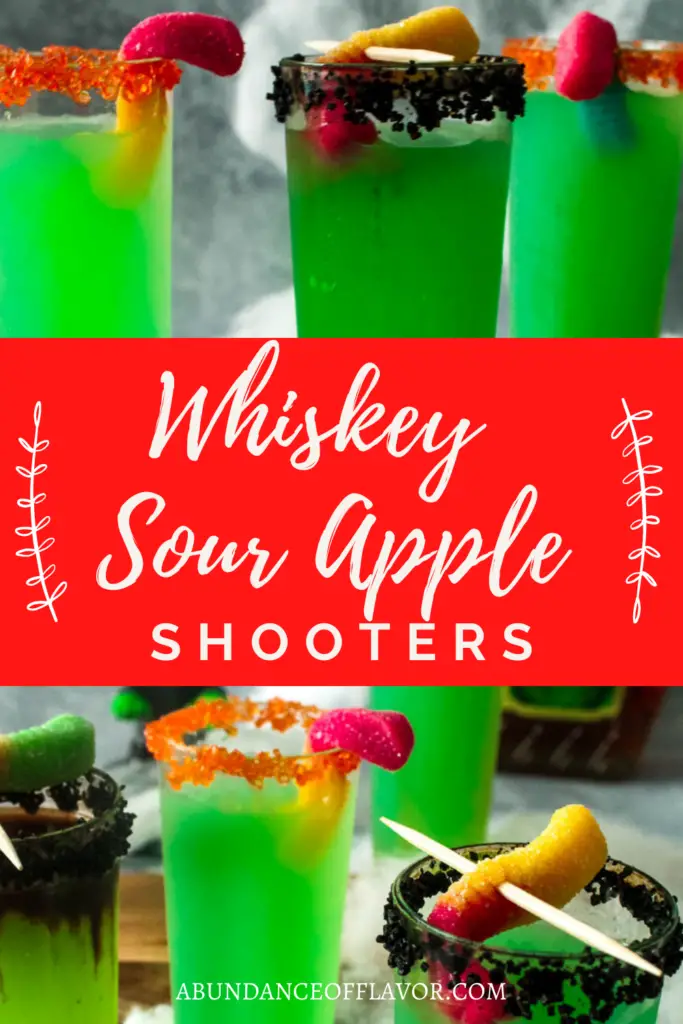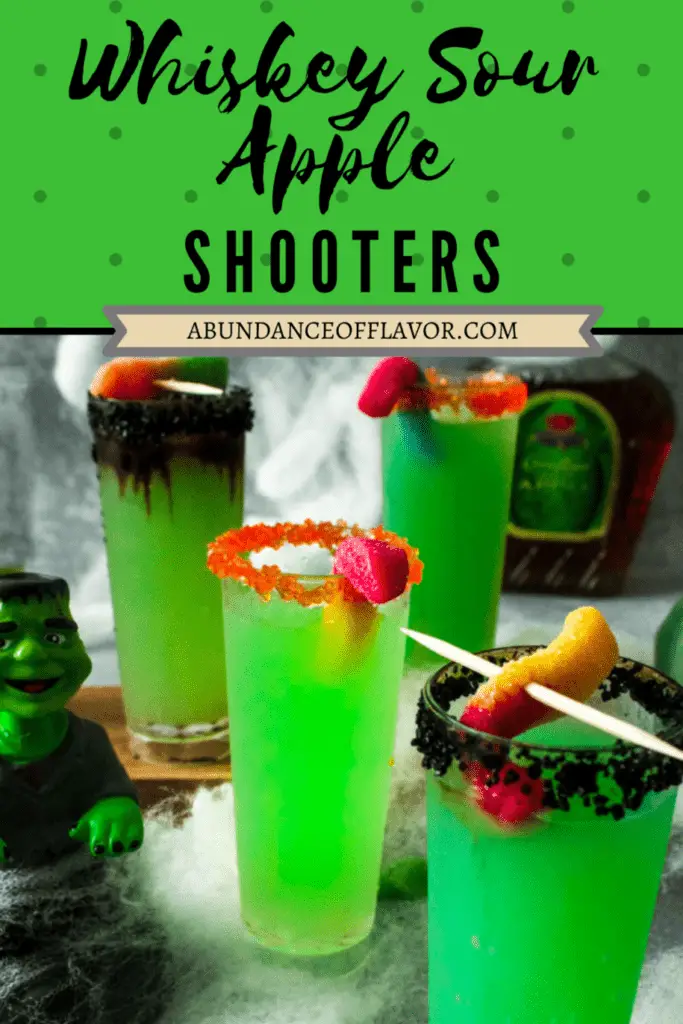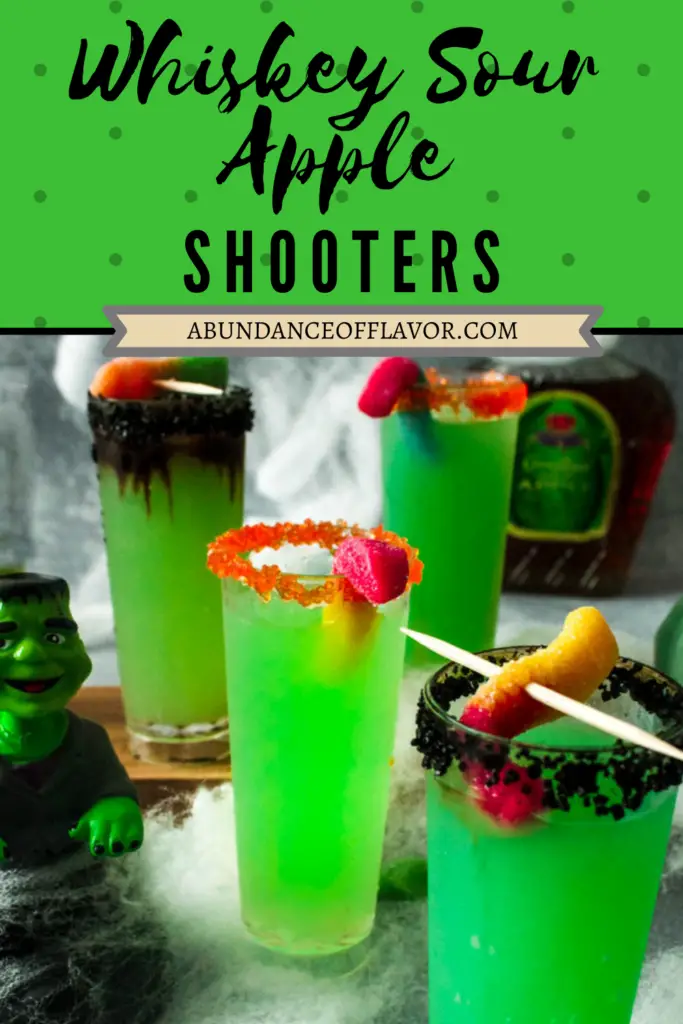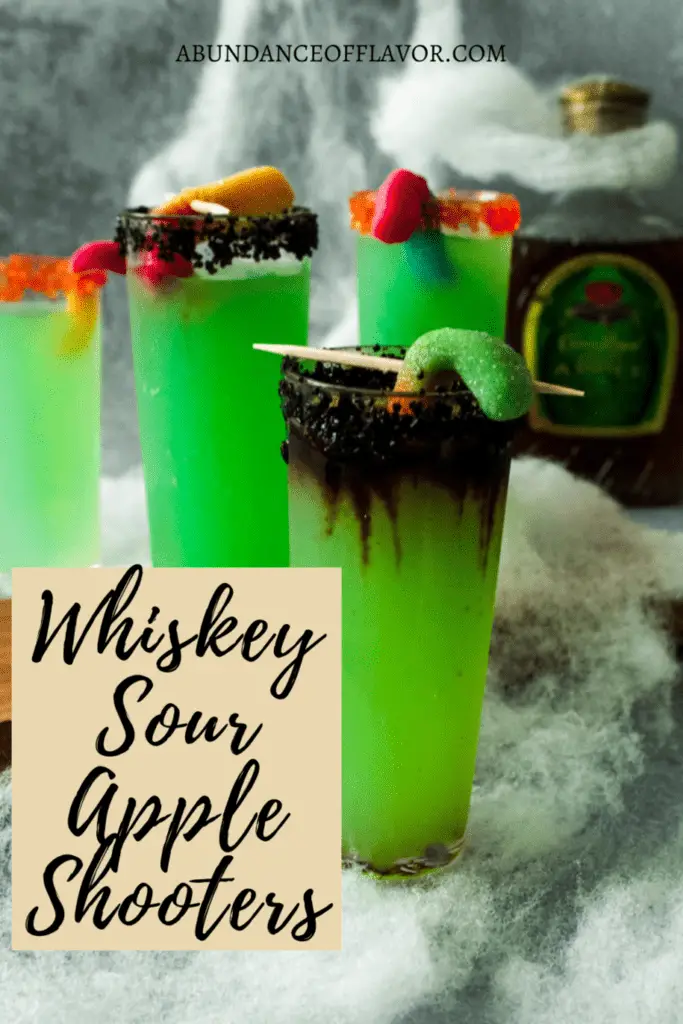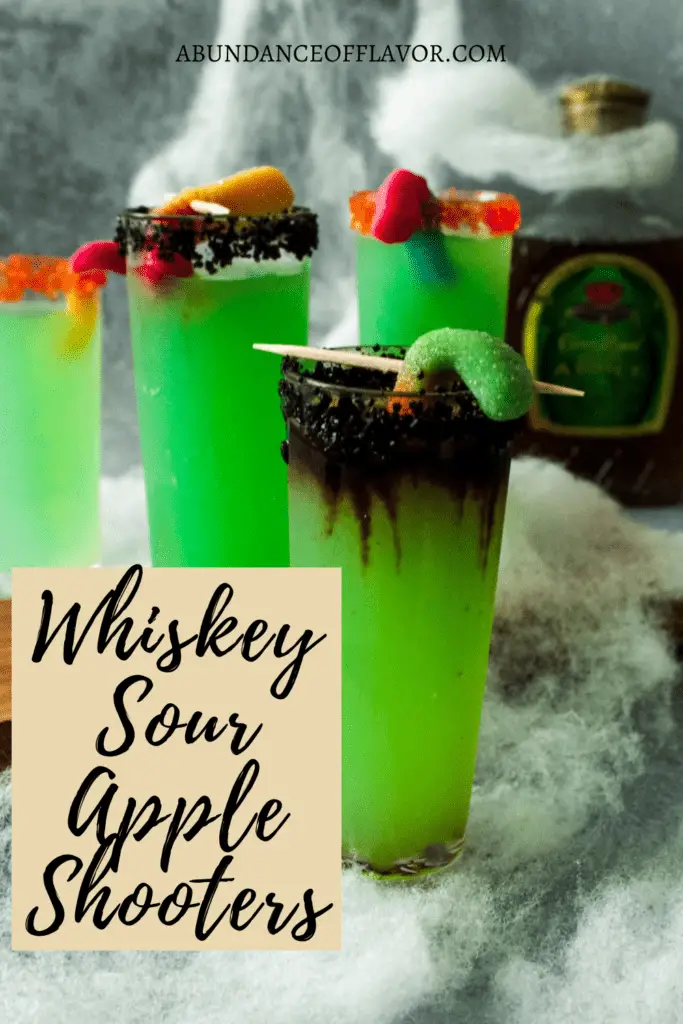 Do you have any favorite Halloween themed drinks? Share below!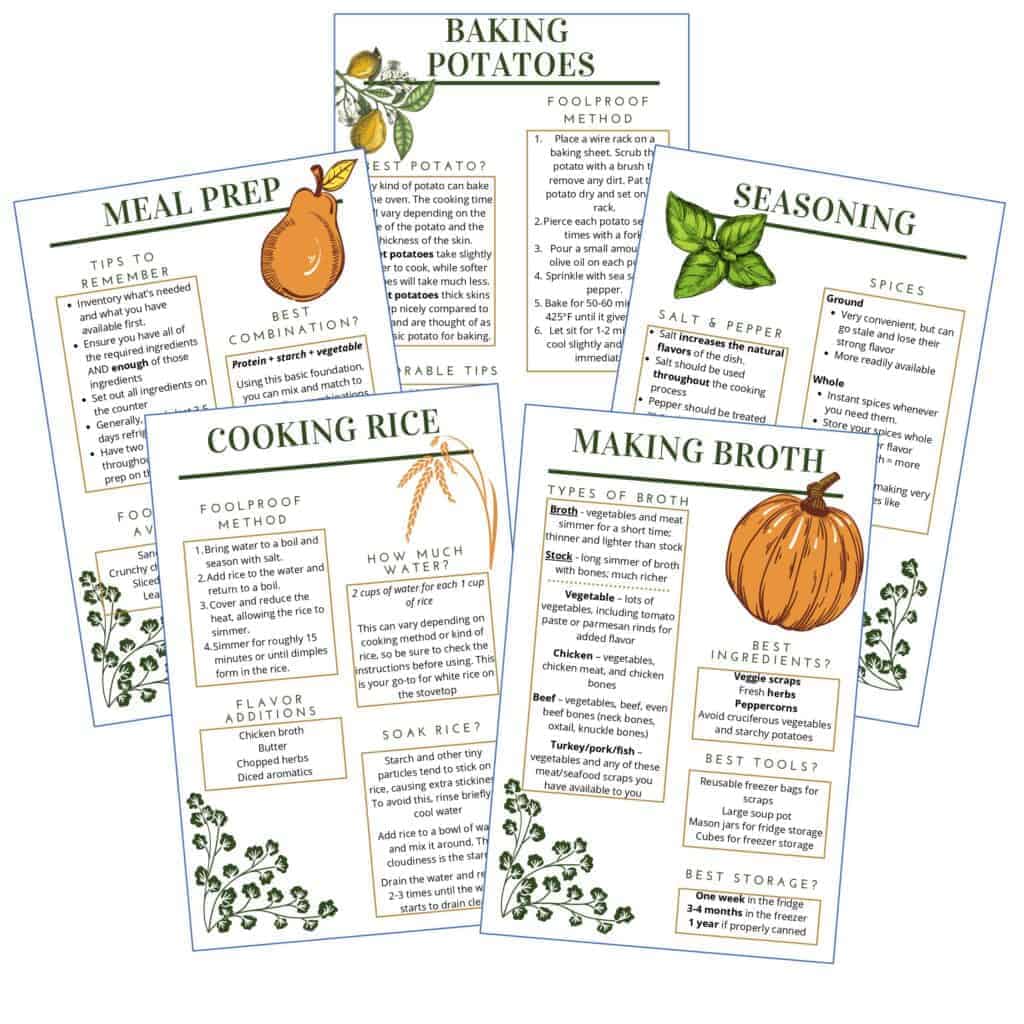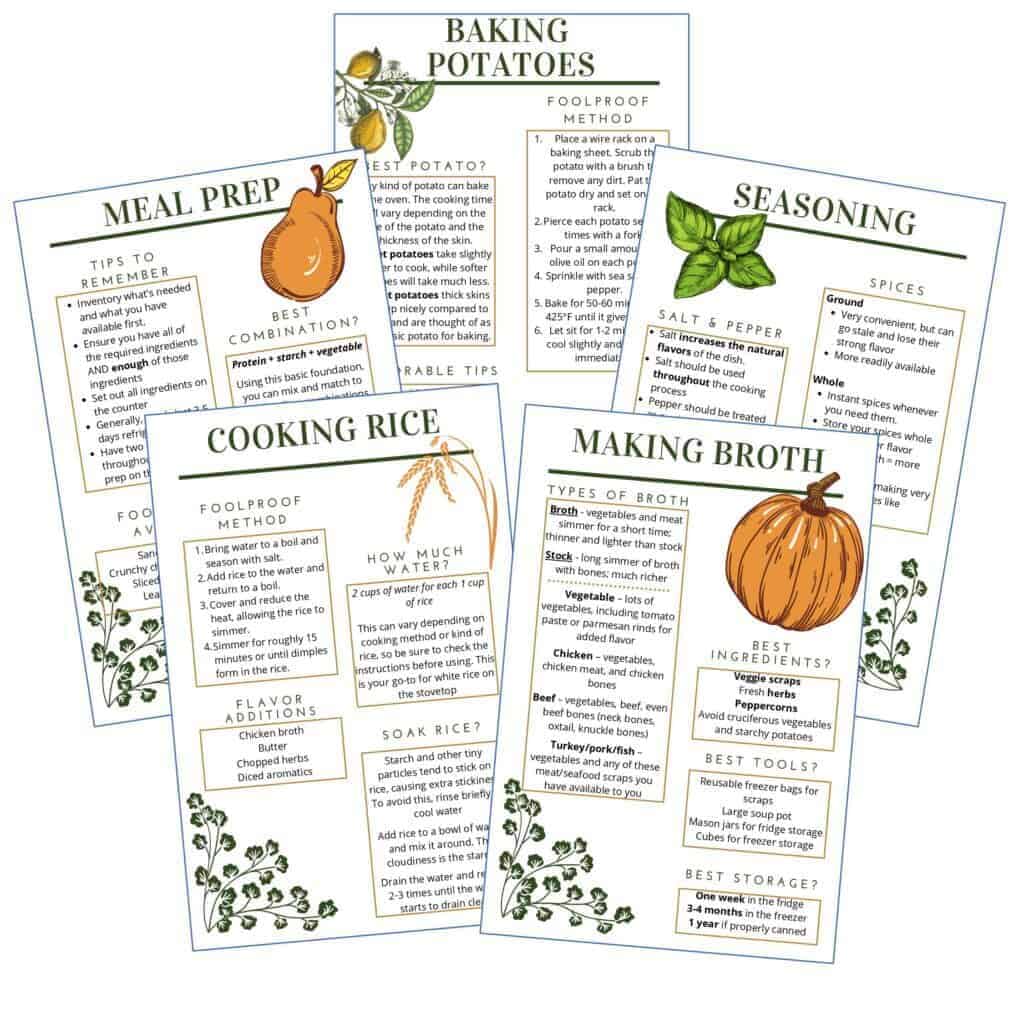 Get your $1 worksheets today!
Related Posts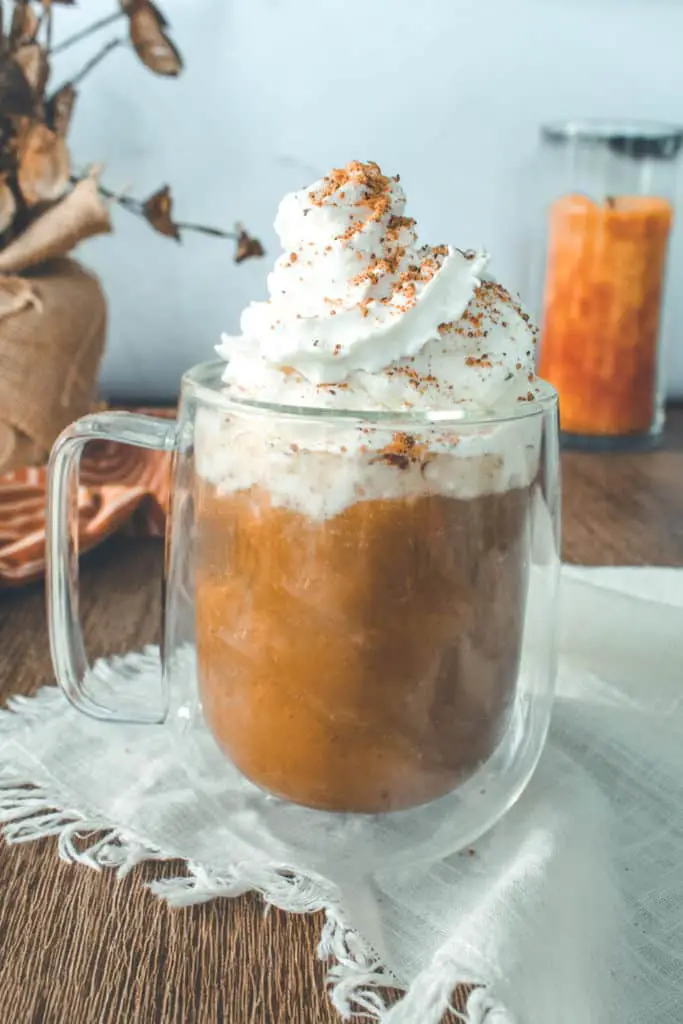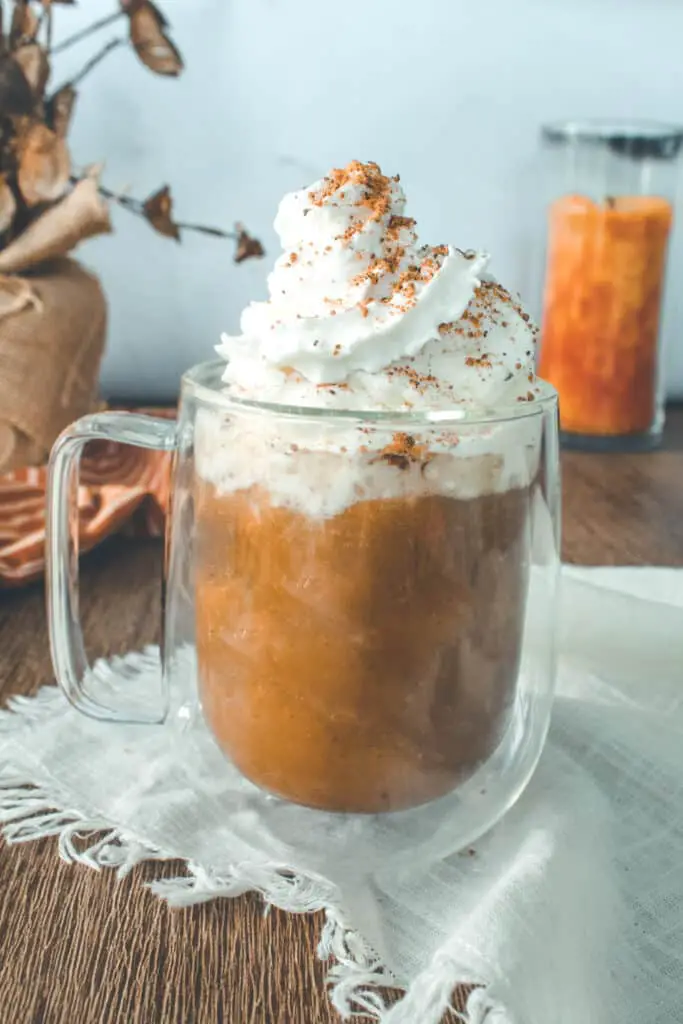 Pumpkin Spice Frappuccino is a refreshing iced coffee drink that will transport you directly to fall after one tasty sip.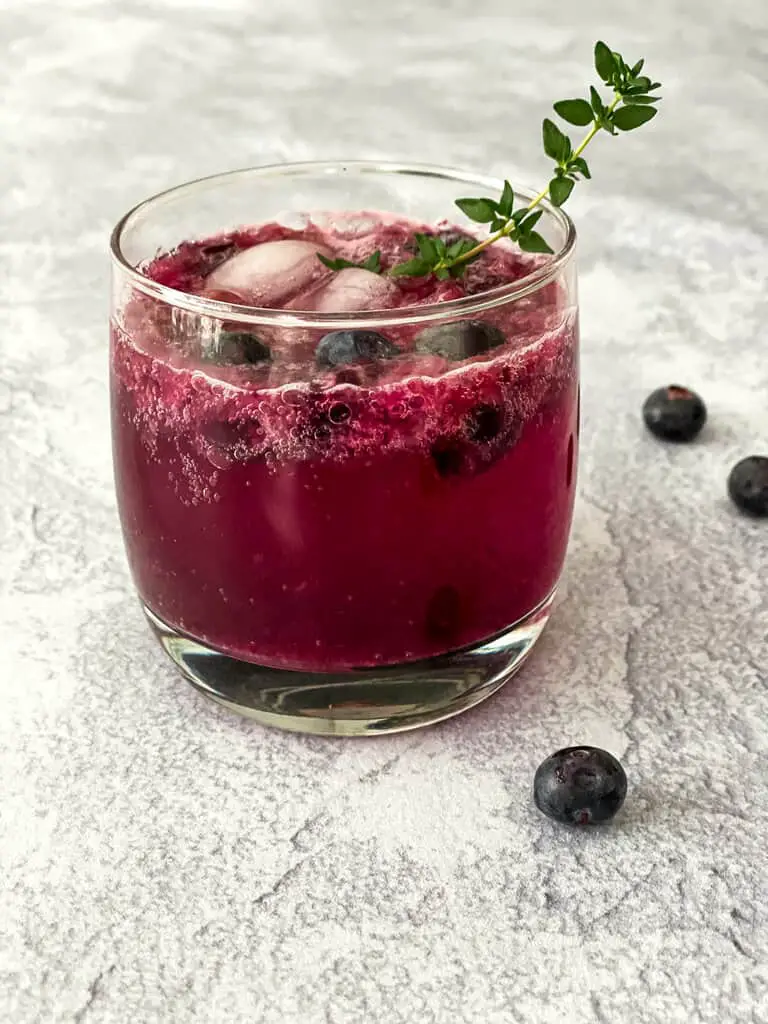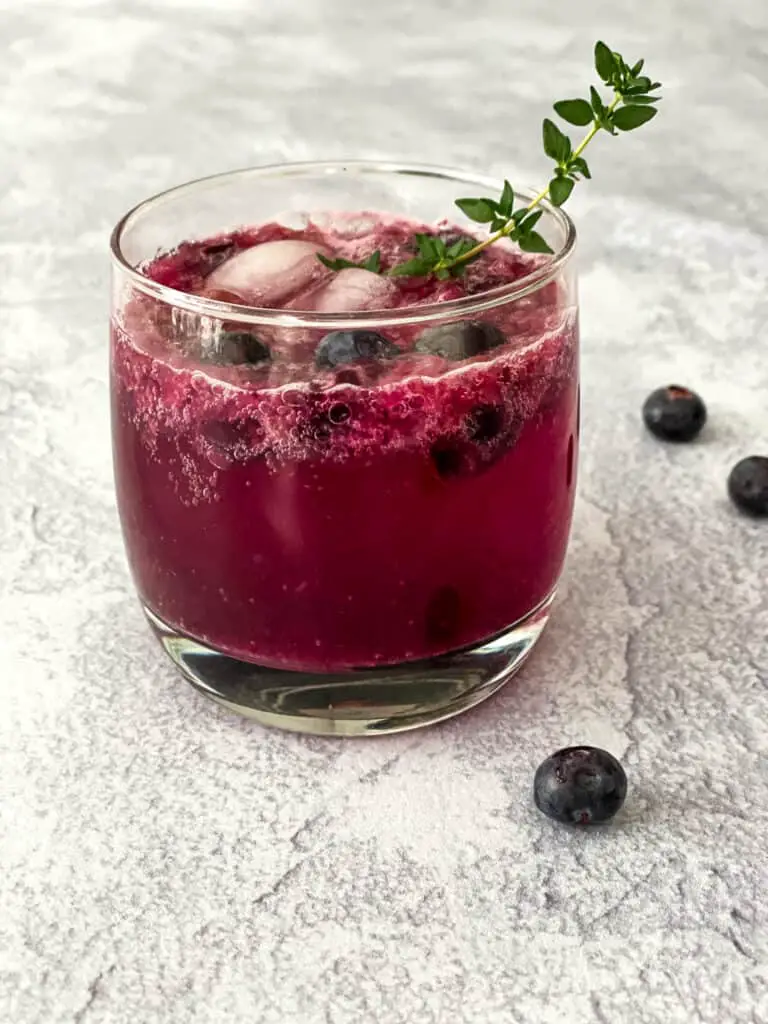 Blueberry Ginger Ale Coolers mix a blueberry simple syrup with ginger ale to craft this refreshingly sweet elixir.