Halloween doesn't have to be all about the little ones, adults can enjoy it too! If you're looking for a festive treat that's filled with a little less candy, look no further. Enjoy a Halloween-themed charcuterie board! While the kids munch on their spooky treats the grownups can sip on wine with a tasty meat and cheese board.
It couldn't be easier to participate in the Halloween fun!
---
Please note this post contains affiliate links, which means I receive a small commission, at no extra cost to you, if you make a purchase using the links. Please see my disclosure for more details.
---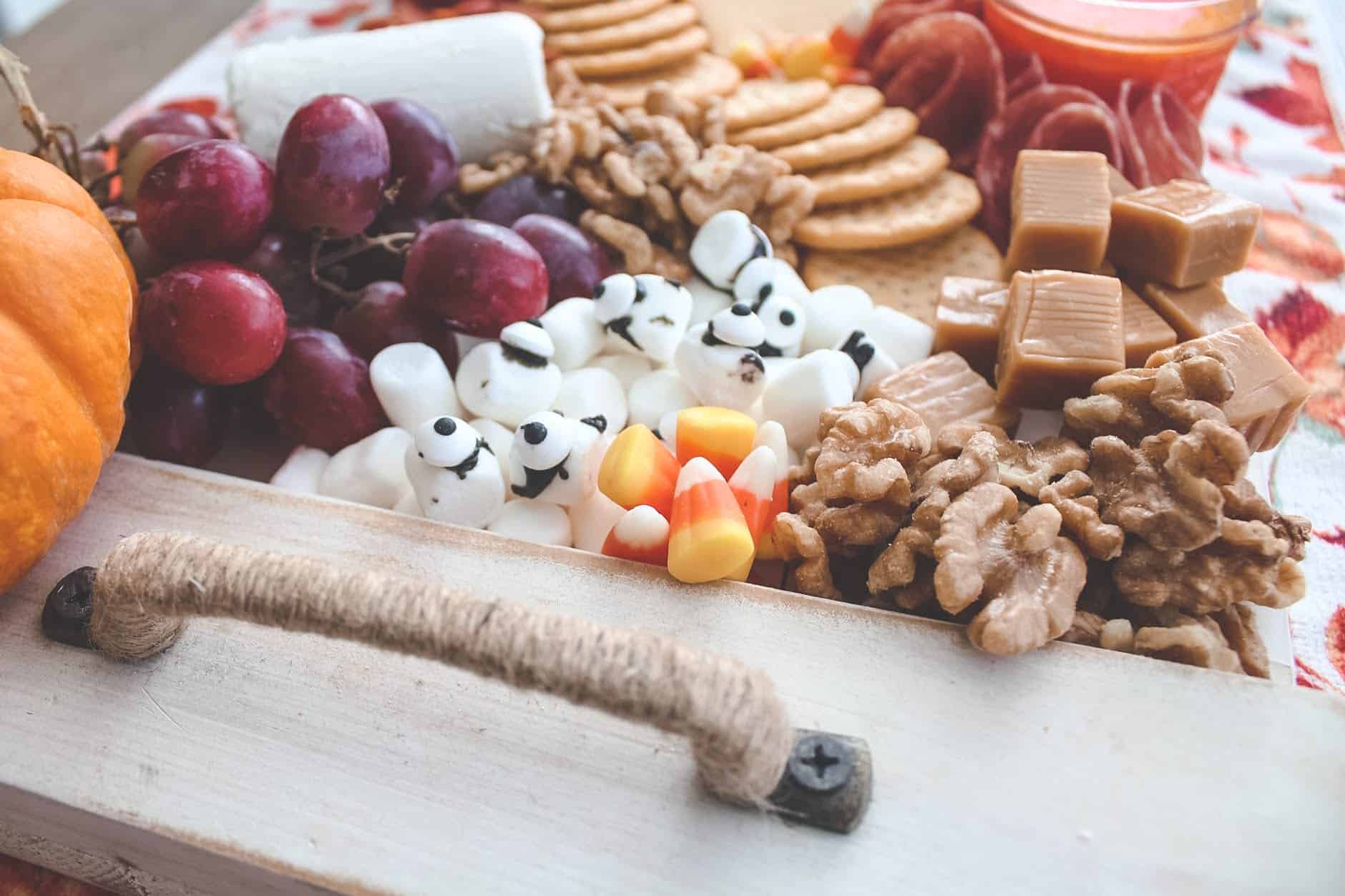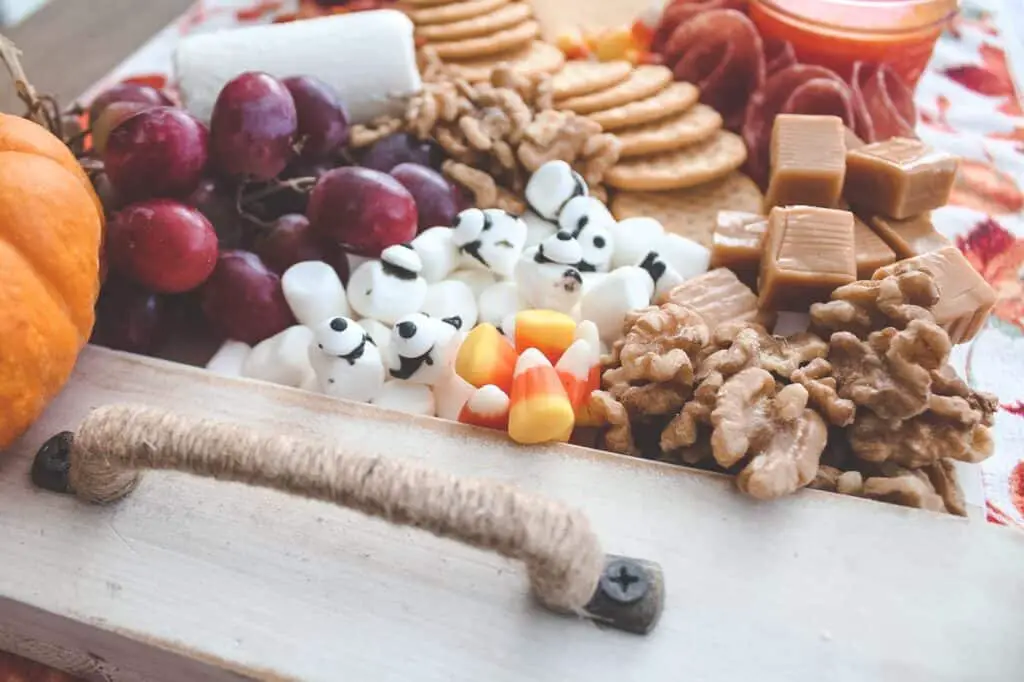 If there's one thing I learned from quarantine, it's that people LOVE their charcuterie boards.
I personally had never made one myself, but after taking a virtual class with the UNC General Alumni Association I couldn't wait to get started!
Chef Bryan sent out shopping lists in advance so we could purchase our supplies, and together he walked us through plating various meats, cheeses, and garnishes to create a beautiful board.
It was so much fun and I couldn't wait to incorporate what I learned into an exciting new treat for Abundance of Flavor. I love that I can take my foundational knowledge of a meat and cheese board and adapt it for the upcoming holidays and gatherings we have in store.
This can easily be made more "Thanksgiving" my swapping out the candy corn and googly eyes for fruits, nuts, or more.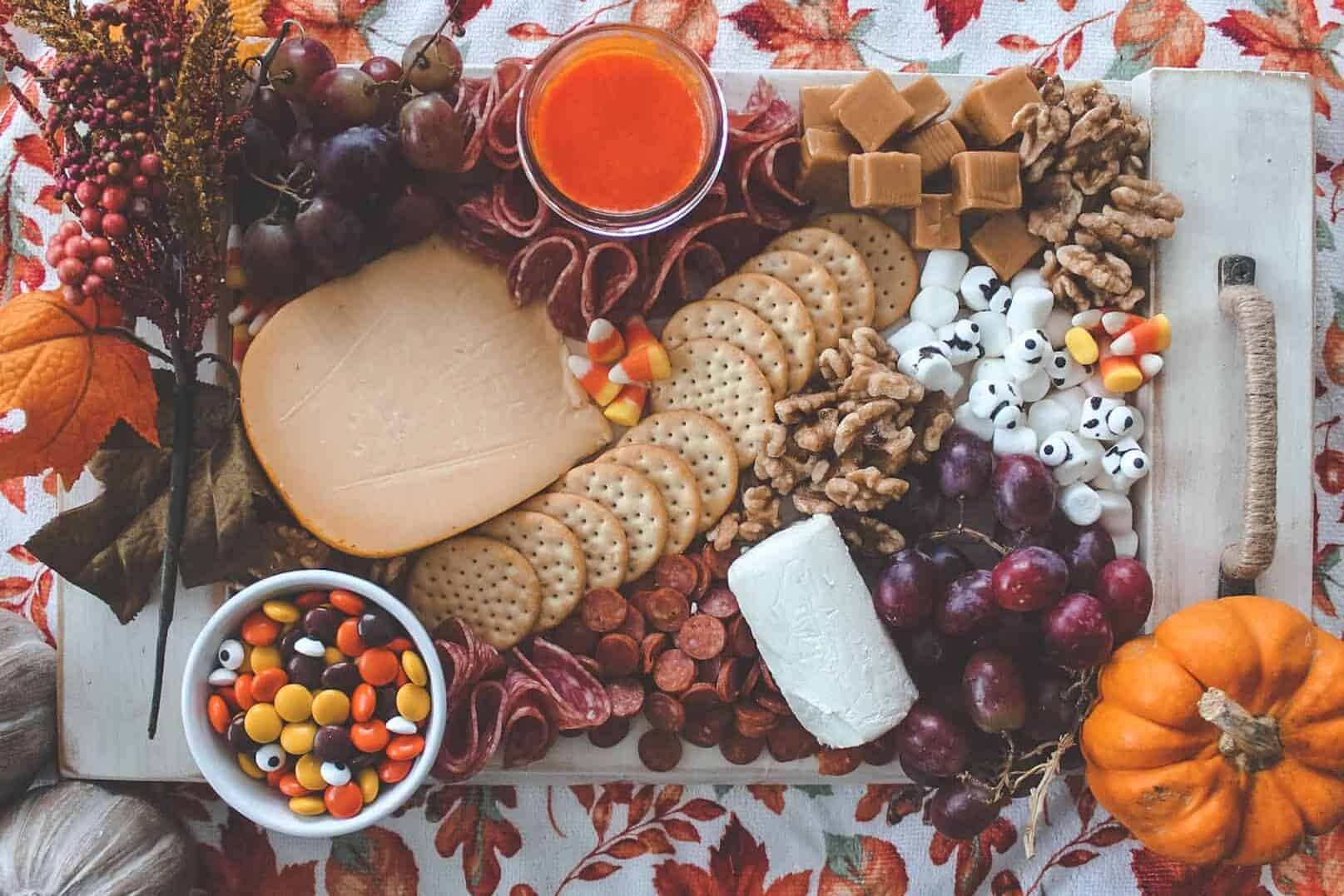 How to: select the meat, cheese, and garnish
Cheese: Depending on the size of the charcuterie board you're creating, you'll want to get 2-5 difference cheeses. 
Generally, there are soft cheeses, firm cheeses, and stinky cheeses. Soft cheeses include goat cheese and boursin. Firm cheese includes gouda, parmesan, and cheddar. Stinky cheese includes bleu cheese and gorgonzola.
For this board, I use gouda (firm cheese) and goat cheese (soft cheese).
---
Meat: Handheld meat such as pepperoni, salami, prosciutto, pancetta, or deli meat are staples on meat and cheese boards.
These options can be bought pre-sliced and packaged for even easier assembly, or you can purchase some fresh at your local deli.
Choose what you like and be less concerned about appropriate pairings.
I use pepperoni and salami for this board because it is what I had available, but prosciutto would be my next choice.
---
Garnish: Flex your creativity and incorporate snacks you and your family will enjoy!
Crackers, nuts, fruits, spreads and small sweets can add lovely color to your board and taste great with meat and cheese.
When selecting your garnish, be cautious of fruits that are very wet and may leak into other items. 
For really small sweets, such as the Reeses pieces, consider using a small bowl to keep them organized.
My garnish includes crackers, walnuts, grapes, and caramel squares.
---
Halloween fun: When thinking about Halloween elements, I wanted sweets and bright pops of color!
Reeses pieces, marshmallows with candy eyes, candy corn, and orange icing really brought the spooky feel to my board.
Other great options you could use are anything that's orange, black or dark in color, and pumpkin-shaped goodies. Candy corn pumpkins, licorice, blueberries, carrot sticks, chocolate dipped pretzels, cookies, or popcorn.
How to: assemble the charcuterie board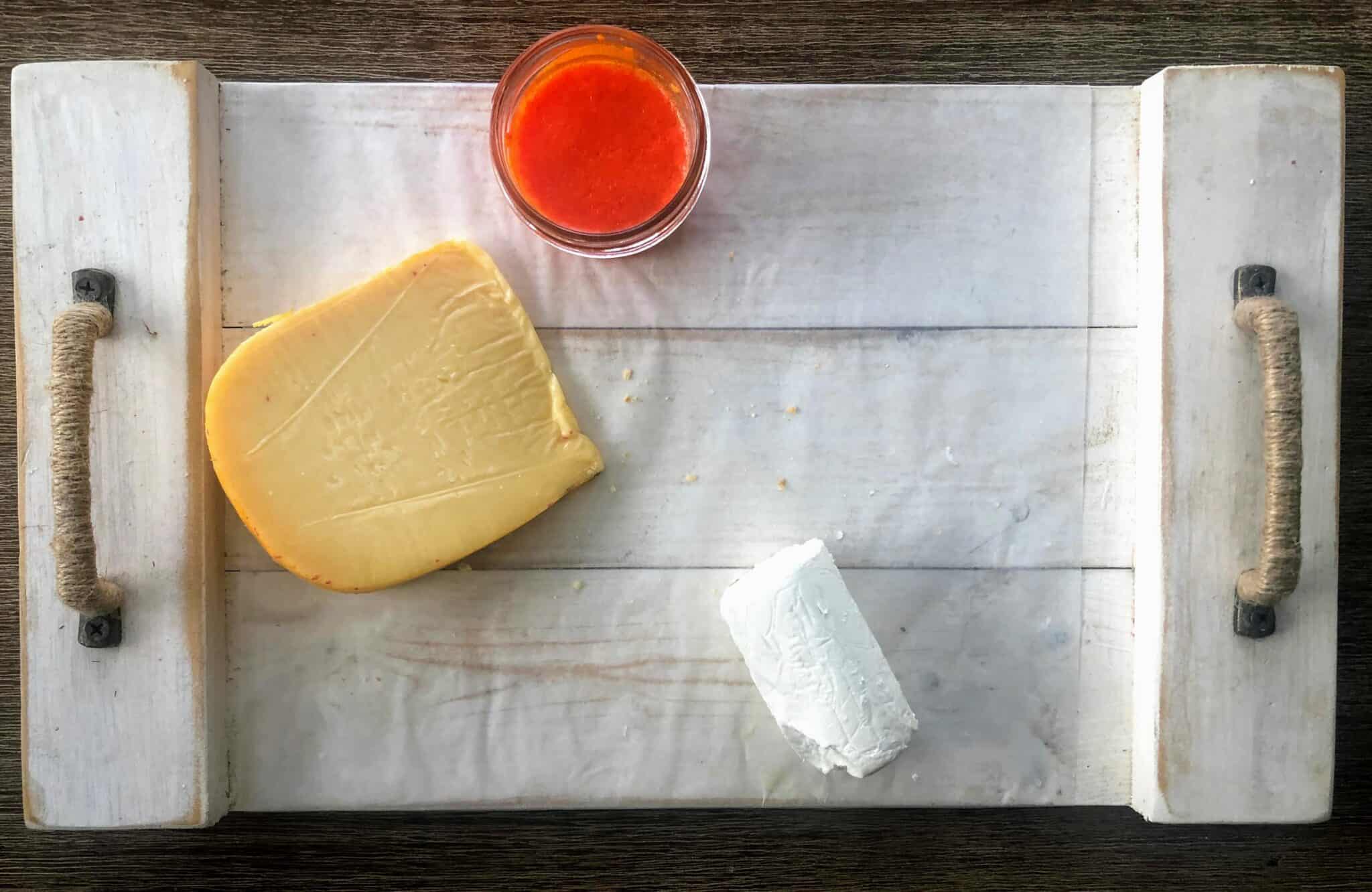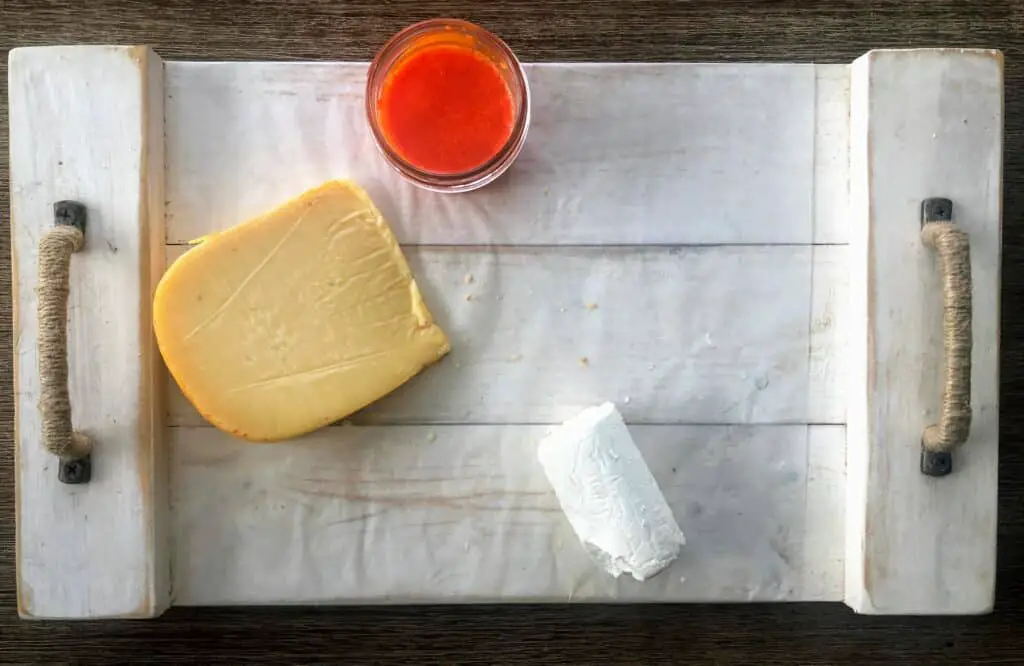 Start with the bigger, more prominent pieces of the board, such as the cheese and any small bowls filled with spreads. 
Keep in mind that softer cheese, like goat cheese, should be placed on the edge of the board where it's easily accessible.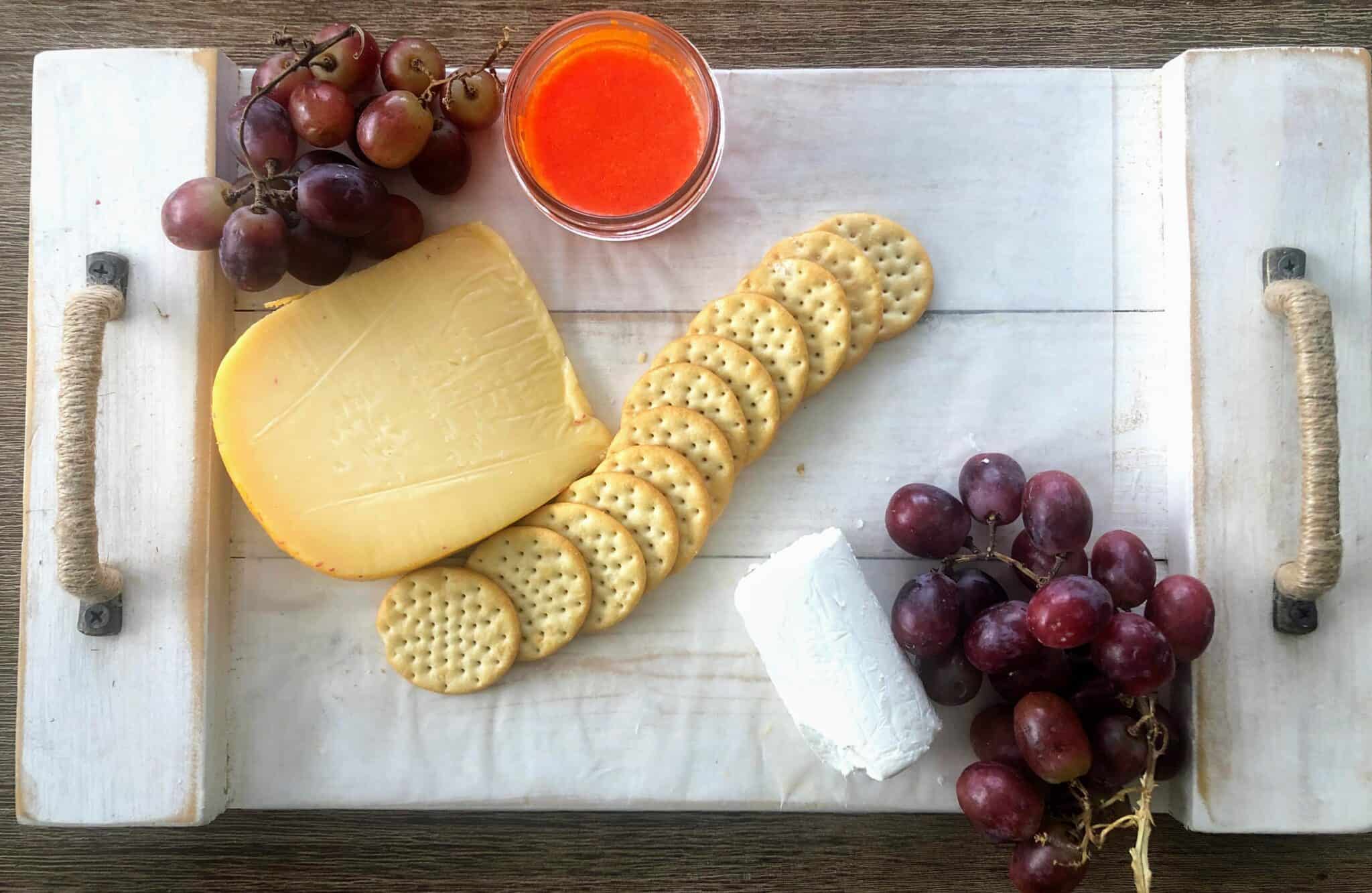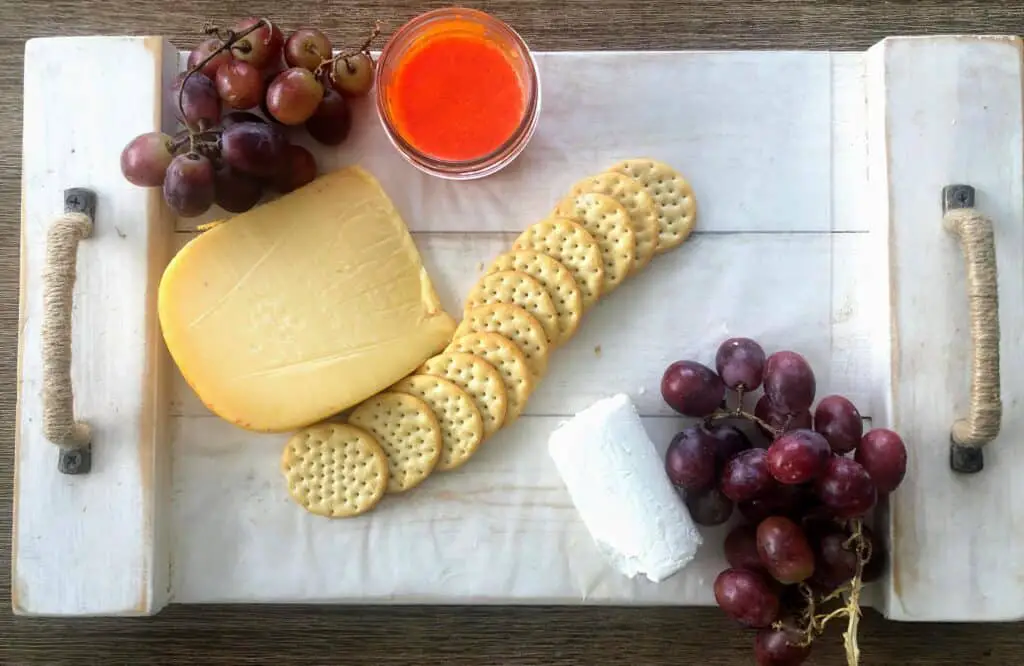 Next I placed other larger pieces that other things could be built up around: bunches of grapes and a fun pattern of crackers.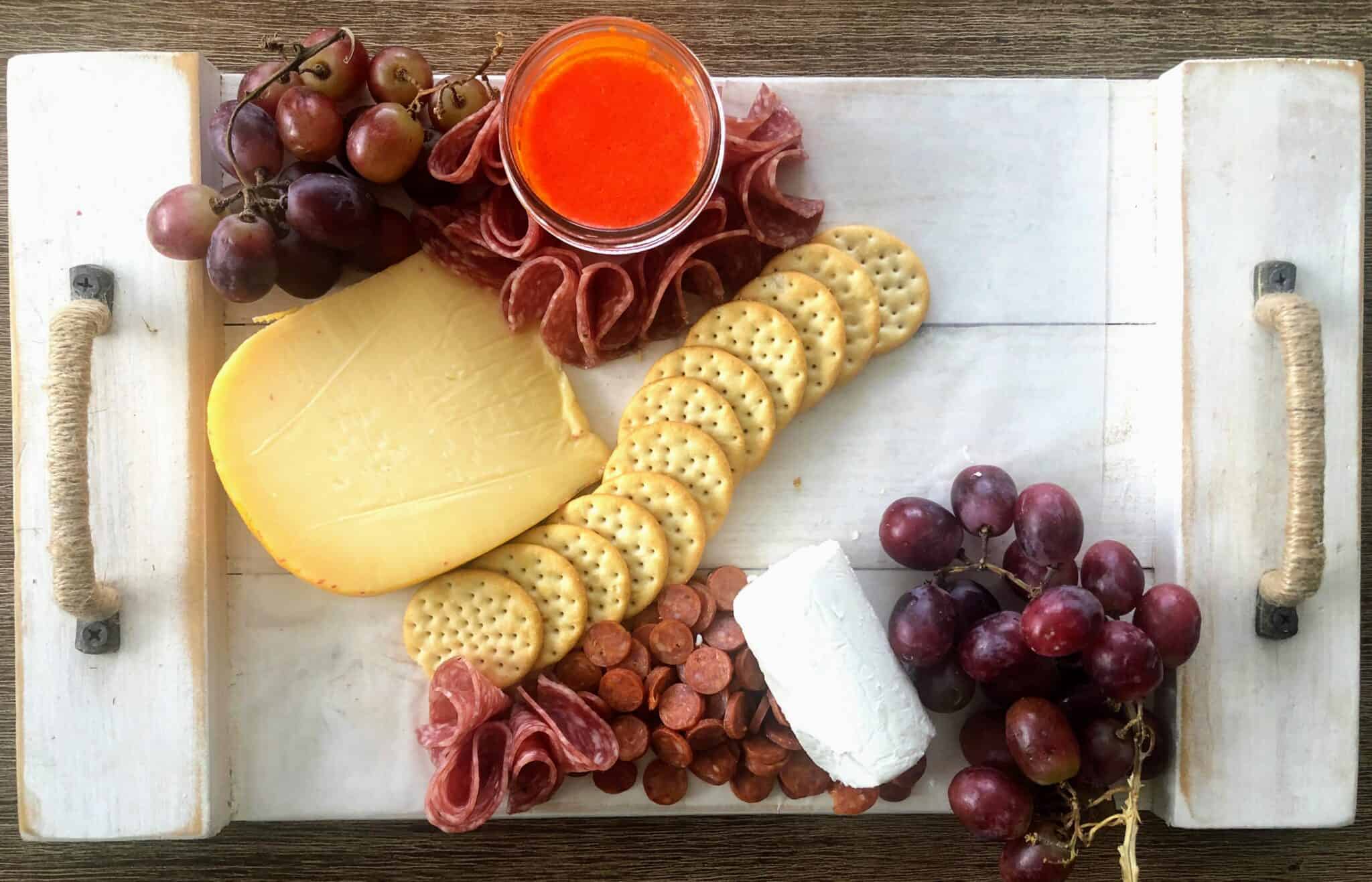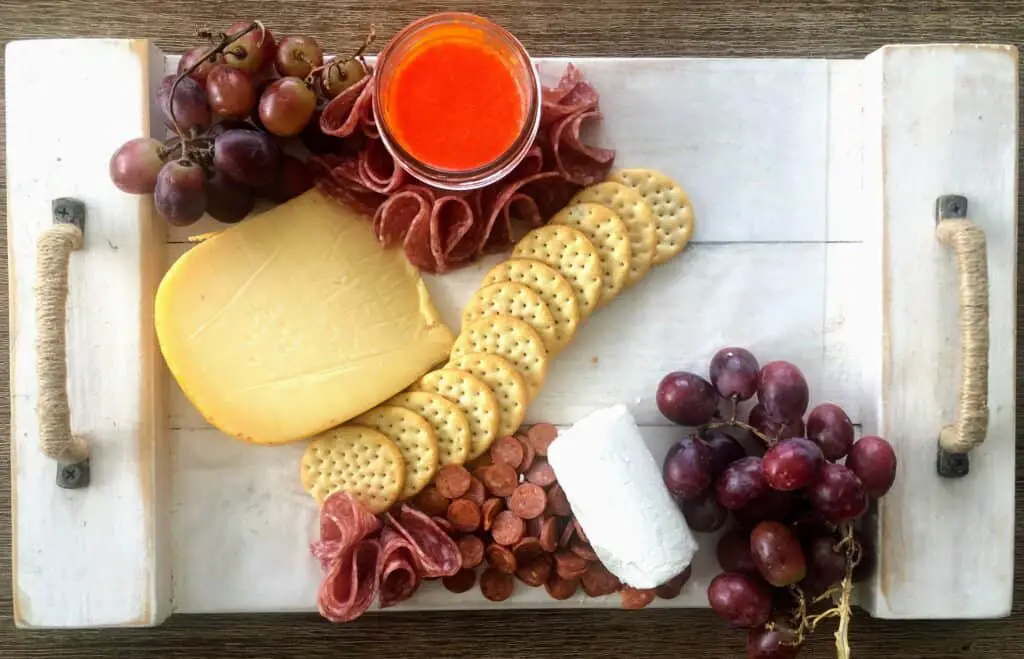 The meat needed some items to rest on and lean up against, so the pepperoni and salami came next. I like to place the meat by the cheese since they're always a great duo!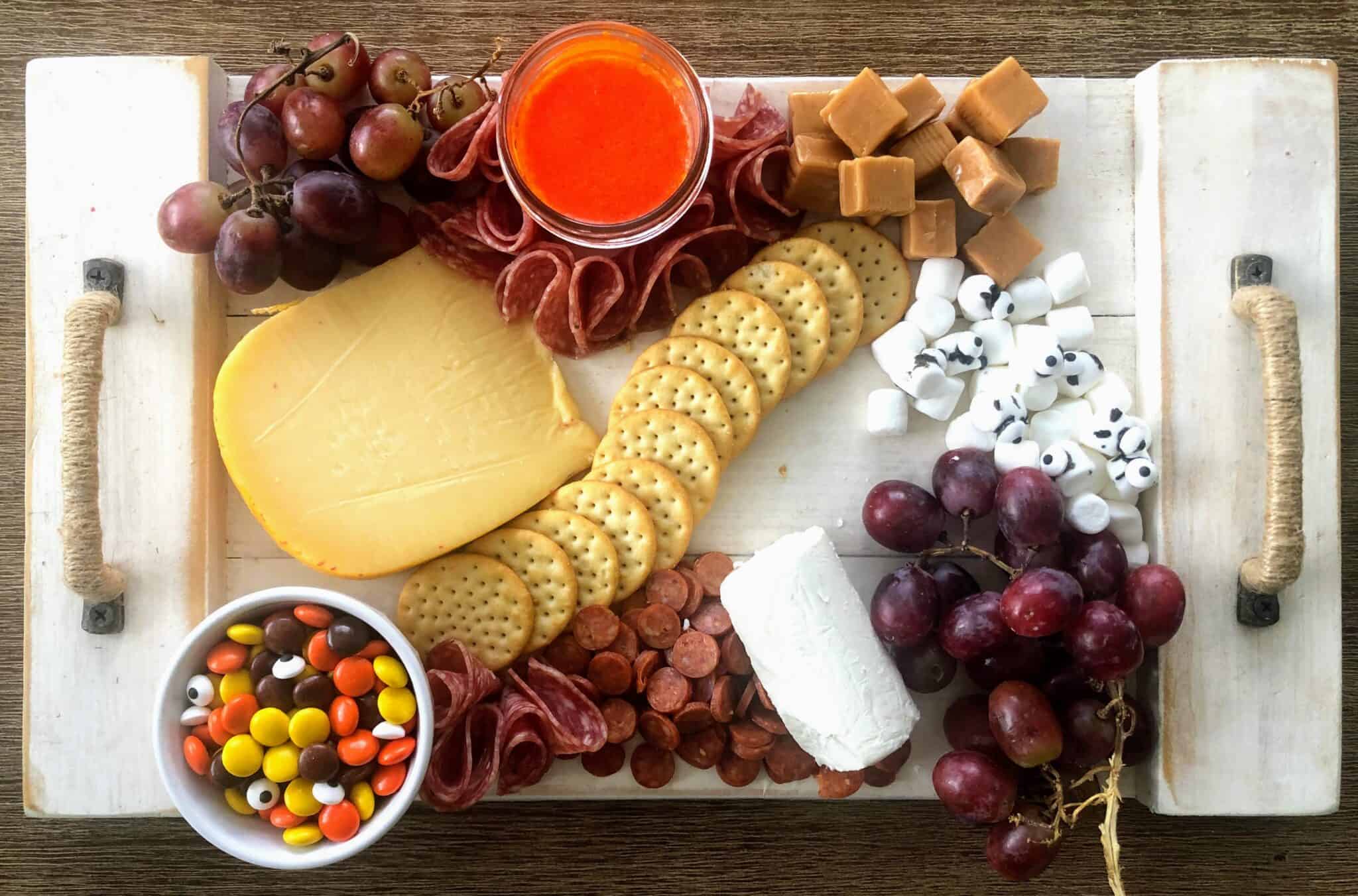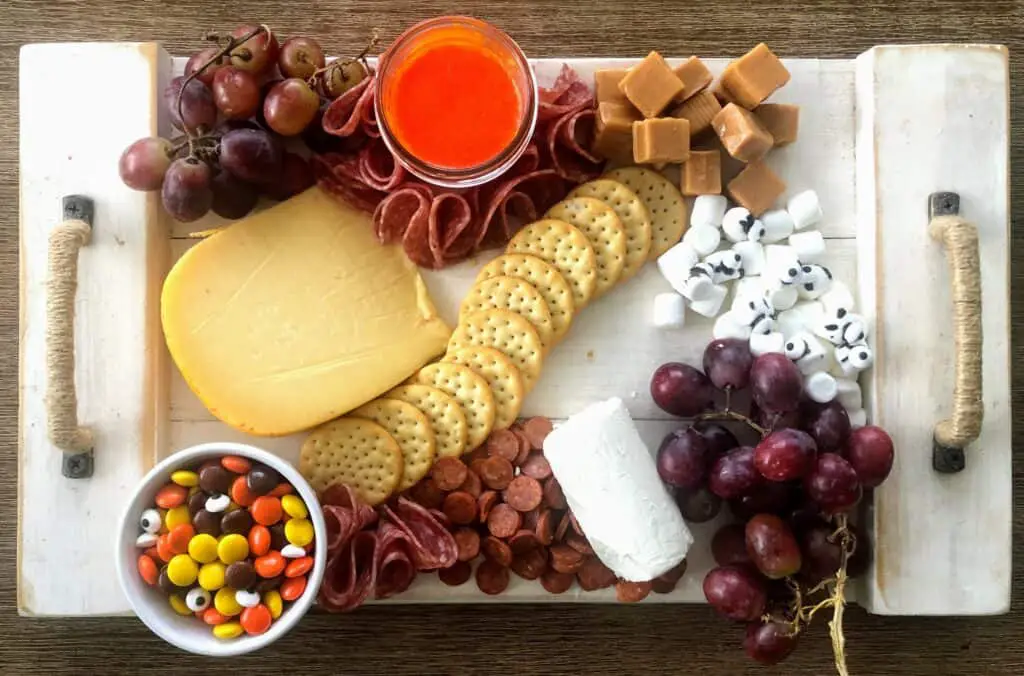 Piles of sweets came next with groupings of caramel squares, marshmallows and Reese's pieces. The Reese's pieces don't stack well so I went with a bowl for organization.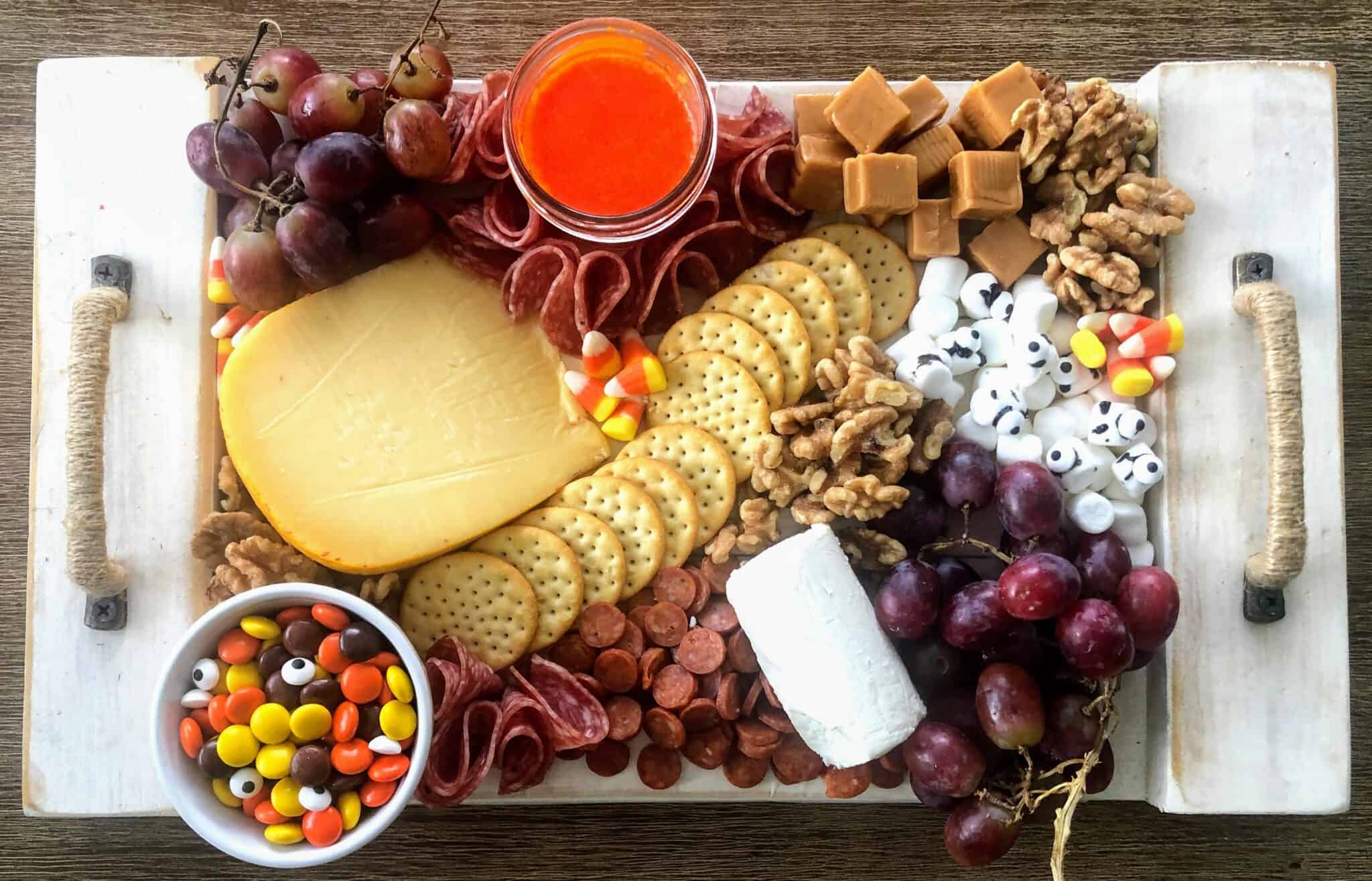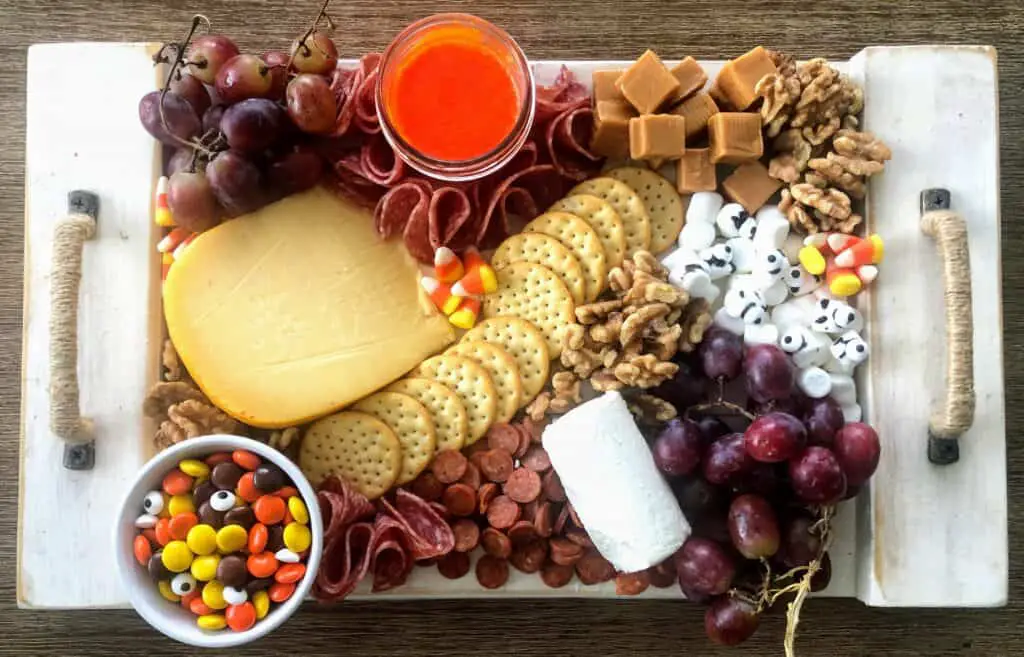 Fill in the remaining open spots with walnuts and any small openings with candy corn! I loved using the candy corn to really complete the board and make sure the entire space was covered.
How to: Make your board Halloween-Themed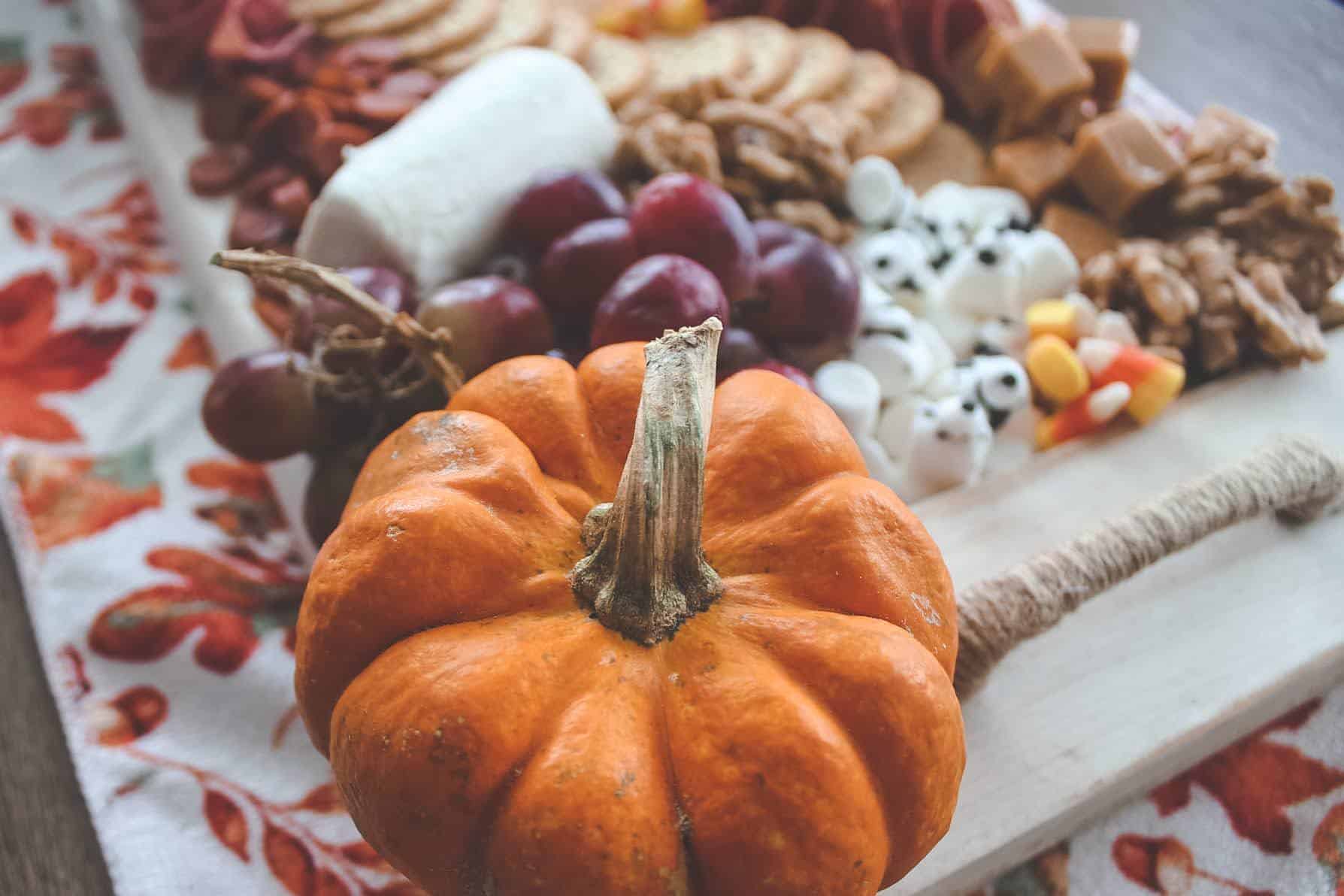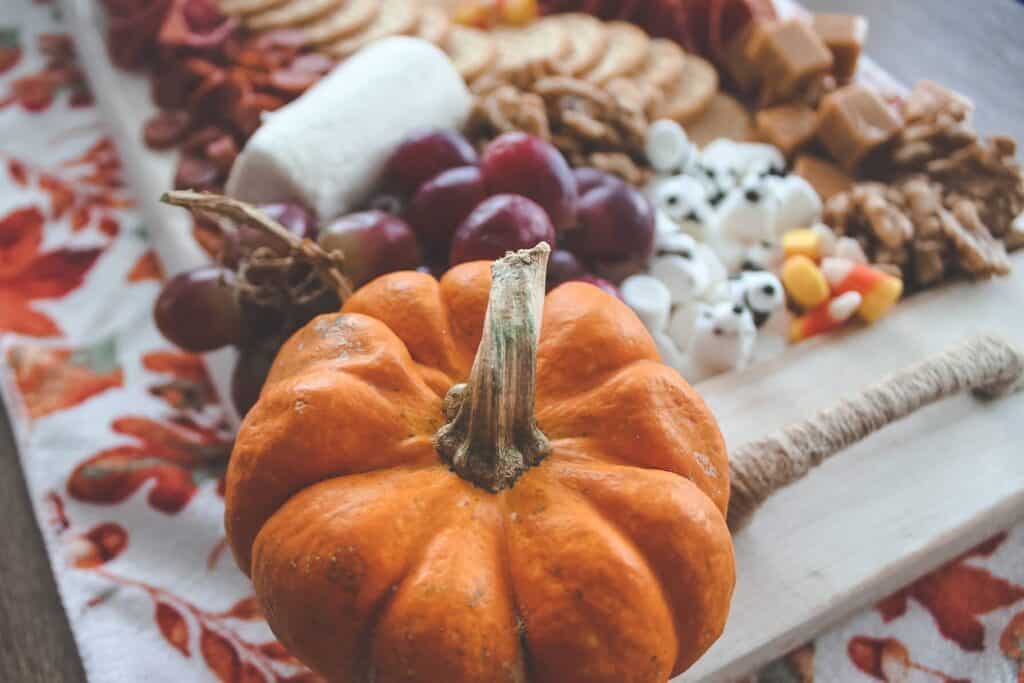 As if it wasn't Halloween enough with googly-eyed marshmallows and candy corn, complete the space with even more decoration.
Break out any mini pumpkins (live or decoration), fall flowers, towels, or placemats. 
Dress it up, show it off, and get ready to indulge in some yummy treats!
Ingredients Needed
Materials Needed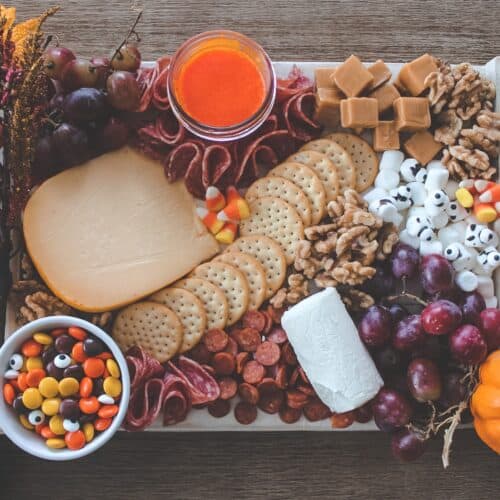 Halloween-Themed Charcuterie Board
Filled with delicious meats and cheeses and yummy treats, this Halloween-Themed Charcuterie Board is enjoyed by all ages!
Print
Pin
Rate
Ingredients
gouda cheese

goat cheese

orange spread (icing, melted cheese, cream cheese)

crackers

grapes

pepperoni

salami

caramel squares

marshmallows with candy eyes

Reese's pieces

walnuts

candy corn
Instructions
Place the cheeses on the board, keeping the soft cheeses near the edge.

Add any bowls with dips and spreads.

Place the grapes to fill in the corners and arrange the crackers in a fun design.

Arrange the pepperoni and salami, in a pile or folded around the cheeses or bowls.

Stack the caramel squares and set the marshmallows in a pile.

Fill in the larger remaining spaces with walnuts and the smaller areas with candy corn for a full board. Enjoy!
Pin me!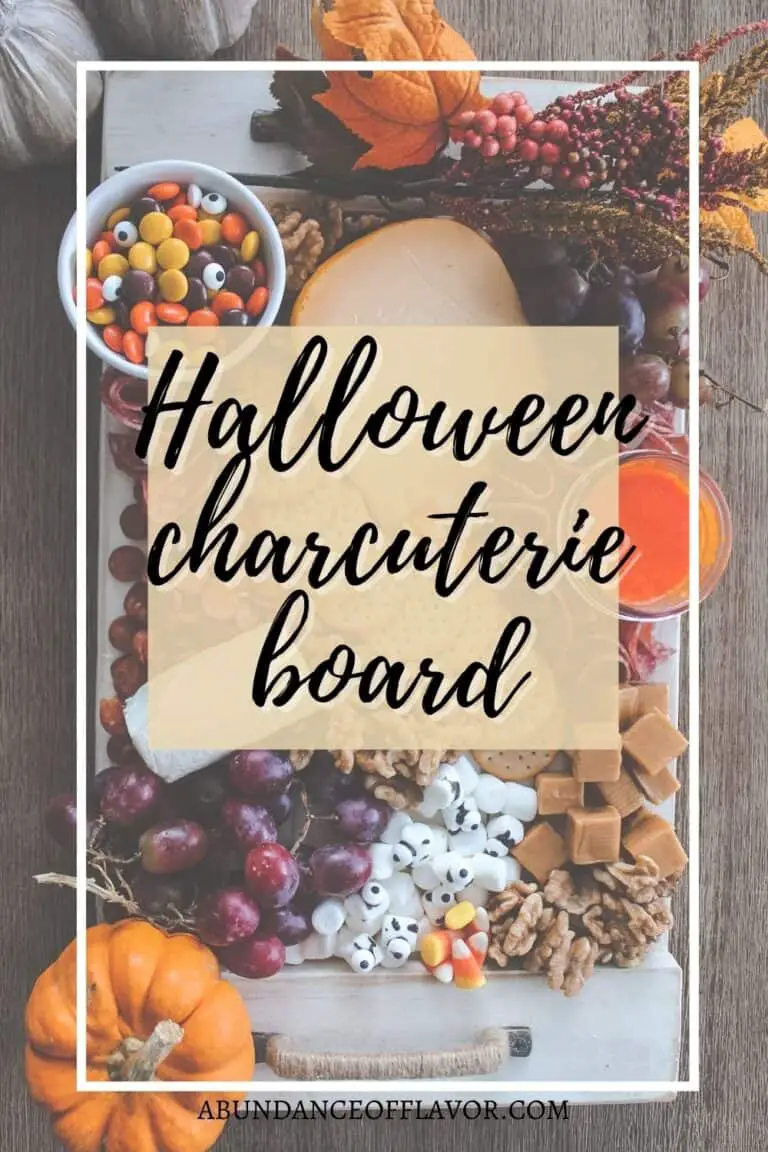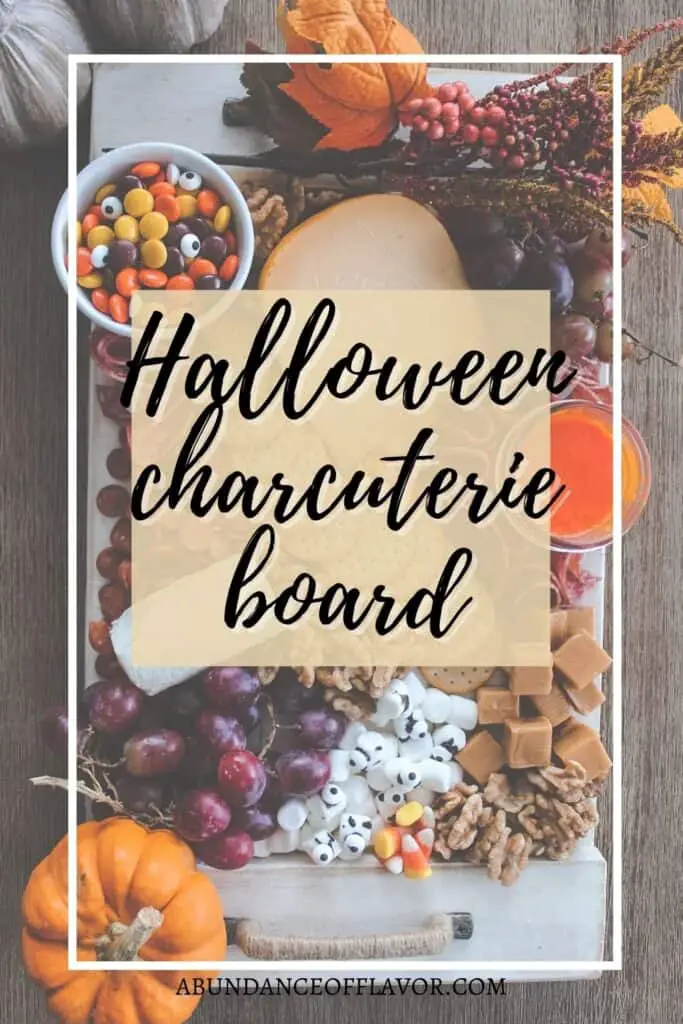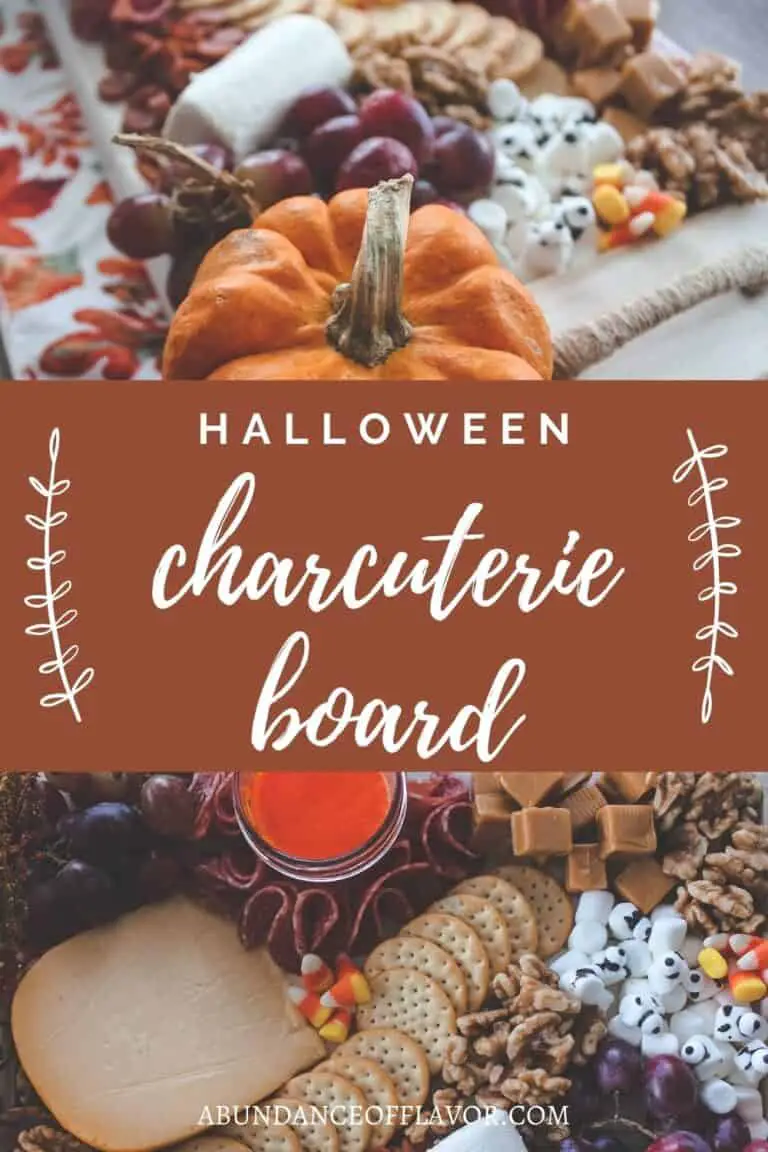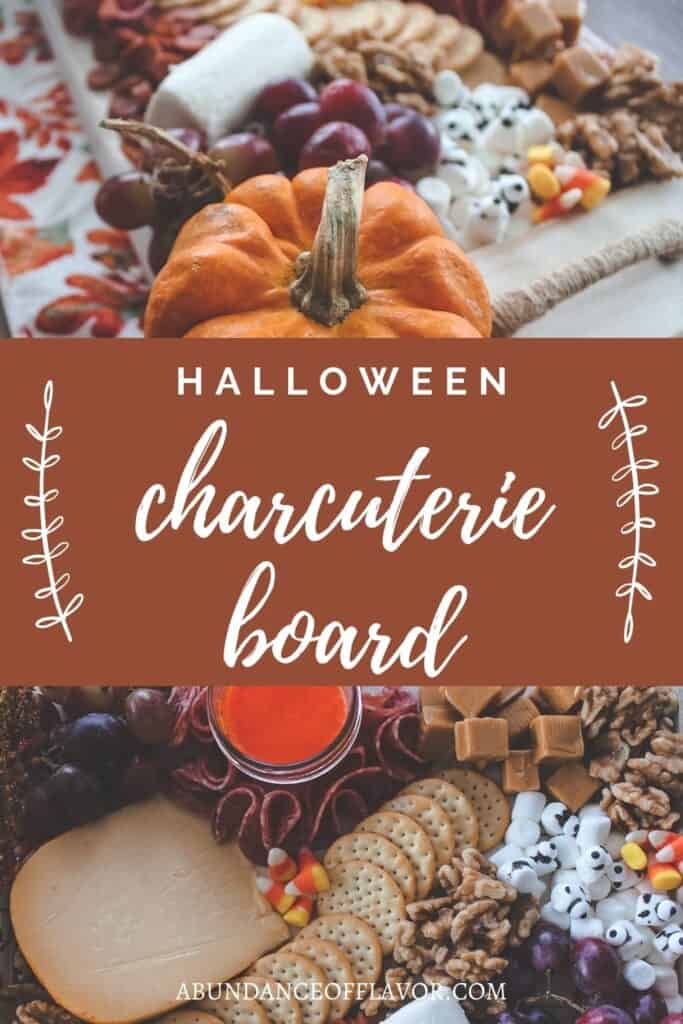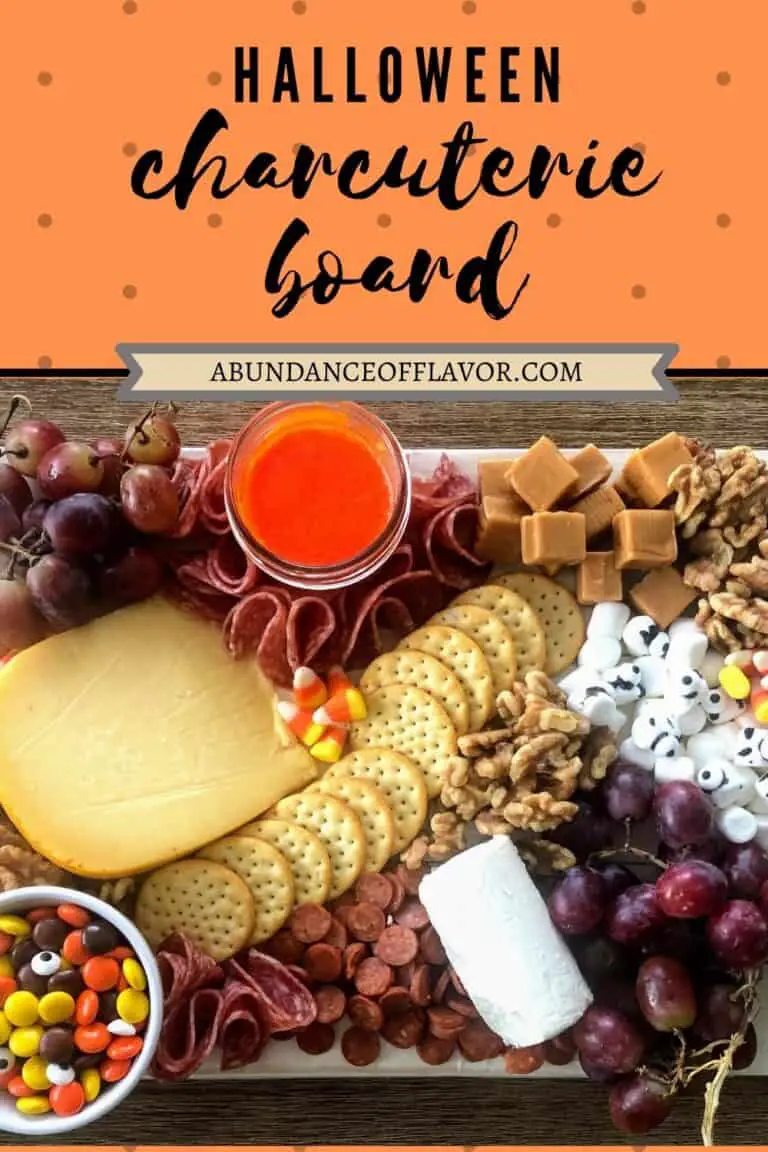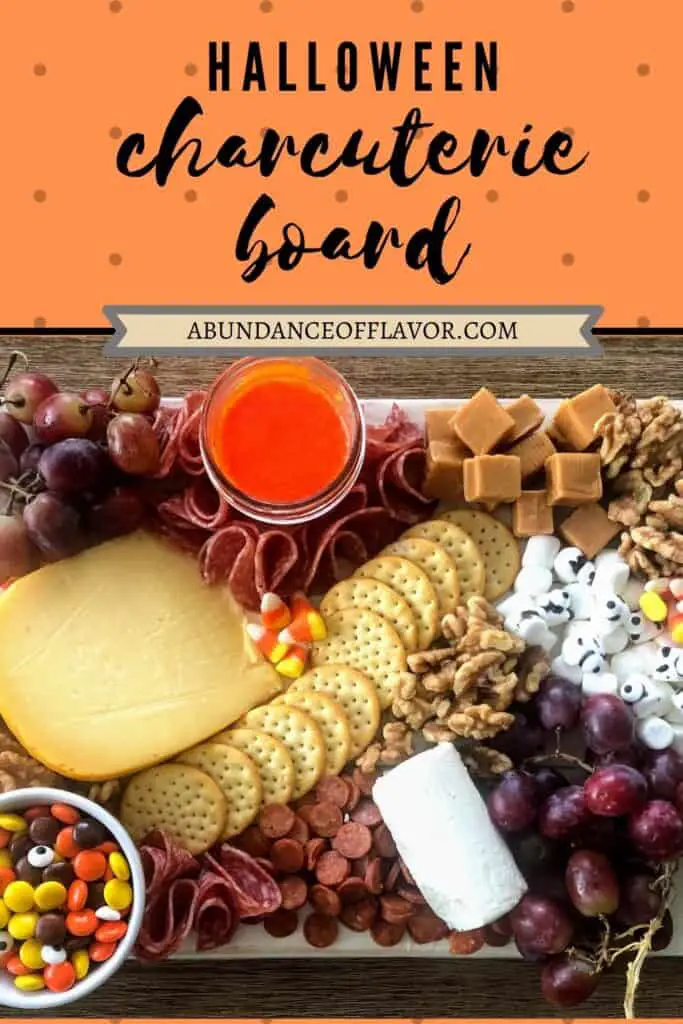 I know there's some wine lovers out there who indulge on charcuterie board every now and then! What are your favorite ways to make a charcuterie board your own? Your special touch or secret ingredient if you will 😉 Share in the comments below!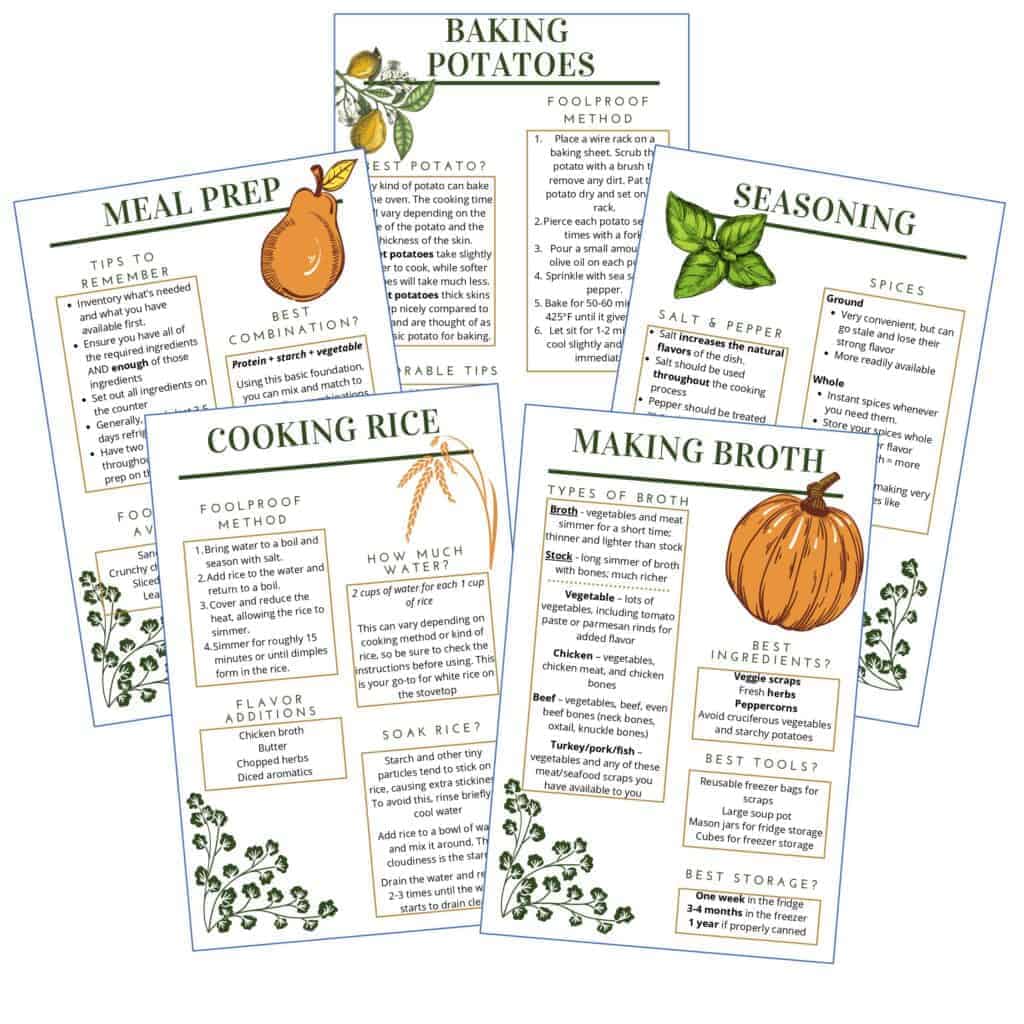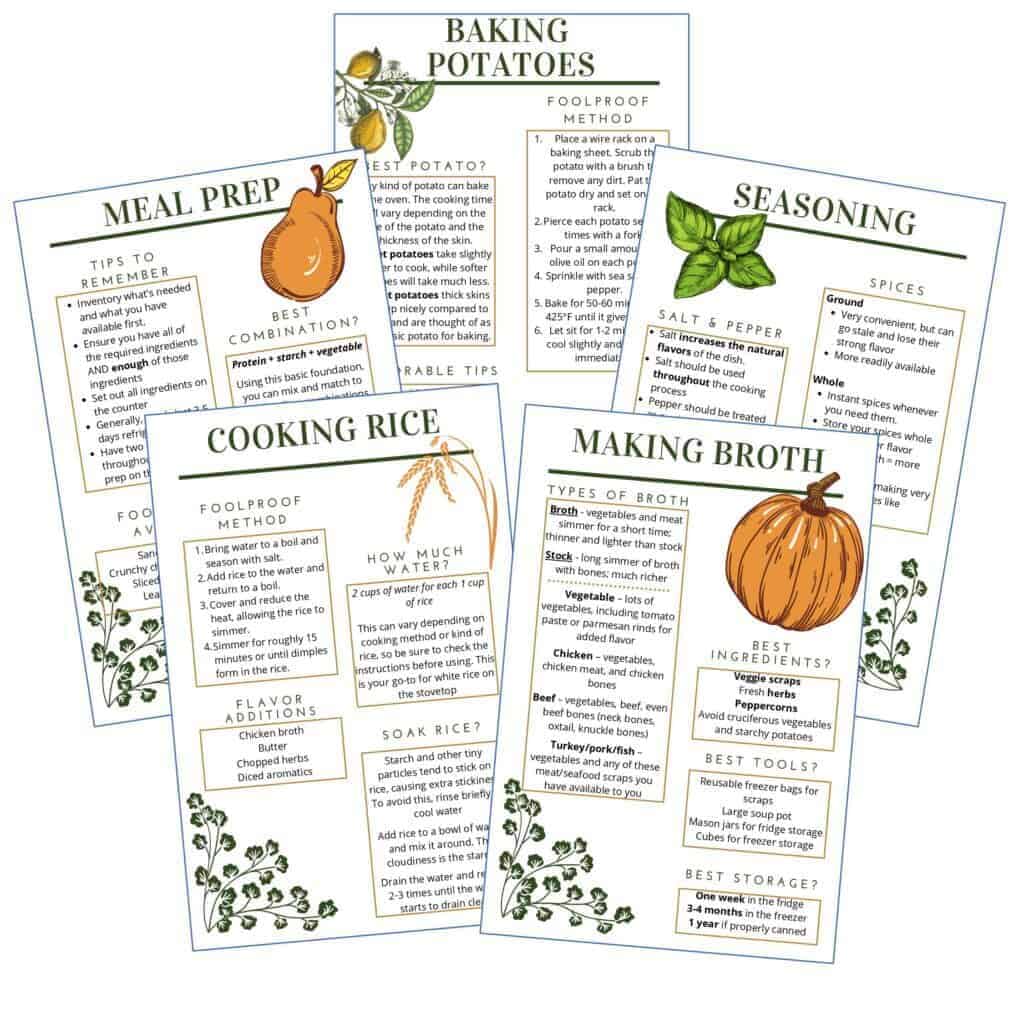 Get your $1 worksheets today!
Related Posts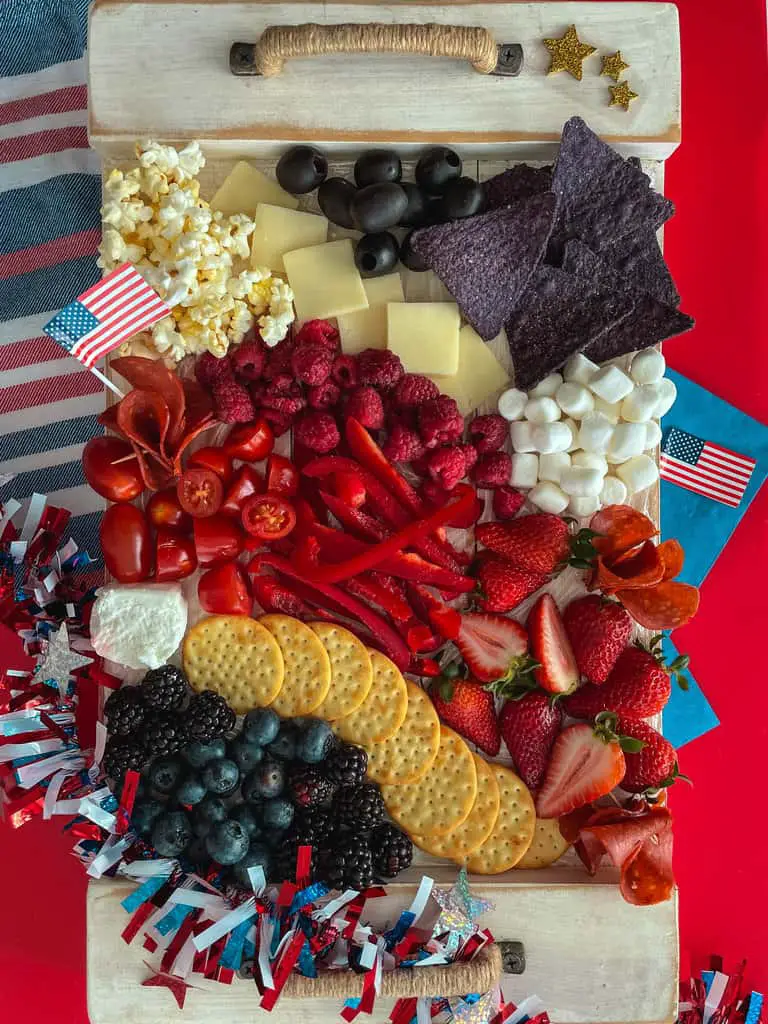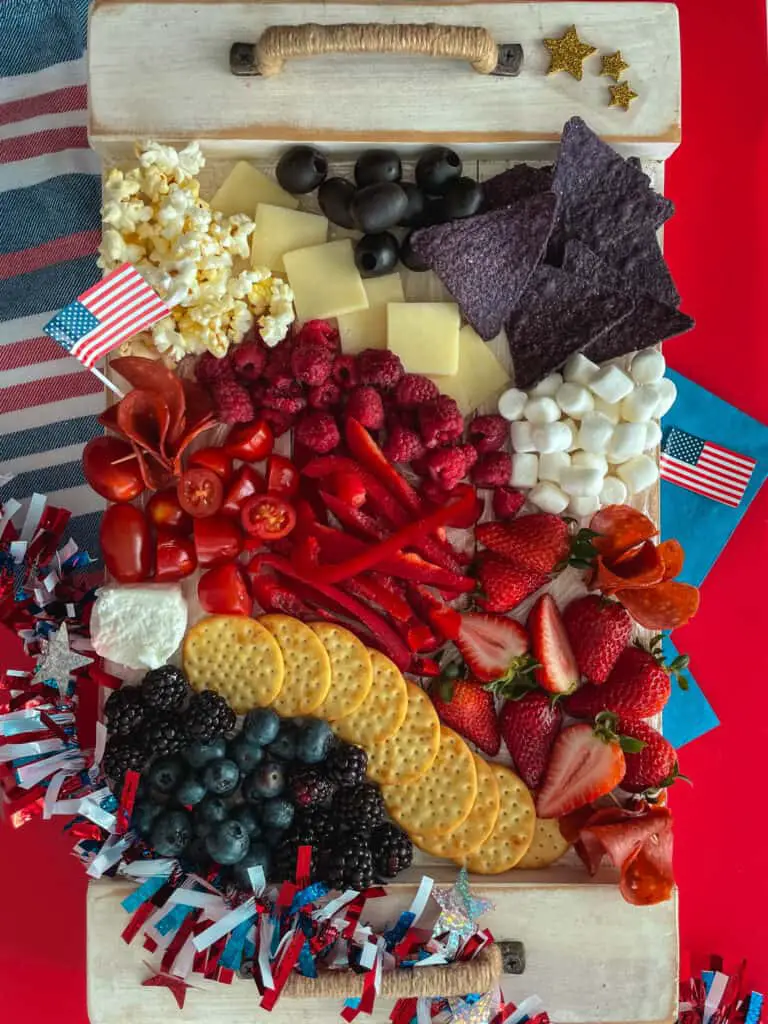 Red, White, and Blue Charcuterie Board will complete your Fourth of July spread flawlessly with all its red, white, and blue colored foods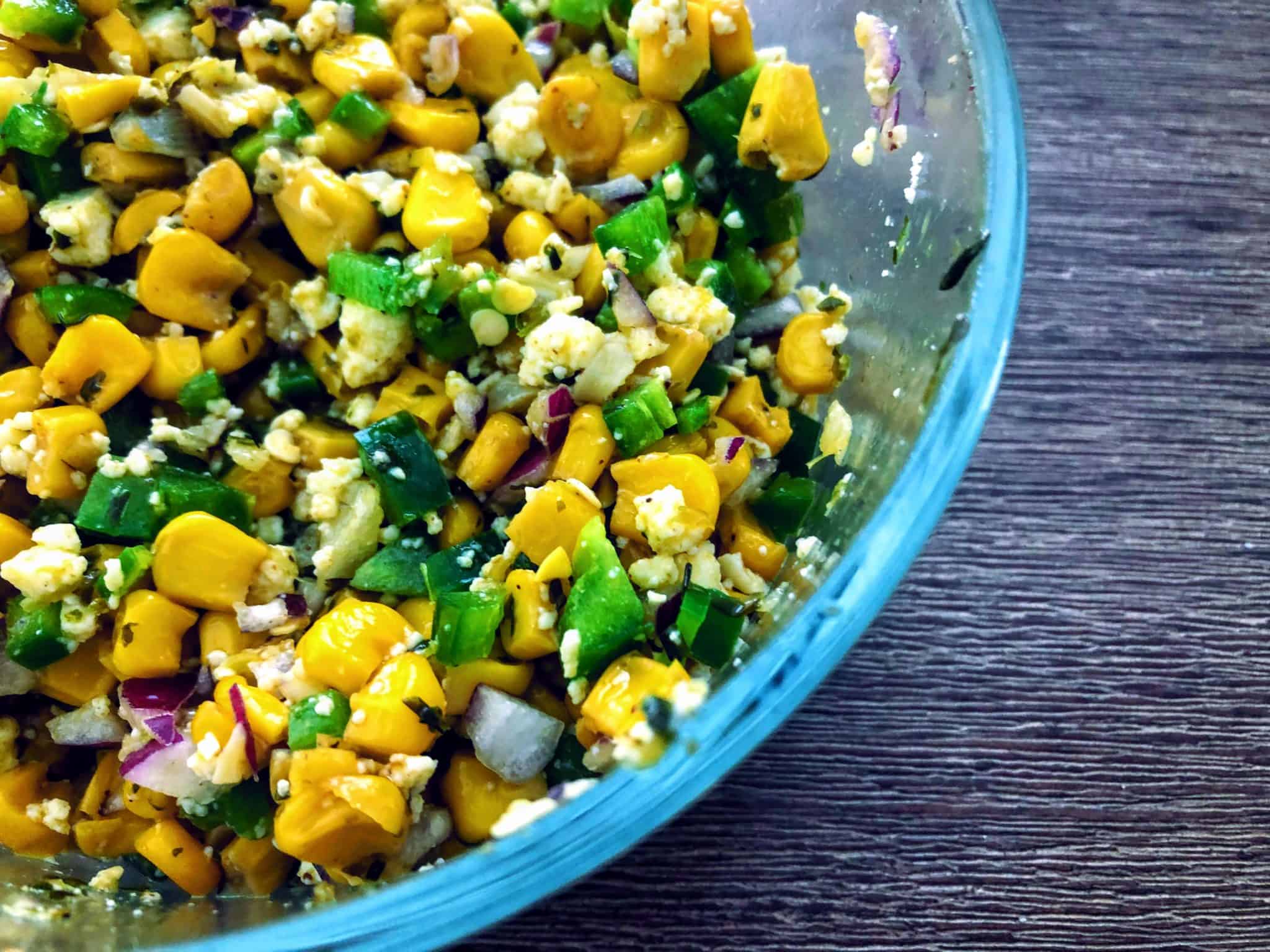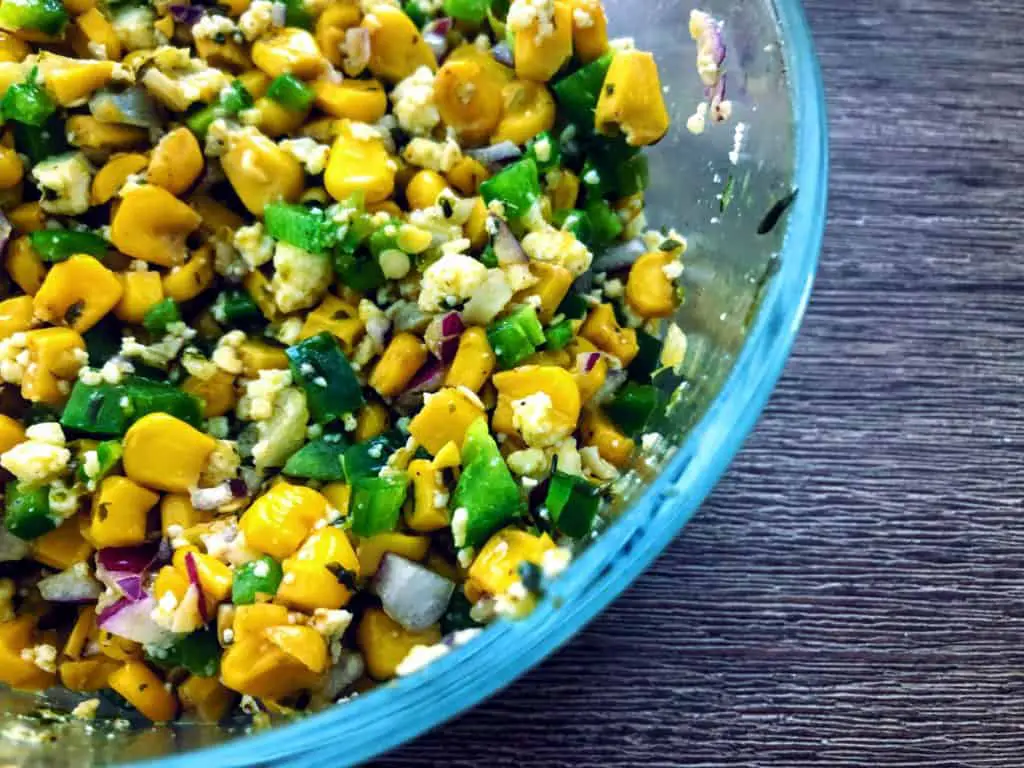 All that you love of Mexican street corn in salsa form. Roasted corn, fresh vegetables, and crumbly cotija cheese make up this tasty street corn …