Kitchen gadgets, cooking props, and photography backdrops are a few things that every food blogger needs. To celebrate my upcoming birthday this week (yay!!), I wanted to share my Amazon wishlist and food blogger gift guide! Do we ever have enough kitchen things?? The answer is always no.😘 Discover some new amazing products below!
---
Please note this post contains affiliate links, which means I receive a small commission, at no extra cost to you, if you make a purchase using the links. Please see my disclosure for more details.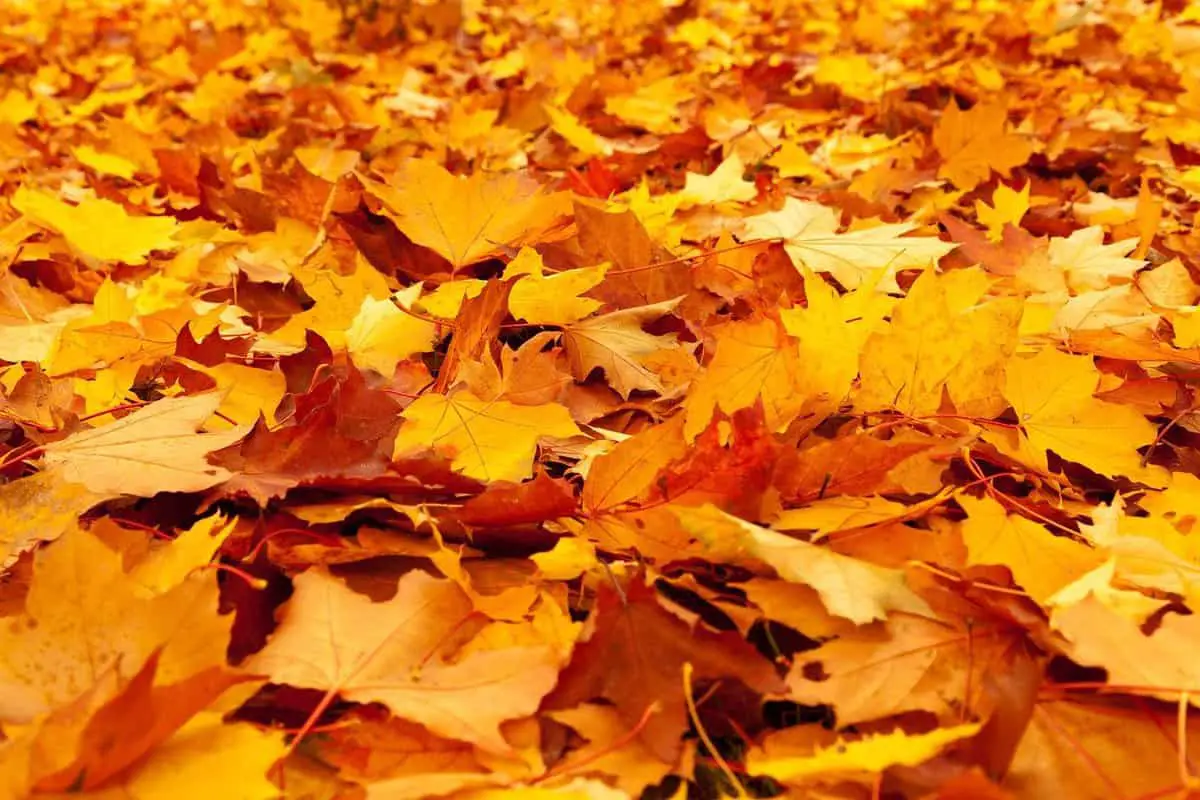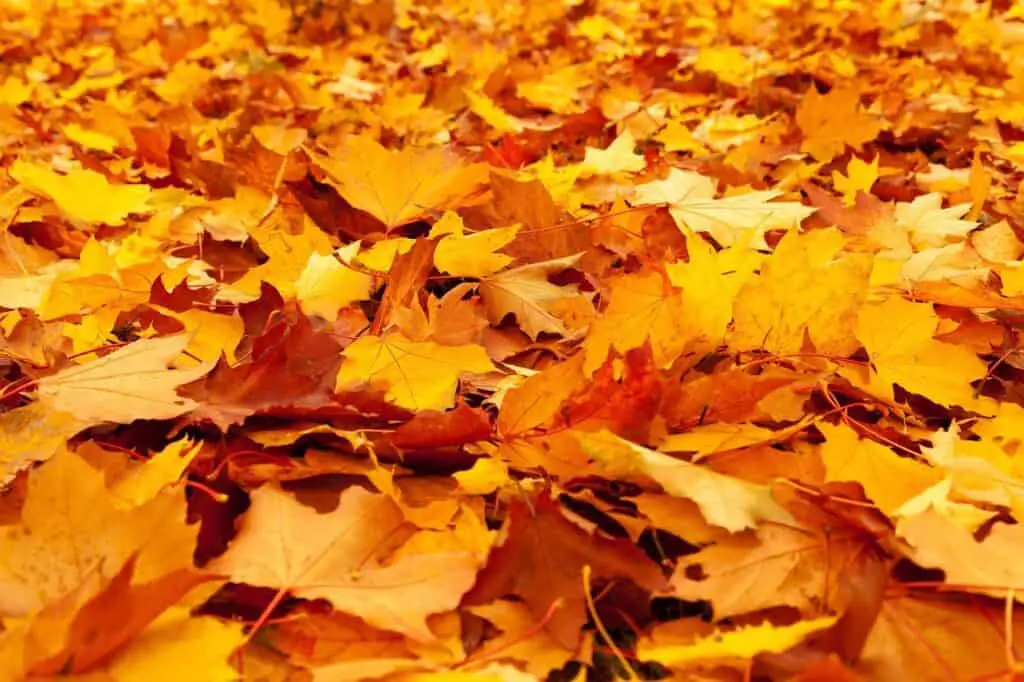 Fall: My favorite Time of Year
September has always been my favorite month of the year. Not only is it my birth month but it's the beginning of my favorite season: fall! The weather starts getting cooler, the leaves change color, and it's full of warm comforting food.
Kick off your fall recipes with Greek Lemon Chicken Soup and Fresh Peach Oat Crumble for dessert. Yum!
This fall I'm hoping to make lots of tasty treats filled with pumpkins, apples, squashes, and more! With that in mind, there are a few fall-themed kitchen items that every food blogger could benefit from. Let's check them out in the food blogger gift guide!
If you have any of these products or other brands to recommend, please share in the comments below to add to the food blogger gift guide!! Maybe I'll be able to have a little shopping spree after opening all these birthday cards 😉
Cooking and Baking Essentials
I love my KitchenAid stand mixer and will never go back to mixing by hand every again! However, it is a little difficult to get photos of what the mixture looks like without having food drip on my camera or harsh glares off of the stainless steel. I've noticed in most cooking shows they use clear bowls to prevent this — genius! This bowl is perfect for shooting photos and videos and making it abundantly clear what's going on inside.
I've never own a dutch oven but love their versatility and being able to move them from the stovetop to the oven. Less dirty dishes for me! These beautiful dutch ovens are the stars of so many food photography shoots. They look amazing with their warm colors and as the centerpieces of photos. When I picture a dutch oven like this, I imagine a comforting spread of food with warm lighting that makes me instantly click for more. Cast iron dutch ovens are ALSO pretty expensive at times, but this one from CrockPot is more affordable than others. The dream is Le Creuset or Staub but testing out one like this is the perfect way to get started before moving onto the big brands.
I have an assortment of random measuring cups that I've accumulated throughout college and the last few years. They get the job done, but I feel like glass measuring cups are the real deal for when you have an "actual" kitchen. Pyrex glassware is top of the line and I love their glass storage containers. I love the variety in these measuring cups and that's it's a set of various sizes and measurements. And once again, they're clear (sense a theme here 😉) and would photograph so well!
A heavy duty blender is a staple in a well-stocked kitchen! My inexpensive smoothie blender I have used for years just doesn't cut it anymore. Vinaigrettes, sauces, and creams need a little more power and space that this blender can provide. I was inspired by Bobby Flay's "Brunch at Bobby's" in which he uses a similar blender in almost every episode. It really opens up the door for more creativity in the kitchen.
How have I gone this long without a proper cooling rack?? I would just use whatever I had available to get the done. I want to try my hand at baking more and a cooling rack is a must! Every cook needs one of these to use a million different ways: breads, rolls, cookies, veggies, and more! Also, they look amazing in pictures with their wire elements and can provide variations in height too.
A classic pie dish is the final touch of a picture-perfect pie. There's nothing like a bright pie dish to make your desserts pop on your dinner tables and in your pictures. I love the traditional red color and feel like it exudes so much warmth. With this I envision myself making lots of delicious apple pies and quiches!
Fun Kitchen Items
I've had my eyes on these containers since I first saw them. Air tight storage containers preserve the food in your pantry while creating an effortless organized look. My pantry can always use a little more organization and uniformity and would benefit from these containers. Oxo always produces high quality items and these are no different. I've tried out other brands and they just don't perform as well or look as clean and tidy like Oxo.
How fun are homemade waffles?? Growing up we were definitely more of a pancake family and I only made waffles at hotel's continental breakfasts lol. Lately I've been seeing lots of great ideas for sweet and savory waffles and have been dying to try some myself. I'm loving savory breakfast dishes lately so a cheddar jalapeno waffle sounds amazing right about now!
Ahh yes more clear things 😊 I'd love to be able to take more pictures of our coffee creations that we make that aren't just overhead shots. With these clear mugs you can really see the beautiful layering of the drinks. I love my unique and brightly colored mugs but you can't go wrong with have a couple clear ones that are photoshoot-ready.
Aren't these the cutest dessert bowls you've ever seen? I LOVE all the color and mismatched designs. Not only are they fun but I feel like they would add so much to a photo that needs more texture or pops of color. Most bowls I currently have are standard beige bowls and work great for vibrant soups or sides, but when I'm cooking up something a little less colorful (like mashed potatoes, for instance) these bowls would be the perfect pair.
Even before I started my food blog I had an obsession with kitchen towels and have ended up with quite a large collection! I love fun towels and using them as decoration for different seasons or times of year. Kitchen Towels also look fantastic in food photos and provide such great contrasts in texture. I want to use them in almost every photo I do and have to pull in the reins sometimes to not overdo it. I love the subtlety of these towels and feel like they'd bring a nice cotton, organic texture to pictures, especially with my wooden table as a backdrop.
Photography Needs for Food Bloggers
Wow I need one of these! If there's one thing I learned really quickly, it's that I don't have a steady hand AT ALL. If I want to start making videos of my cooking I need a sturdy tripod that can stabilize my camera and not take up too much space. This tripod has amazing reviews on Amazon and most importantly, comes with a horizontal column for shots directly overhead. Which is 99% of what food bloggers typically do! It's a splurge but hopefully one day.
I've recently started obsessing over lots of photography backdrops and feel like I can never have enough! But do you guys know how expensive they are?? Phew, I was not expecting that price tag when I started researching them. My favorites right now are Ink and Elm — they are more affordable and super durable. One day I hope to be able to purchase all of mine from them. However, when I'm looking for some cheap alternatives just to play with and experiment with, these affordable backdrops on Amazon are the way to go for me right now. They're double-sided, under $40, and come in lots of various patterns. They're a great way for me to test out different styles without breaking the bank and see which ones I'd like to purchase at a higher quality.
If you've ever taken pictures on an electric stovetop, the light is not your friend! There are glares no matter which way you turn or how much you play with the lighting. This countertop single burner is a food blogger's best friend. You can now cook your food in glare-free areas and get endless amazing shots! This opens up the door for moving onto making videos of recipes and providing even bigger and better content for your readers. I can picture this burner now on my kitchen table with lots of natural light and can only imagine all of the great photos I'd get! This may be #1 on my list.
Pin me!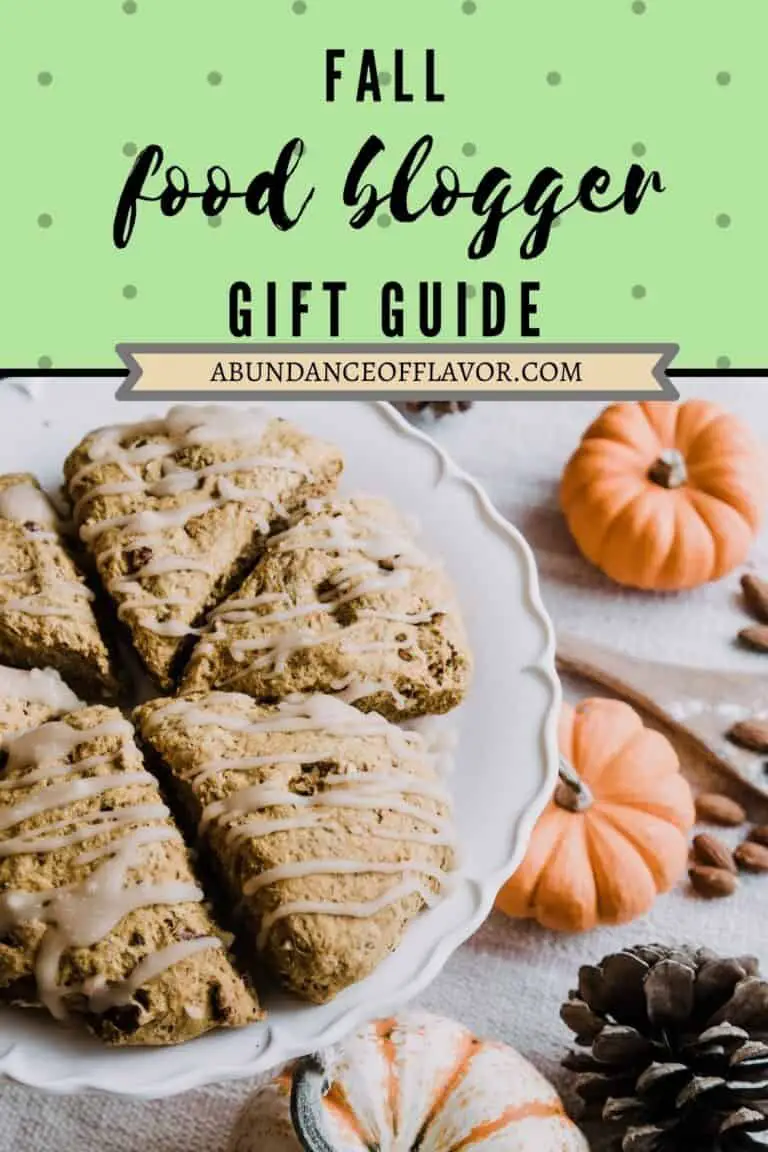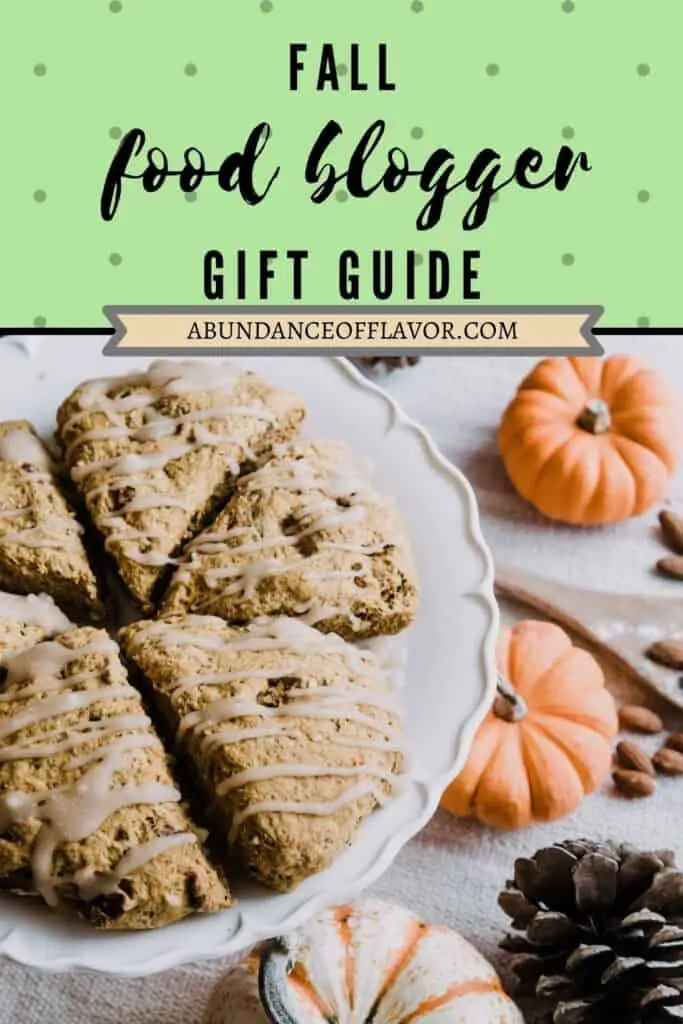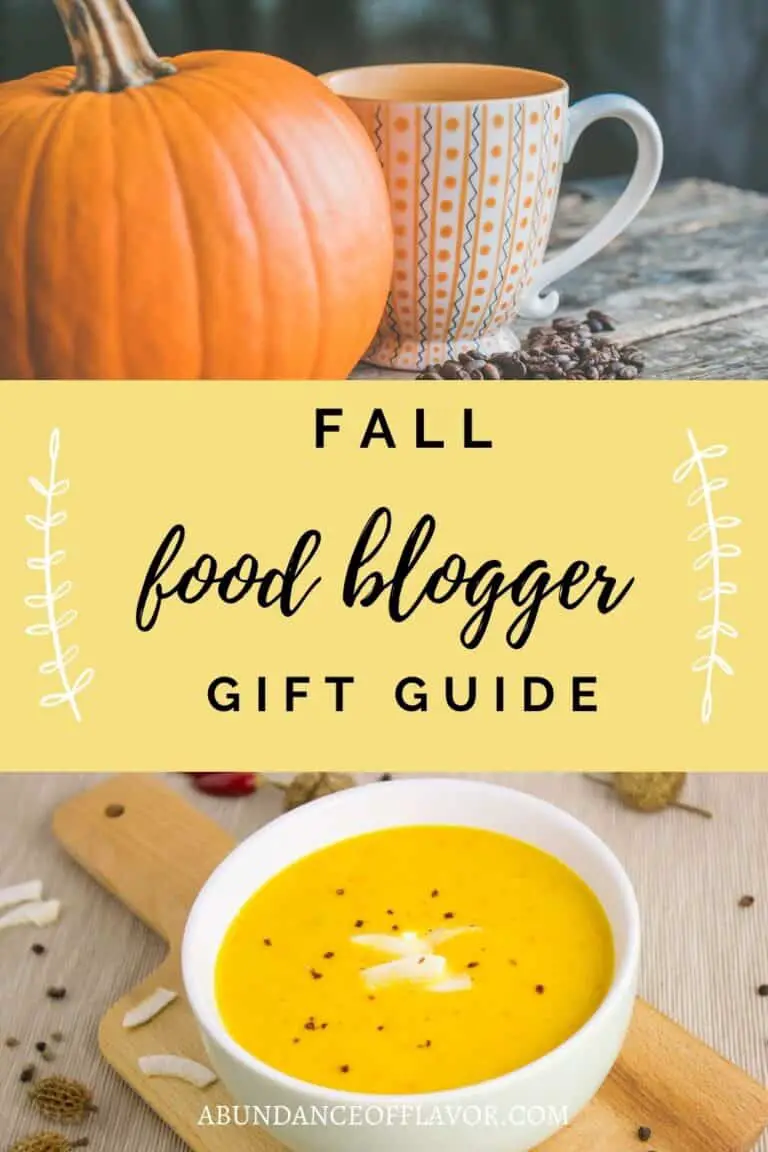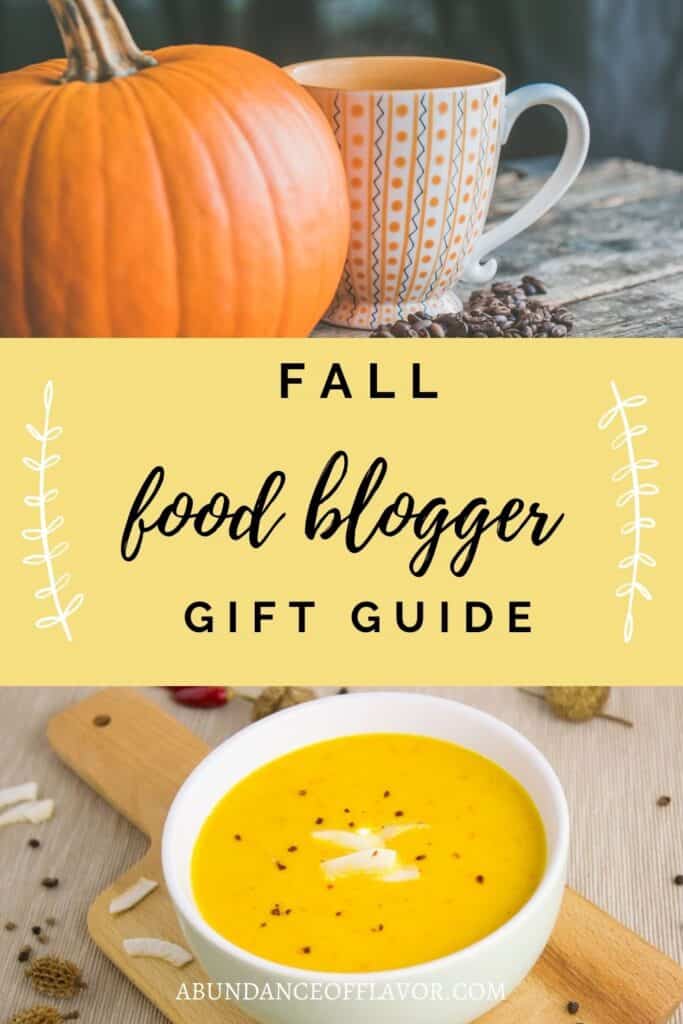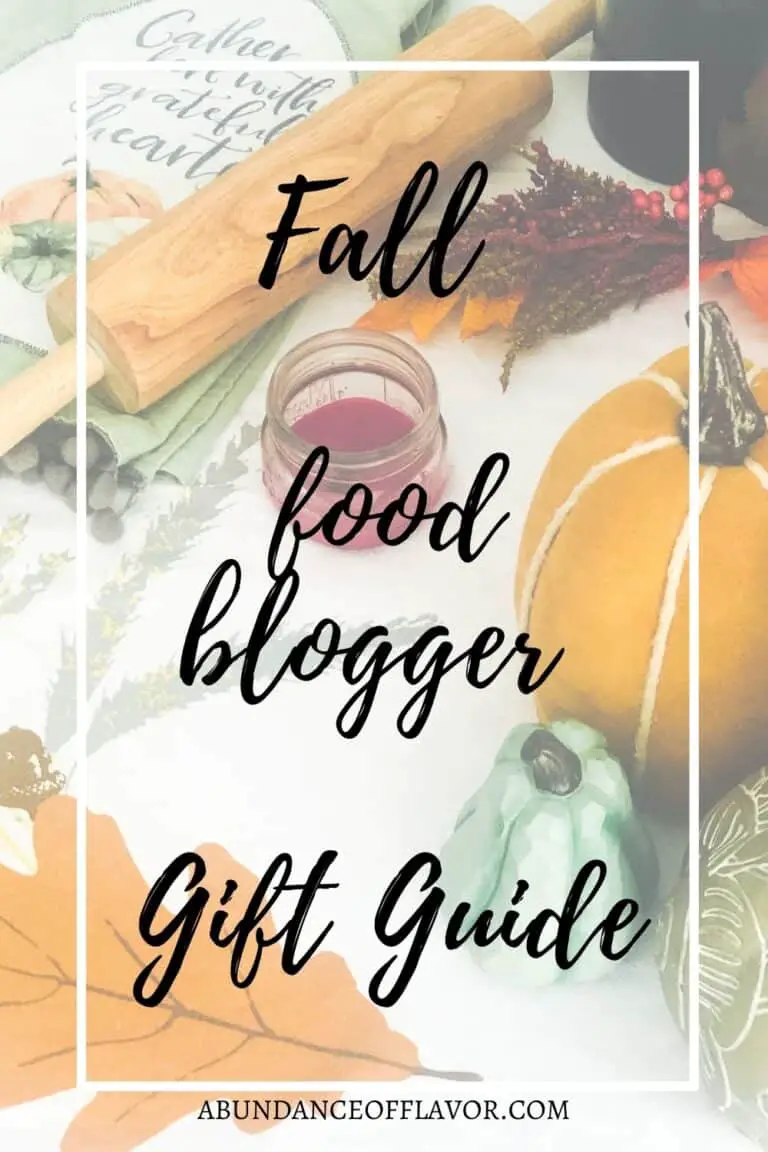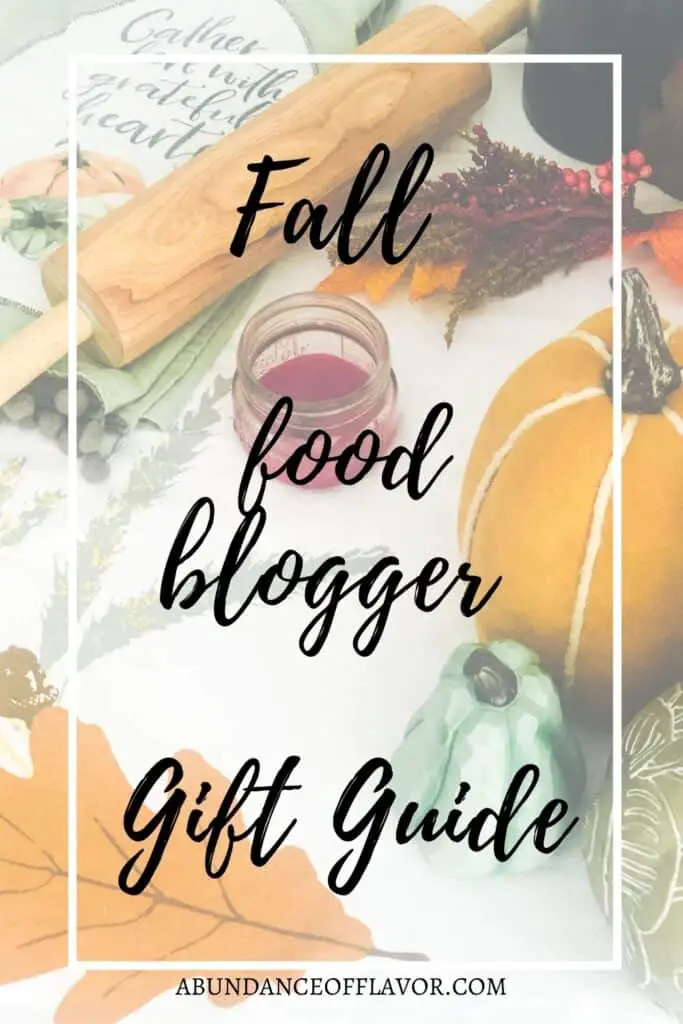 What are some of your must-haves this season?? Share your favorites from the food blogger gift guide below!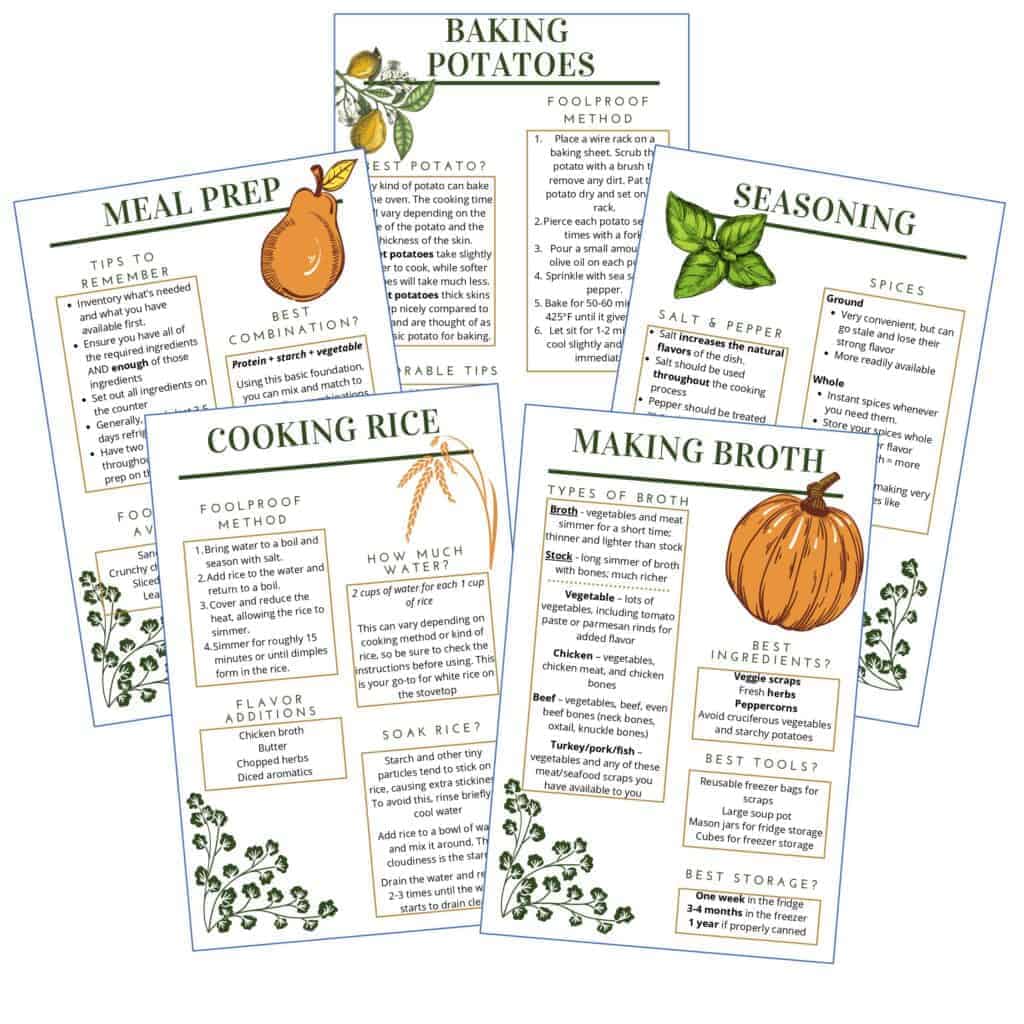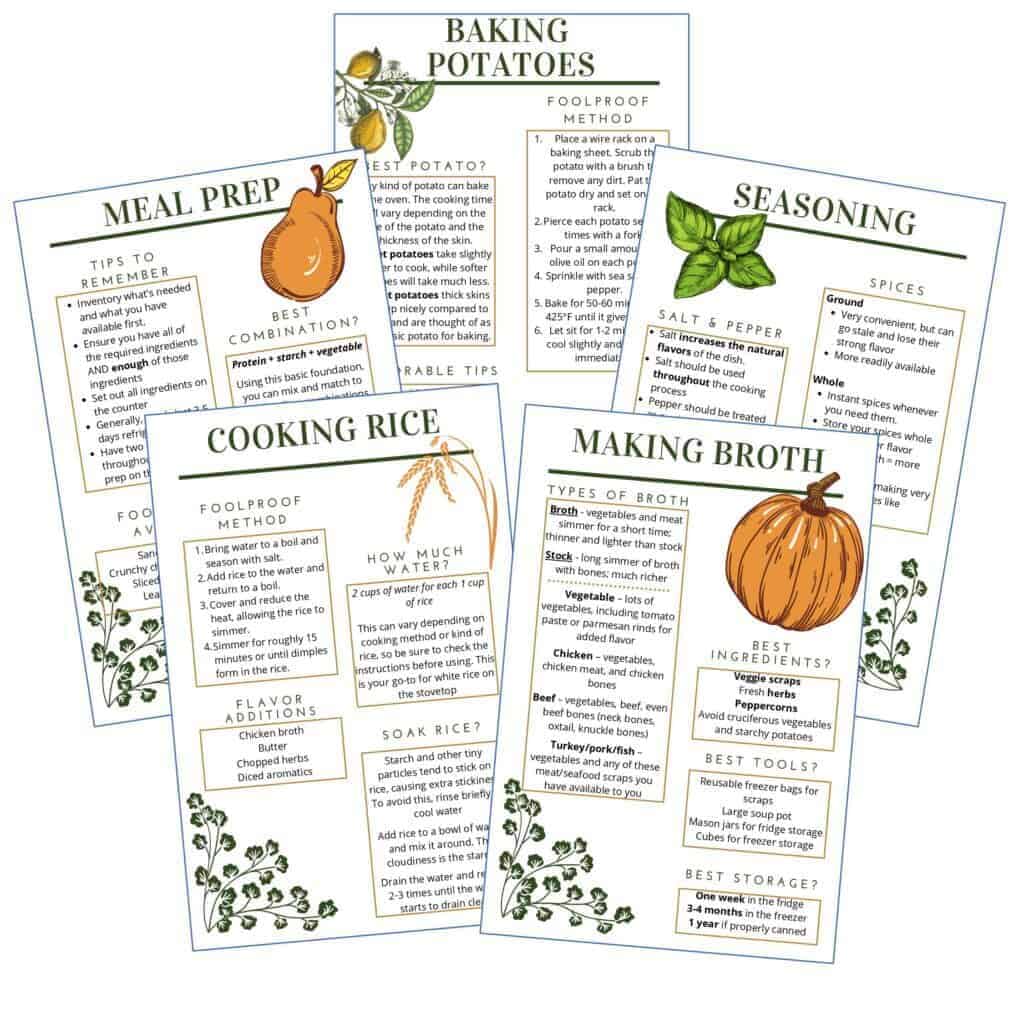 Get your $1 worksheets today!
Related Posts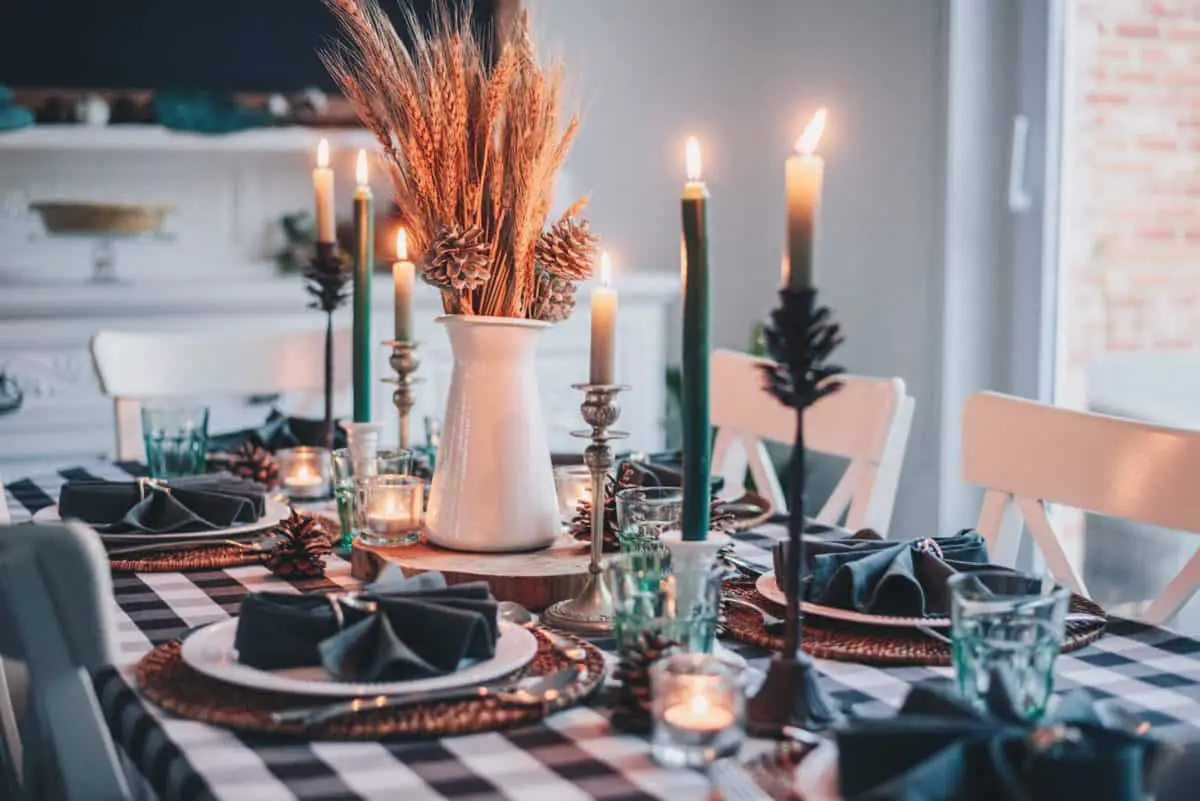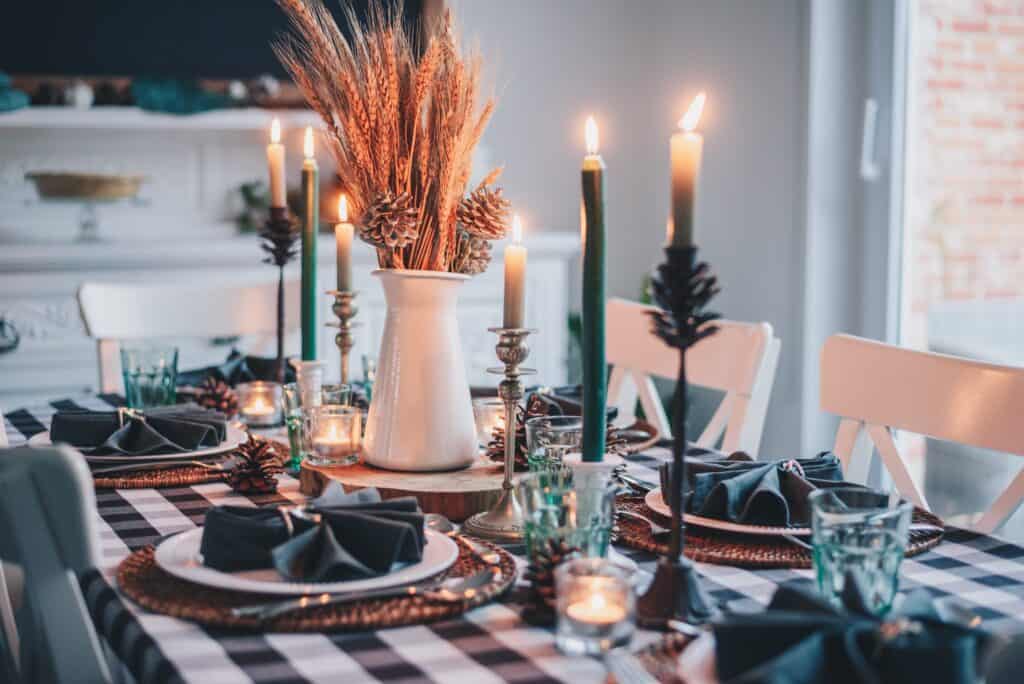 The ultimate kitchen essentials list for fall! Decorate your home this year with some of my affordable fall-favorites on Amazon.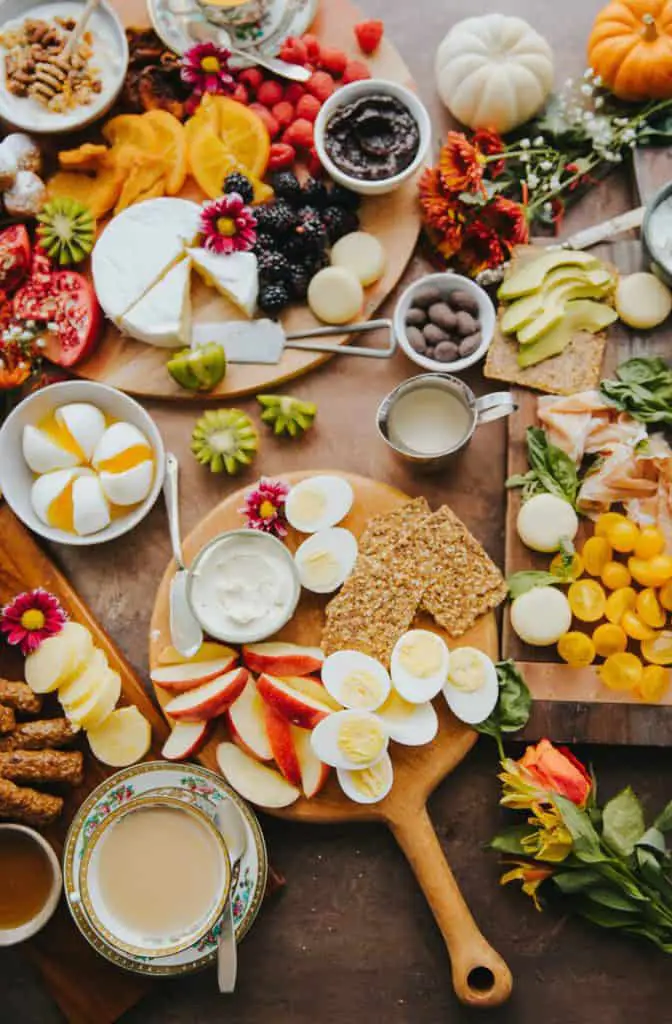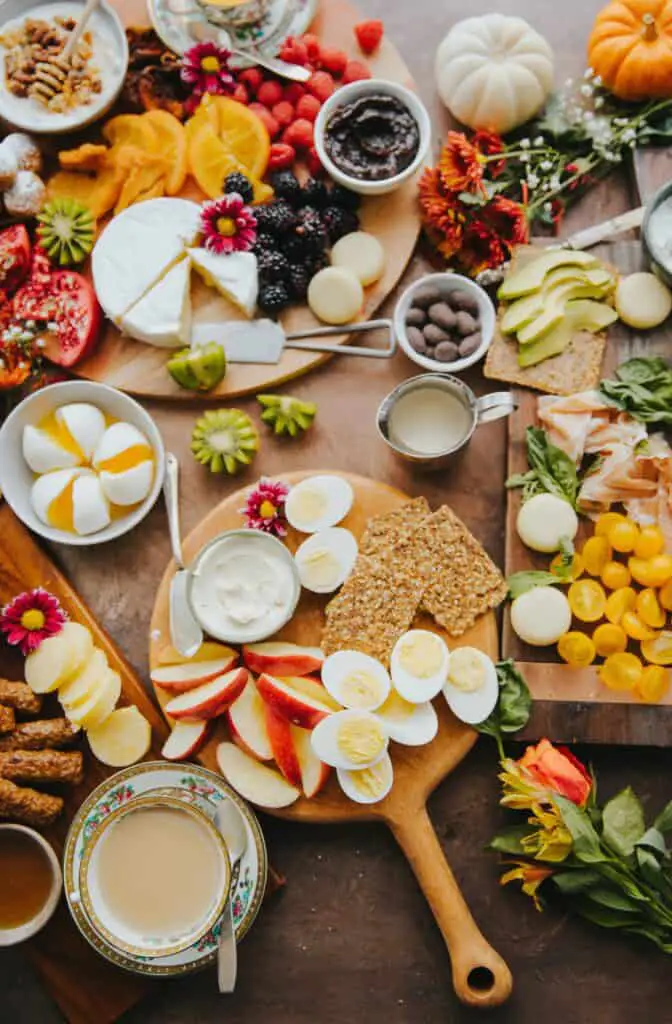 My Fun and Fruity Dinner Party Menu guarantees to impress. Fresh fruit in each dish to adds a lightness that is unparalleled.