Bright bursts of citrus meet savory chicken soup in this heartwarming Greek Lemon Chicken Soup. An eggless take on traditional Avgolemono soup, this comforting soup will please your taste buds and fill your stomach for a satisfying meal.
This post is part of our Basic Cooking Skills series. Each week we will be doing a deep-dive into one basic cooking skill and a brand new recipe to accompany it to practice that newfound skill. Check back throughout the series for updates and new posts.
---
Please note this post contains affiliate links, which means I receive a small commission, at no extra cost to you, if you make a purchase using the links. Please see my disclosure for more details.
what is avgolemono soup?
"Avgolemono" is a Greek word that when broken down means, "egg" and "lemon." Together they form a Greek soup filled with eggs and lemon juice that creates a decadent twist on chicken and rice soup.
You can make this soup at home by following standard soup guidelines that we discovered in Making Soup From Scratch.
But what do you do if you want Greek egg-lemon soup but don't have any eggs??
That was me this past week as I was prepping all my fresh produce and realized I was out of eggs. Nice job, Kalin.
In this recipe, the egg serves as a thickener to give the soup an incredible body and fullness. Luckily, swapping egg out with a blonde roux does just the trick! For more info on using a roux in sauces and soups, check out Making a Roux
how to: prep the ingredients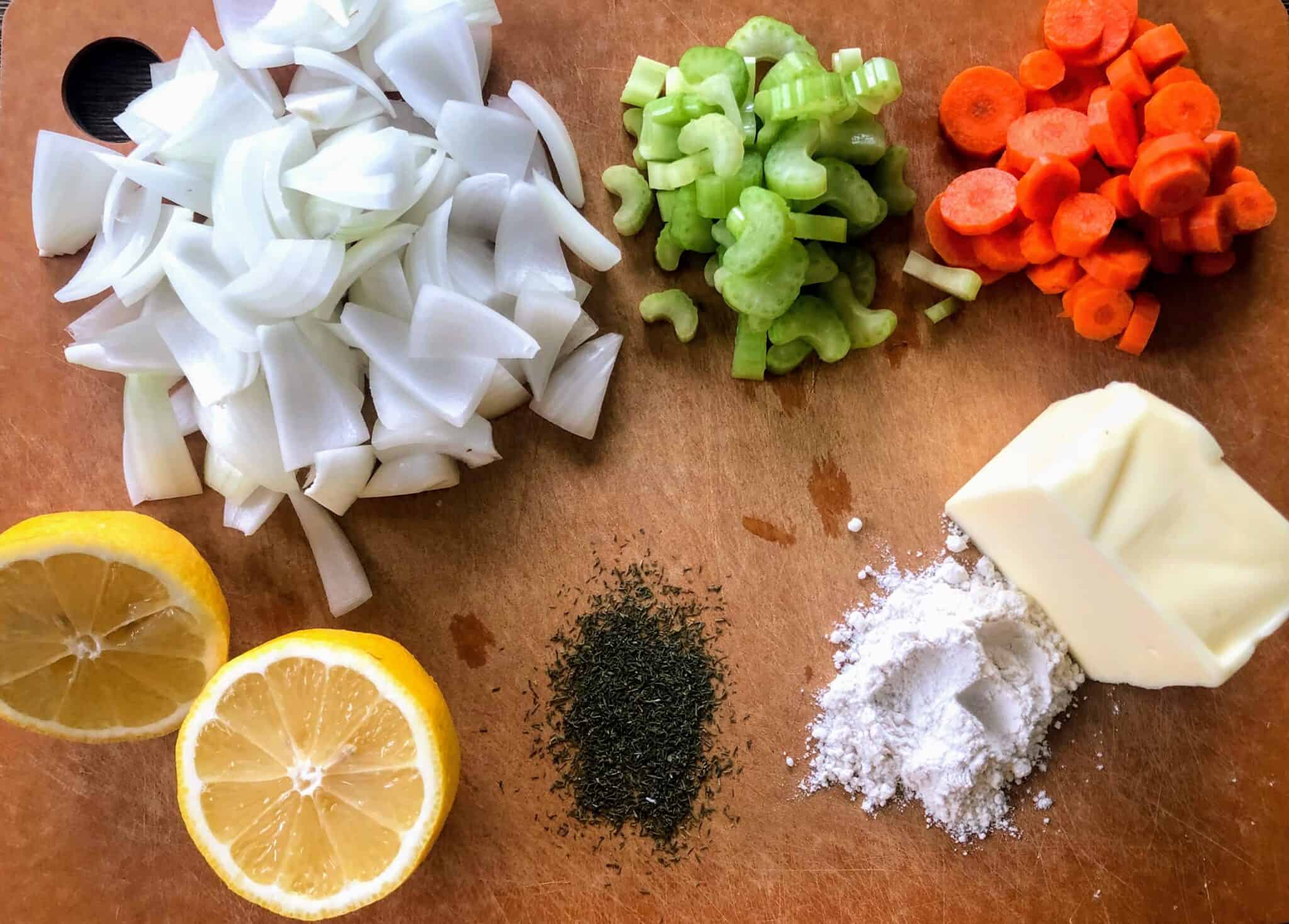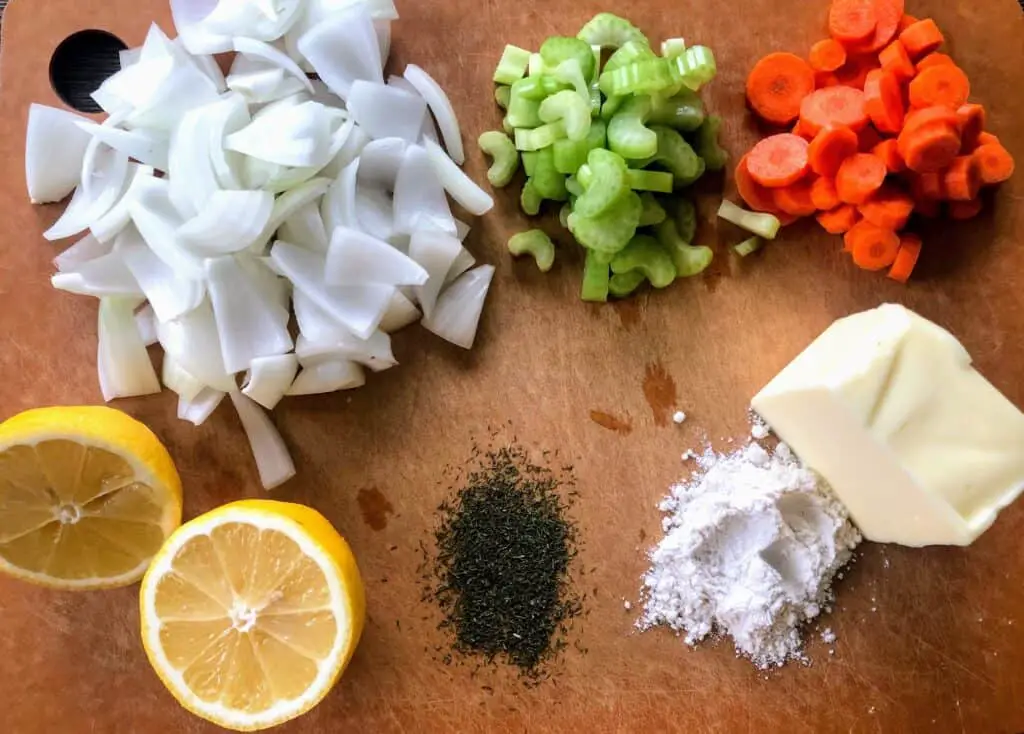 Mirepoix is the foundation of flavor that we build upon for Greek Lemon Chicken Soup. (For more info on mirepoix, check out Making Soup From Scratch.)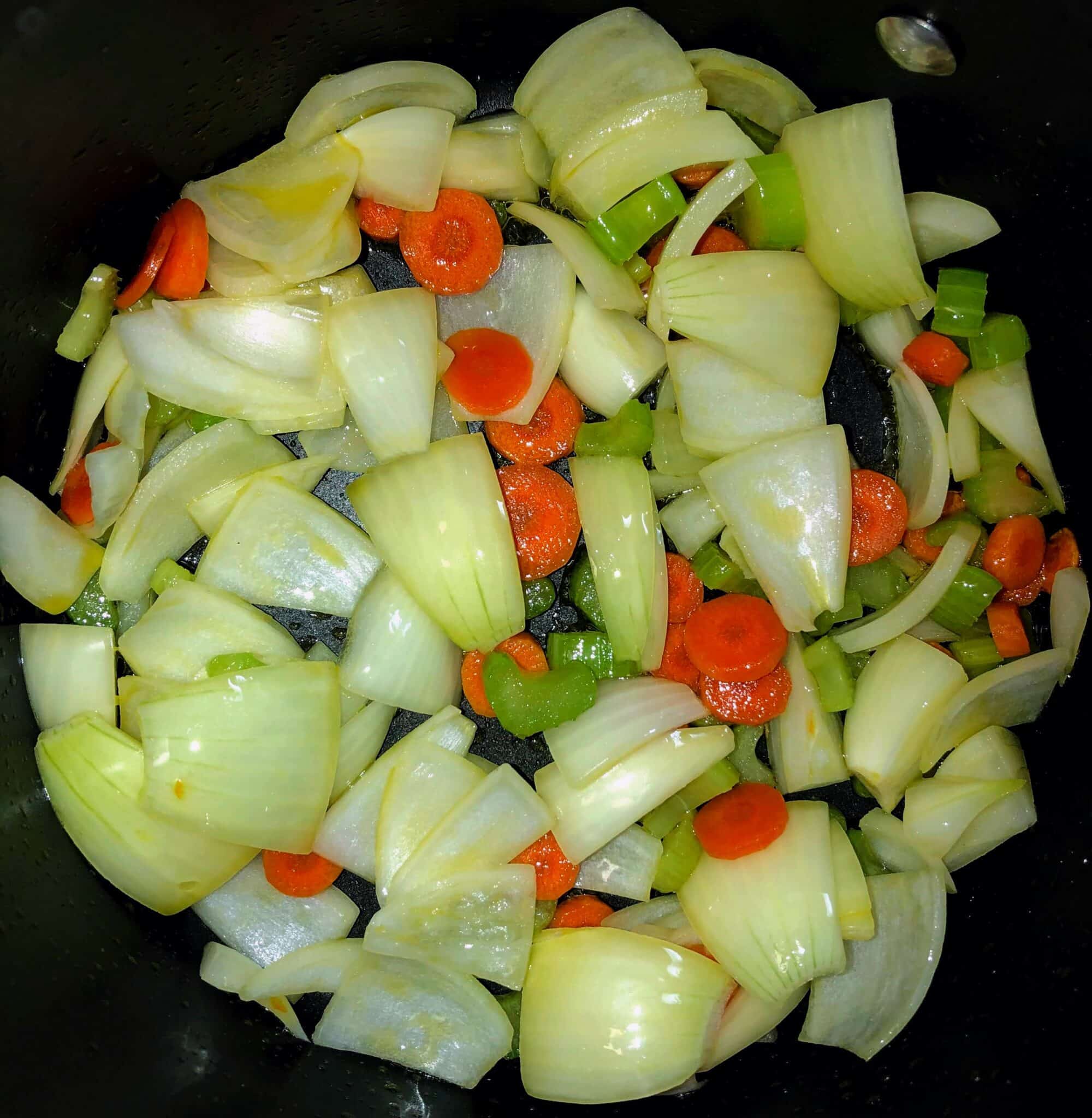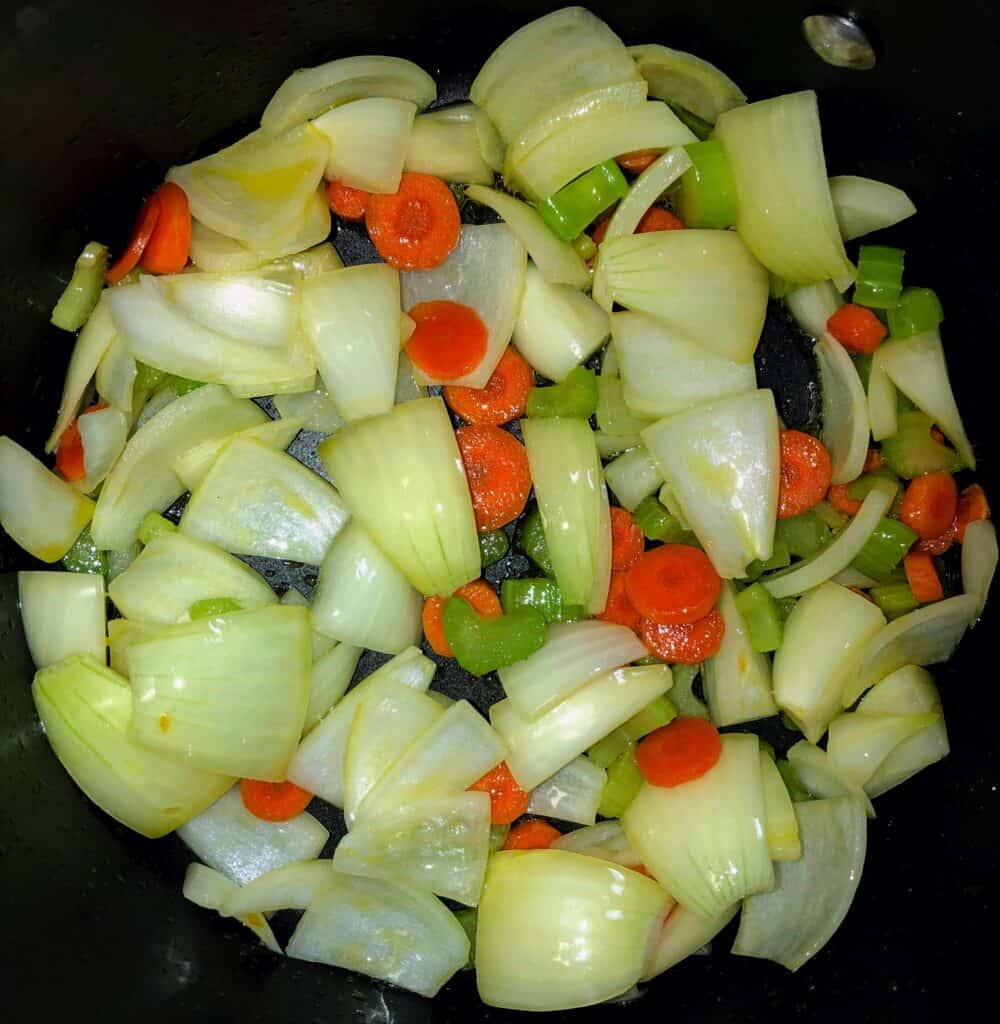 Chop onions, carrots, and celery and saute in butter. In a soup pot cook for 20 minutes or until cooked through. Season with a heap of dill to introduce the Greek flavor and salt and pepper to taste.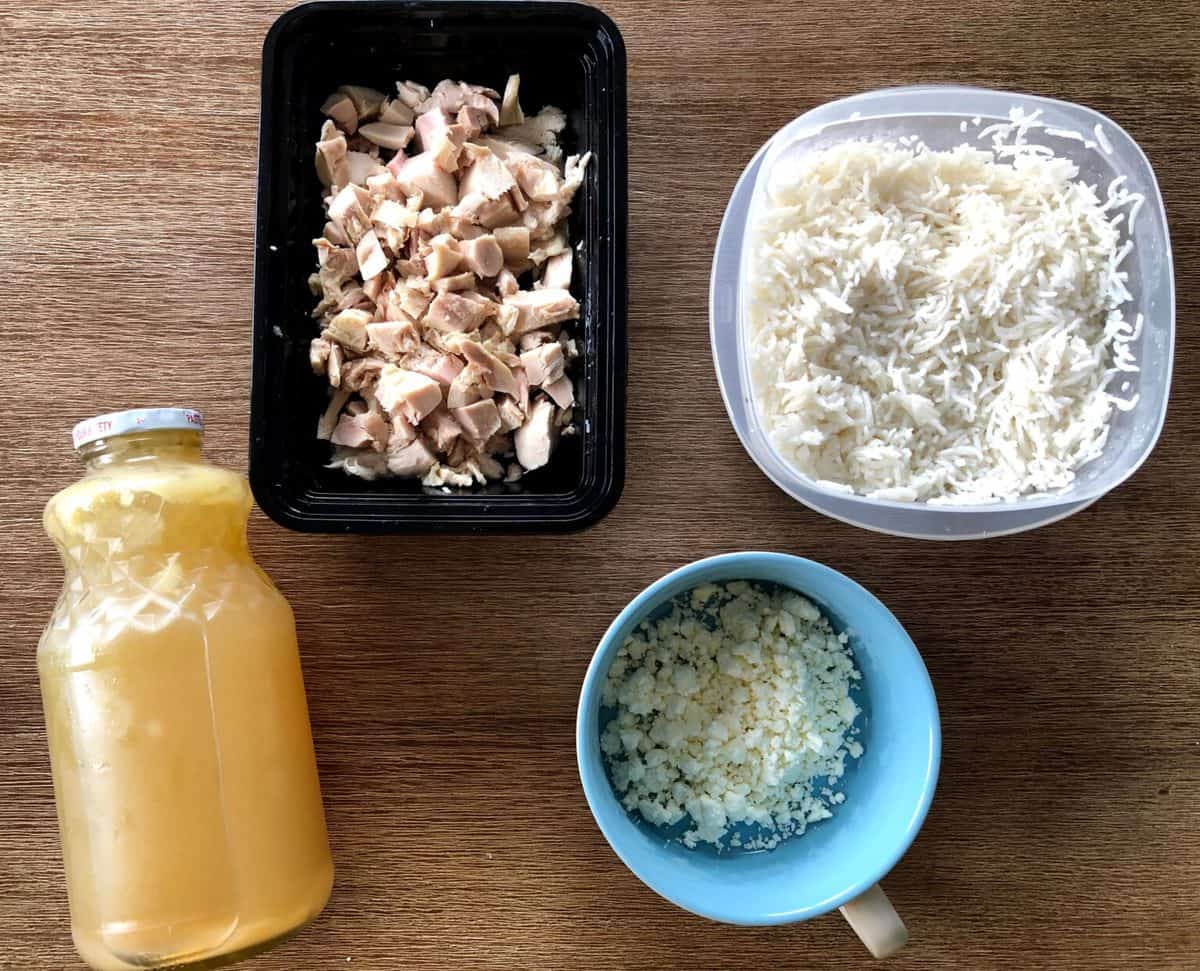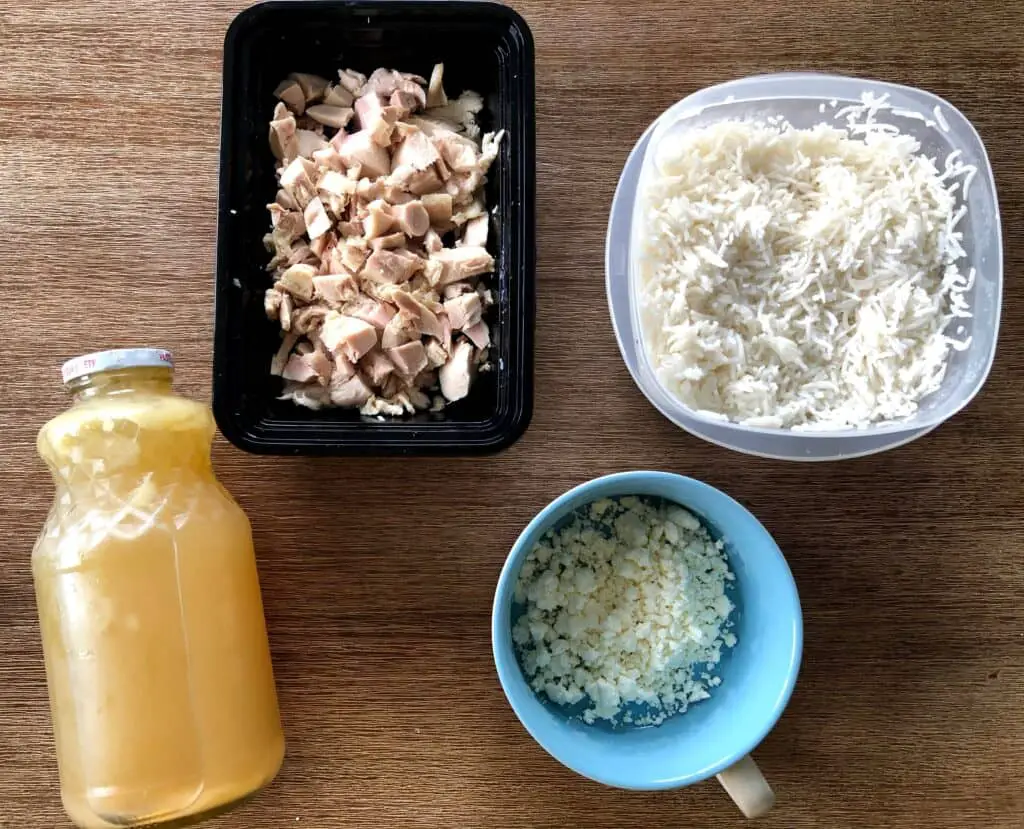 Gather fresh lemon (juice and zest), ingredients for the roux, chicken broth, and yummy add-ins — shredded chicken, rice, and feta.
how to: create the soup base
Homemade chicken broth serves as the basis for this recipe, thickened with a roux. Swap out the roux for an egg if wanting a classic Avgolemono soup.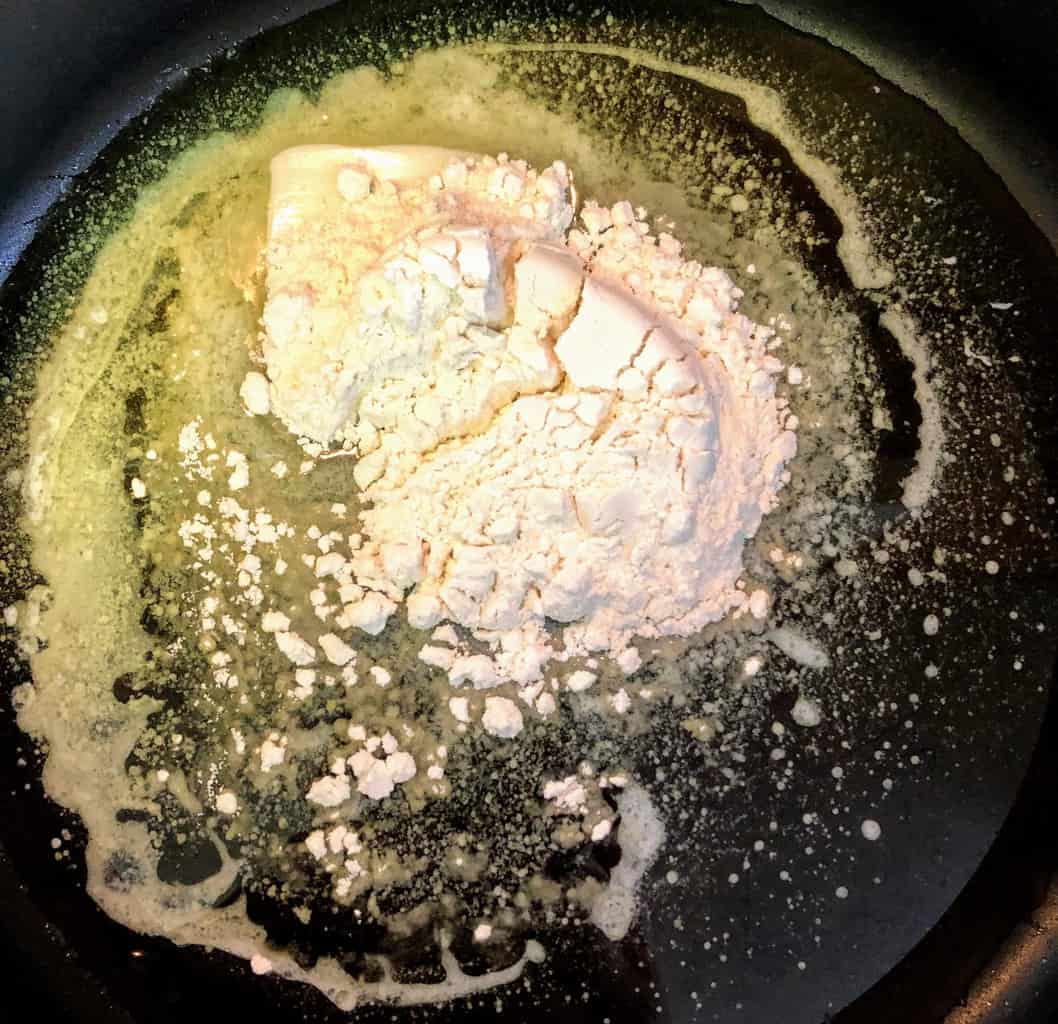 In a separate pan, melt butter and whisk in equal parts flour.
Two cups of broth are needed for this recipe, so 5 tbsp of butter and 5 tbsp of flour should be used to adequately thicken the liquid. The amount of roux should be adjusted to align with the amount of broth used.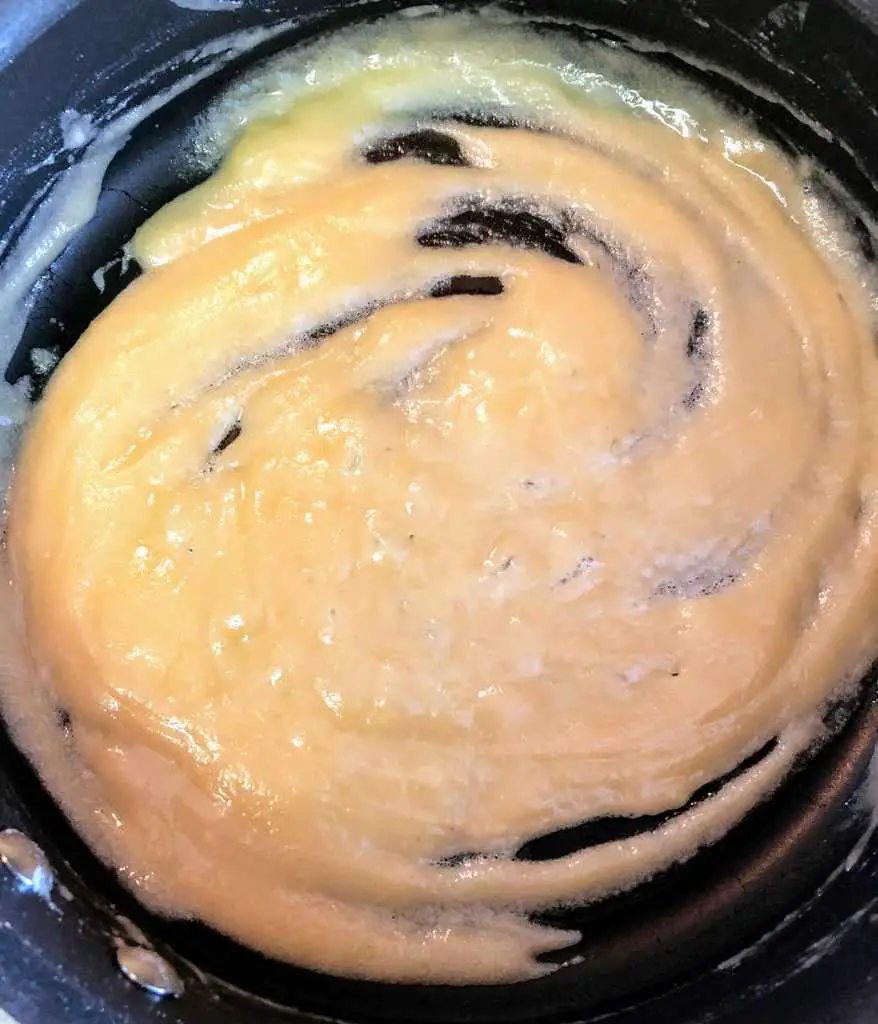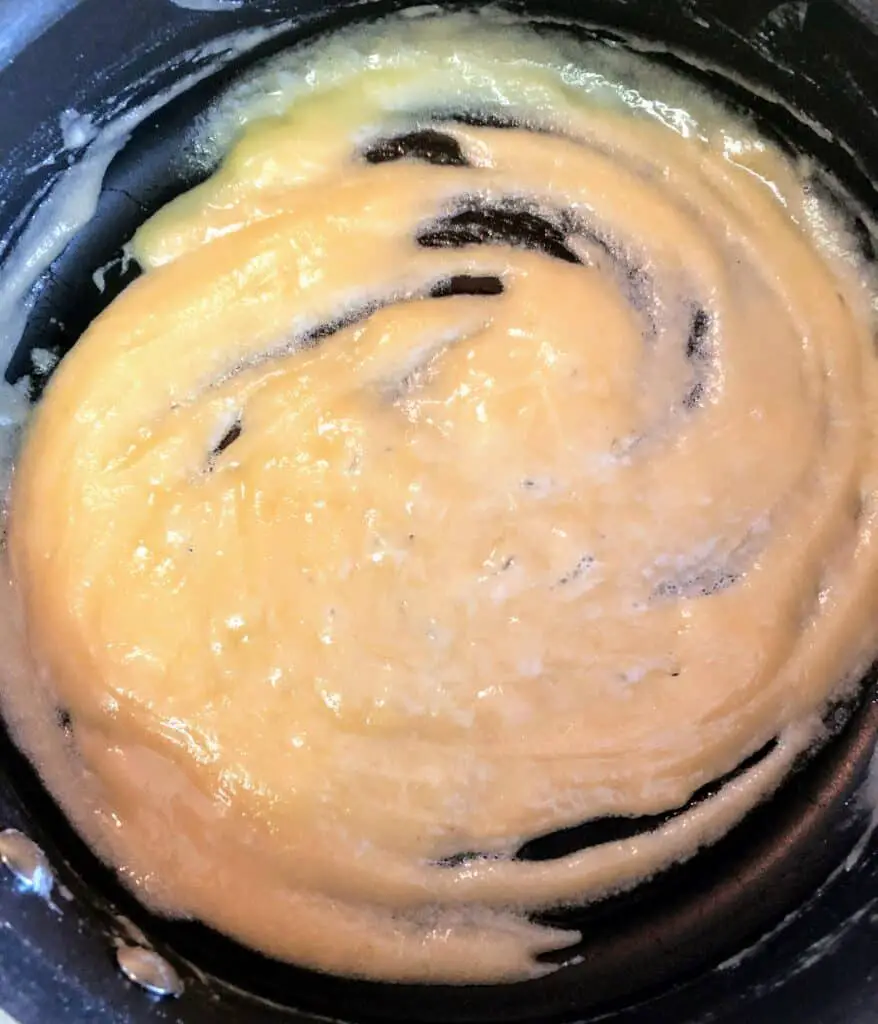 Cook until a paste forms that is golden in color.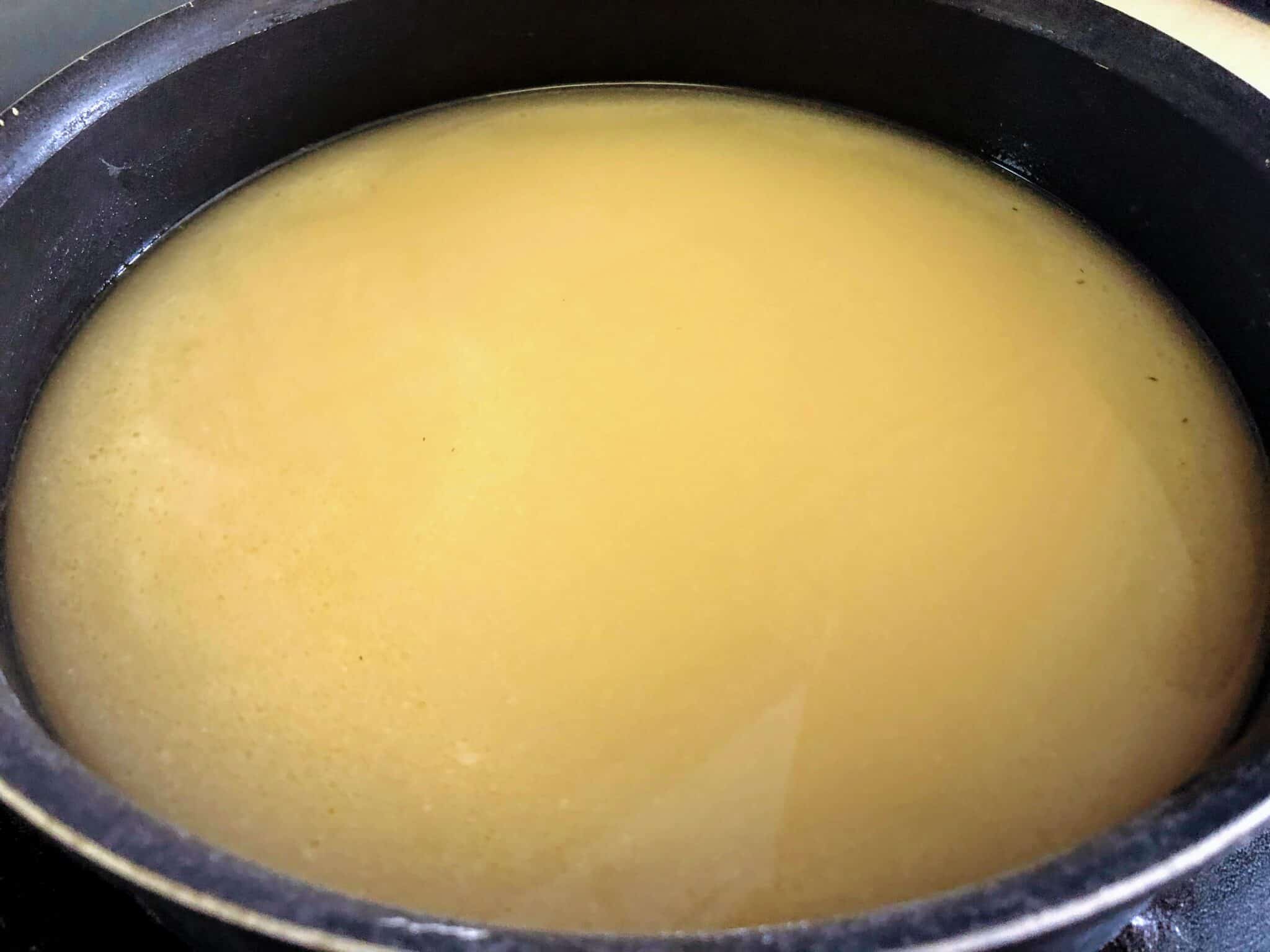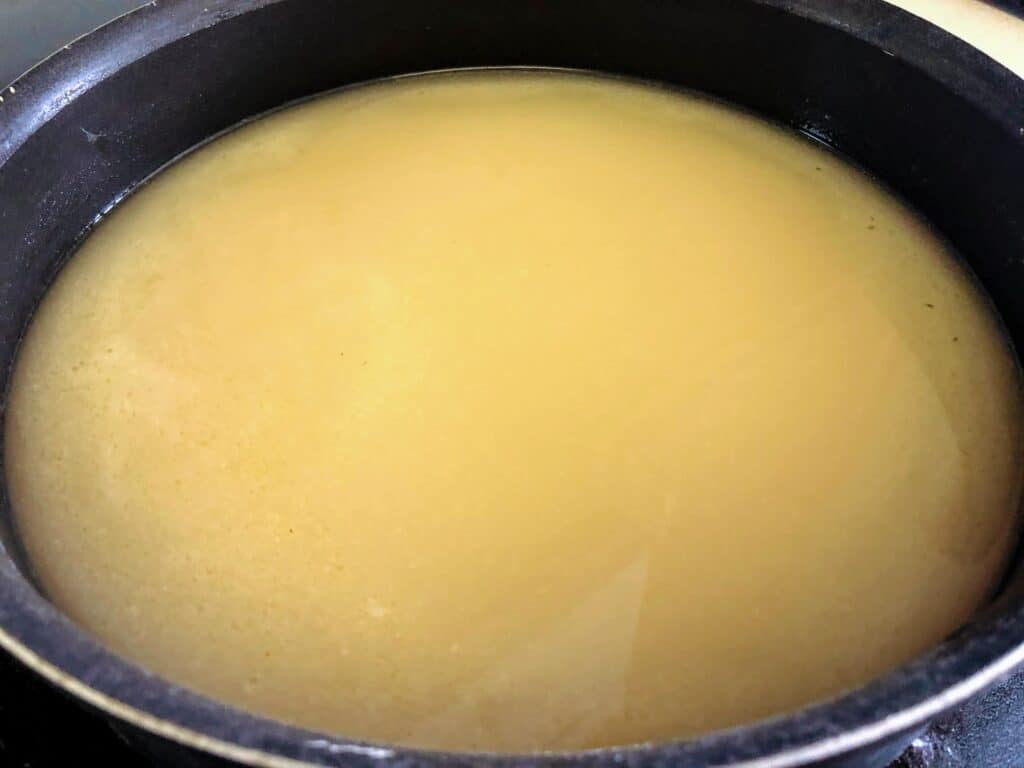 Pour in the broth and stir until combined and the liquid thickens. Carefully add to the cooked vegetables over medium-high heat and simmer.
---
Using Egg Instead
If you want to use egg and make authentic avgolemono soup, disregard the roux. The egg will serve as your thickener.
Pour the chicken broth into the stockpot with the veggies and simmer.
Whisk 2 eggs in a bowl. Take one cup of hot broth and pour into eggs, whisking thoroughly. Once combined, pour the broth and egg mixture into the stockpot.
how to: incorporate more texture and flavor
Now that we have our soup base and vegetables combined, it's time for some delicious add-ins. In Making Soup From Scratch we uncovered that a soup consists of a liquid base, vegetables, and additional ingredients that enhance texture and flavor and can introduce protein to the dish.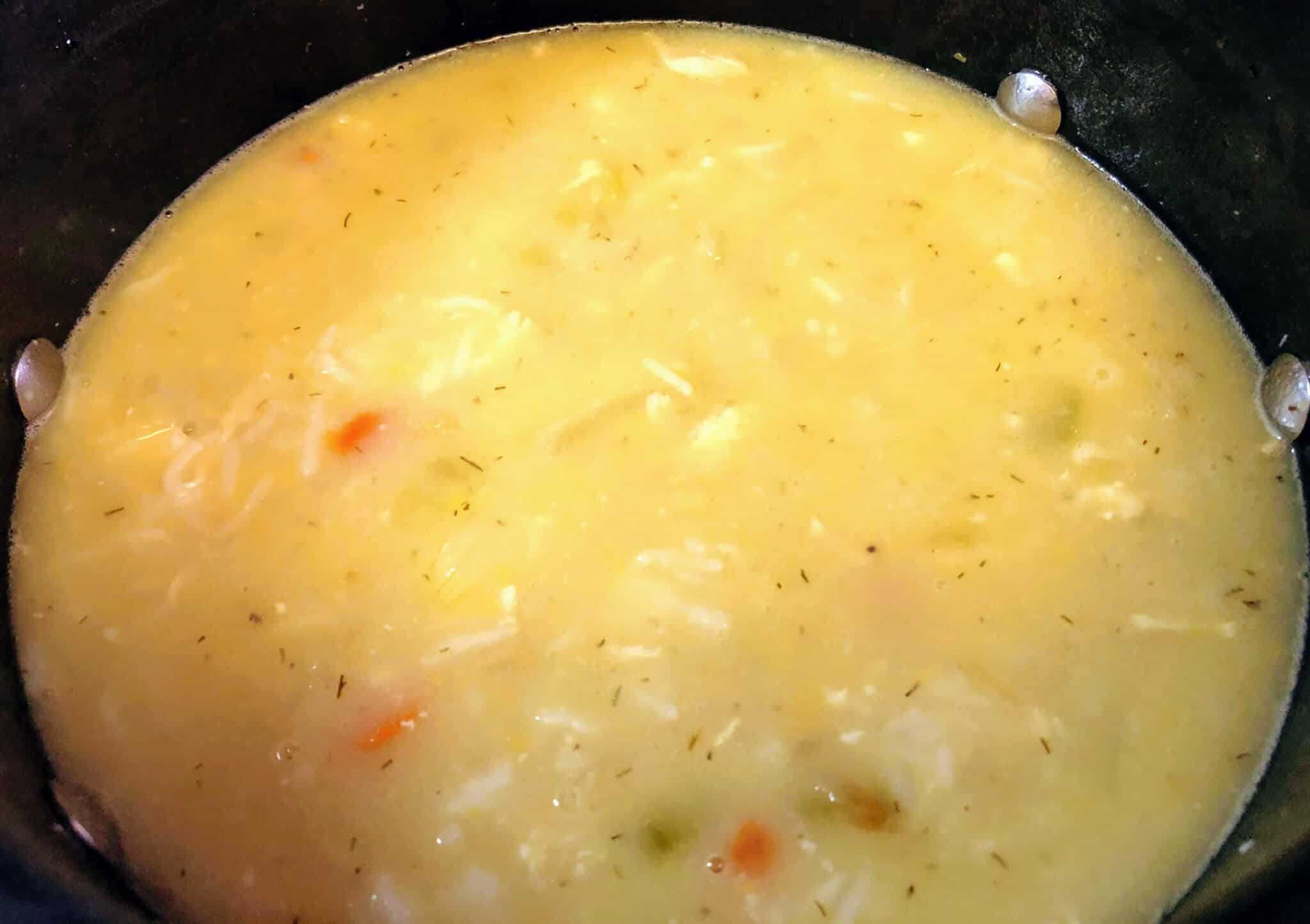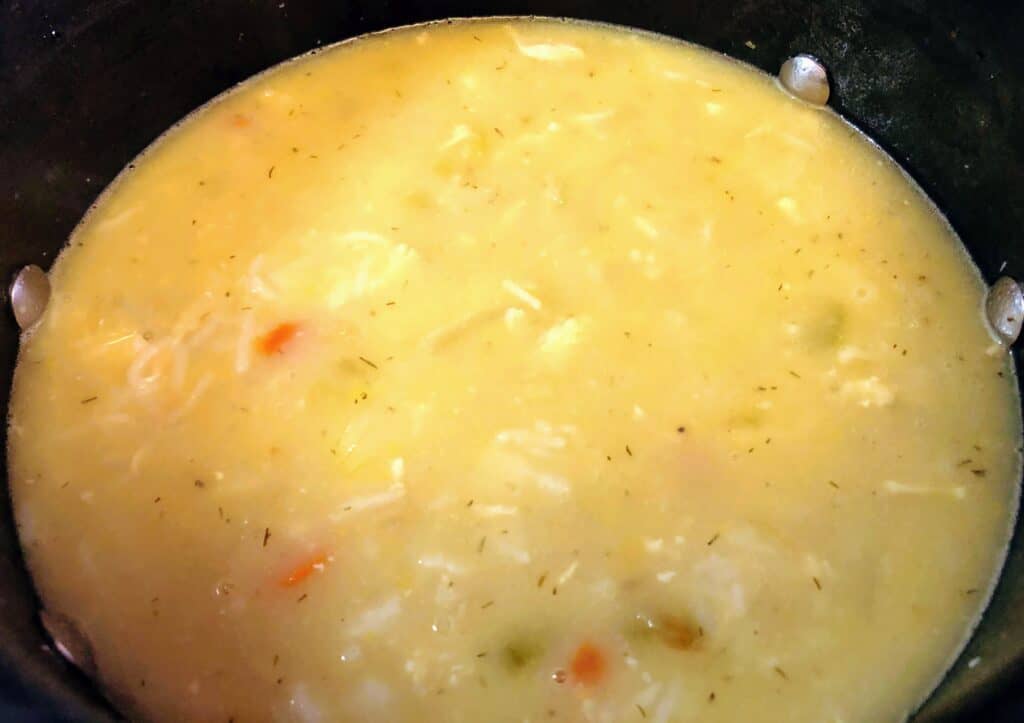 Mix in freshly squeezed lemon juice, lemon zest, shredded chicken and precooked rice. Simmer about 10 minutes or until heated through.
This recipe can be adapted to cook chicken and rice in the soup itself if you do not have any premade. If doing so, allow at least 20 minutes to simmer until the chicken reaches an internal temperature of 165 degrees F and the rice is tender.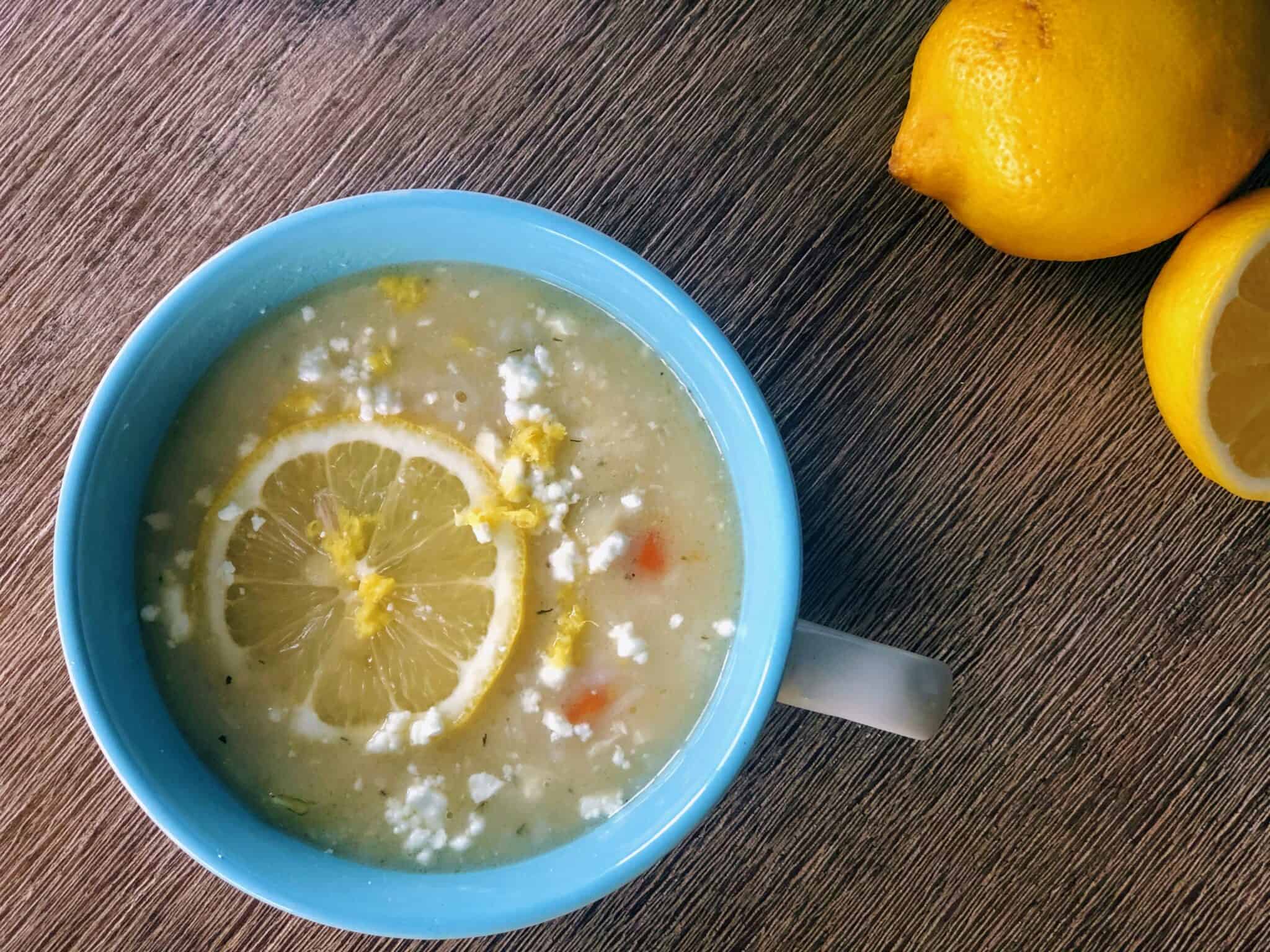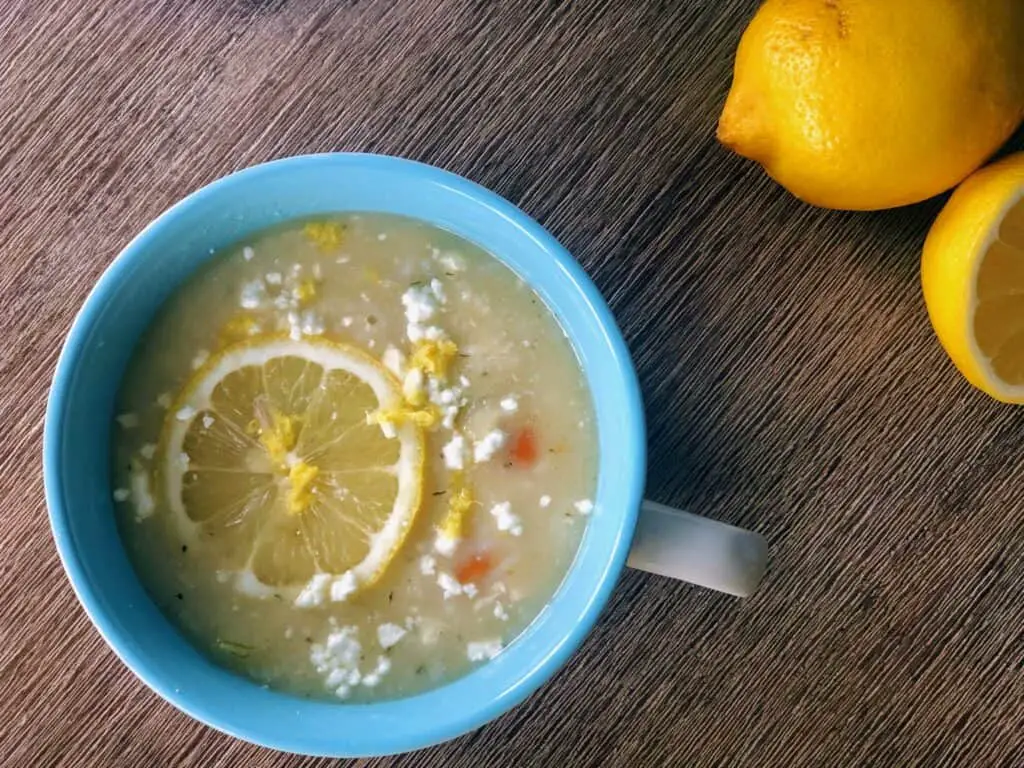 how to: serve greek lemon chicken soup
As if there wasn't enough flavor already, let's keep adding more!
Portion out soup into serving bowls. Sprinkle with crumbled feta cheese for more Greek influence and major wow-factor.
Garnish with additional lemon zest and fresh dill if available. Slice a lemon if you're feeling extra fancy to spruce up your soup bowl.
Lemon, dill, and feta are staples of the Greek cuisine and are added to each layer of the soup for a major punch of flavor.
Ingredients Needed
Equipment Needed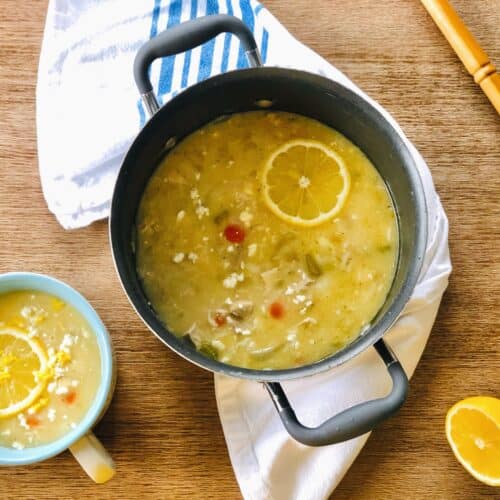 Greek Lemon Chicken Soup – Eggless Avgolemono
An eggless take on traditional Avgolemono soup, Greek Lemon Chicken Soup is chicken soup with a twist: bright bursts of citrus, fresh dill, and sharp feta cheese!
Print
Pin
Rate
Ingredients
1

onion

chopped

2

carrots

sliced

2

stalks of

celery

sliced

6

tbsp

butter

divided

2

tbsp

dill

salt

to taste

pepper

to taste

5

tbsp

flour

4

cups

chicken broth

1

lemon

juiced and zested

2

cups

chicken

shredded

1

cup

cooked rice

feta cheese

to garnish
Instructions
Heat a soup pot over medium heat. Saute onions, carrots, and celery in 1 tbsp butter. Stir in dill and cook until the vegetables are cooked through, about 15-20 minutes. Sprinkle with salt and pepper.

In a separate pan, melt 5 tbsp butter and whisk in flour. Cook until golden and a paste forms. Pour in chicken broth and stir thoroughly.

Carefully add thickened broth to the vegetable mixture in the soup pot over medium-high heat. Mix in lemon juice, lemon zest, chicken, and rice and simmer until heated through, at least 10 minutes.

Garnish with feta cheese and top with fresh dill and lemon slices if desired.
Pin me!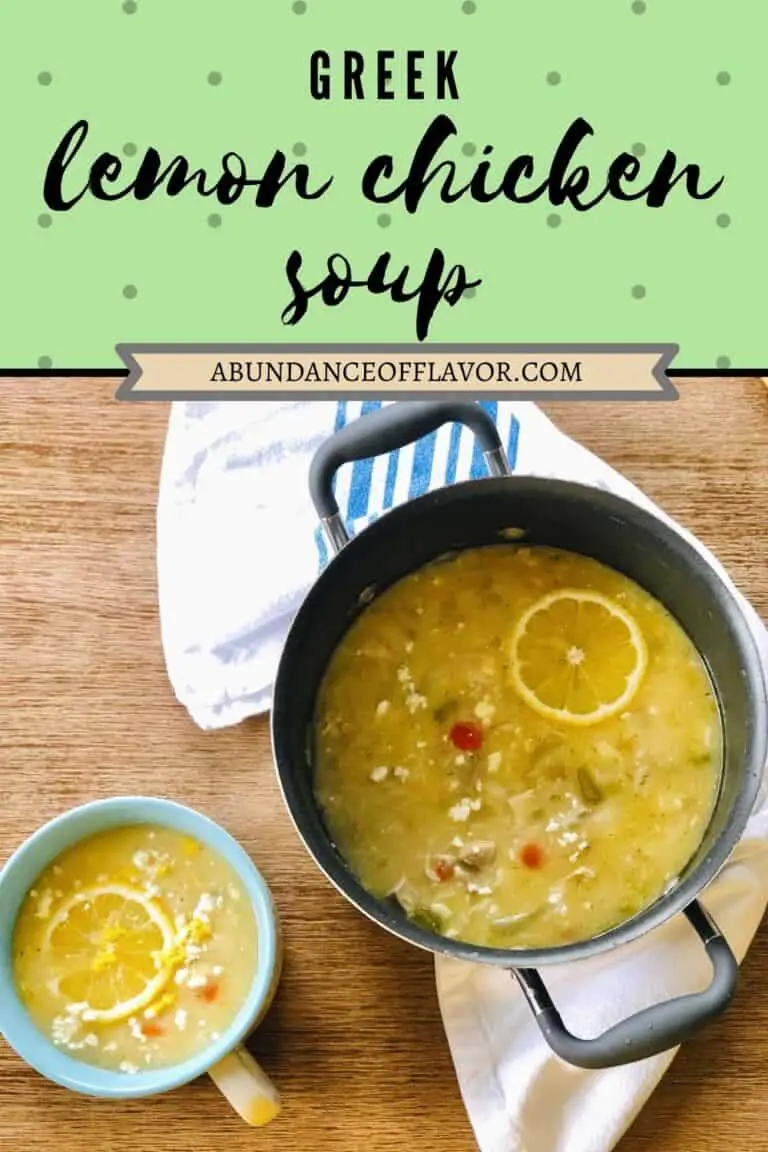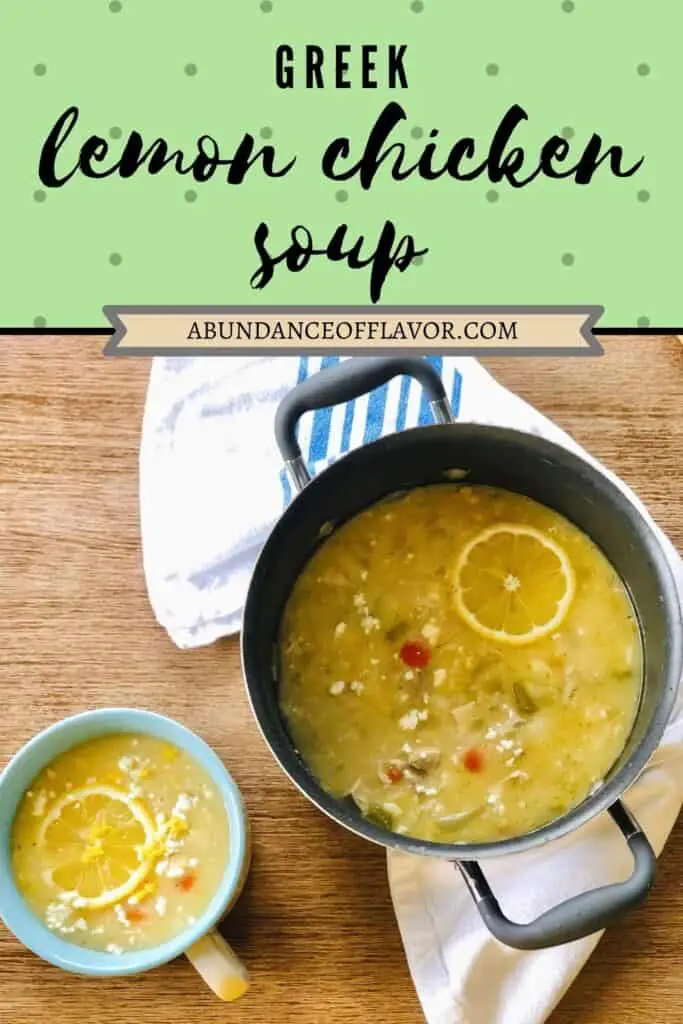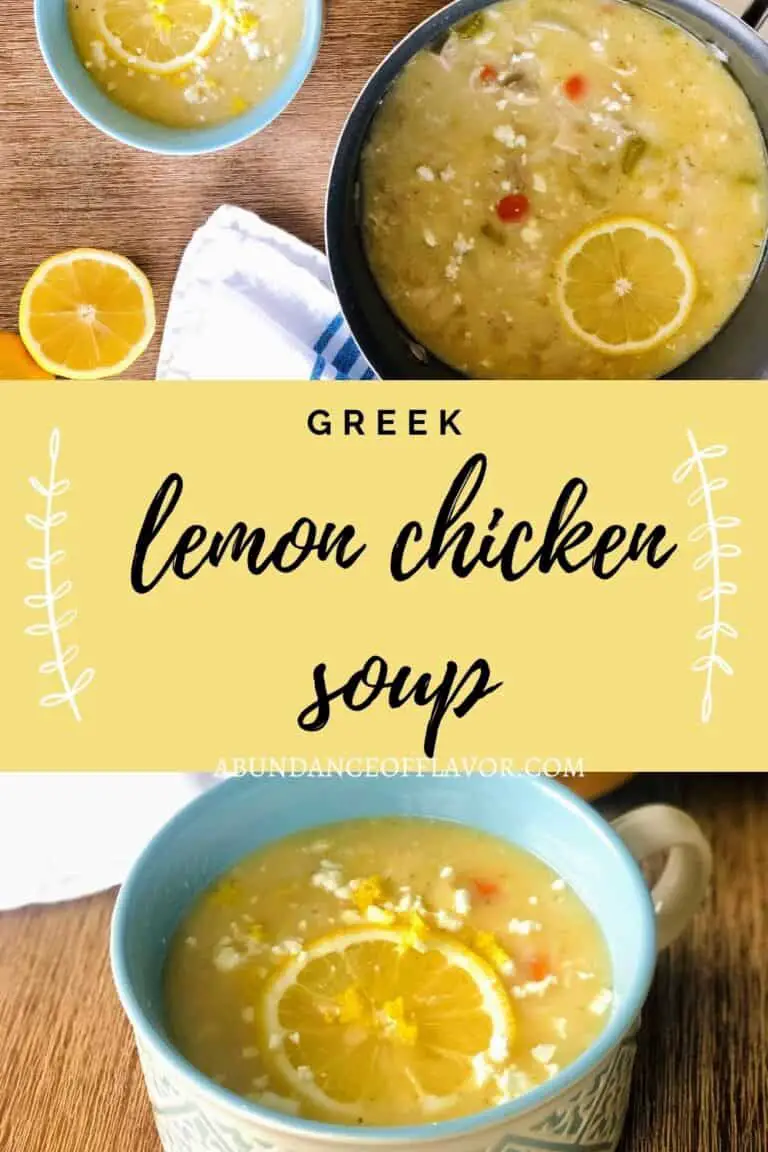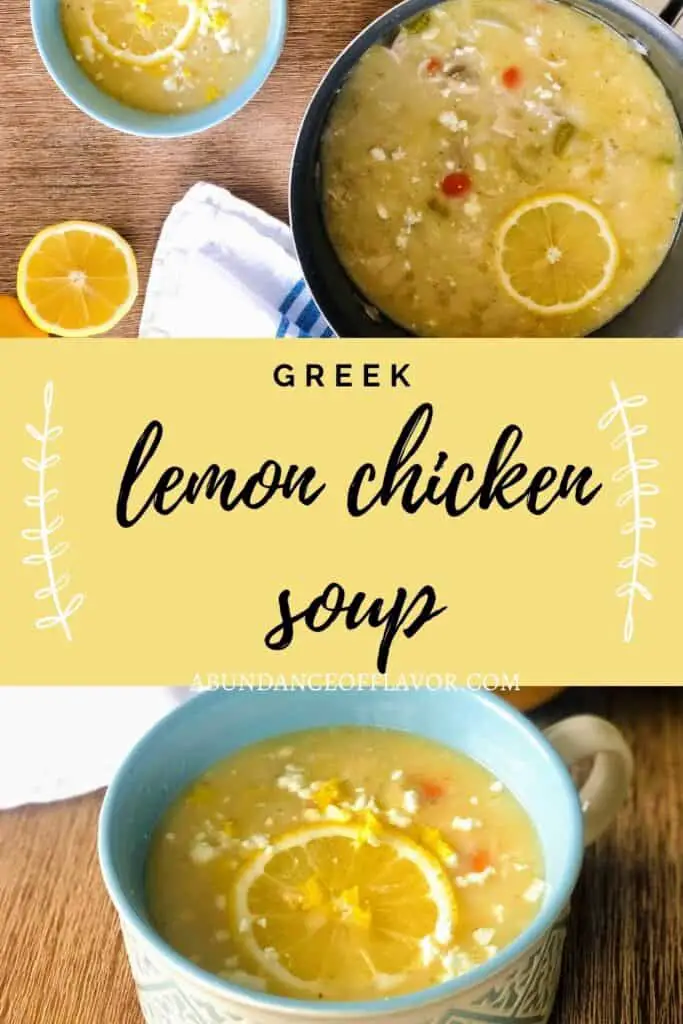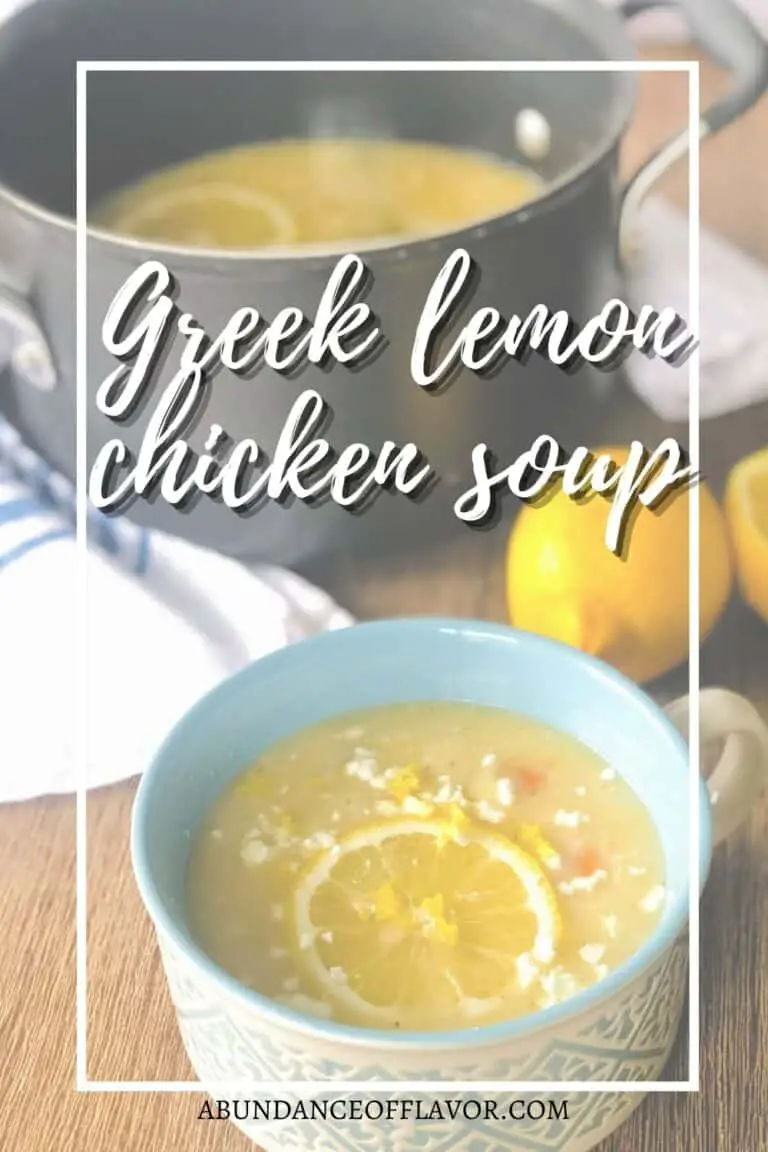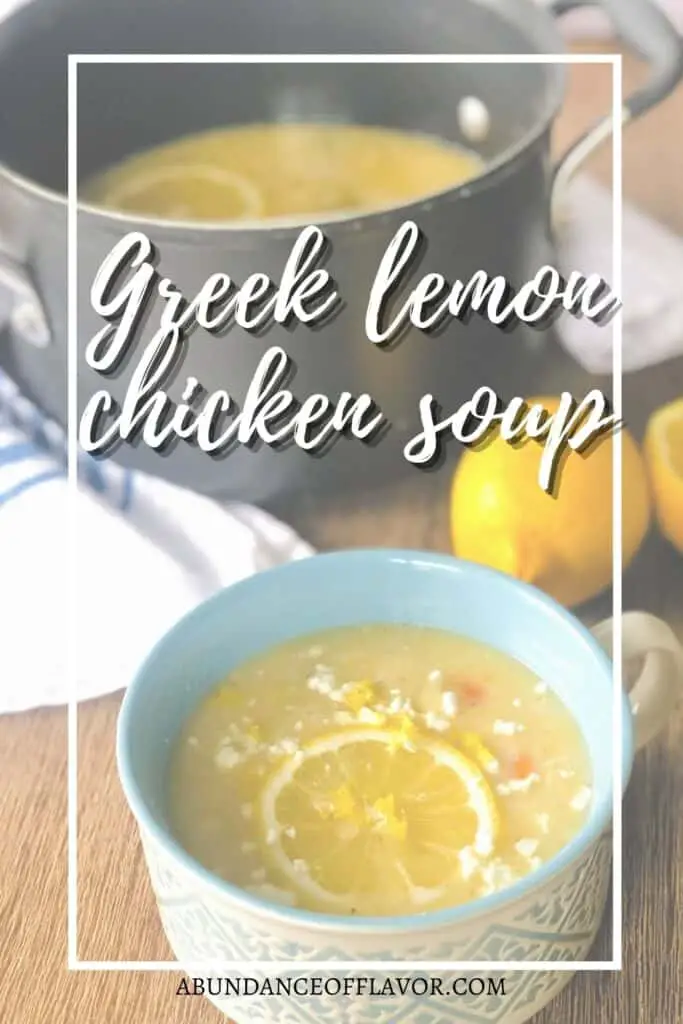 What are your favorite soups to indulge in? Share your ideas in the comments below!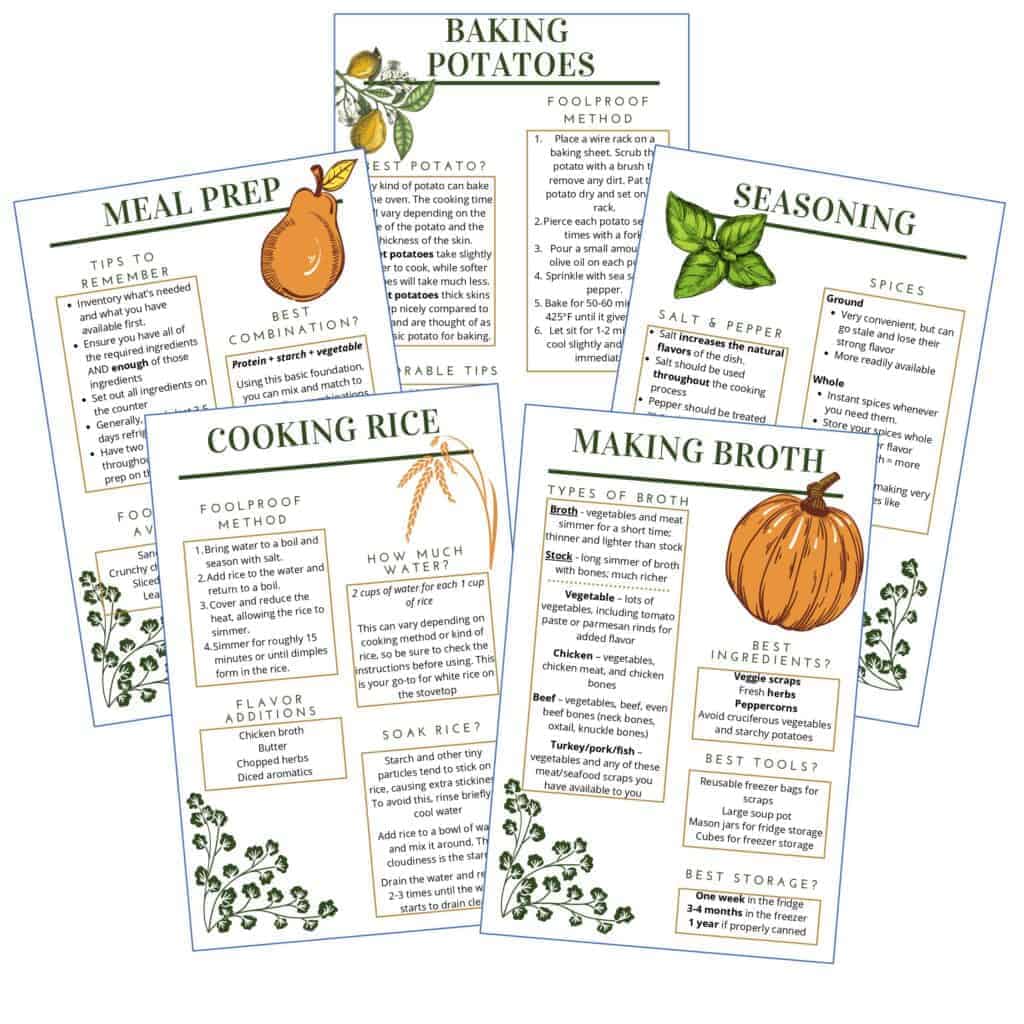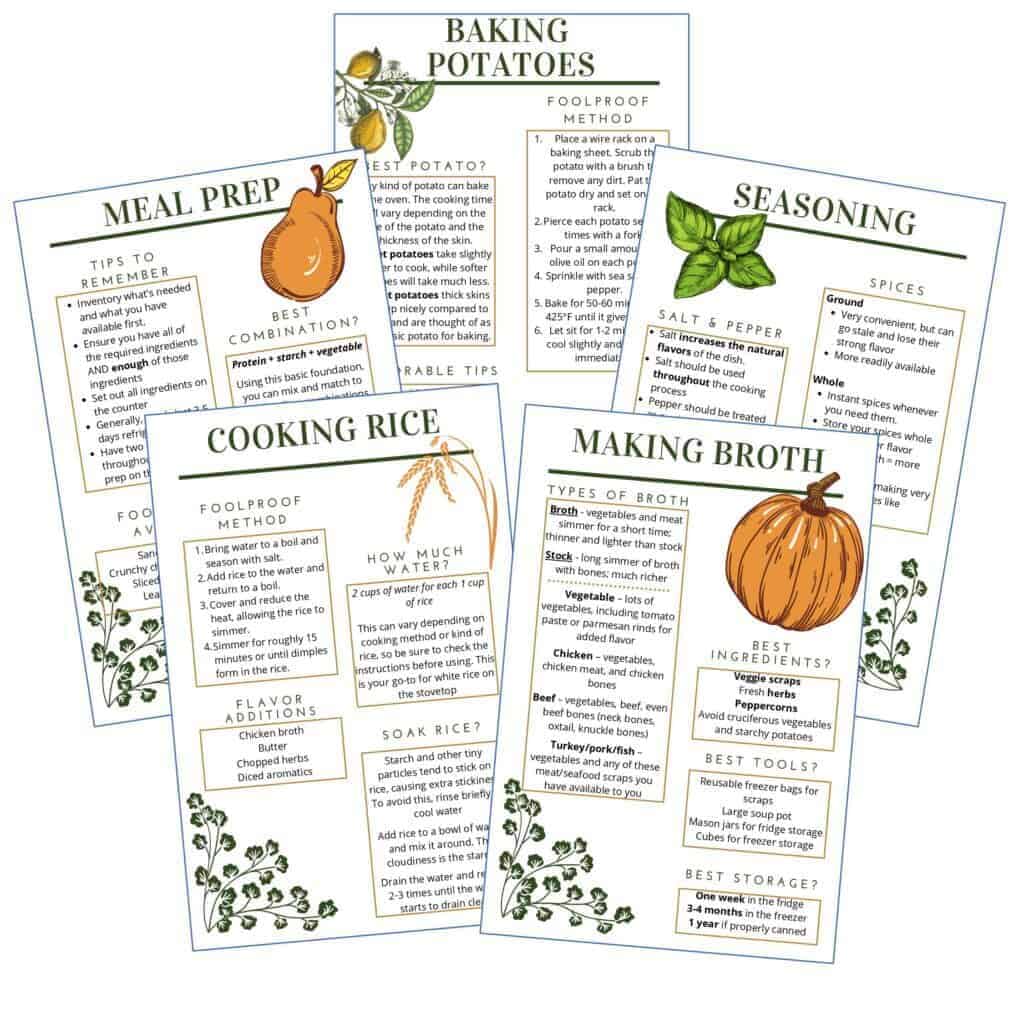 Get your $1 worksheets today!
Related Posts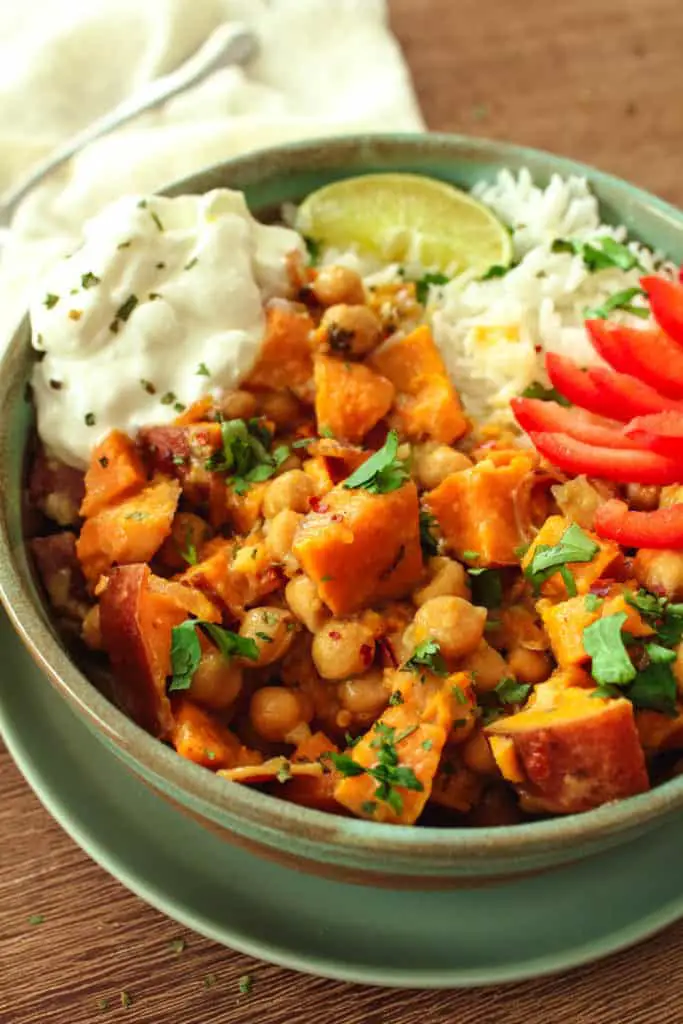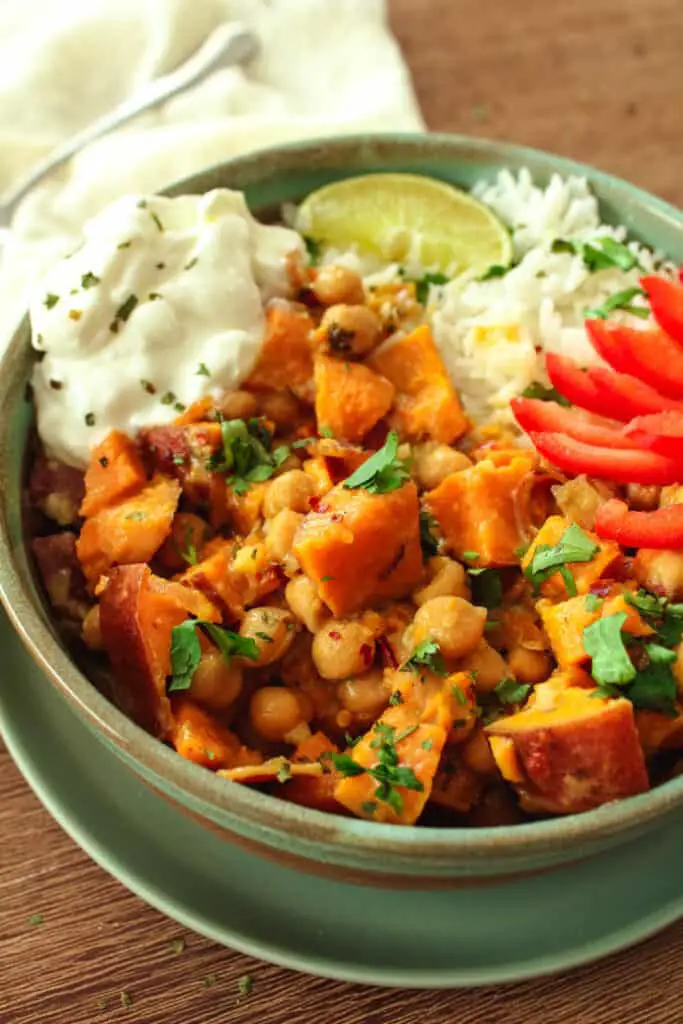 Sweet Potato Thai Curry Bowls are bursting with immense flavor that will have everyone returning for seconds.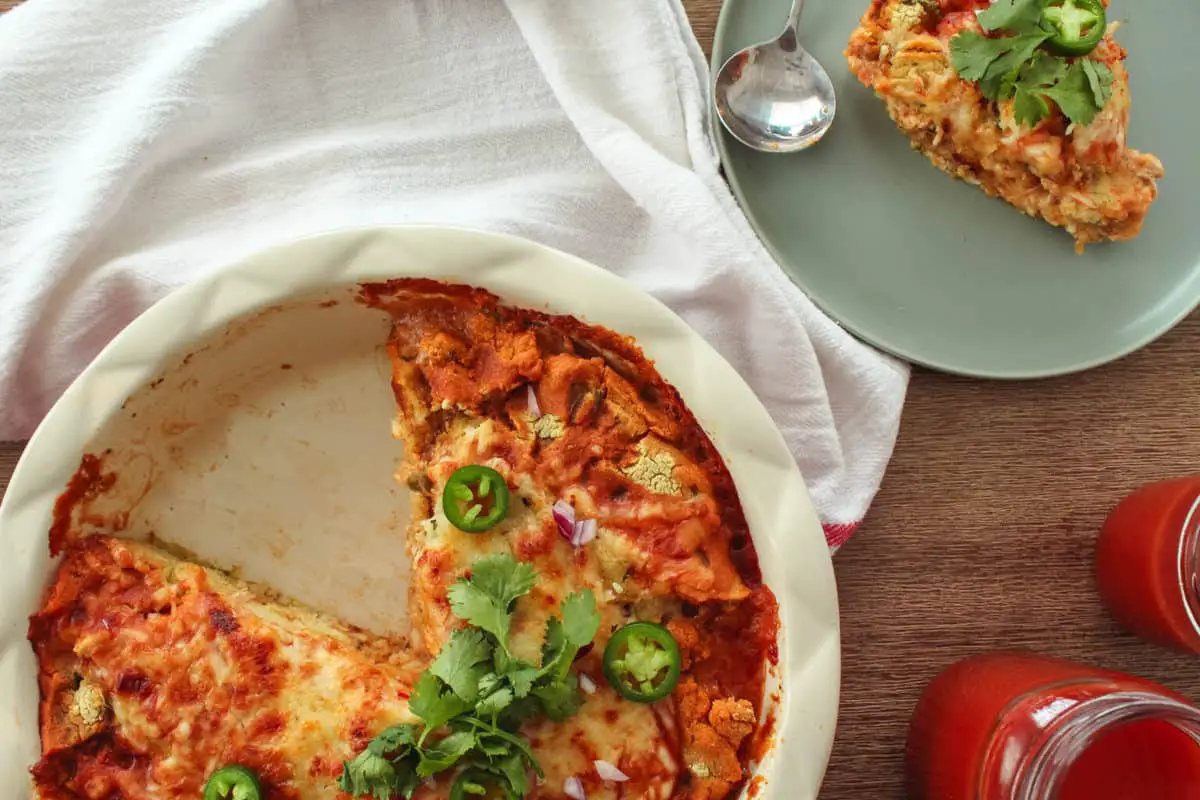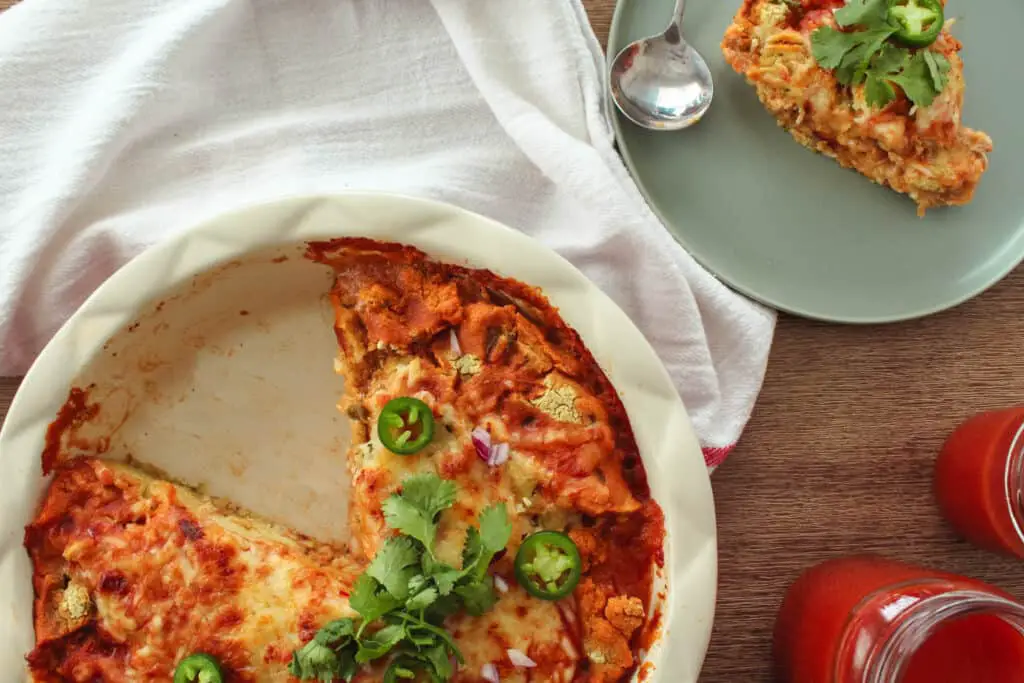 Chicken Tamale Pie with Masa is smothered in enchilada sauce, melted cheese, and the comforting flavor of tamales without any of the hassle.