Here in the south, we ADORE our fresh peaches. I love biting into a bright pink peach and slurping up the sweet juice that spills out before it runs down your face and your arms. This summer, turn your peaches into a Fresh Peach and Oat Crumble, a delectable dessert that you can enjoy for years to come.
Please note this post contains affiliate links, which means I receive a small commission, at no extra cost to you, if you make a purchase using the links. Please see my disclosure for more details.
---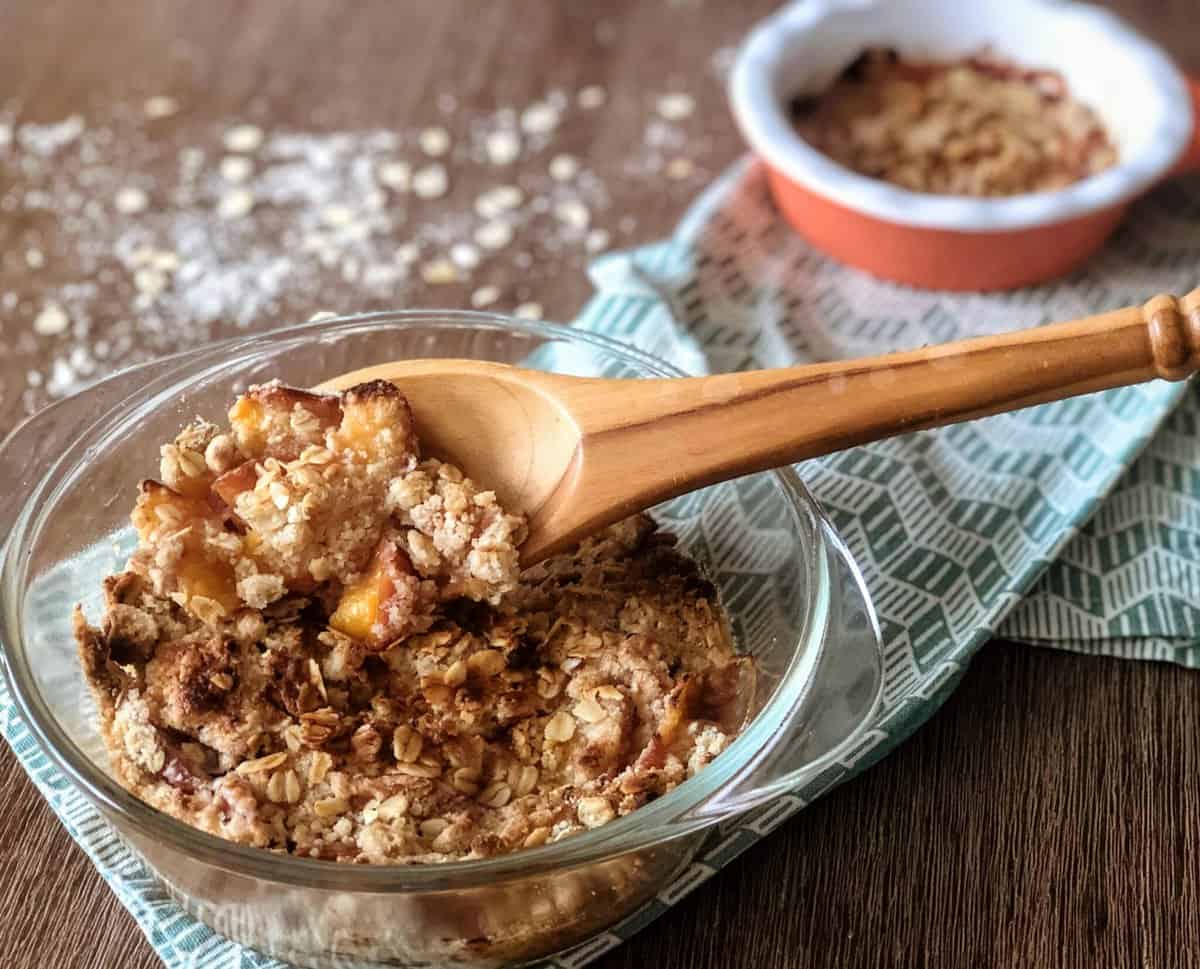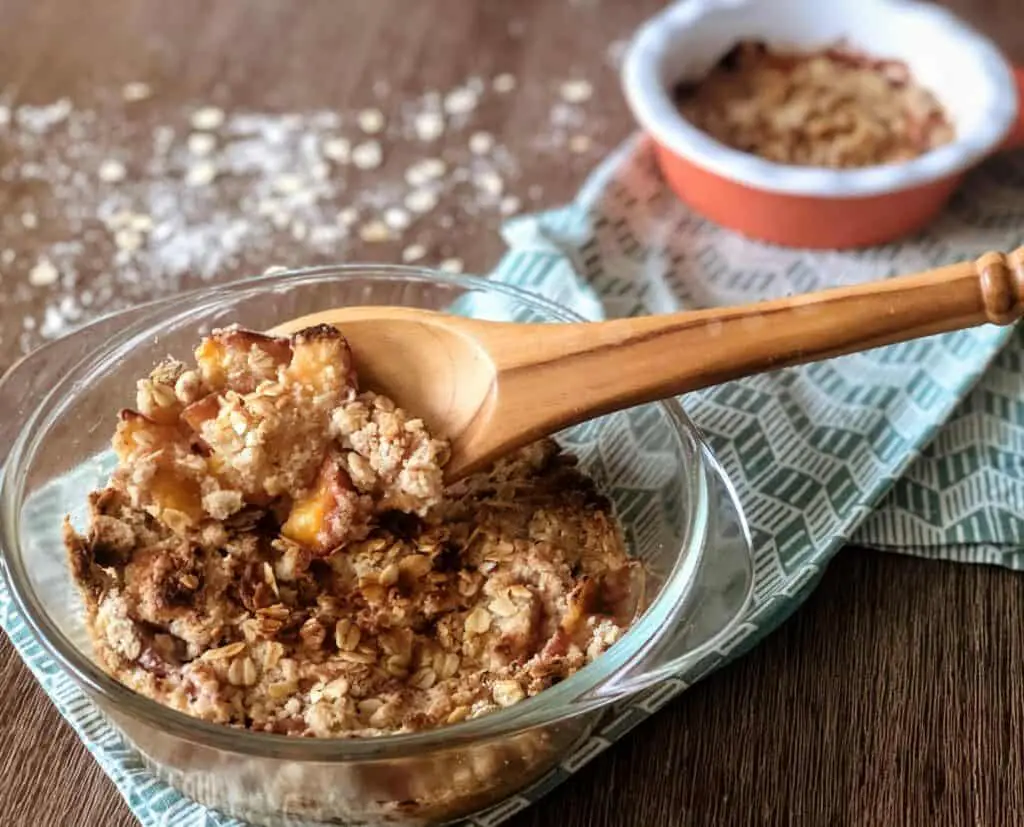 how to: prepare the fresh peaches
I learned the hard way how important it is to have RIPE peaches! I couldn't wait to bite into peaches straight from the Instacart order, but sadly they were very tough and were more like apples.
After sitting on the counter for a few days to ripen at room temperature, the peaches were nice and soft and (I was hoping) bursting with flavor!
Slice the peaches thinly. If you wait until they're soft to the touch, the juices should be flowing; it's such a treat to lick your fingers clean of all the sweet peach juice!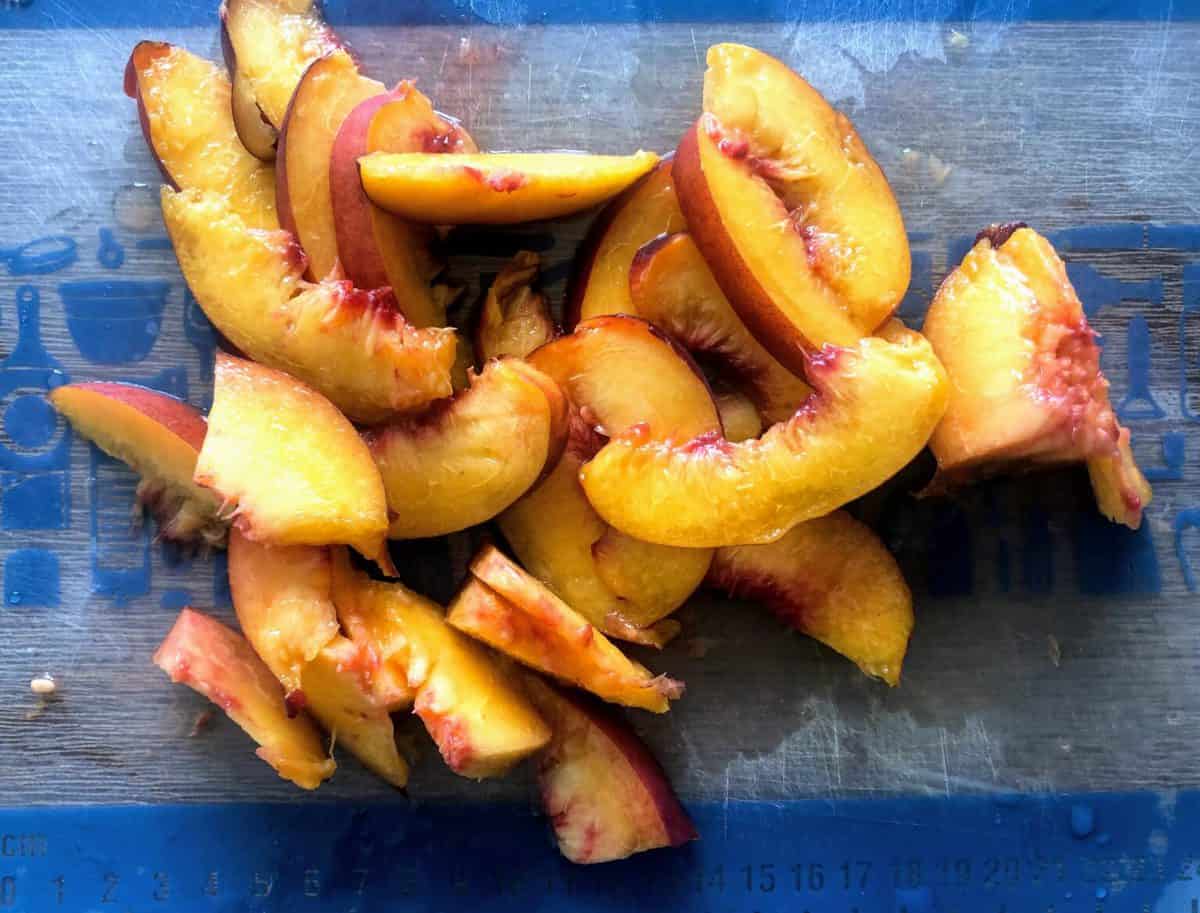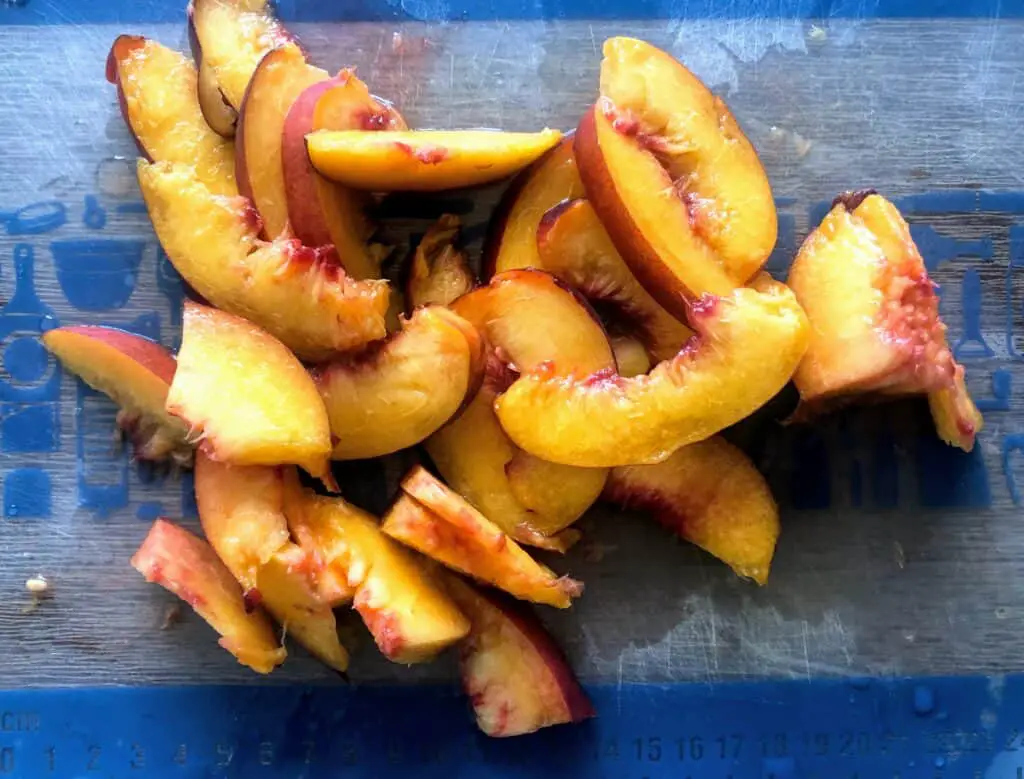 Sprinkle the peach slices with sugar and cinnamon and toss to combine. This process can be referred to as a simple form of "macerating," in which the sugar draws moisture out of the peaches to help create a nice syrup, and that means even MORE flavor.
Set aside while you prepare the rest of the ingredients.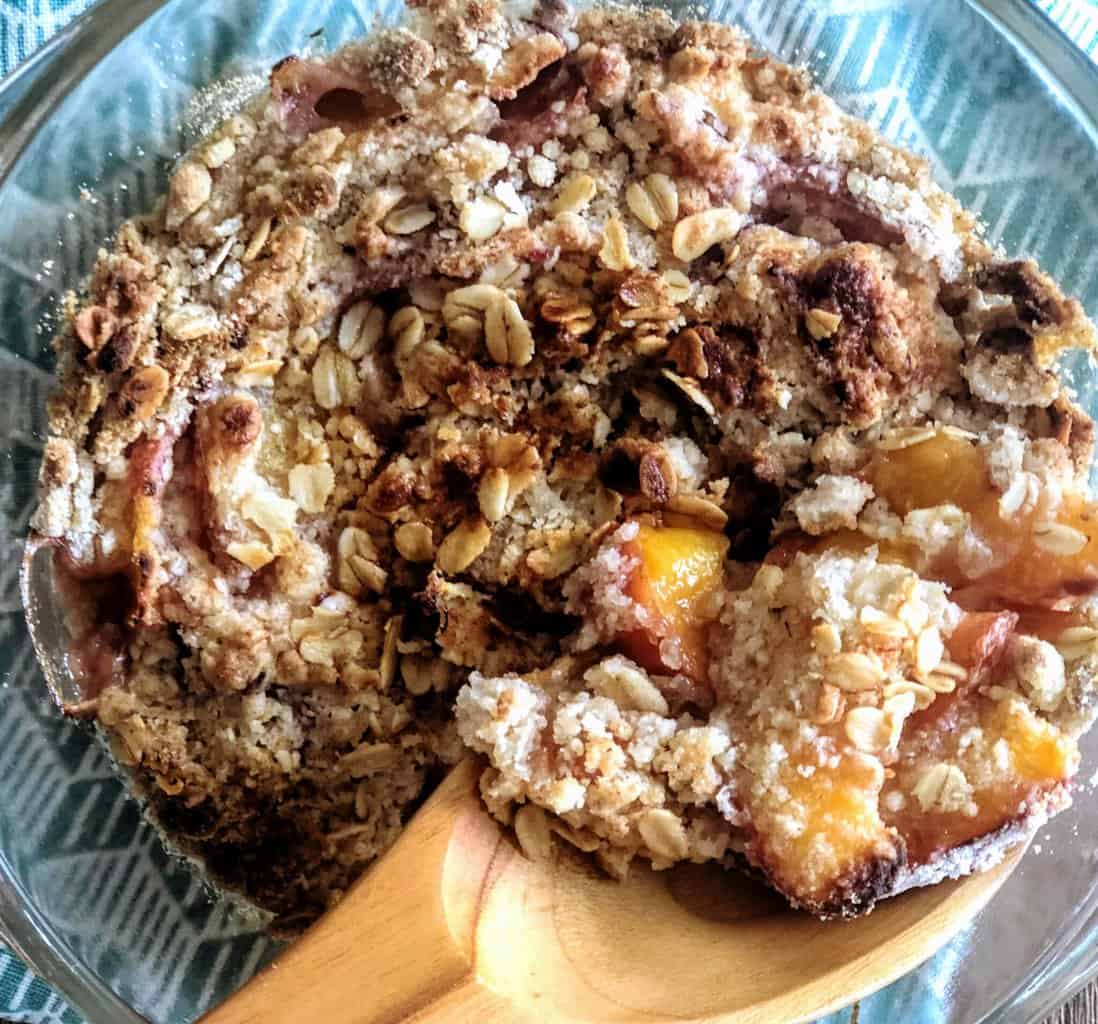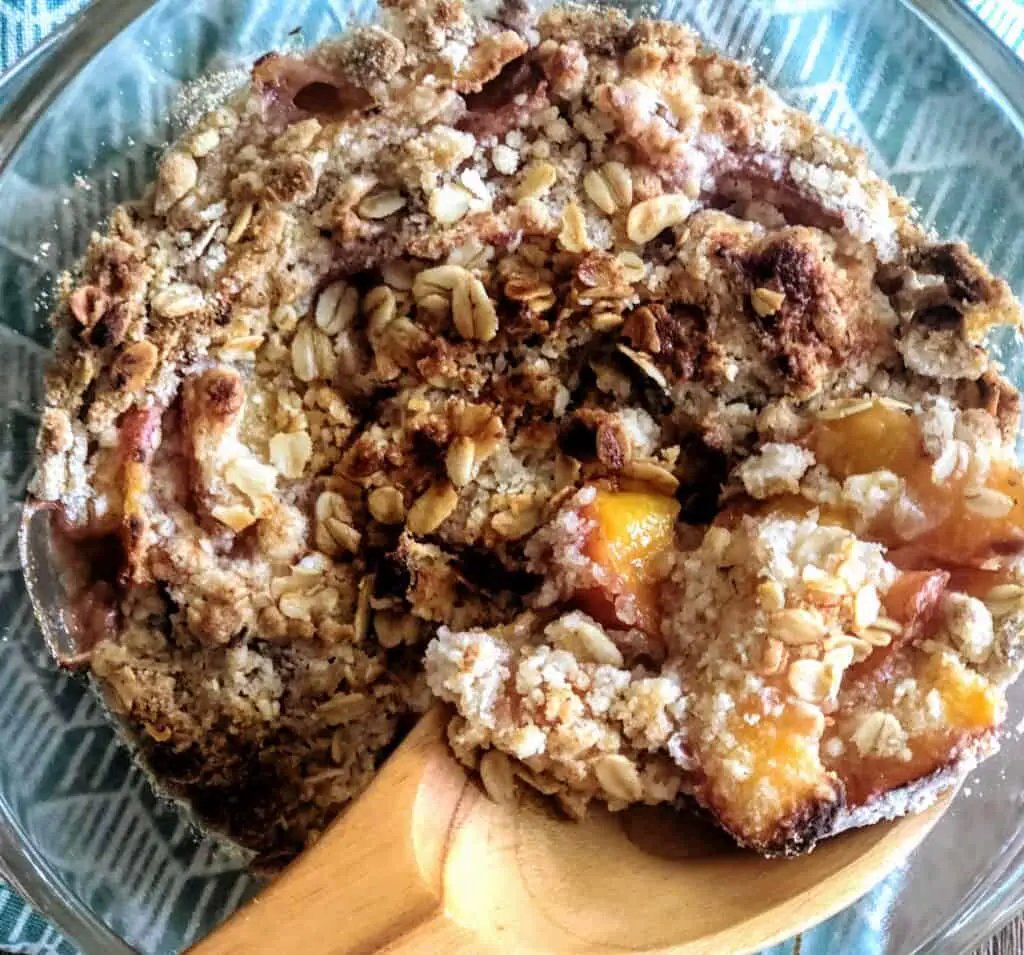 how to : prepare the oat crumble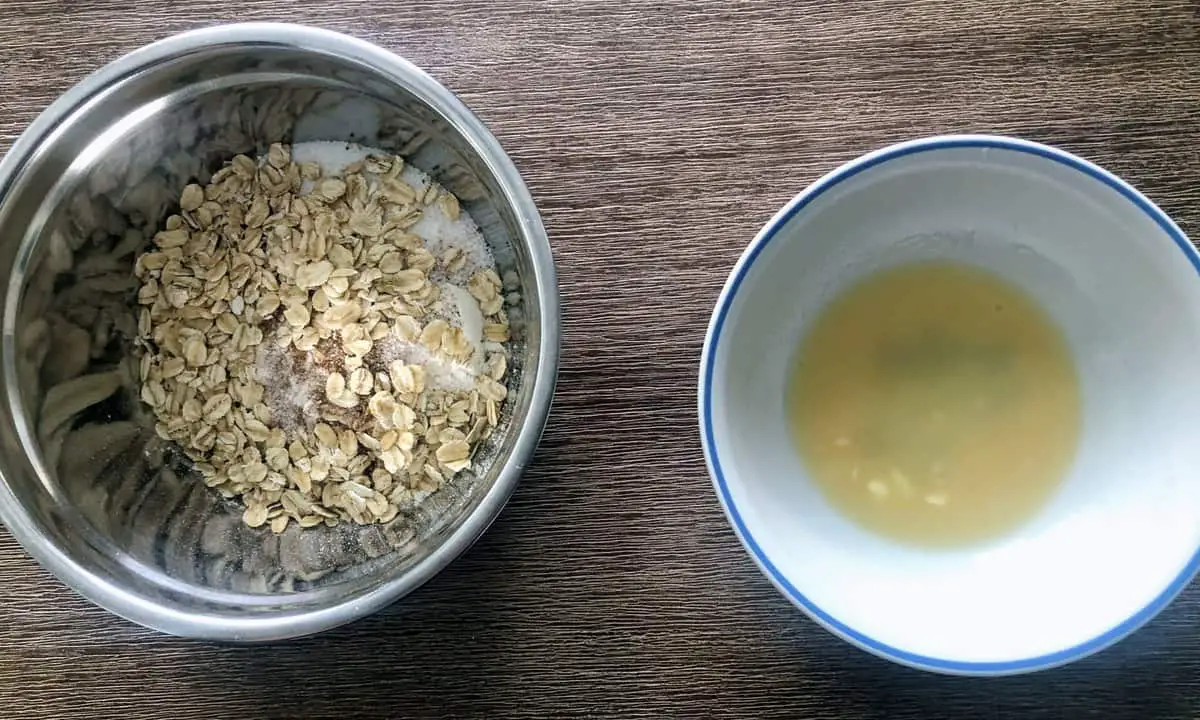 The dry ingredients and wet ingredients should be prepared separately before combining in one bowl.
In a medium bowl, mix the oats, flour, sugar, baking powder, cinnamon, nutmeg, and salt thoroughly.
Melt the butter in a small bowl and stir in vanilla. Slowly incorporate into the dry mixture.
Here's where you can have a little fun with your dessert!
For a more crisp topping like you would expect for a crumble, the batter should be a little loose and dry. 
For a more cobbler feel with a thicker cake-like topping, add more melted butter a tablespoon at a time until the batter is wet and sticky.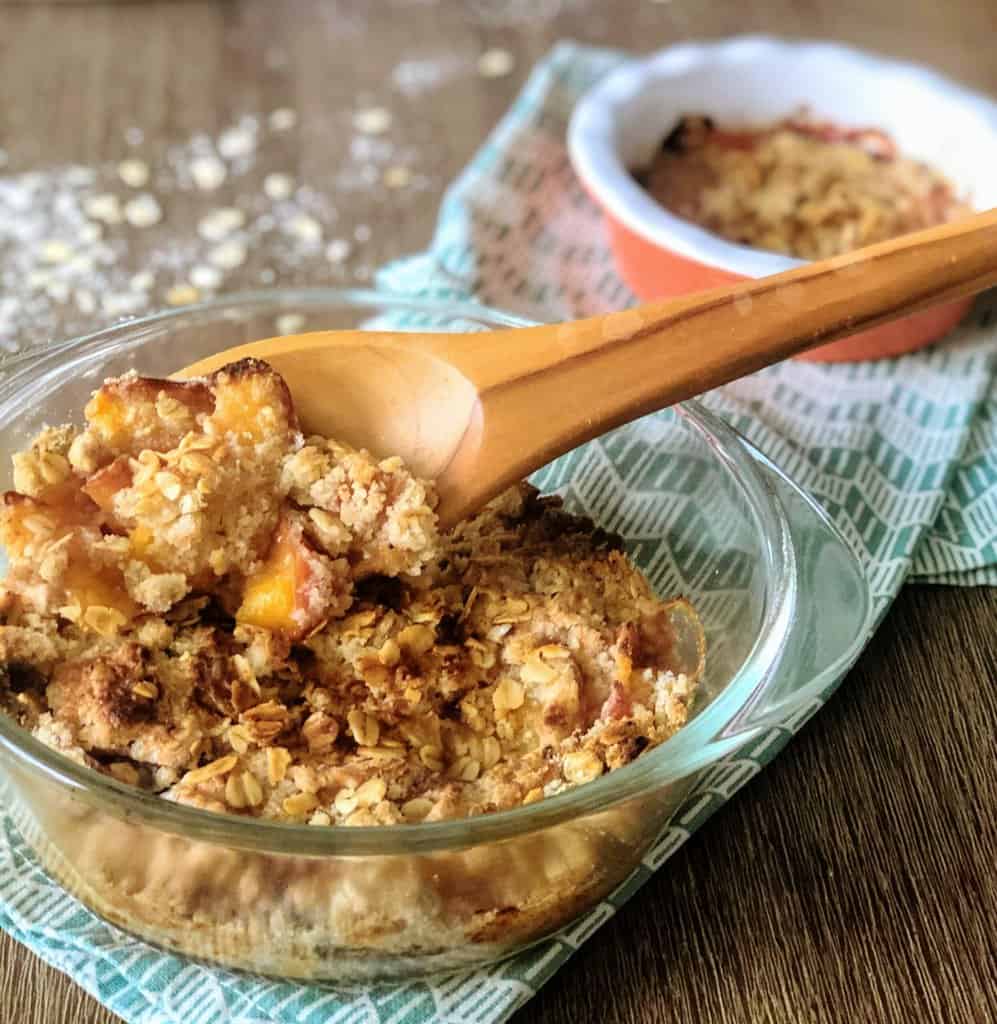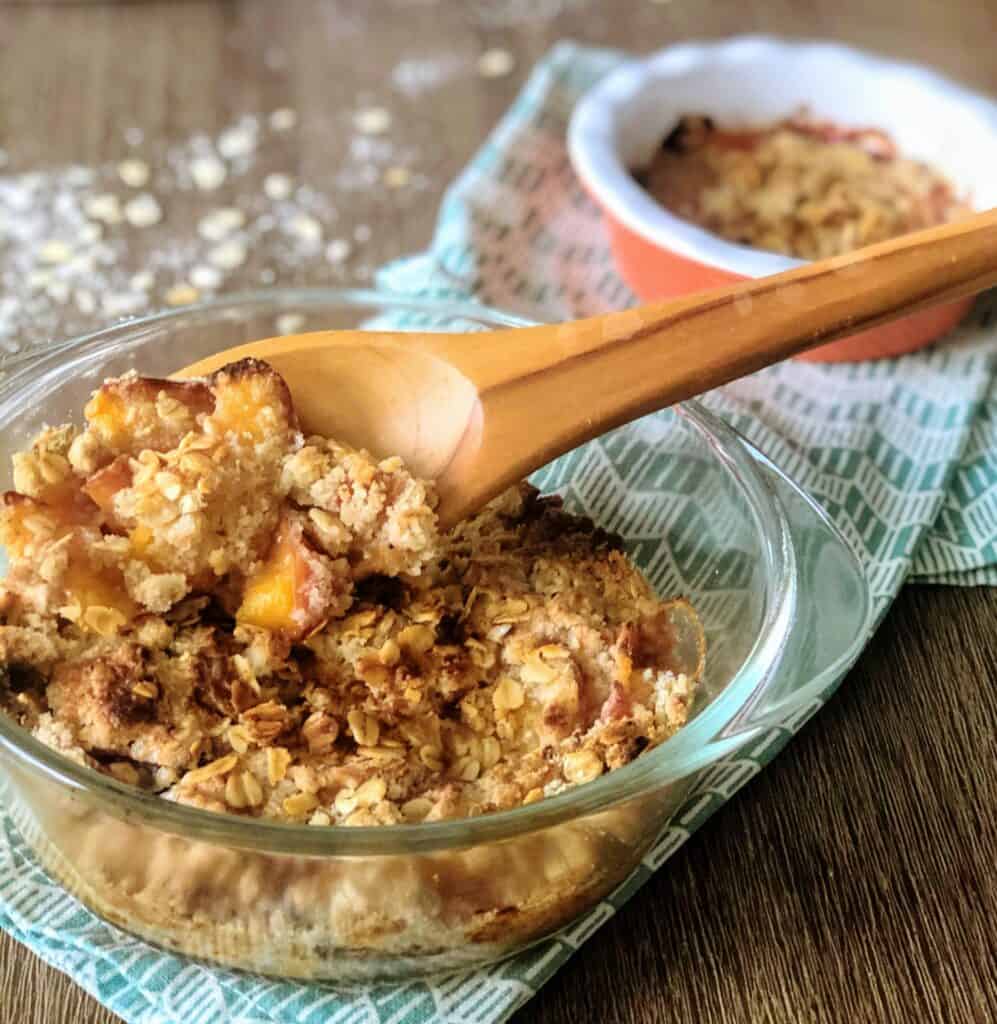 how to: Bake fresh Peach and Oat Crumble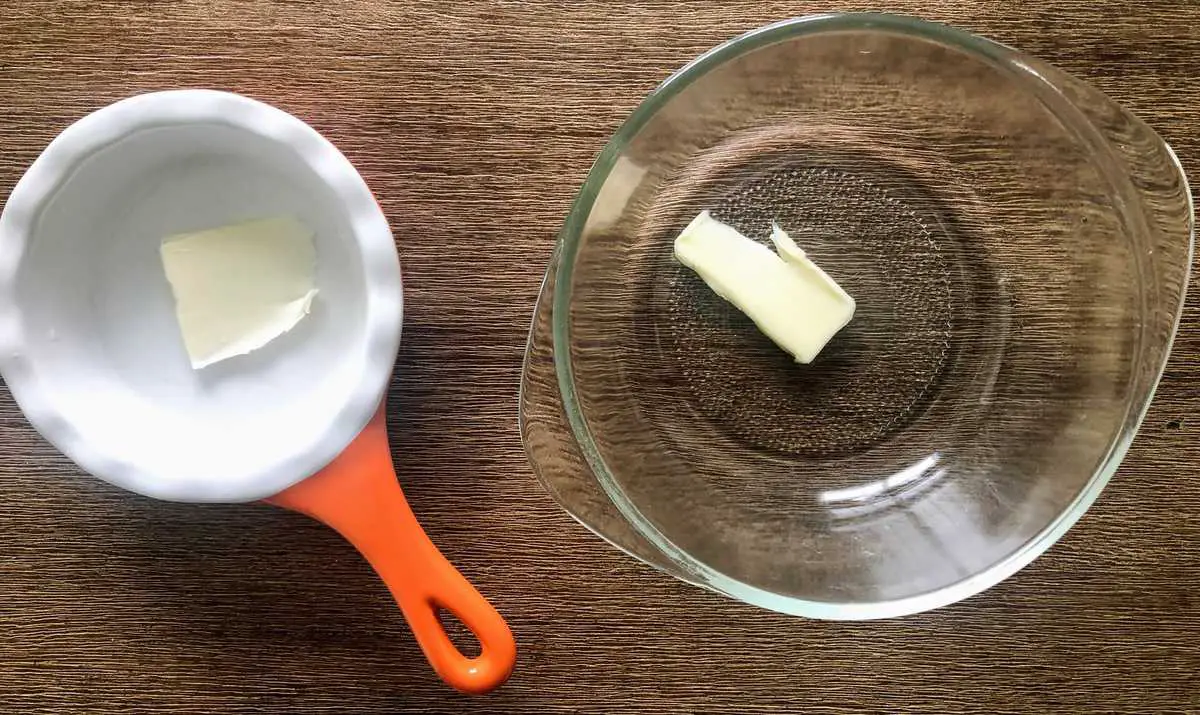 Melt butter in your baking dish by placing it in the oven that's preheating.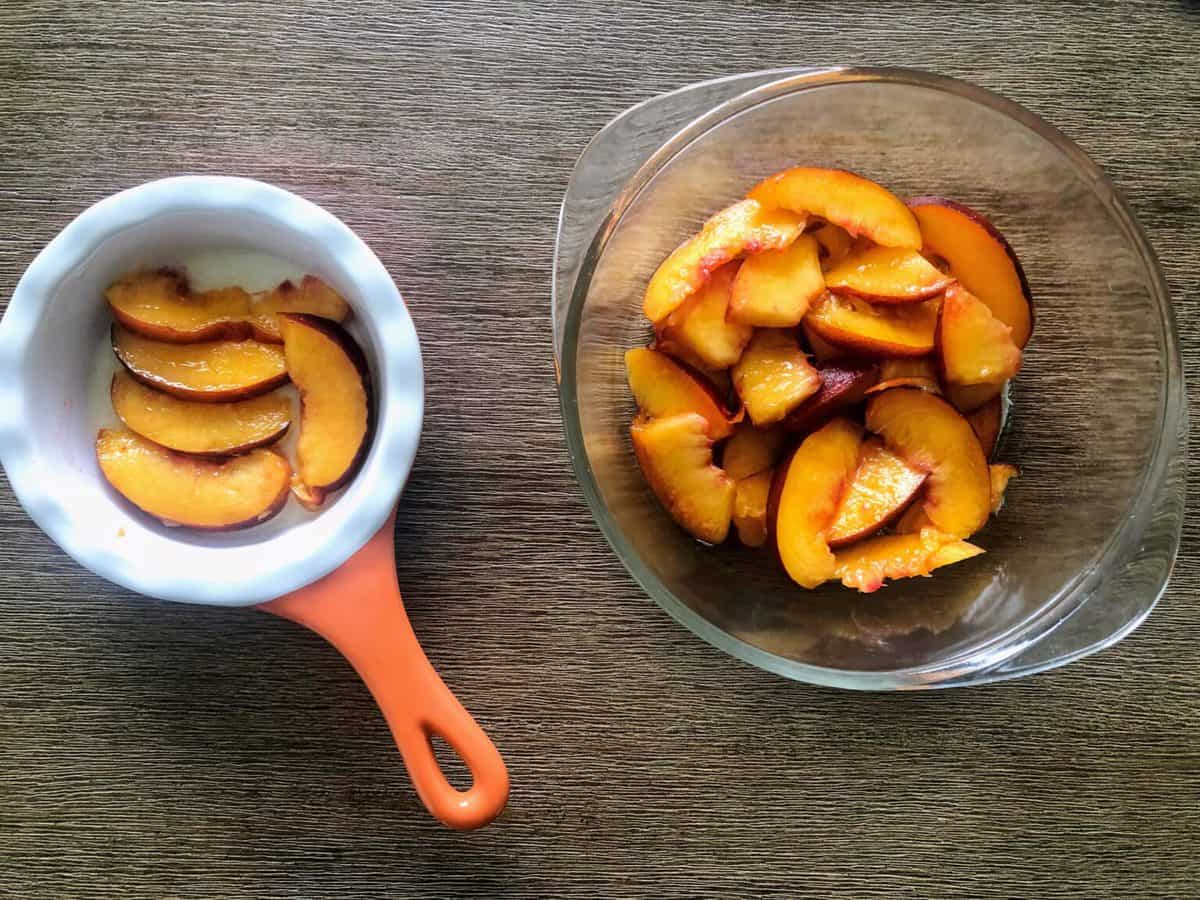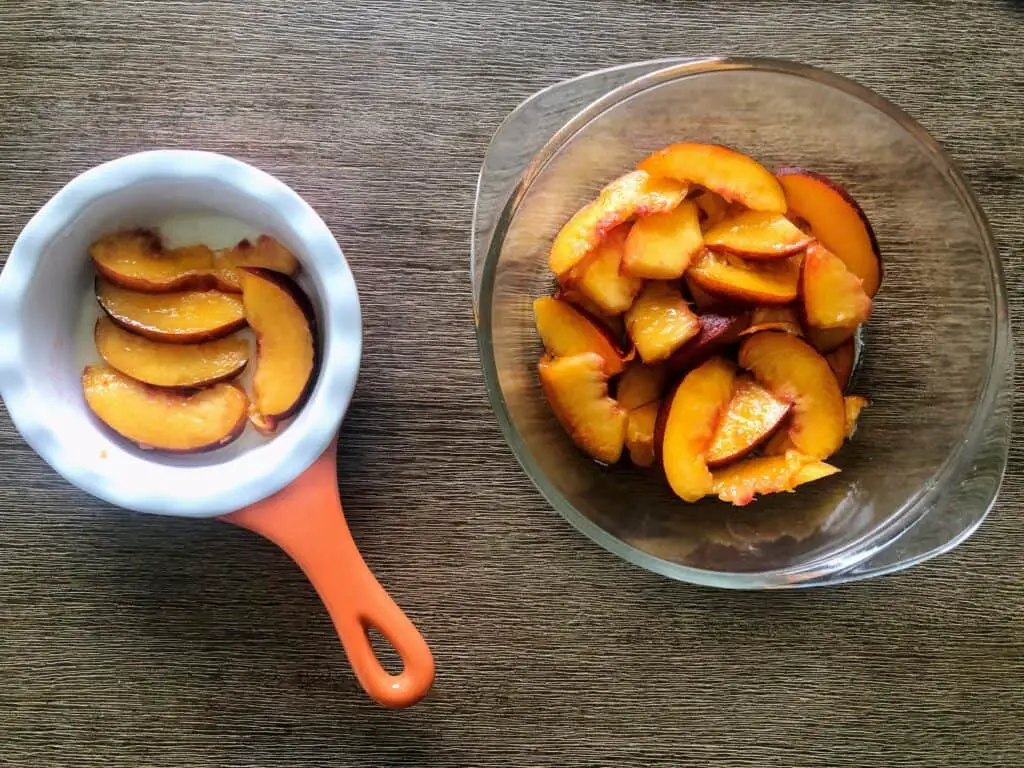 First, place the peaches in the dish and make sure the bottom is covered.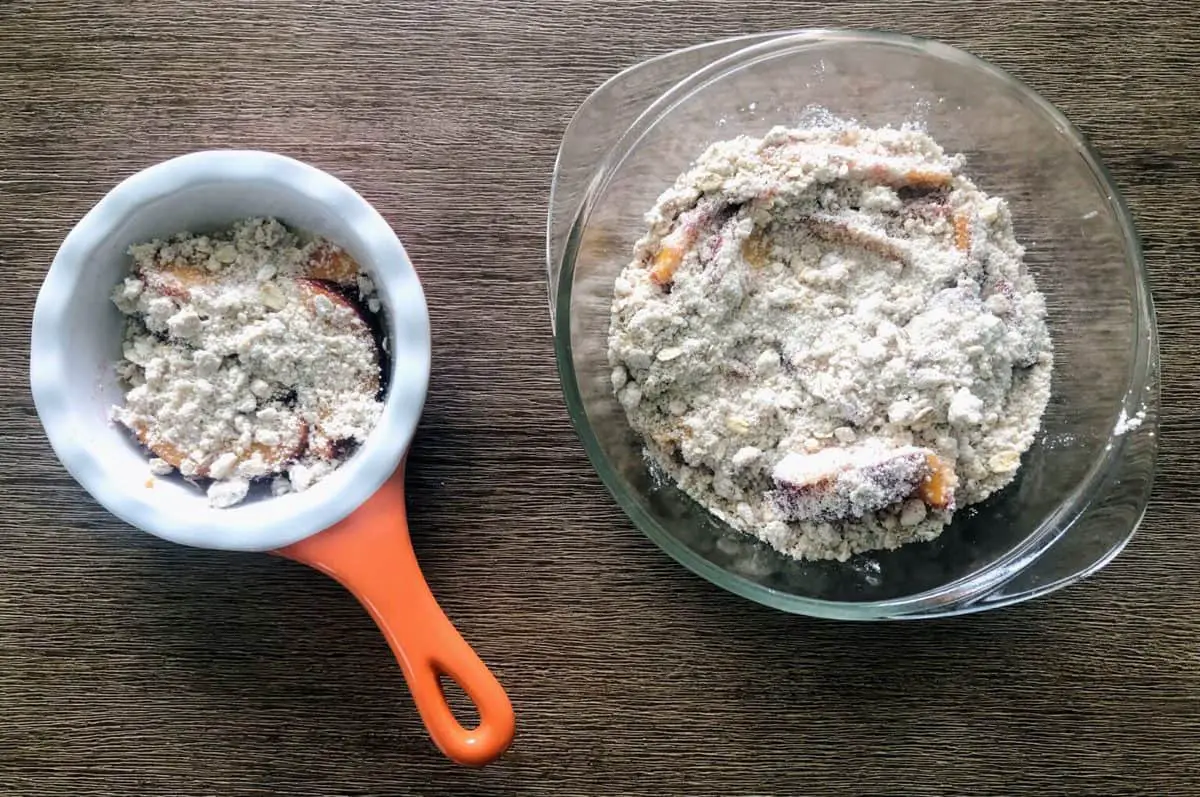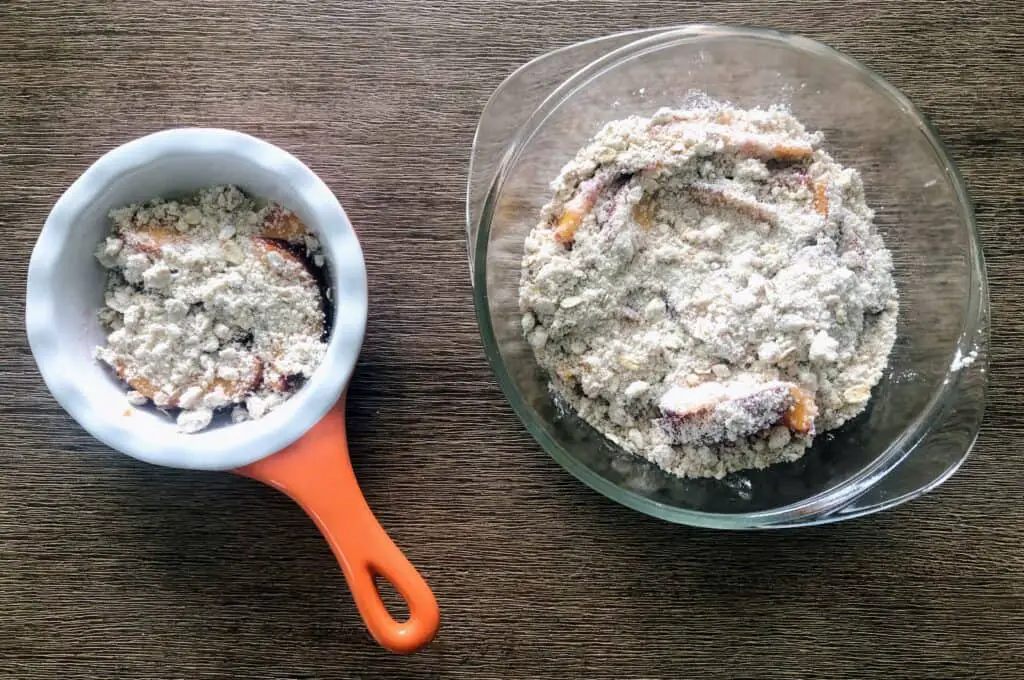 Pour the batter evenly over the peaches.
If opting for a crumble topping, place a few thin slices of butter on top of the oat crumble. 
Bake 20-25 minutes or until the batter is golden brown. For increased crispiness, place under the broiler for 3-4 minutes.
Serve with a scoop of ice cream or a dollop of whipped cream for an extra special treat! This 3-ingredient whipped cream recipe can be thrown together while the crumble is baking!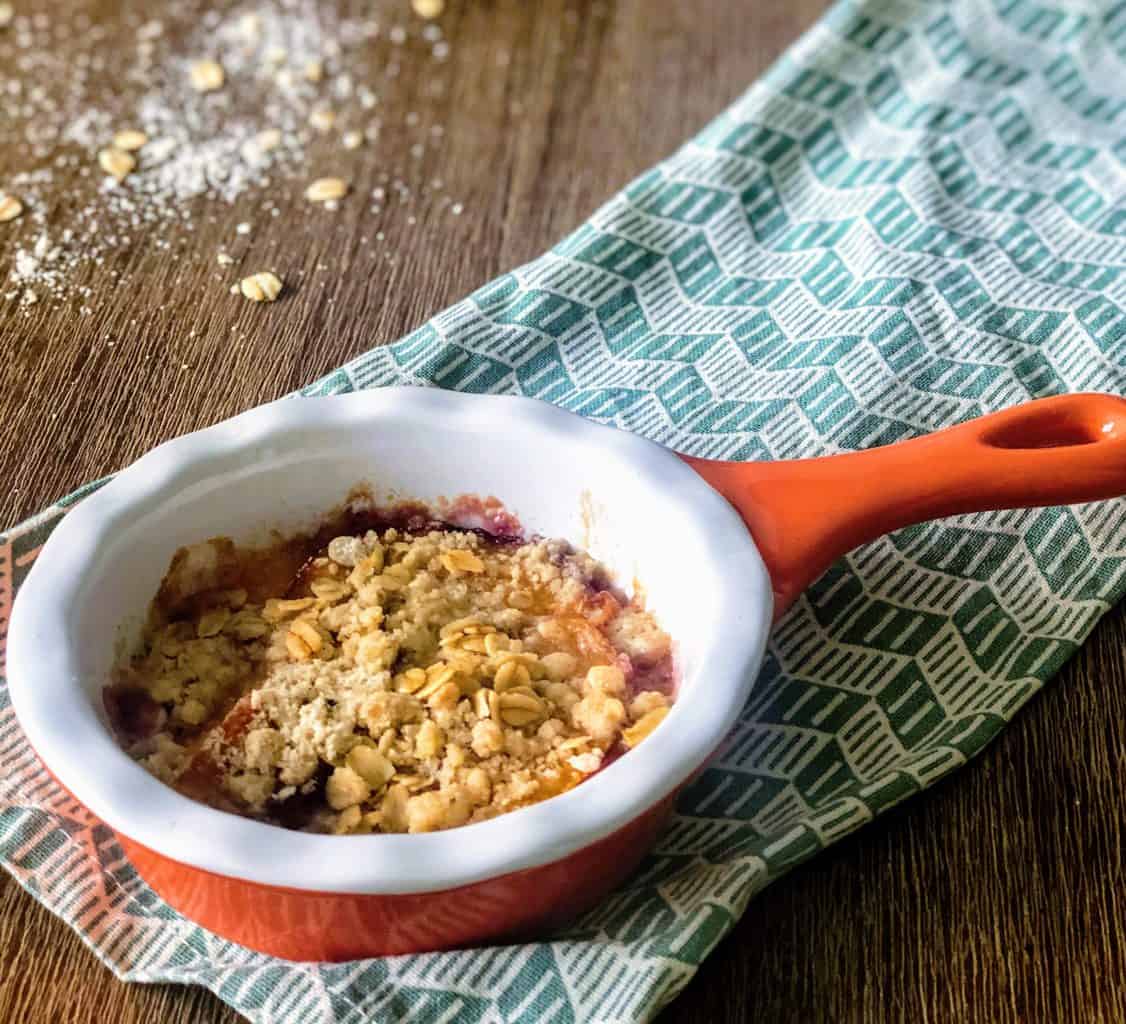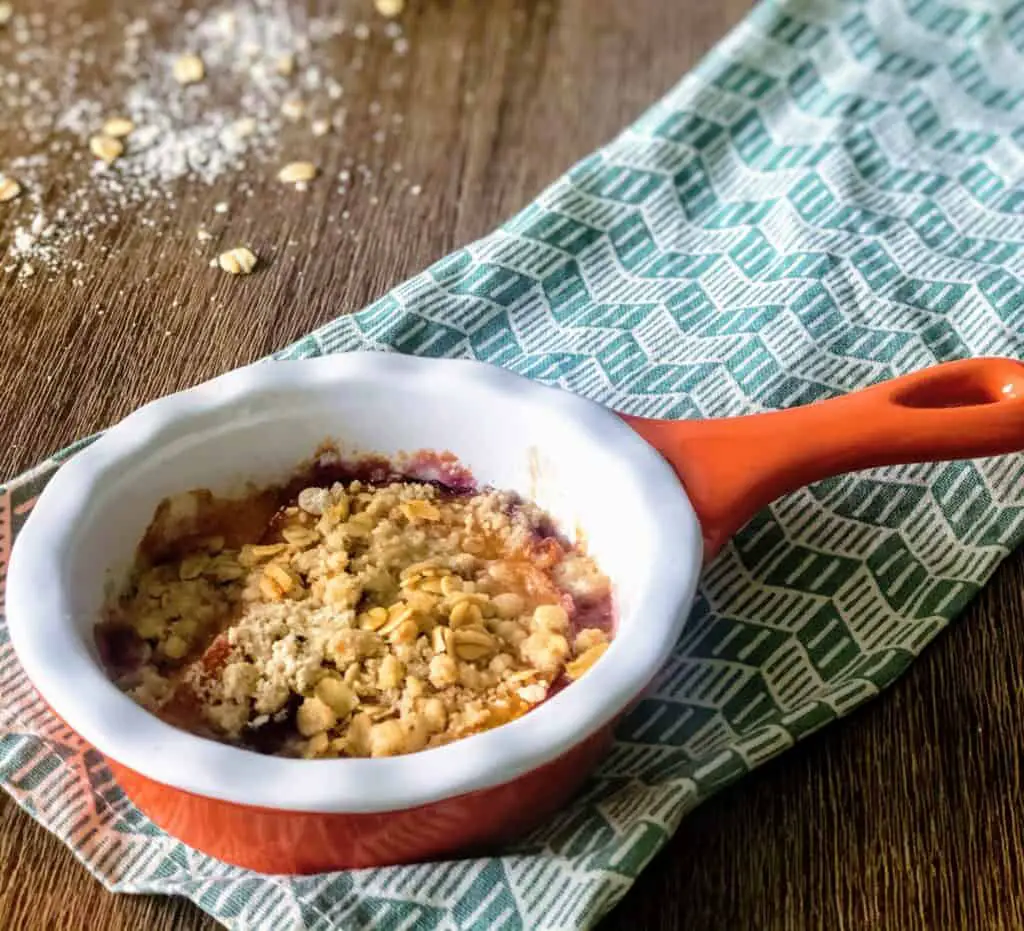 ---
Ingredients Needed
Materials Needed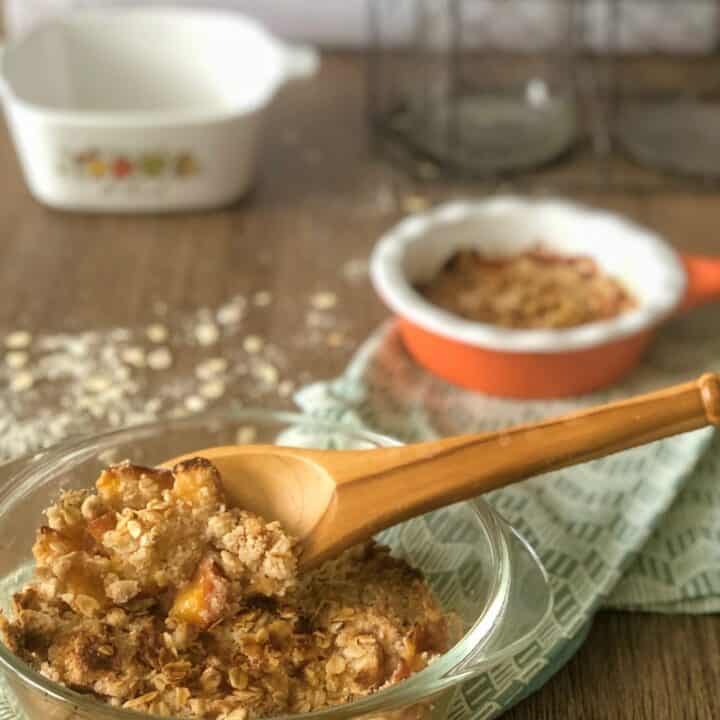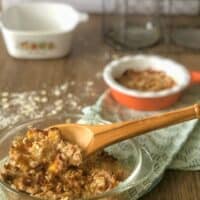 Fresh Peach and Oat Crumble
Ripened peaches tossed in cinnamon sugar and covered with a crispy oat topping come together to make a sweet Fresh Peach and Oat Crumble.
Print
Pin
Rate
Ingredients
3-4

peaches

sliced

4

tbsp

sugar

divided

3

tsp

cinnamon

divided

4

tbsp

butter

divided, more as needed

2/3

cup

oats

1/3

cup

flour

1

tsp

baking powder

1/4

tsp

nutmeg

pinch of

salt

1

tsp

vanilla
Instructions
Preheat oven to 350° F (175° C). Melt 2 tbsp of butter in a baking dish as the oven is preheating and then remove from oven.

Place peaches in the baking dish and toss with 1 tbsp sugar and 1 tsp cinnamon.

In a medium bowl, mix oats, flour, 3 tbsp sugar, 2 tsp cinnamon, baking powder, nutmeg, and salt.

In a small bowl, whisk 2 tbsp melted butter and vanilla. Pour into the dry mixture and stir thoroughly.**

Bake 20-25 minutes or until golden brown. For extra crispines, place under the broiler for 3-4 minutes. Serve warm with ice cream or whipped cream.

**The batter will be dry and crumbly to make the crisp. For a thicker batter more similar to a cobbler, add 1 tbsp of melted butter at a time until the batter reaches a consistency similar to a cookie dough batter.
Pin me!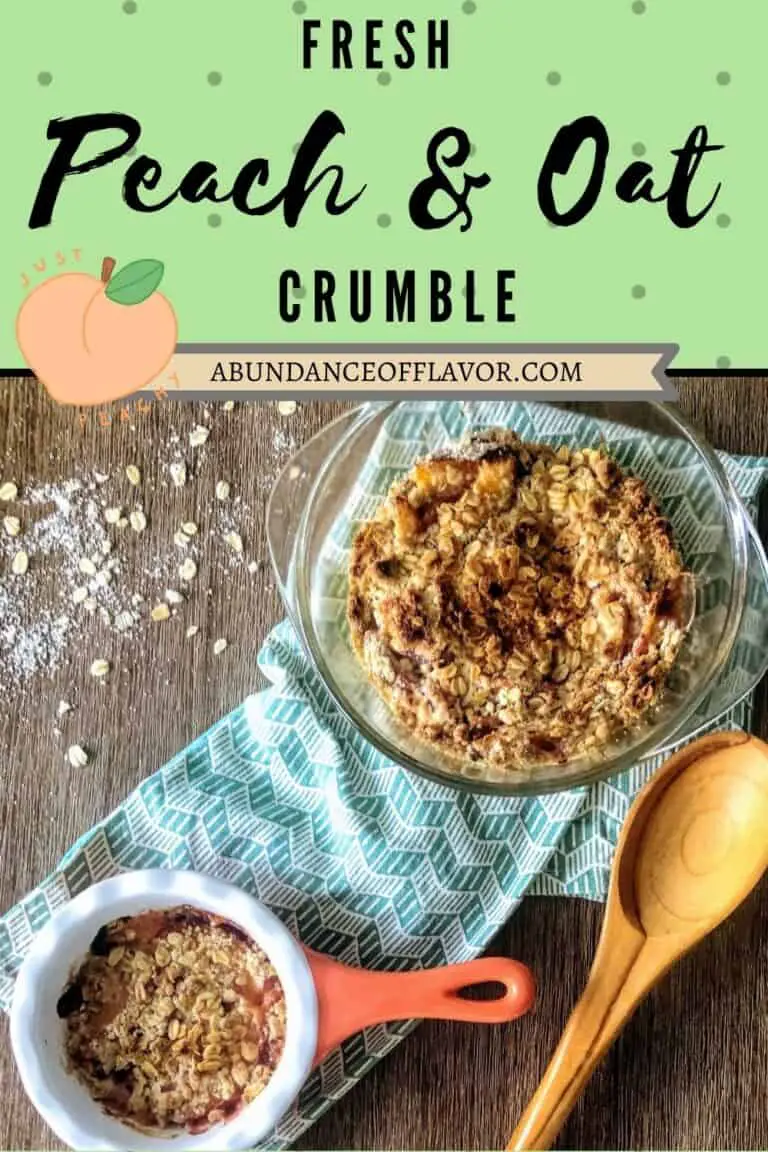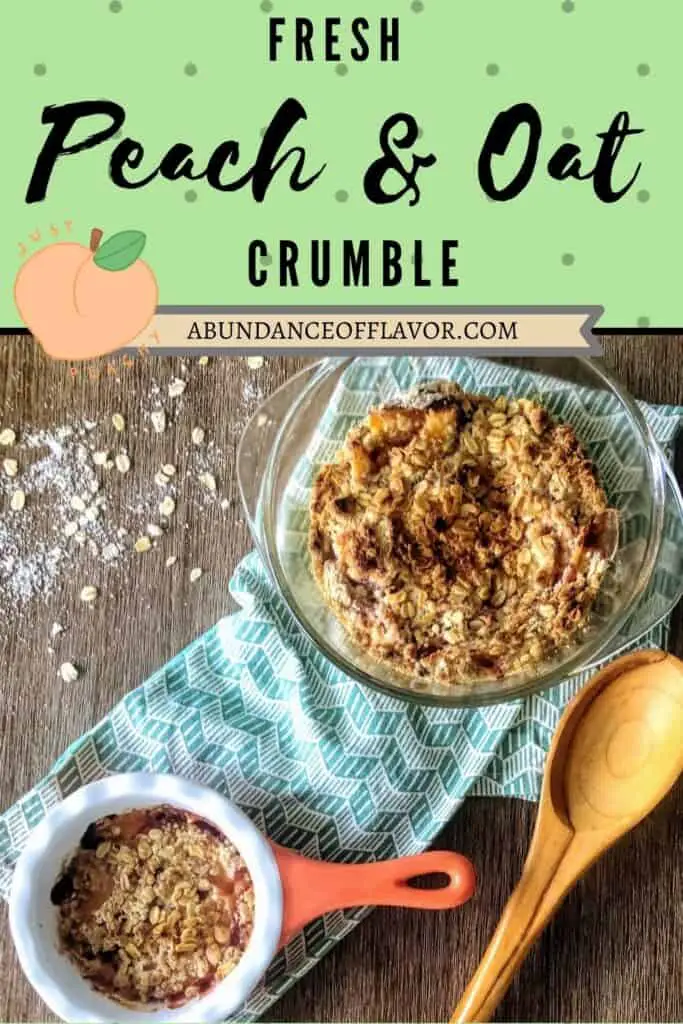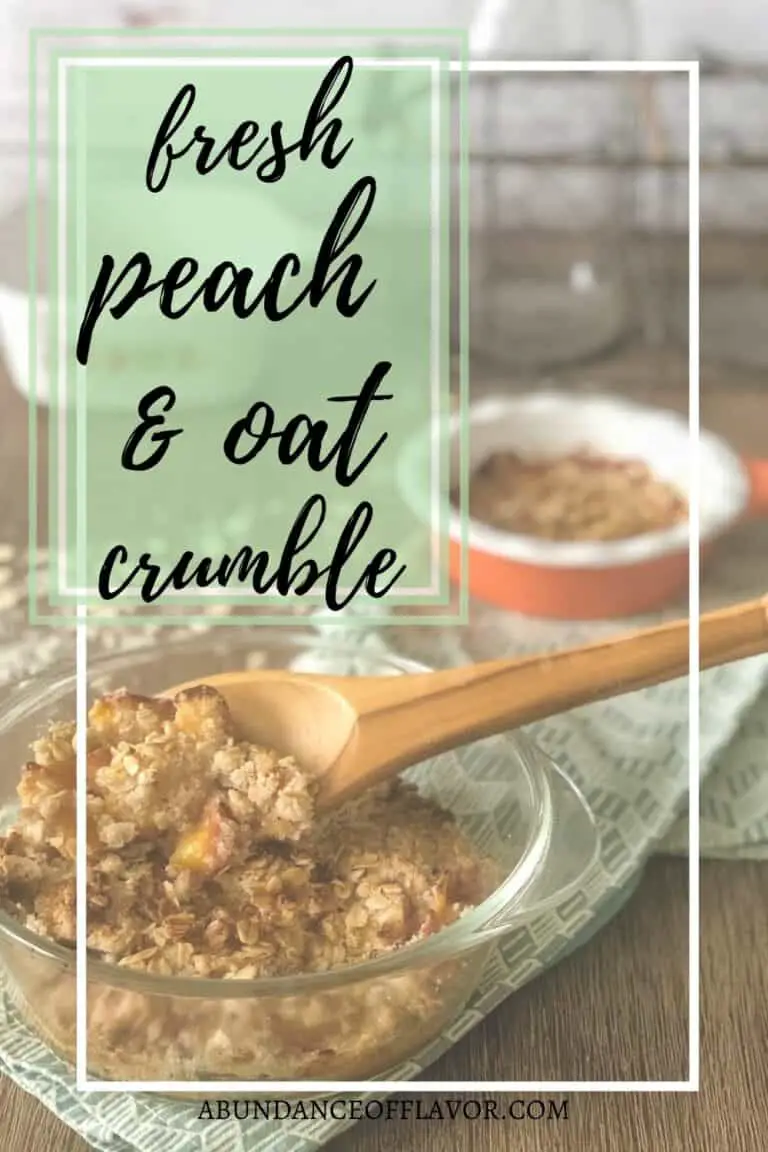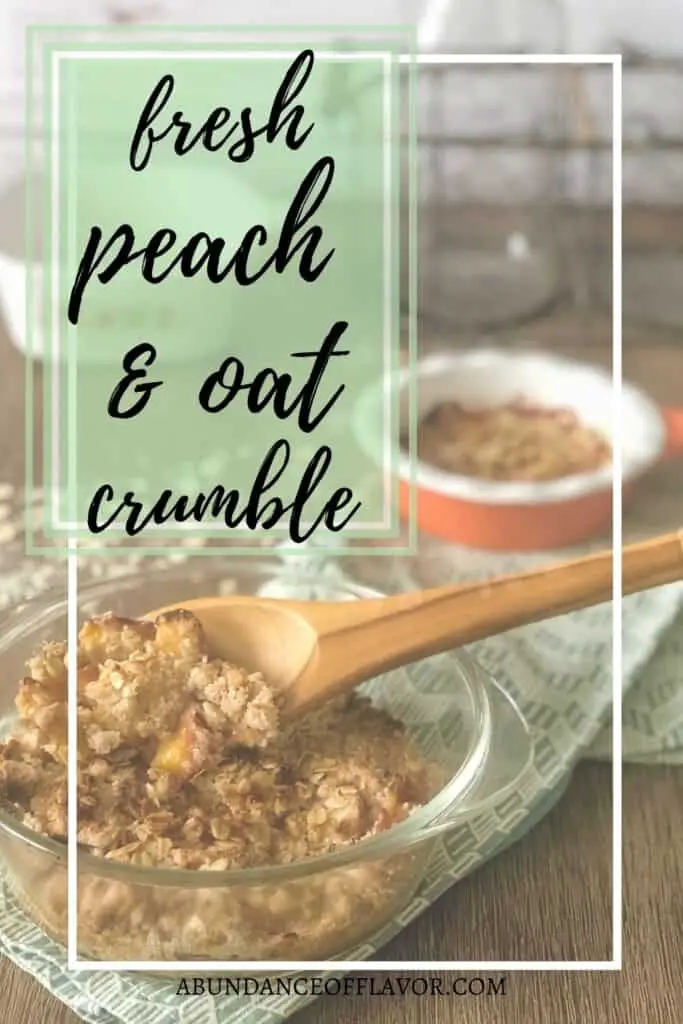 What are your favorite ways to enjoy fresh peaches? Share in the comments below!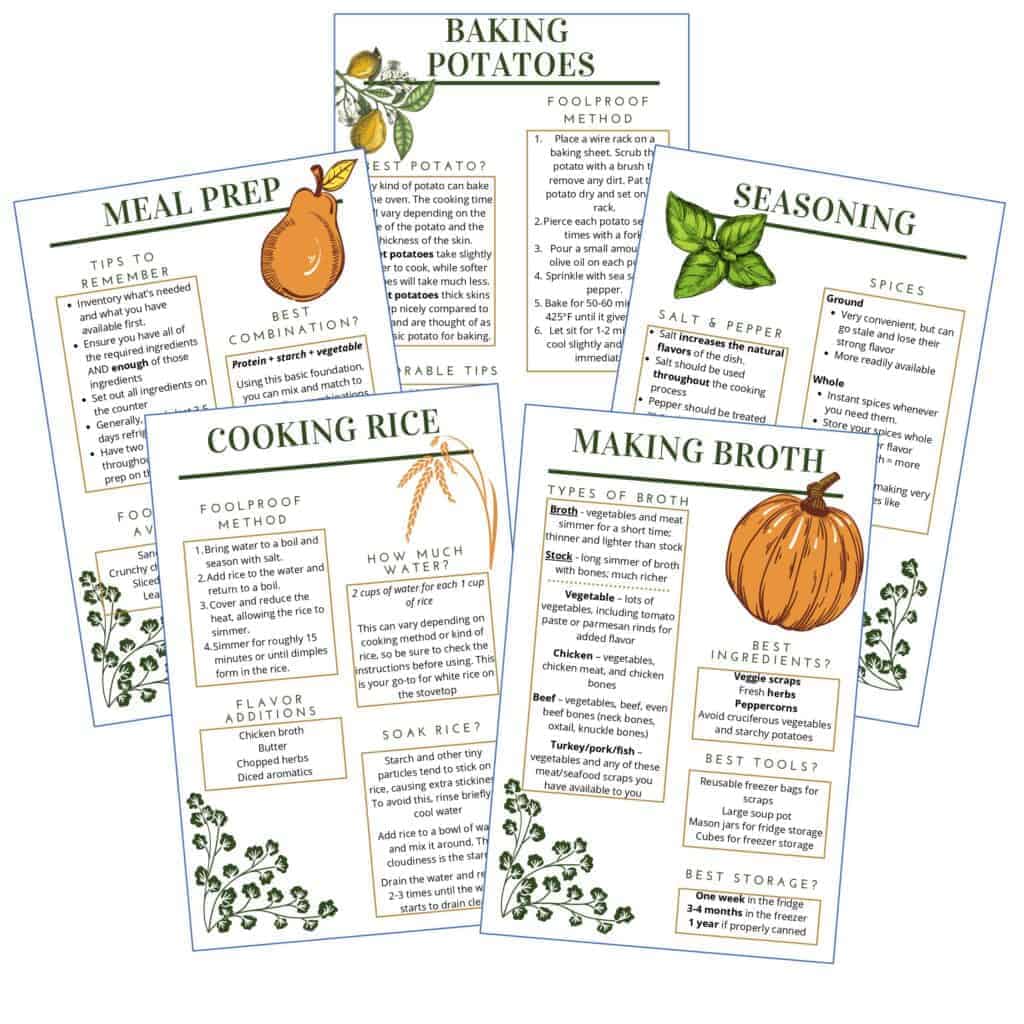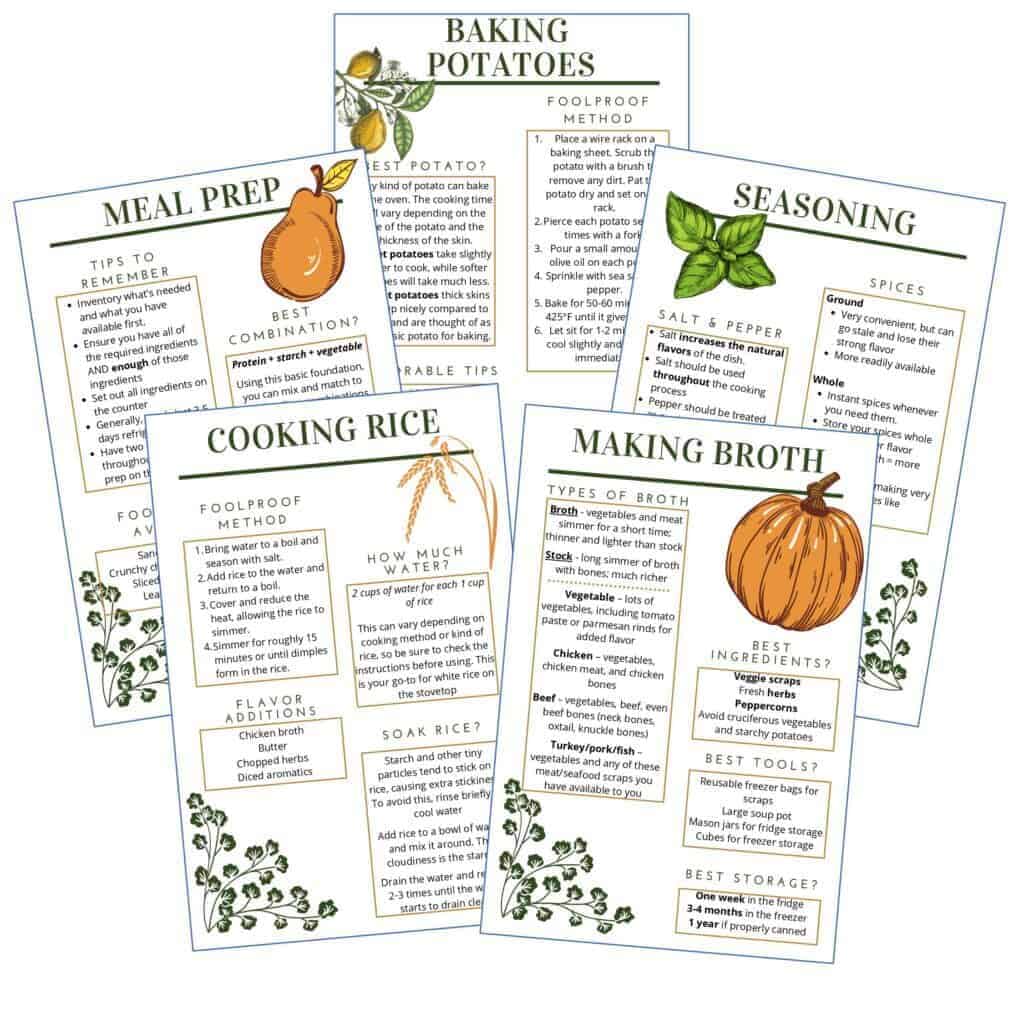 Get your $1 worksheets today!
Related Posts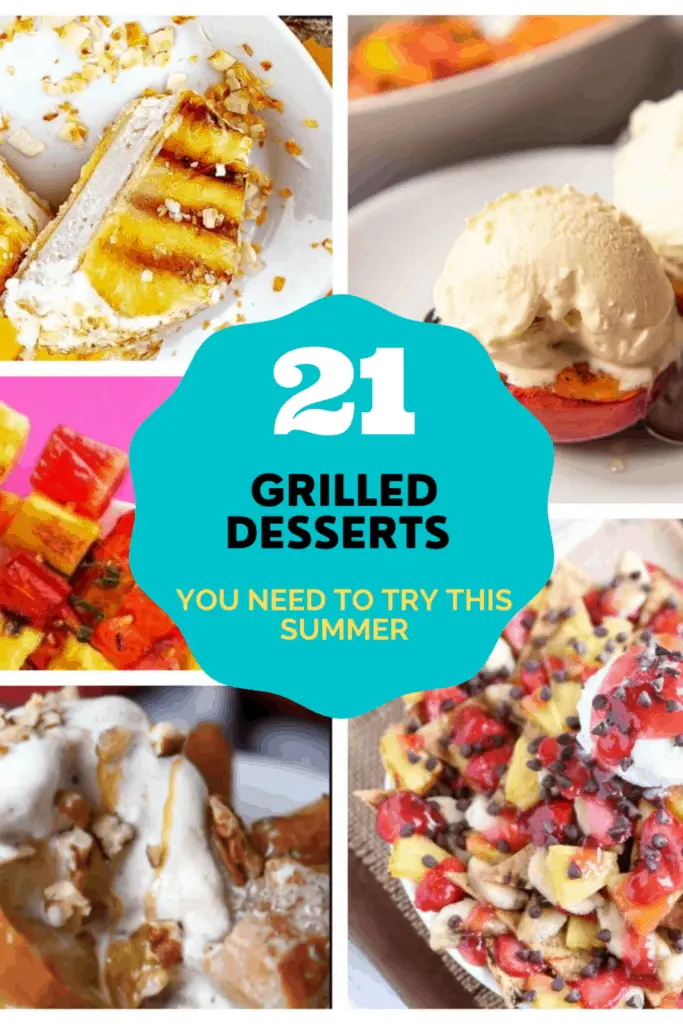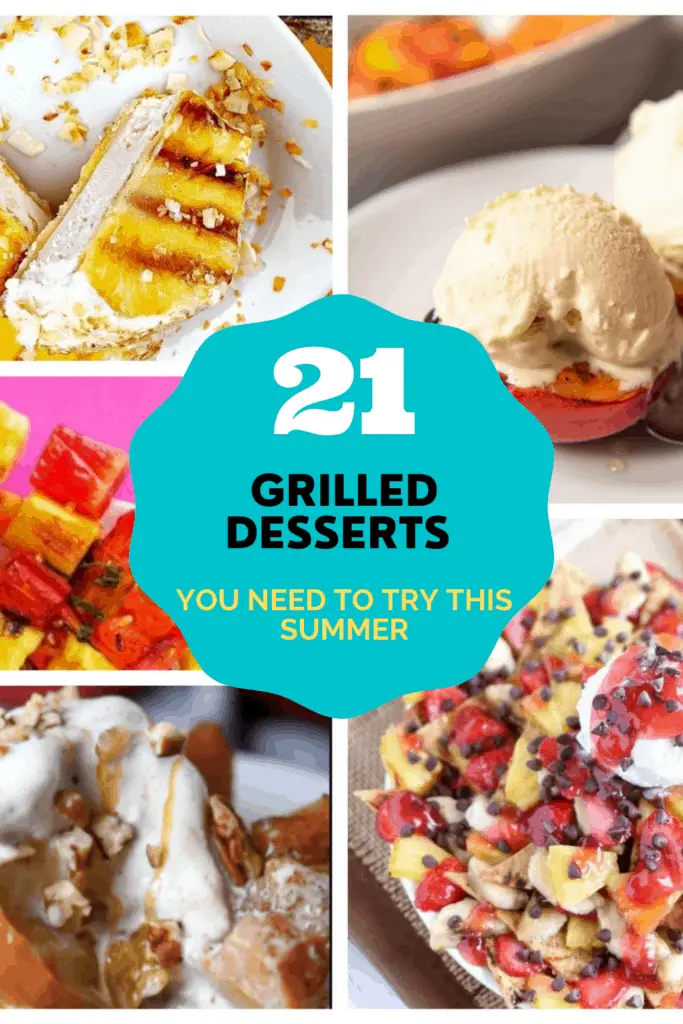 21 Grilled Desserts recipes that deserve a spot at your table this summer. Elevate your favorite desserts with an unbeatable charred taste.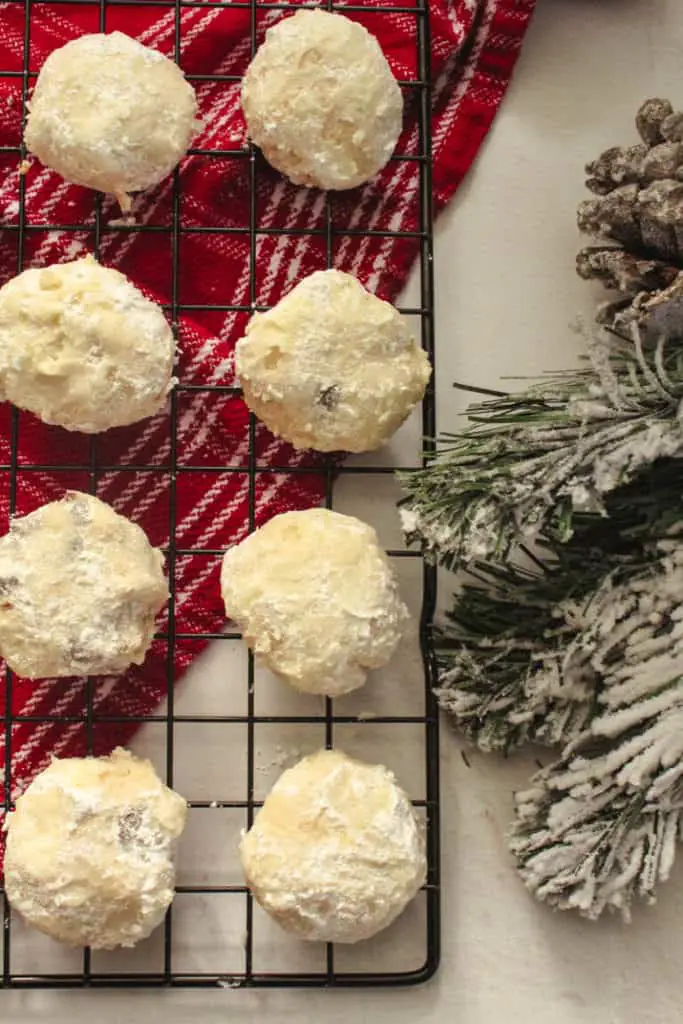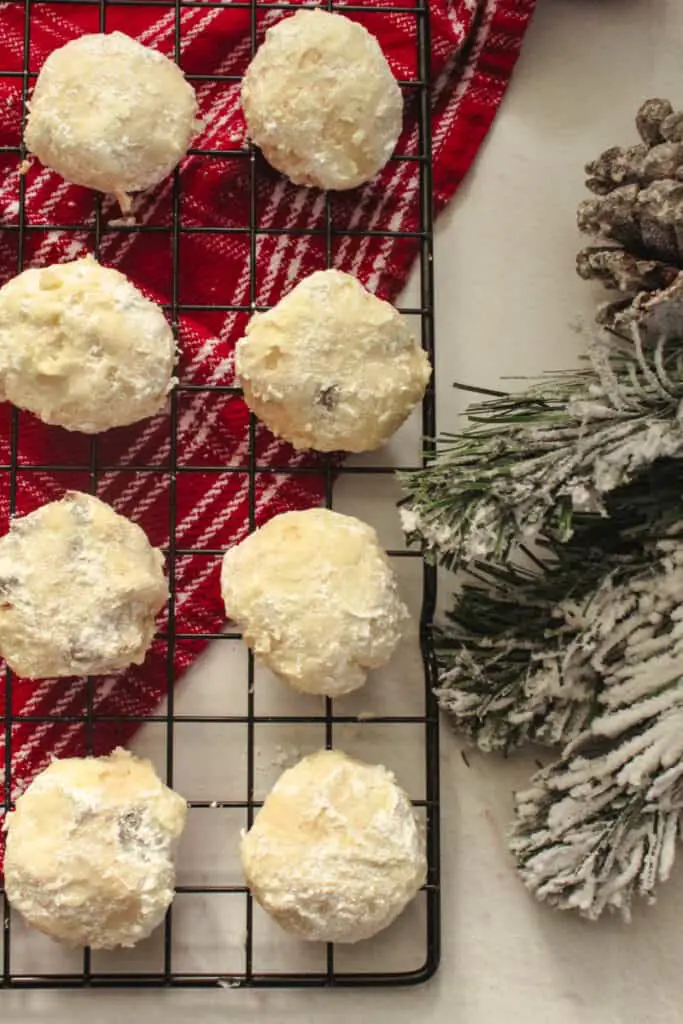 Snowball Cookies Without Nuts are crumbly, buttery Christmas cookies coated in layers upon layers of powdered sugar.