Roasting is a failsafe cooking method for tender, juicy meat that requires very little effort on your part. Beyond a little prep, all that you have to do is relax and smell the amazing aromas that start to fill your house as the roast is cooking.
I have so many cherished memories of large family dinners where the roast is the centerpiece of the meal, whether it be a turkey on Thanksgiving, ham at Christmas or Easter, or a whole chicken for a weeknight meal. An amazing roast is something special to share with family and friends and create long-lasting memories for everyone.
This post is part of our Basic Cooking Skills series. Each week we will be doing a deep-dive into one basic cooking skill and a brand new recipe to accompany it to practice that newfound skill. Check back throughout the series for updates and new posts.
what does it mean to roast meat?
Roasting is a popular cooking method referred to as a dry-heat cooking method, meaning that a very high heat source (aka your oven) cooks the food. In contrast, there is also moist-heat cooking, such as boiling, steaming, stewing, etc.
As we learned in Sauteing Vegetables, sauteing cooks food through conduction whereas roasting cooks food mostly through radiation.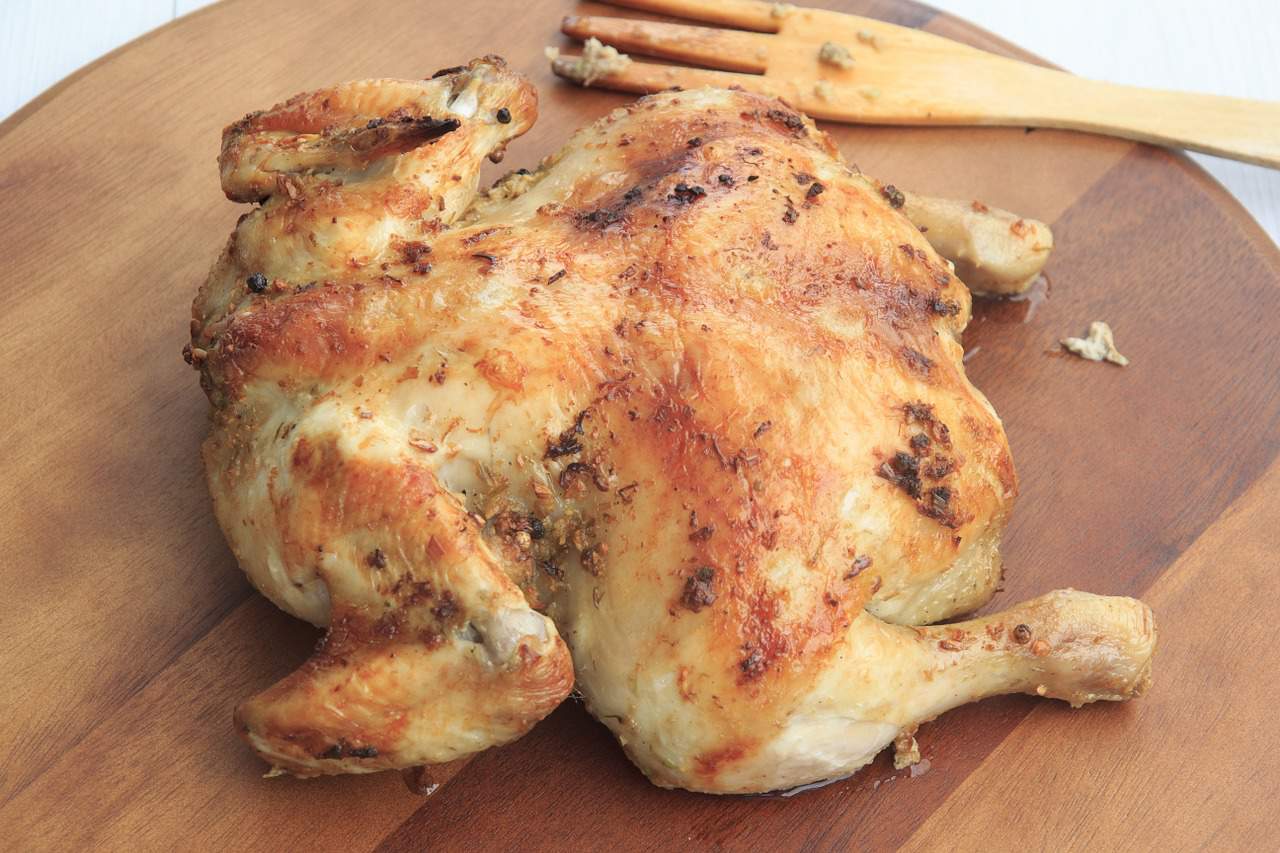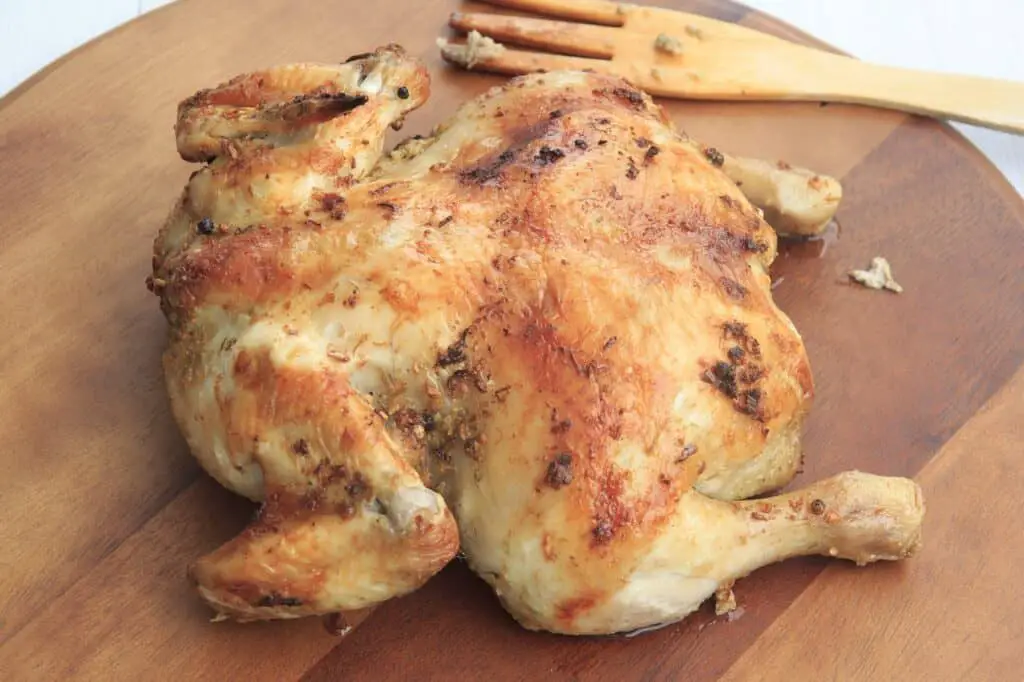 Essentially, an oven radiates and sustains heat by the oven walls. 
The closed oven door seals in the heat and helps maintain a consistent temperature. You may have been scolded before to not open the oven door to check on your food. This advice comes from a good place, as every time you open the oven door hot air escapes and creates an uneven cooking environment within the oven.
As tempting as it may be, roasted food cooks best without any interruption!
Guide to Roasting Meat
Best Tools for Roasting Meat
First things first, what cookware do you need to roast meat?
A large baking pan or dish

The roast needs space for the hot air in your oven to circulate around it. If it's overcrowded it will not cook as evenly and you'll miss out on the yummy crispiness that could form.

A rack or chopped vegetables

To increase the circulation of air even MORE, elevate the roast off of the bottom of the pan by setting it on a rack or on a variety of heart chopped vegetables.

A baster

While roasting, the outermost layer of meat will start to slowly dry out since it is SO exposed to all of that hot air. Rather than cover the meat with foil, a baster is handy to redistribute the juices from the bottom of the pan to cover the entire roast. This moisturizes the meat and helps the outside crisp up into a golden brown..
(I'm going to be honest here, I don't own a baster!! A spoon does the trick just fine)
Best Time & Temperature to Roast Meat
We've all heard of the "low-and-slow" method. Large cuts of meat need to be cooked at low temperatures for long periods of time to really tenderize their tough fibers. Pork shoulders, beef tenderloins, and whole turkeys typically need at least 2-4 hours to cook through.
Higher temperatures are needed if you want that beautiful crispy brown layer surrounding the roast.
It's common practice to start cooking large cuts of meat at a high temperature for a short amount of time, and then lowering the temperature for the extended time.
Smaller, more tender cuts should be roasted at a high temperature the entire time, for a much shorter length overall.
For specifics on time and temperature, you really have to find specific recipes but those will still vary based on the size of the cut of meat. The standard across all of this that can be followed is going off of the internal temperature.
Beef, pork, veal, lamb, and fish = 145 degrees F
Poultry = 165 degrees F
best way to season roasts
Salt the meat ahead of time so the salt can penetrate the meat. Juices from inside the meat are drawn out to the surface by salt to form a brine. The meat then reabsorbs the delicious brine, creating even more flavor.
The longer the meat is salted = the increased flavor and moisture content
Generally, large roasts should be salted and stored in the refrigerator for up to 24 hours to allow for the greatest impact on flavor.
Drizzle lightly with olive oil or butter to help the outside crisp up nicely while cooking and to for the seasoning to stick better all over the roast.
Keep the spices you add very simple — most of the flavor will come from the meat itself! Toss with salt and pepper, and maybe a few sprigs of fresh herbs. What really flavors the roast is the meat itself with a little assist from the salt.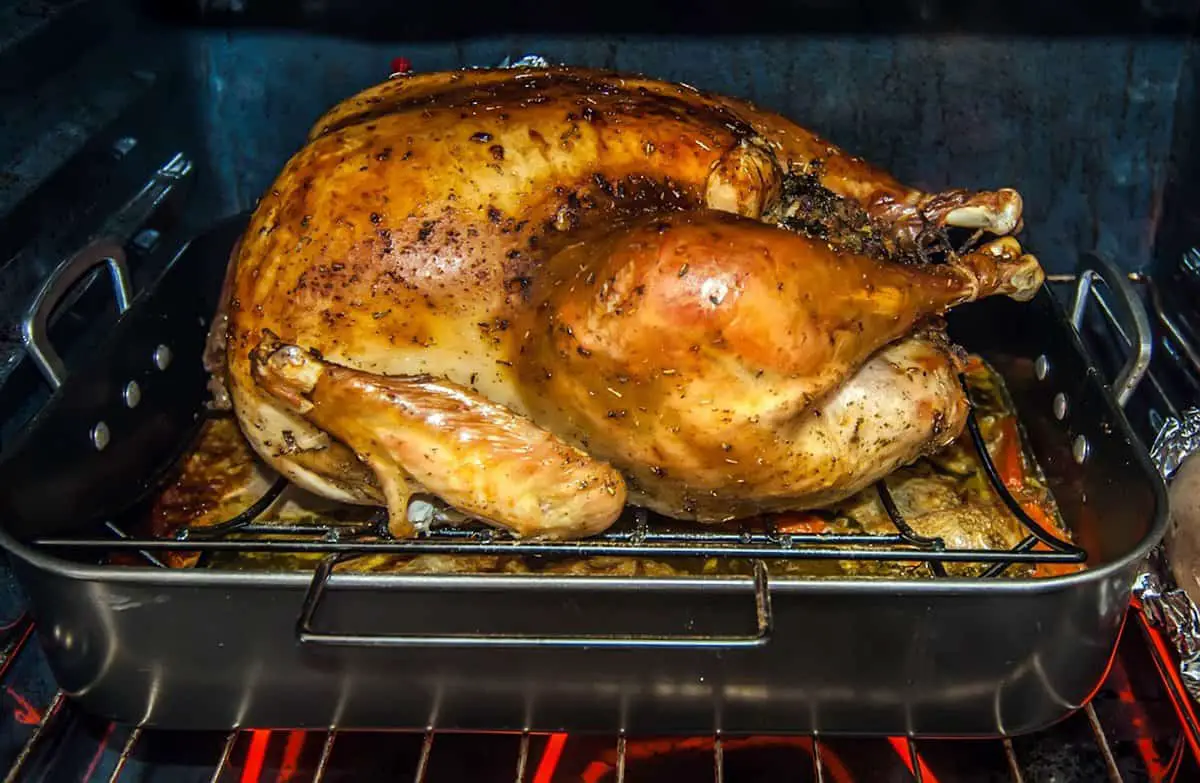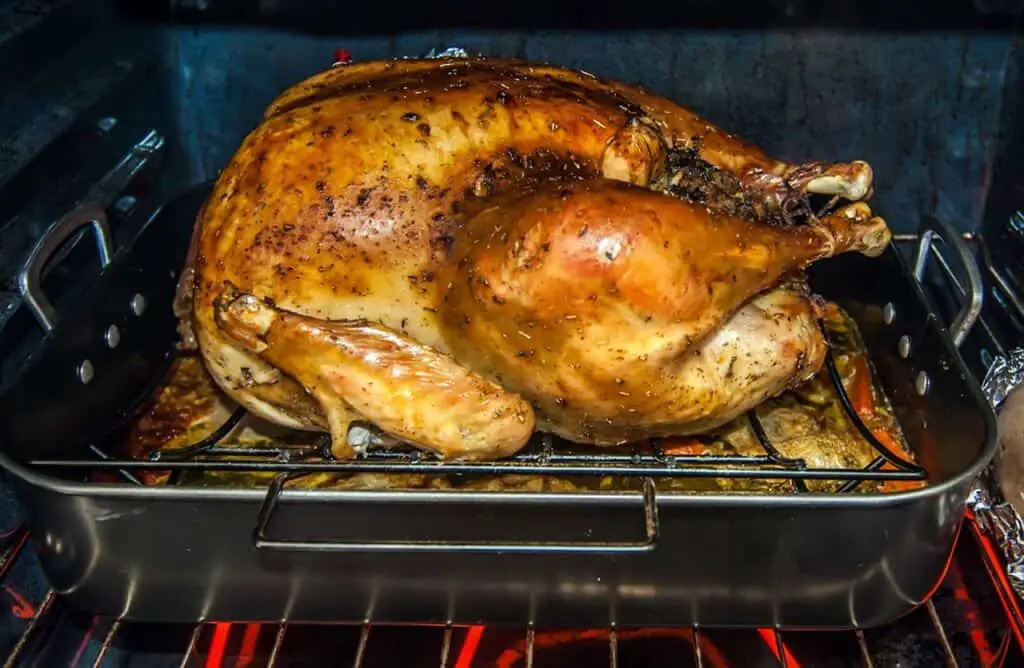 Tips for Roasting Meat
Most kinds of meat can be roasted by adjusting the time and temperature at which they cook in the oven.
Bring the meat to room temperature before going into the oven
Use a wide baking dish or pan for even cooking
Place the meat on top of vegetables or a rack in the pan to increase hot air circulation around the entire roast.
Tying large cuts of meat helps with even cooking by keeping the thickness of the roast consistent.
The hottest part of the oven is towards the back. The front near the door is where hot air can easily escape.
Allow the meat to rest for at least 15 minutes before cutting into it. Cutting too early causes all of the heat to rush out and push out some of that delicious juiciness.
Roasts continue cooking on your counter. Remove from the oven when the internal temperature is just slightly below your target.
Materials Needed
Pin me!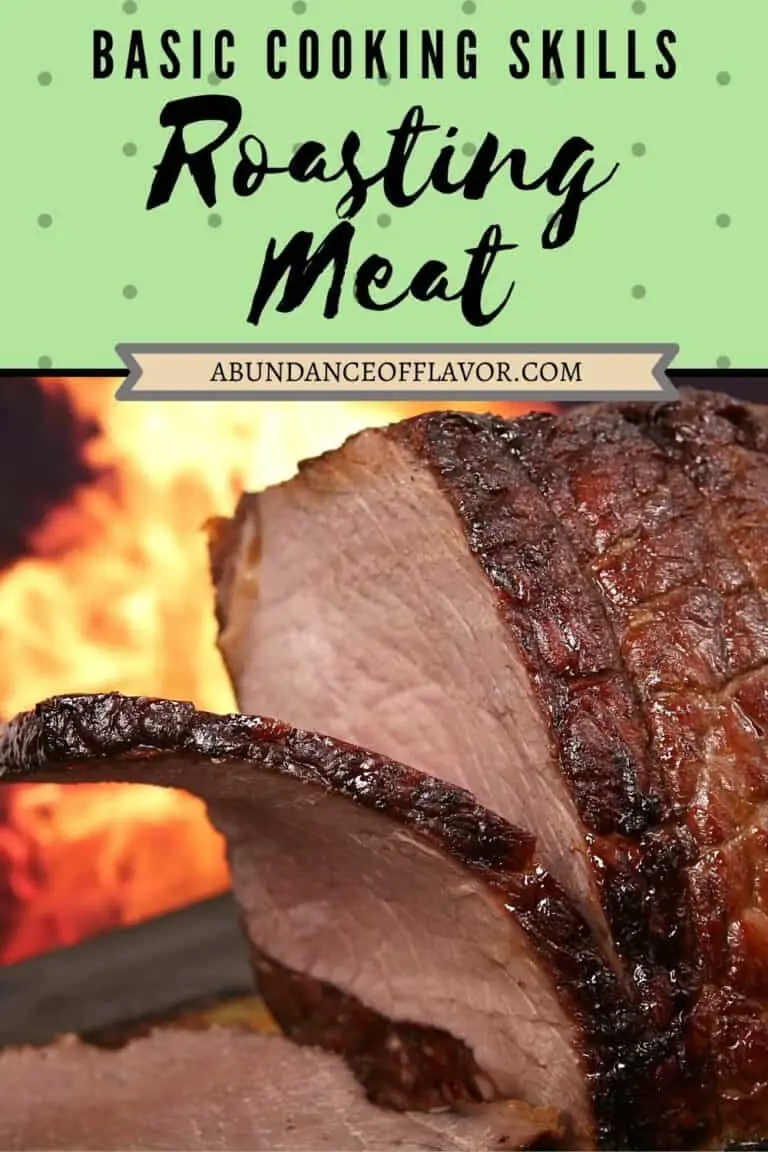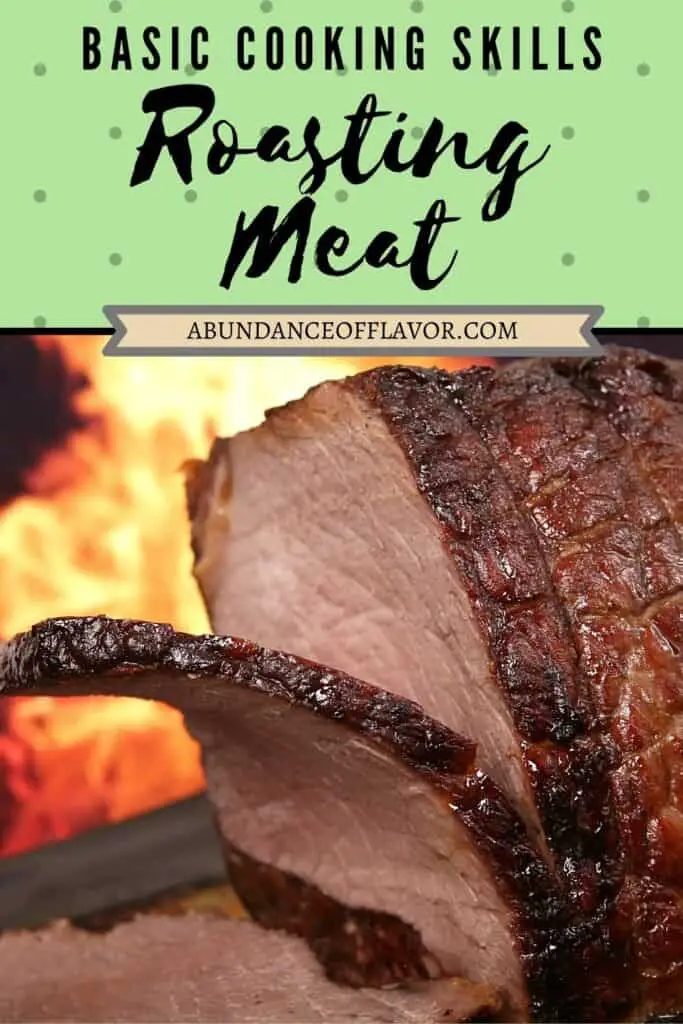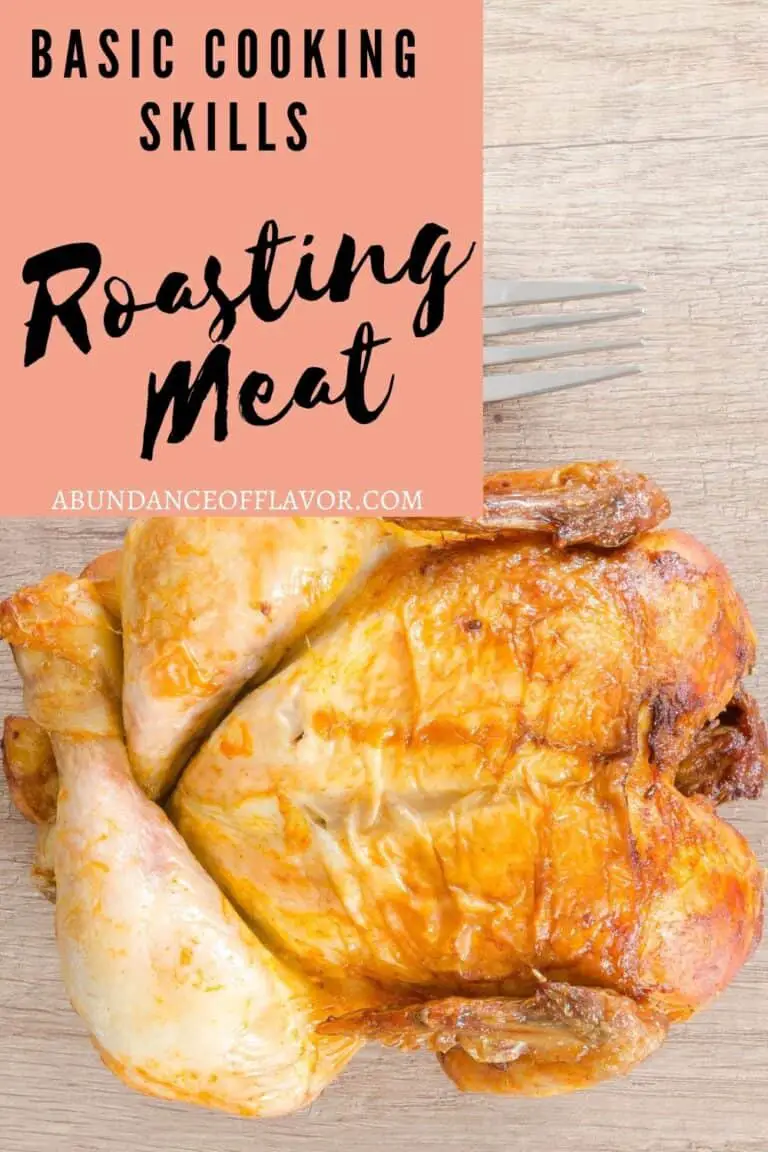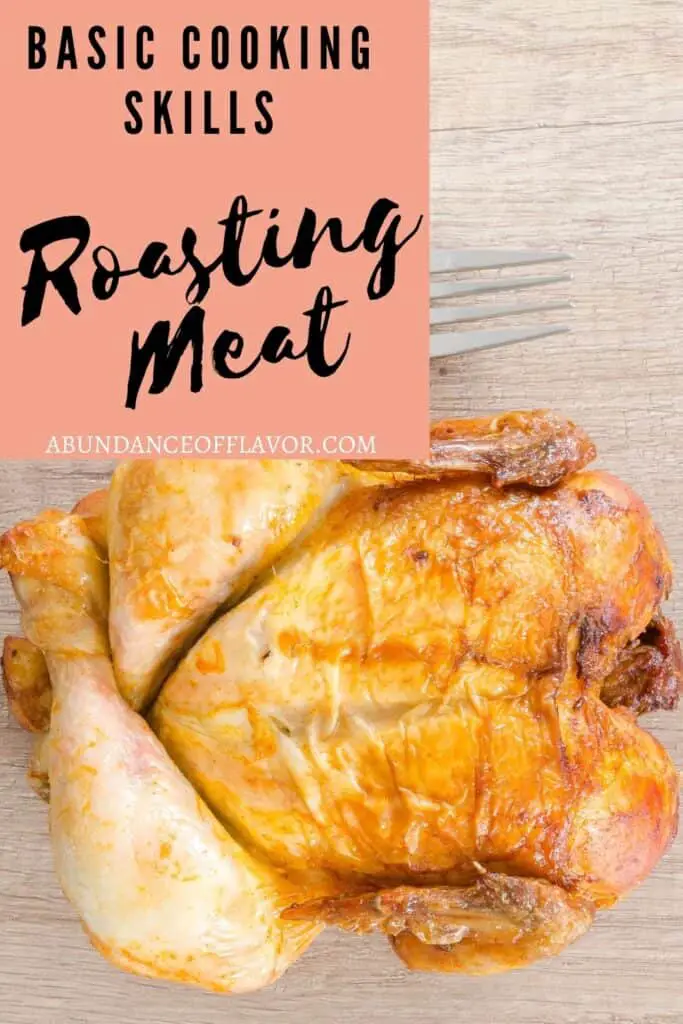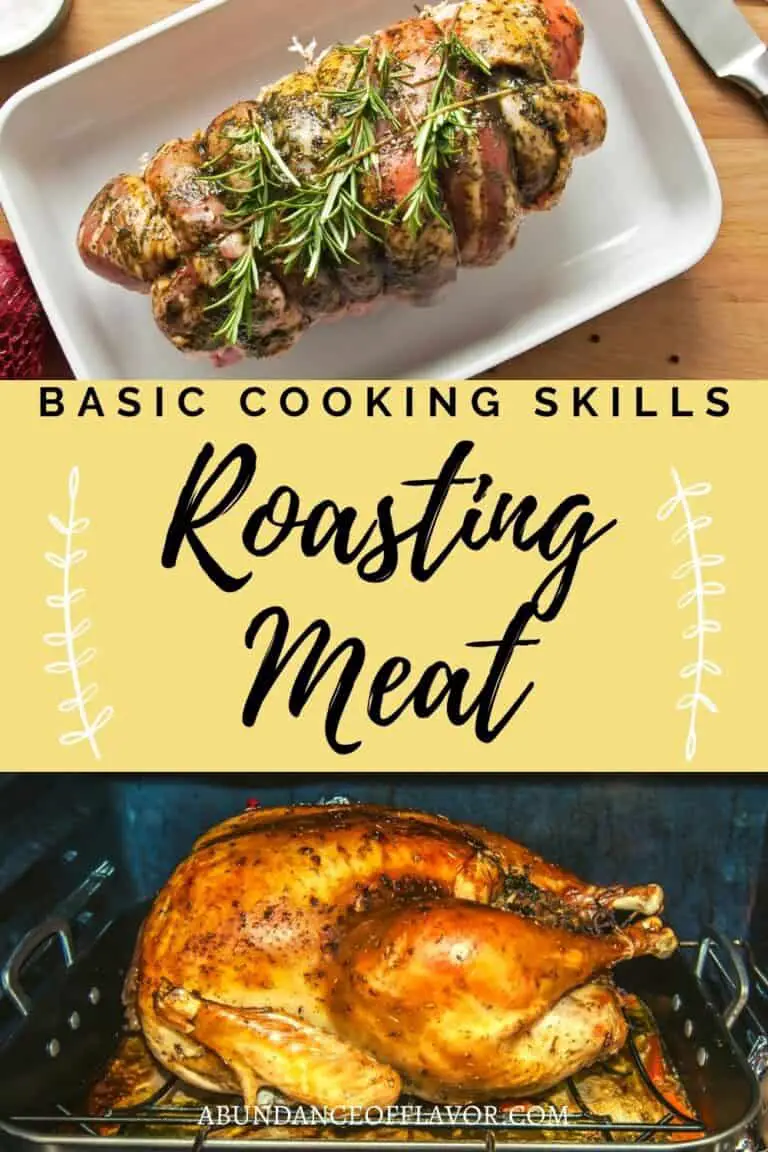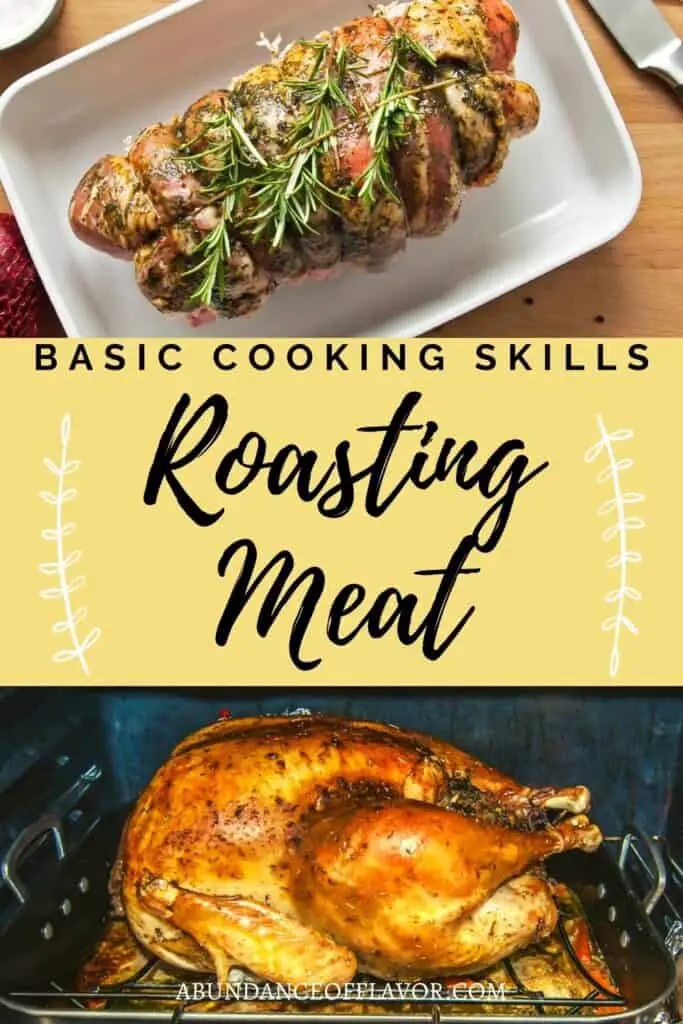 Implement your new skill
Coming up on Thursday I'll be sharing the BEST whole roasted chicken recipe so you can try it out for yourself 🙂 In the meantime, what are some of your favorite memories related to roasting with your family or friends? It's hard to top so many great Thanksgiving memories through the years!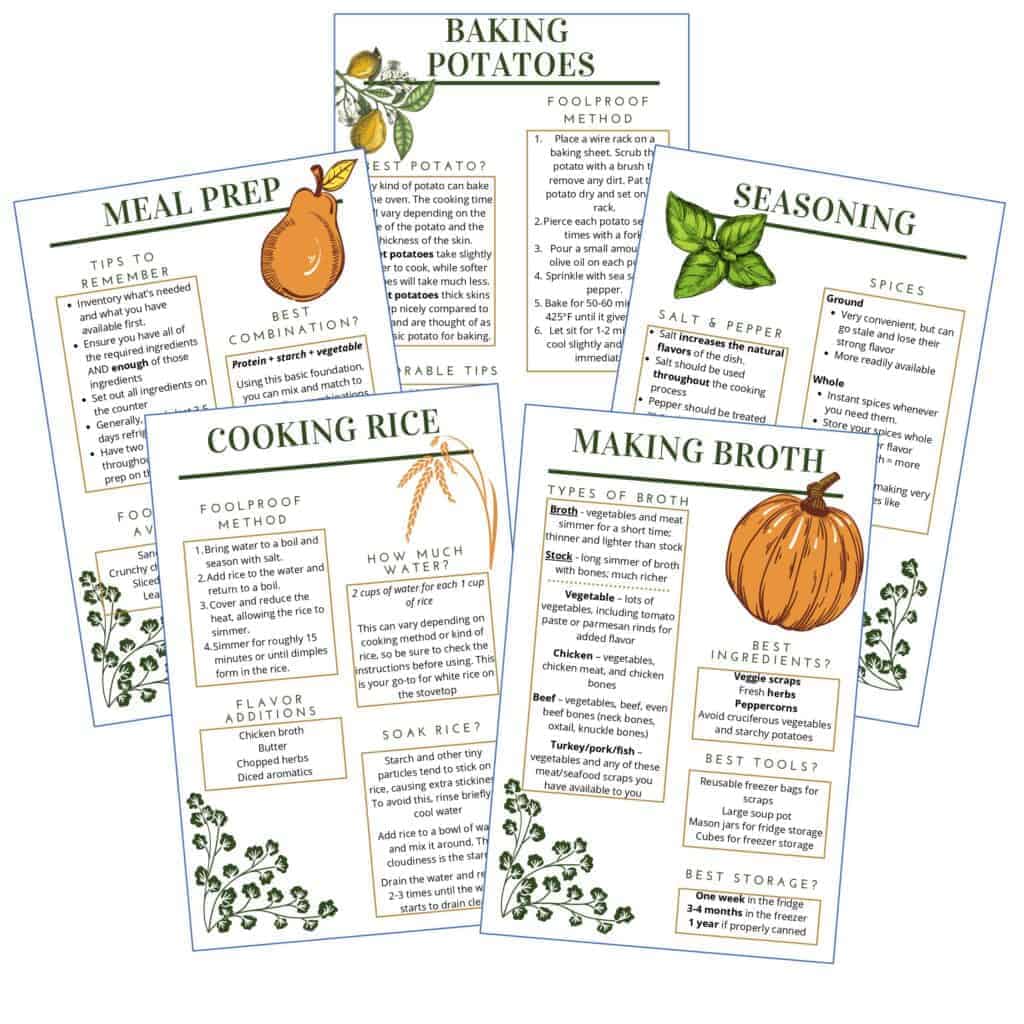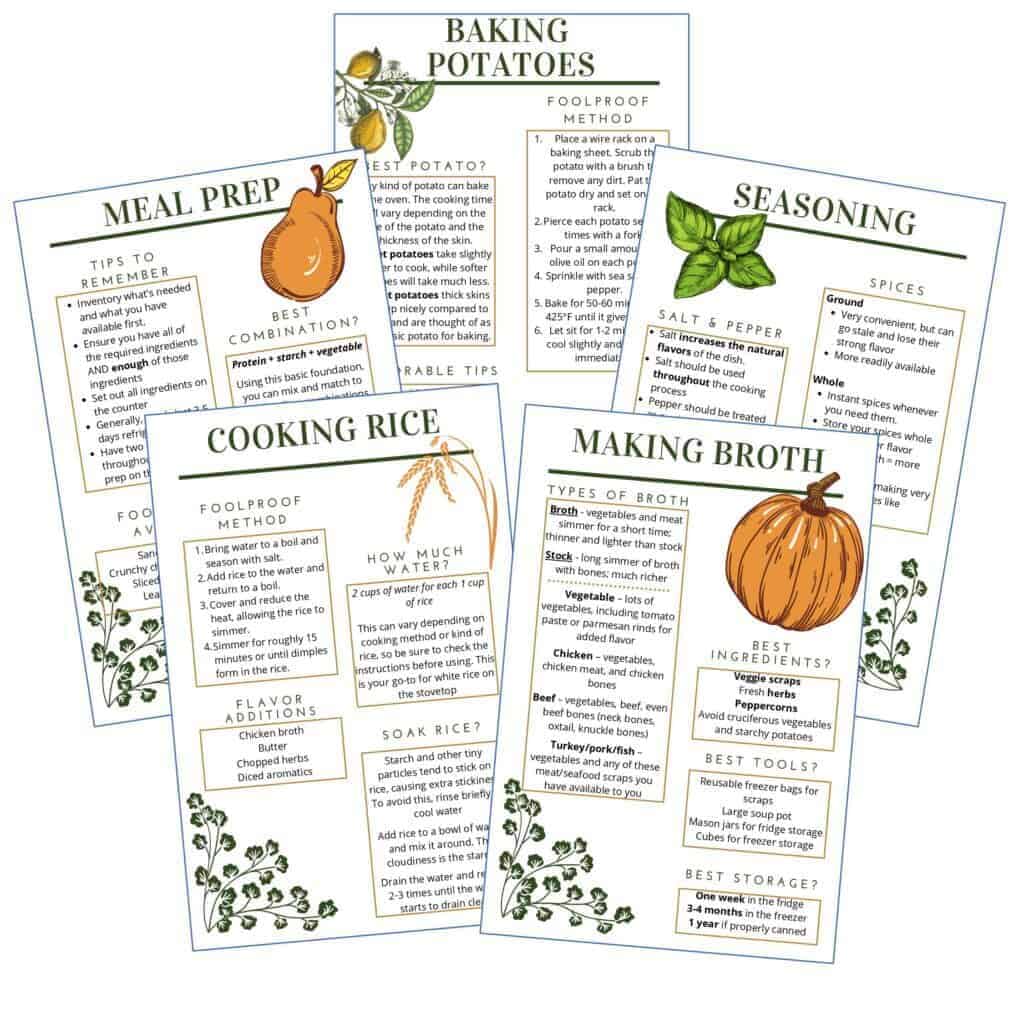 Get your $1 worksheets today!
Related Posts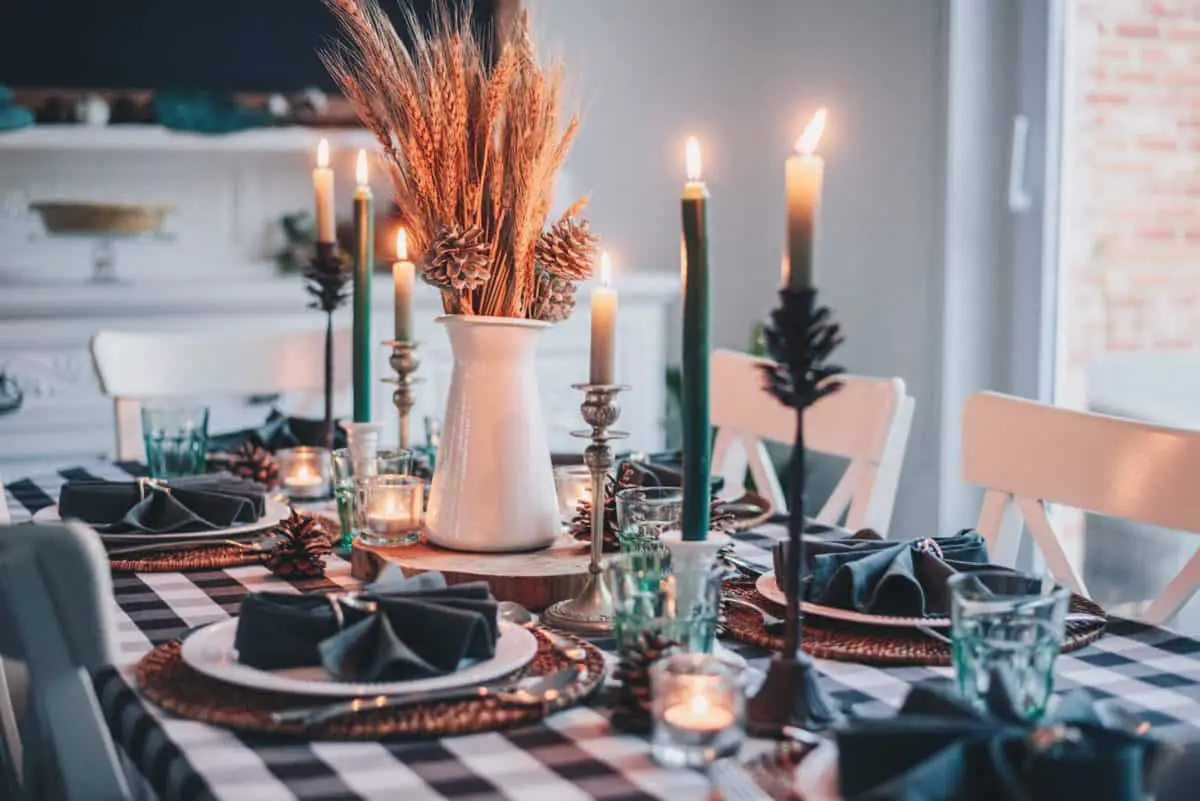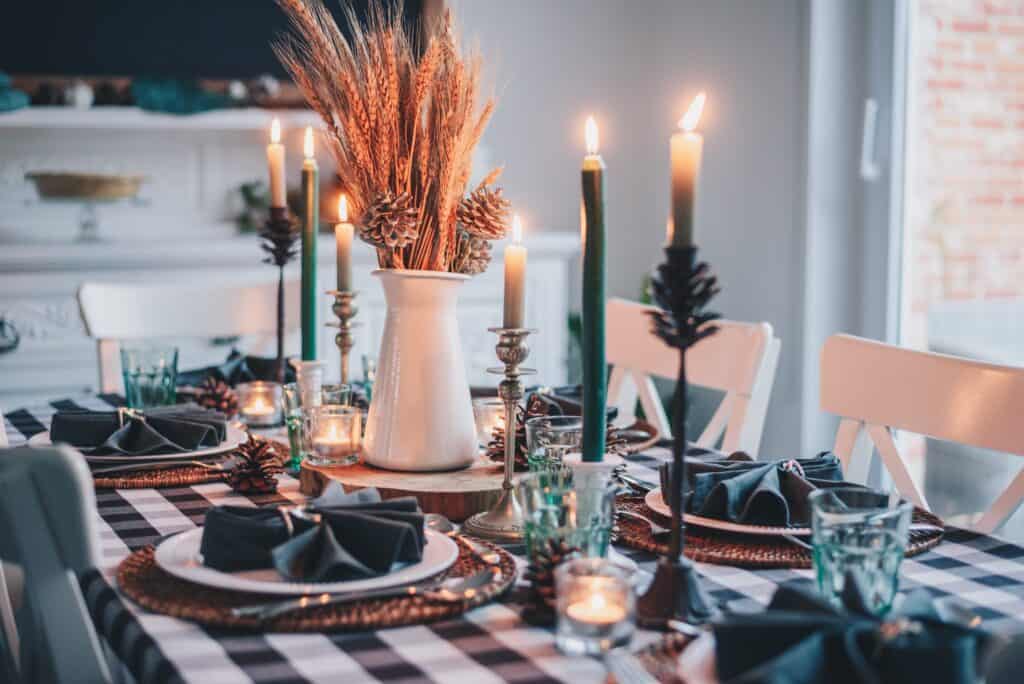 The ultimate kitchen essentials list for fall! Decorate your home this year with some of my affordable fall-favorites on Amazon.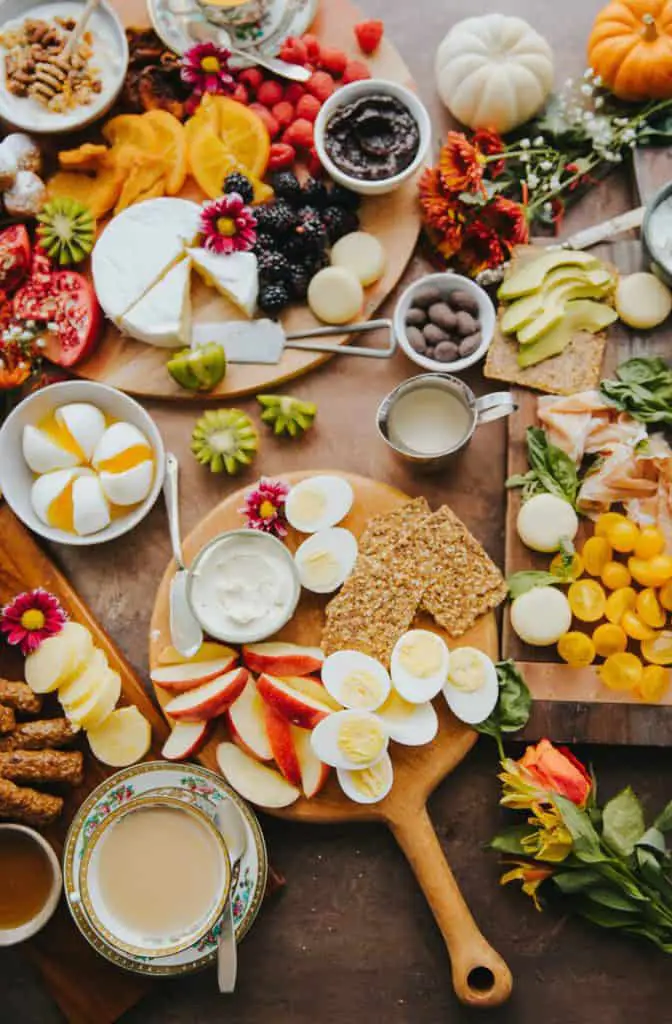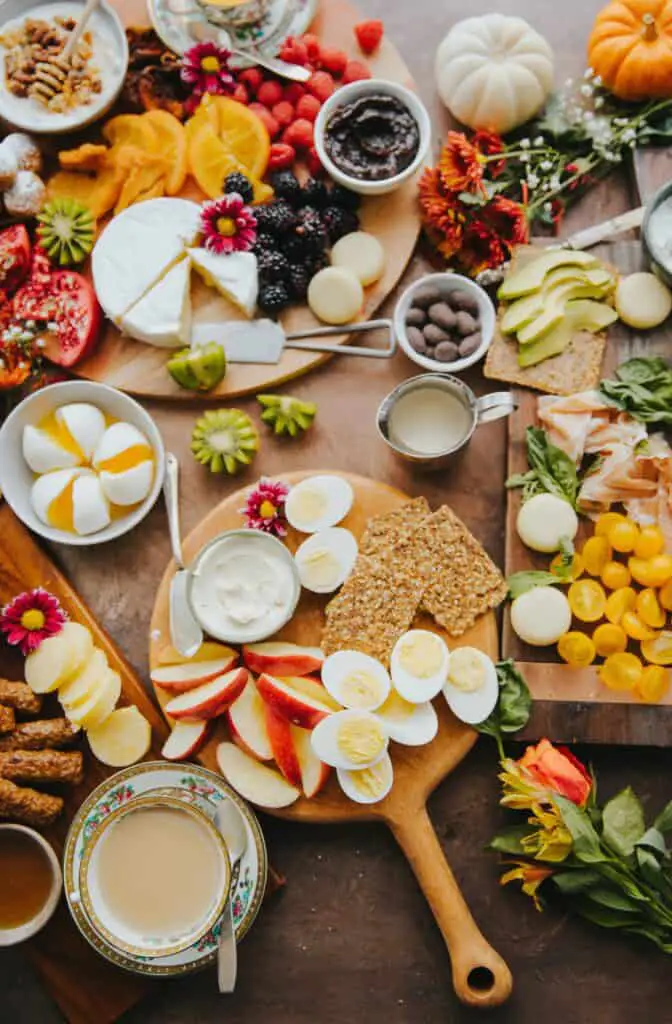 My Fun and Fruity Dinner Party Menu guarantees to impress. Fresh fruit in each dish to adds a lightness that is unparalleled.