If you're looking for a stress-free weeknight meal, look no further. Simple whole roasted chicken is an unbelievably juicy and tender dish with a crispy exterior that's to die for! I guarantee that your family will love this meal and it'll become part of your weekly rotation.
Let's jump right in!
This post is part of our Basic Cooking Skills series. Each week we will be doing a deep-dive into one basic cooking skill and a brand new recipe to accompany it to practice that newfound skill. Check back throughout the series for updates and new posts.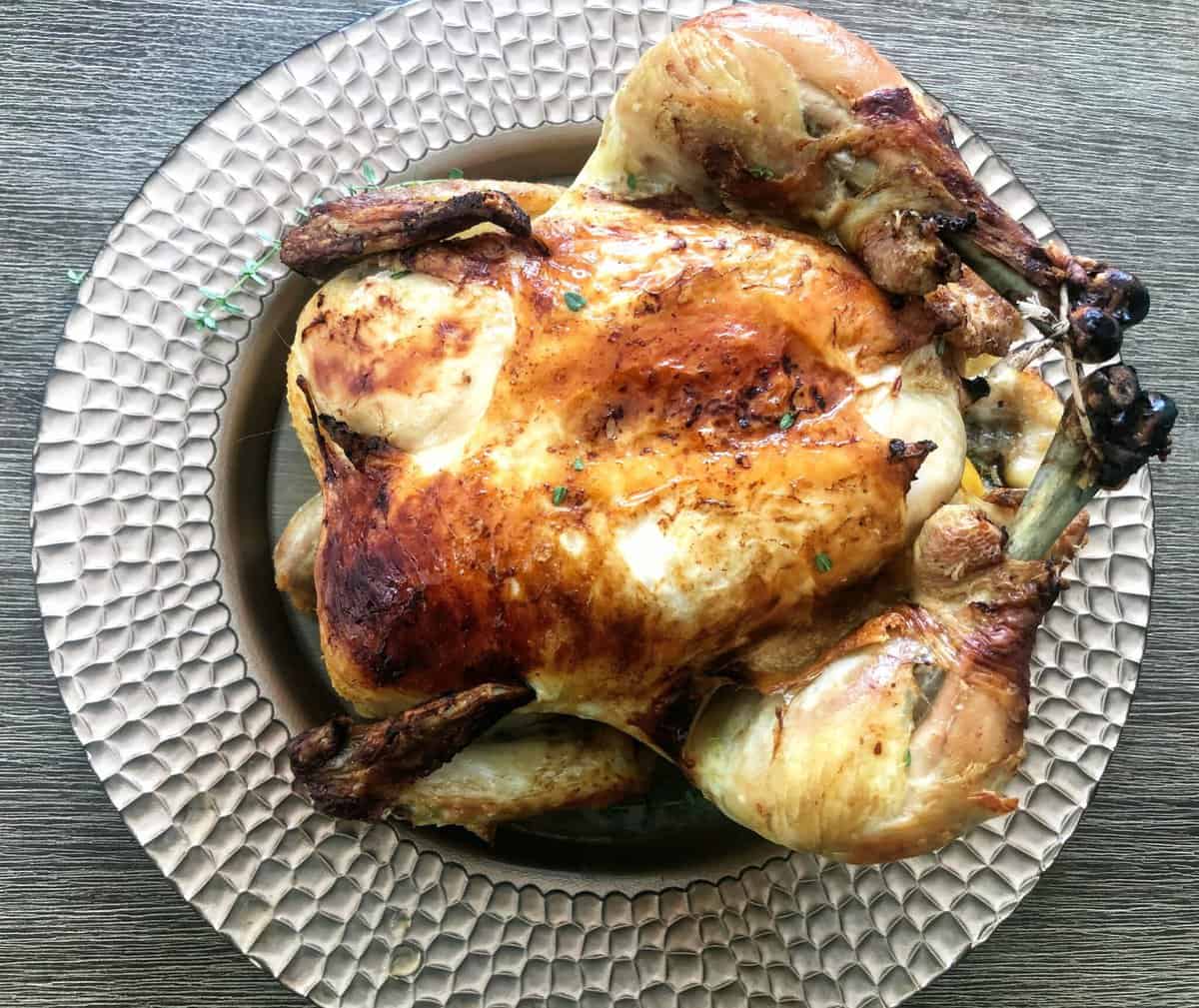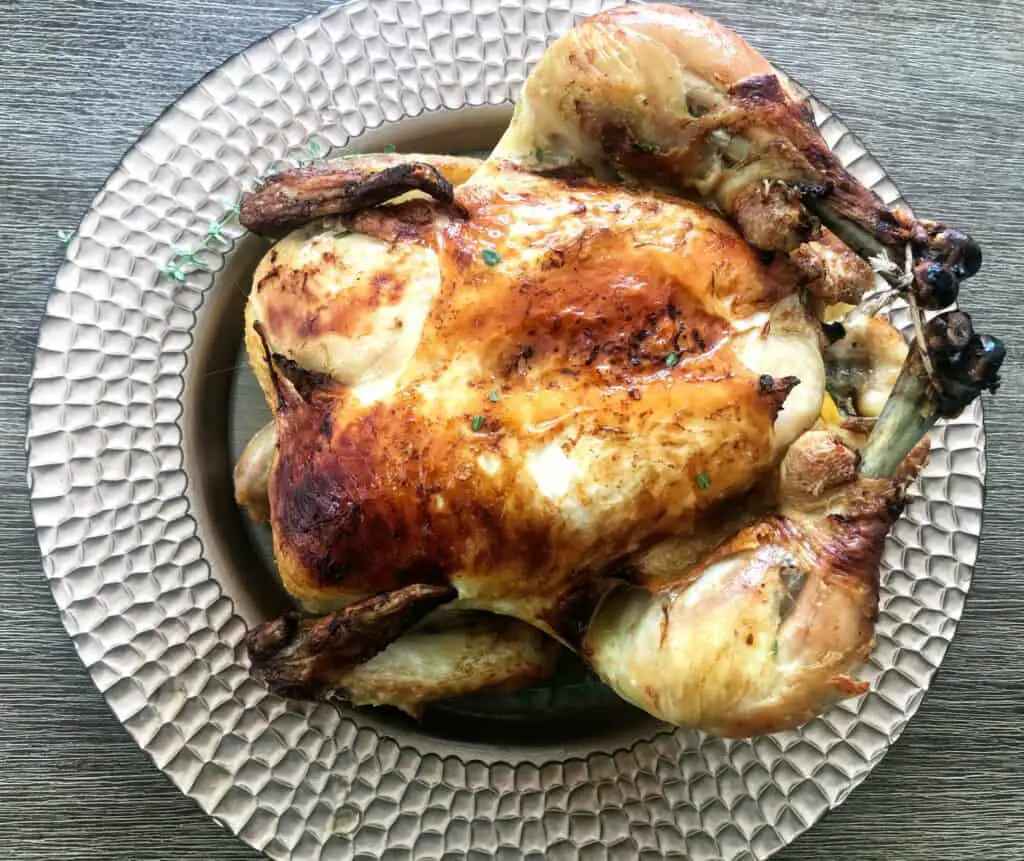 how to: appropriately Salt the whole chicken
If there's one thing I've learned from Samin Nosrat's teaching and from researching roasting meat, it's that SALT = flavor!
For a whole roasted chicken that's tender, juicy, and will blow you away with flavor, you MUST salt it thoroughly.
Prep your chicken the day before you plan on cooking it. I know I know, that's more planning and work on your part, but trust me, it'll be worth it when you're dining on that amazing chicken the next day 😉
Take the chicken out of the package and cover with salt. If you feel like you've added too much, it's probably justtt right.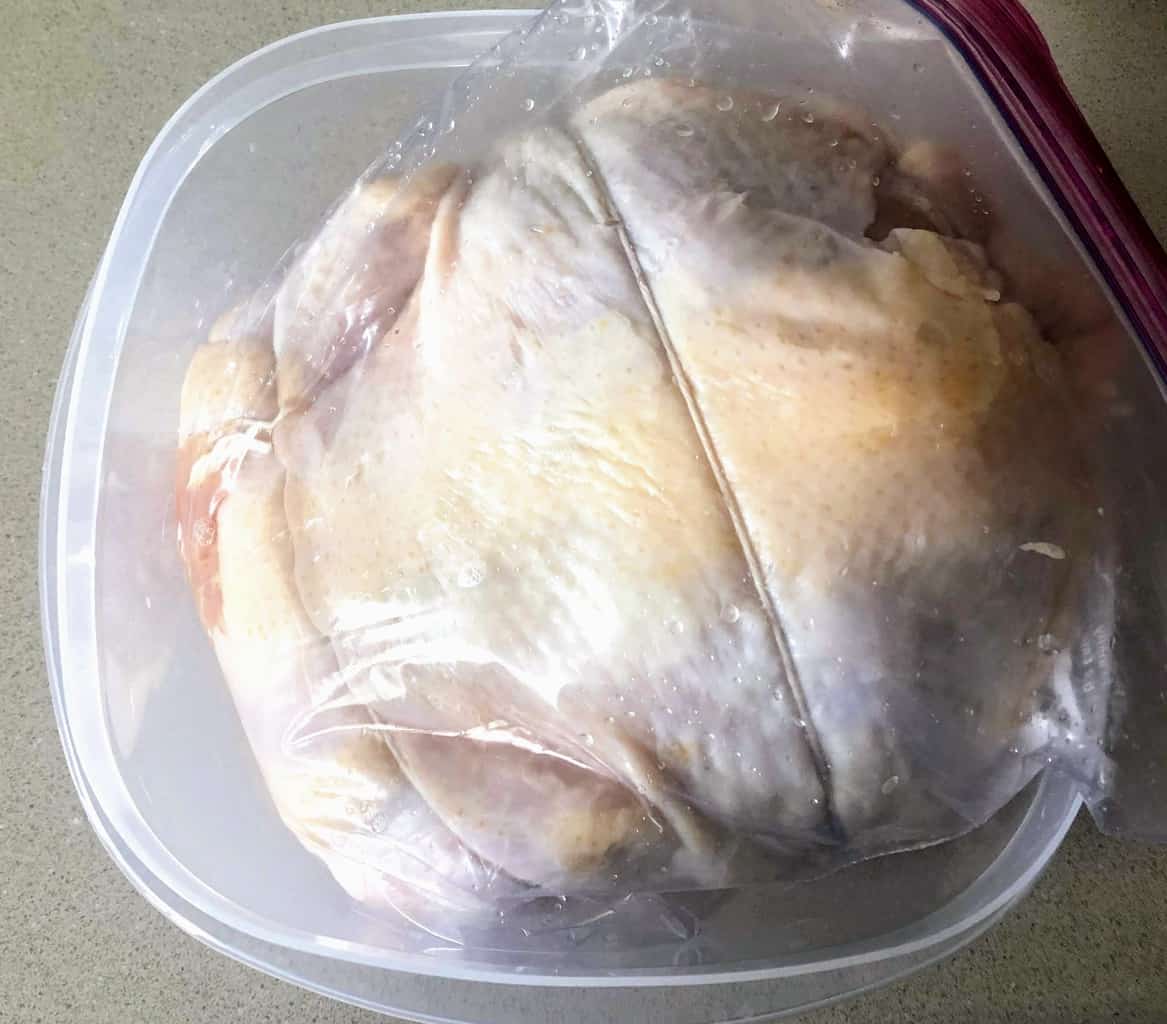 Feel free to tie your chicken using twine to make it easier to store and cook.
Place in 1 or 2 plastic storage bags and store in the fridge for 24 hours.
how to: prepare the ingredients
One of the best things about this classic roast chicken is that it's SO simple! Very little extra ingredients are needed for a great roast.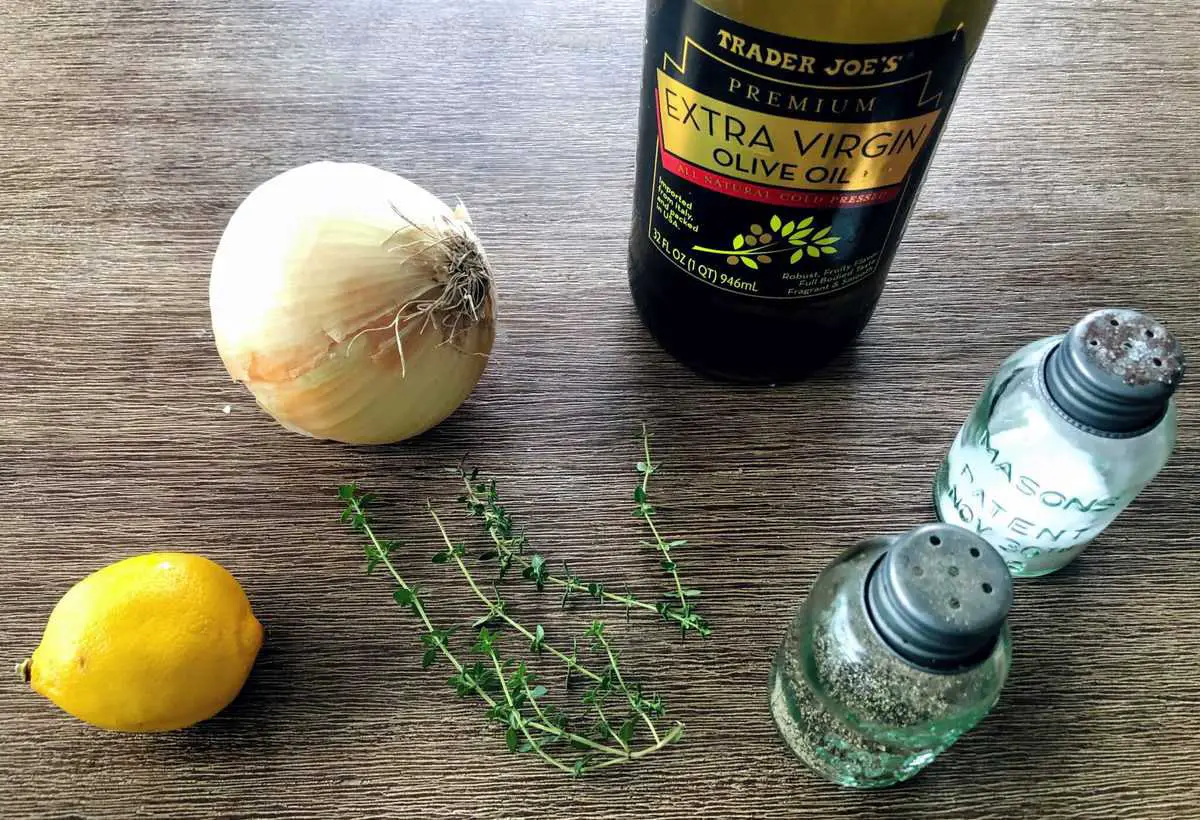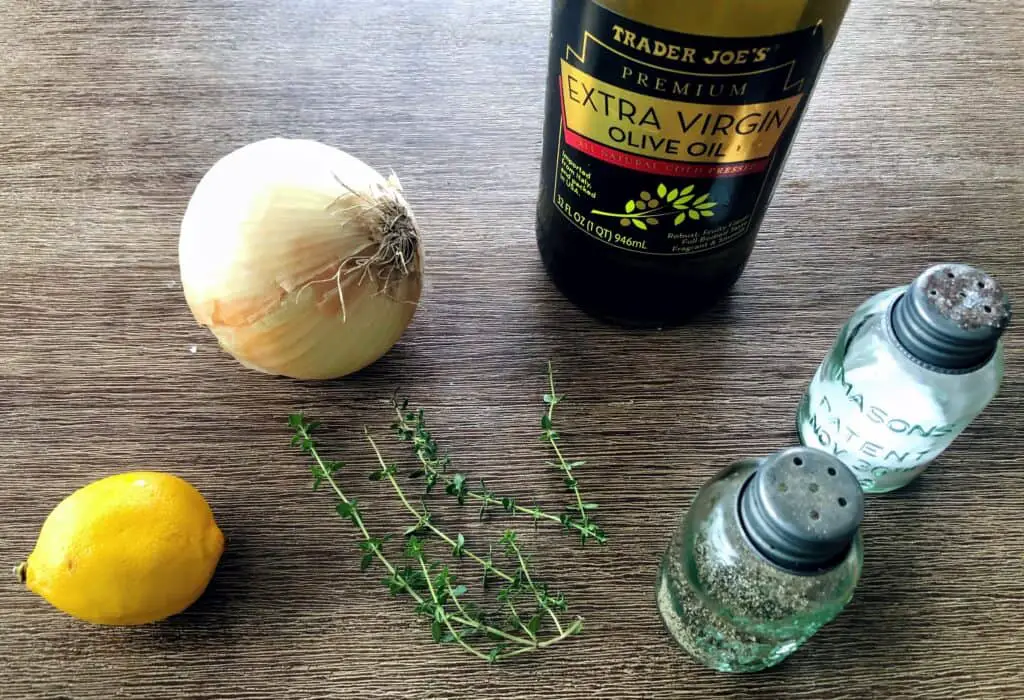 Slice one whole onion and divide in half.
Cut one lemon in half.
Gather fresh thyme (ground is also fine), salt, pepper, and olive oil.
how to: prepare the chicken for roasting
About 30 minutes before cooking, take the chicken out of the fridge and bring up to room temperature. It's good practice to set out the chicken and start preheating your oven at around the same time.
We'll be splitting our prepped ingredients between being in the bottom of the pan and inside the chicken cavity.
Place half an onion, half a lemon, a few sprigs of thyme, and a dash of salt inside the chicken. (kinda gross, but it's worth it)
As we learned about roasting basics in Roasting Meat, we want to elevate the chicken off of the bottom of the pan to help with air circulation. 
Place the other onion half, lemon half, thyme, and any other vegetables you'd like to use into the bottom of the pan. Carrots and potatoes are amazing here as well!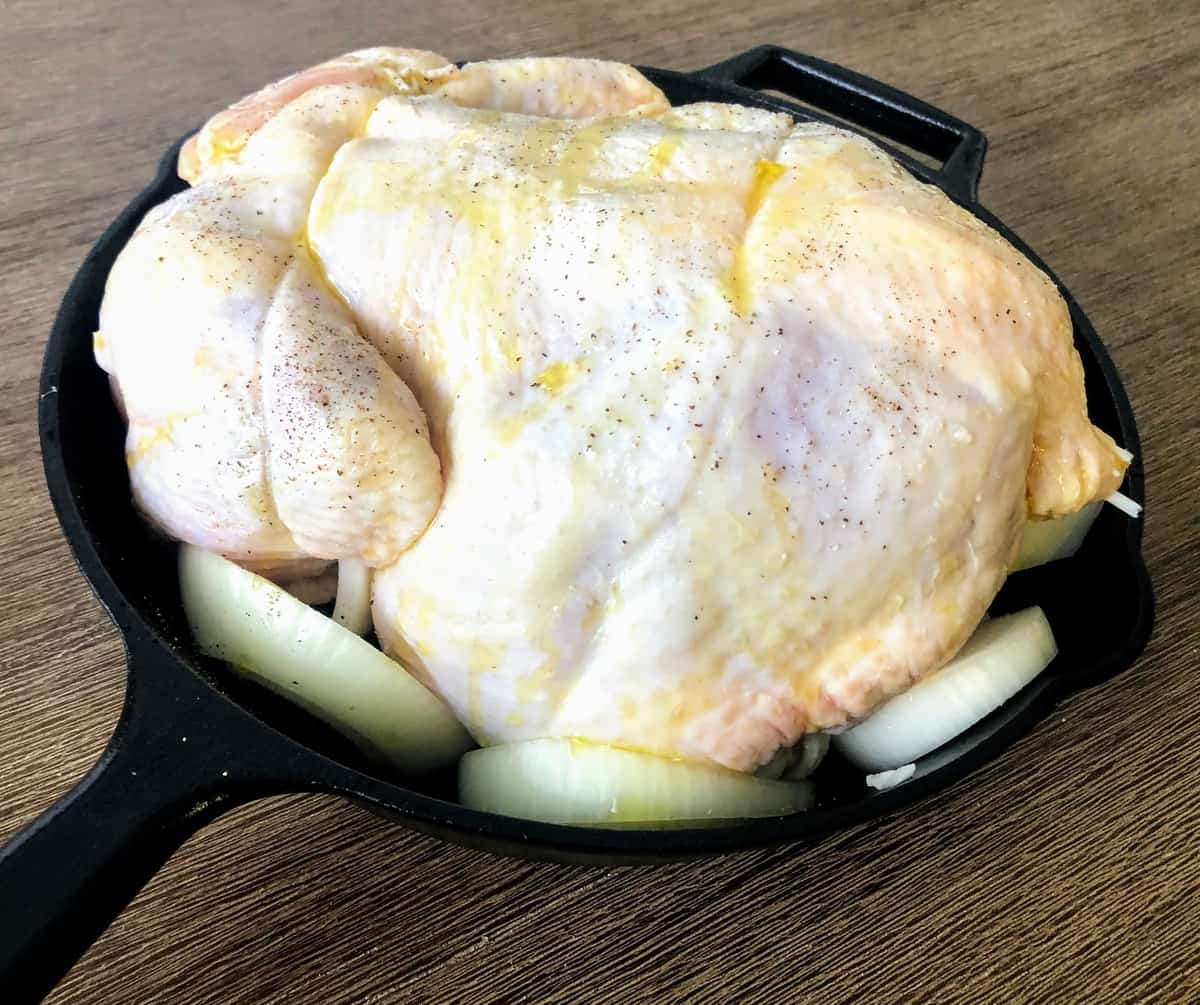 Set the whole chicken in the pan with the breasts on top (I accidentally placed the chicken upside down and fixed it after 20 minutes or so lol)
Drizzle generously with olive oil and sprinkle additional salt and pepper over the whole bird.
how to: roast a whole chicken
Once the oven hits 425 degrees F (220 C) place the pan in the oven and leave it undisturbed for 30 minutes. You can start to see the brownness form (it should be a little farther along than mine, which was upside down for a good bit lol).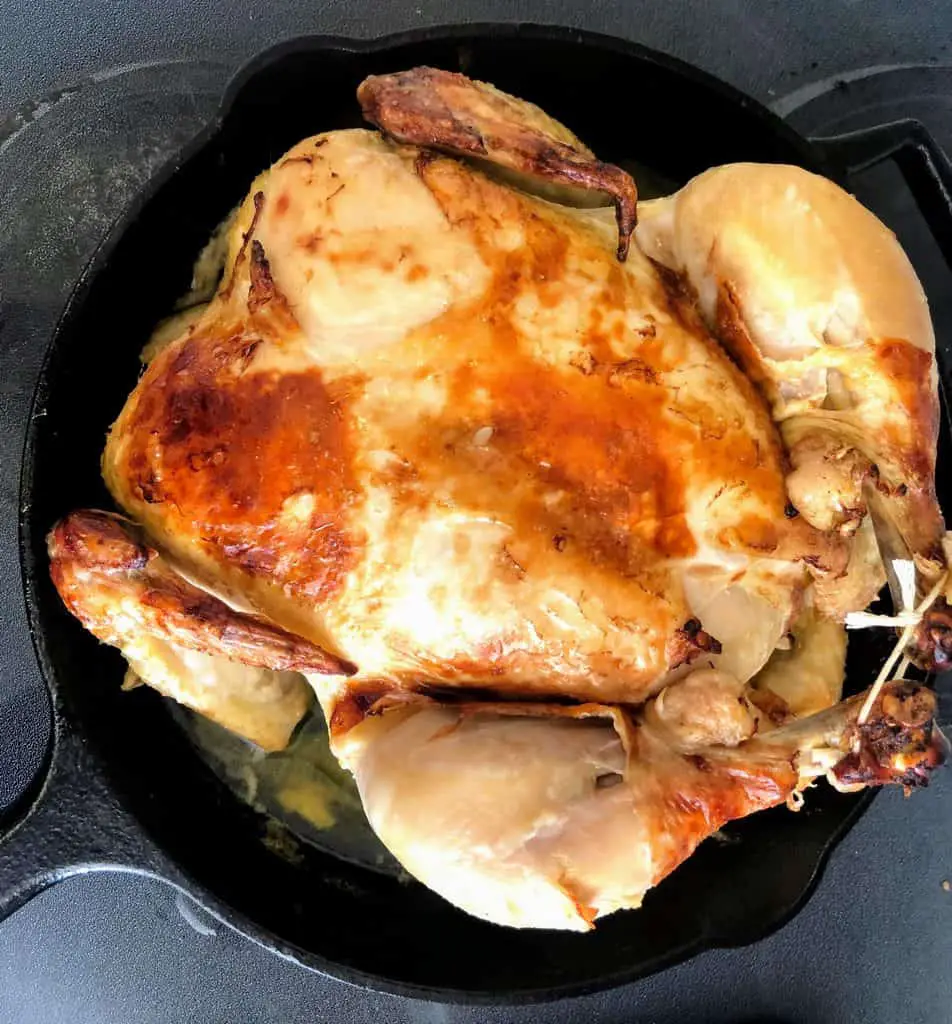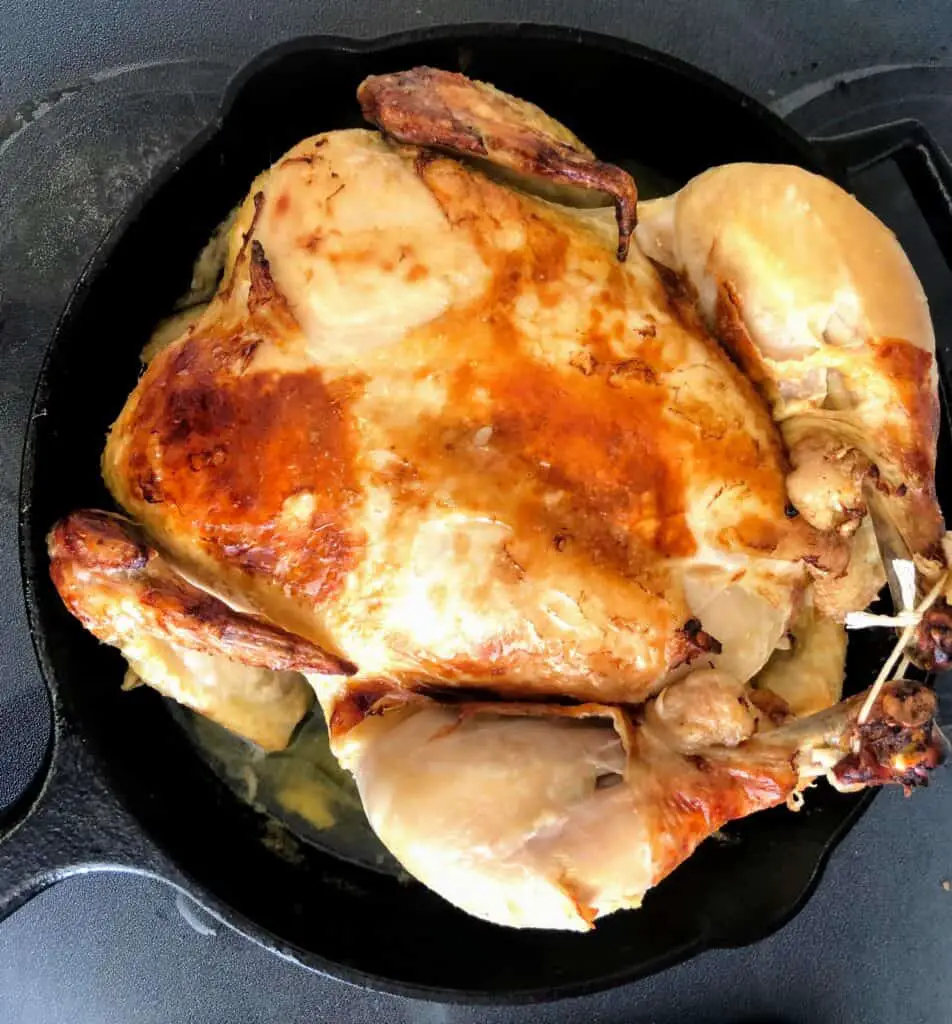 After 30 minutes, lower the heat to 400 degrees F (200 C). At this time, you can also baste the chicken with the juices in the bottom of the pan. Using a baster or spoon, pour oil over the entire chicken to keep it moist. 
Basting breaks the roasting rule of keeping the oven door closed to maintain a consistent temperature, but this is okay here because we're lowering the temperature anyways! 
Continue cooking another 30 minutes or so until the juices run clear and the internal temperature reaches 165 degrees F (75 C). If longer is needed, feel free to baste the chicken a little bit before returning to the oven.
Once cooked, let the chicken rest on the counter for about 15 minutes before serving.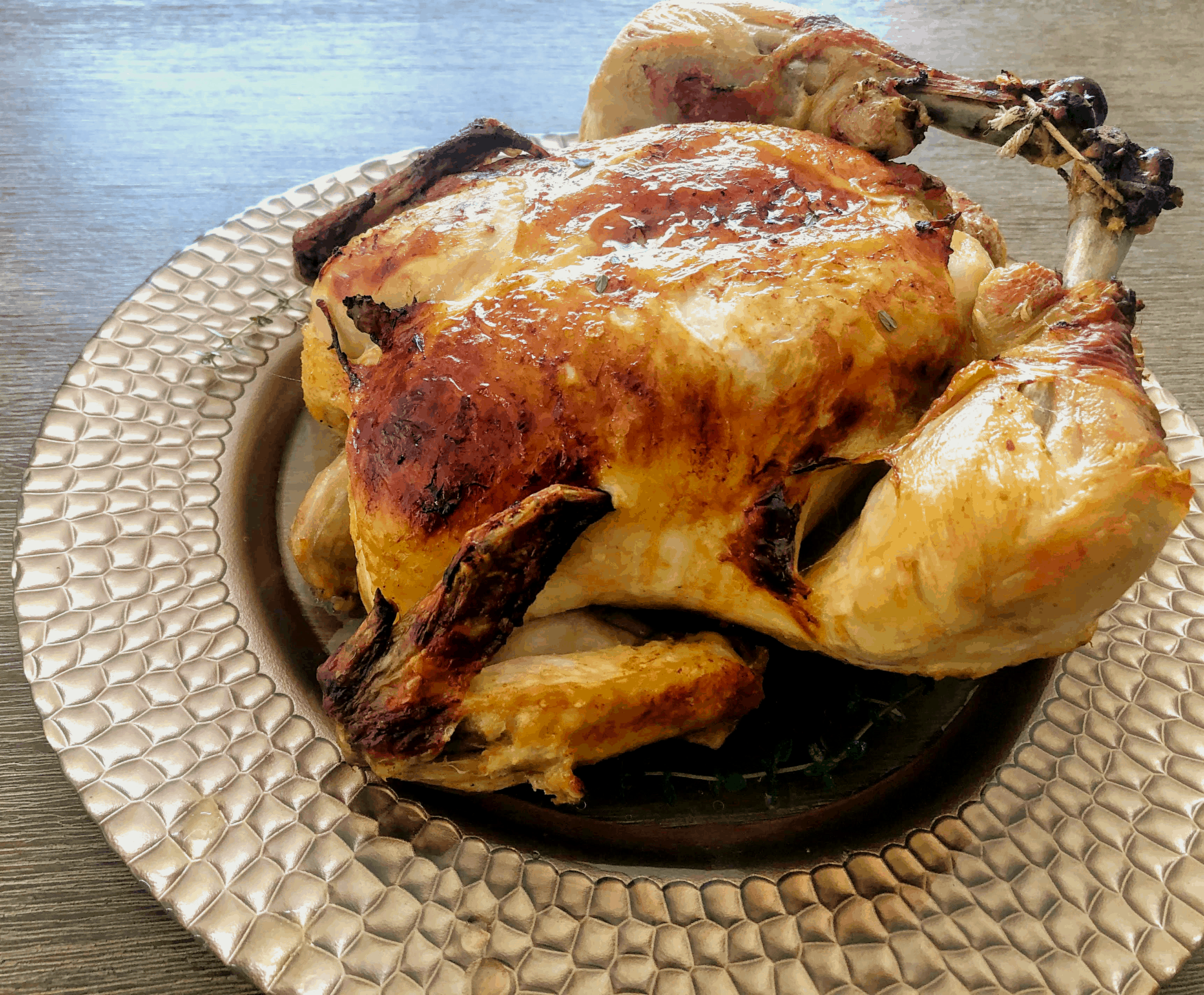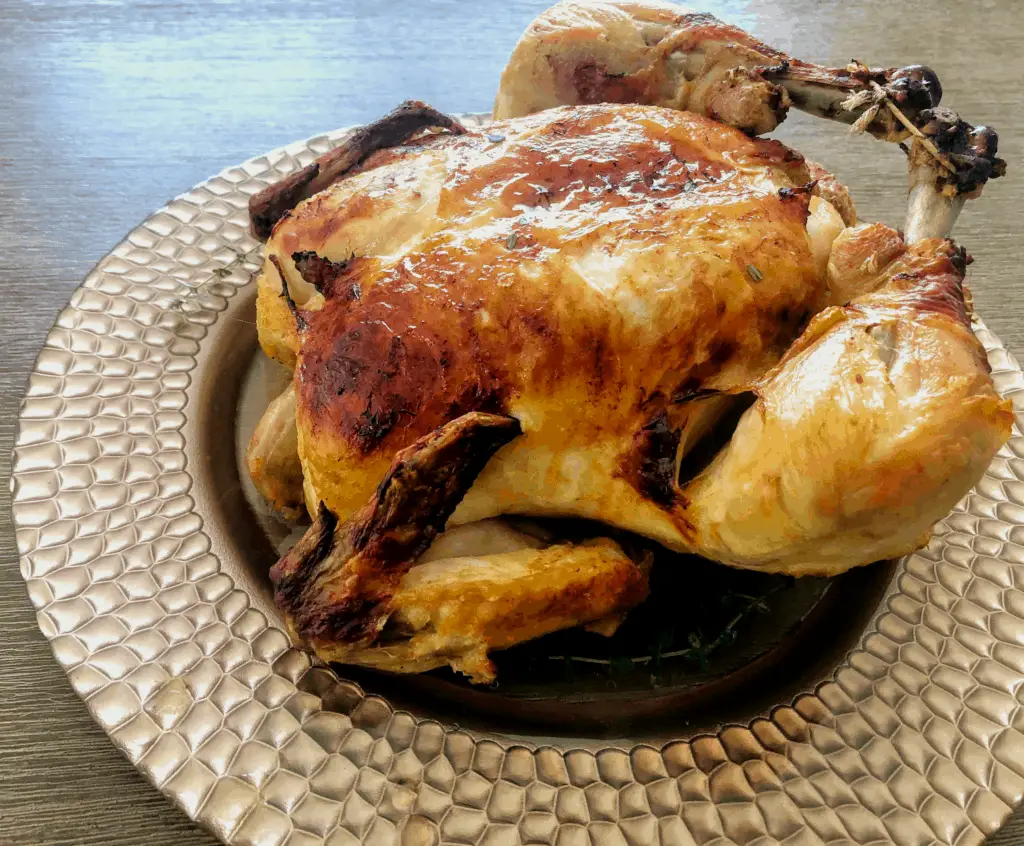 Look at that beautiful crispiness and color! Your house should be filled with heavenly aromas and it's time to dig in.
Ingredients Needed
Materials Needed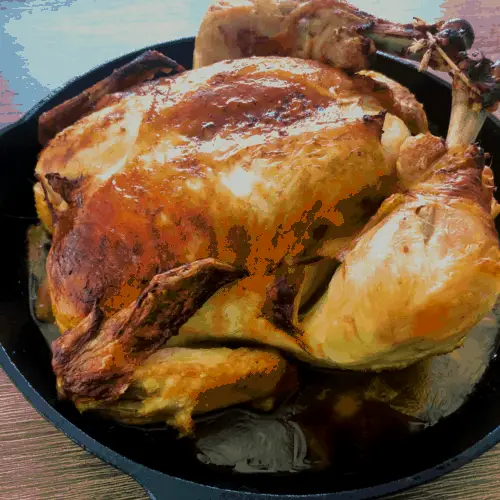 Simple Whole Roasted Chicken
An easy weeknight meal, the whole family will love simple whole roasted chicken that is juicy and oh-so tender.
Print
Pin
Rate
Ingredients
1

whole chicken

salt

as needed

1

onion

sliced

1

lemon

halved

4-5

sprigs

fresh thyme

2

tsp

pepper

2

tbsp

olive oil
Instructions
24 hours before cooking, salt the chicken with an even layer of salt (about 1-2 tsp), cover and refrigerate.

Preheat the oven to 425° F (220° C) and bring the chicken up to room temperature on the counter.

Place half of the onion, lemon, and thyme in the bottom of the pan. Place the other half of the onion, lemon, and thyme in the cavity of the chicken.

Set the chicken in the pan with the breasts up. Pour olive oil over the chicken and sprinkle pepper and a little more salt.

Cook undisturbed for 30 minutes. Then lower the heat to 400° F (200° C) and baste the chicken. Continue cooking for 30-40 more minutes or until the juices run clear.
Pin me!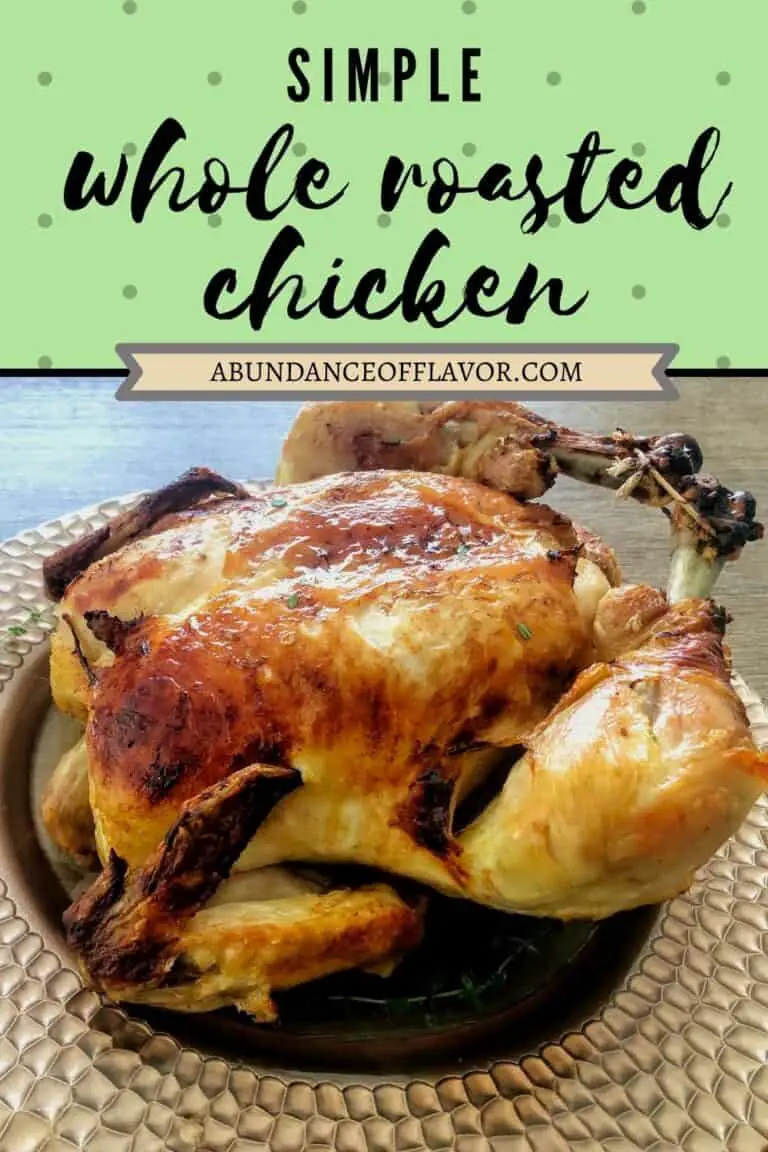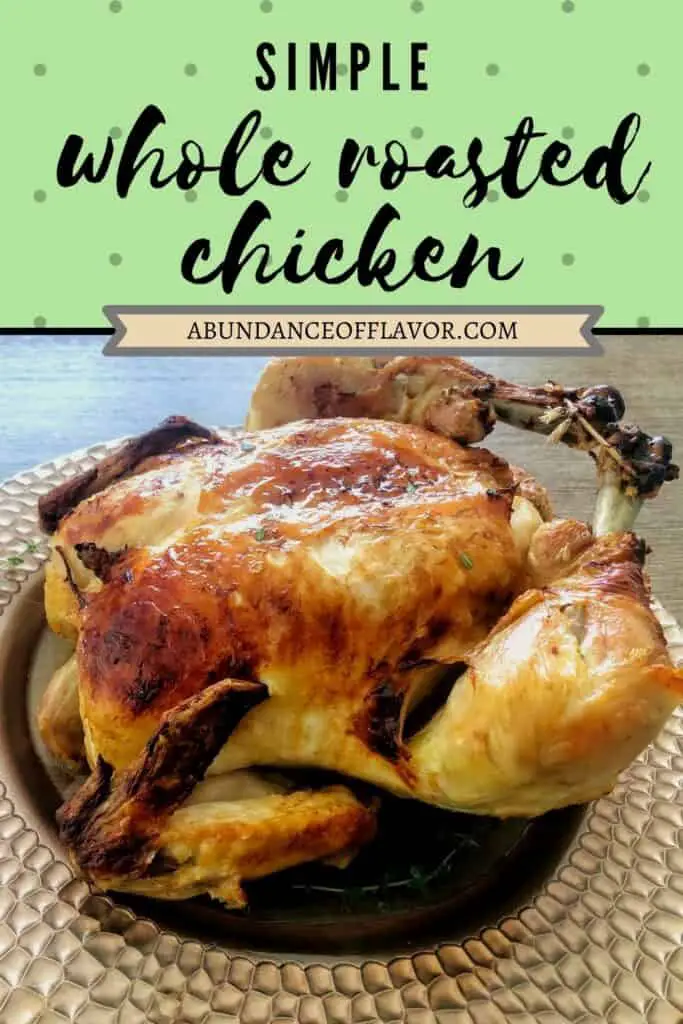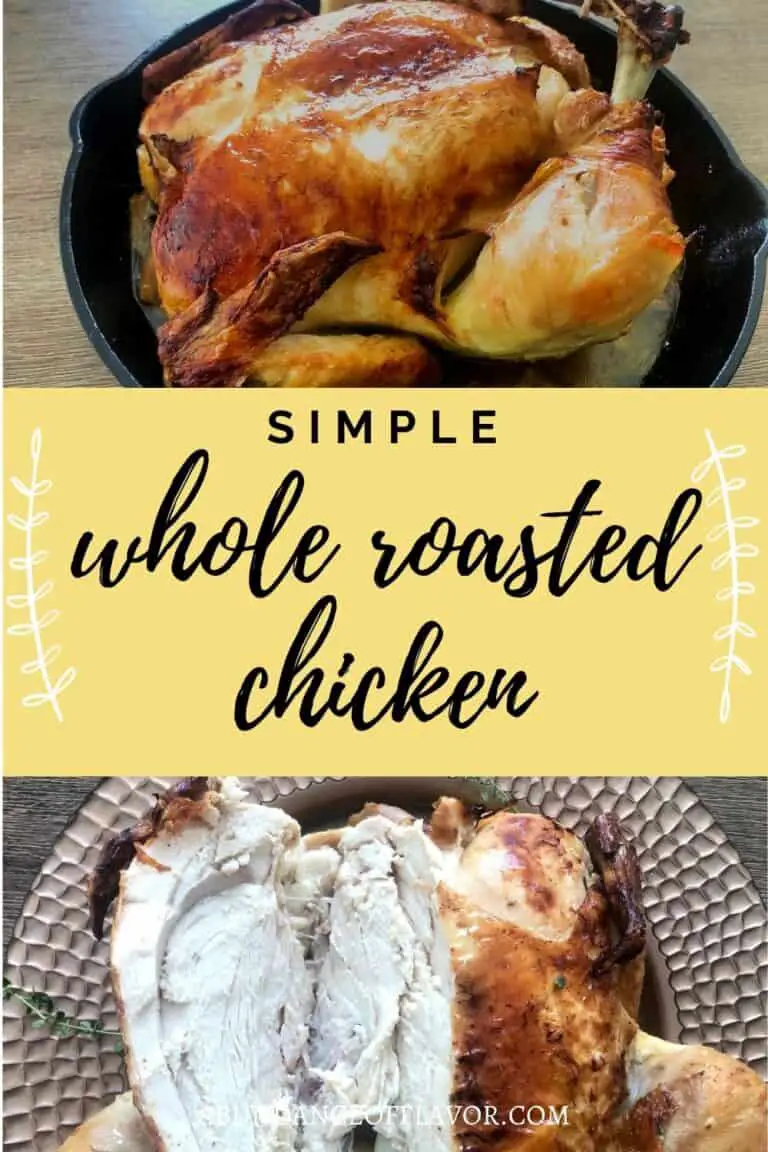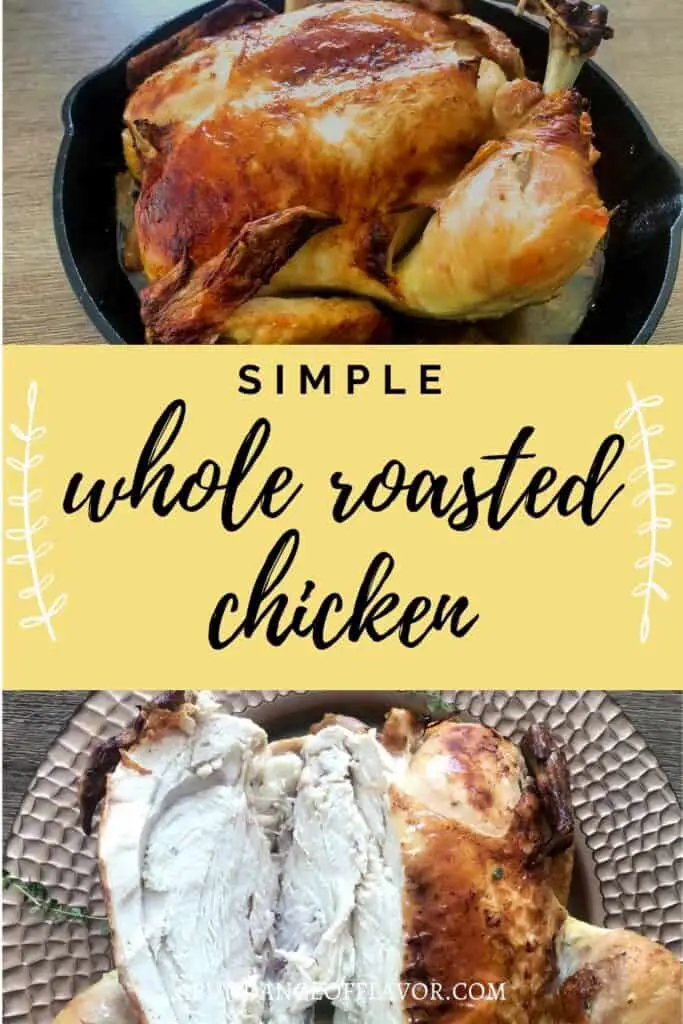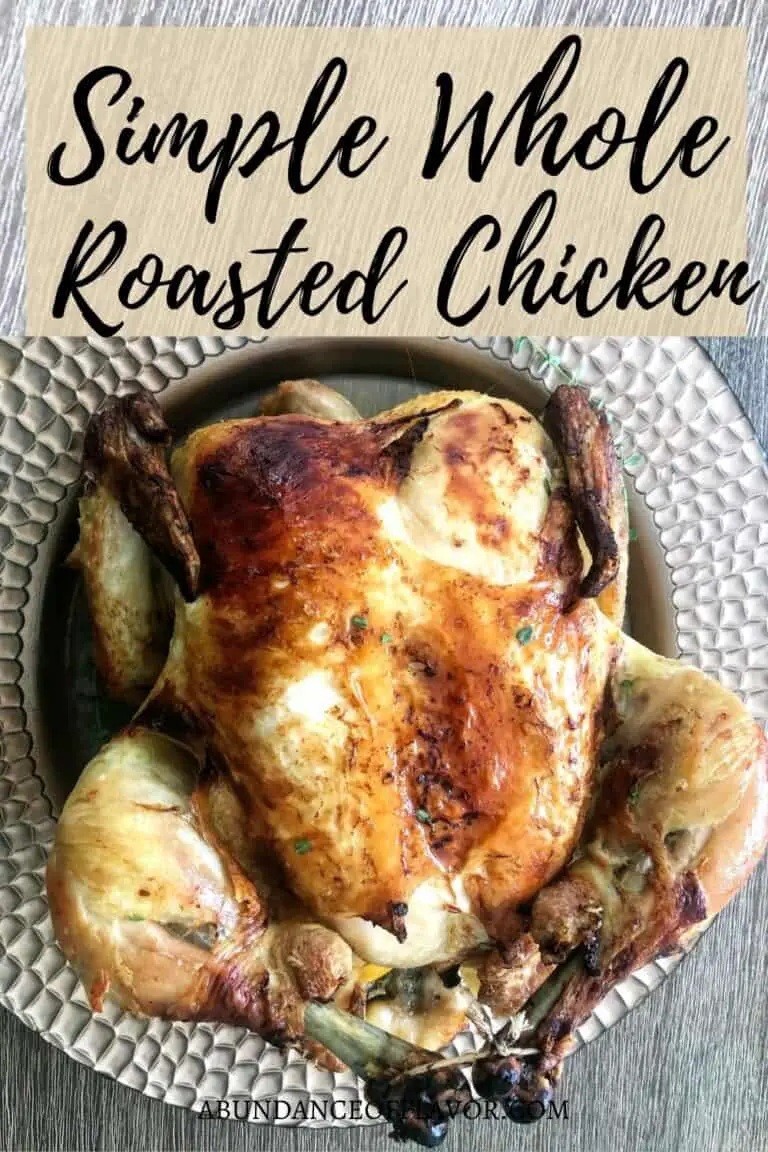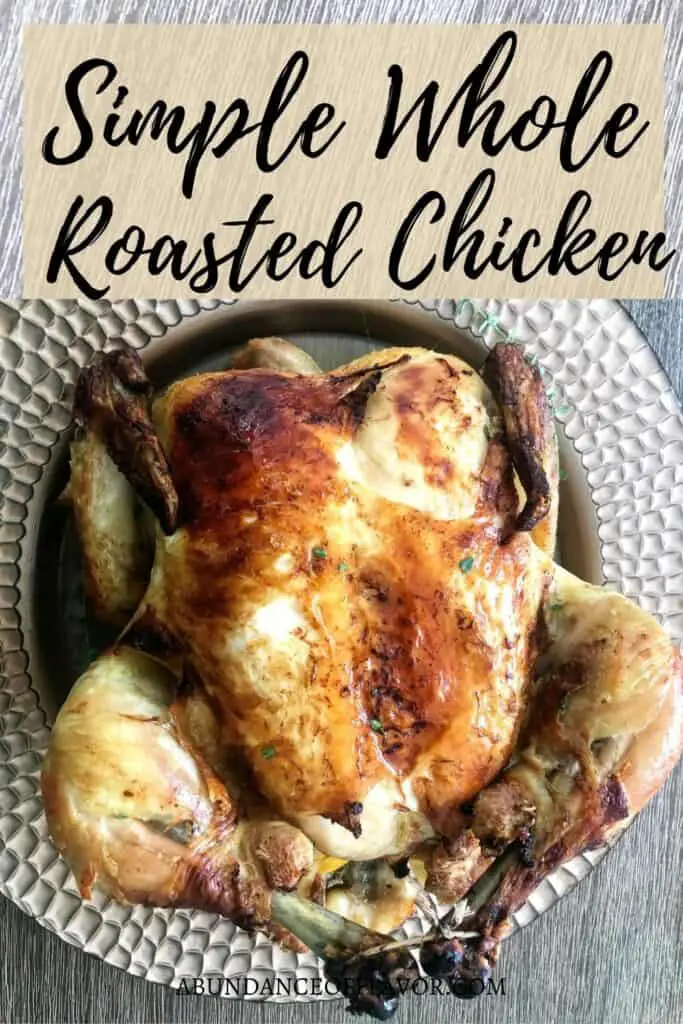 What's great about simple whole roasted chicken is that it can be served with practically ANY vegetable or side dish, and there are so many ways to use the leftovers! 
Do you have any favorite meals with chicken leftovers? Mine would have to be chicken and rice casseroles. YUM. Share yours in the comments below!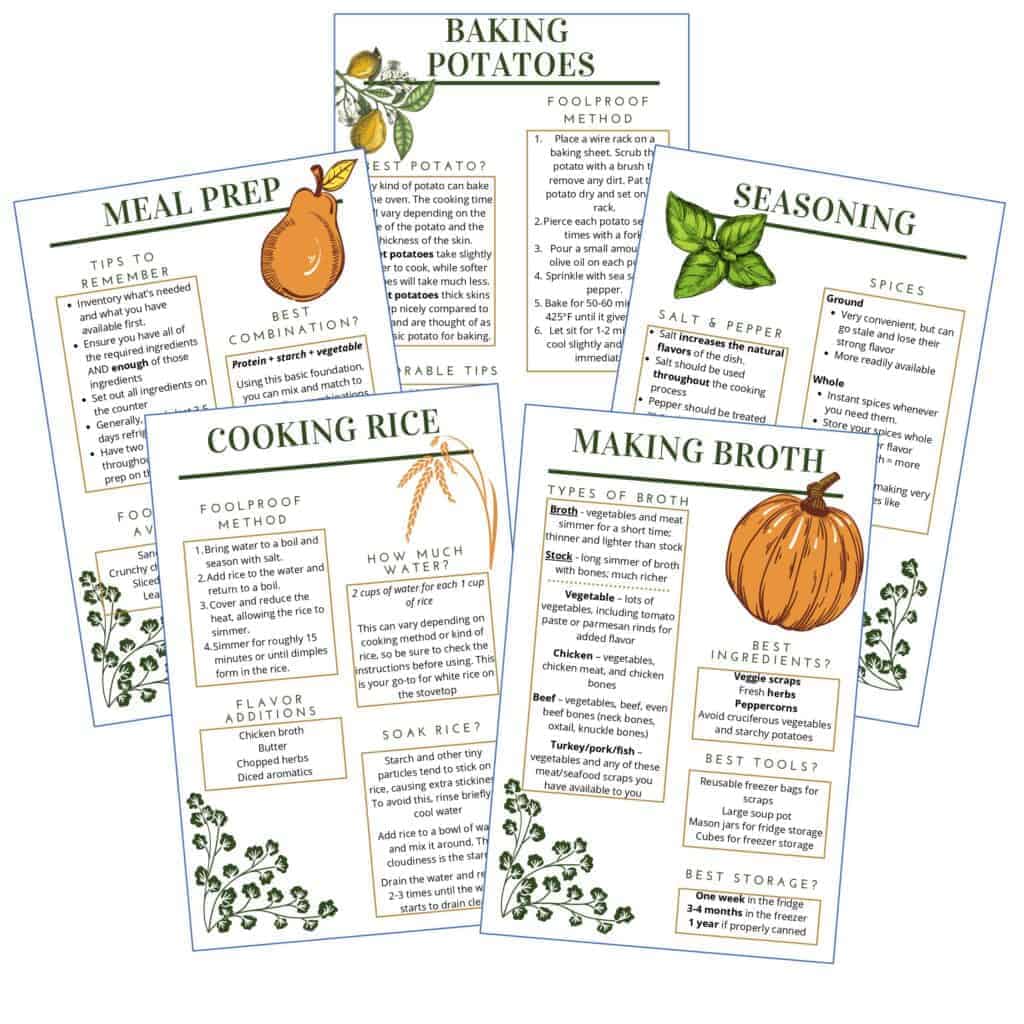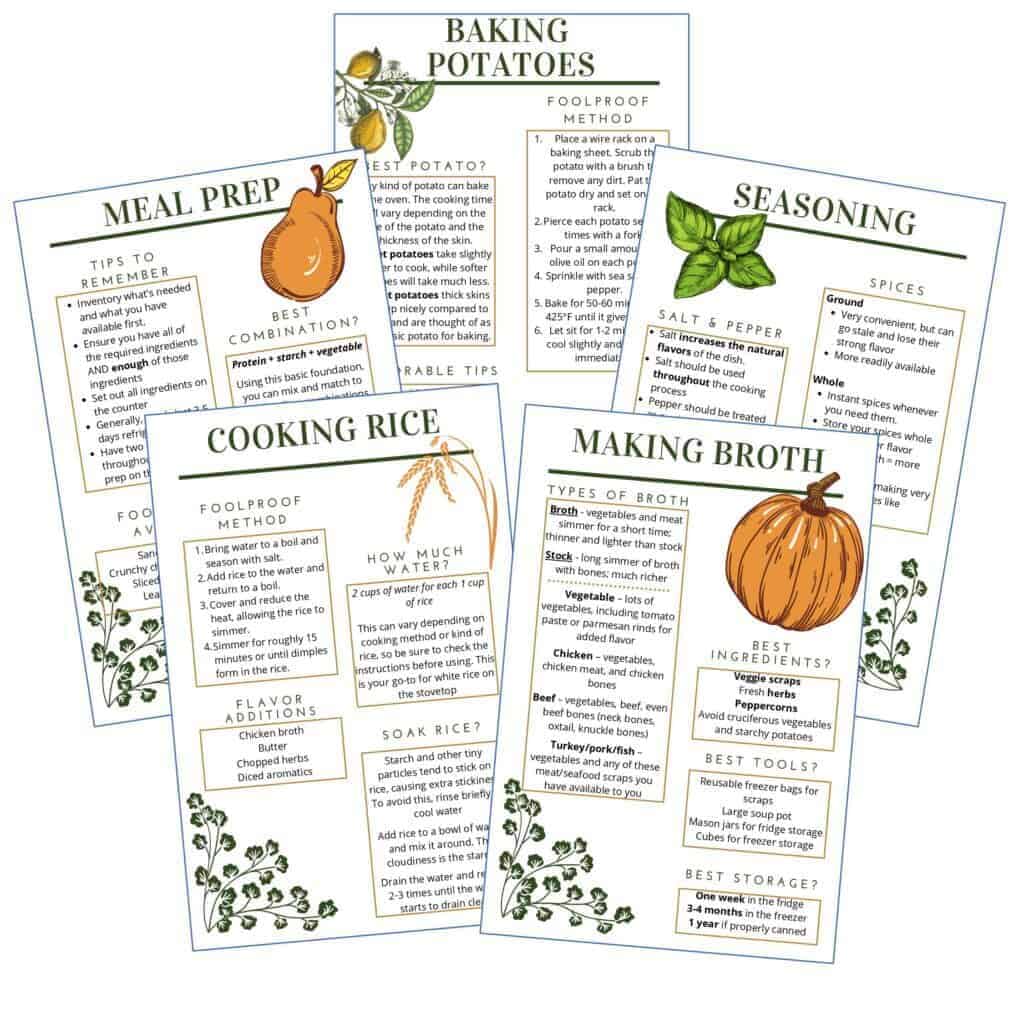 Get your $1 worksheets today!
Related Posts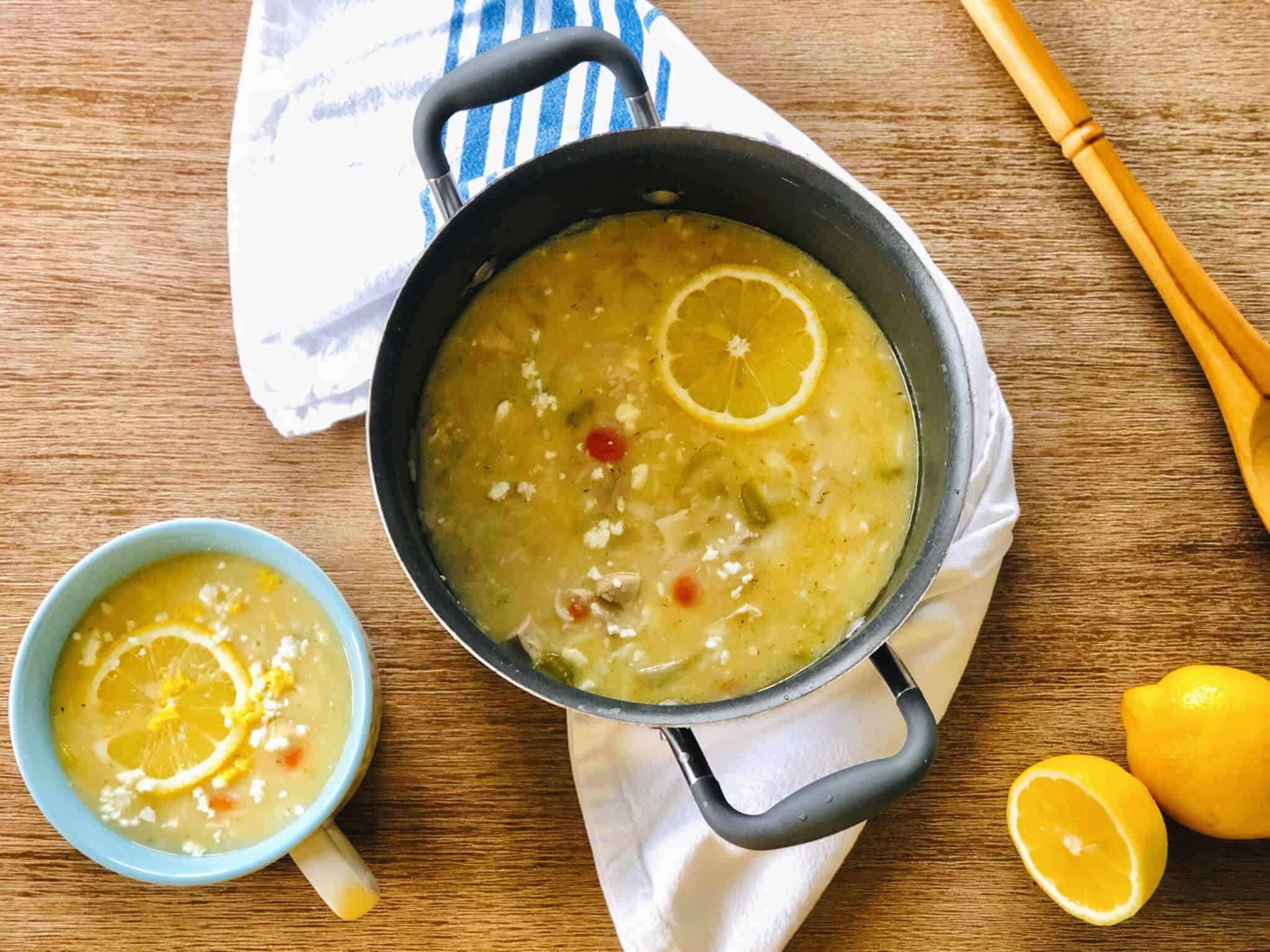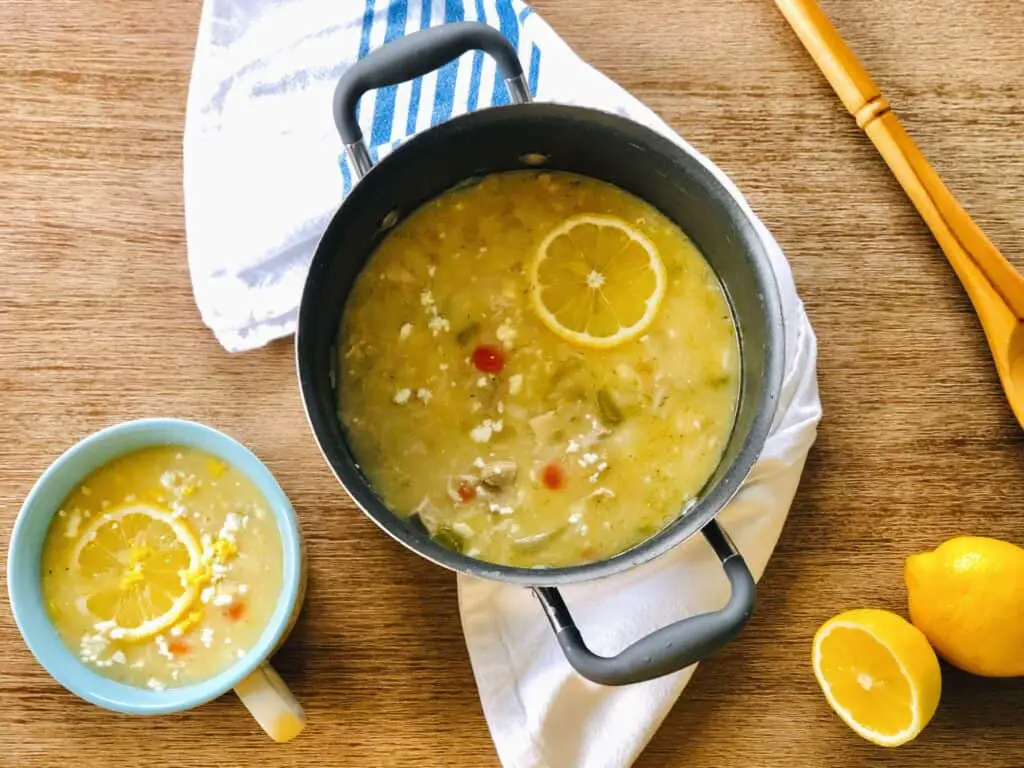 A classic soup with a tangy twist. Bright bursts of citrus meet savory chicken and rice soup in this heartwarming Greek Lemon Chicken Soup.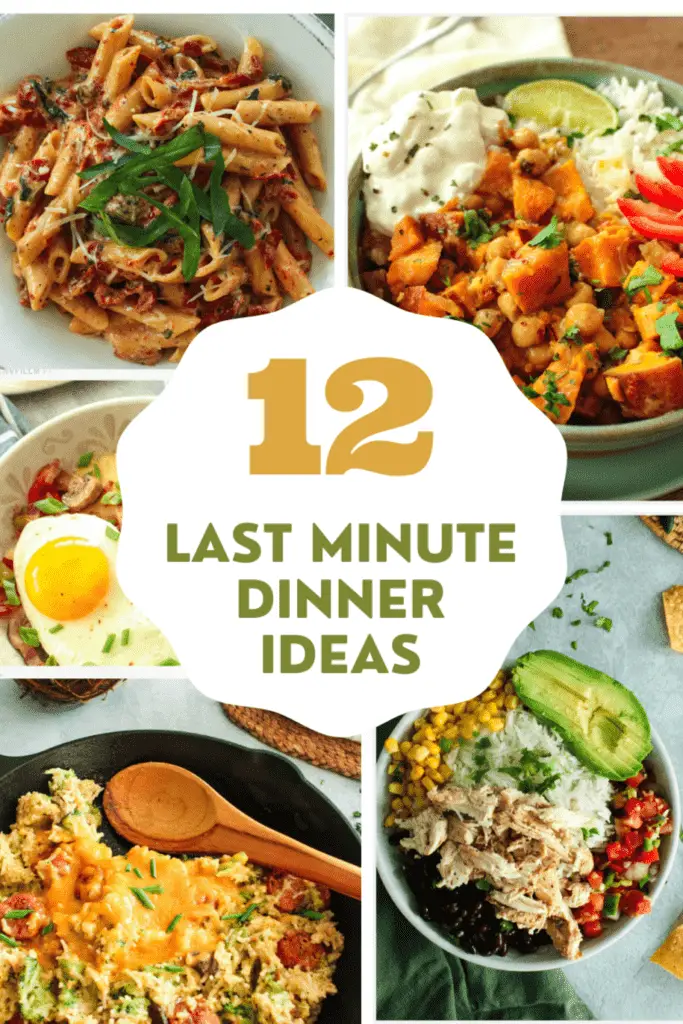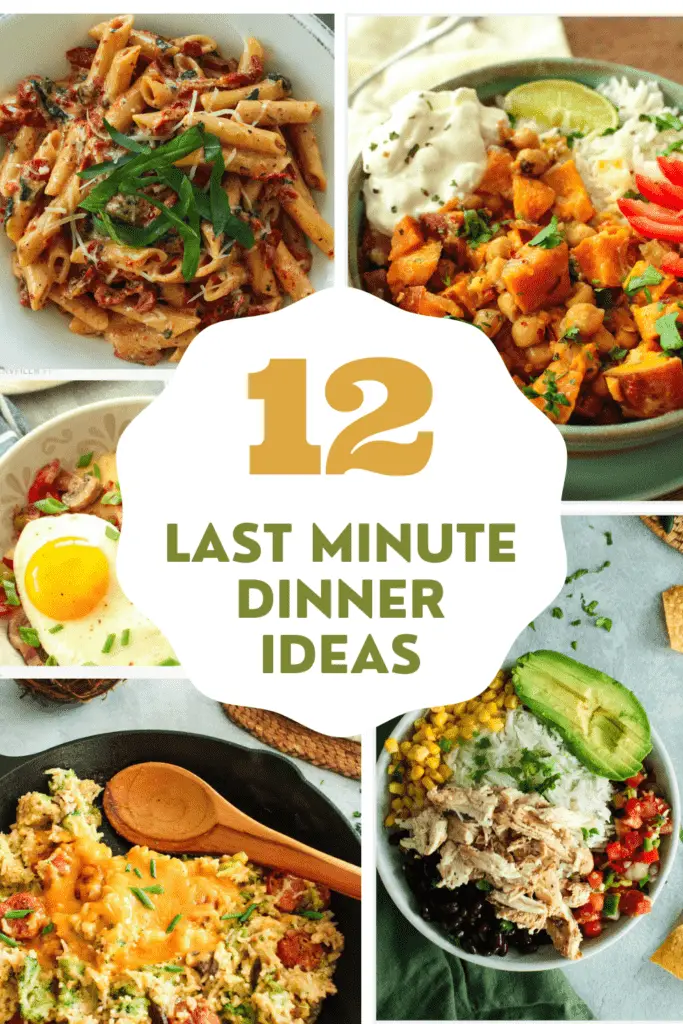 Get inspired with these Last Minute Dinner Ideas. From skillet meals to the instant pot, you'll find inspiration for whatever you're craving!