Sheet pan lemon chicken with sweet potatoes is a wholesome, delicious meal that is perfect for a healthy lunch or dinner. This one-pan meal is easy to prep, quick to cook, and a breeze to cleanup! Filled with comforting lemon and rosemary flavors, this recipe will become a regular in your weekly dinner routine.
This post is part of our Basic Cooking Skills series. Each week we will be doing a deep-dive into one basic cooking skill and a brand new recipe to accompany it to practice that newfound skill. Check back throughout the series for updates and new posts.
---
Please note this post contains affiliate links, which means I receive a small commission, at no extra cost to you, if you make a purchase using the links. Please see my disclosure for more details.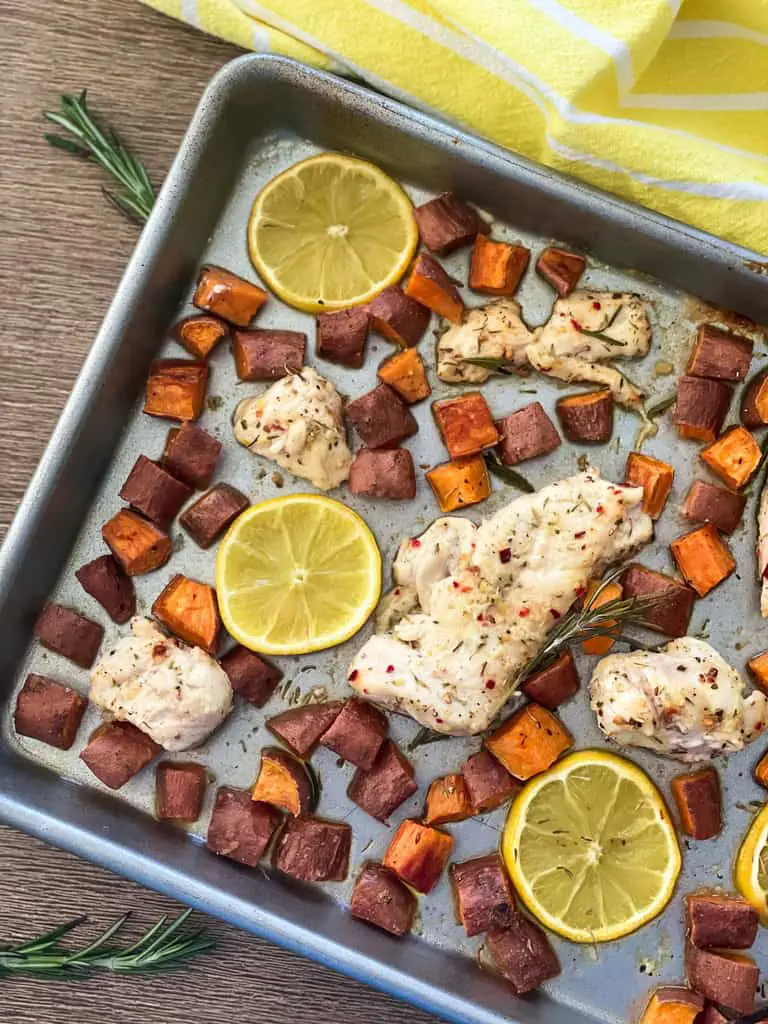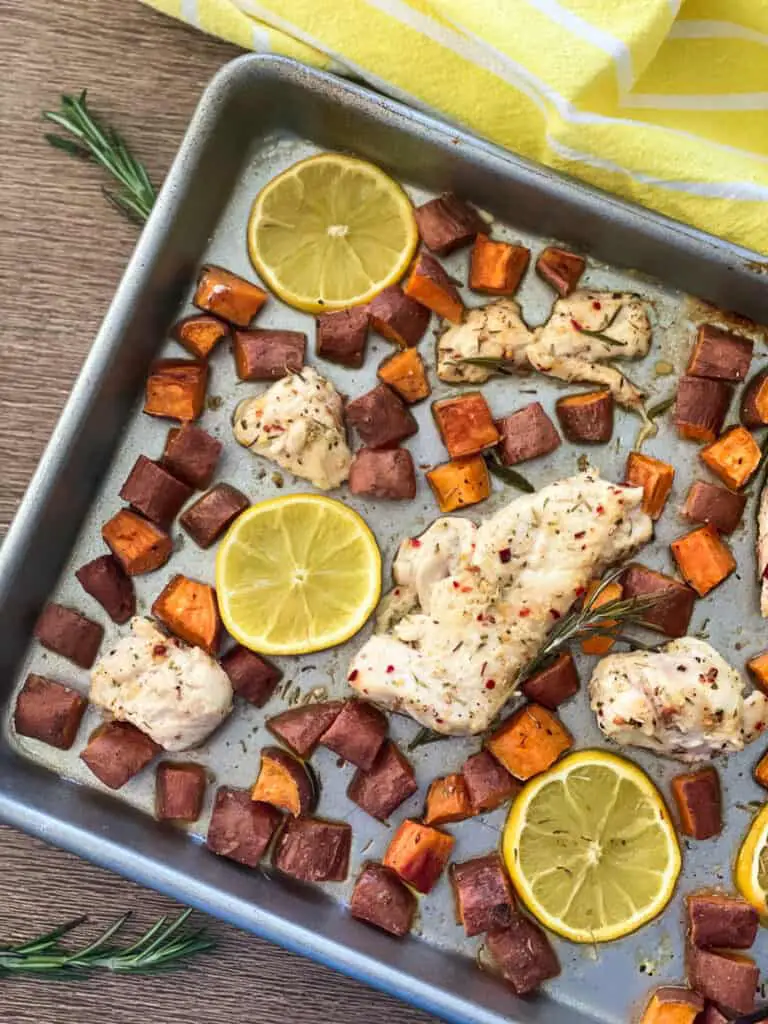 the beauty of sheet pan meals
I love a good sheet pan meal. The idea of cooking an entire meal at once with very little effort on my part is very enticing on weeknights after a long day at work. Whether it's chicken fajitas or baked kebabs, I love being able to create a delicious meal without the headache that packs loads of flavor.
All of the food together on the pan flavors one another tremendously and produces a result that's extremely flavorful.
Using one pan for everything minimizes the mess and dirty dishes afterwards. Different food cooks at different speeds, but that doesn't mean it all can't be done with a little fancy timing.
The customization of sheet pan meals is unparalleled. NYT Cooking has an incredible database of sheet pan meal ideas! Explore a little and find ways to customize this recipe to make it truly yours
how to: prepare the sweet potatoes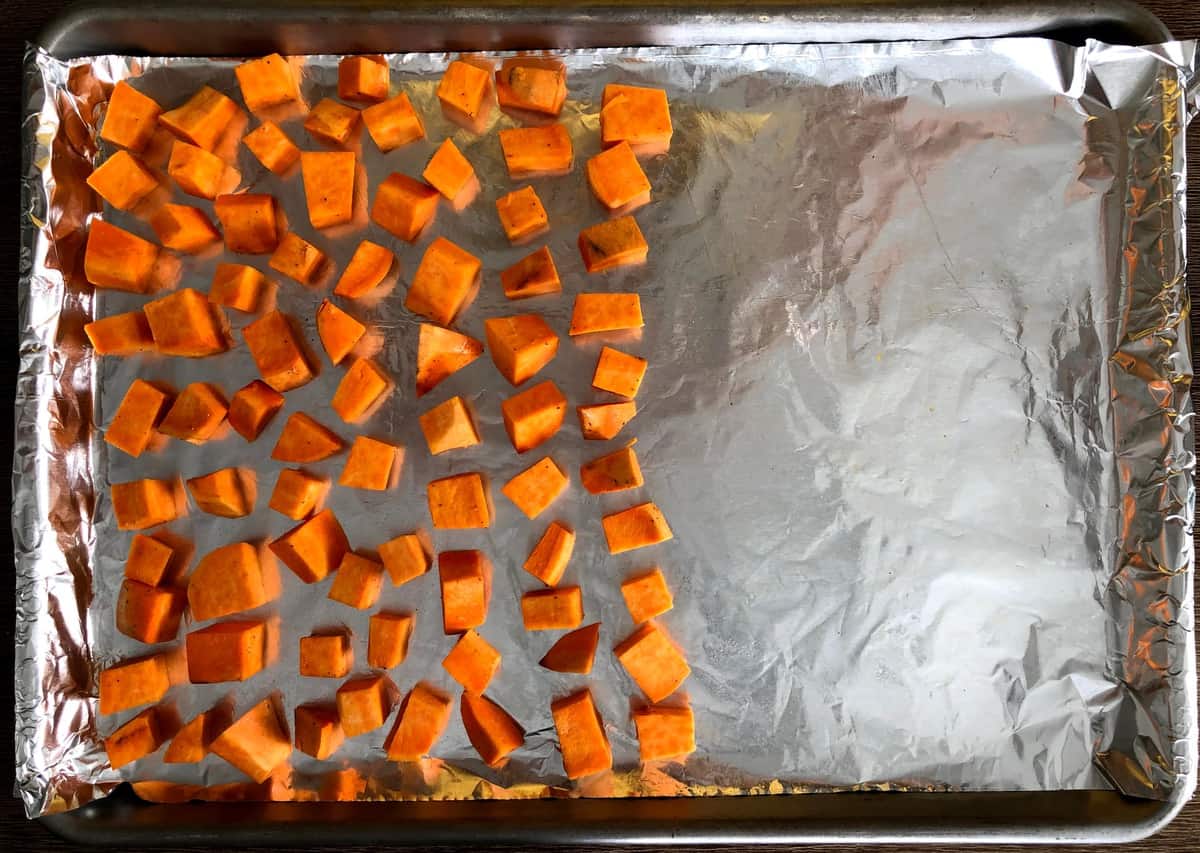 Begin by chopping sweet potatoes using large dice cuts (read more about vegetable cuts here)
If you prefer to not eat the skin, peel the potatoes first before chopping.
Lay out flat on a lined sheet pan. Drizzle with olive oil and sprinkle with salt and pepper.
how to: season Lemon chicken
On a plate or shallow bowl, lay out the chicken. Drizzle with olive oil, flipping to coat both sides.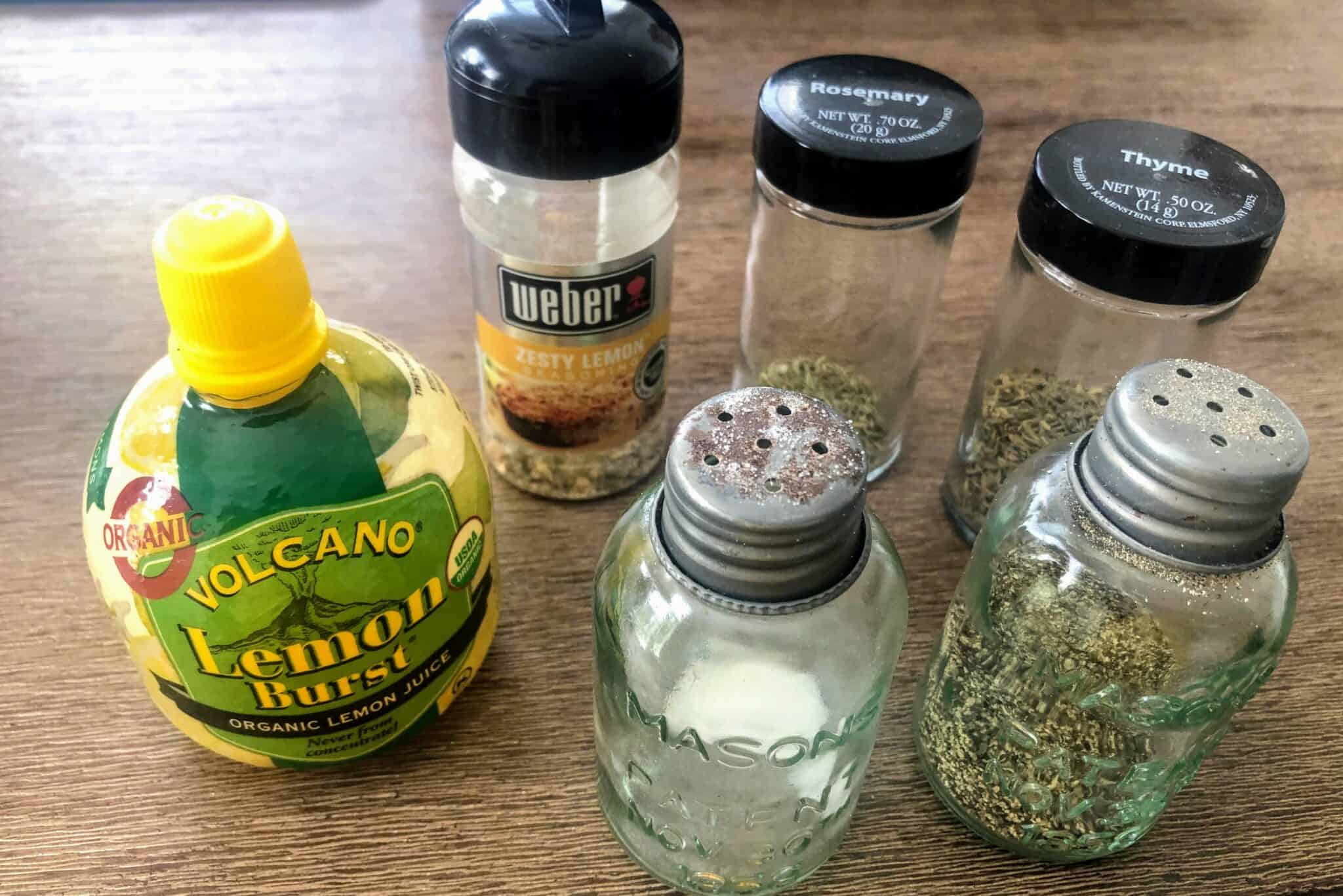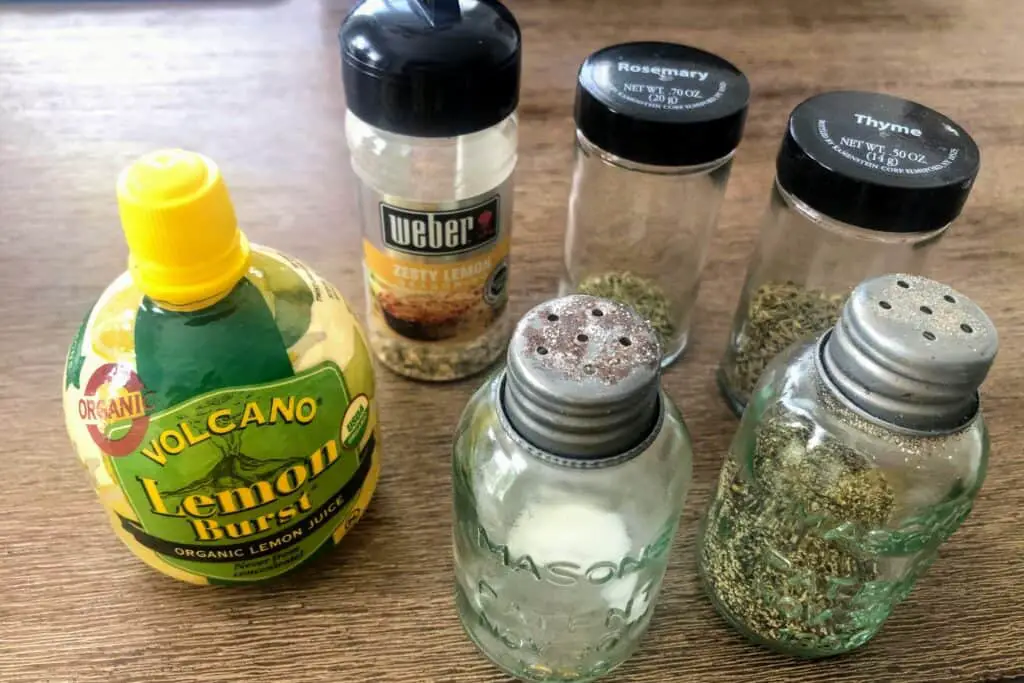 The variety of seasoning used to flavor the chicken include rosemary, thyme, zest lemon seasoning, lemon juice, salt and pepper.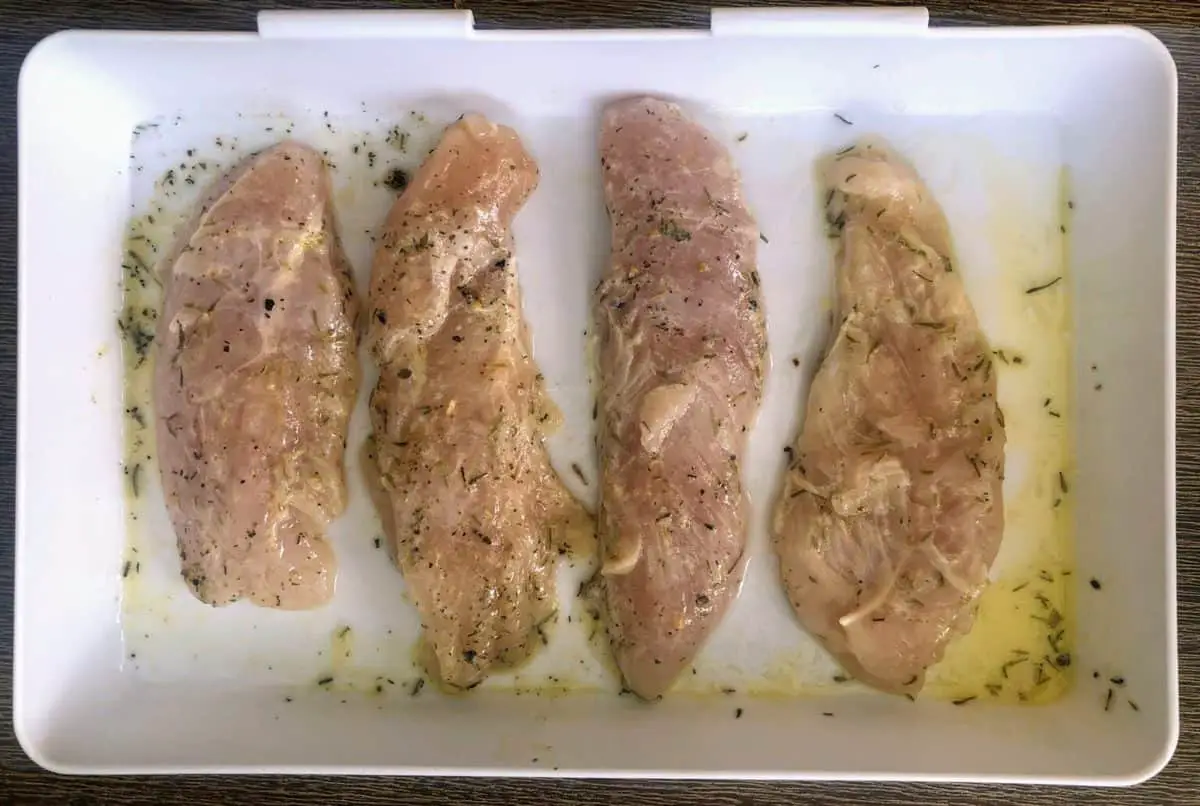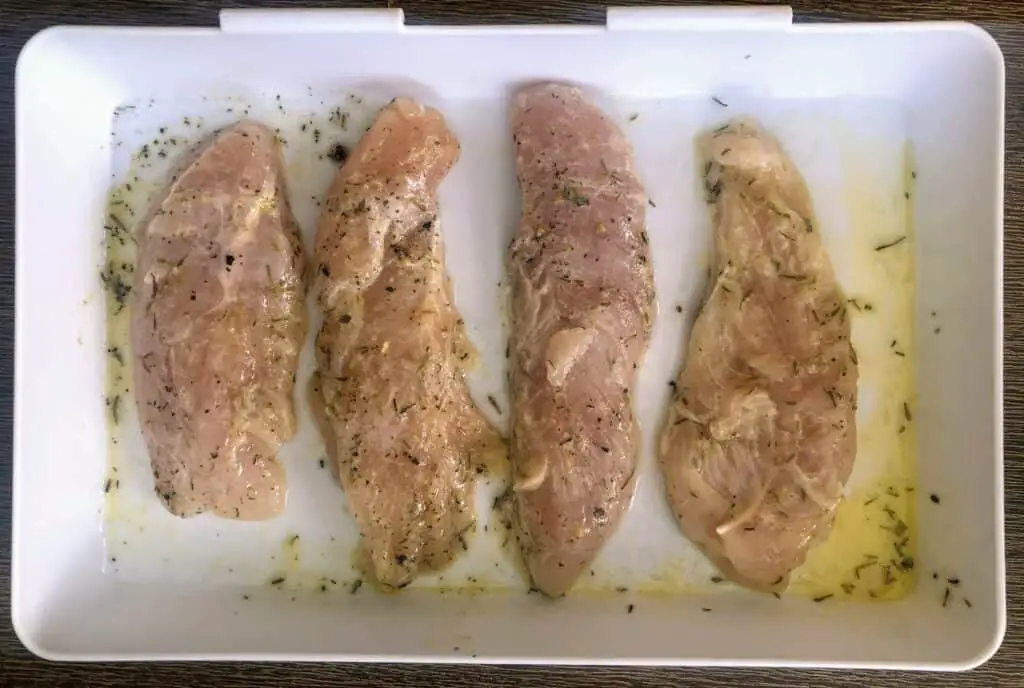 Toss the chicken in the seasonings and ensure both sides are coated. Set aside.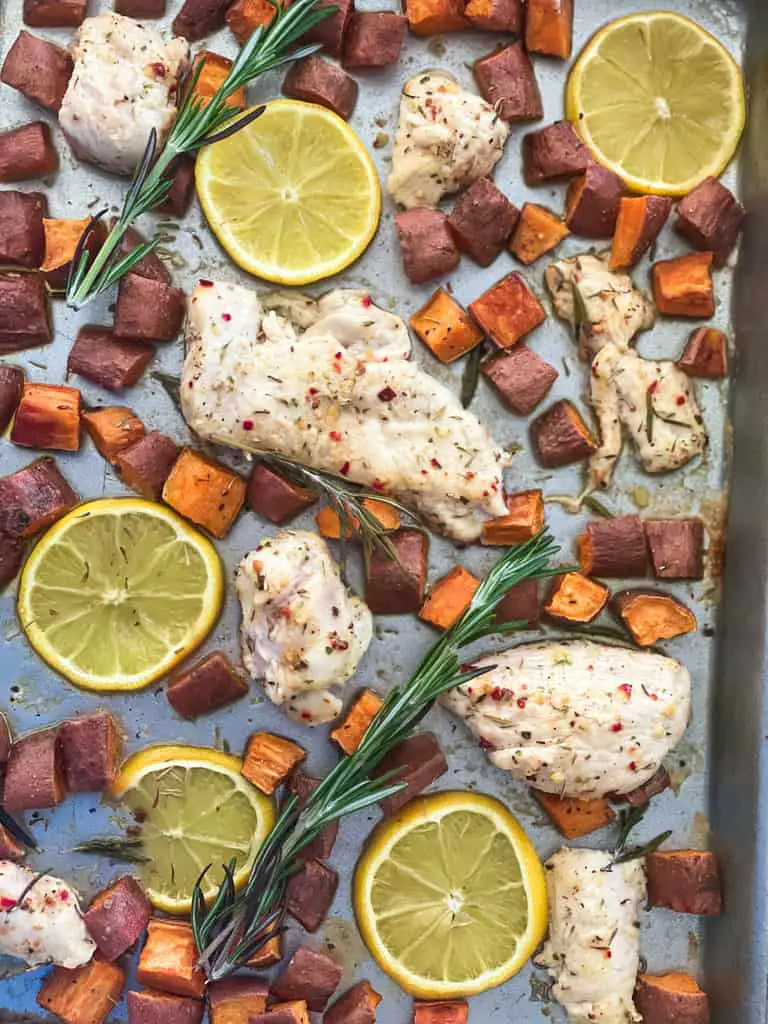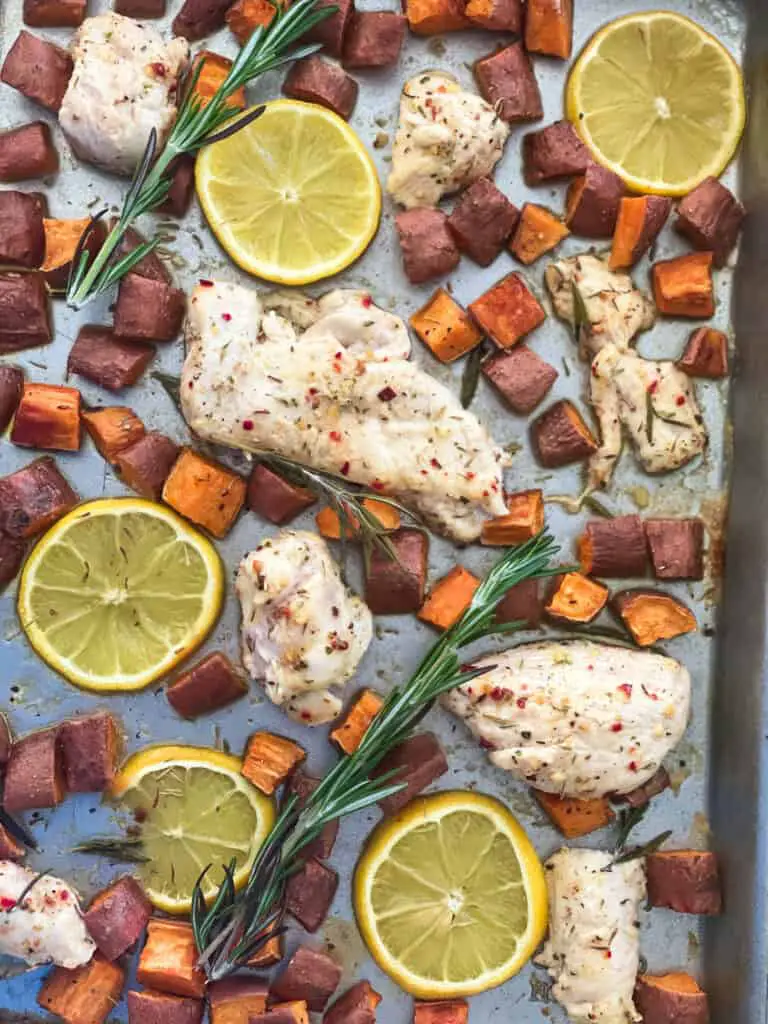 how to: cook Sheet Pan lemon chicken With sweet potatoes
Sweet potatoes require longer cooking time than chicken breasts. In order to accommodate this, cook only the sweet potatoes for 15 minutes.
Remove from the oven and flip the sweet potatoes. They should already have a nice brown color on some of the sides!
Drizzle the potatoes with light olive oil, rosemary, and thyme.
Add the chicken to the pan and continue cooking for 12 minutes, or until the chicken reaches an internal temperature of 165 degrees.
Serve fresh with your favorite veggies!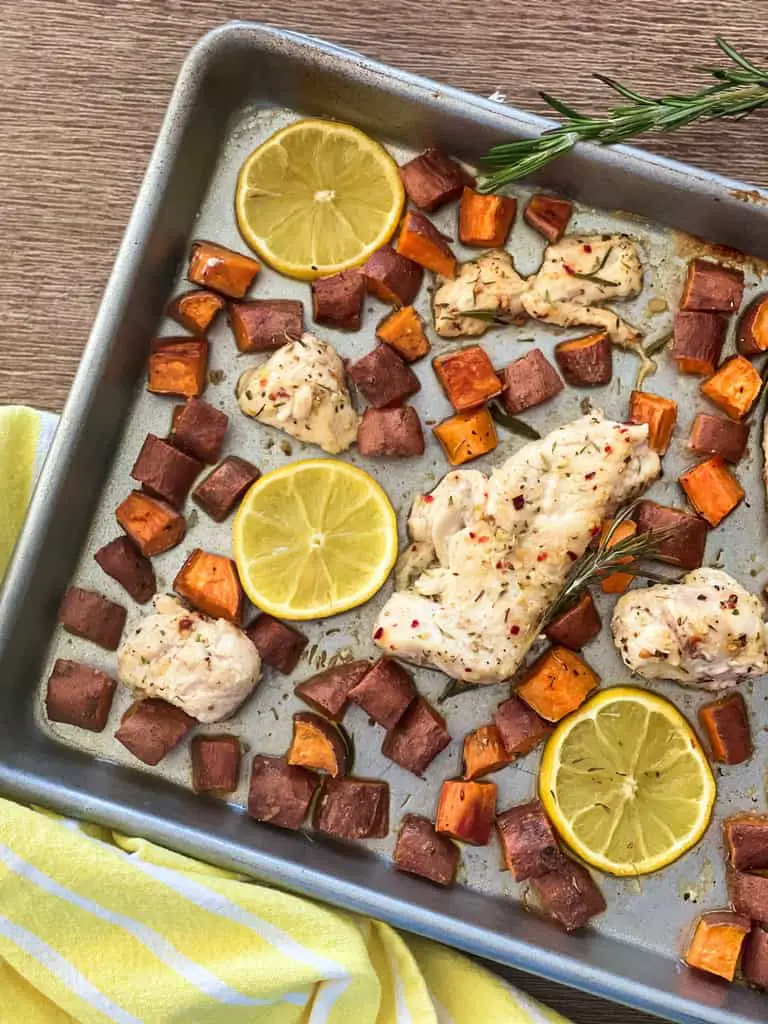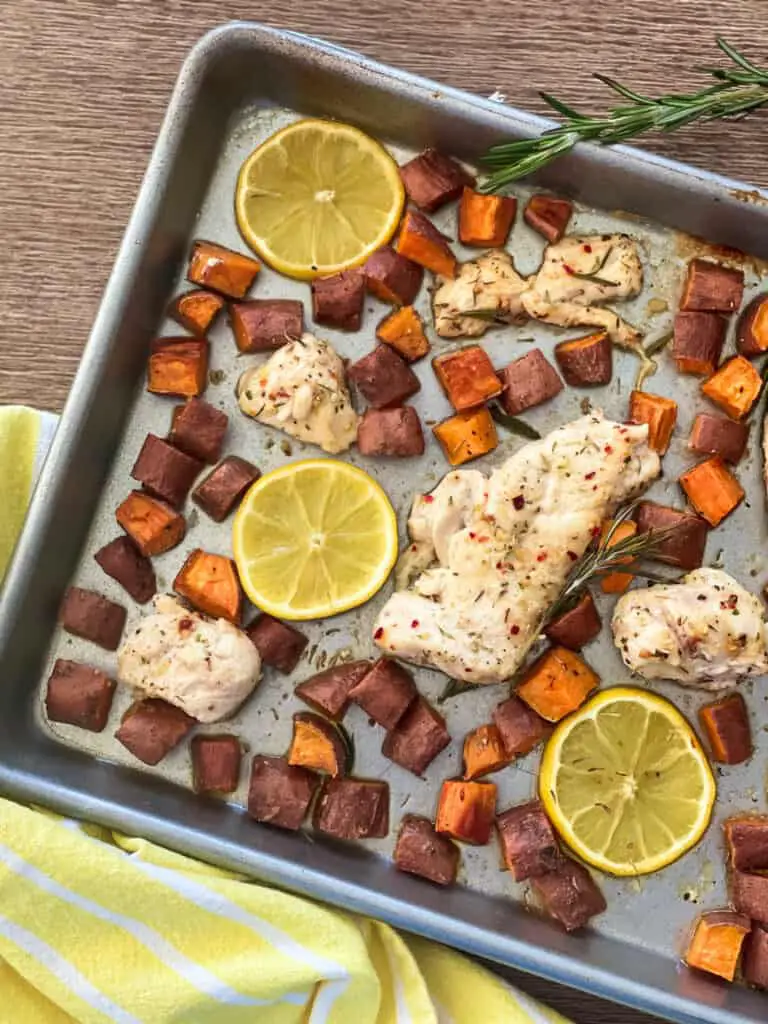 Ingredients Needed for Sheet Pan Lemon Chicken
Materials Needed for Sheet Pan Lemon Chicken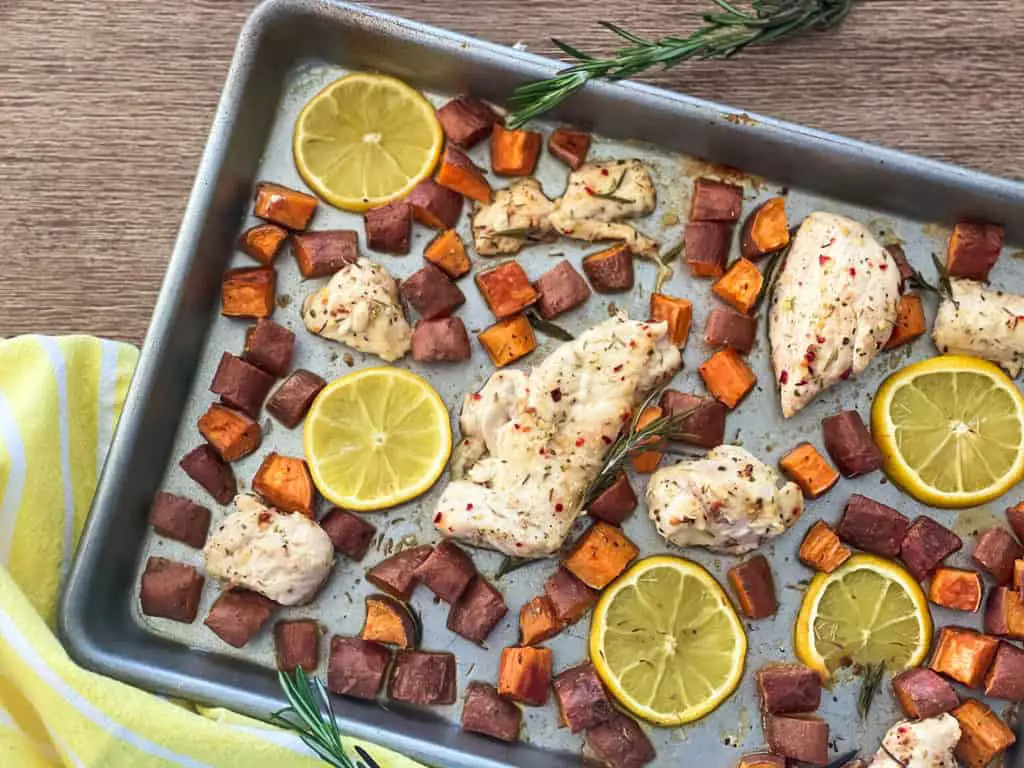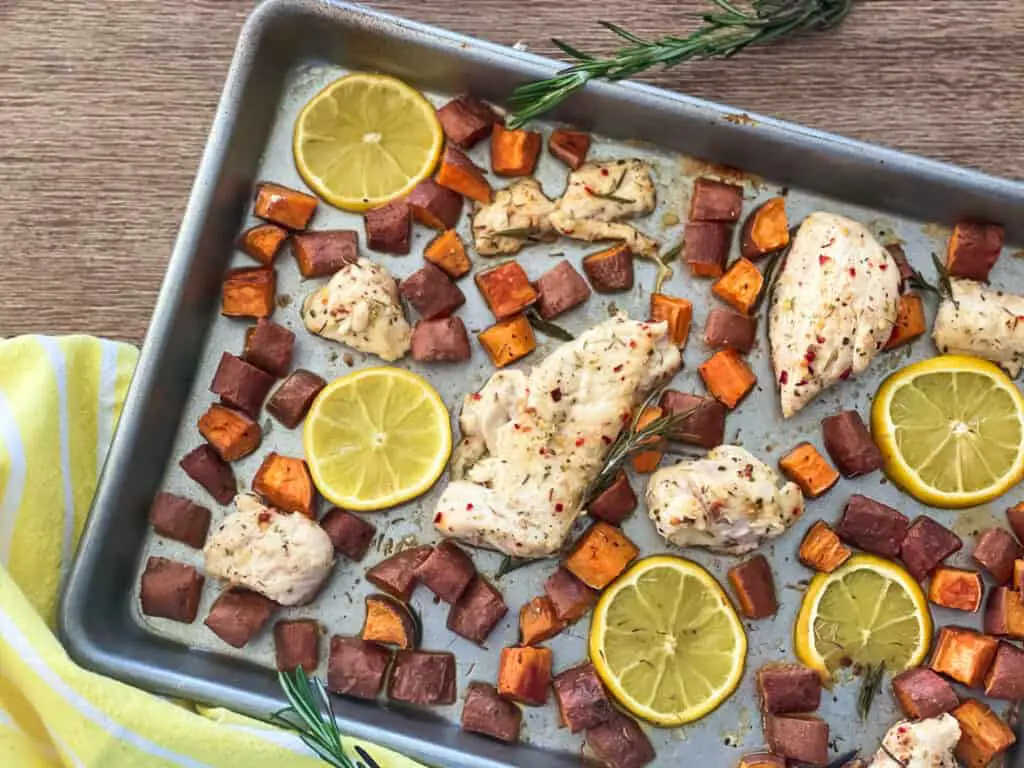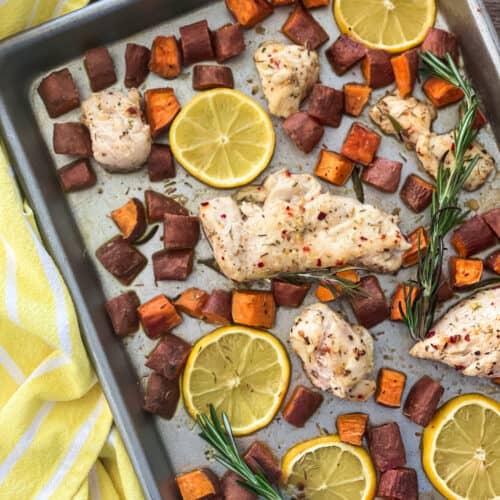 Sheet Pan Lemon Chicken with Sweet Potatoes
An easy dinner meal, sheet pan lemon chicken and sweet potatoes is easy and delicious and is ready in under 30 minutes.
Print
Pin
Rate
Ingredients
2

medium

sweet potatoes

cubed

2-4

tbsp

olive oil

salt

as needed

pepper

as needed

2

chicken breasts

(4 chicken tenderloins)

2

tsp

lemon seasoning

1/4

cup

lemon juice

2

tsp

rosemary

1

tbsp

thyme
Instructions
Preheat oven to 425°. Line the sheet pan with foil or olive oil spray.

Lay the sweet potatoes evenly on half of the sheet pan. Drizzle with half of the olive oil, salt, and pepper. Cook the sweet potatoes for 15 minutes.

While the sweet potatoes cook, season the chicken with the remaining olive oil, lemon seasoning, lemon juice, and a dash of salt and pepper. Sprinkle half of the rosemary and thyme.

Remove the sweet potatoes from the oven after 15 minutes. Flip and drizzle with light olive oil and the remaining rosemary and thyme. Add the chicken to the pan and continue cooking 12 minutes or until the chicken reaches an internal temperature of 165°.
Pin me!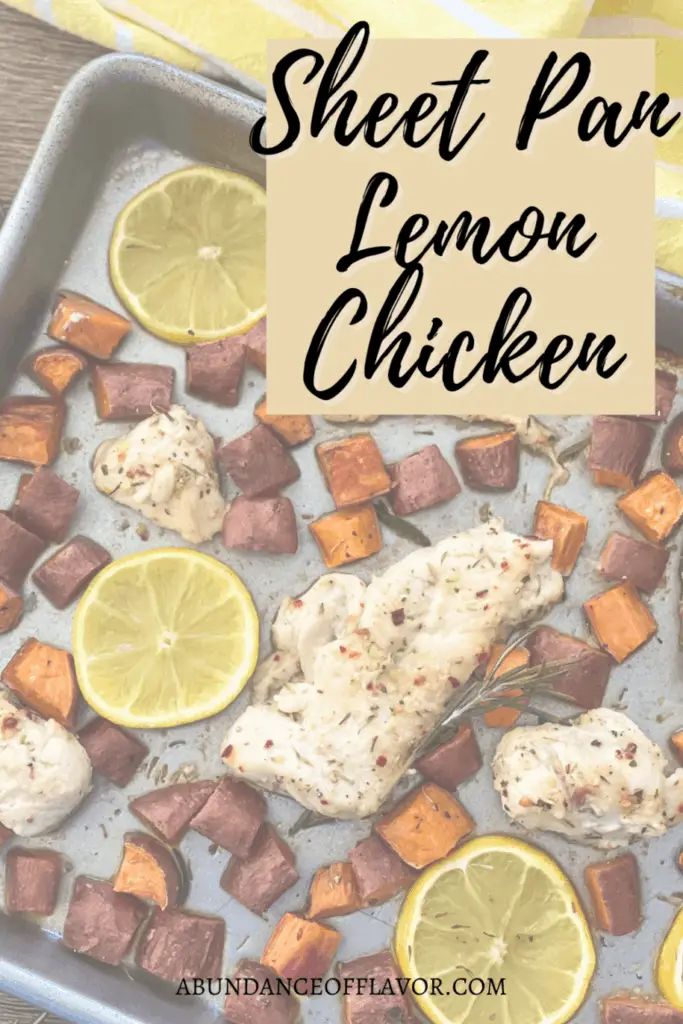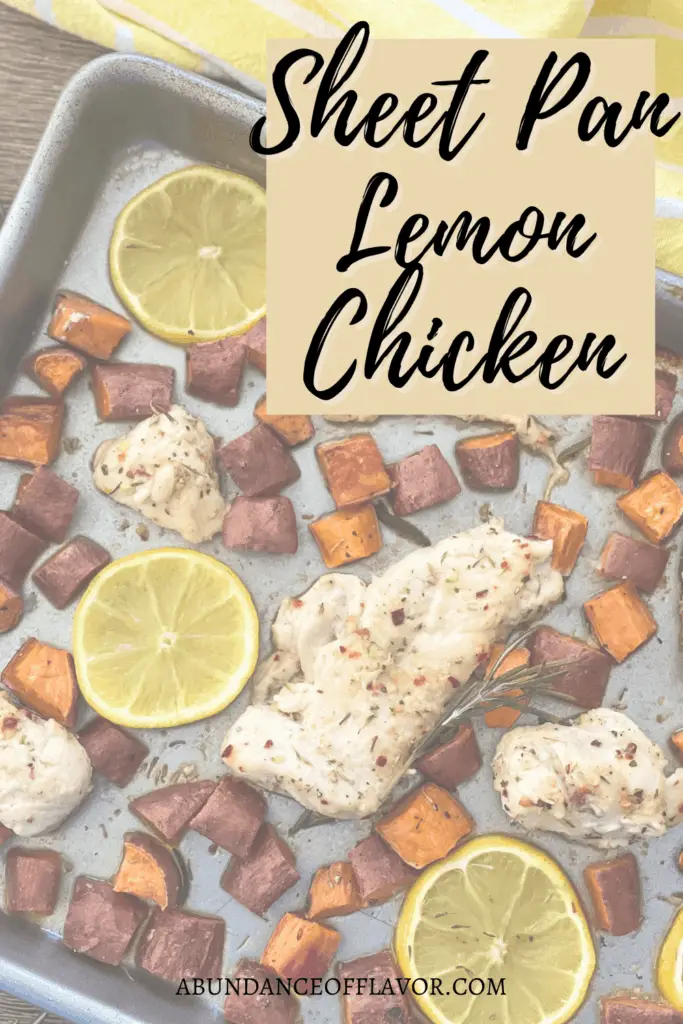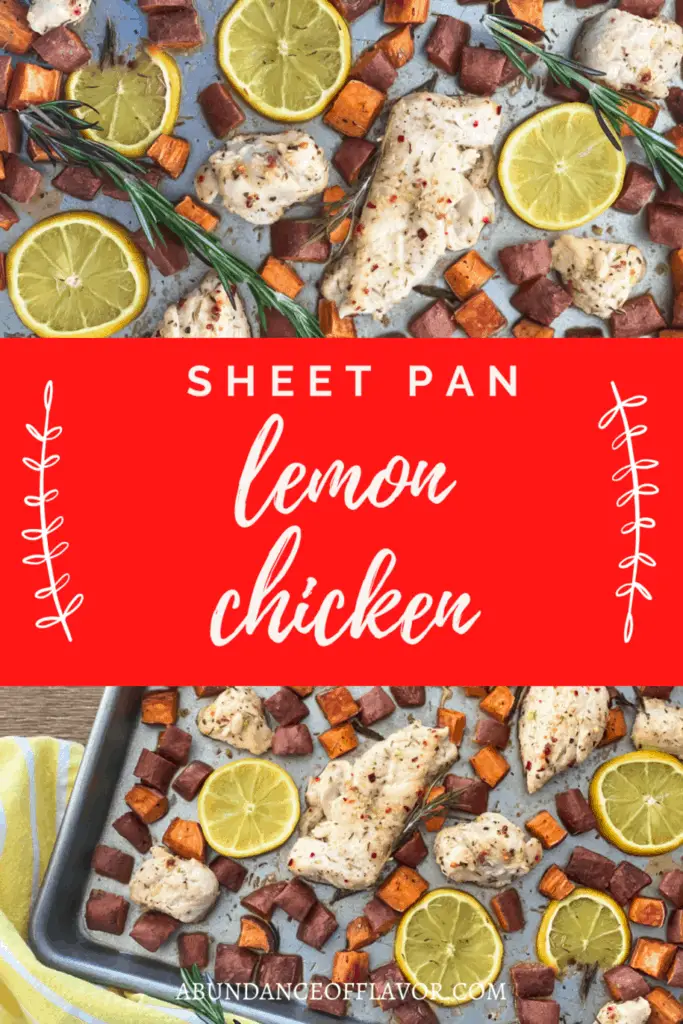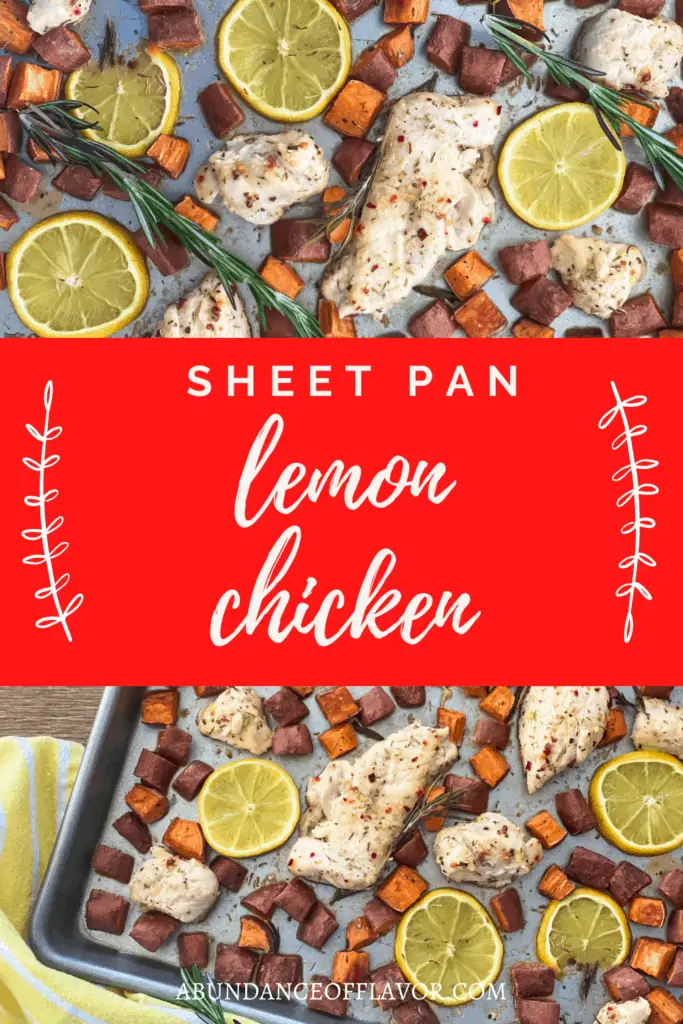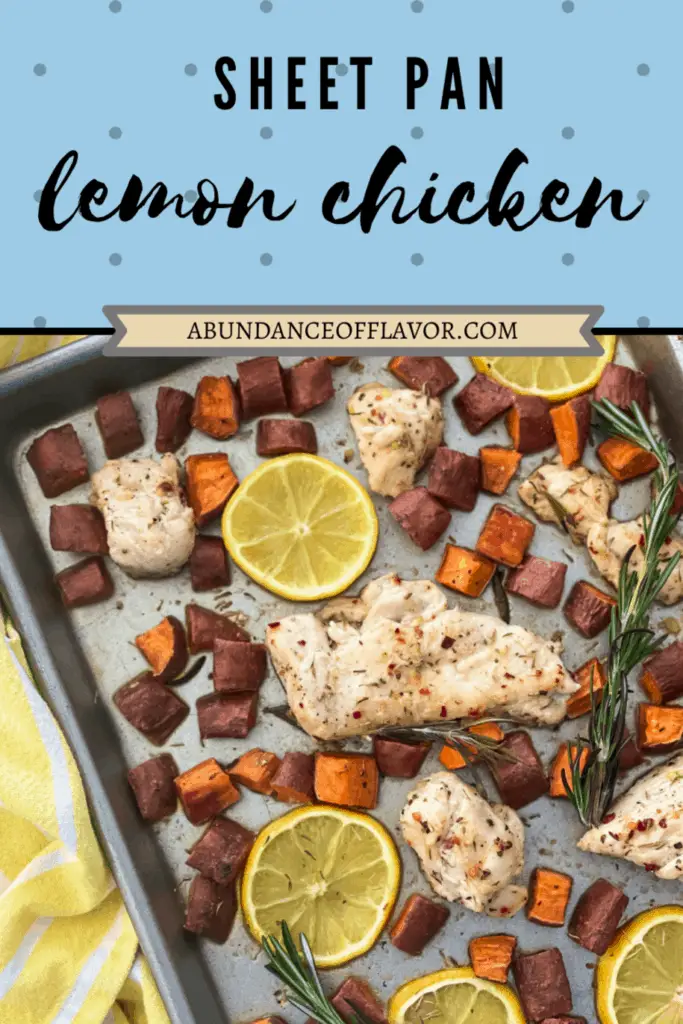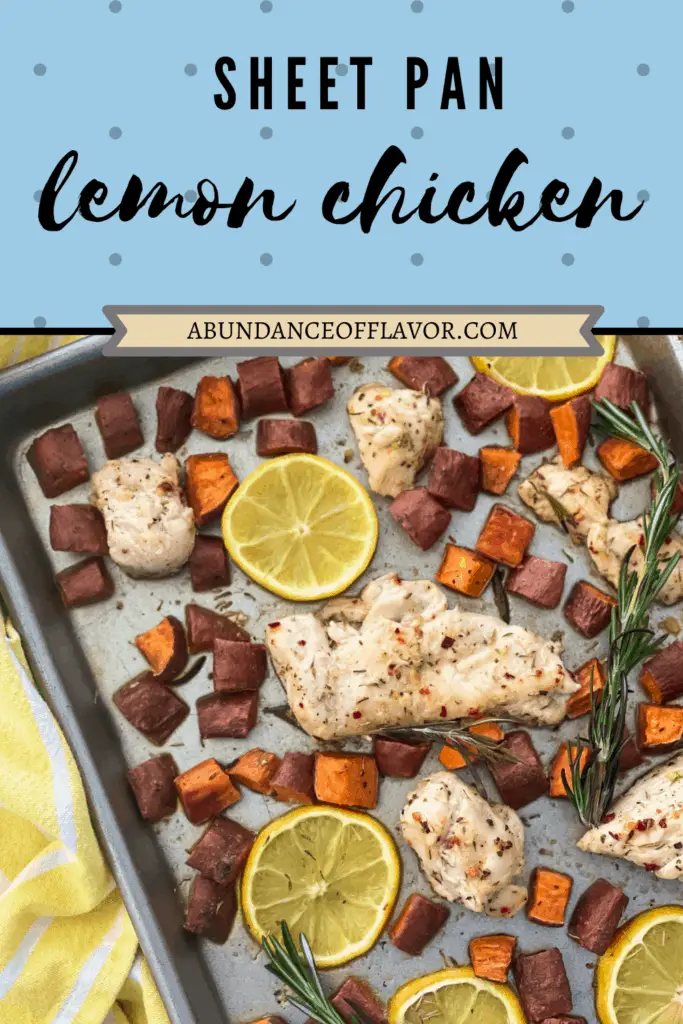 Sheet pans are some of the easiest customizable meals. Combinations of any of your favorite meats, potatoes, vegetables, and seasoning can create easy, delicious meals. Experiment with some of your own ideas or check out Pinterest for amazing ideas!
Have any favorite sheet pan meals that you use on a busy night? Share your ideas below!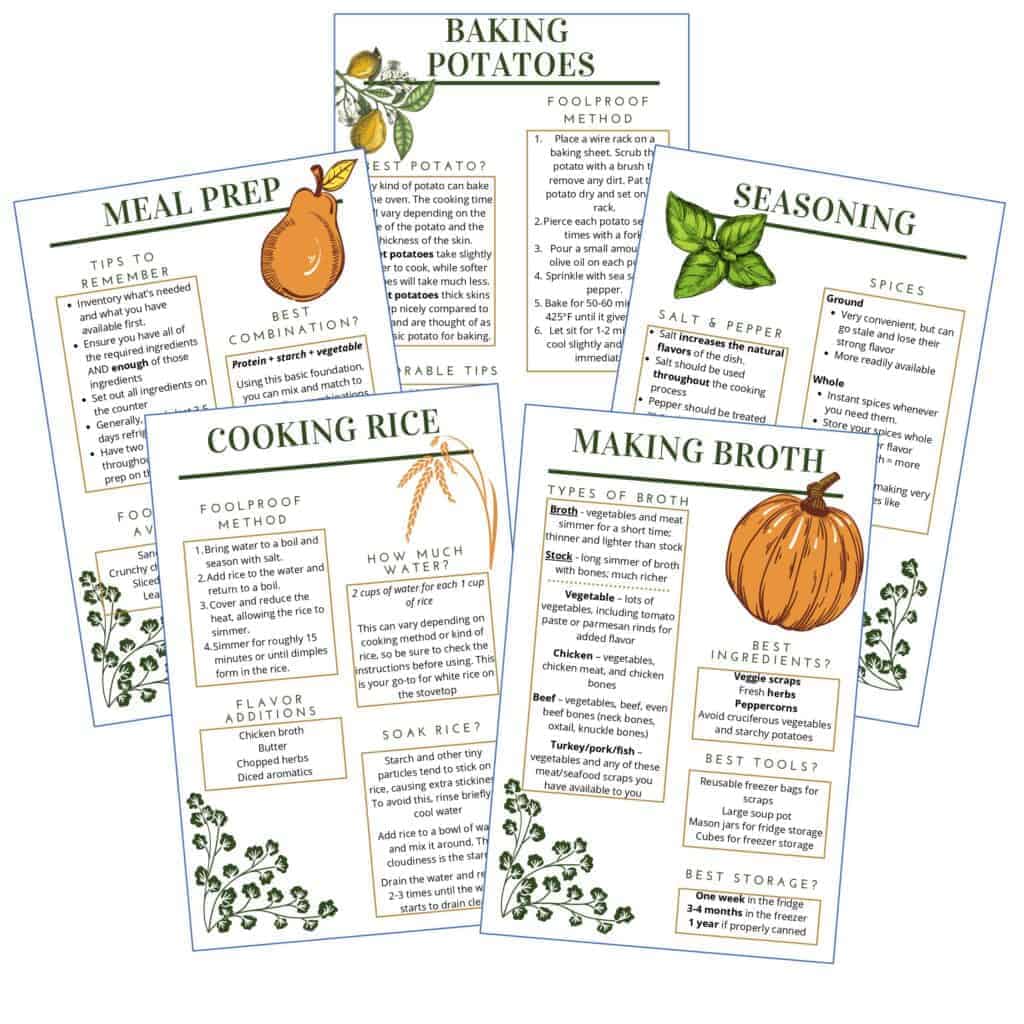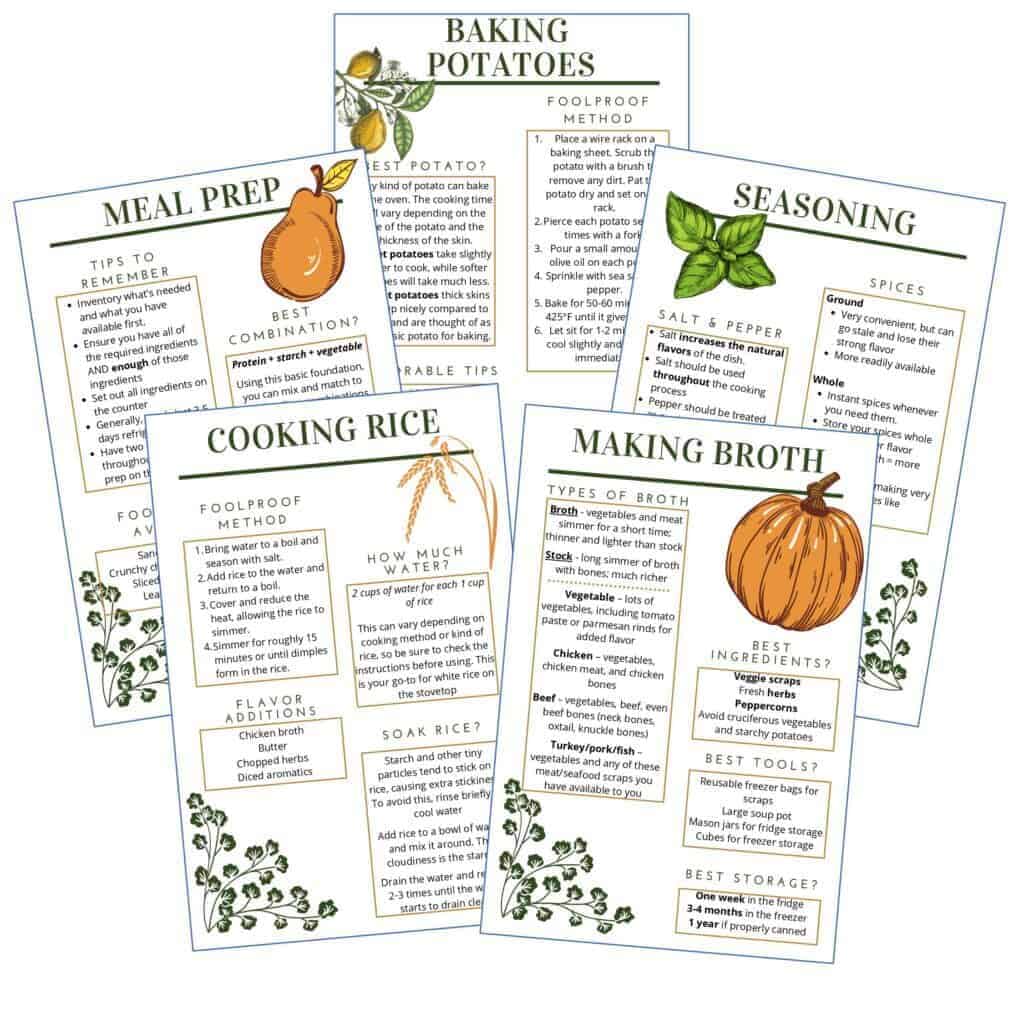 Get your $1 worksheets today!
Related Posts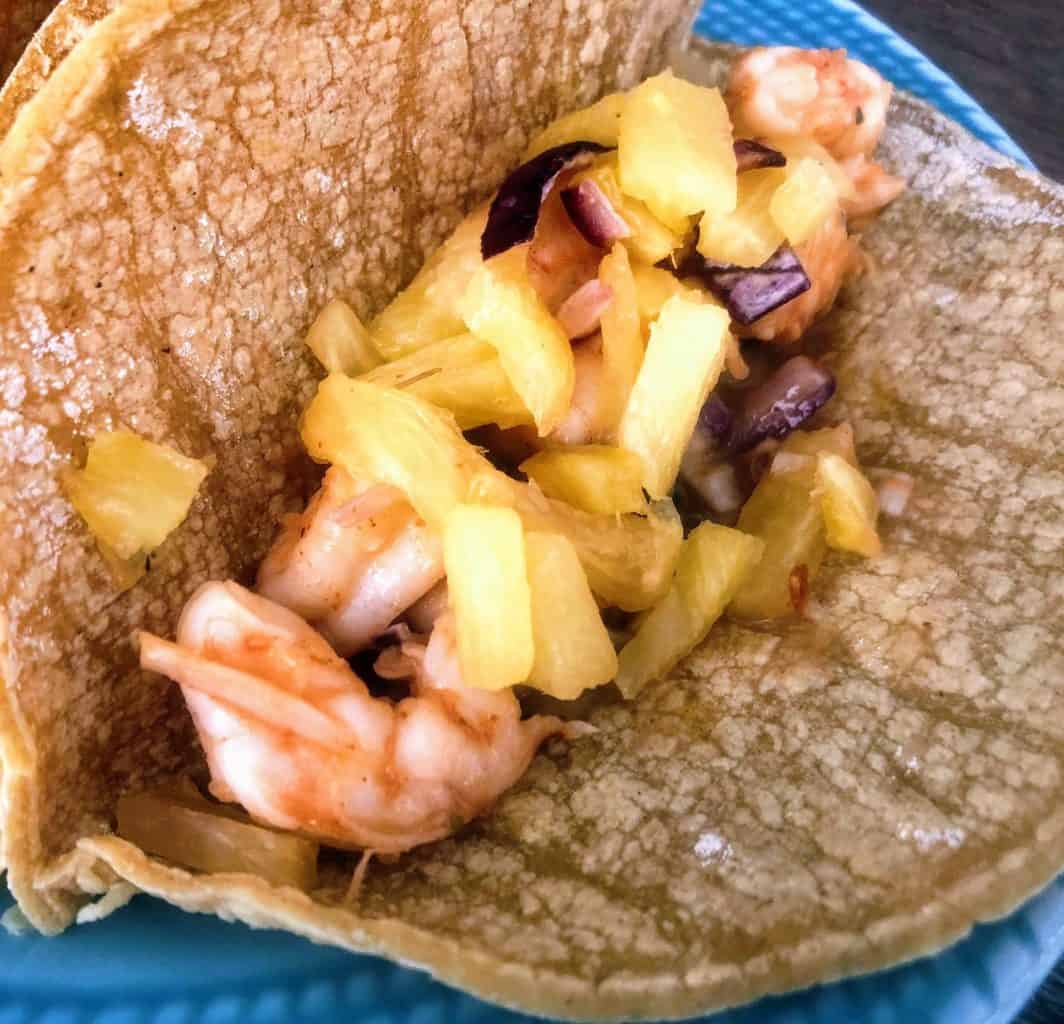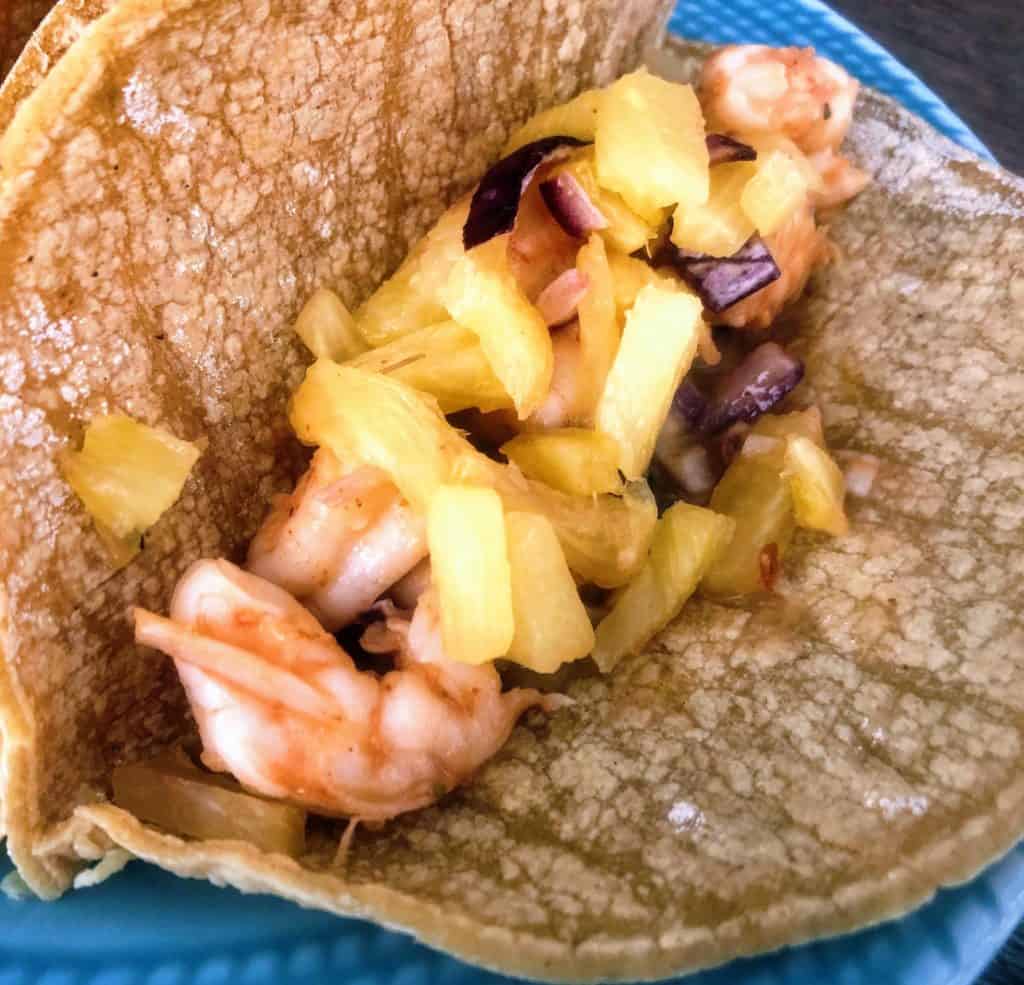 Fresh and easy pineapple shrimp tacos! Savory and bursting with tropical flavors, serve on warm tortillas with your favorite toppings.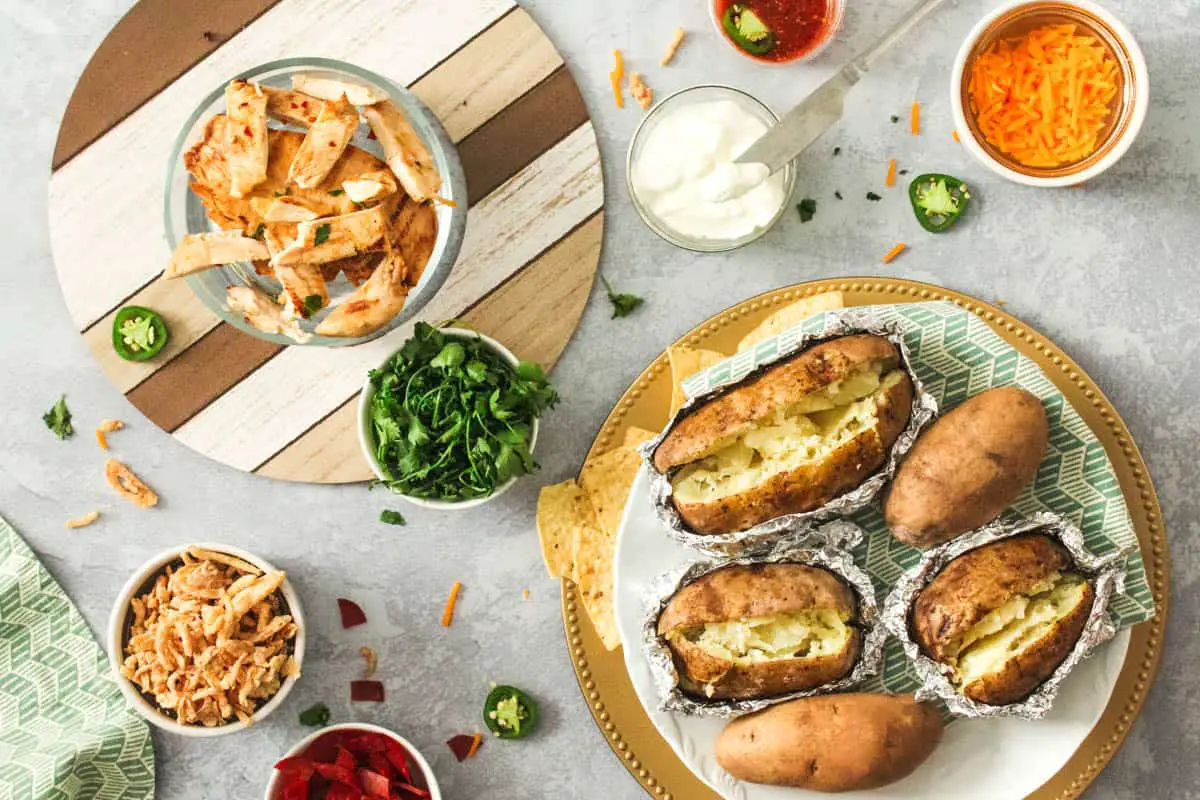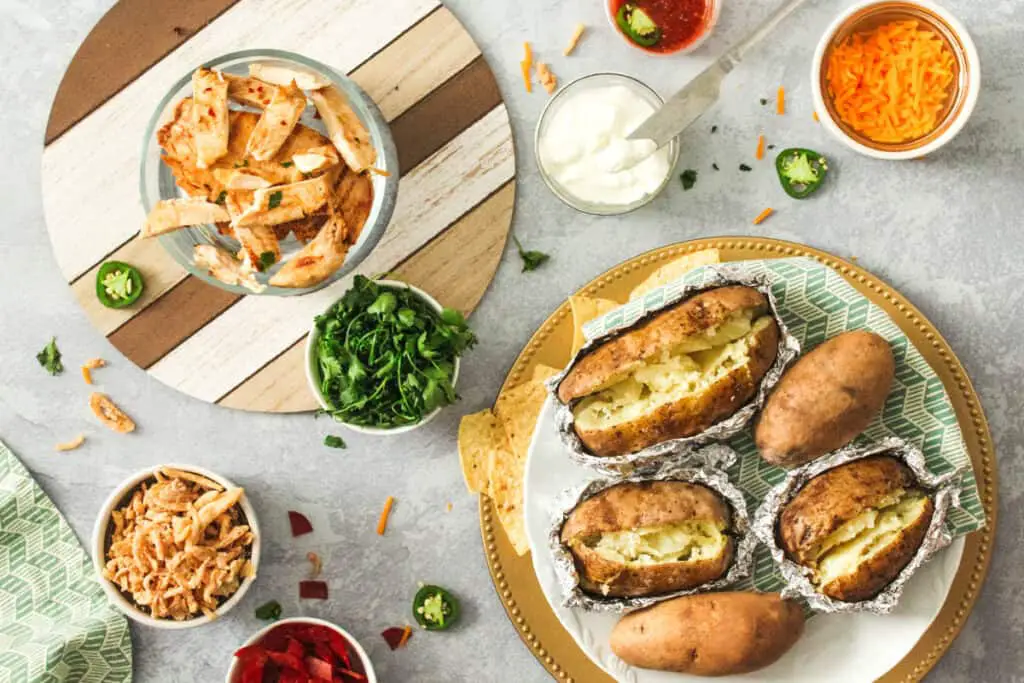 Slow Cooker Ultimate Baked Potato Bar allows for a unique DIY dinner experience and takes hands-off cooking to the next level!