It's hard to beat a classic baked potato! A food that's comforting and wholesome, enjoyed as a side or as its own dish, and can be dolled up with endless tasty toppings. There's lot's of conflicting info out there about how to bake a potato in the oven, but I've nailed down a foolproof method that always produces reliable results.
Let's uncover the details!
This post is part of our Basic Cooking Skills series. Each week we will be doing a deep-dive into one basic cooking skill and a brand new recipe to accompany it to practice that newfound skill. Check back throughout the series for updates and new posts.
---
Please note this post contains affiliate links, which means I receive a small commission, at no extra cost to you, if you make a purchase using the links. Please see my disclosure for more details.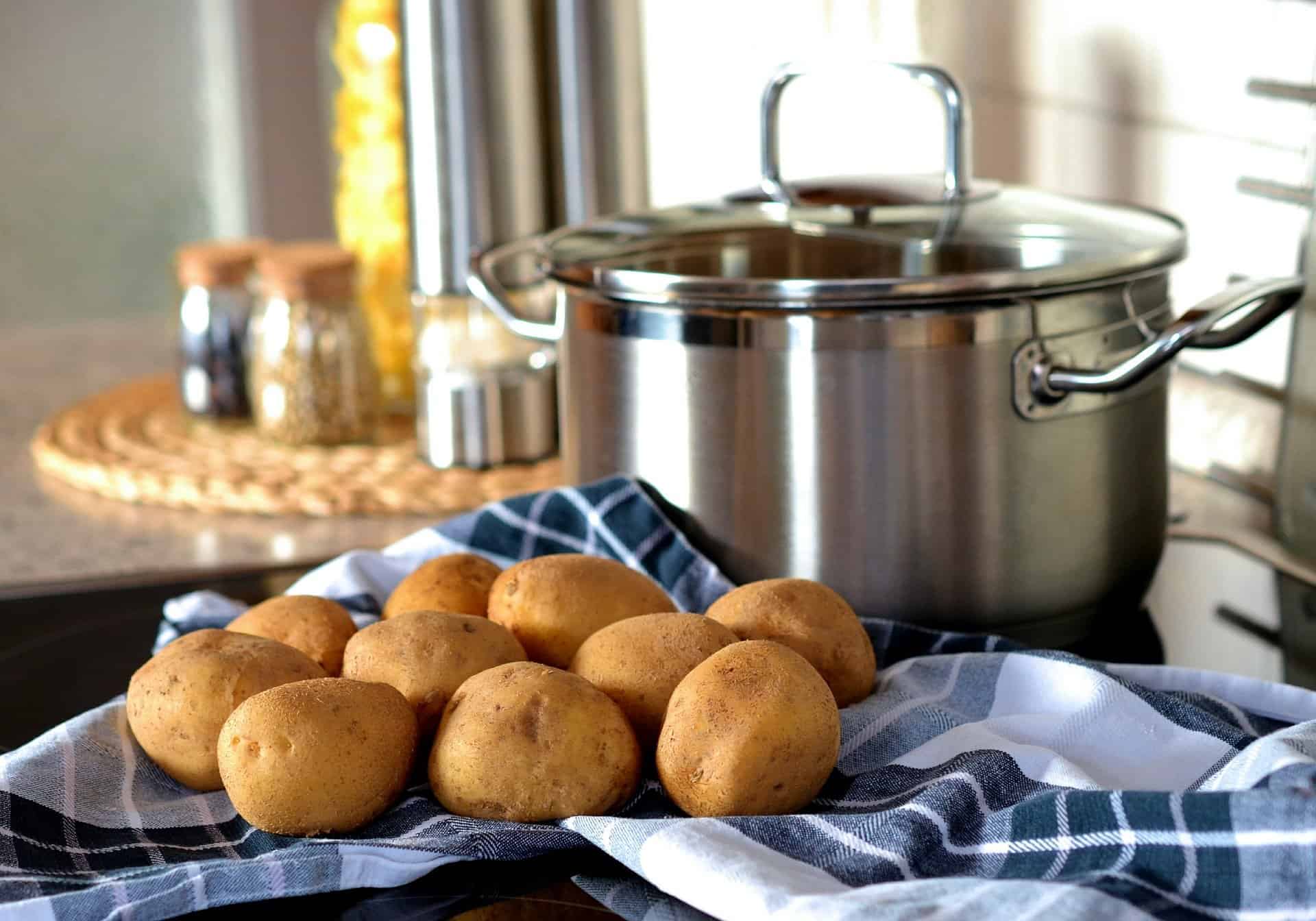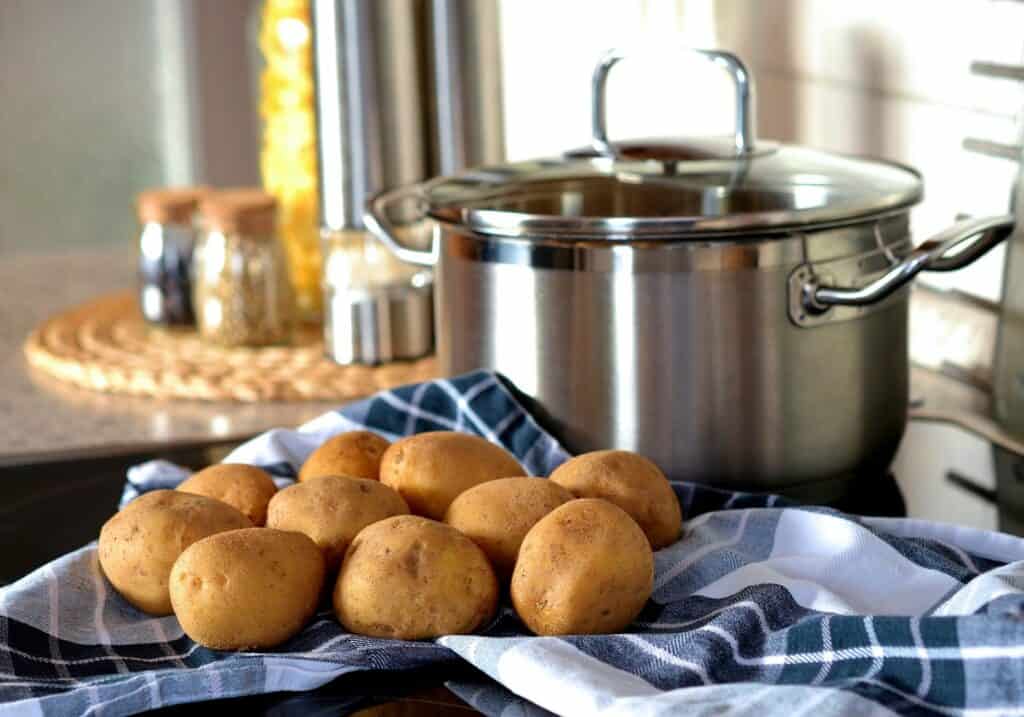 Potatoes are the MVP
That's right! In my book, potatoes are easily the most valuable player.
French fries, bread, and even vodka are luxuries we would have to do without if it weren't for beloved potatoes! What a world.
Their versatility is unmatched and it's been so much fun learning more about different cooking methods. Boiling potatoes is necessary to know when making mashed potatoes to eat with a roast, but I make them pretty infrequently when compared to baking potatoes.
Baked sweet potato fries are one of my favorite recipes for a quick snack, and you can't go wrong with skillet breakfast potatoes either!
How to: Bake a Potato in the Oven
Place a wire rack on a baking sheet. Under running water, scrub the potato with a brush to remove any dirt. Pat the potato dry and set on the rack.
Pierce each potato several times with a fork.
Pour a small amount of olive oil on each potato. Rub it in with your hands and cover the entire surface. 
Sprinkle with sea salt and pepper.
Bake for 50-60 minutes at 425 degrees until there's a little give when you squeeze it. Let sit for 1-2 minutes to cool slightly and then cut immediately.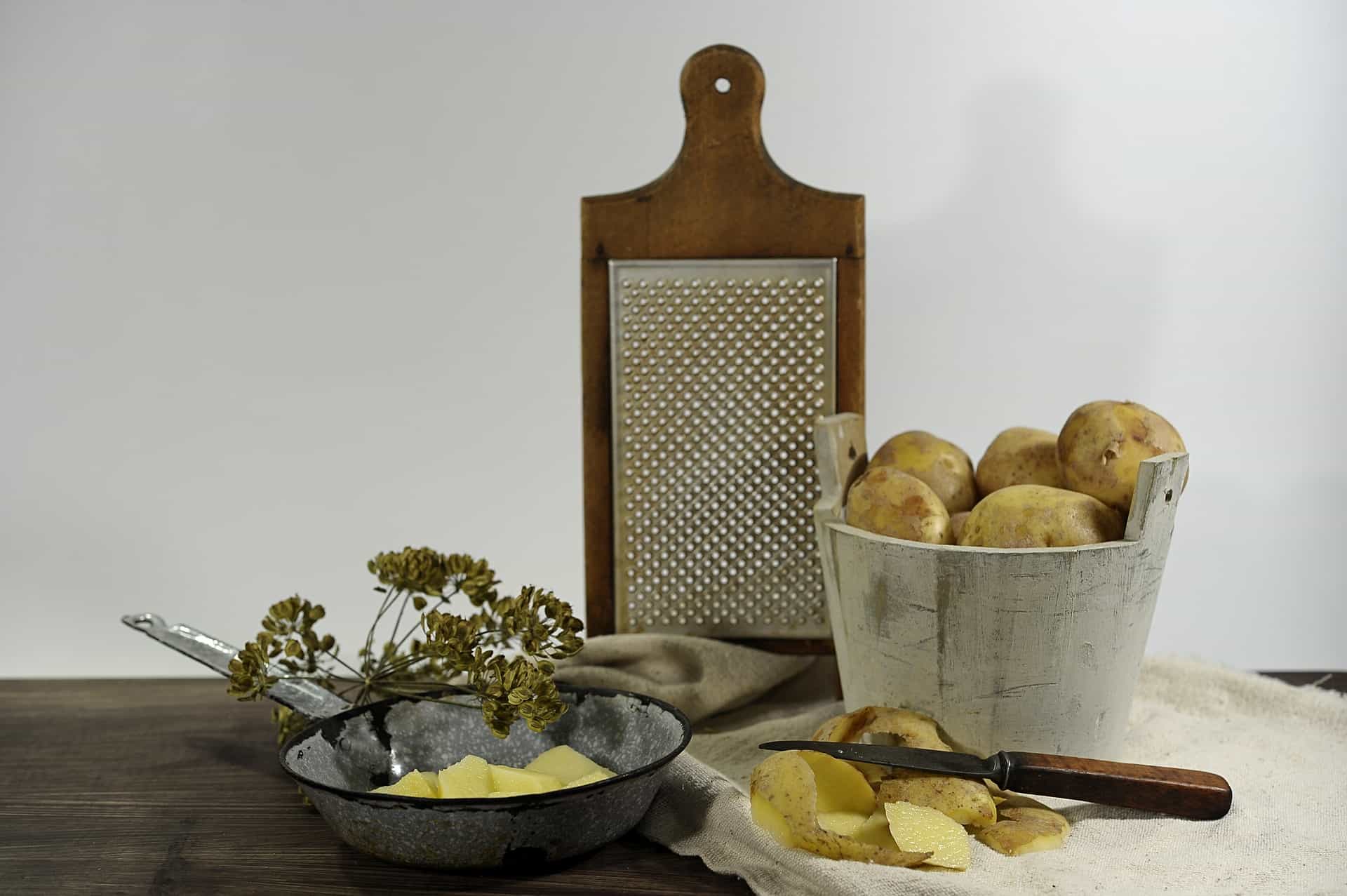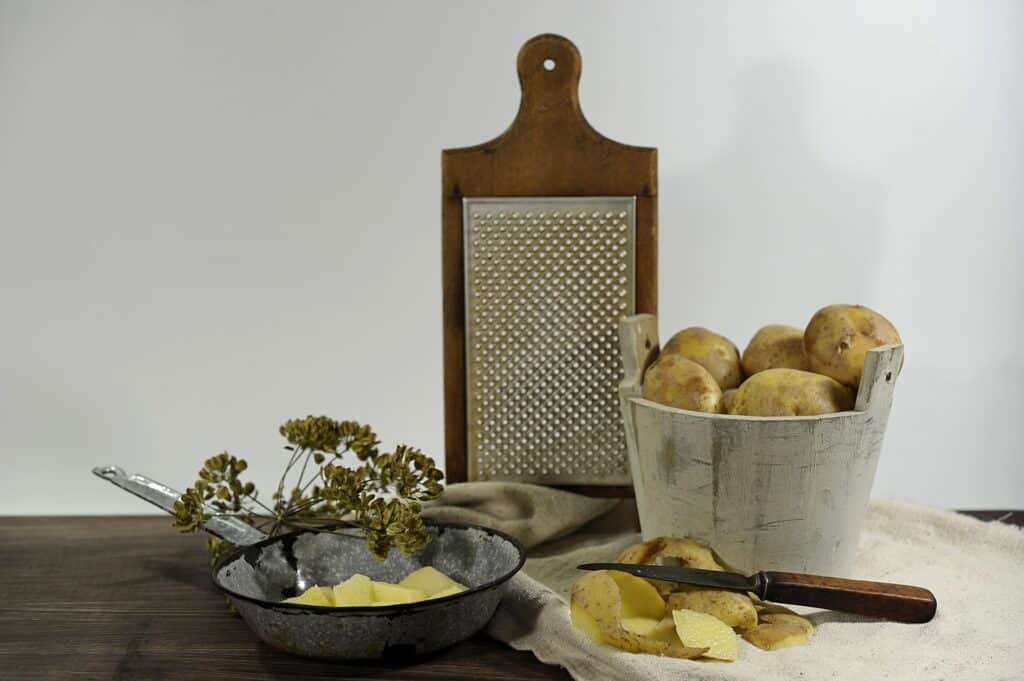 Guide to Oven Baked Potatoes
Russet vs. Sweet Potatoes
Does this method work for any kind of potato?
The short answer is YES.
Any kind of potato, whether a classic russet, a small red, or a huge sweet potato, can be baked whole in the oven. The cooking time will vary depending on the size of the potato and the thickness of the skin.
Sweet potatoes take slightly longer to cook, while softer potatoes will take much less. You'll know when a potato is done once gives from a soft squeeze or is pierced easily with a fork.
Thick skin of russets crisp up nicely compared to others and are thought of as the classic potato for baking, but sweet potatoes have skins that also tend to get a nice crisp and bake really well.
Bake with Butter or Olive oil?
The purpose of using butter or olive oil is to have a fat on the potato skin. This prevents burning and encourages crisping, as well as adding a little flavor.
To bake a potato in the oven, I personally prefer to use olive oil over butter when I have the choice because it is a healthier fat and more nutritious.
Butter crisps better but, as mentioned, is less healthy. However it's hard to beat the taste of anything slathered in butter!
Either can be used and is ultimately up to your preference!
Perfect Seasoning for Oven Baked
When it comes to seasoning, potatoes should be seasoned similarly to any other vegetable being prepped for roasting.
In other words, keep it simple.
Salt and pepper are all that is needed for delicious flavor, and most will fall off anyways. More seasoning can be incorporated into the filling of the potato for easy flavor.
Is Wrapping in Foil Necessary?
NO!
I thought this was a must for perfect potatoes but the idea that wrapping potatoes in foil makes them crispier is a myth.
Wrapping potatoes in foil while baking creates a steam pocket. The steam helps cook the potato but prevents the skin from getting crispy and creates more of a boiled potato than baked.
If you're doing this as a precaution for exploding potatoes, just poke the potato repeatedly with a fork. Place a baking sheet underneath the potato to catch any bits just in case.
Using a wire rack in addition to the baking sheet increases air circulation around the entire potato and ensures the entire potato cooks evenly.
Pin me!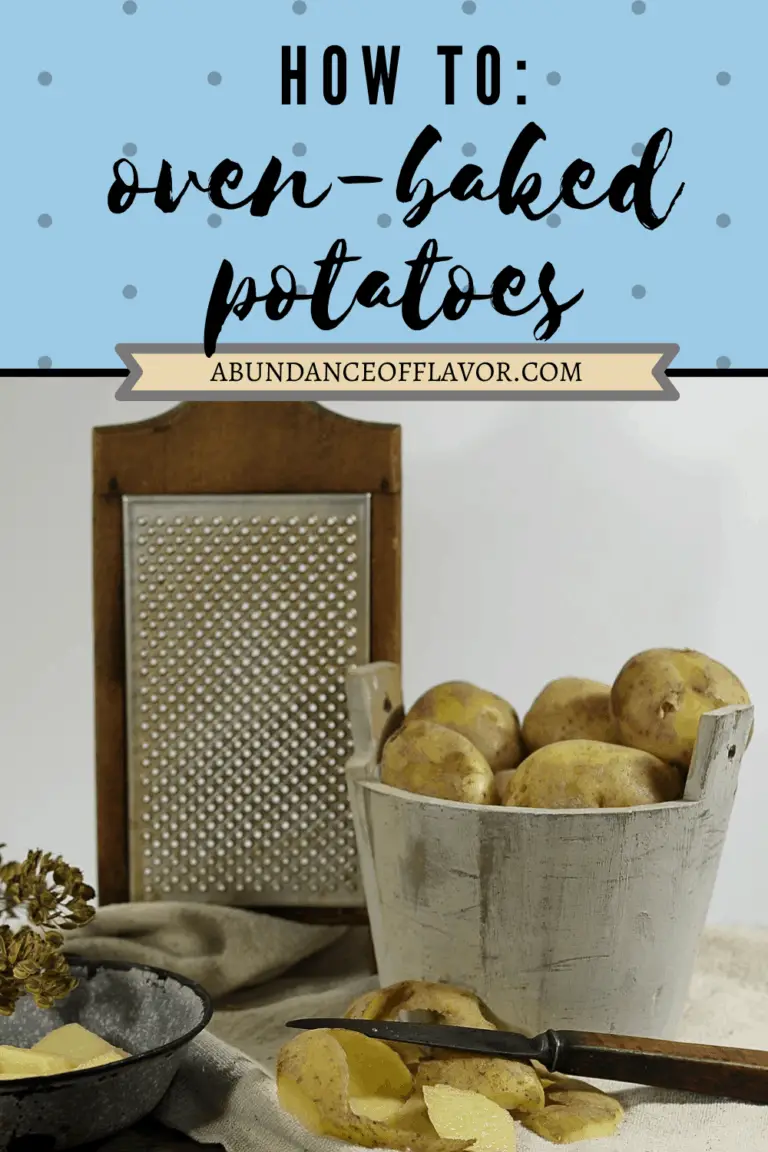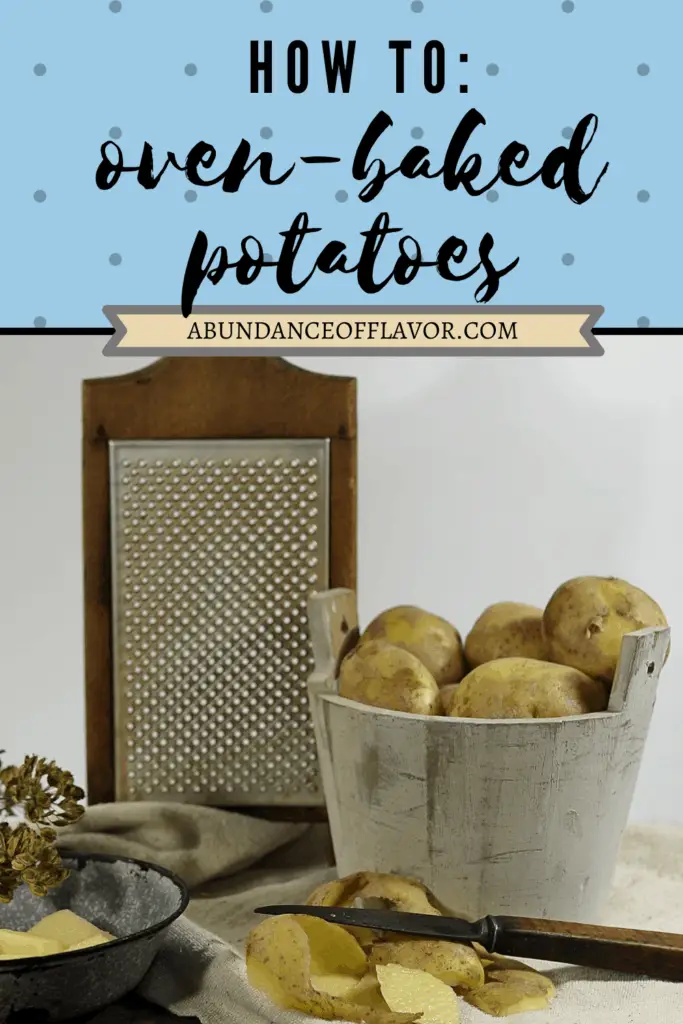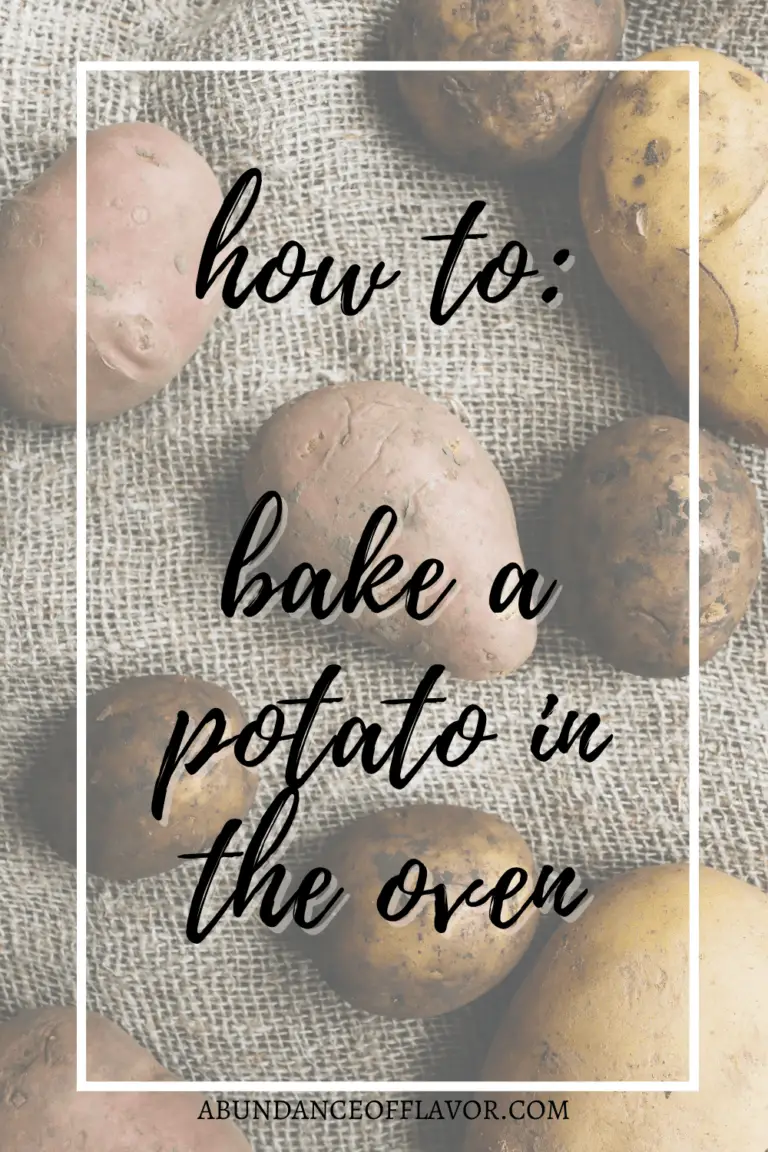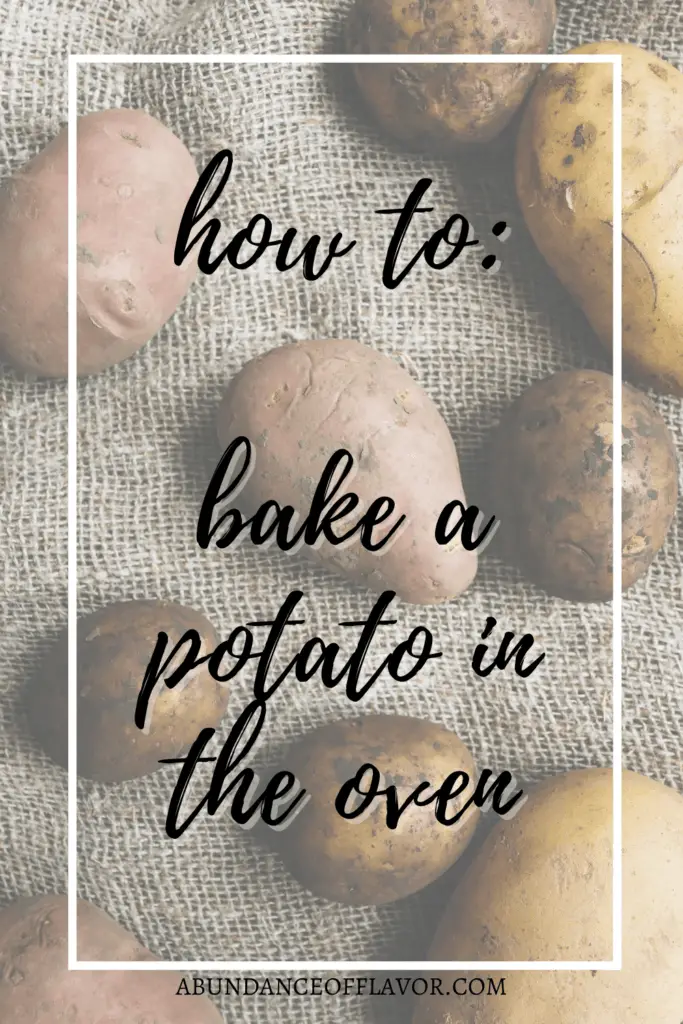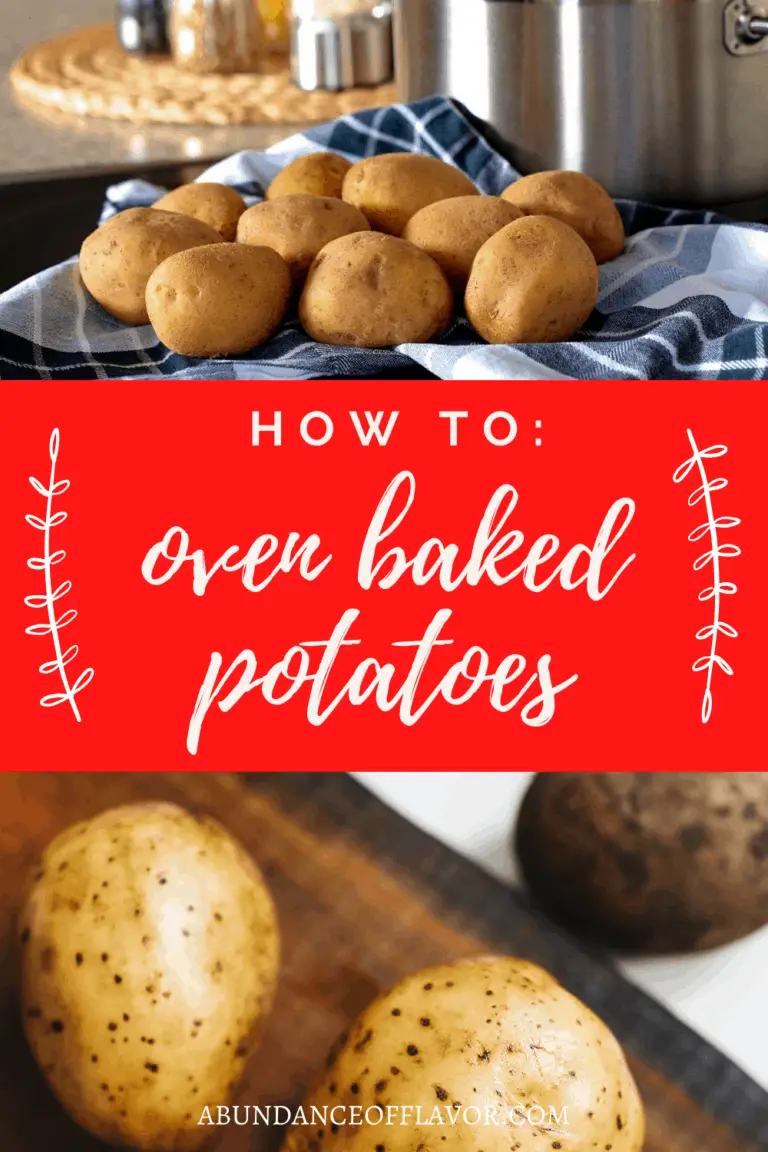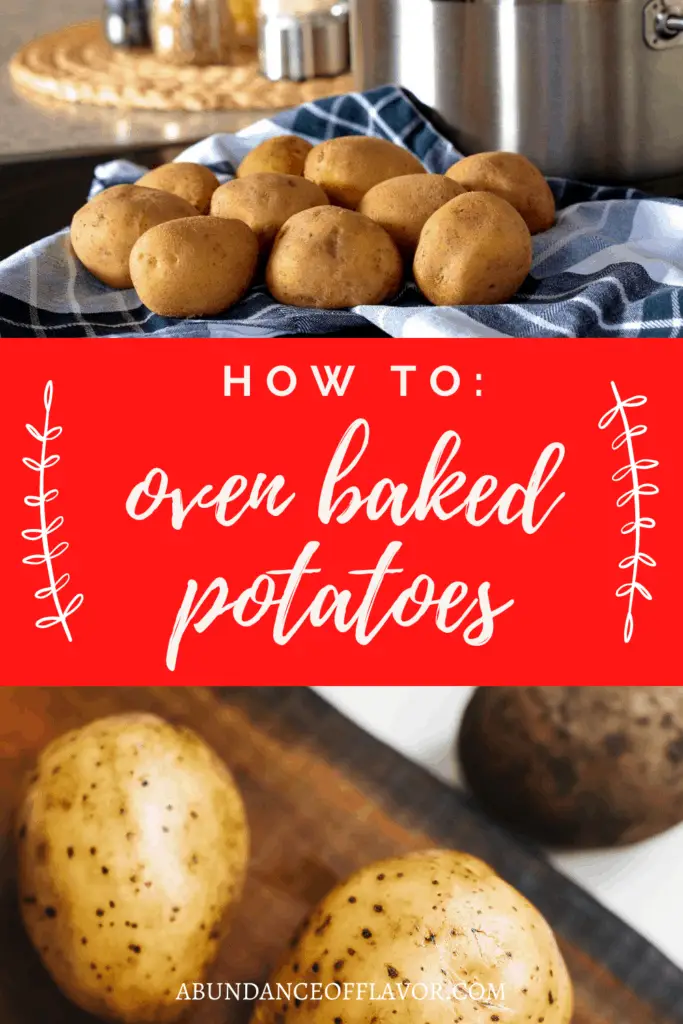 Implement your new skill
Coming up next Thursday is one of my favorite new recipes that will allow you to try out your new knowledge. Check back soon!
Is there anything you learned about baking potatoes that's different than how you had always done it? I could've sworn every potato must always be wrapped and couldn't believe it was preventing the crispiness I love!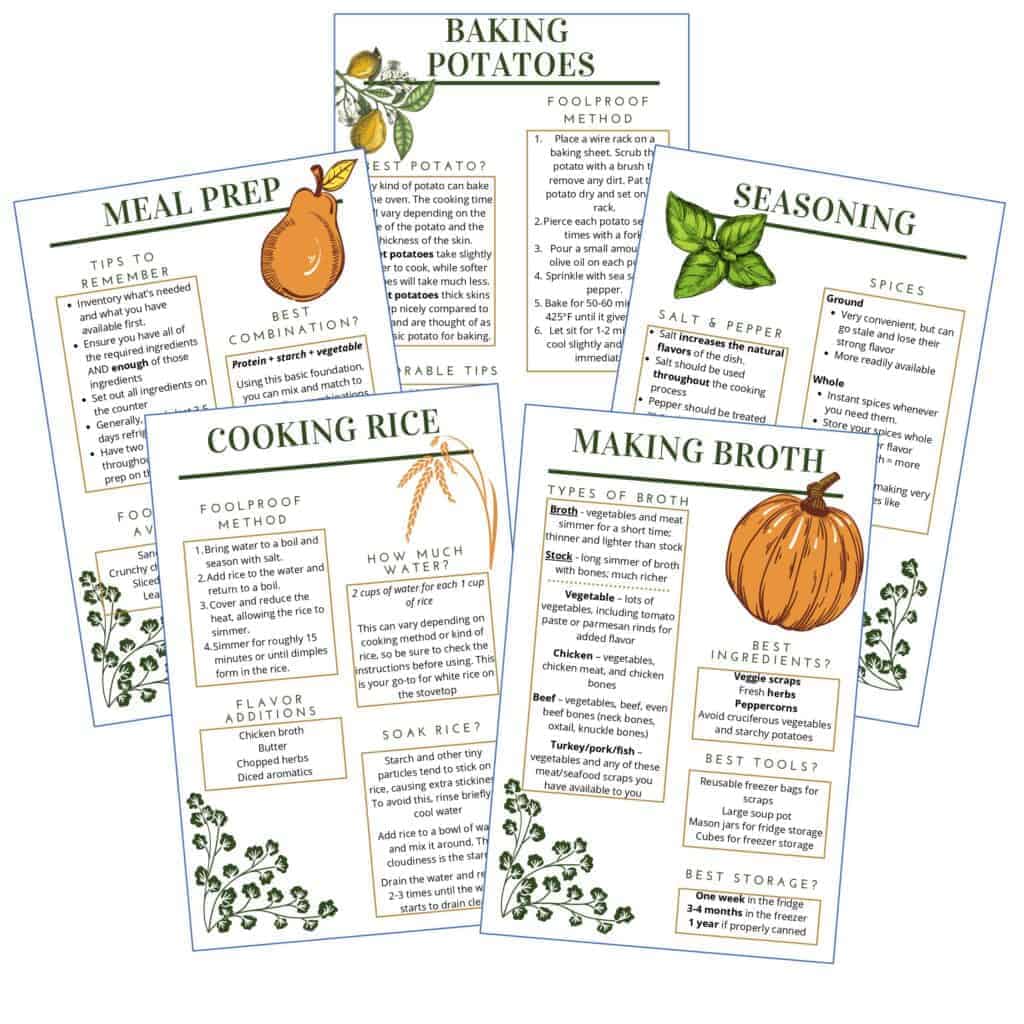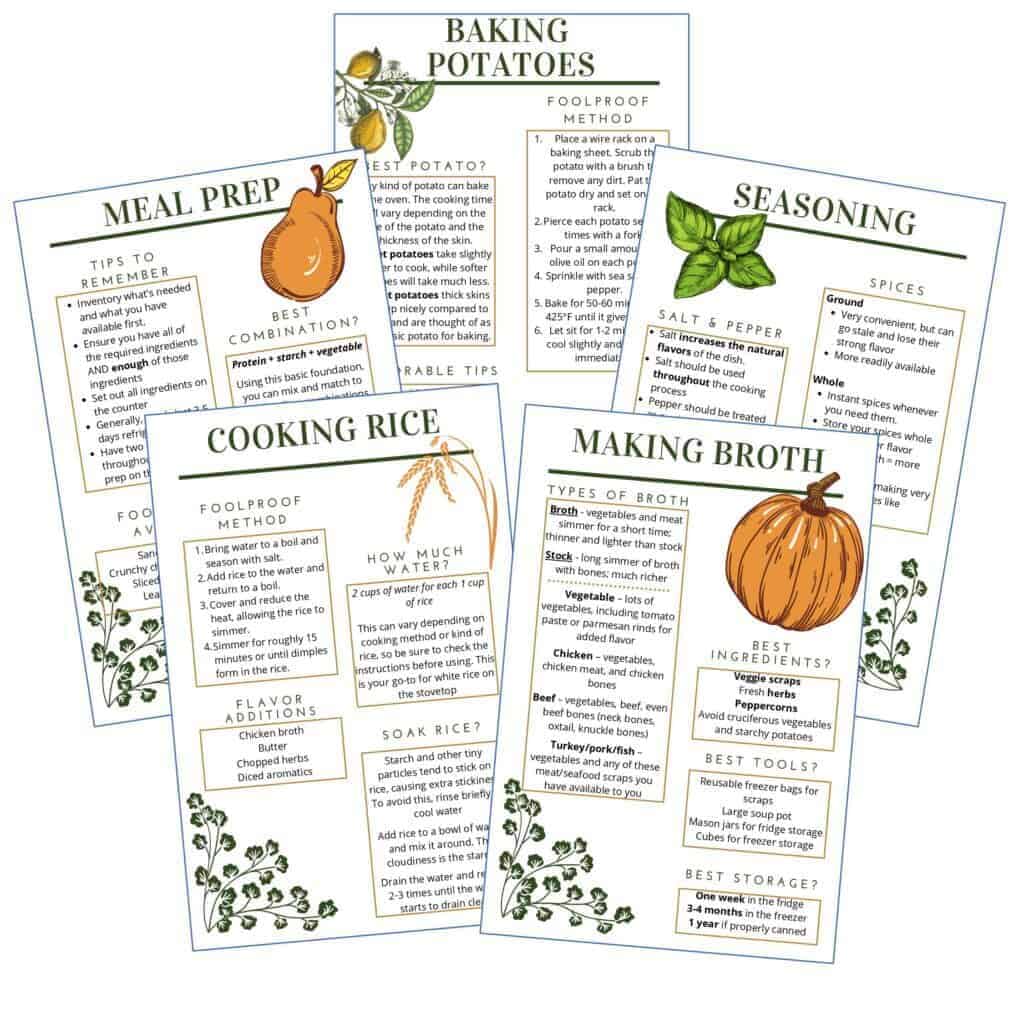 Get your $1 worksheets today!
Related Posts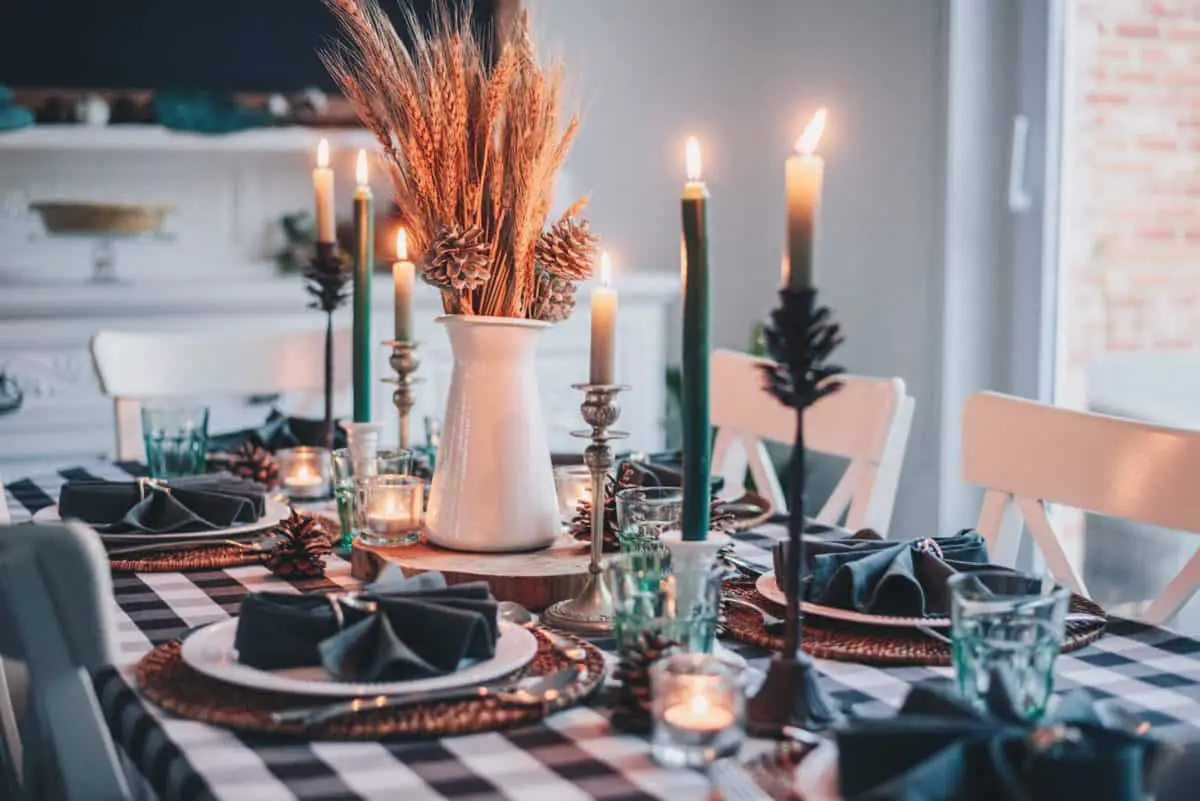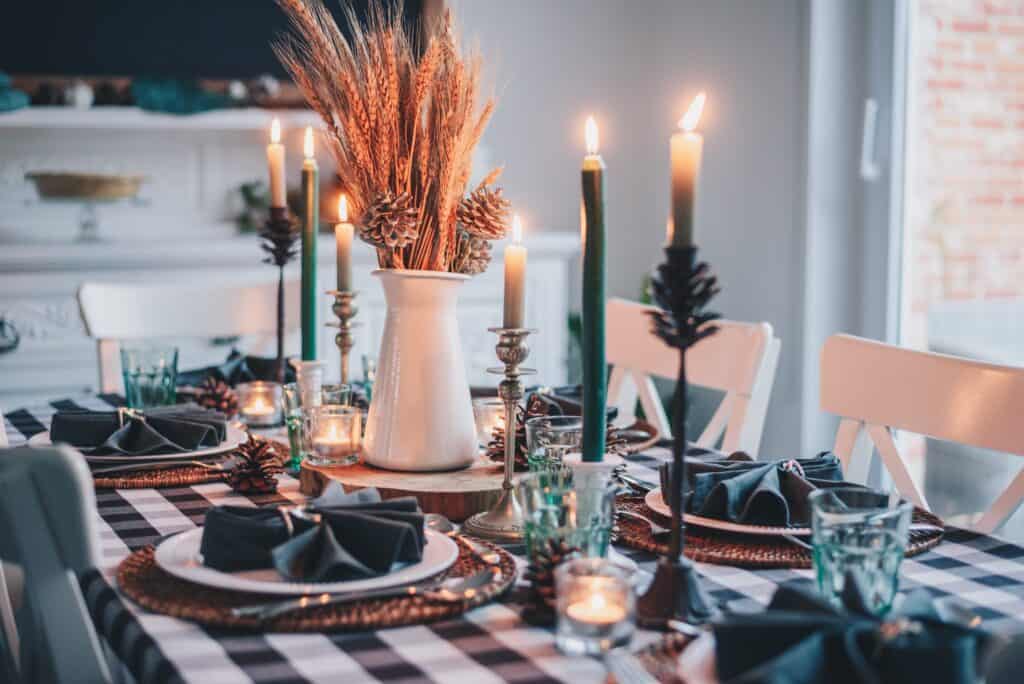 The ultimate kitchen essentials list for fall! Decorate your home this year with some of my affordable fall-favorites on Amazon.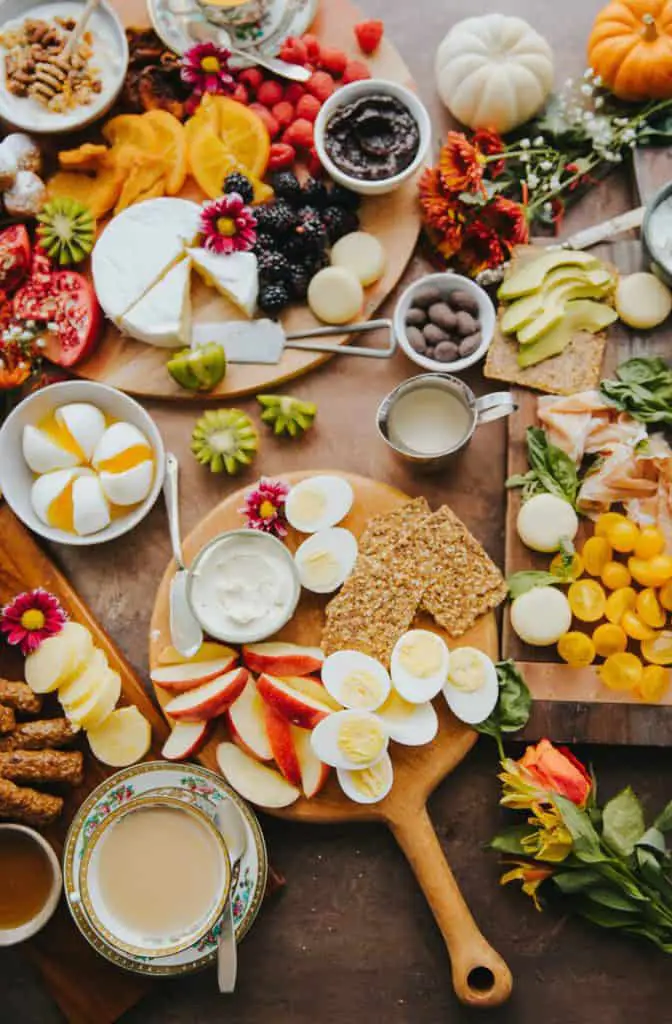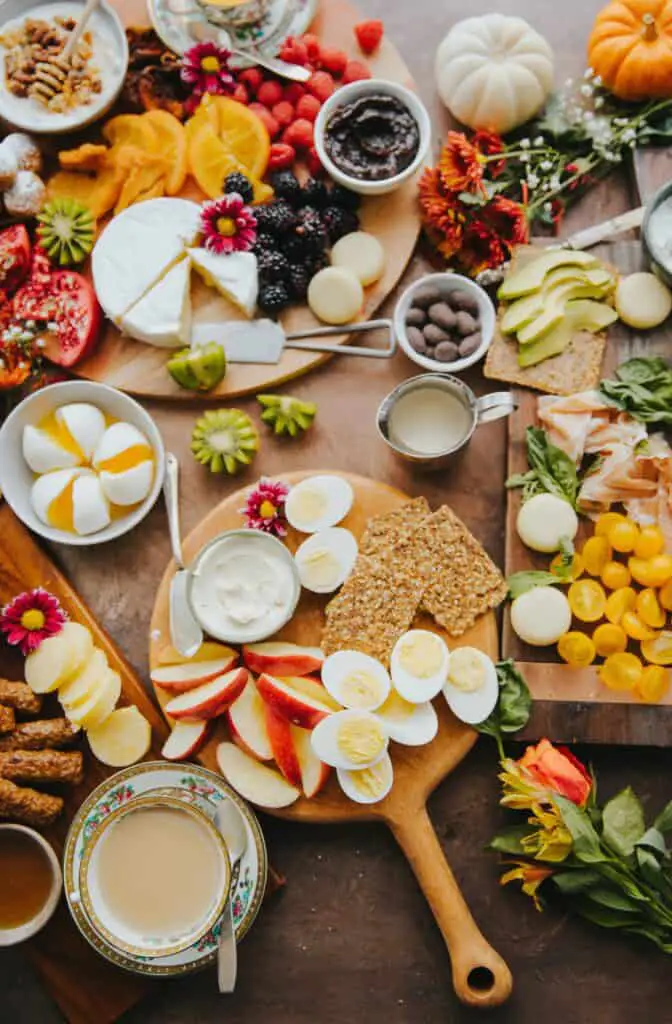 My Fun and Fruity Dinner Party Menu guarantees to impress. Fresh fruit in each dish to adds a lightness that is unparalleled.