Few things are the worth the hassle of deseeding a pomegranate, but this side dish is one of them! Pomegranate Basmati Rice is filled with the subtle sweetness of pomegranate arils that burst with each bite. Hints of ginger and cilantro complement the sweet with a little savory, creating an incredible combination of flavors. This side dish is sure to satisfy and have you coming back for seconds.
This post is part of our Basic Cooking Skills series. Each week we will be doing a deep-dive into one basic cooking skill and a brand new recipe to accompany it to practice that newfound skill. Check back throughout the series for updates and new posts.
---
Please note this post contains affiliate links, which means I receive a small commission, at no extra cost to you, if you make a purchase using the links. Please see my disclosure for more details.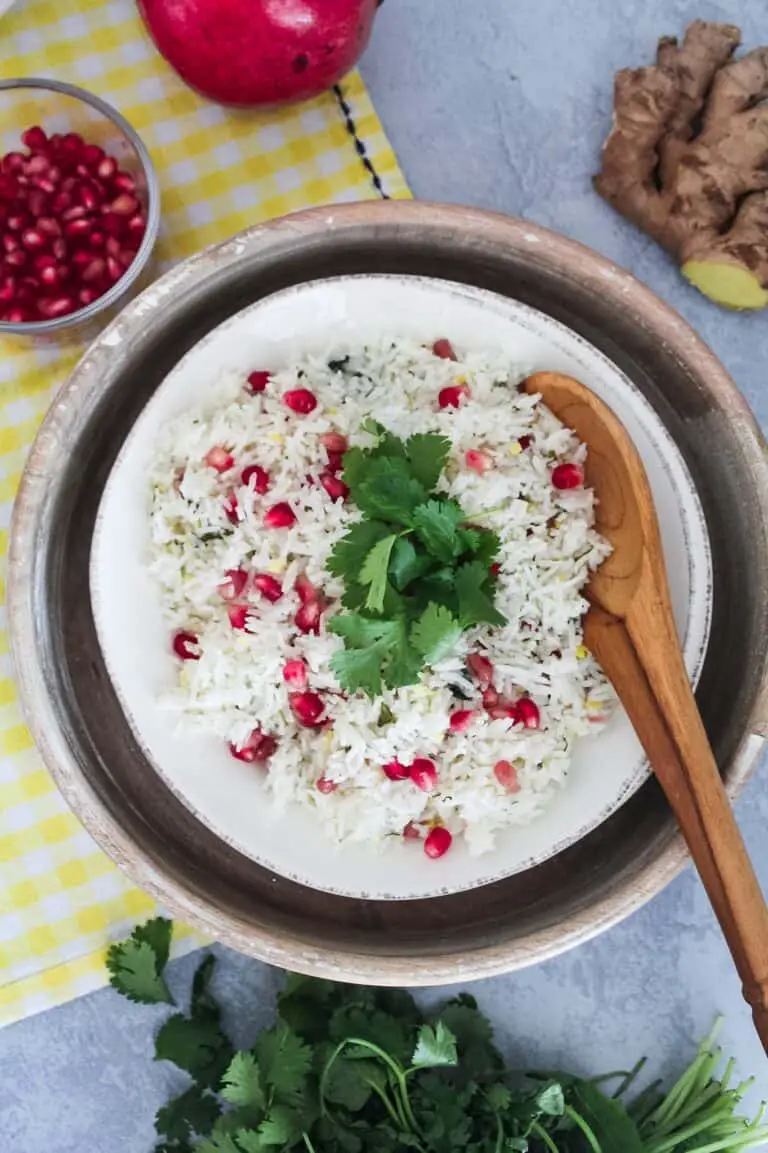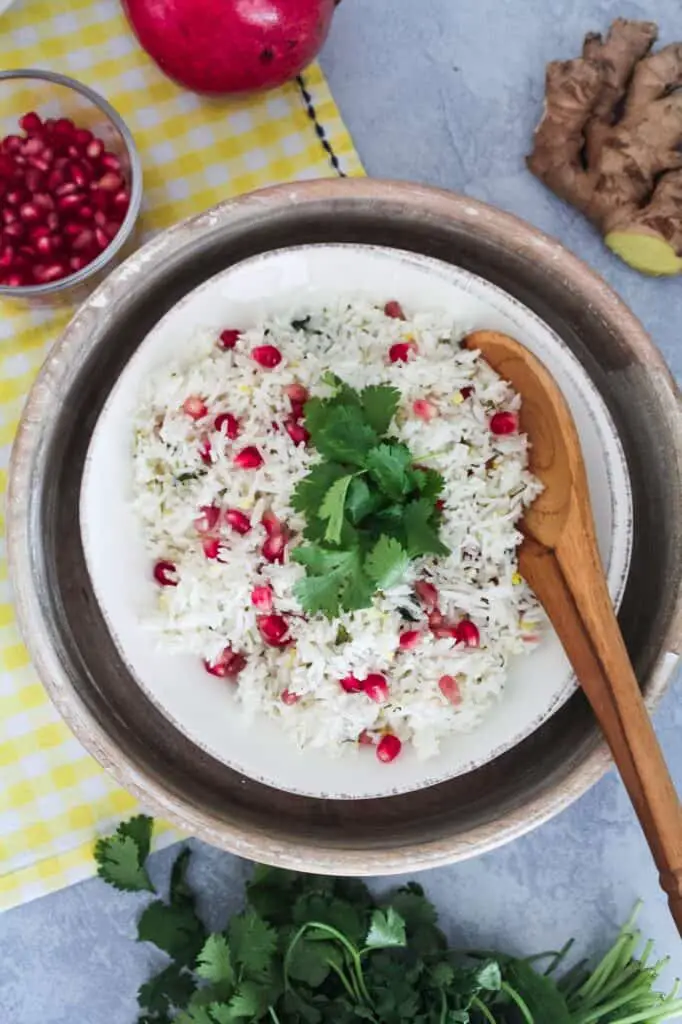 White rice or Basmati rice?
While similar to white rice, there are some notable differences of basmati rice in in how it looks and how it's prepared.
Rice is such a versatile food and found in a variety of dishes from soups to sides to stand alone dishes across many cultures.
Basmati rice is most common in Indian dishes as well as other South Asian cuisines, and can be served with curry or even alongside roasted meats.
The grain is much longer than traditional white rice and the taste has been described as nutty or floral.
When cooking, basmati rice requires less water than the traditional 2:1 ratio of white rice that we learned in Cooking Rice. Basmati also cooks much faster than white rice.
These are just a few helpful tidbits of info to keep in mind when selecting what kind of rice to use. If using white rice in this recipe, be sure to follow the directions on the package to ensure proper preparation.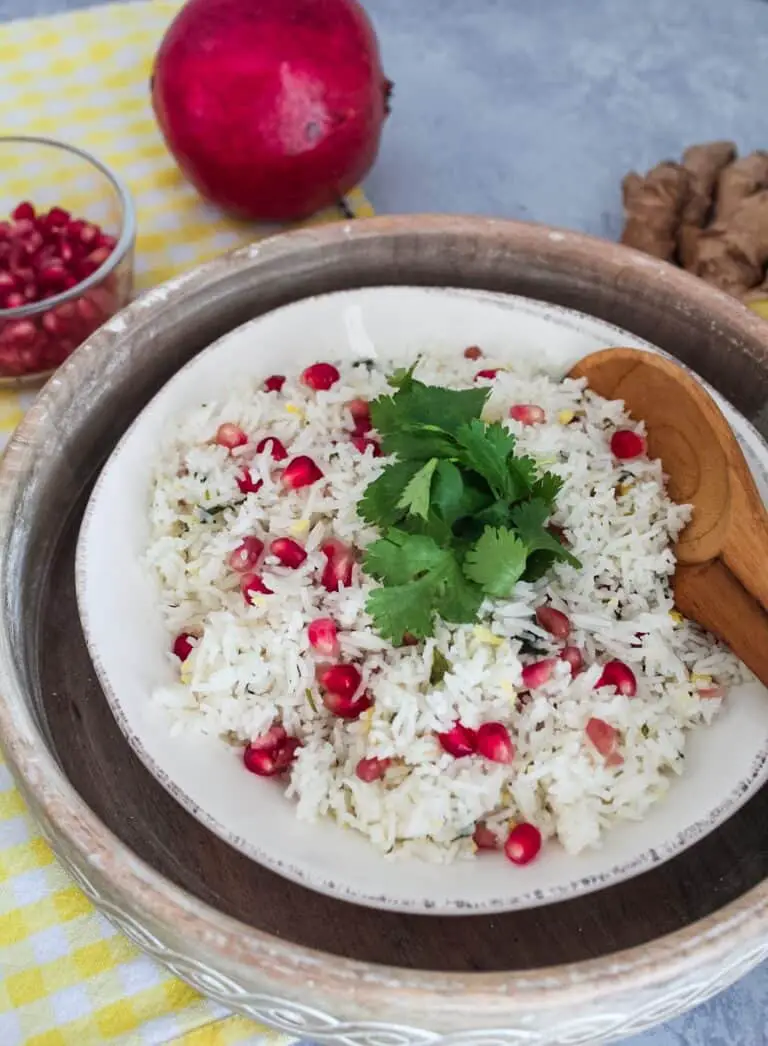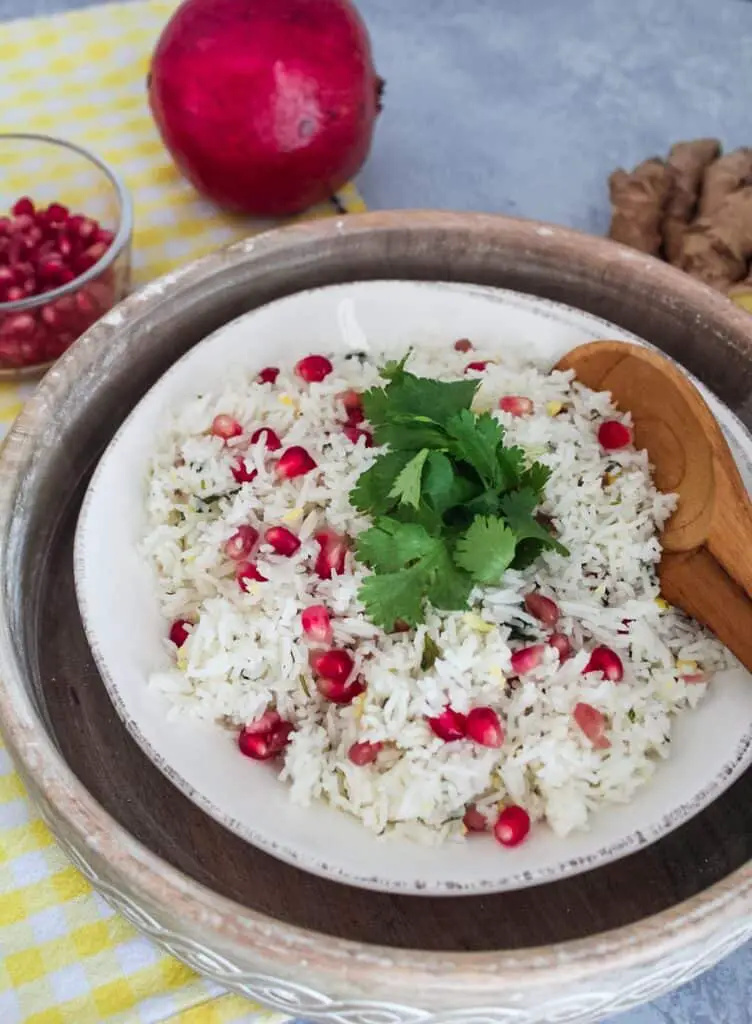 How to: Prep the Add-Ins and Deseed a Pomegranate
There's very little prep involved with this recipe which helps make it even easier!
Finely dice ginger and chop cilantro. The smaller the pieces the better to increase the little bursts of flavor throughout the big pot of rice.
The trickiest part is seeding the pomegranate, but with a few careful steps it can be done practically pain free! Our first few pomegranates caused red stains all over our clothes and our kitchen and I refused to continue that frustration.
I've tried several "hacks" out there but none work as flawlessly as this one.  You can also by packaged arils in some grocery stores, but you will pay for the convenience.
What I've discovered is the best way to deseed a pomegranate is by using a bowl filled with water! That is the secret to pain-free pomegranate seeding 🙂
Slice a pomegranate in half and be aware a little juice may splash out.
Submerge half of the pomegranate in a bowl of water with the seeds facing down. Grab the half with both hands and push in the center like you're trying to invert it, pushing all the seeds out.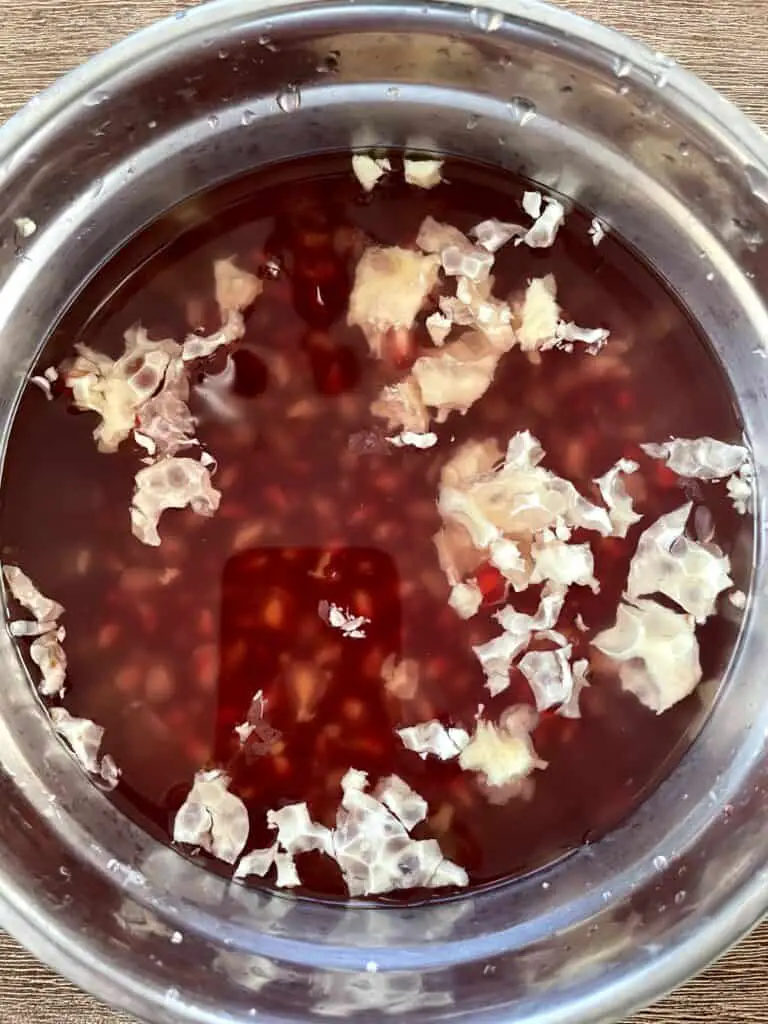 Most of the seeds will fall loose but most likely there will be some remaining in pieces of pith. While submerged, break off the pith into pieces if needed and pop out the remaining seeds with your hands.
Anytime you raise pieces above the water the more likely you are to accidentally burst arils and stain things.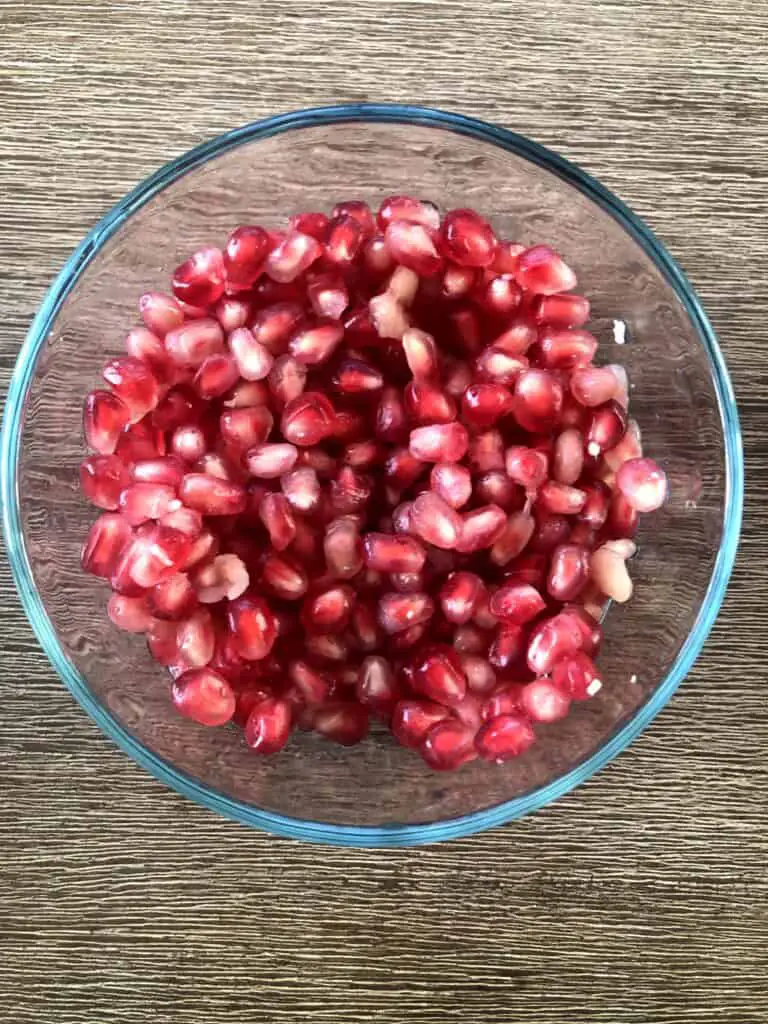 In the bowl the seeds will sink and the pieces of pith will float! That makes for an easy cleanup. Remove the pith and drain.
How to: rinse and soak the rice
Rinsing rice before cooking helps wash away extra starch and other particles that can cause the rice to be a little too sticky.
Add rice to water in a bowl and swirl it around. You should notice the water getting cloudy — this is the starch!
Drain the water and repeat 2 or 3 times until the water starts to drain clear.
This process only takes a few minutes but can have a lasting effect on your dish!
Set aside and begin on the water.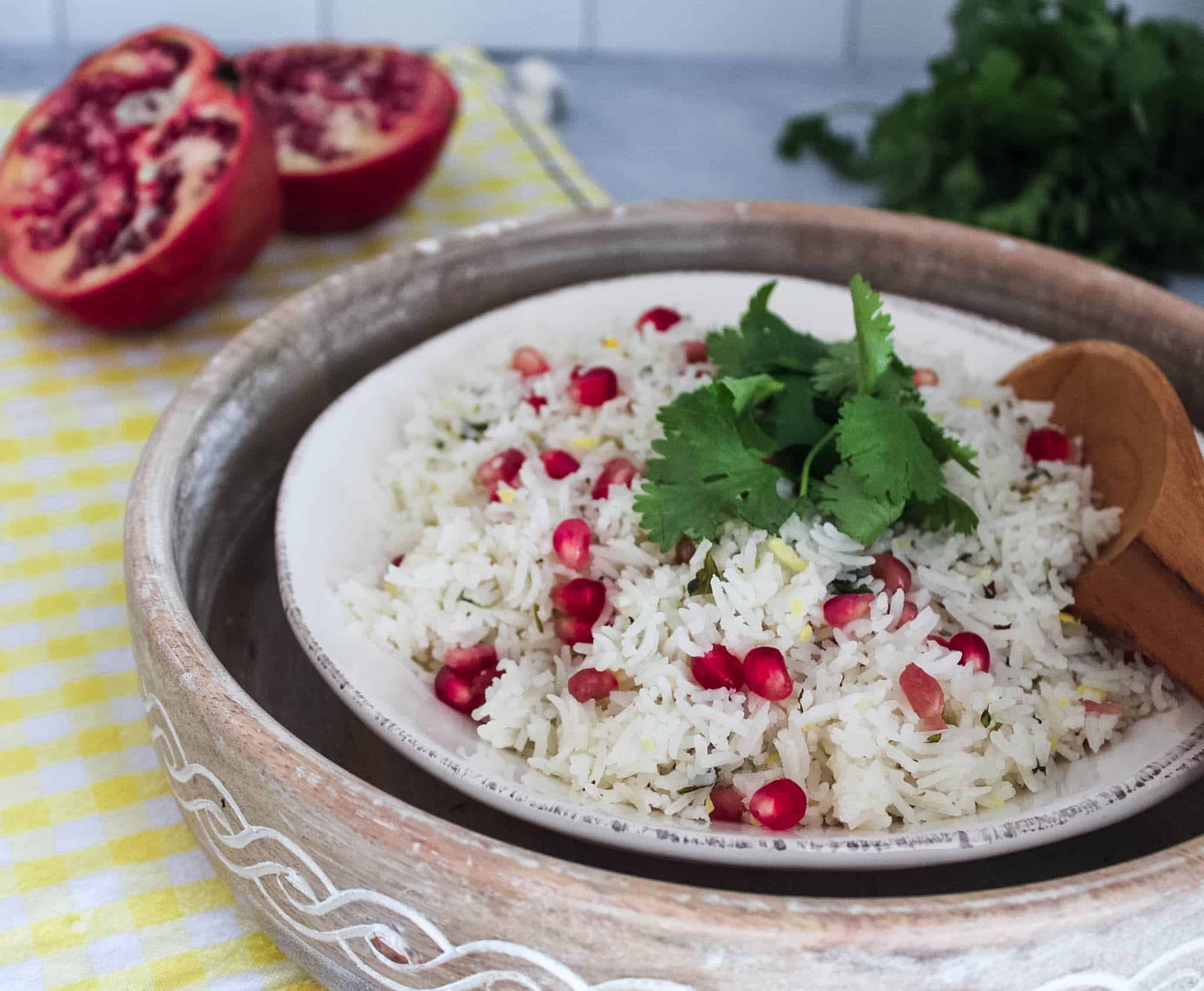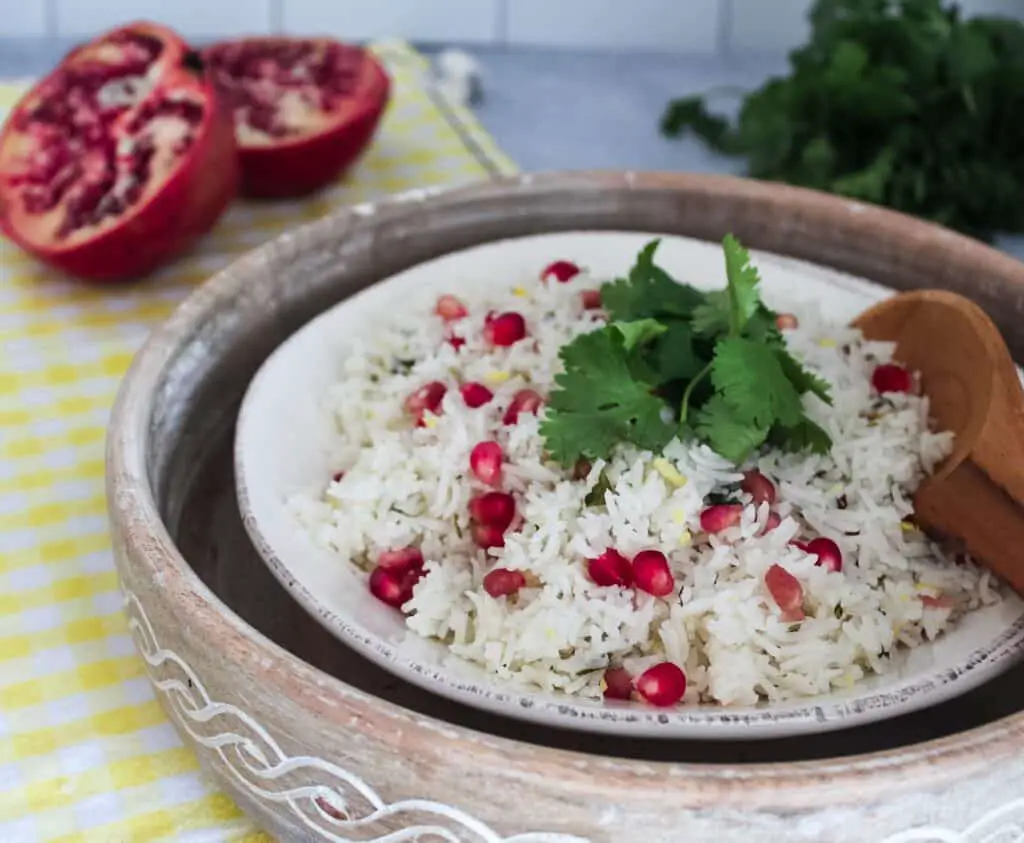 How to: Make Pomegranate Basmati Rice
Bring heavily salted water to a boil.
Add the rice, ginger, and cilantro to the water and return to a boil. Reduce the heat to low.
Cover and simmer for 10 minutes. Fluff the rice and then let sit for 5 minutes.
Mix in the pomegranate arils and top with fresh cilantro.
Ingredients Needed
Materials Needed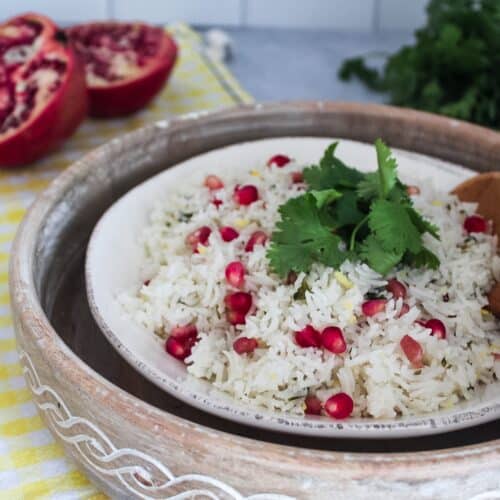 Pomegranate Basmati Rice
A side dish that will surely satisfy, Pomegranate Basmati Rice is bursting with sweet pomegranates arils and savory, flavorful accents.
Print
Pin
Rate
Ingredients
2

cups

water

2

tsp

salt

1.5

cups

basmati rice

2

tbsp

ginger

finely diced

1/4

cup

cilantro

chopped

1

pomegranate

arils
Instructions
Salt water and bring to a boil.

Rinse rice 4-5 times to remove excess starch. Add rice, ginger, and cilantro to the pot and bring back to a boil.

Cover and reduce the heat, simmering for 10 minutes. After 10 minutes fluff the rice, cover, and let sit 5 minutes.

Stir in arils and serve warm.
Pin me!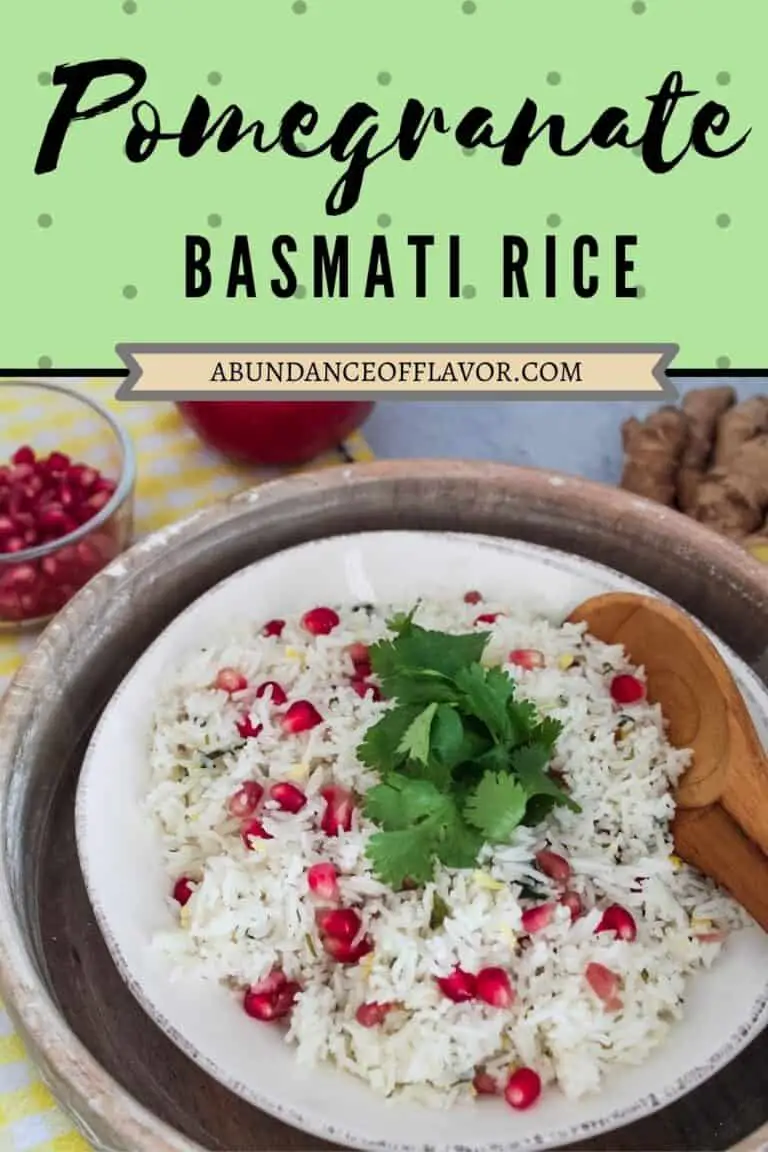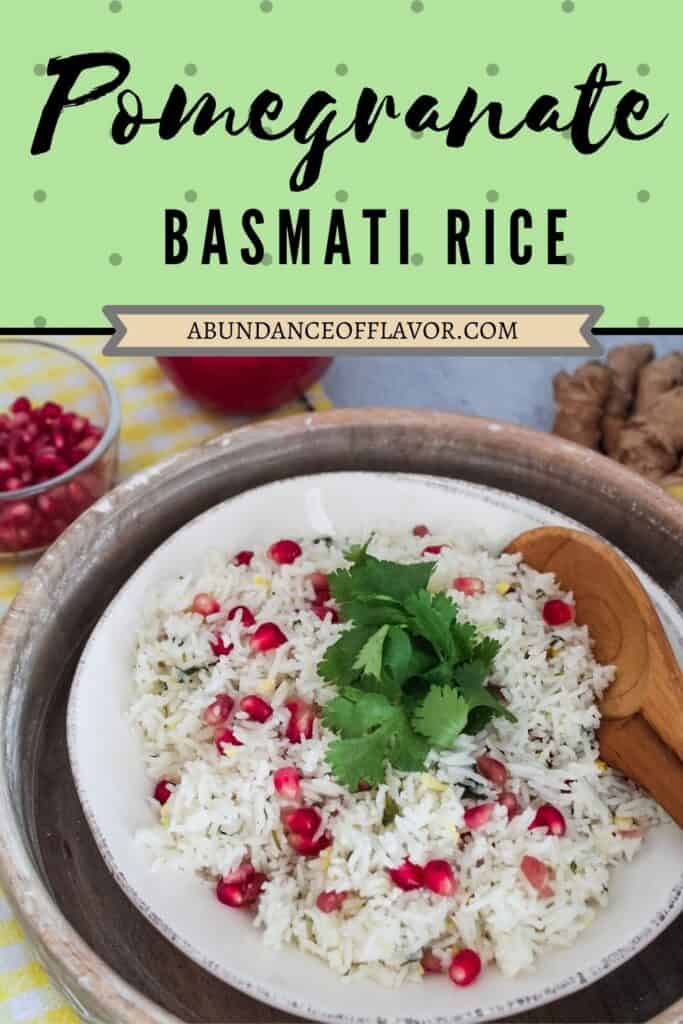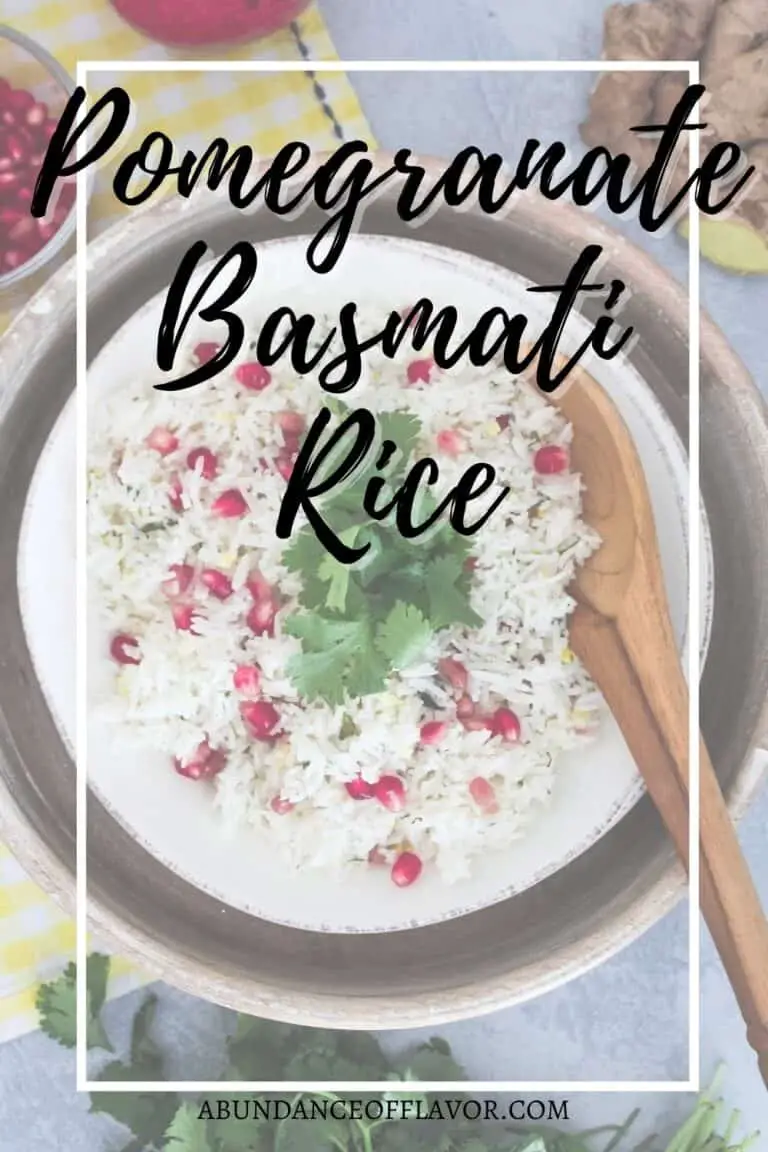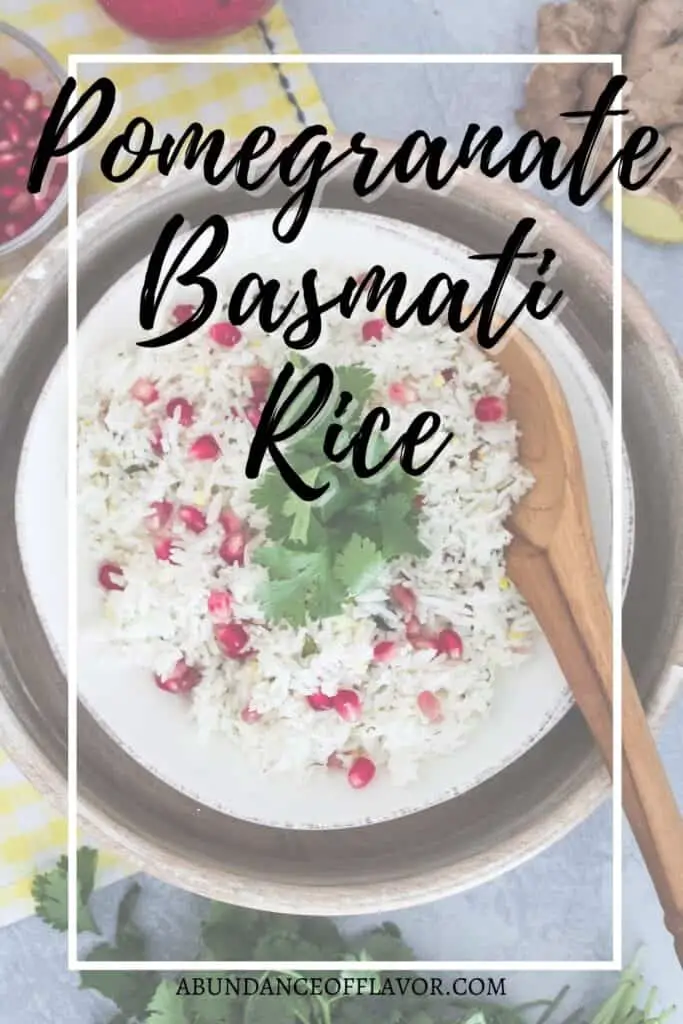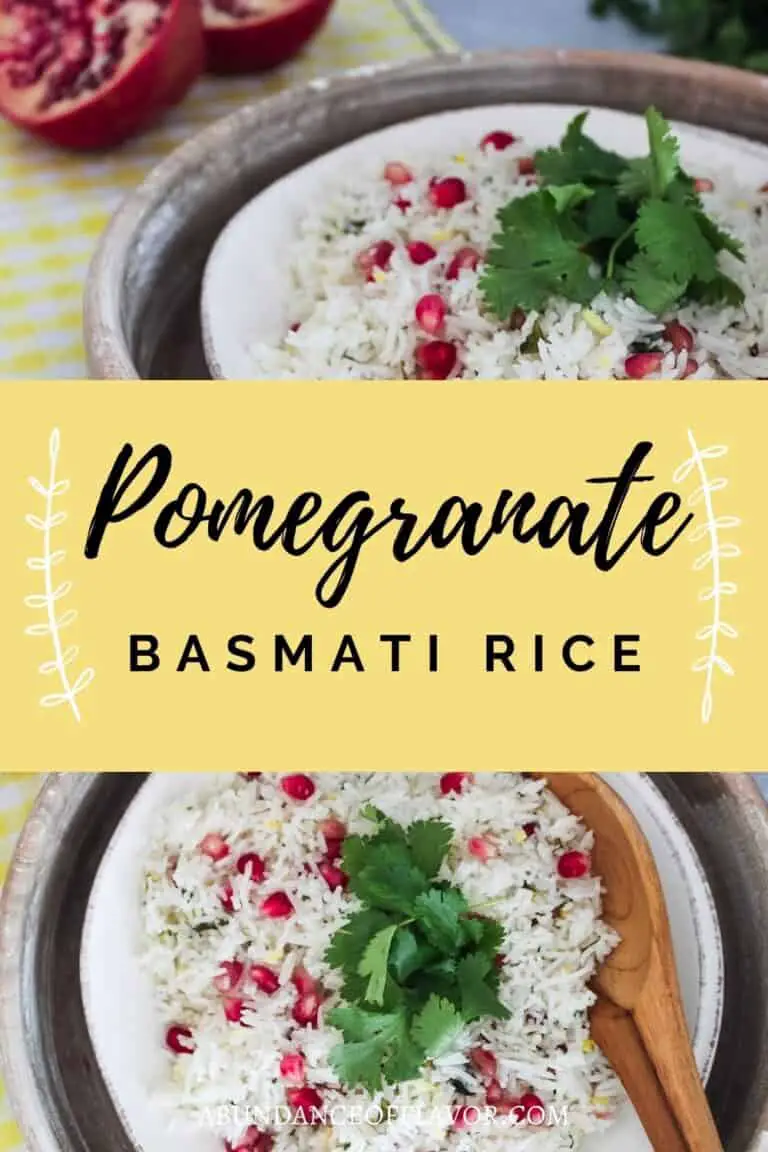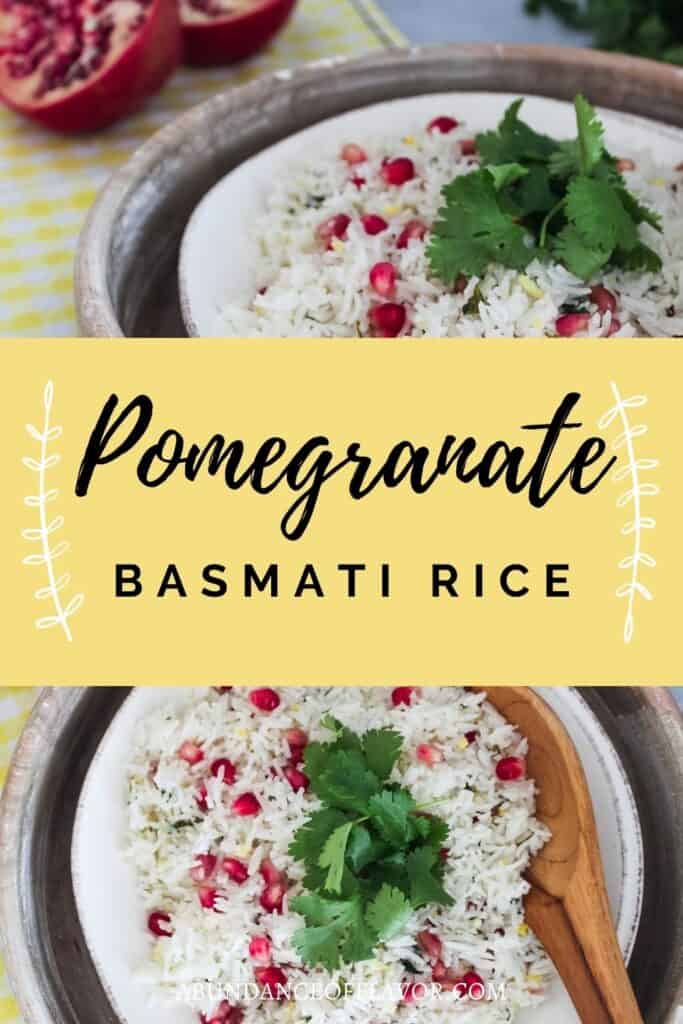 There are so many fun add-ins to spruce up rice dishes! Share your favorites in the comments below. Ginger and chicken broth are definitely mine 🙂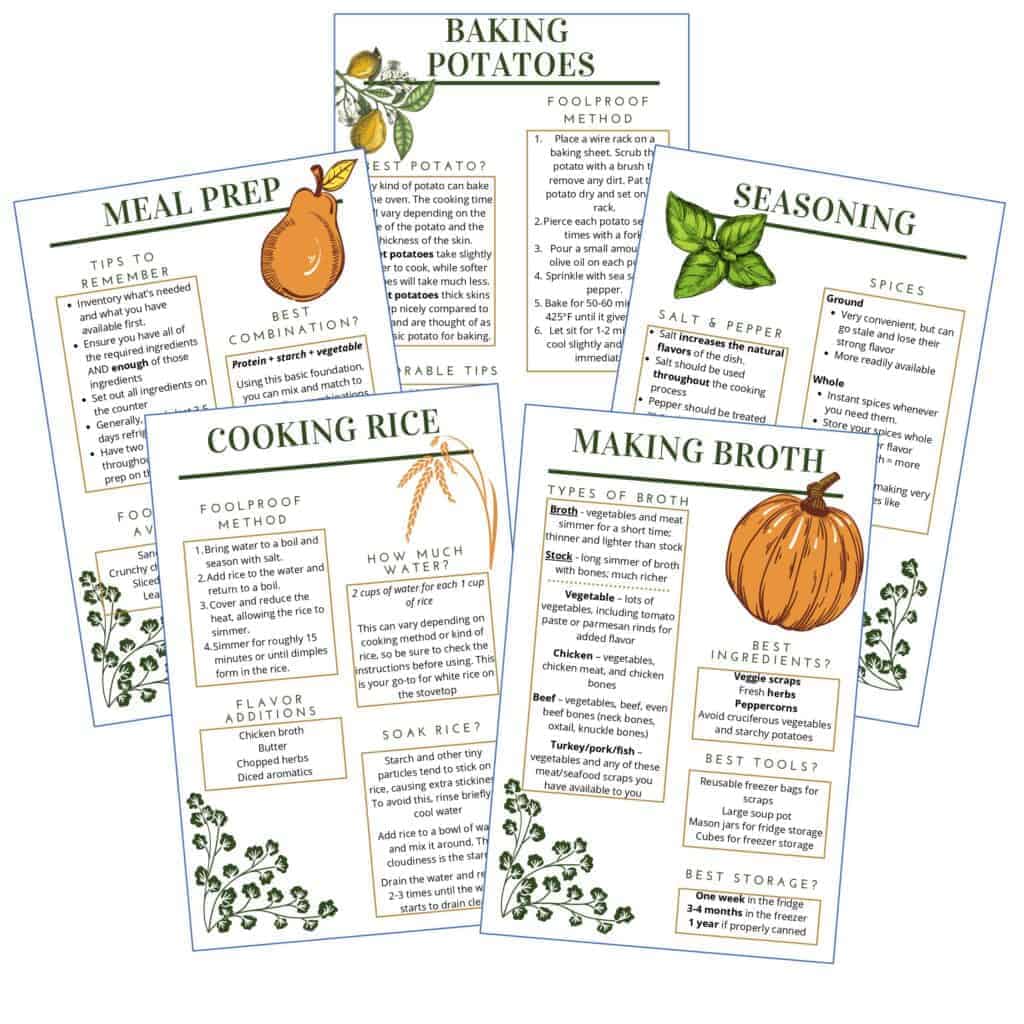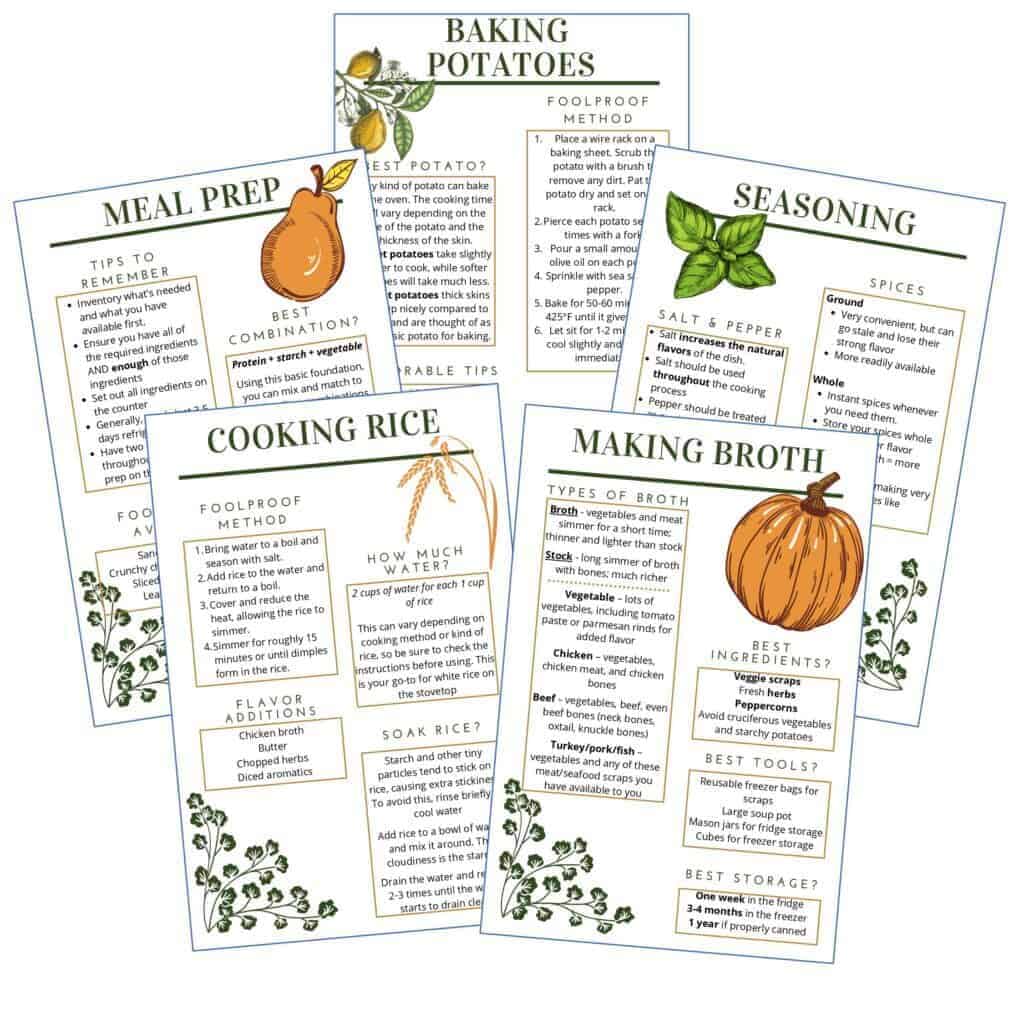 Get your $1 worksheets today!
Related Posts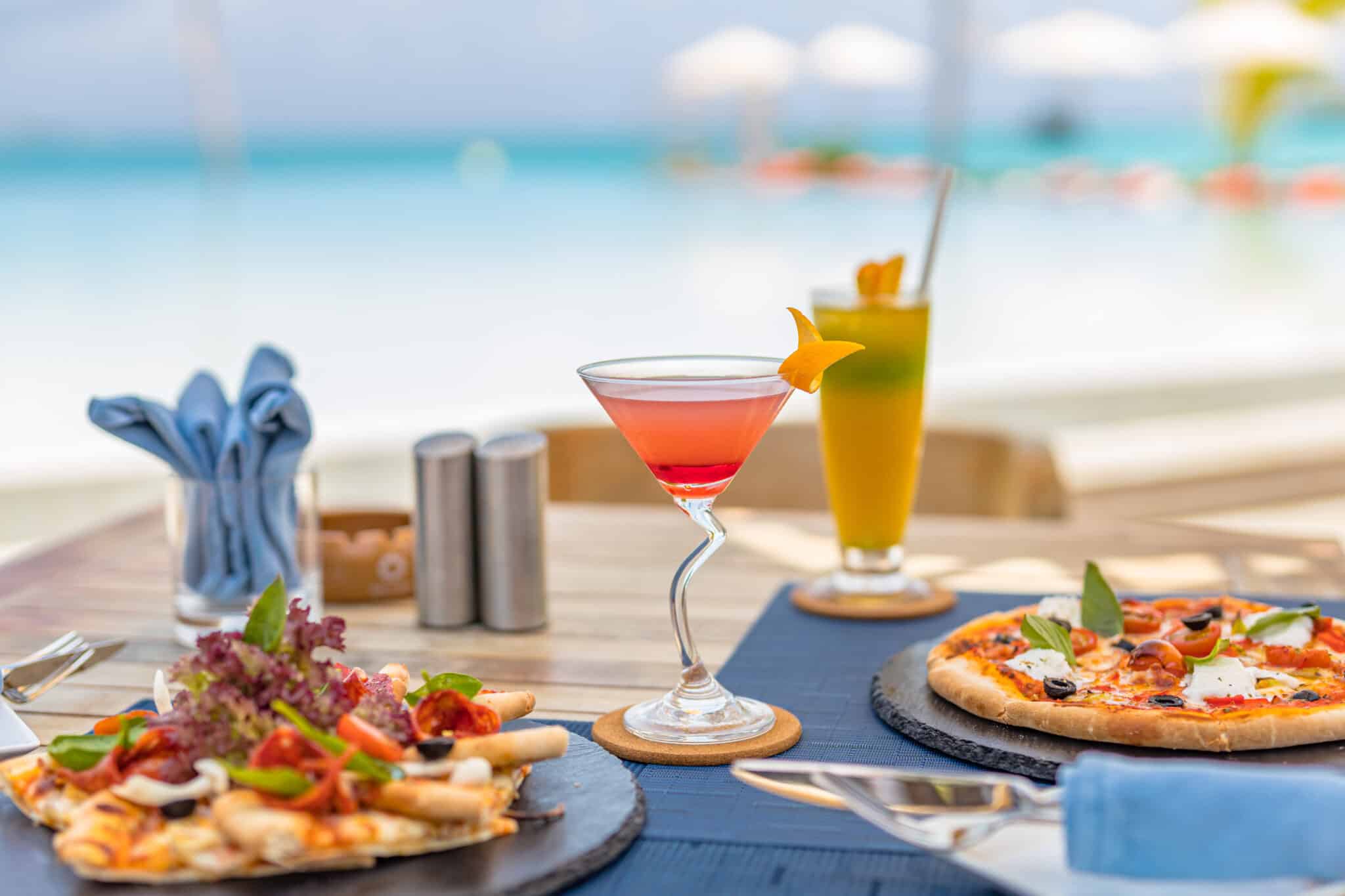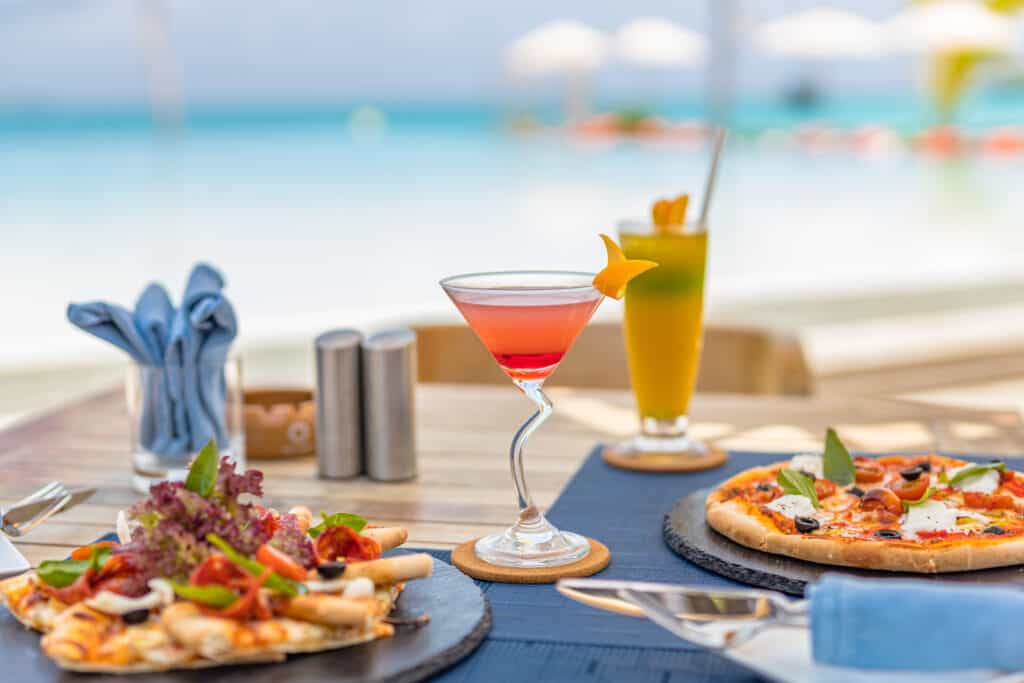 Satisfy your hunger cravings and quench your thirst while lounging in the sun with these fifteen poolside snacks for hot summer days.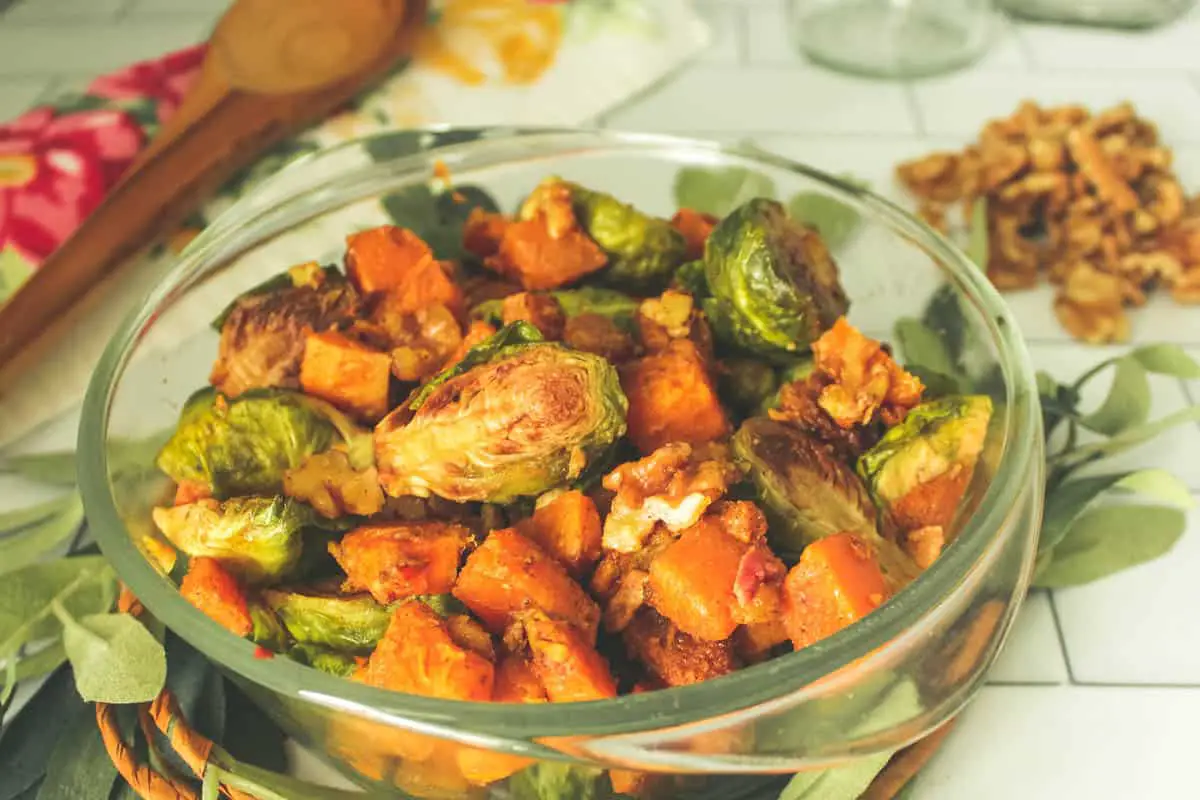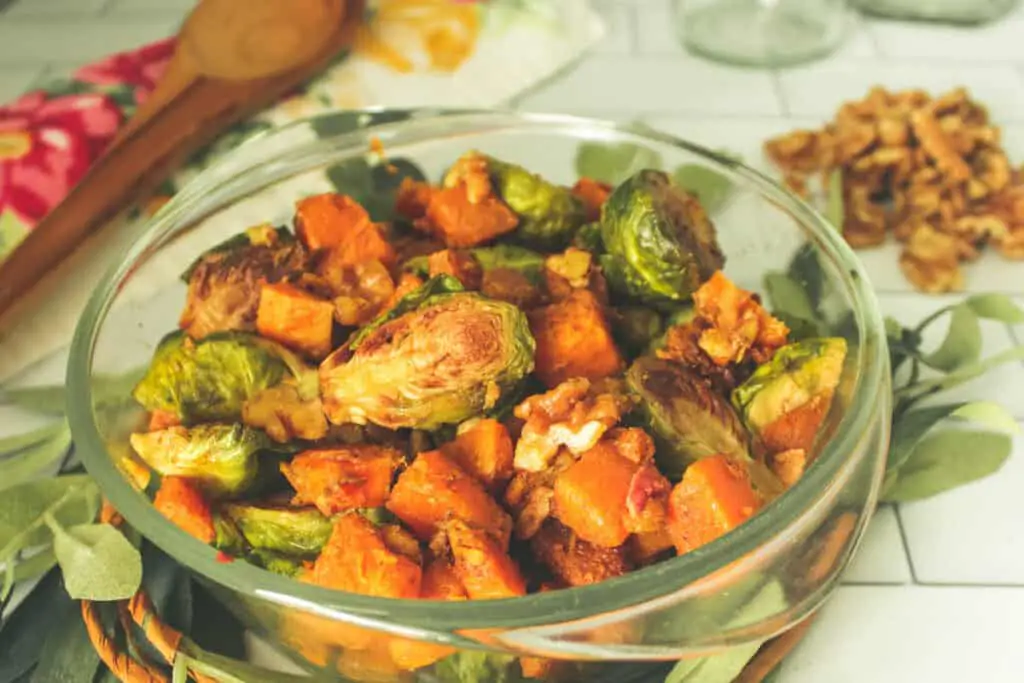 Maple Butternut Squash and Brussels Sprouts are roasted until golden brown and tossed with walnuts and cinnamon for a delectable side.