Deviled eggs don't have to be the boring side dish at your holiday dinner. Spicy Jalapeno Deviled Eggs will have your tastebuds tingling with minced fresh jalapeno and sriracha chili sauce. Mixed with classic mayo and mustard, a fine balance is achieved between spicy and creamy to be a favorite among all ages. Be sure to make plenty because these deviled eggs disappear quickly!
---
Please note this post contains affiliate links, which means I receive a small commission, at no extra cost to you, if you make a purchase using the links. Please see my disclosure for more details.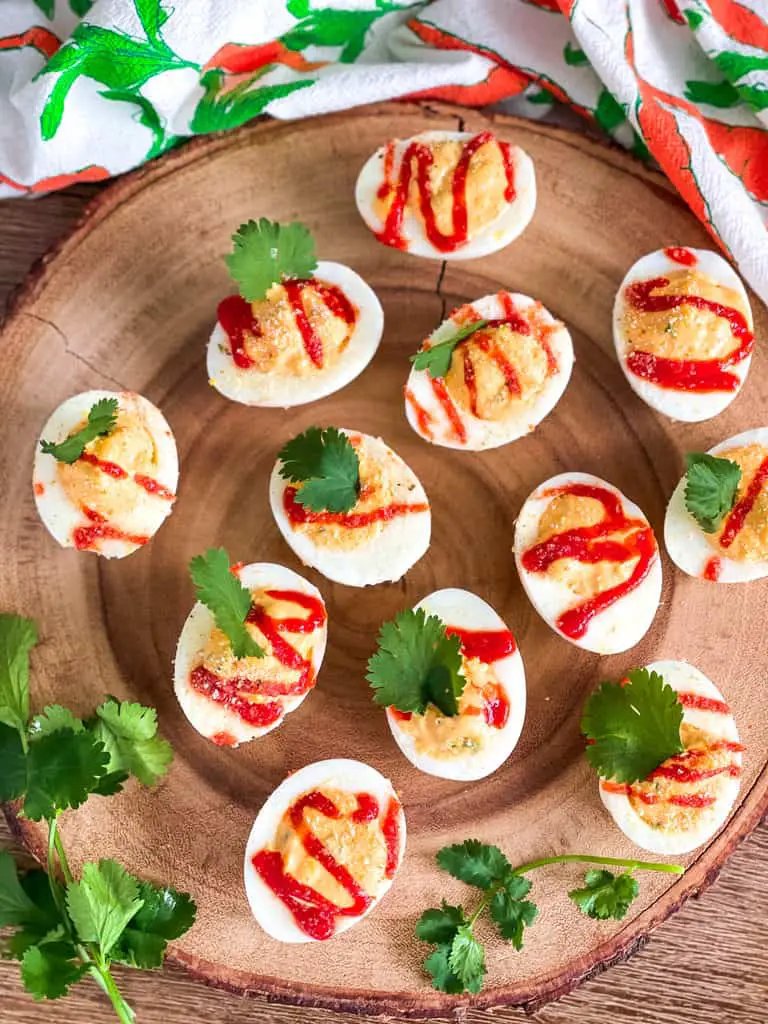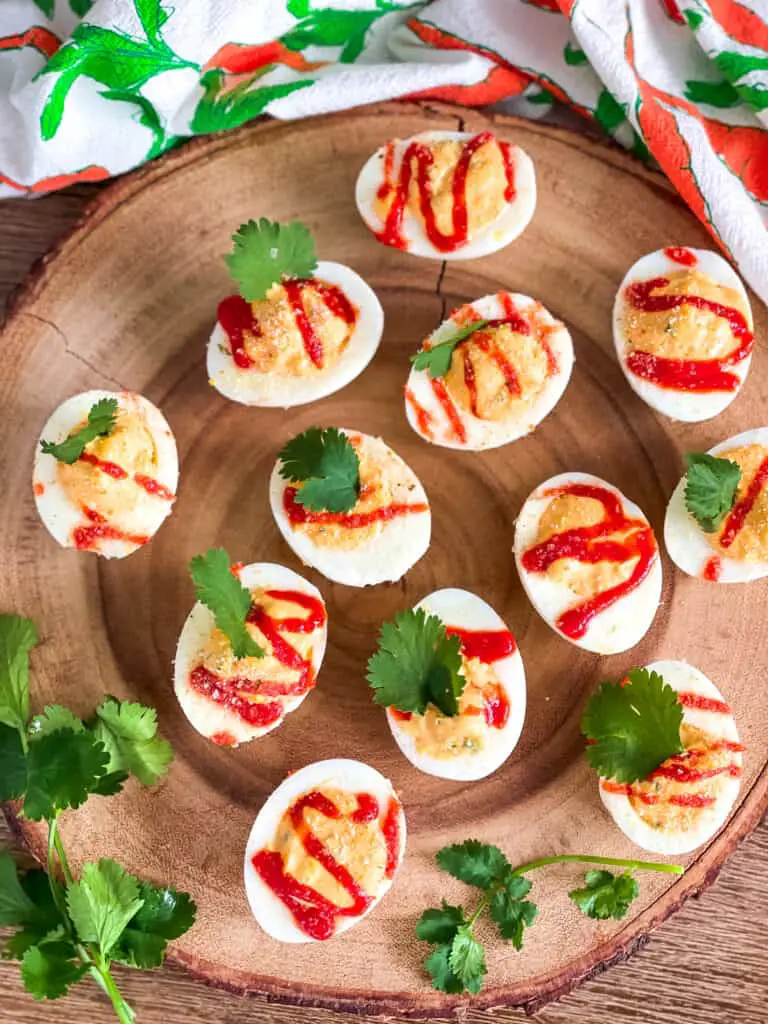 Deviled Eggs at Easter
It's common to find deviled eggs at most southern dinner tables for holiday meals such as Christmas and Thanksgiving, but they're especially a staple at Easter dinner!
Eggs are everywhere at Easter time buy my favorite has to be these chocolate eggs 😉
This dish has been present on the dinner table for centuries, but it wasn't until the 1800s when it earned the name "deviled." It literally meant a food that was spicy, so it's only fitting to crank up the heat with jalapenos and sriracha!
Sriracha is one of my favorites (don't miss these meatballs!) though it's often not found at the dinner table. You can find deviled eggs nestled among other classics of mashed potatoes, roasted brussels sprouts, a roast chicken, homemade rolls, and more.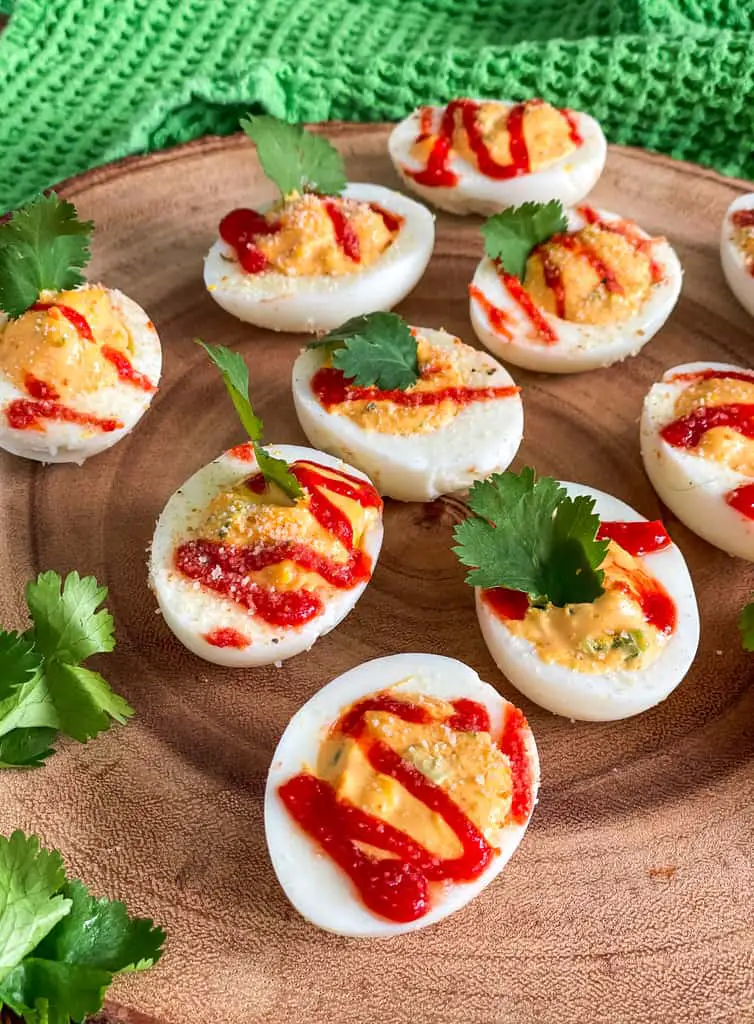 How to: Boil Eggs
Boiling eggs does not have to be intimidating or stressful. All the tips you need for perfect eggs every time can be found in this Preparing Eggs guide.
Place eggs in a pot and fill with water. Submerge the eggs completely and ensure there is water above them too.
Bring the water to a boil. Once boiling, remove the pot from the heat and cover. Let sit for 10 minutes.
While the eggs are cooking, prepare a large bowl with ice water. Place the eggs directly into the ice bath and let sit for another 10 minutes.
Peel the shells of off the eggs and enjoy!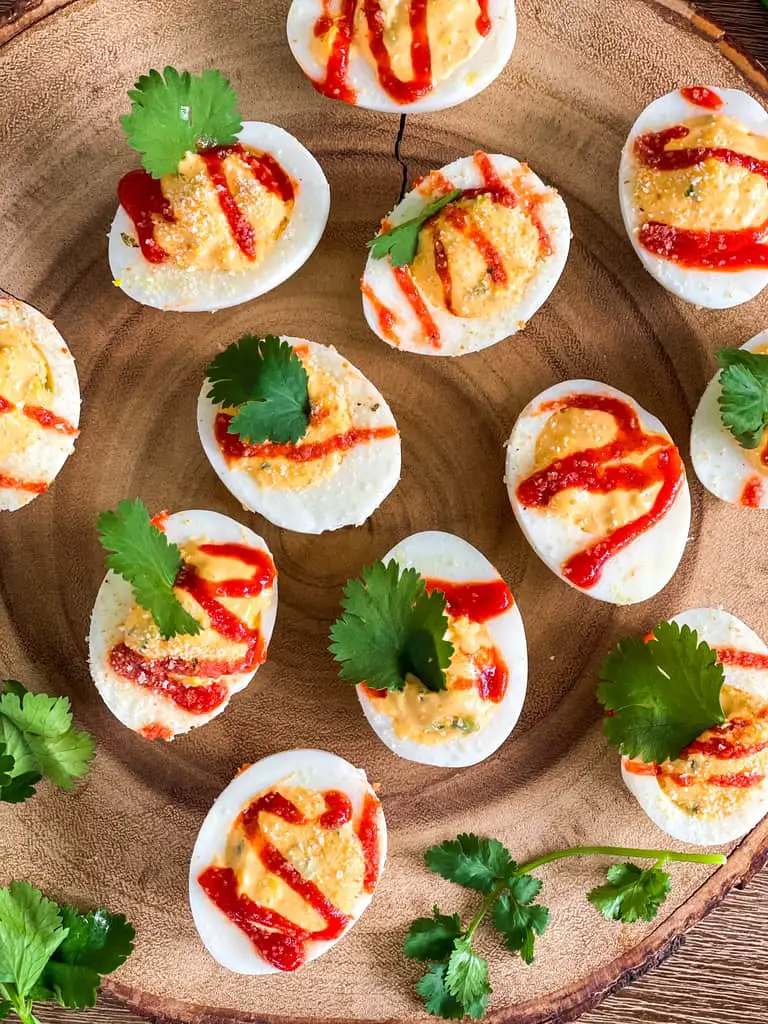 How to: Make the spicy jalapeno filling
The filling for these deviled eggs is very similar to a more typical filling, but with a little extra spice mixed in!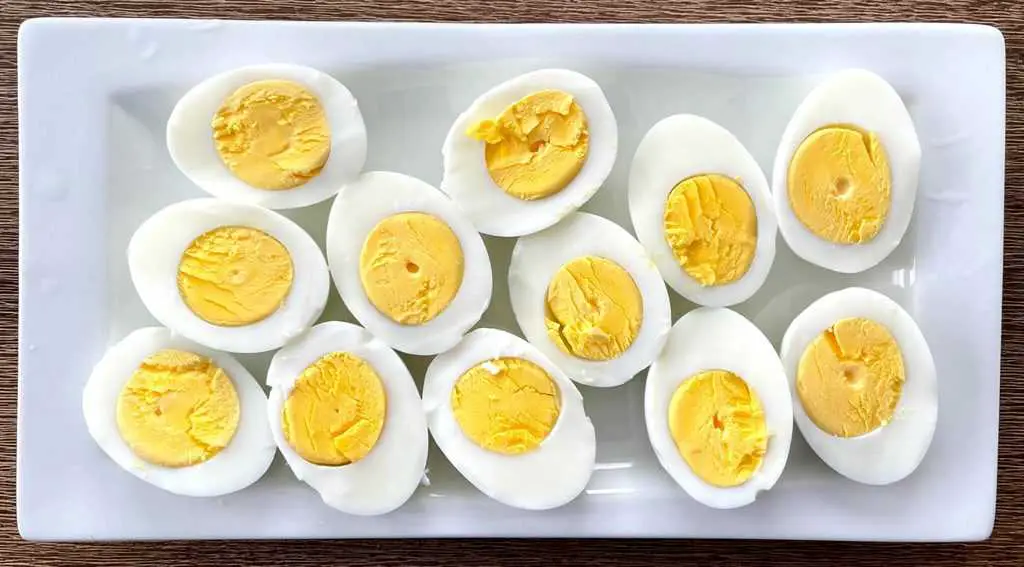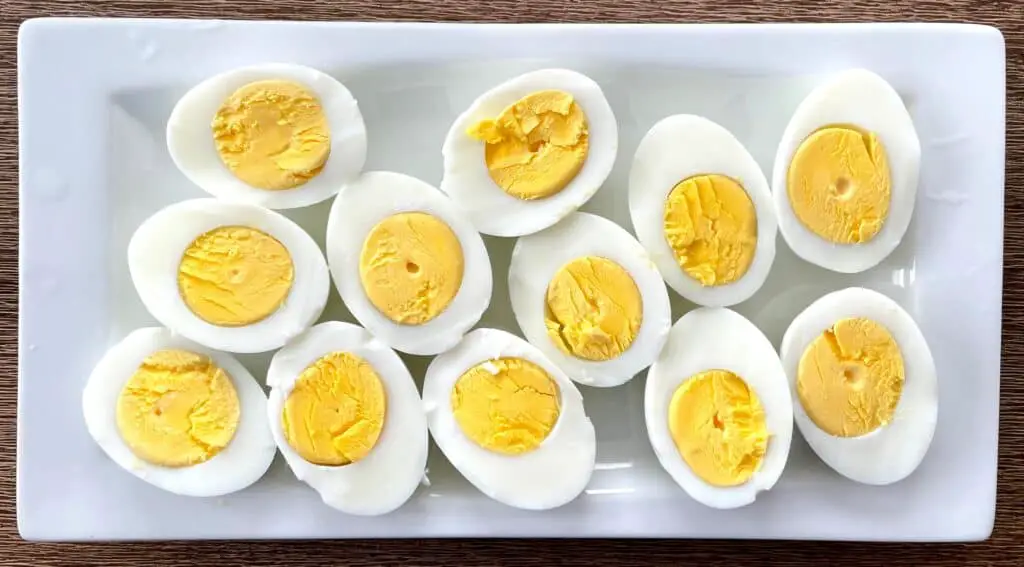 Slice the eggs in half and remove the yolk into a medium bowl, being careful not to break the cooked egg whites.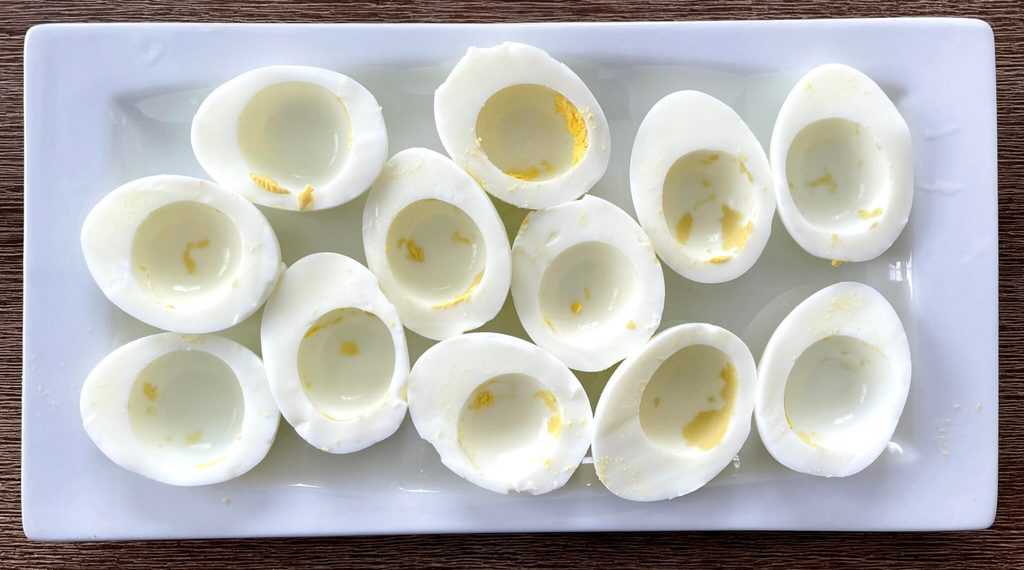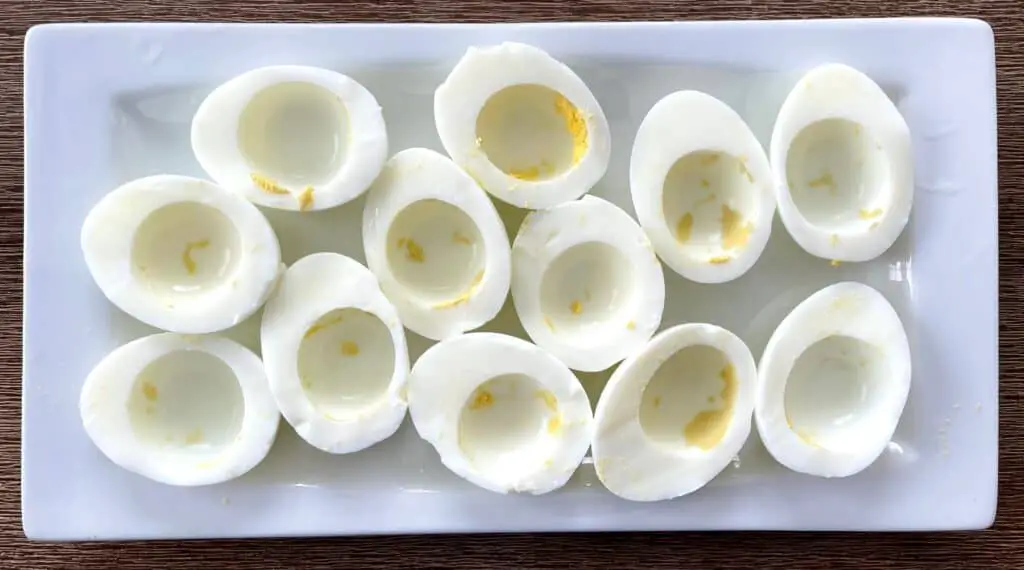 In the bowl, mash the cooked egg yolks until fine so it is evenly distributed throughout the mixture.
Add mayo, mustard, jalapeno, and sriracha. Stir thoroughly until combined. Set aside.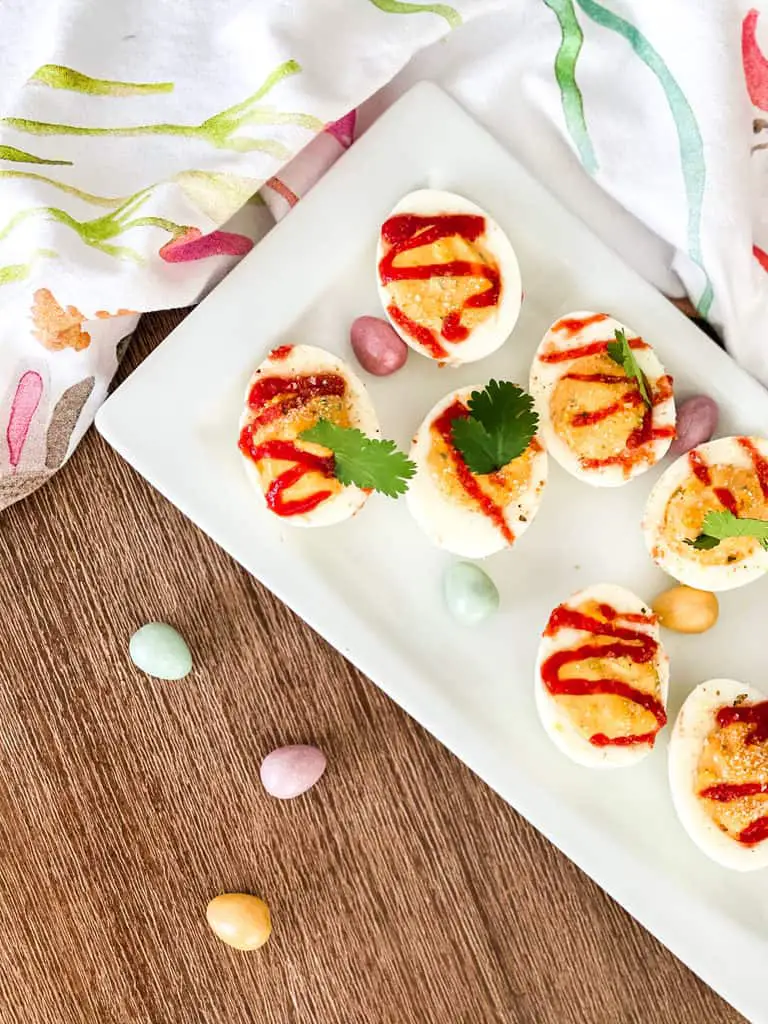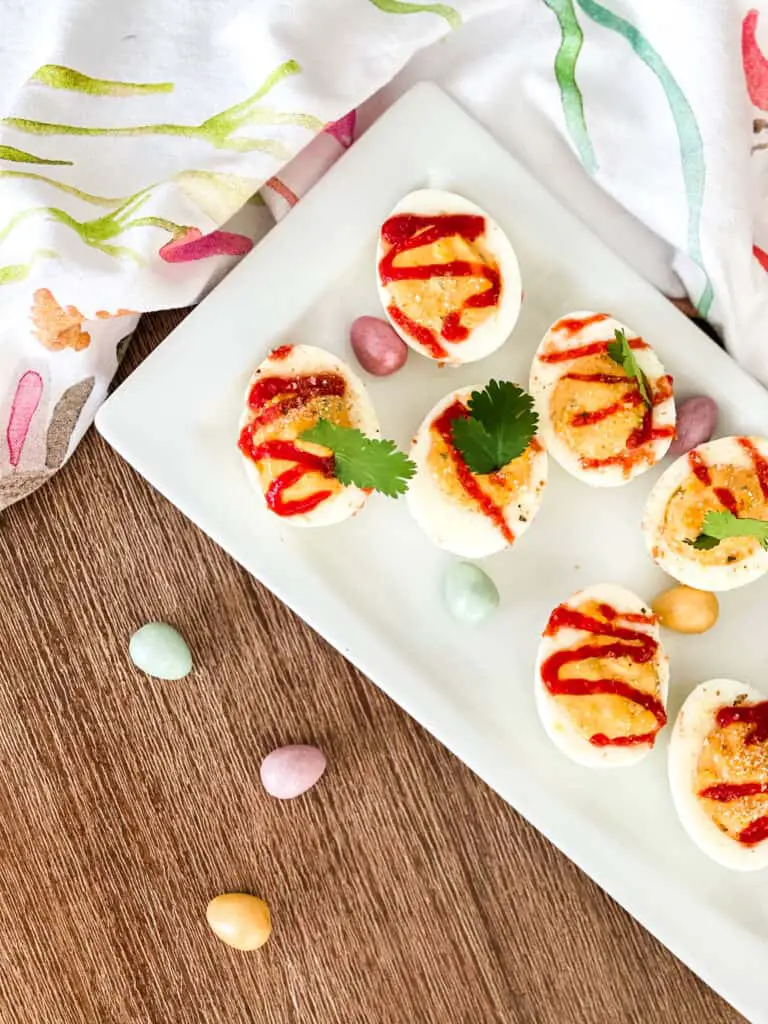 How to: Assemble Spicy Jalapeno Deviled Eggs
Next up is stuffing the egg whites with the spicy jalapeno egg filling.
This can be scooped out with a small spoon, but it always leads to such a mess and isn't as visually appealing.
If you're looking for presentation points, try using a piping bag or ziploc bag with icing tips! There are great designs out there that will make your deviled eggs really pop.
Top each egg with sprinkled breadcrumbs, the rest of the sriracha, and finish with cilantro.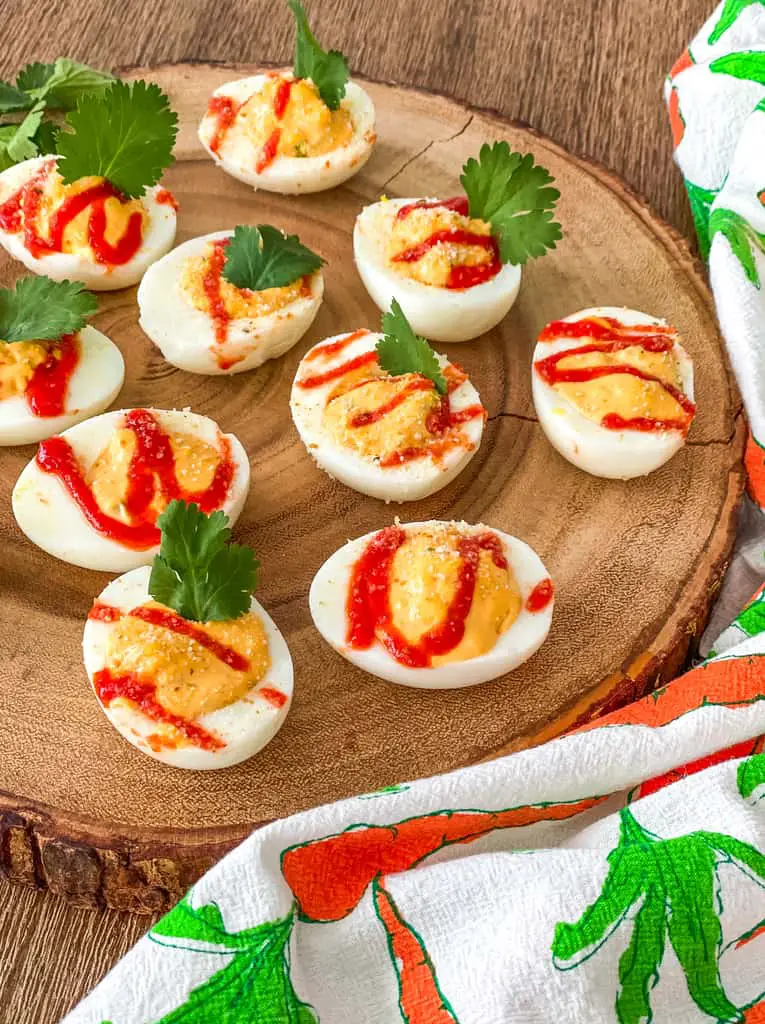 Ingredients Needed
Materials Needed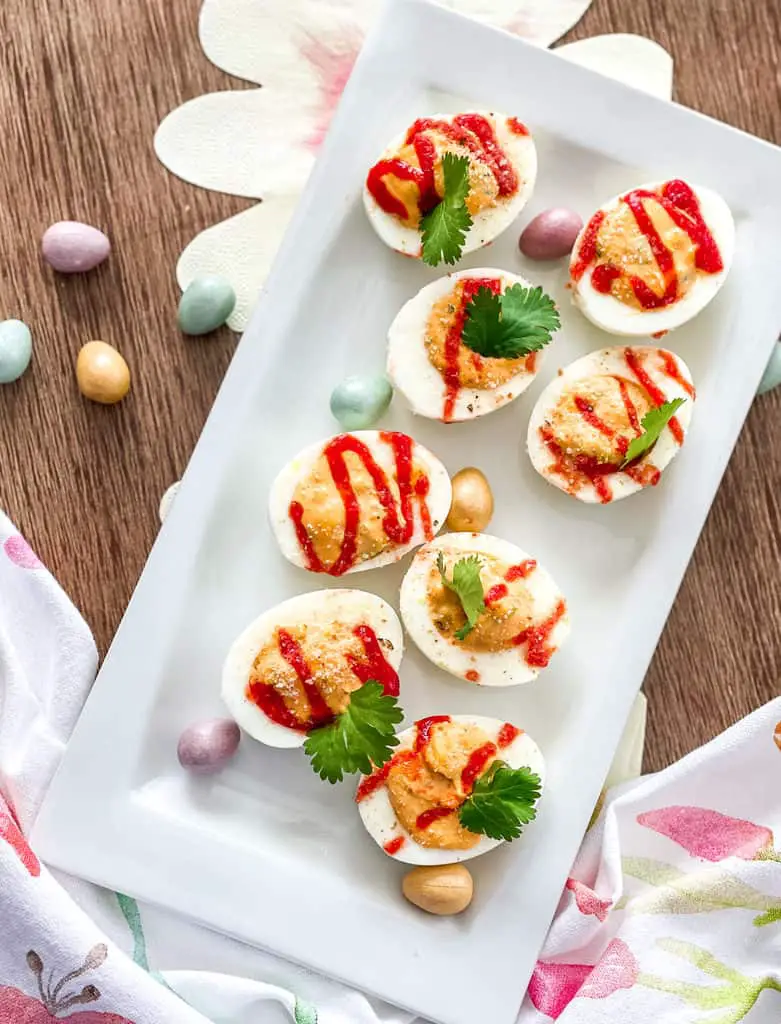 Spicy Jalapeno Deviled Eggs
Spicy Jalapeno Deviled Eggs will have your taste buds tingling with fresh jalapeno and sriracha – a unique take on a classic dish.
Print
Pin
Rate
Ingredients
6

eggs

3

tbsp

mayo

1

tsp

mustard

1

jalapeno

minced

2

tbsp

sriracha

divided

1

tsp

salt

cilantro leaves

to garnish

breadcrumbs

to garnish
Instructions
Place the eggs in large pot filled with water until covered and bring to a boil. Once boiling, remove the pot from heat and cover. Let sit for 10 minutes.

Drain the water and transfer the eggs to an ice bath. After 10 minutes, peel the eggs.

Slice each egg in half and remove the yolk into a medium bowl. Mix in mayo, mustard, jalapeno, 1 tbsp of sriracha and salt. Stir until combined.

Fill egg whites with the filling using a spoon or icing pipe. Top with remaining sriracha, breadcrumbs, and cilantro to garnish.
Pin me!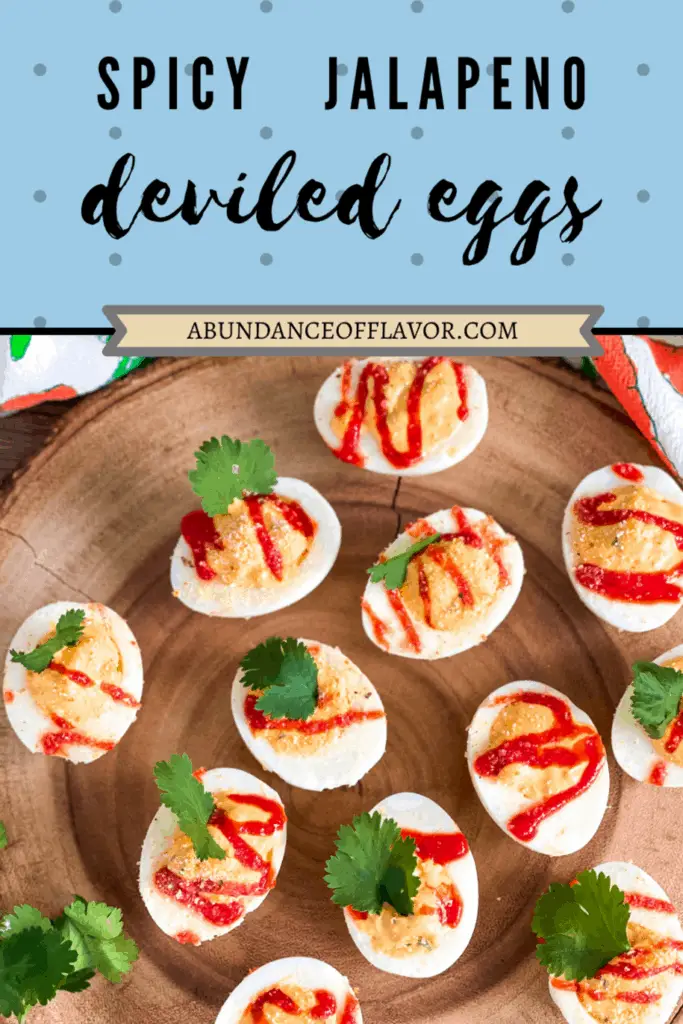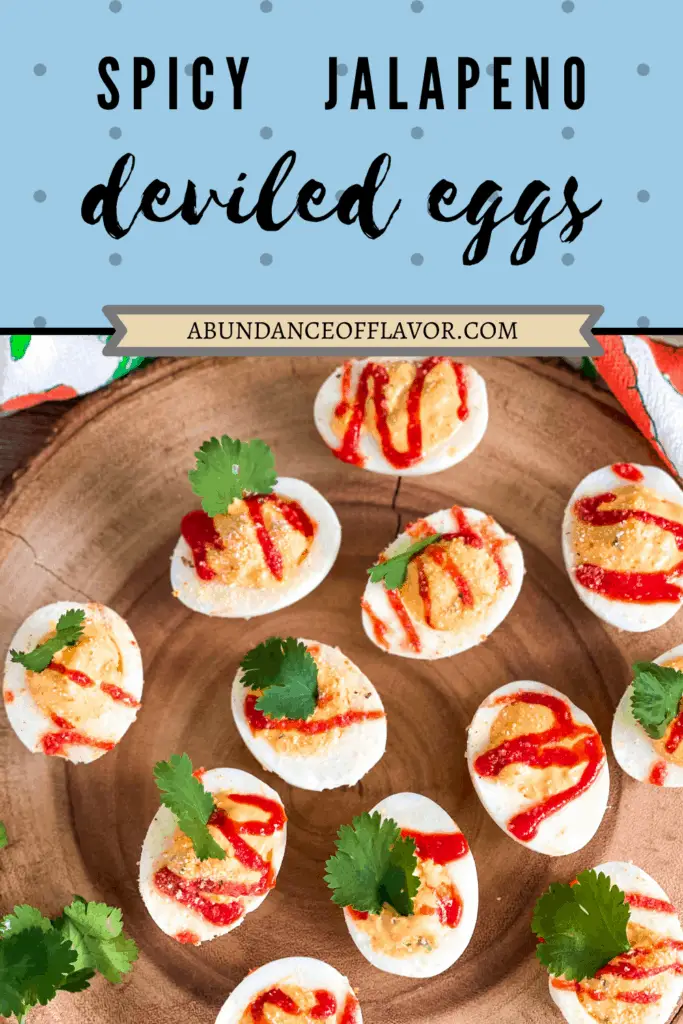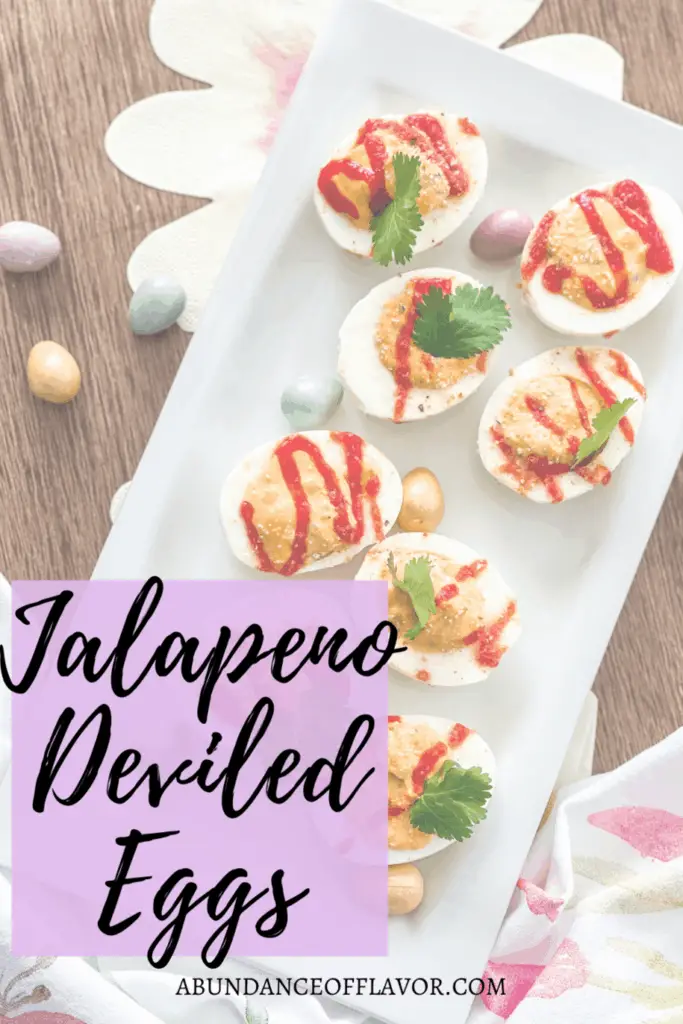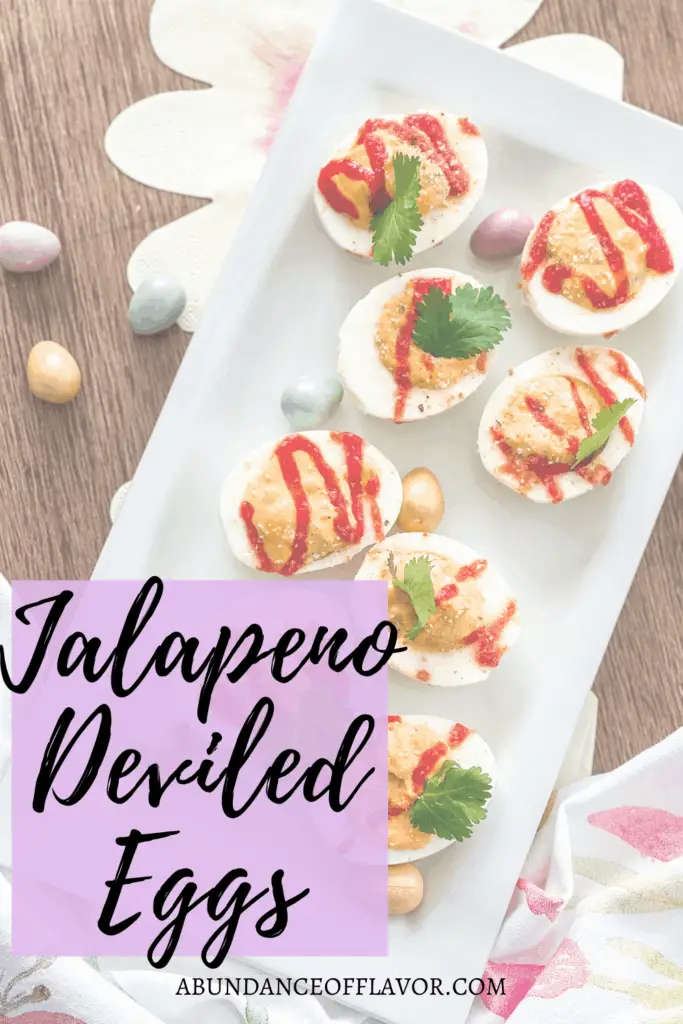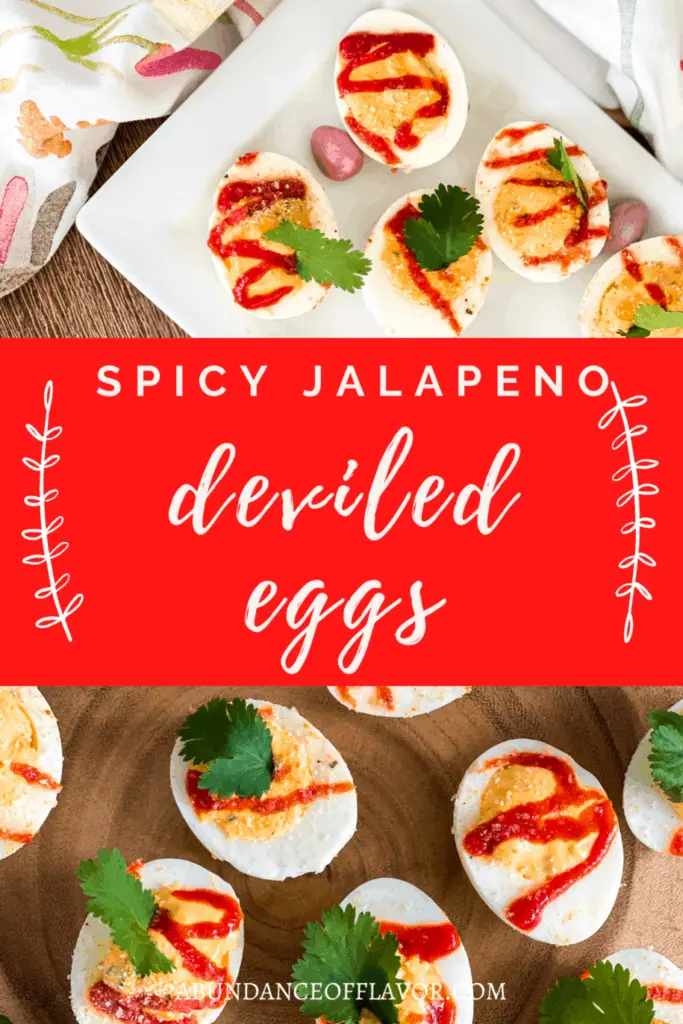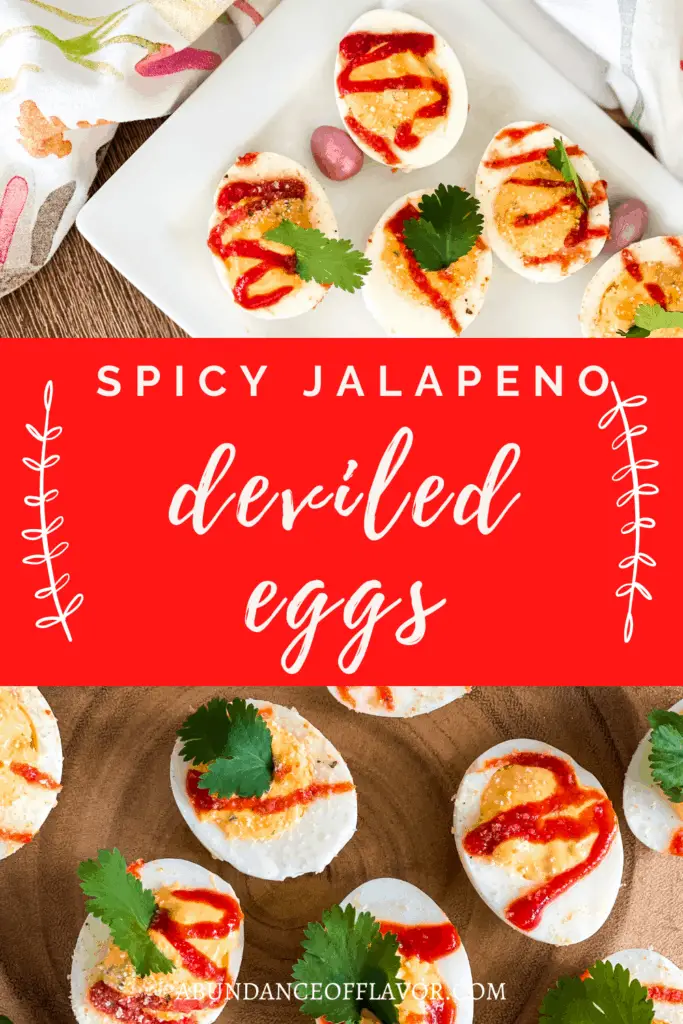 There are so many interesting and tasty ways to spice up deviled eggs! Do you have any favorites fun twists on this classic dish? Share below!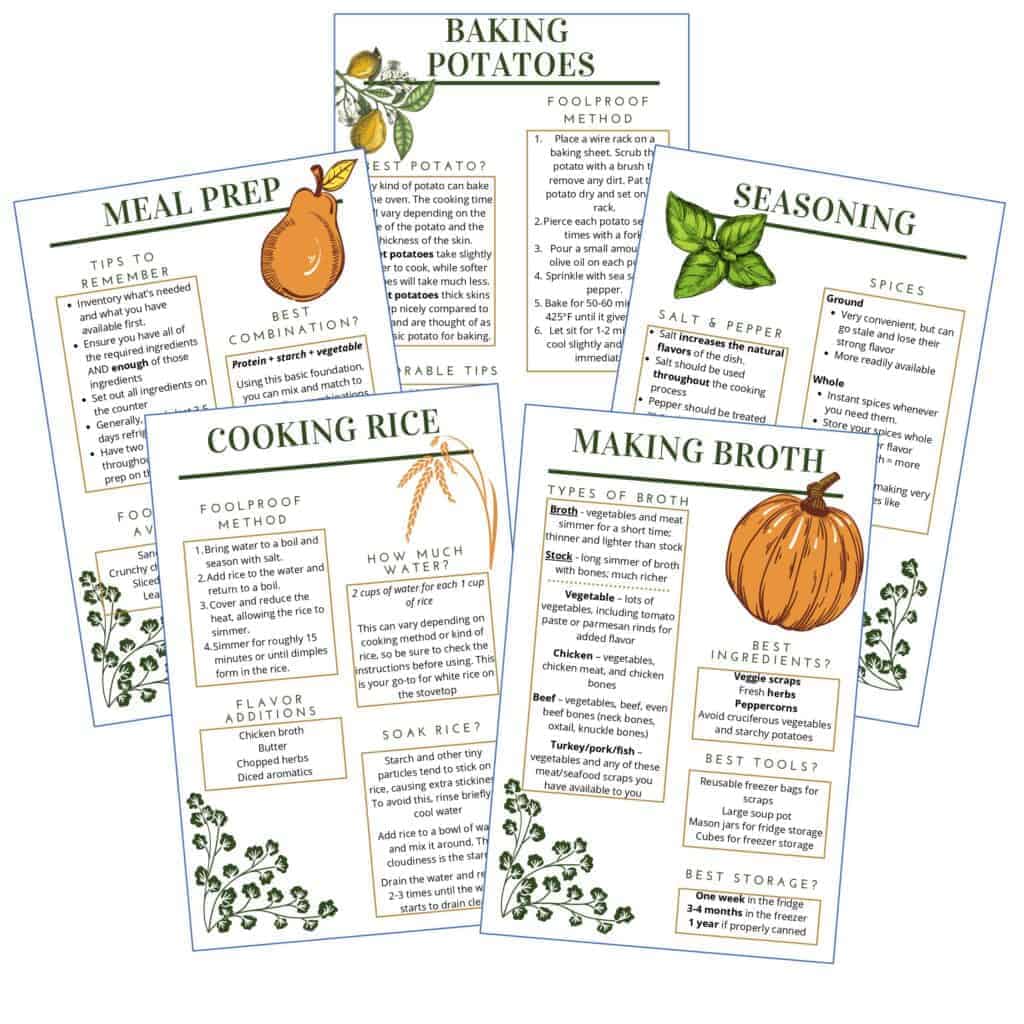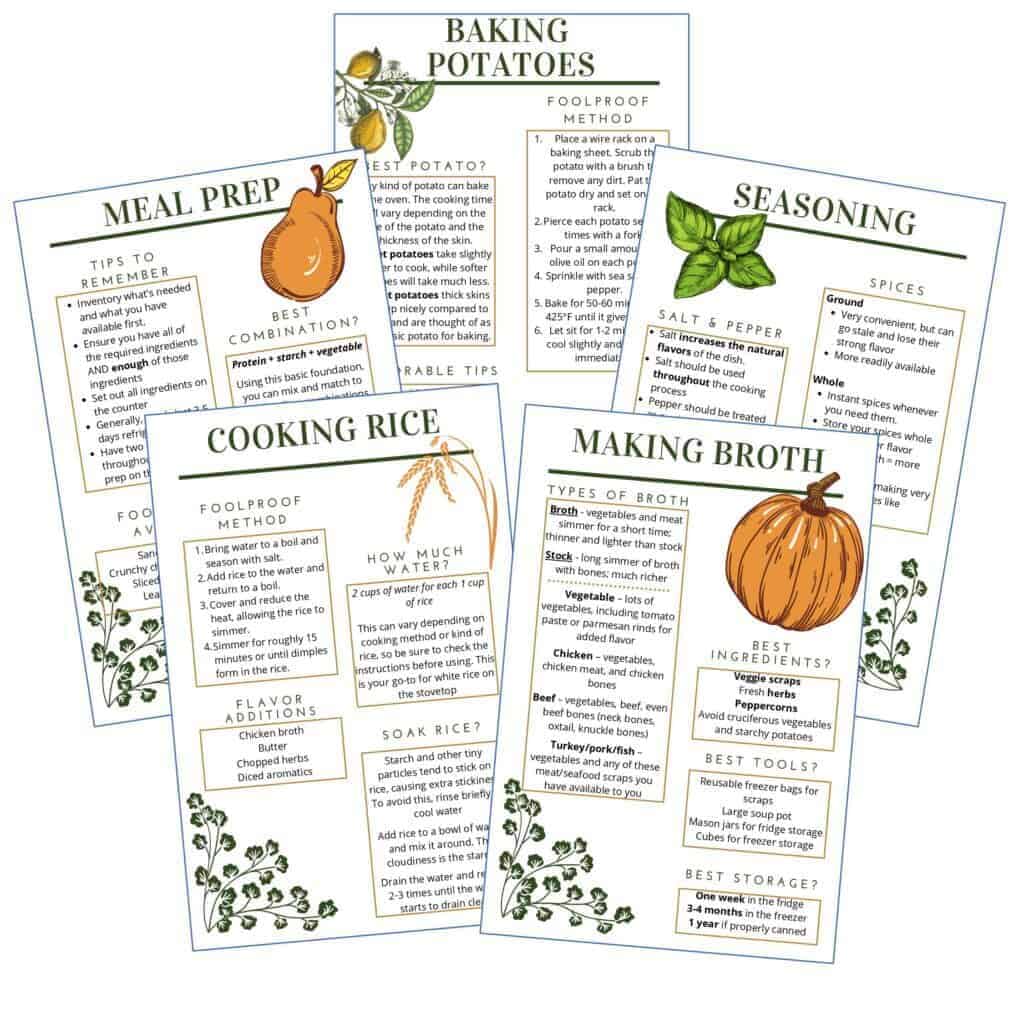 Get your $1 worksheets today!
Related Posts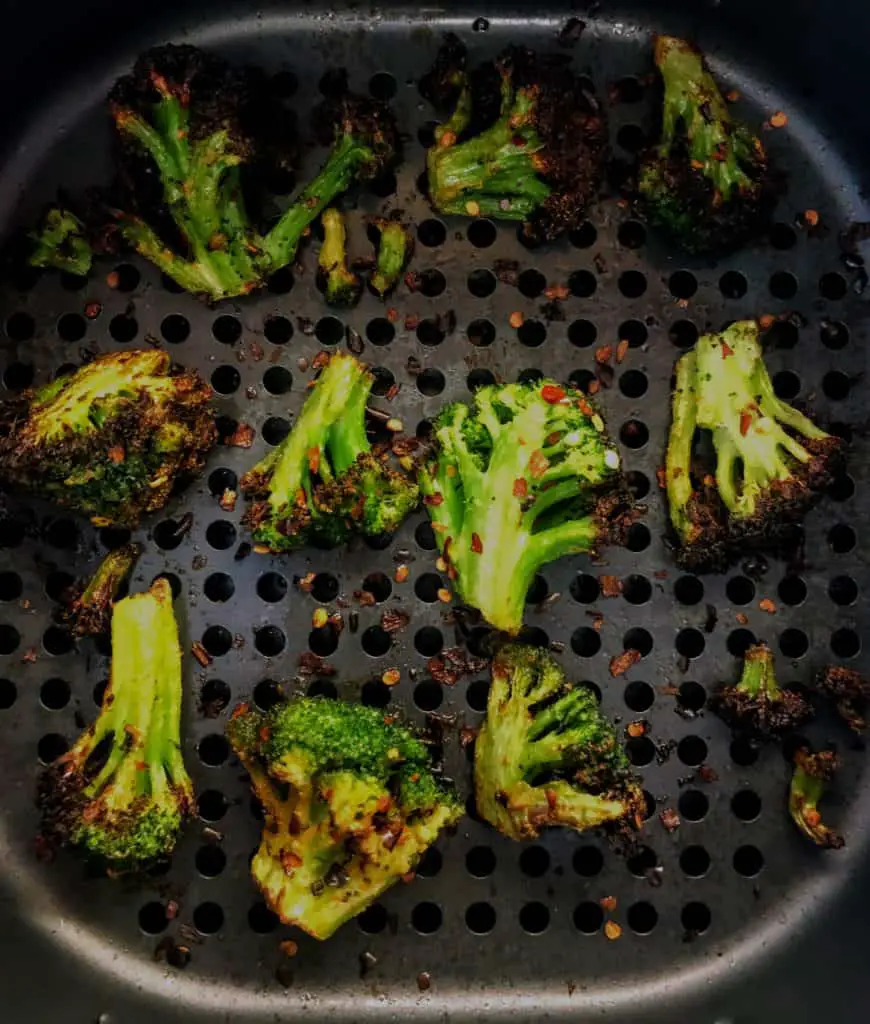 Crispy fried broccoli without the hassle of deep frying with oil. Air fryer frozen broccoli that's extra crispy with an extra kick from red pepper …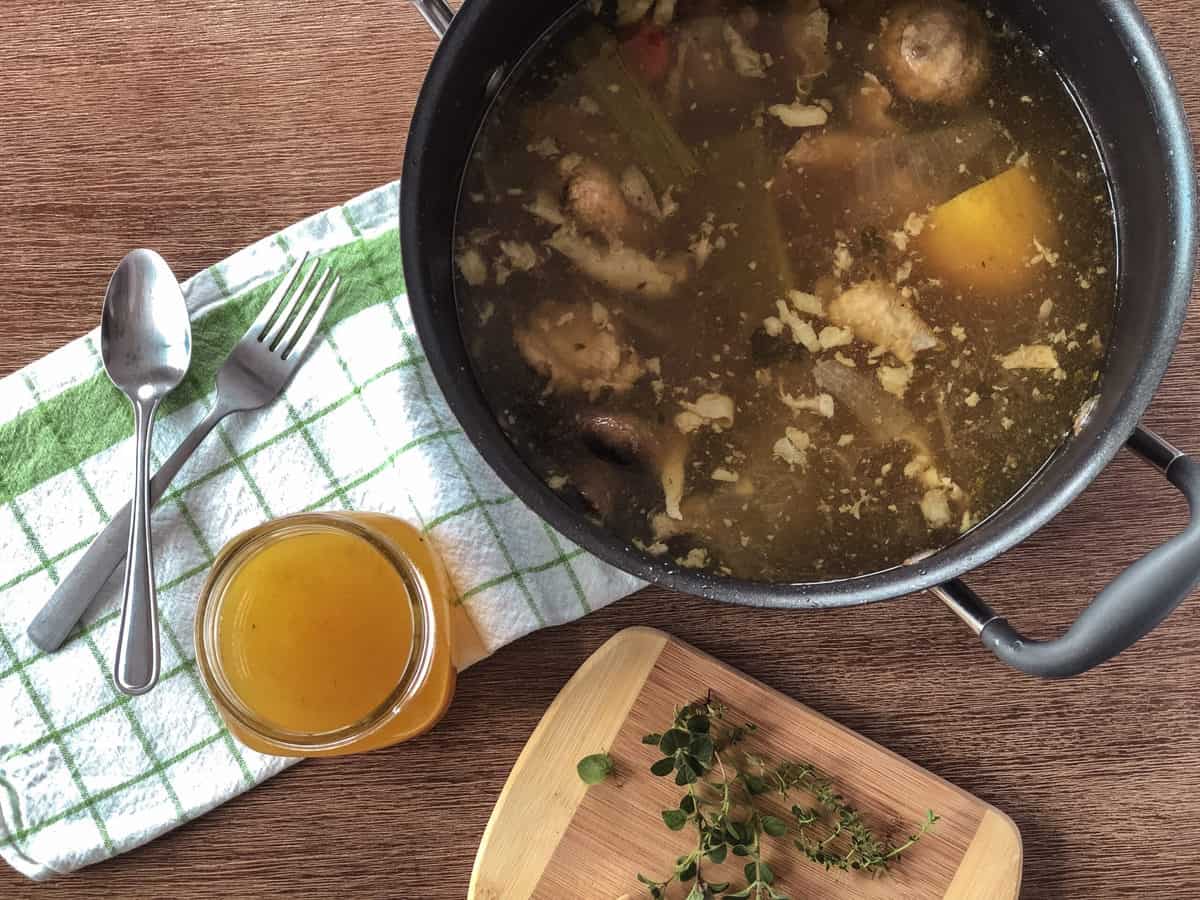 If you're anything like me, you've been buying chicken broth for years from the grocery store without thinking twice about it. Luckily, I stumbled across …