Break out of your breakfast rut with a fresh take on a classic dish! Ham & Eggs Scramble elevates traditional scrambled eggs with crunchy croutons, juicy bites of ham, and savory veggies. You'll never want a plain scramble again after tasting all of the flavor and unique combinations of this dish.
This post is part of our Basic Cooking Skills series. Each week we will be doing a deep-dive into one basic cooking skill and a brand new recipe to accompany it to practice that newfound skill. Check back throughout the series for updates and new posts.
---
Please note this post contains affiliate links, which means I receive a small commission, at no extra cost to you, if you make a purchase using the links. Please see my disclosure for more details.
How Do You Like Your eggs?
If it's up to me, I like my eggs scrambled 9/10 times and the 10th time is a toss up between sunny-side up and poached. I've begun to appreciate a runny yolk in a breakfast bowl over some hashbrown and toast!
You don't have to go to a diner to satisfy for savory egg needs; you can easily cook eggs a variety of ways without fail with the help of my cooking eggs guide.
There's something timeless about scrambled eggs and I love finding new ways to incorporate them into meals. They're great alongside skillet potatoes or sweet potato fries, or even added to soup for extra protein.
I hope you enjoy this ham & eggs scramble and grow in confidence when it comes to cooking eggs!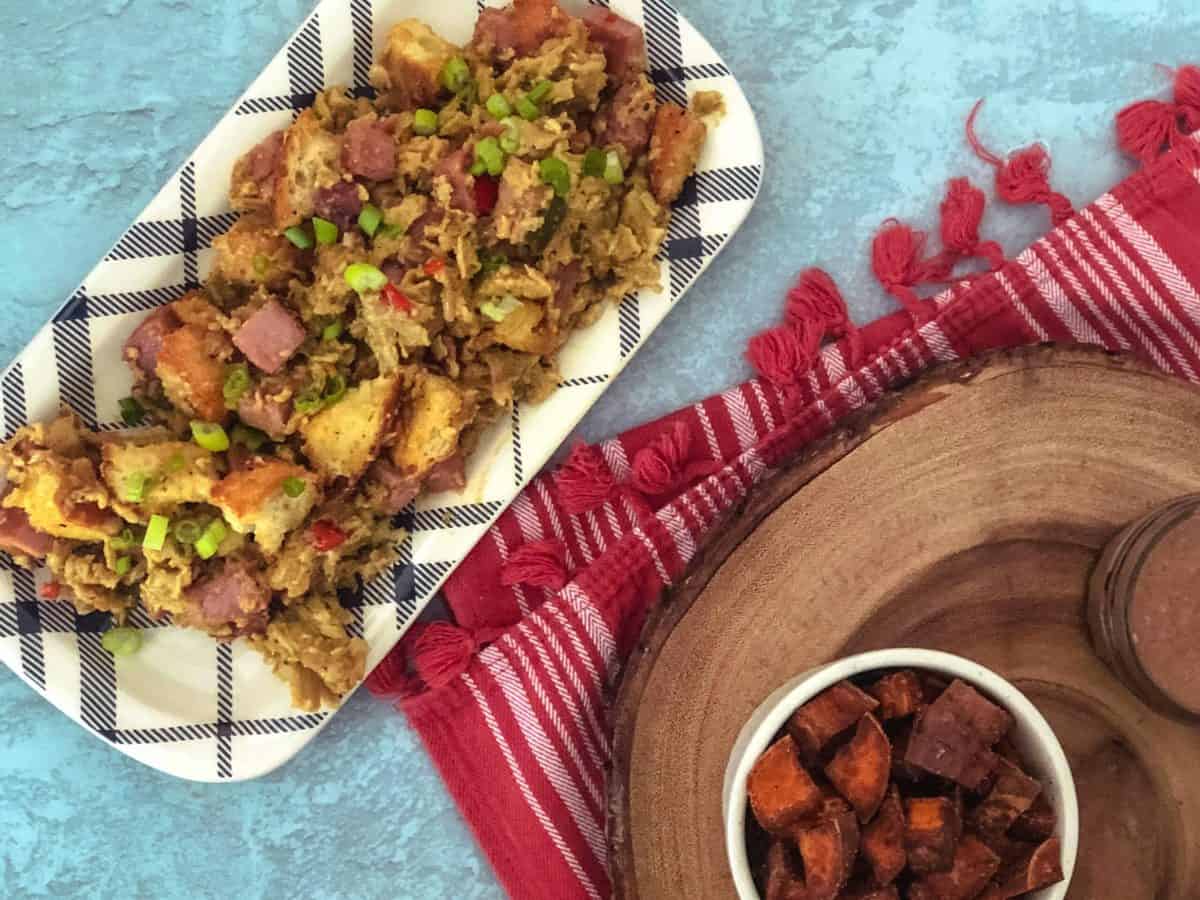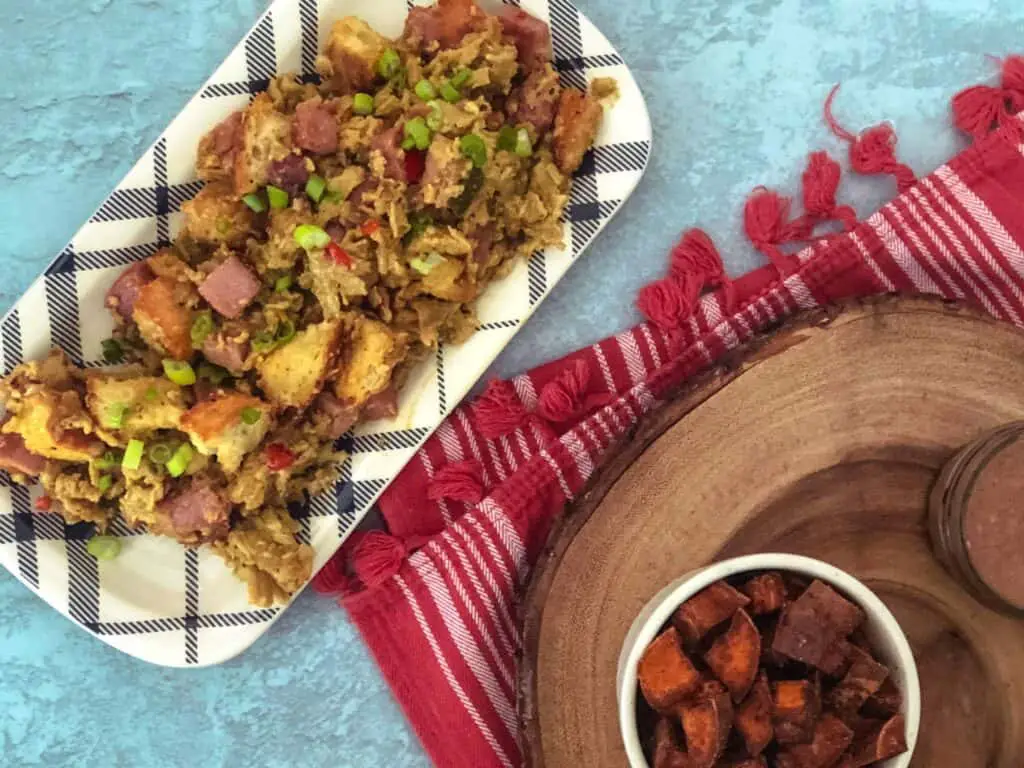 How To: Make Homemade Croutons
Did you know that you can use day-old bread to make croutons at home??
I wish this was something I knew earlier because while I haven't always liked salad, I have ALWAYS loved croutons 😍 AND it reduces food waste by using up bread that would otherwise get thrown away!
Start by preheating the oven to 400 degrees Fahrenheit. The goal is for the bread to dry out without burning, so it's important to toss the cubes of bread in olive oil until most are coated.
Bake for 7-8 minutes, flip, and then continue baking 7-8 minutes until the bread is crunchy.
Set aside and try not to eat them all while preparing the rest of the food!
How To: Prepare ham & Scramble
First, cooking the ham steak.
Ham steaks are surprisingly easy to prepare and are so filling.
Heat a nonstick pan over medium-high heat. Cook the ham steak until it is brown on both sides, about 10 minutes per side. Sprinkle a little salt and pepper on each side. Remove from the pan and let cool before cubing.
In the same pan, add the onions and sweet peppers and saute until soft, about 6-8 minutes. They add great color and flavor the scramble!
Sweet peppers can be substituted for bell peppers or other mild peppers. Hot peppers can be used for an extra kick!
While the veggies are sauteing, whisk the eggs thoroughly in a medium bowl. Once the veggies are done, add the eggs into the pan and reduce the heat. Cook the eggs until they are softly scrambled.
Garnish with green onions and serve warm!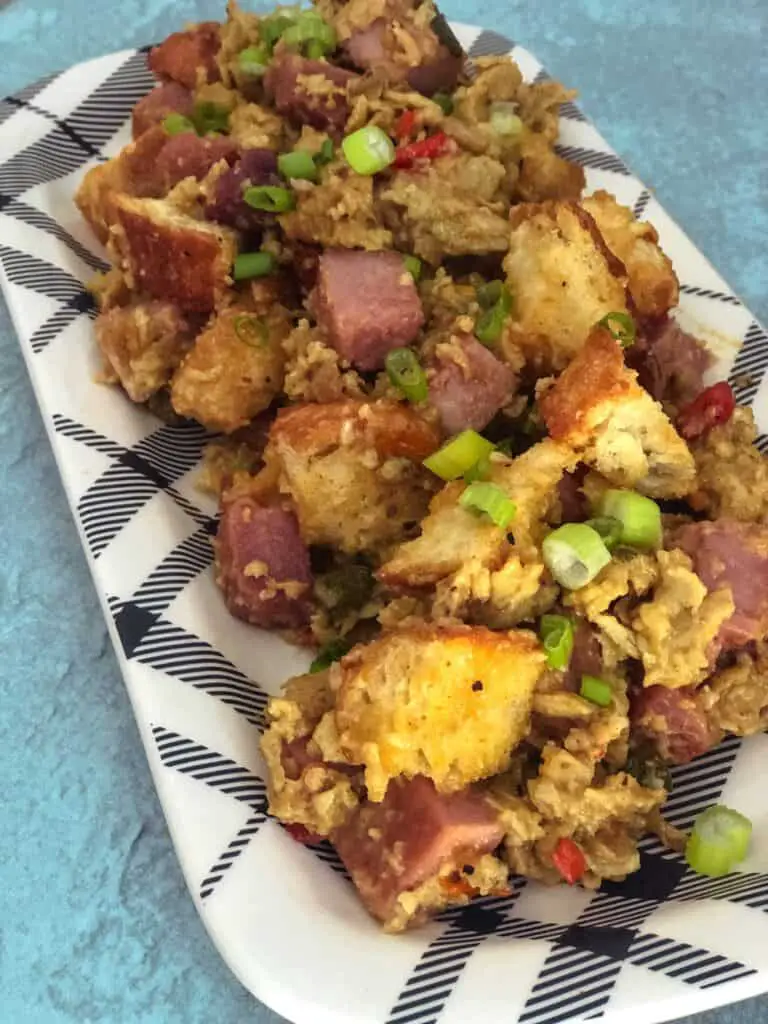 Ingredients Needed
Materials Needed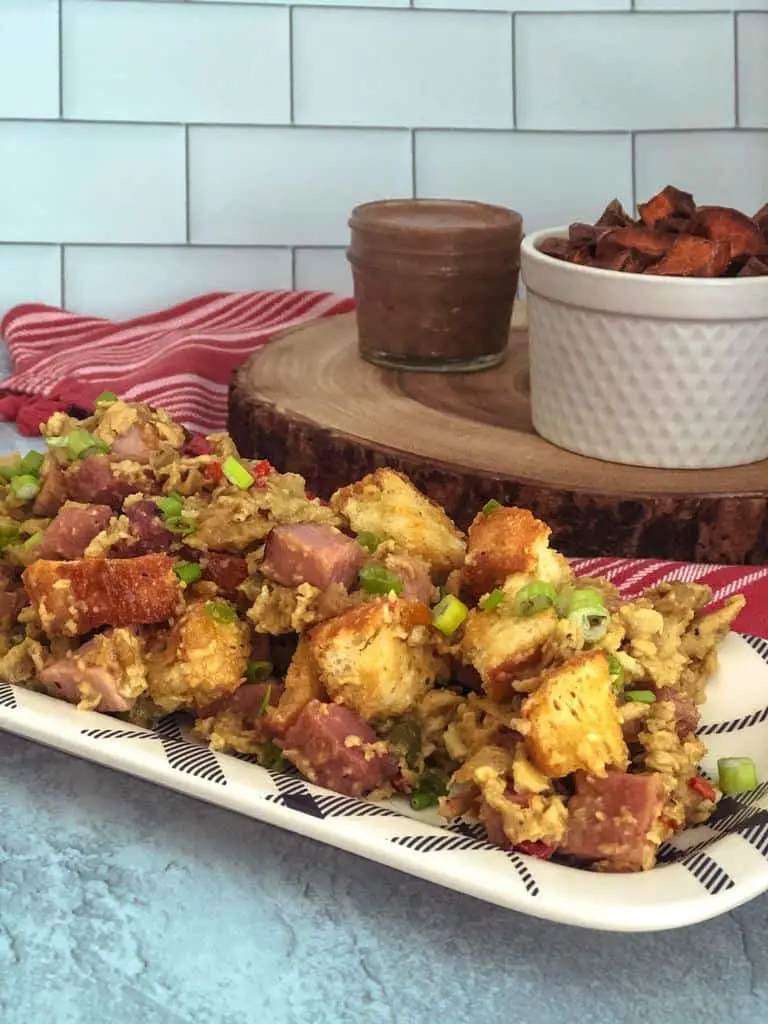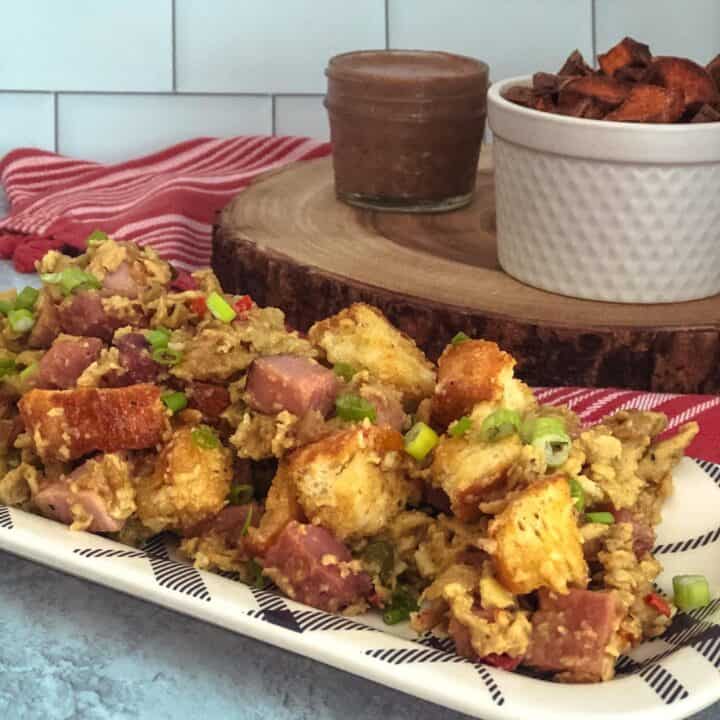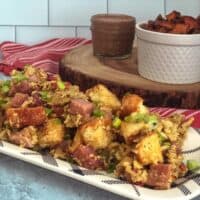 Ham & Eggs Scramble
Ham and eggs scramble is filled with juicy ham, fresh vegetables, and crisp croutons to create an unbeatable breakfast combination.
Print
Pin
Rate
Ingredients
1

ham steak

salt and pepper

to taste

3-4

slices

day old bread

cubed

2

tbsp

olive oil

as needed

2-3

sweet peppers

diced small

1/4

onion

chopped

8

eggs

1/4

green onions

chopped, for garnish
Instructions
Preheat oven to 400 degrees. Toss cubed bread in olive oil. Bake for roughly 15 minutes until bread is crunchy, flipping halfway through. Set aside.

Over medium-high heat pan-fry ham steak until golden brown on both sides, about 10 minutes per side. Season with salt and pepper to taste. Remove from pan.

Wipe excess grease from pan if necessary, then add sweet peppers back. Saute over medium heat for about 6-8 minutes.

Whisk eggs thoroughly in a medium bowl. Pour into the pan with the sauteed sweet peppers and reduce the heat to medium low. Slowly cook until the eggs are softly scrambled, or to your liking.

Garnish with green onions.
Pin me!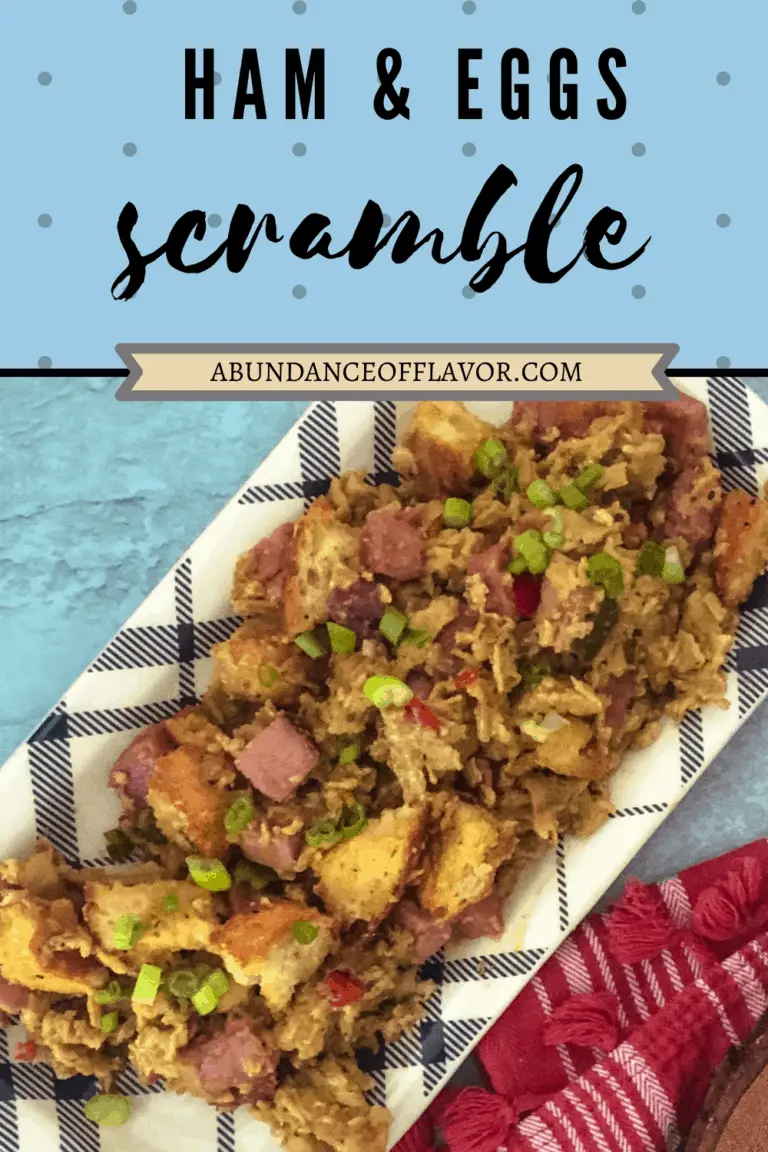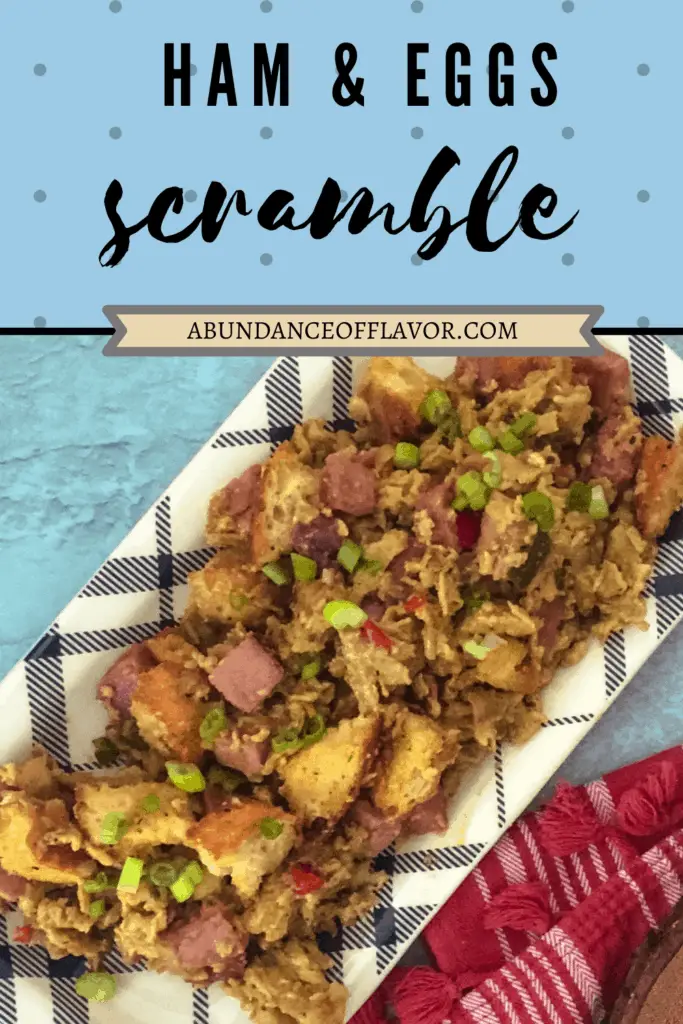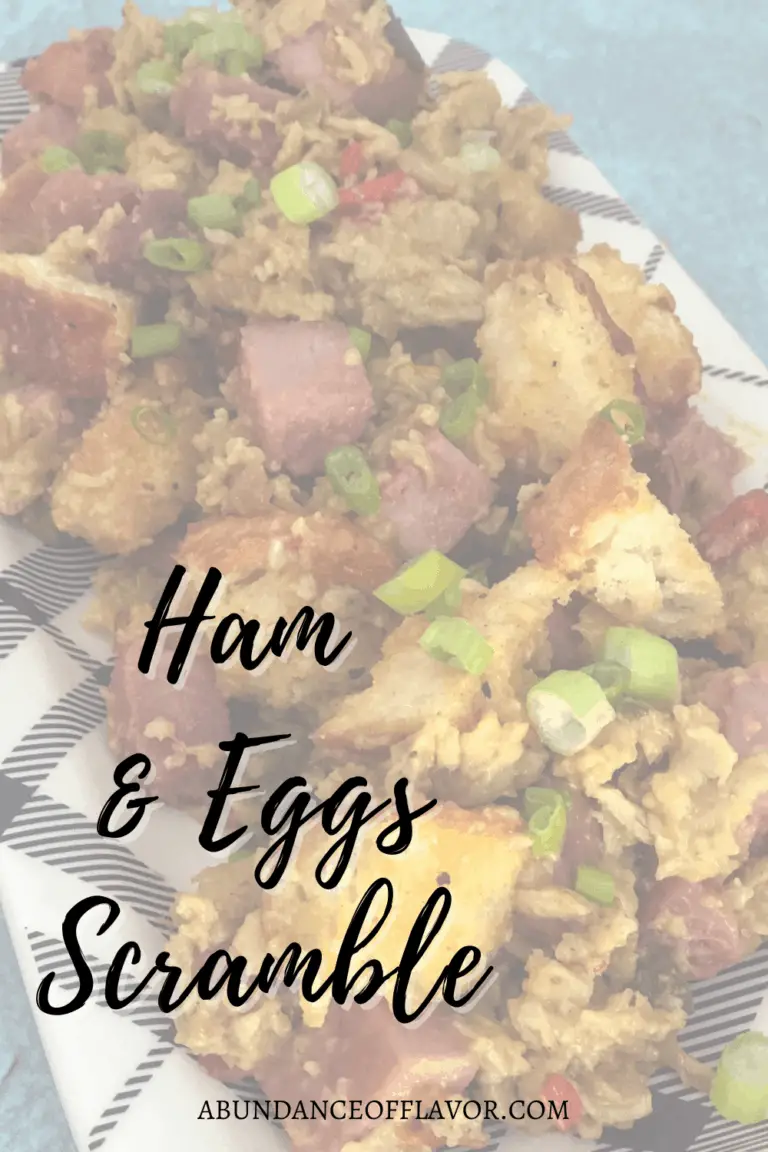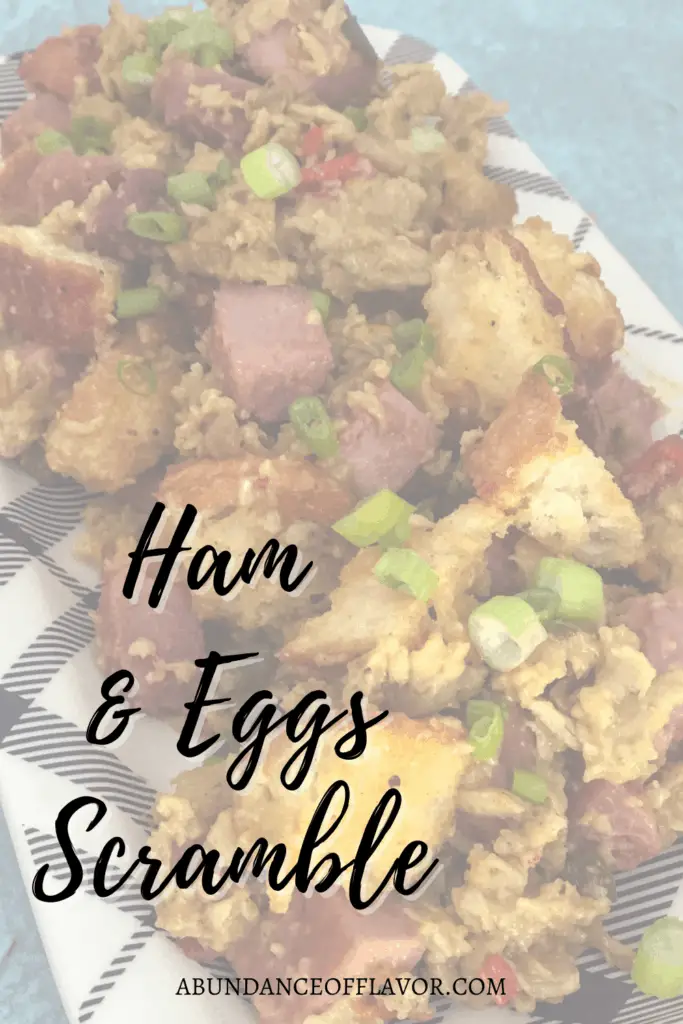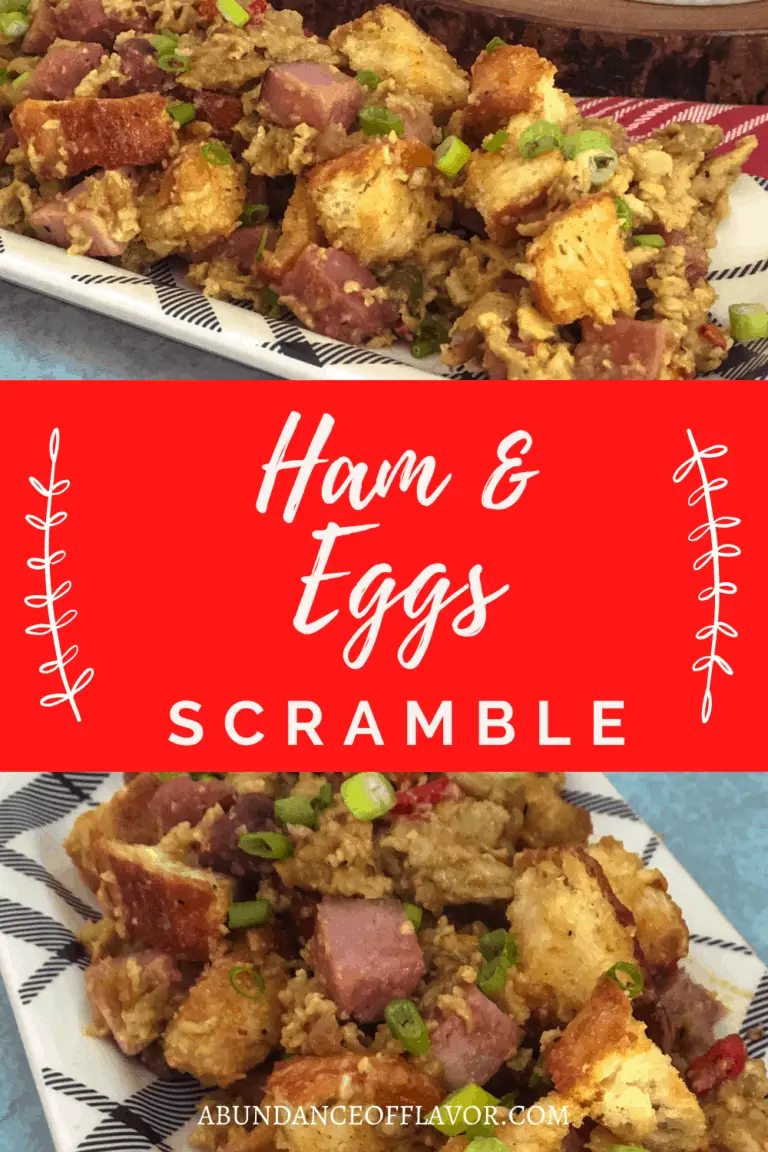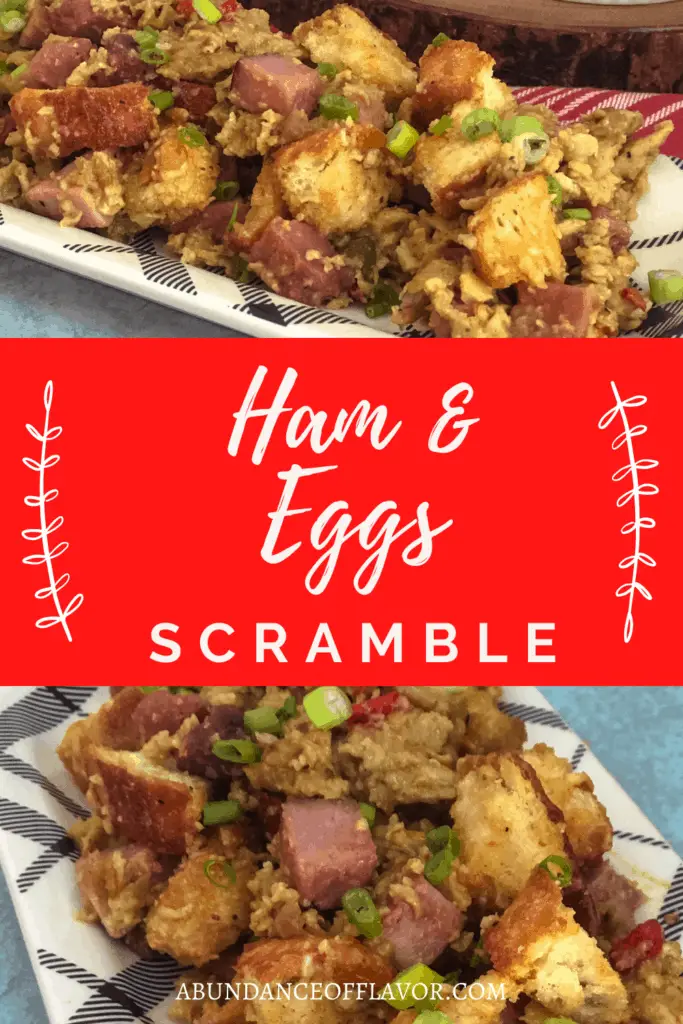 Breakfast is one thing I look forward to most about weekends! What is your favorite breakfast items to enjoy when you have time to cook in the morning? Share in the comments below!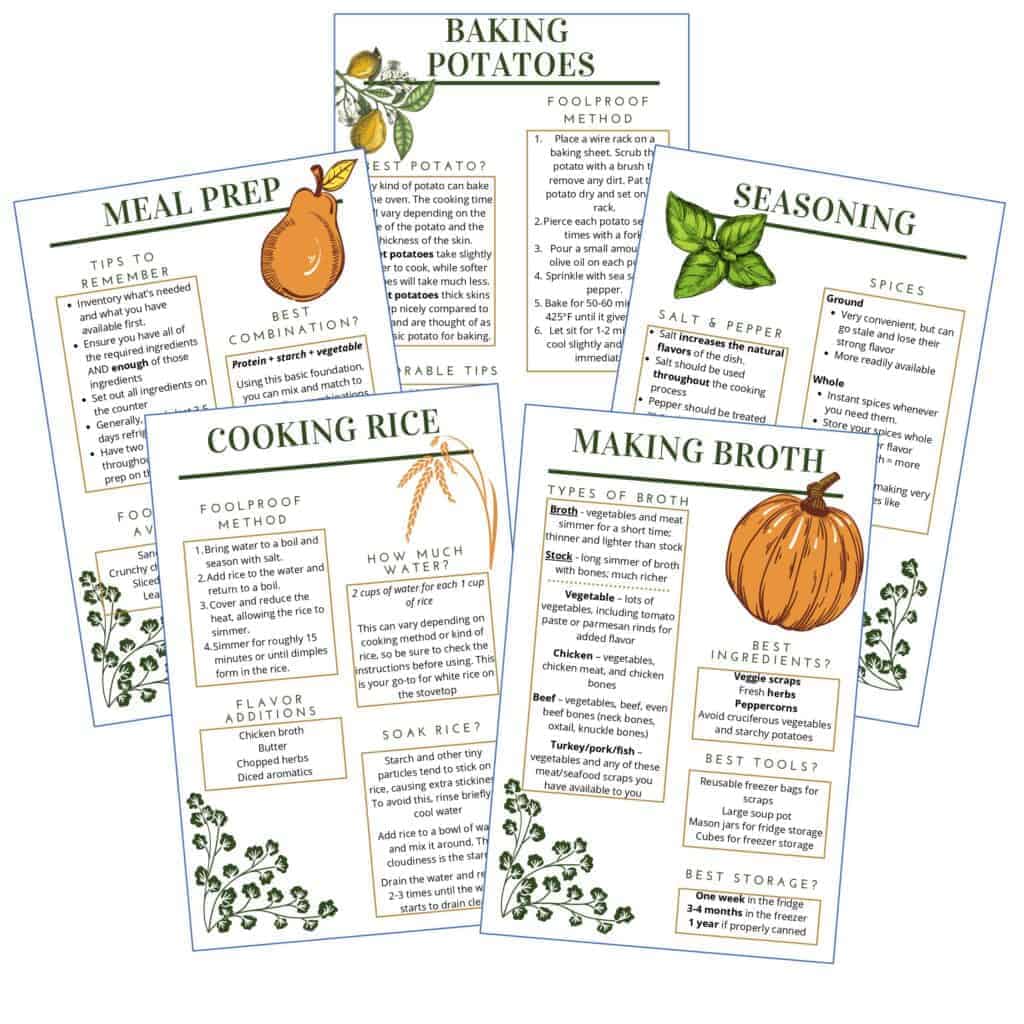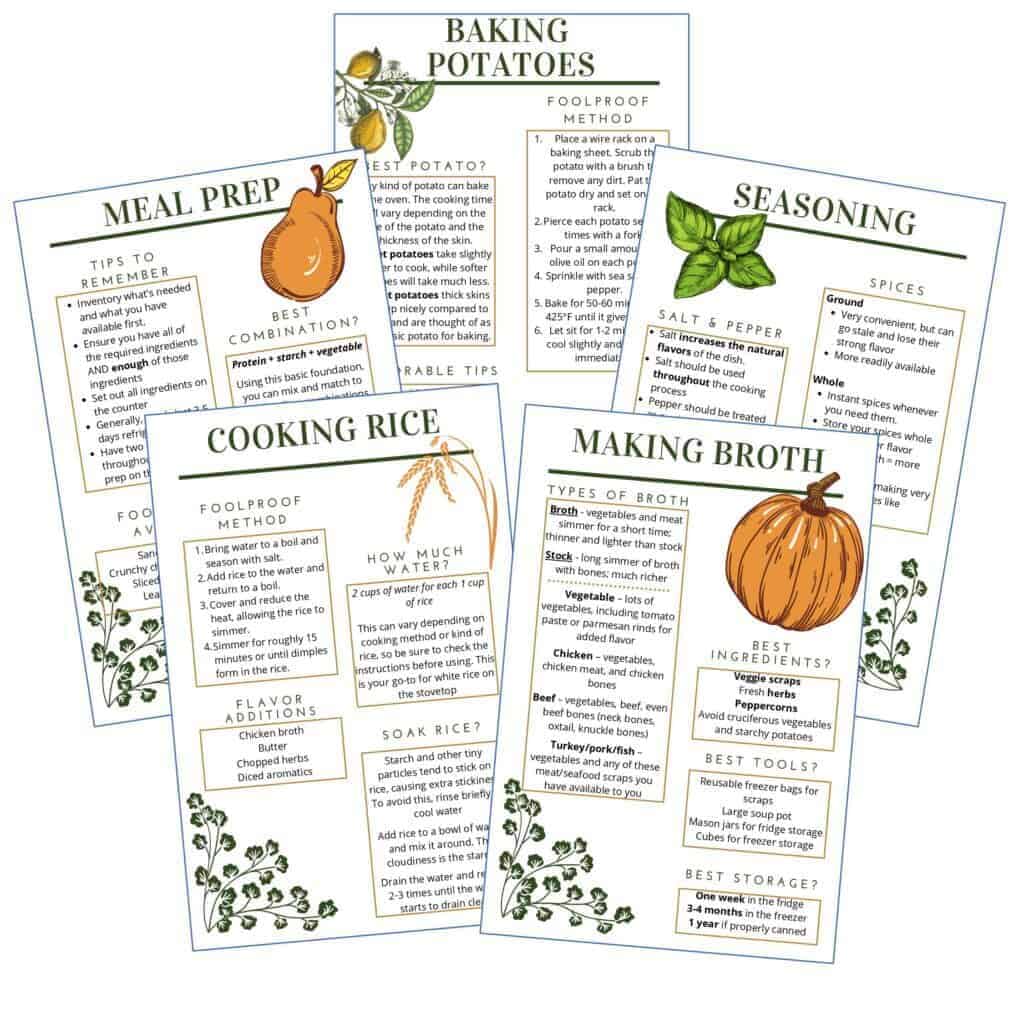 Get your $1 worksheets today!
Related Posts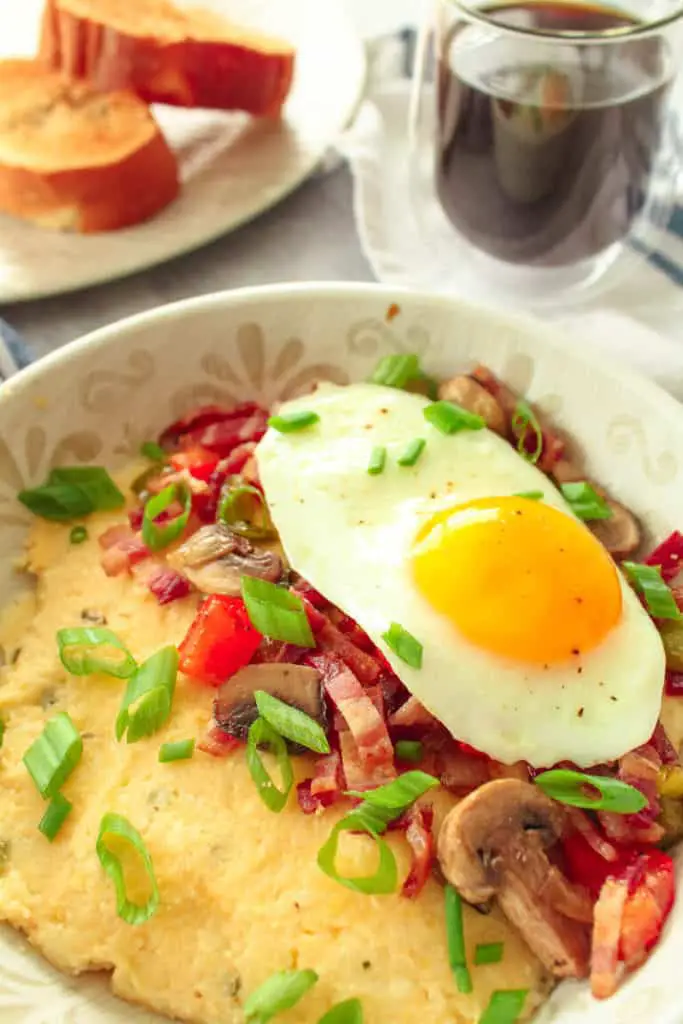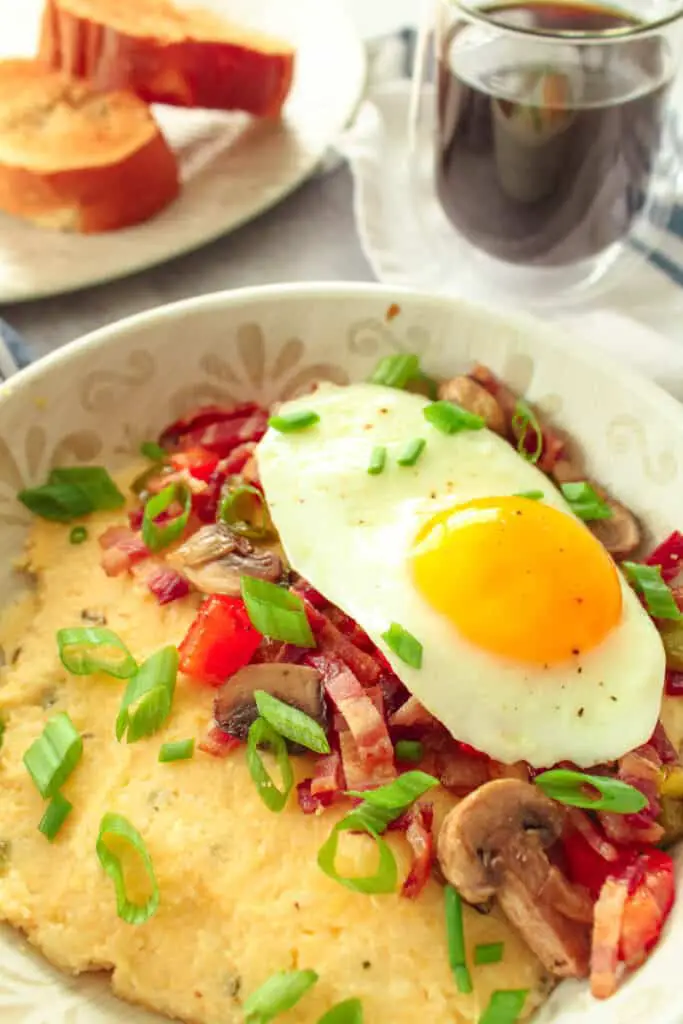 Southern Garlic Cheese Grits are a Southern staple- you cannot go wrong with serving up hot grits and enjoying breakfast for dinner!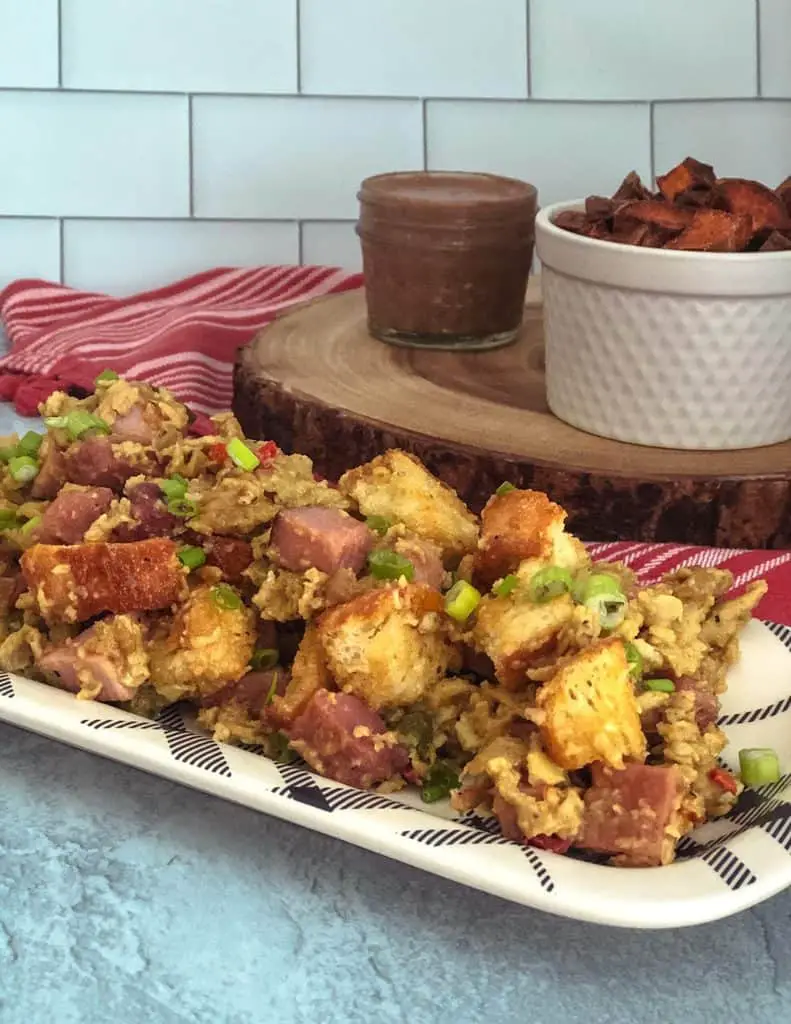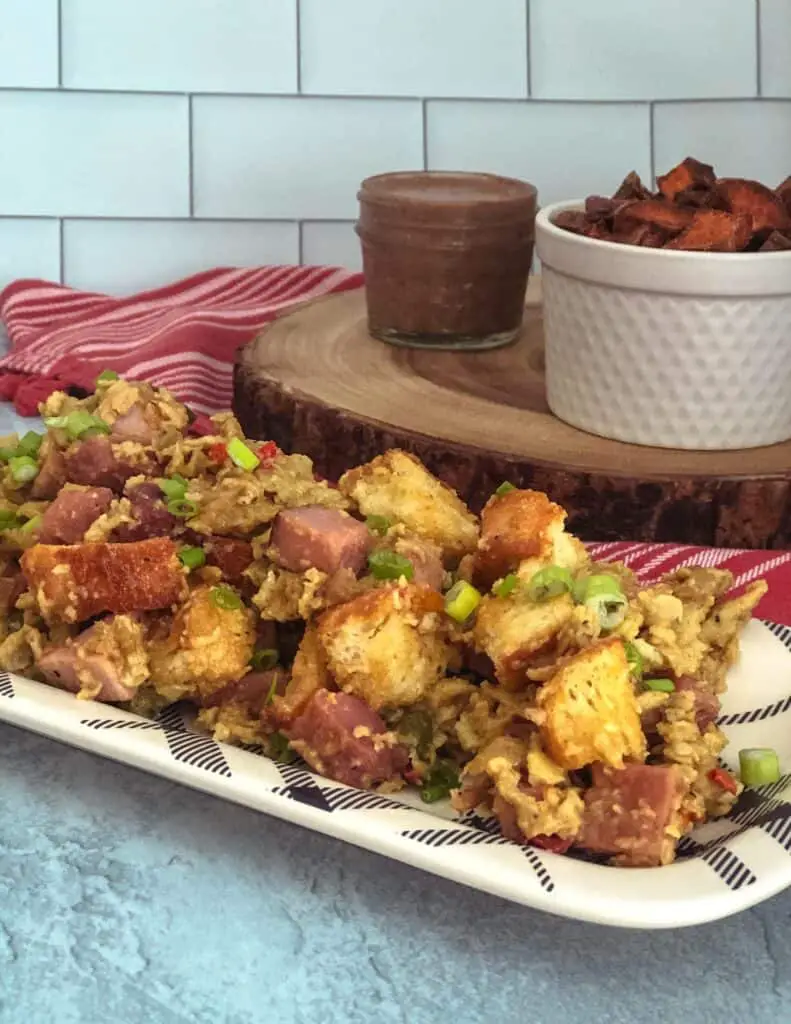 Ham & eggs scramble is filled with juicy ham, fresh eggs, and crisp croutons to create an unbeatable breakfast combination.